After our time at the Monterey Bay Aquarium, we couldn't really figure out what to do. After a quick search, we decided to go check out the Pebble Beach 17-Mile Drive, since it was nearby.
I'm not a golfer, so Pebble Beach wasn't on my bucket list, nor was it on my radar for our visit to Big Sur/Monterey. But when we needed to kill time between our aquarium visit and dinner, we decided to head to the iconic community and golf course to check out the Lone Cypress. Since we were there, though, we figured that we might as well explore the full Pebble Beach 17-Mile Drive.
Accessing the Pebble Beach 17-Mile Drive
Pebble Beach Resort is a gated community. To access the Pebble Beach 17-Mile Drive, you need to pay to gain access. Private vehicles are assessed a fee of $11.25, though it's worth noting that motorcycles are prohibited. You can get your entry fee reimbursed if you spend $35 or more at the Resort's restaurants, or you can get in for free if you're staying on-property.
The Drive
The Pebble Beach 17-Mile Drive is, well, a 17-mile driving tour that features 17 different points of interest. These stops include:
Shepard's Knoll
Huckleberry Hill
Spanish Bay Beach
The Restless Sea
Point Joe
China Rock
Bird Rock
Seal Rock
Fanshell Beach Overlook
Cypress Point Lookout
Crocker Grove
The Lone Cypress
Ghost Trees at Pescadero Point
Pebble Beach Visitor Center
Pebble Beach Golf Links
Pebble Beach Equestrian Center
Ford Meadow
Yeah, I'm not sure if I'd count points 14, 15, and 16, but ok. However, we didn't actually visit all 17 of these points, anyway. We totally missed the first two, as signage wasn't what it could've been, and we did skill the last four points. And while we did see the remaining points, we didn't necessarily stop or get out of the car at all of them.
Spanish Bay Beach
Our first stop on the Pebble Beach 17-Mile Drive was stop 3 – Spanish Bay Beach. It was cold and windy, so we didn't stay here long. We snapped some photos of this misty beach in the waning afternoon sun and dug out.
China Rock
We saw the next to stops from the car, but the next stop we actually stopped at to look at more closely was China Rock. The site of an abandoned Chinese fishing village, there isn't much to see here, but the rock formation is interesting.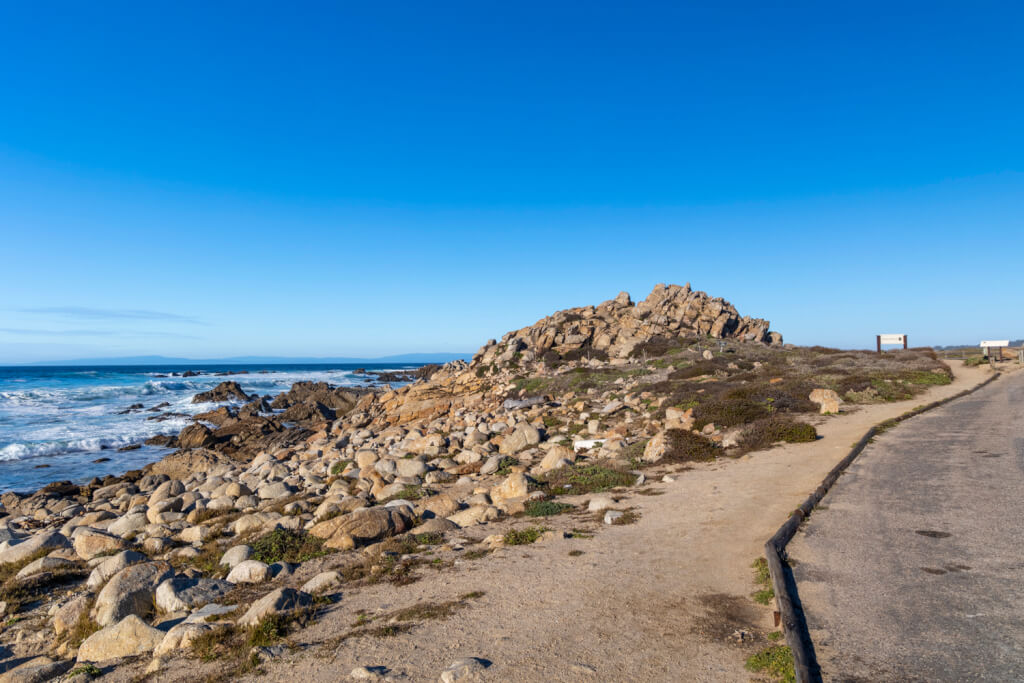 Bird Rock
Our third stop was at bird rock. There were definitely birds here, but the large offshore rock formation was absolutely covered in California sea lions. The stench here, by the way, was STRONG.
The area also had several California ground squirrels munching away and scurrying around.
Fanshell Beach Overlook
We skipped over Seal Rock but did stop to check out Fanshell Beach Overlook. The colorful flora in the area provided an interesting contrast to the blues and golds of the sea. This was one of the more popular stops along the way, with many others taking in the sights while we were there, too.
The Lone Cypress
We skipped over the Cypress Point Lookout (I think we might have actually missed it) and Crocker Grove and made our way to the iconic Lone Cypress next. Most people will instantly recognize this 200-year-old tree, even if they don't know what it's called. Needless to say, this is the most popular site on the entire tour, though it also has one of the smallest parking areas. Furthermore, there are two separate viewing areas – one right off the road and another on a deck lower down. The first three photos in this set are from the road level, while the last one is from the observation deck.
Another group of visitors was freaking out about "Sea Otters" being in the water. But upon closer inspection with my long telephoto lens, the supposed sea otters turned out to be nothing more than bull kelp.
Ghost Trees at Pescadero Point
Our final stop on the Pebble Beach 17-Mile Drive was the Ghost Trees at Pescadero Point. This is a gorgeous area overlooking Stillwater Cove and Arrowhead Point perfectly encapsulates the beauty of the area, in my opinion.
Final Thoughts
It was cooling being able to see The Lone Cypress in person, and I found Pescadero Point to be absolutely stunning. However, outside of those two sites, I didn't find much else interesting on the Pebble Beach 17-Mile Drive. In hindsight, we probably should've had dinner in the resort to get the entry fee credited back, especially since the place we actually had dinner at was such a disappointment. But, of course, more on that later.
Living It Up in California