It may not be the largest aquarium or the one with the most diverse exhibits, but the Monterey Bay Aquarium is probably one of the most famous. Its regional specialization is why this well-respected, trailblazing institution has long been on my bucket list. It's too bad that fellow visitors ruined my experience here.
The Monterey Bay Aquarium needs no introduction from me. For 38 years, this nonprofit aquarium pushed the bounds of aquatic exhibits, being the first to exhibit a living kelp forest, a pioneer of jellyfish rearing, and the first to successfully care for a great white shark in captivity. It was even the largest aquarium in the world when it first opened in 1984. That living kelp forest exhibit was reason enough for me to want to visit the aquarium, but there's so much to see here than that.
Planning Your Monterey Bay Aquarium Visit
If you're planning on visiting the Monterey Bay Aquarium, do note that you MUST purchase your tickets in advance via their website. The aquarium DOES NOT sell tickets on-site, and there appears to be daily capacity controls. So it's probably best for your to purchase your tickets as soon as you know your dates, especially if you'll be in the area during busy holidays.
That said, it's worth noting that tickets are NON-REFUNDABLE. You can transfer your tickets to another day, provided that space is available. However, you must exchange your tickets BEFORE 4 PM PT on the date of your scheduled visit. Tickets, might I add, are a whopping $60 for adults, youth (13-17) & seniors come in at $50, and kids (5-12) are $45. This is, without a doubt, the most expensive aquarium we've ever visited.
Parking
Another point worth noting is that the Monterey Bay Aquarium doesn't have parking. While you could take a rideshare here, that was a no-go for us, as our hotel was over 10 miles away and would have cost us between $20 and $25 in each direction. The good news is that there are several parking lots and structures nearby. We ended up parking at the Cannery Row Public Parking Garage (a third miles/6-minute walk away), which has both hourly and daily rates. Daily rates vary by season and can range from $5 to $20 – I paid $20.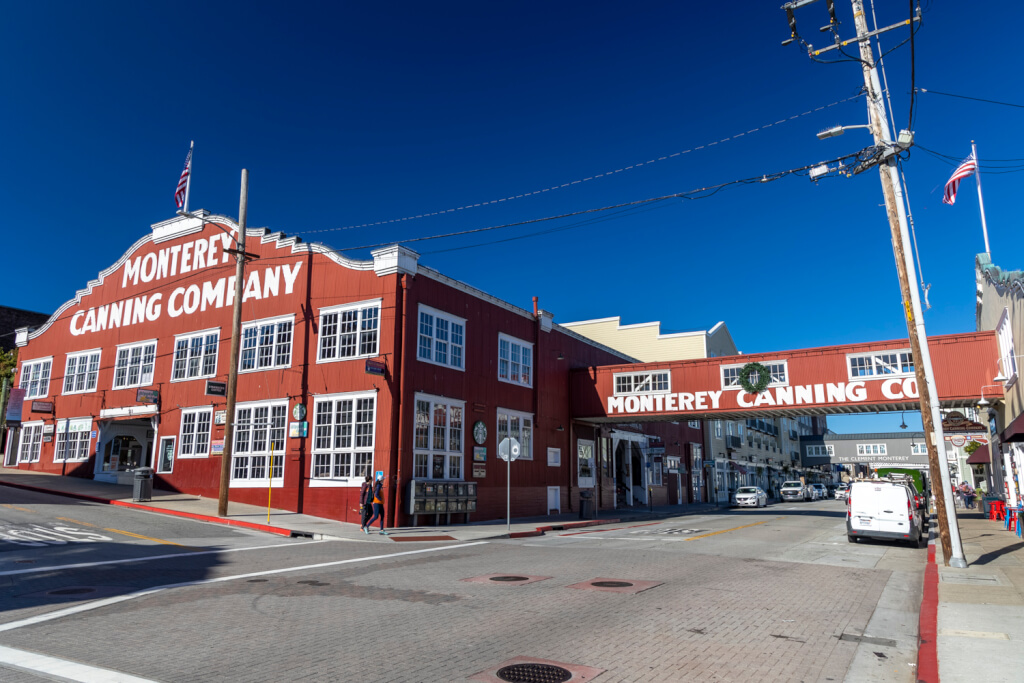 Arrival Experience
Since ou cannot purchase tickets at Monterey Bay Aquarium, you'll need to make sure you remember to bring your ticket(s) with you. Thankfully, they can scan e-tickets, which is how we presented our tickets using our phones.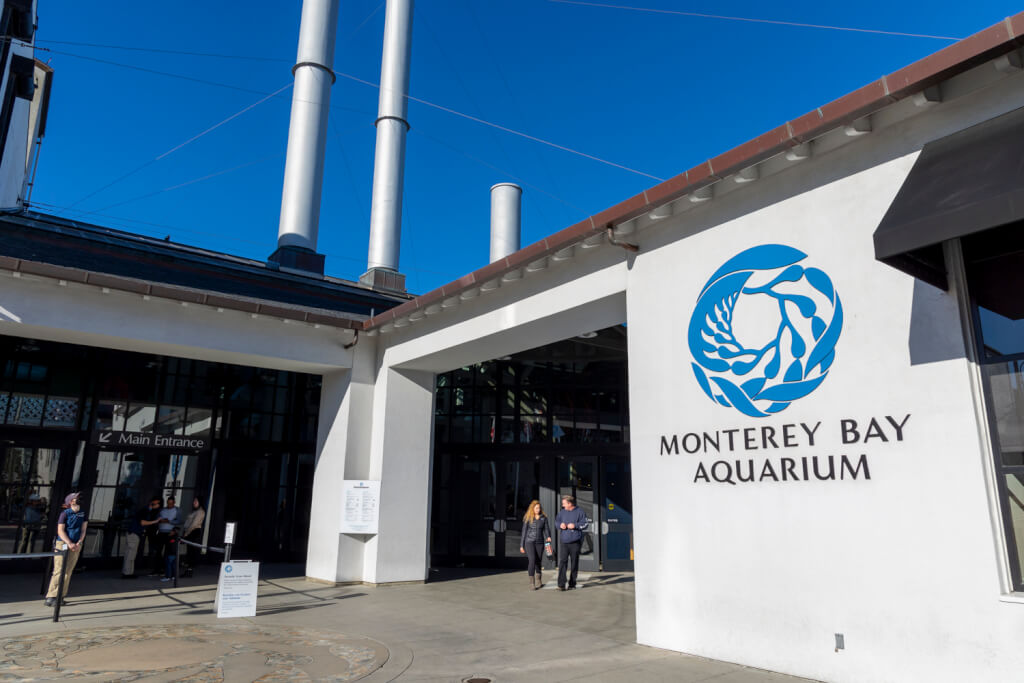 Once we entered, we were greeted by industrial equipment leftover from the Hovden Cannery sardine cannery that used to occupy the site. Below is a boiler that was once used by the cannery.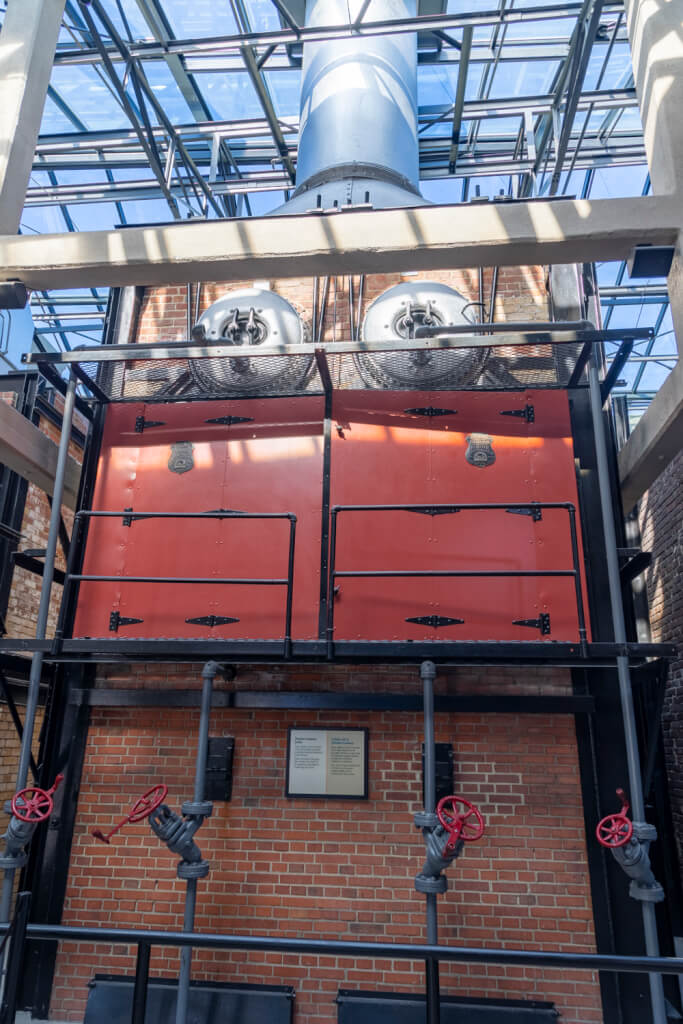 Beyond that, you see the main hall of the aquarium, which contains the gift shops, cafe, some of the restrooms, and access to the back deck facing Monterey Bay.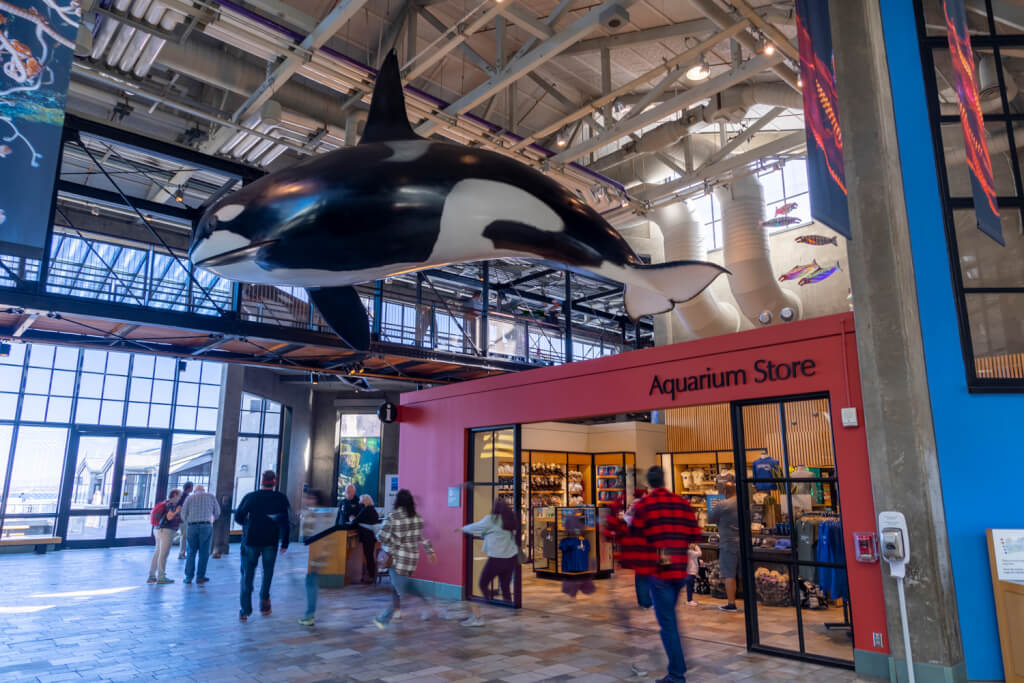 Monterey Bay Aquarium Kelp Forest
The attraction at the Monterey Bay Aquarium I was most looking forward to was the kep forest. This iconic exhibit was the first of its kind when the aquarium opened and is, perhaps, the one that they are most known for. Sadly, it seems like the kelp forest display was undergoing renovations during our visit, with exposed structural elements in the back and very little kelp growing in the tank. Bummer.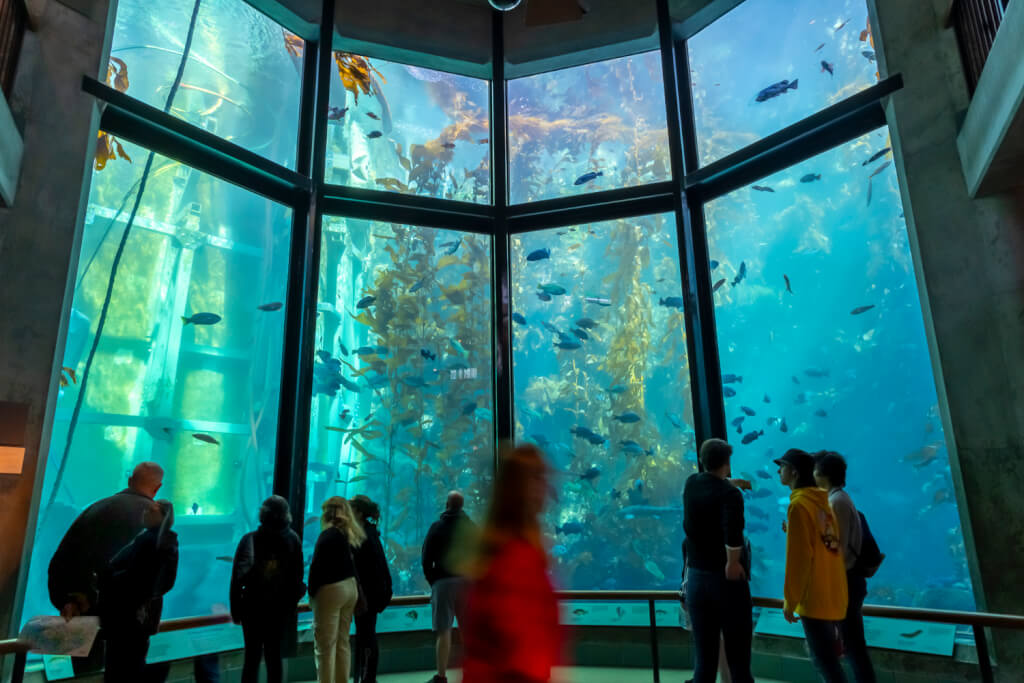 Other Exhibits
I'm not going to lie; we jumped around a lot at the Monterey Bay Aquarium. Despite the overall small size of the aquarium, there is a lot to see here. Different habitats include Beaches & Dunes, Coastal Waters, Coastal Wetlands, Coral Reefs, Deep Sea, Open Waters, Reefs & Pilings, Sandy Seafloor, and The Rocky Shore. Since there's so much to see, I'll keep commentary to a minimum and show photos of exhibits I found interesting.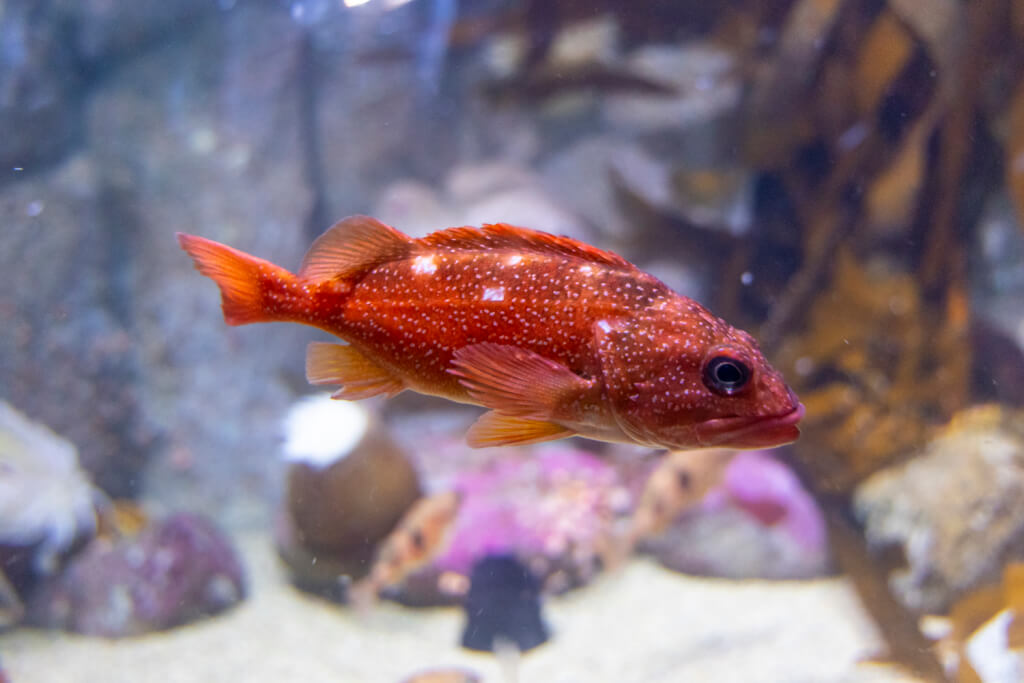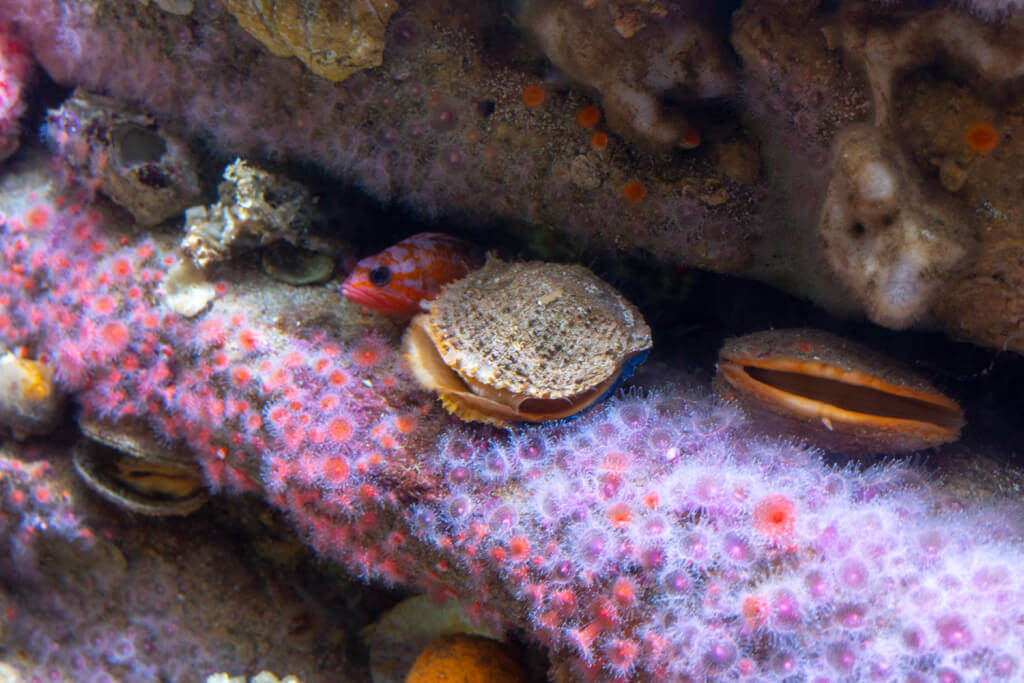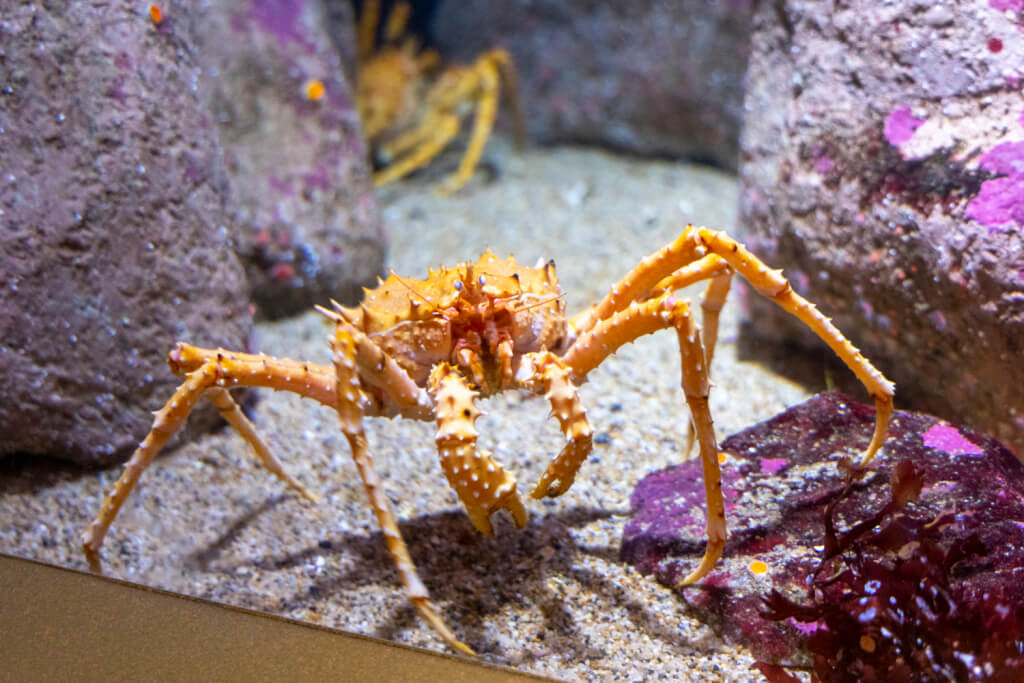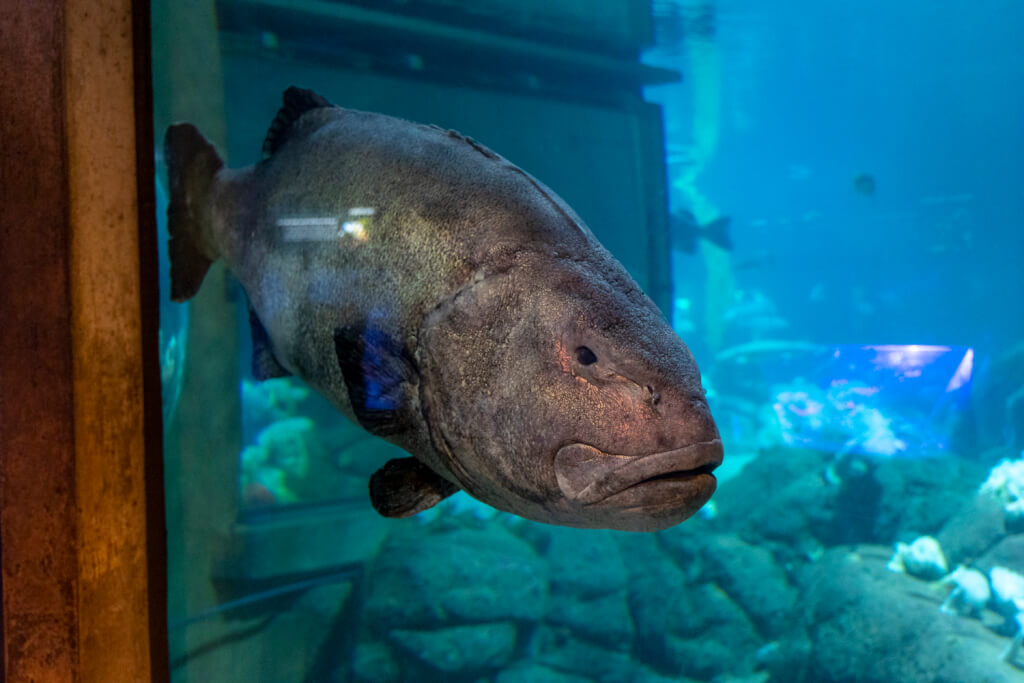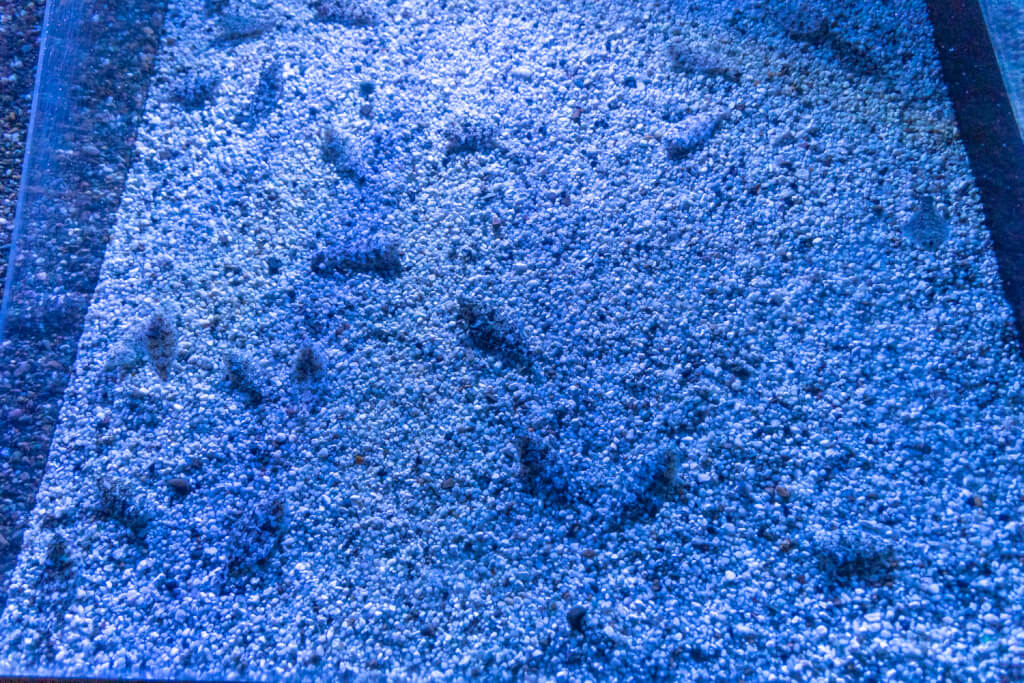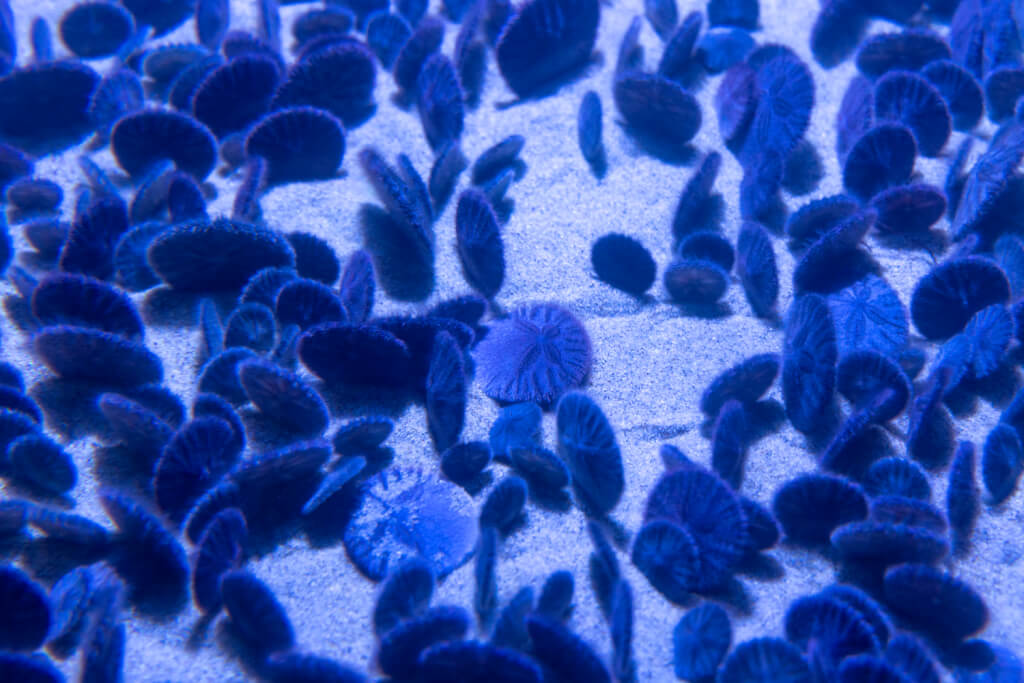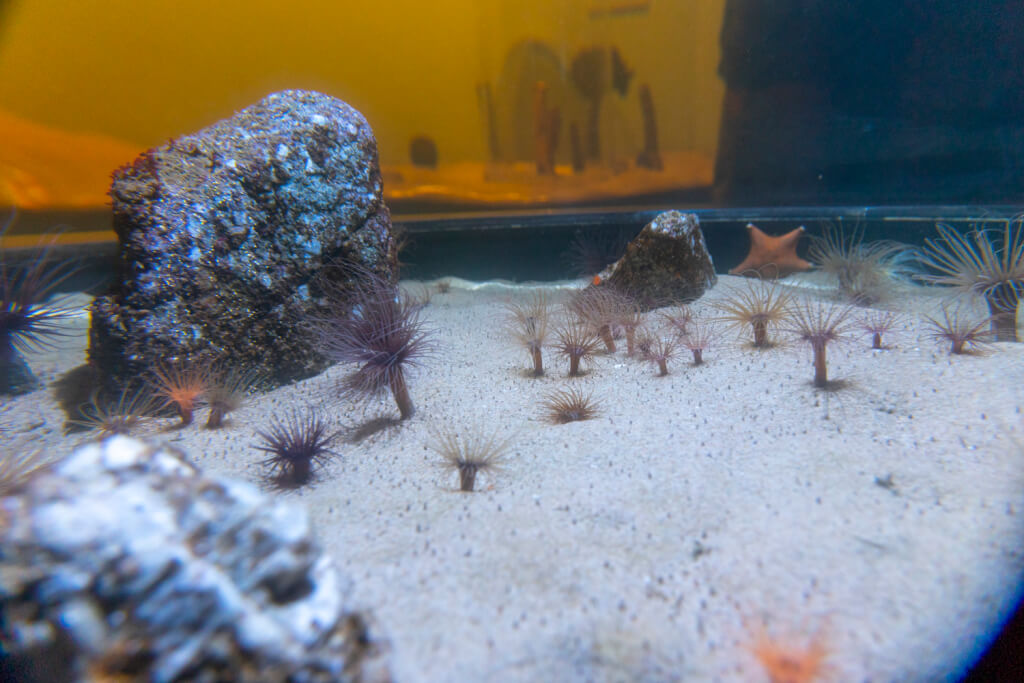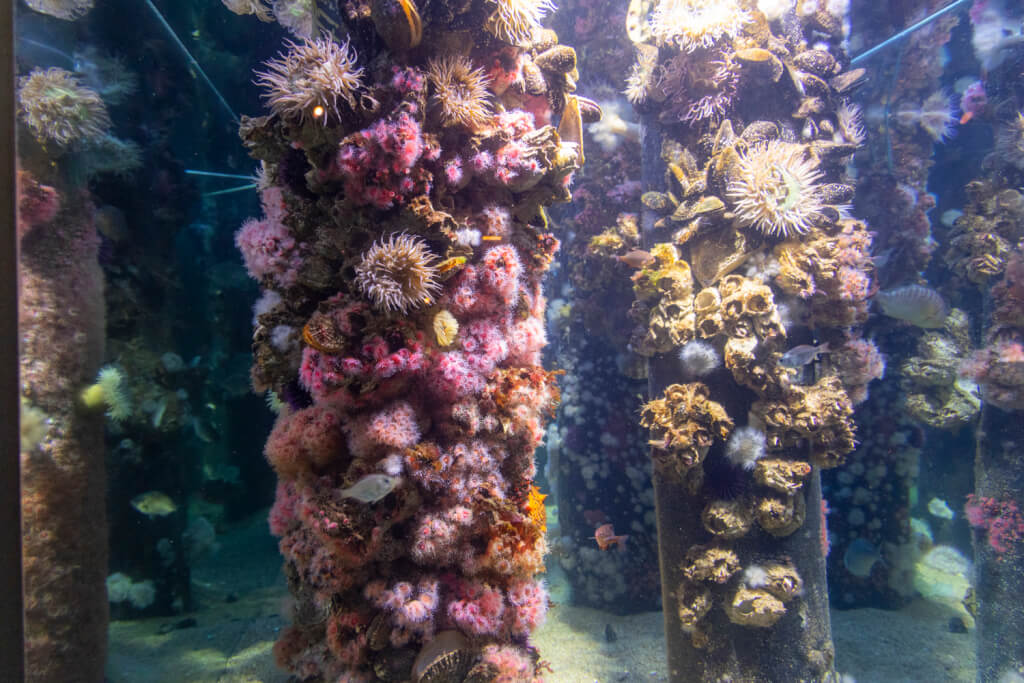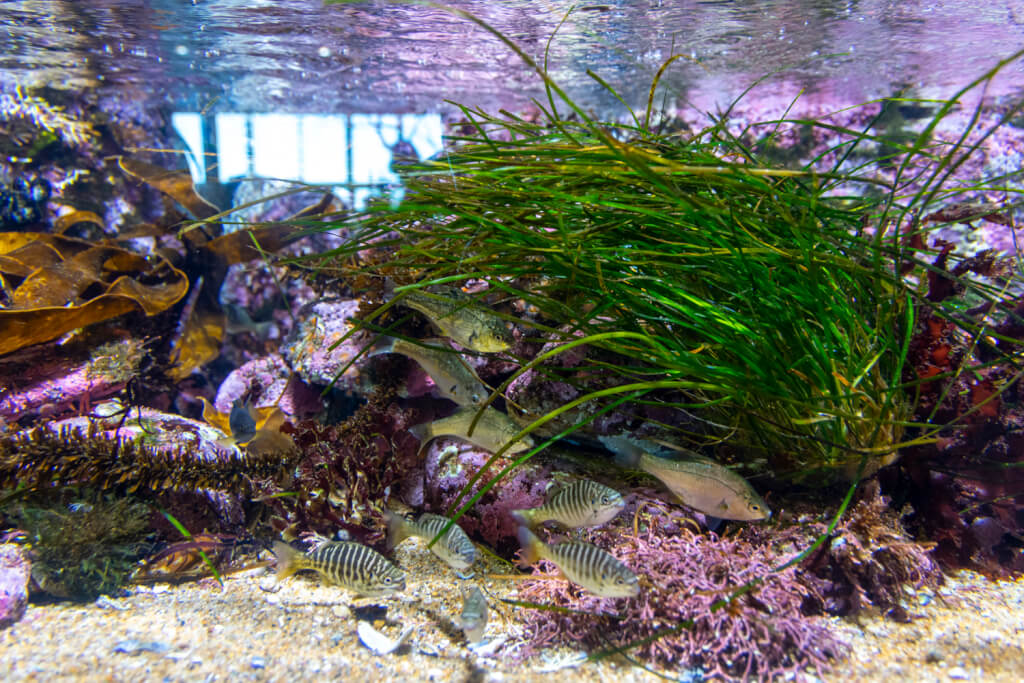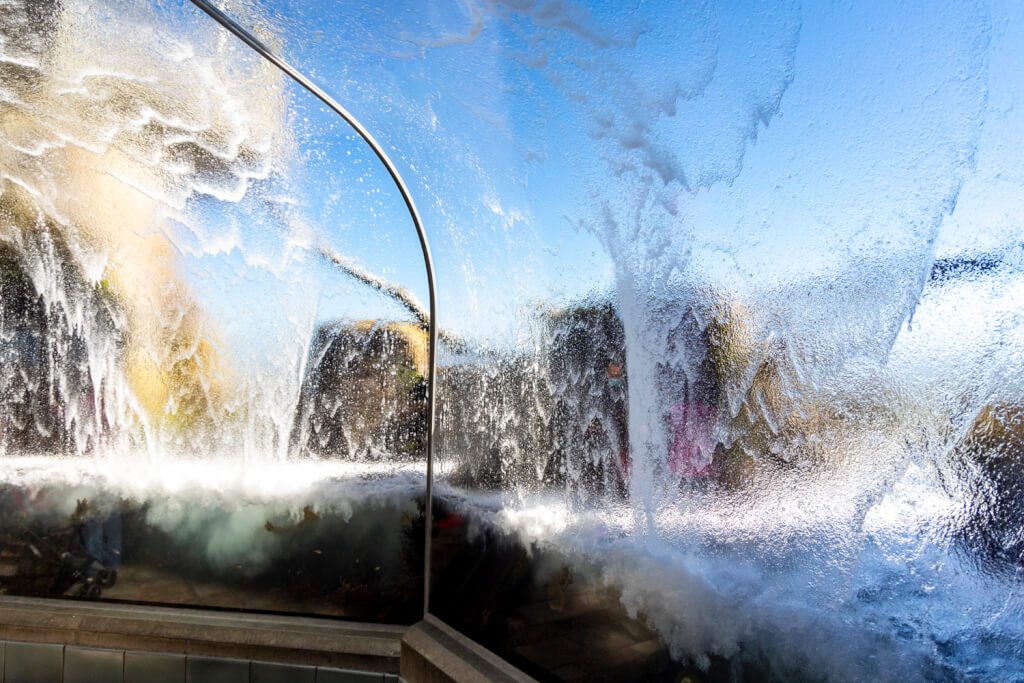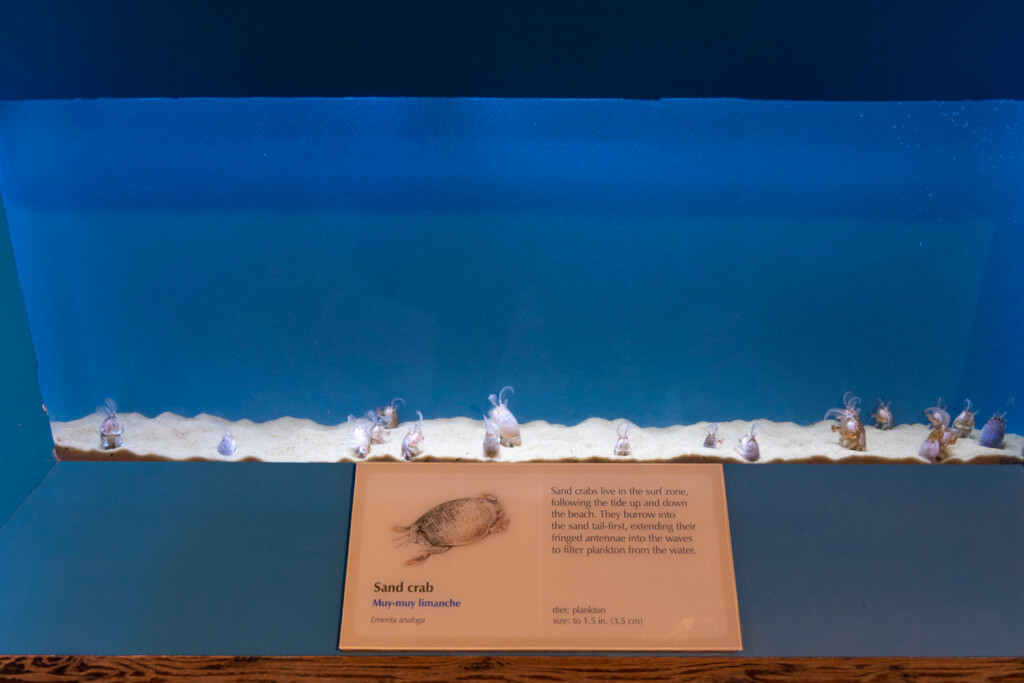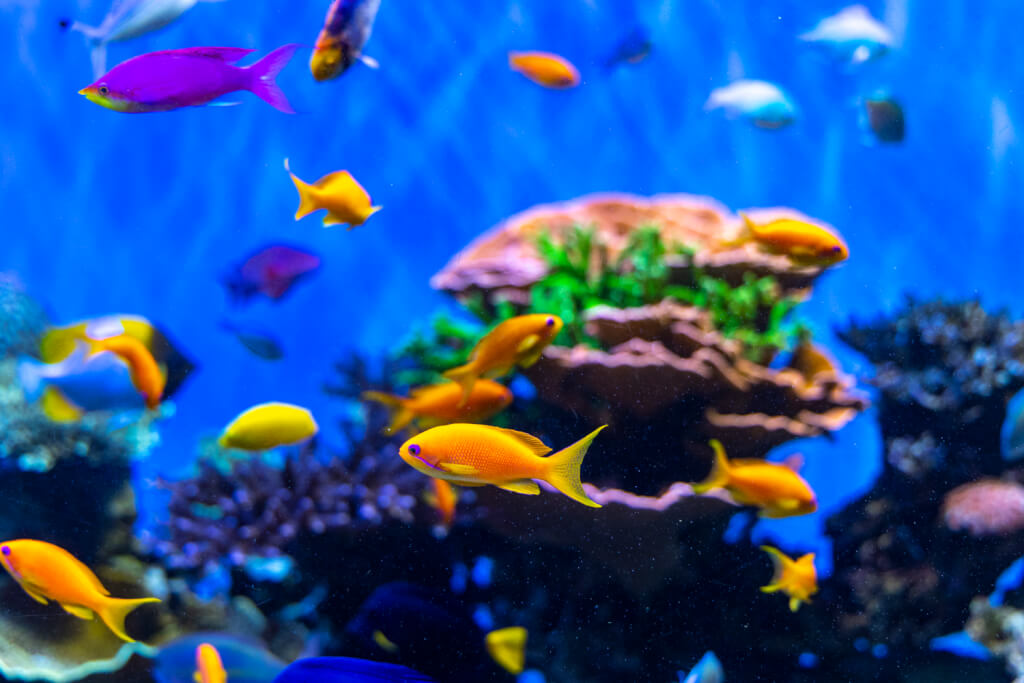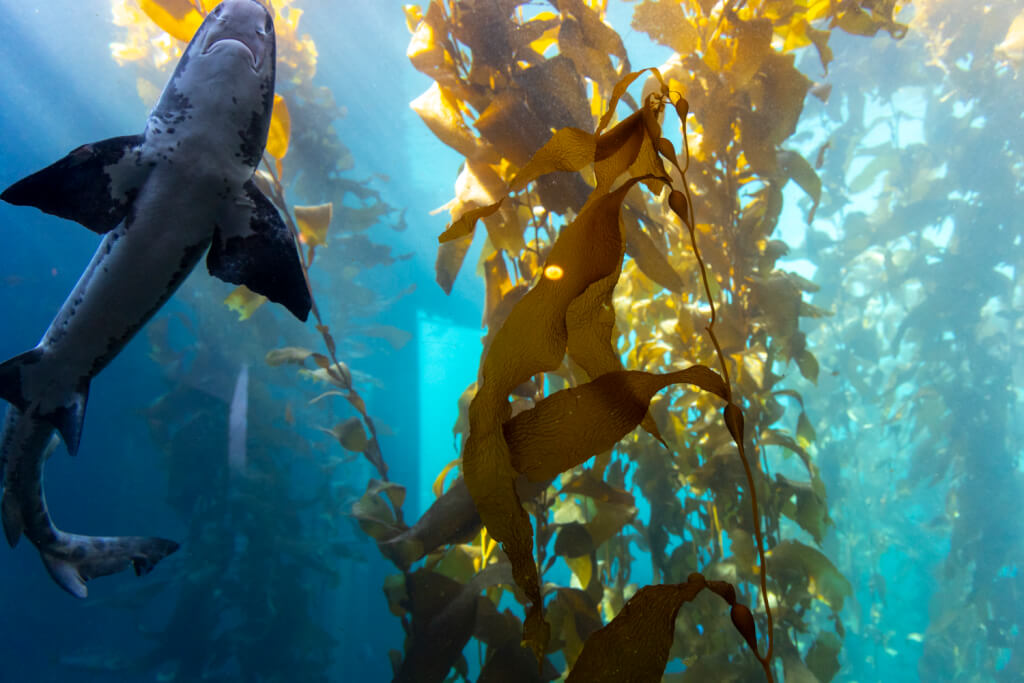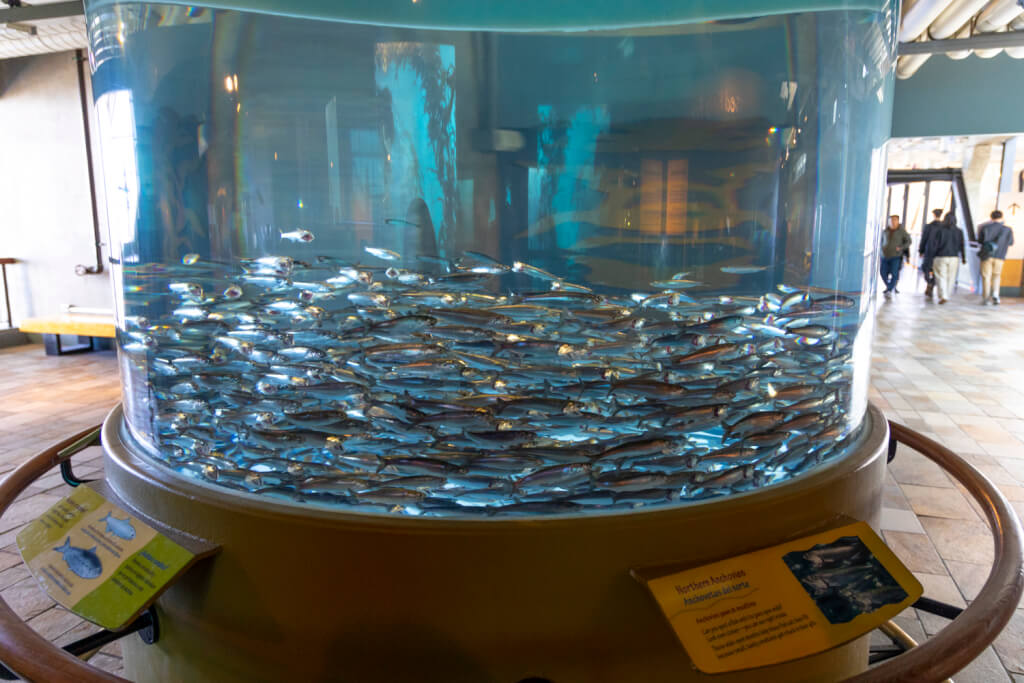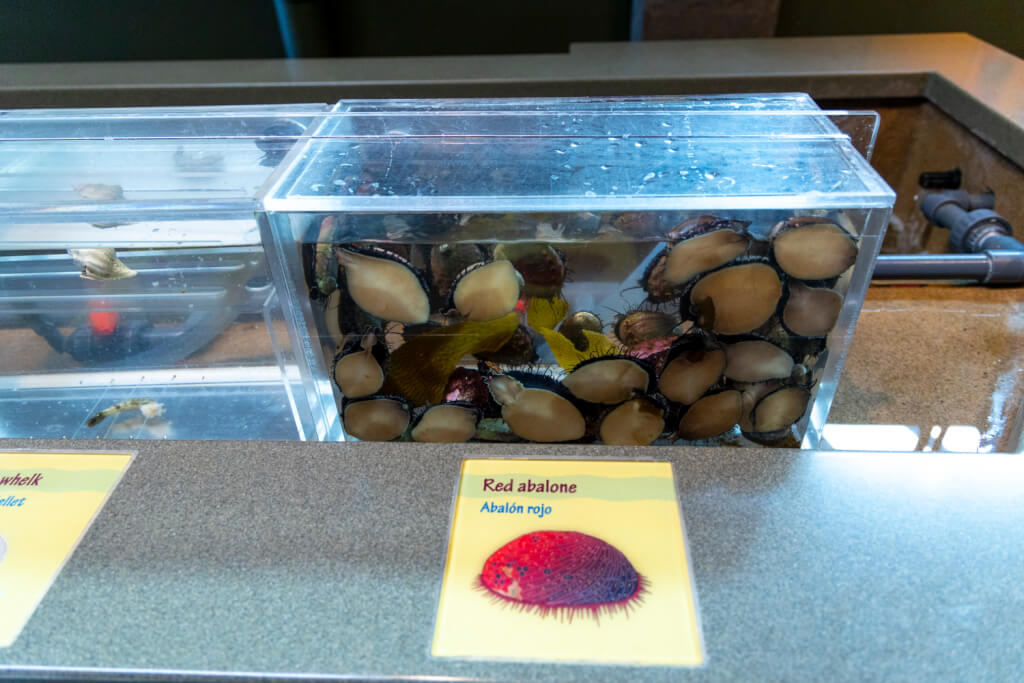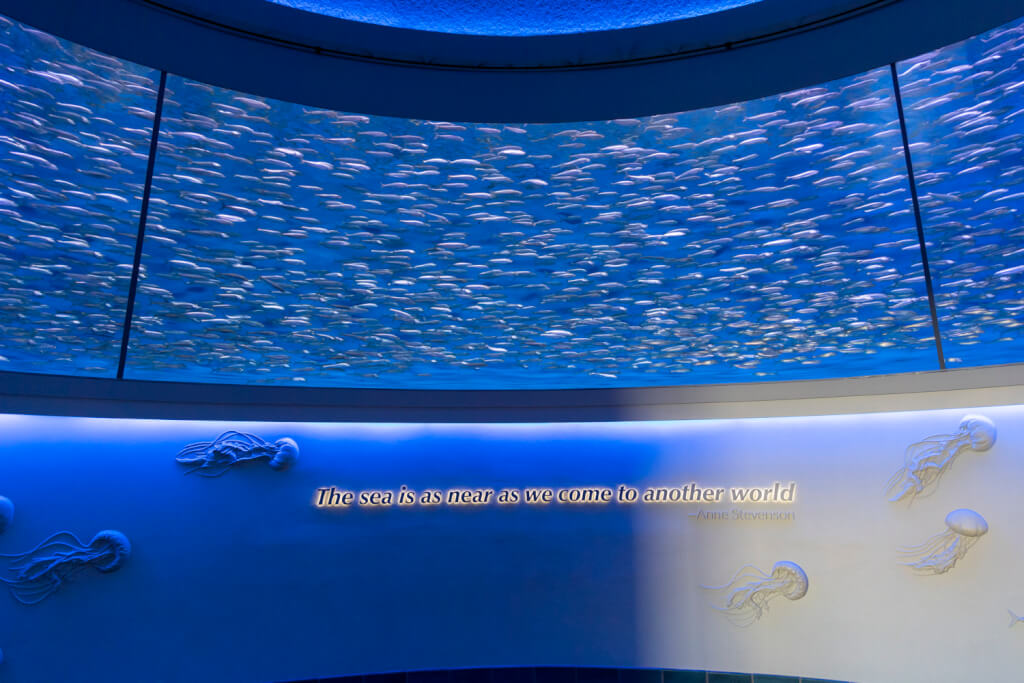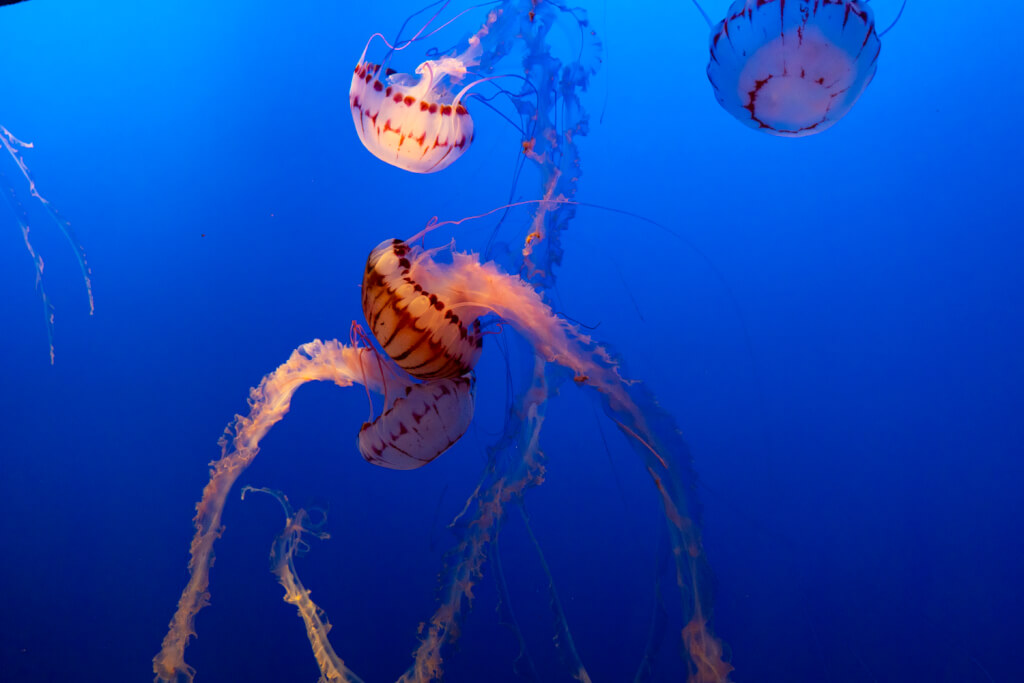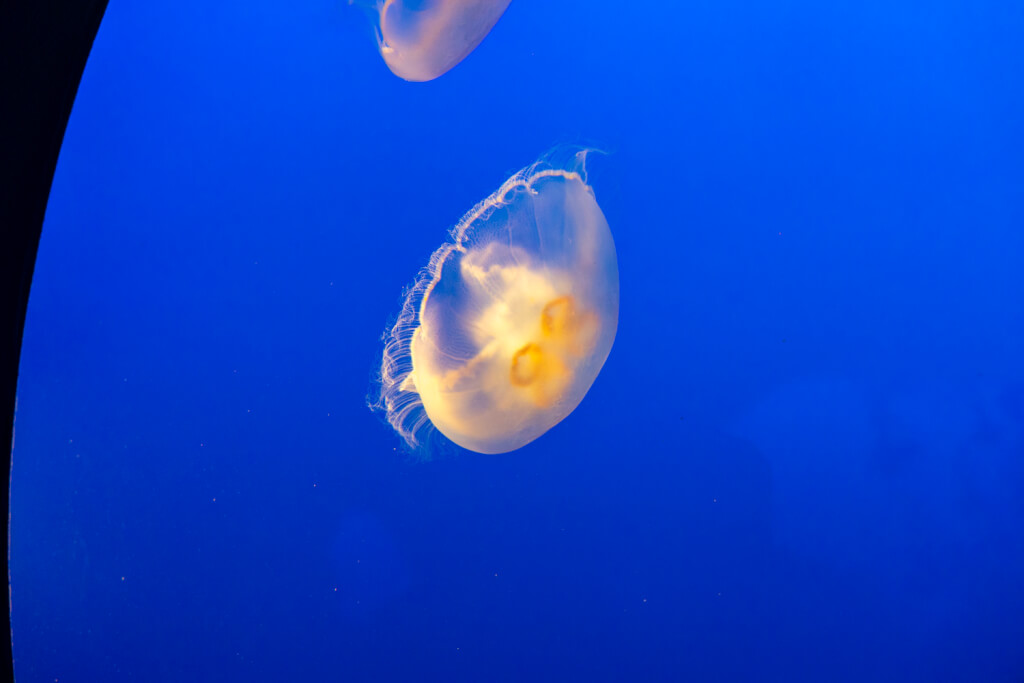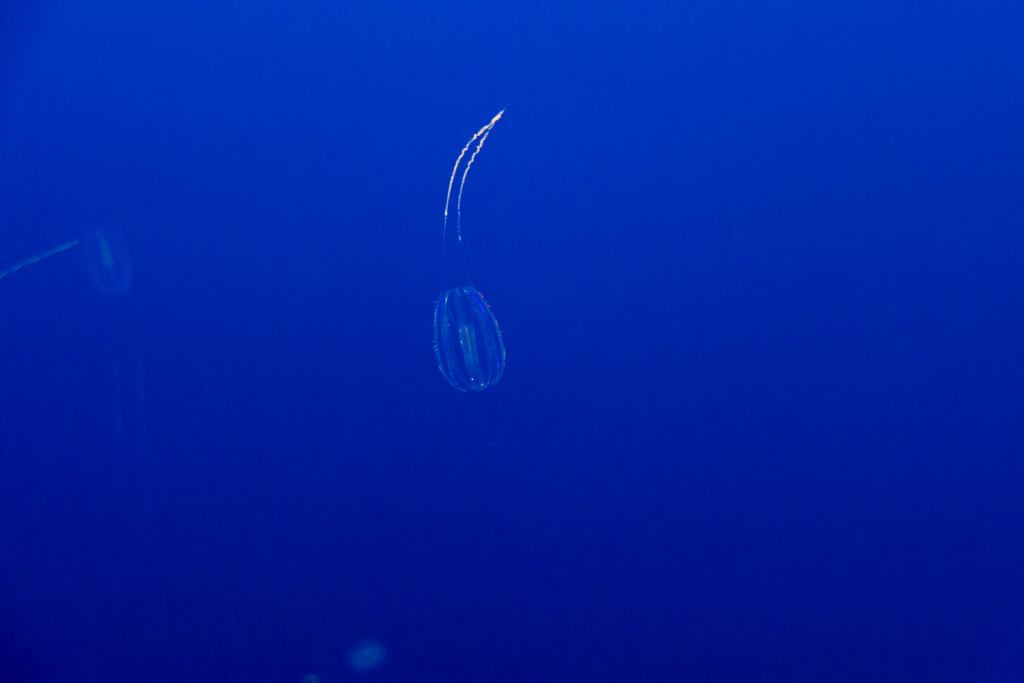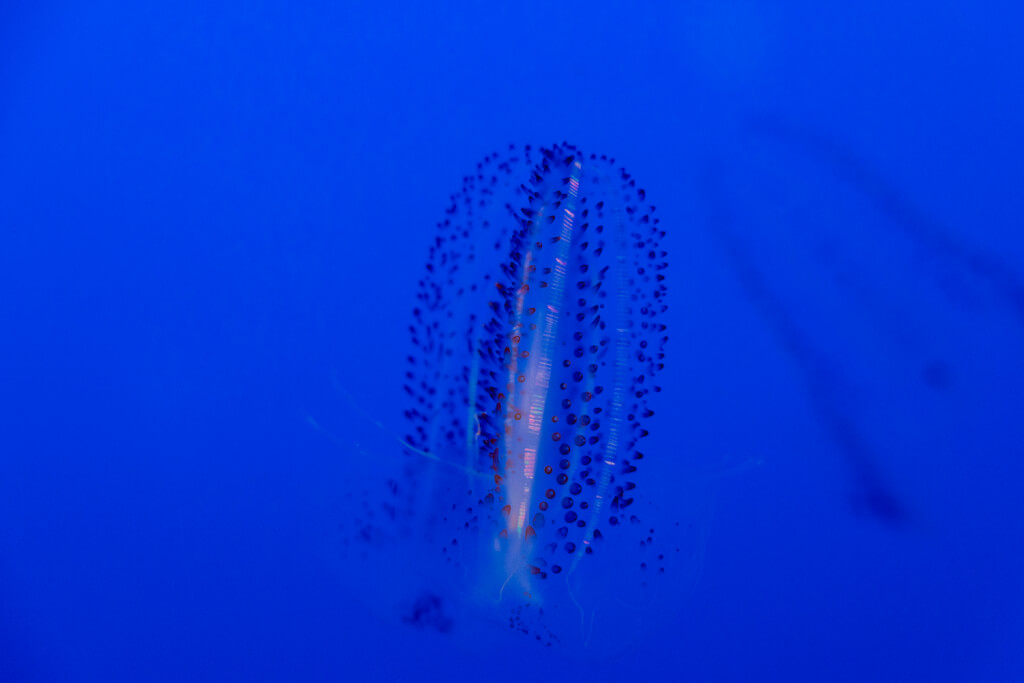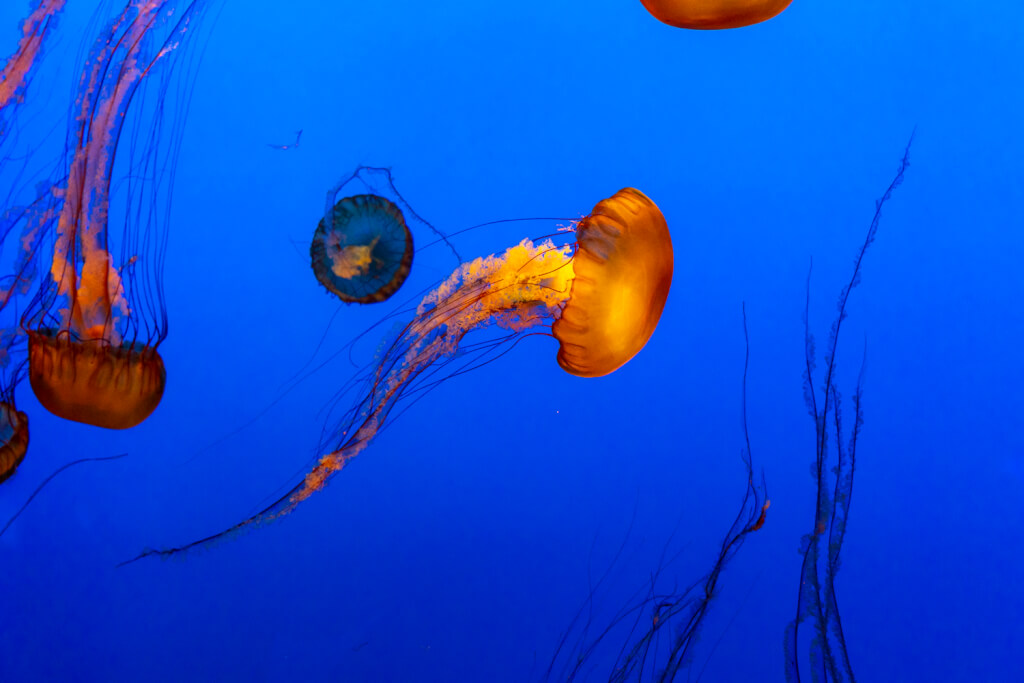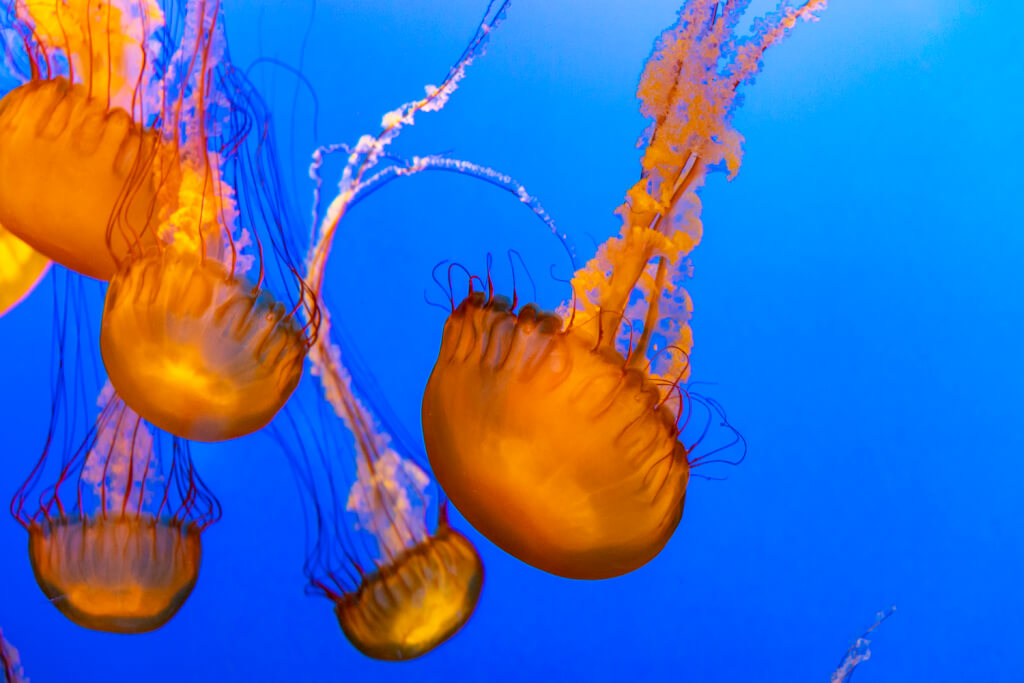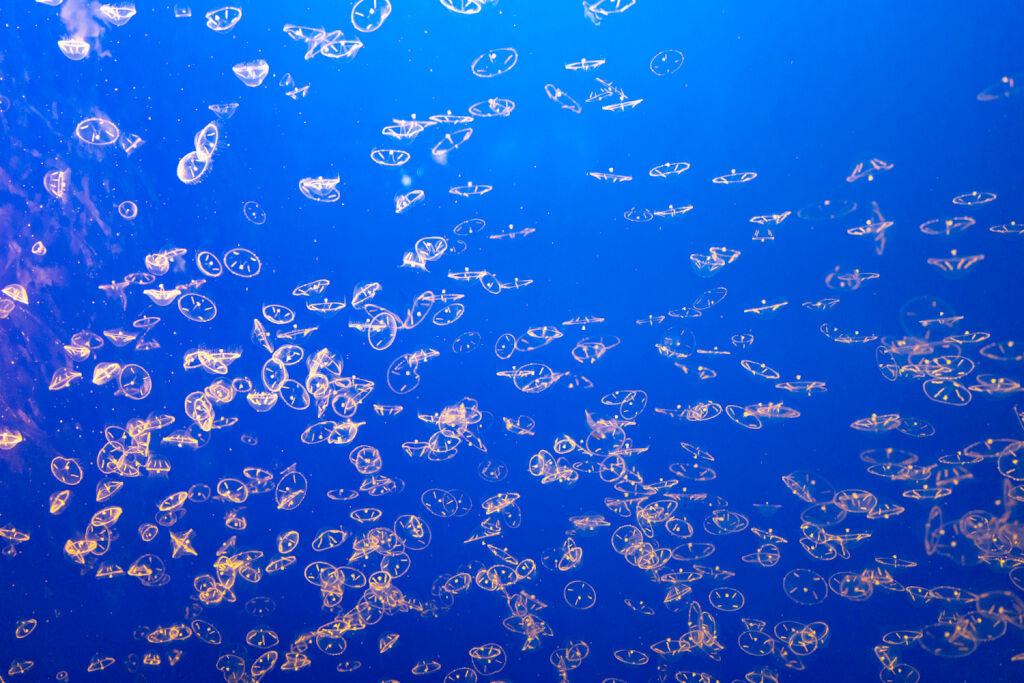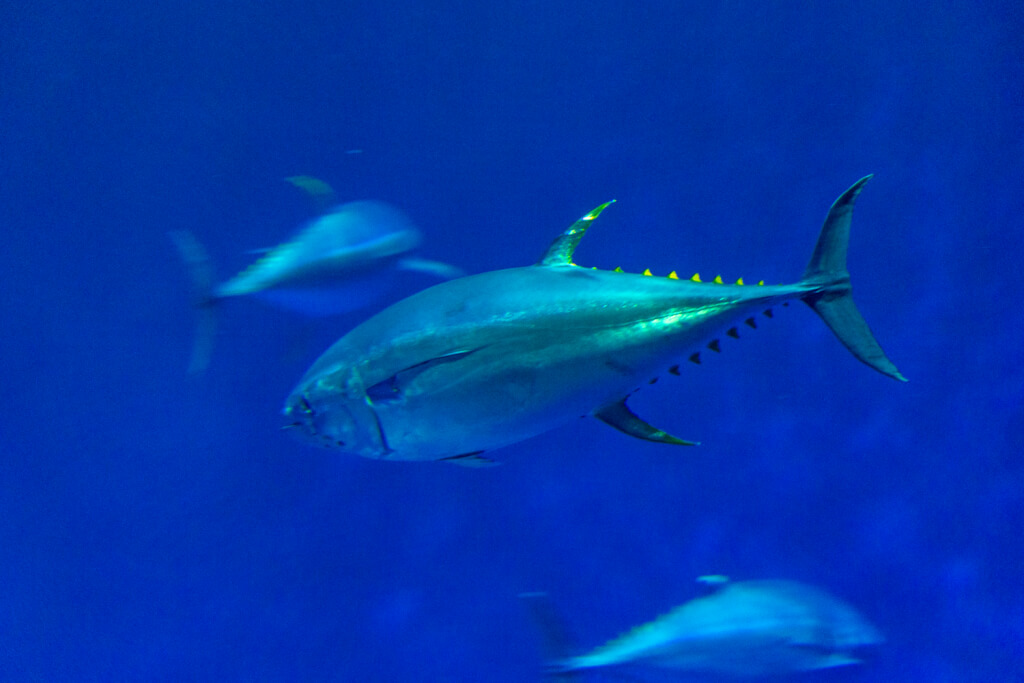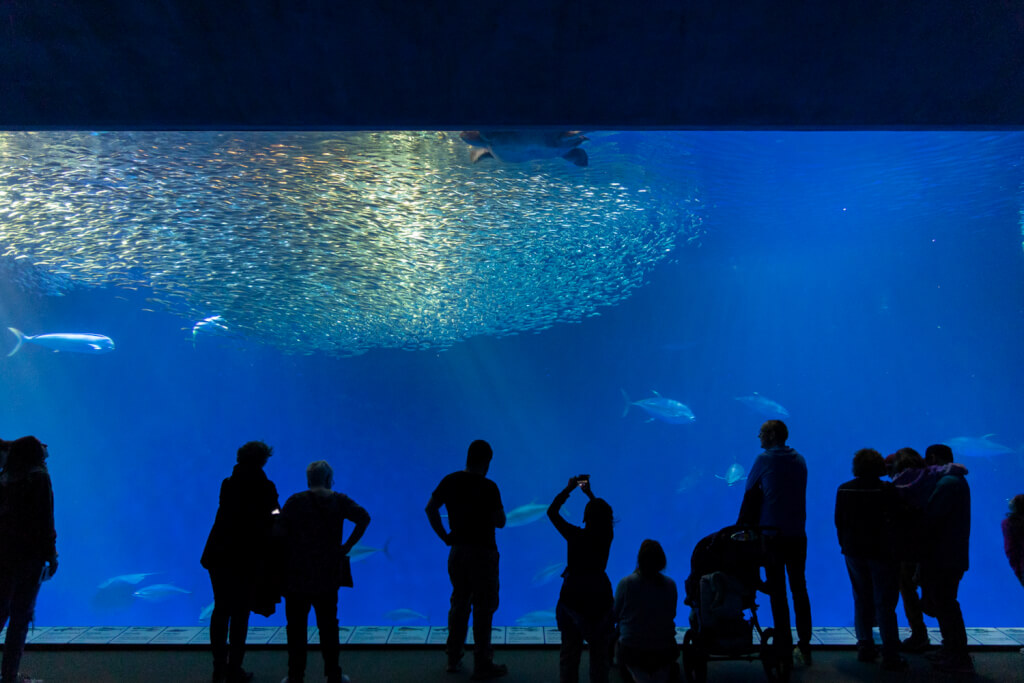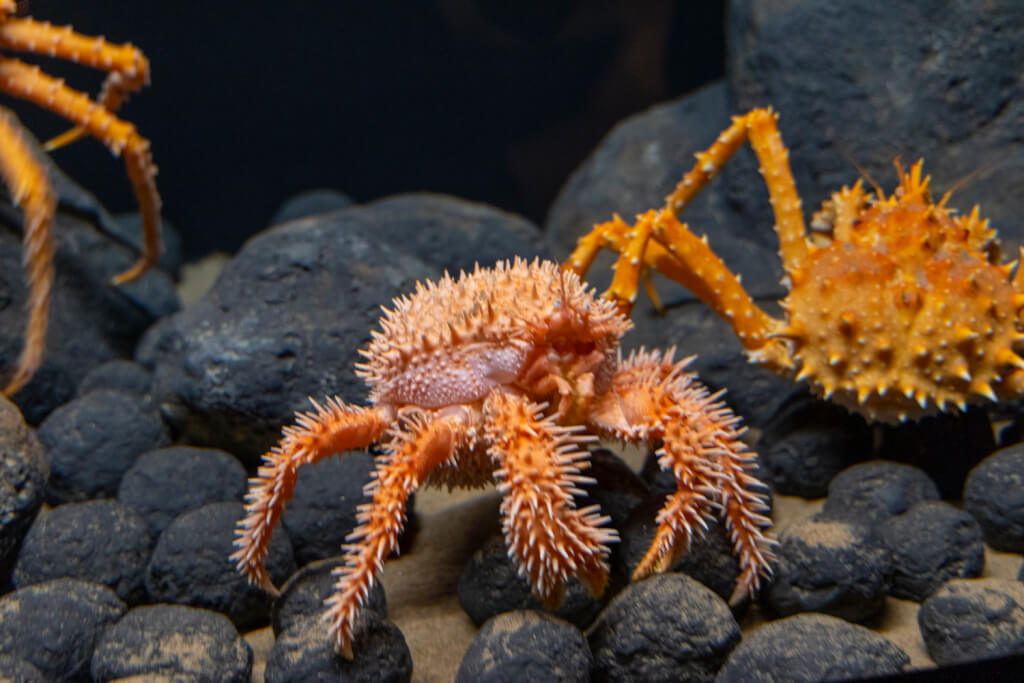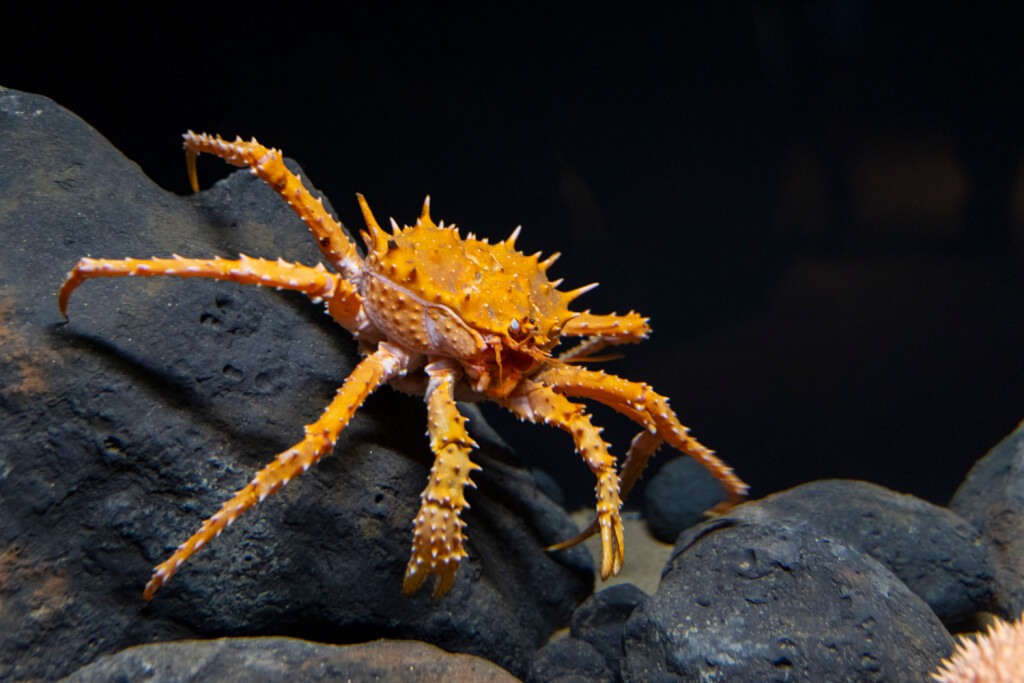 Deep Sea Jellies
One of my favorite exhibits at the Monterey Bay Aquarium is the Deep Sea Jellies. Here are some colorful Comb Jellies.
The really unique animal here, though is the Blood-Belly Comb Jelly. These tiny jellies can be found on display nowhere else right now. Why? Because these jellies were discovered just 20 years ago, and scientists still understand very little about them.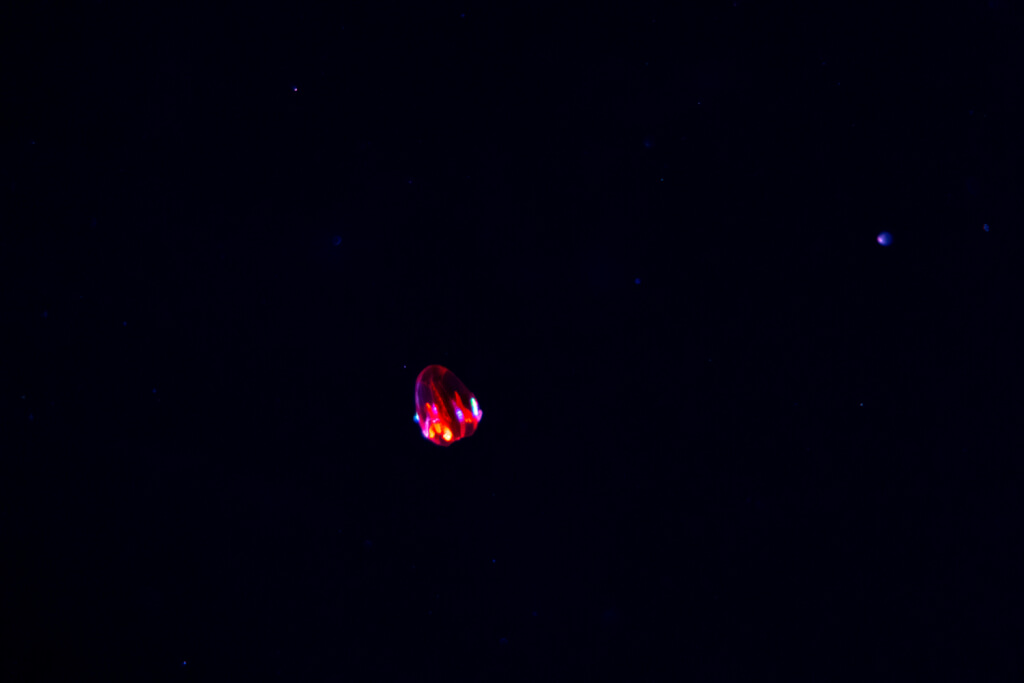 Sea Otters
As cools as the other exhibits are at the Monterey Bay Aquarium, the sea otter exhibit was, by far, my favorite. But unlike other aquariums, the sea otters here are all rescues that are non-releasable. Moreover, all of the otters are females that act as surrogates to orphaned pups, which are rehabilitated and released back into the wild. During our visit, we saved the sea otter exhibit for last so that we could watch the feeding at 1:30 pm. However, we got there WAY early, as people are always crowded around the enclosure. Once a spot opened up, we jumped in and stood there.
Though we've seen sea otters before, I've never seen them this close-up and never next to humans. They're HUGE! It was neat watching the staff interact with the otters while feeding them, too, though watching these inquisitive, active animals, regardless of human interaction, is always a treat.
Other Visitors
While we enjoyed the exhibits at the Monterey Bay Aquarium, they were a bit hard to, you know, enjoy. While we visited on a non-holiday weekday, there were lots of kids at the aquarium, and few parents paid much attention to them. Many would run up and pop up right in front of you, blocking your view and, often, hitting you. But they weren't the biggest issues – other adults were. In fact, there was one particularly entitled old guy that was constantly around us. Though he took his time viewing exhibits, as it is his right to, he told me to scram after five minutes of looking at the Blood-Belly Comb Jellies. Jerk.
Unfortunately, this old dude wasn't an exception. While no one else behaved quite as poorly as he did, many other adults were quite rude. I suppose that should be expected at a popular attraction like this, but it's sad to see.
Monterey Bay Aquarium, Final Thoughts
It was great to finally visit this quintessence aquarium, but I was disappointed by the Kelp Forest exhibit and the behavior of the other visitors. I'm also disappointed in myself for missing the strange deep-sea fishes like the Deep-Sea Angler, Common Fangtooth, and Vampire Squid. Oh well. Perhaps next time. But that begs the question, is the Monterey Bay Aquarium worth a "next time"?
Honestly, if I consider the price of entry exclusively on the grounds of the exhibits, I'd be hard-pressed to say I'd return. While the exhibits are interesting, a lot of them felt similar to other aquariums we've been to, all of which were cheaper. But when you consider the critical work that the aquarium does, including its conservation, advocacy, and sustainability efforts, then I'd be more inclined to return and pay their sky-high entry fee again.
If you do visit, just remember to purchase your ticket(s) in advance and to review their schedule to better plan your visit. Also, remember that you can get stamped on your way out so that you can return later that day if you like. This is good to remember, so you can leave for lunch if you want to.
Living It Up in California