You know that I'm always on the lookout for great eats where ever I go. So, in Carmel, I knew from early on that I wanted to check out the iconic Aubergine Carmel. Yeah, our previous dinner in the area was an utter disappointment, though that was NOT the case at Auberge Carmel – quite the opposite, actually.
In a posch town like Carmel, you'd expect to find pricy restaurants. But as we all know, high prices don't mean you'll get a great meal. However, Aubergine Carmel is not just any fancy restaurant. It's a localvore, seafood-focused, one Michelin Star and Relais & Chateaux restaurant. What's more, the kitchen of one of Hawaii's best restaurants is helmed by Chef Ki Chung, who was the Chef de Cuisine at Aubergine Carmel before he made the move to Bar Maze. Those bits of information were enough to convince me.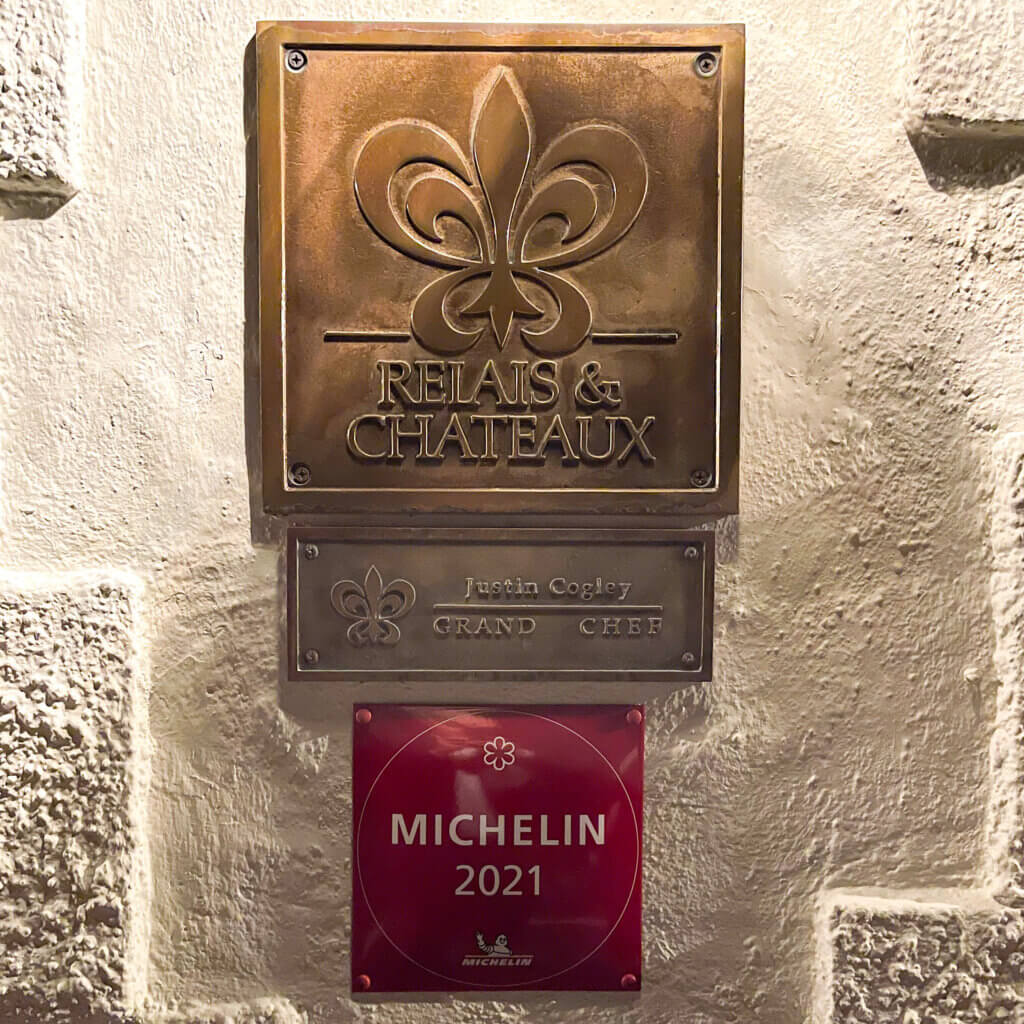 Aubergine Carmel Location
As the name of the restaurant suggests, Aubergine Carmel is in Carmel, California. Specifically, it's in the L'Aubergine Hotel in Carmel by the Sea. Parking is valet-only and is complimentary for restaurant guests. That's great, because parking in Carmel by the Sea is a test of patience.
Reserving Aubergine Carmel
Interestingly, Aubergine Caramel doesn't use Tock or Resy for their reservations – they're on OpenTable. You do have to provide credit card information to secure your reservation, though they do not charge a pre-payment. Instead, you'll be assessed a $185 per person fee if you cancel within 24 hours of your reservation or don't show up.
Aubergine Carmel Ambiance + Service
As you'd expect, Aubergine Carmel is an elegant, timeless restaurant. However, what I wasn't expecting was how small a space it is – there are only a handful of tables here. That's not a bad thing, but it exemplifies why the restaurant must take your card information to make your reservation.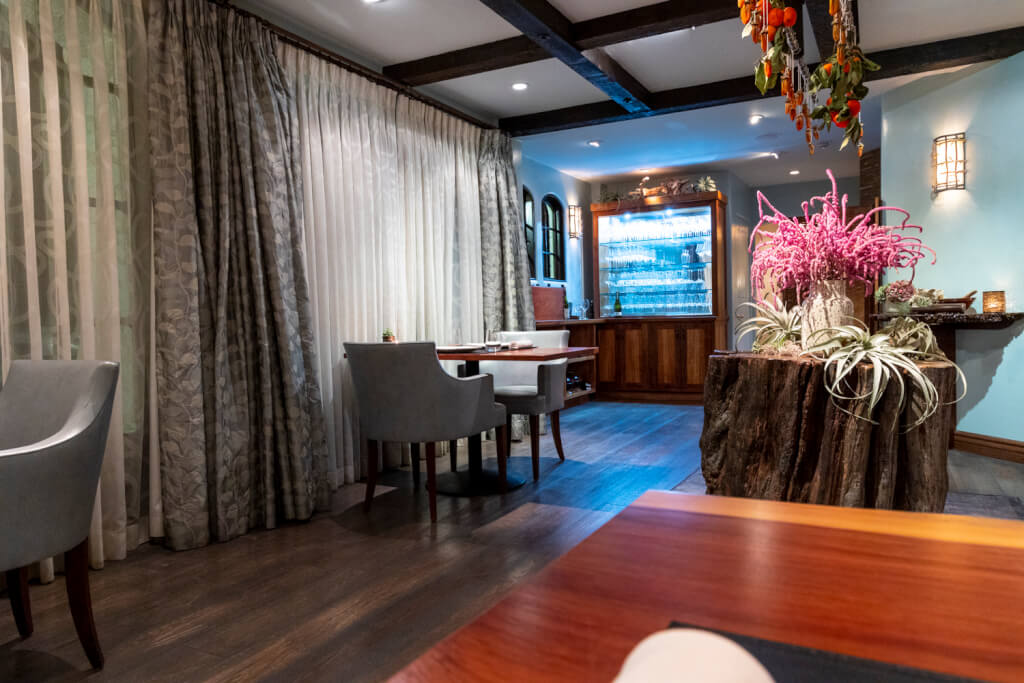 Service here is outstanding. Everyone we interacted with was polished yet friendly. We even managed to crack jokes with some of the staff, though they always remained professional, even in those moments of levity. Interestingly, each course of our dinner was served by a different member of the wait or kitchen staff. Often, the kitchen staff that came out to present our dish is the same person that developed or cooked that course.
Aubergine Carmel Menu
The menu at Aubergine Carmel is pre-fixe only and changes daily based on what's in season and what's available. So, while certain elements – like their shiro dashi butter – will always be present, it's unlikely you'll get any of the same dishes I did, even if you went that same week. It's worth noting that Aubergine Carmel is one of the most accommodating restaurants I've ever been to. So long as you give them ample notice, they can accommodate most allergies and dietary restrictions, which they did for me. Unfortunately, they didn't just cut red meat out of my menu, but all meat, so I didn't get any cured pork. But, still, I'm grateful for their accommodations!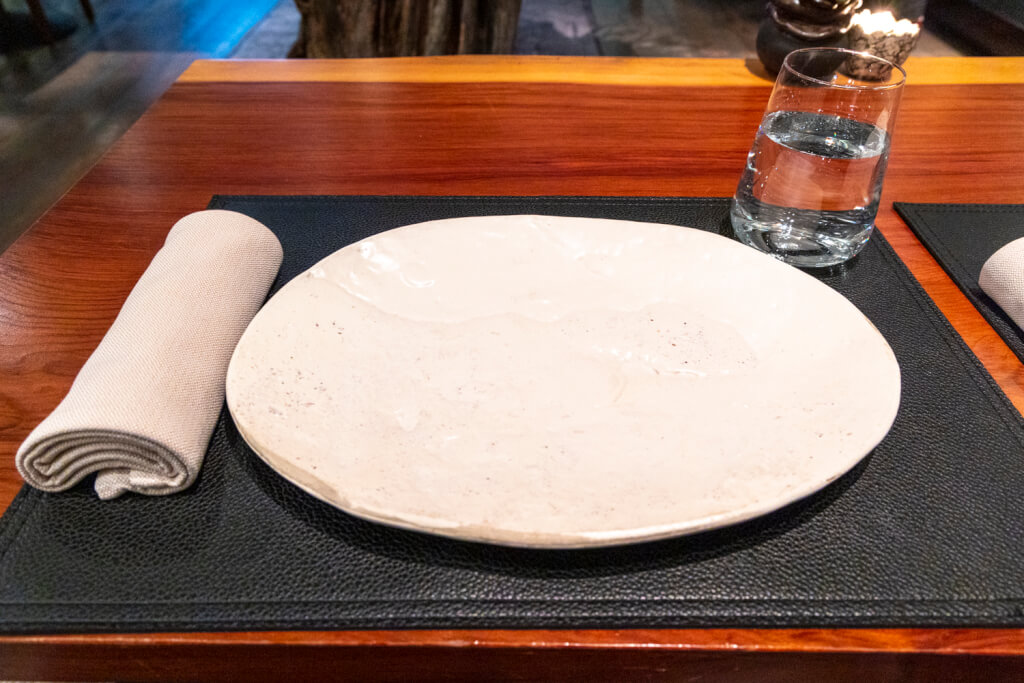 Our Aubergine Carmel Experience
The first dish to land on our table was a Sun-Dried Tomato Ricotta. Surprisingly, the smooth, creamy, savory cheese came in a wonton shell and was topped with housemade furikake. As exotic as this may look and sound, though, its flavor was strongly reminiscent of pizza!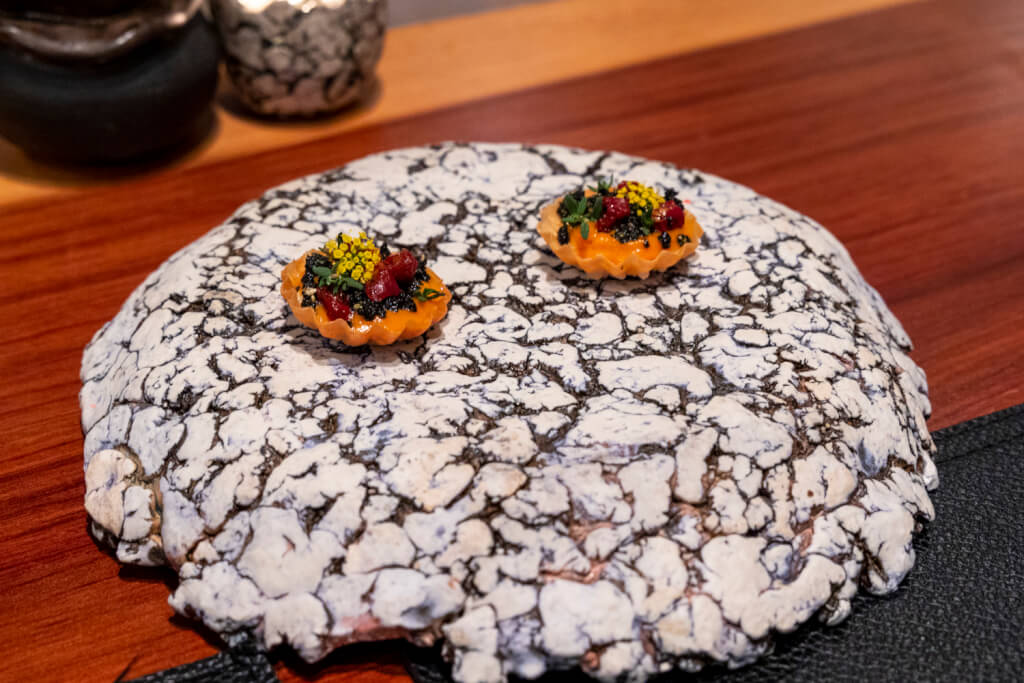 Next up were Morro Bay Oysters. Here, they come with a splash of warm brown butter, parsley, and a slice of lardo for Mrs. Island Miler only. While I think this would have been even more amazing with the lardo, it was a finely balanced dish full of oceanic flavors that the warm brown butter helps to mellow and enhance all at once.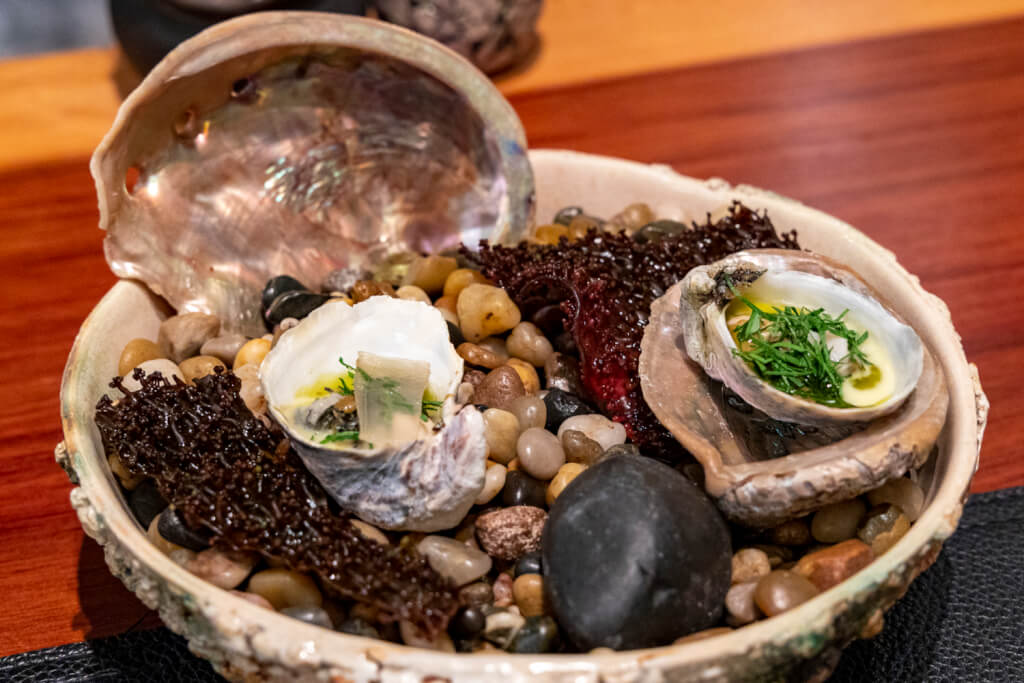 Our final small bite of the night were Nori Cups filled with minced Akami (lean bluefin tuna) and a dab of fresh Japanese wasabi. For my Hawaii people, you can probably figure out what this tastes like. You get the oceanic vegetal flavor of the crispy nori; the clean, unctuous meatiness of the tuna; and the mild spice of the wasabi.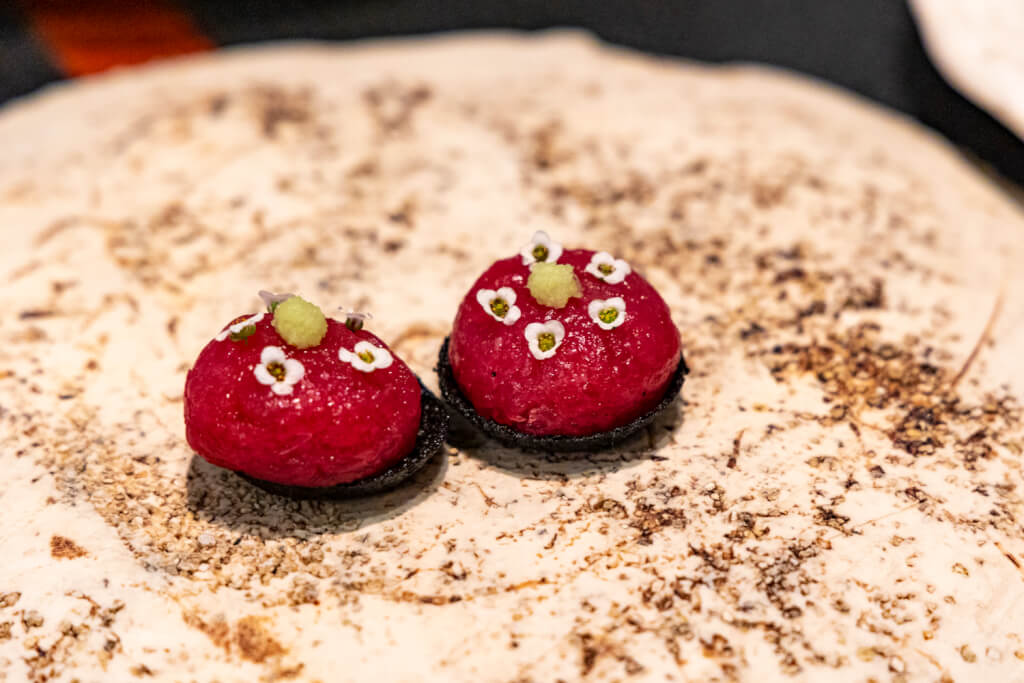 It's at this point that our drinks landed. Mrs. Island Miler ordered The Grapes of Wrath ($12), which is pinot noir juice, yuzu, and agave. It was an excellent yuzu-forward mocktail. I went with a Falling for You ($18), which is a combination of bourbon, passionfruit, ume honey, and cardamon. Though I kind of wish the passionfruit was a bit more assertive, this was a fantastic drink that's similar to a bourbon sour.
Our first non-finger food dish was this 21-layer buckwheat crepe cake. Featuring black sesame and fried leeks, this was definitely a savory dish. But what made it even better (and more exciting) was its sauce.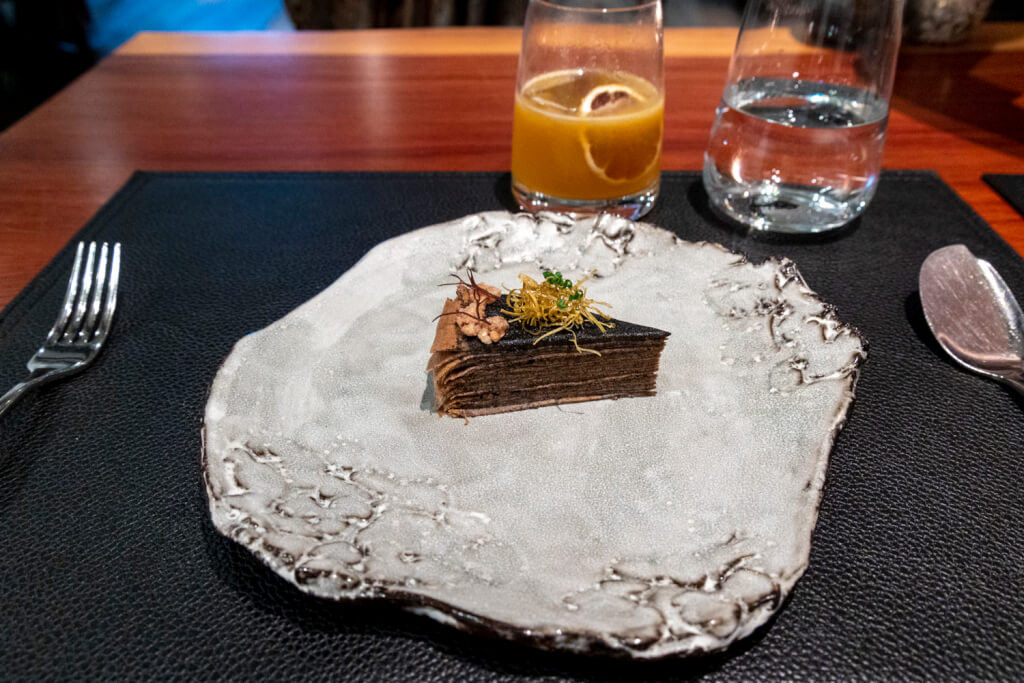 That's right. That, my friends, is a Kaluga caviar sauce being spooned around the cake tableside.
Admittedly, without the sauce, this would've been a fairly dry crepe cake. With it, though, it was a phenomenal interplay of allium, nutty, creamy, oceanic, and toasty flavors. So good!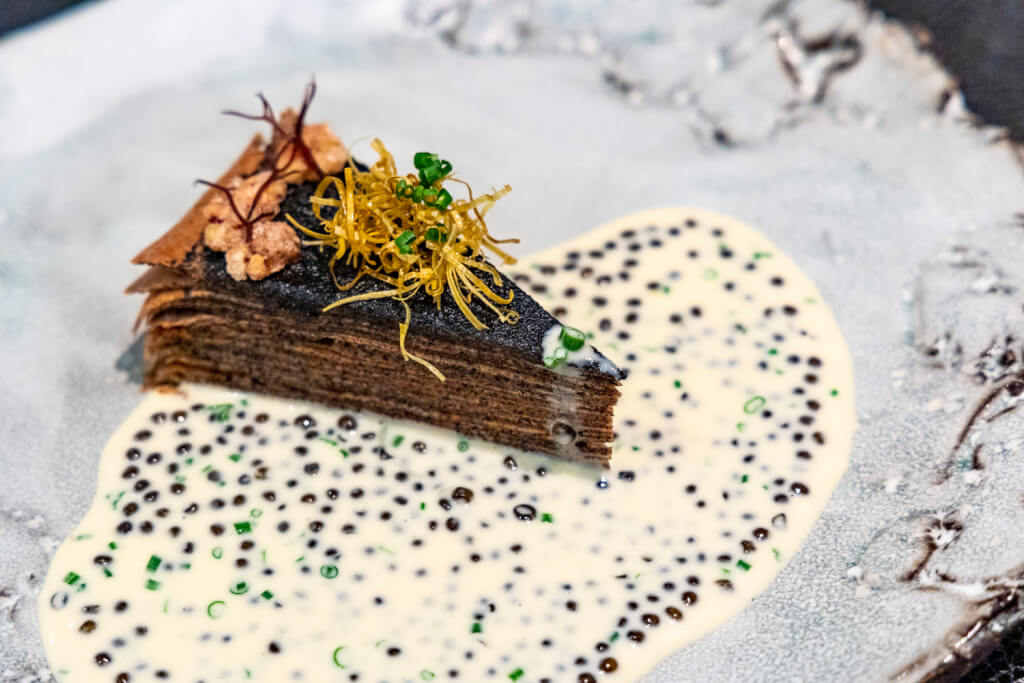 The next dish to arrive was probably my favorite dish of our Aubergine Carmel experience, a Monterey Bay Red Abalone atop Napa cabbage and maitake mushrooms with a sprig of Shiso-like flowers.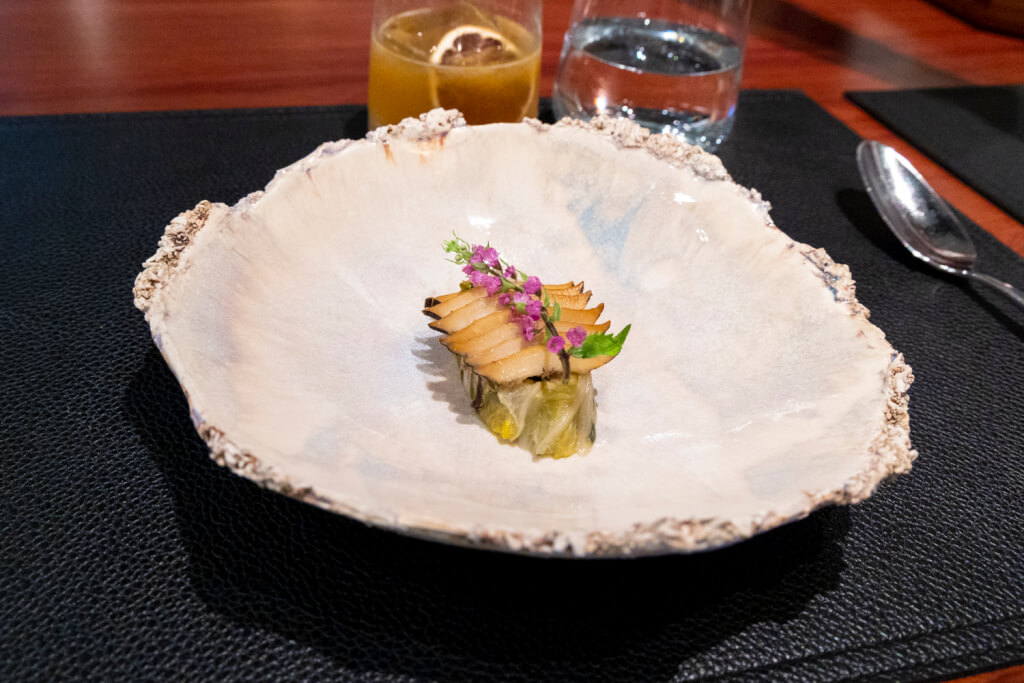 Like the last course, the sauce for this dish was served table side – a vibrant and stunning green sauce made of blanched spinach and house chicken stock.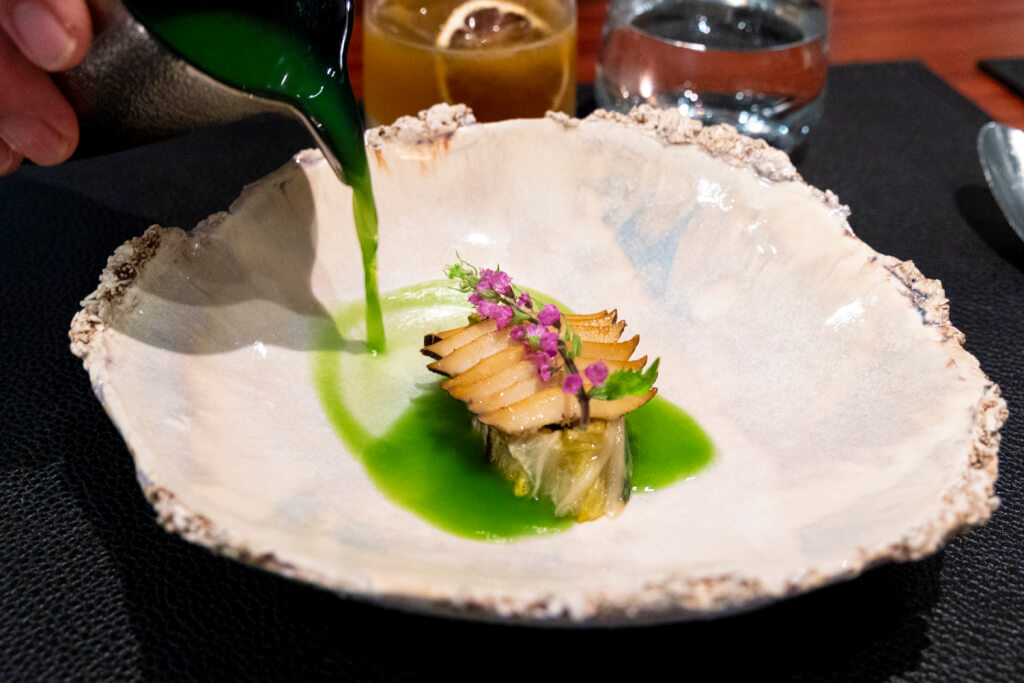 Sprinkled over the top was some crispy, crackly chicken skin. I love chicken skin, and its use here served not only as a textural contrast but added more umami and fat to an otherwise clean dish. That's not to say it was dirty or the flavors muddy. Instead, the crispy, salty, fatty chicken skin helped to really tie everything together. I'm just bummed I didn't get abalone in a stunning Christina Liu Ceramics abalone shell, as Christina Liu herself did when she visited shortly before me!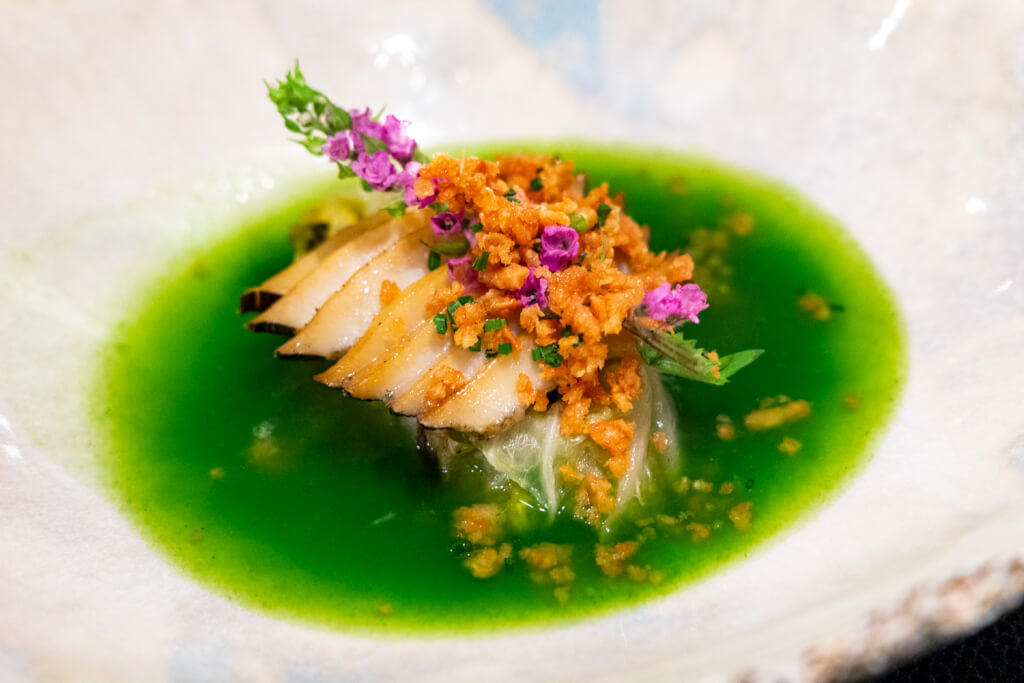 Next up was a finfish dish – Crispy Scale Amadai with Japanese turnips and smoked trout roe.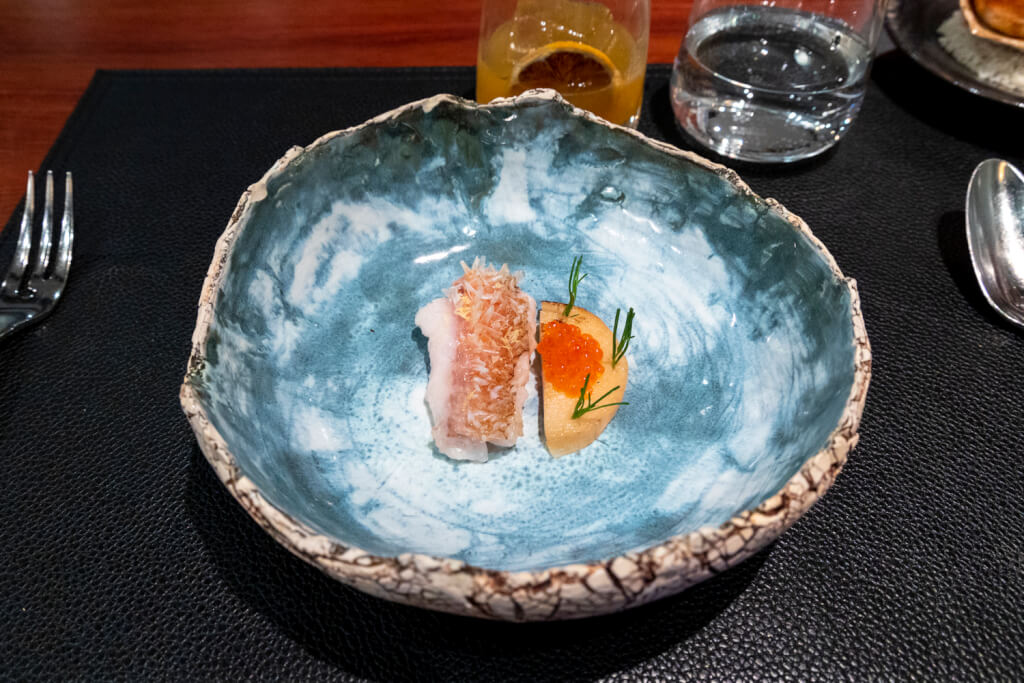 Ok, well, the dish's Shio Dashi Butter with bell peppers was poured tableside.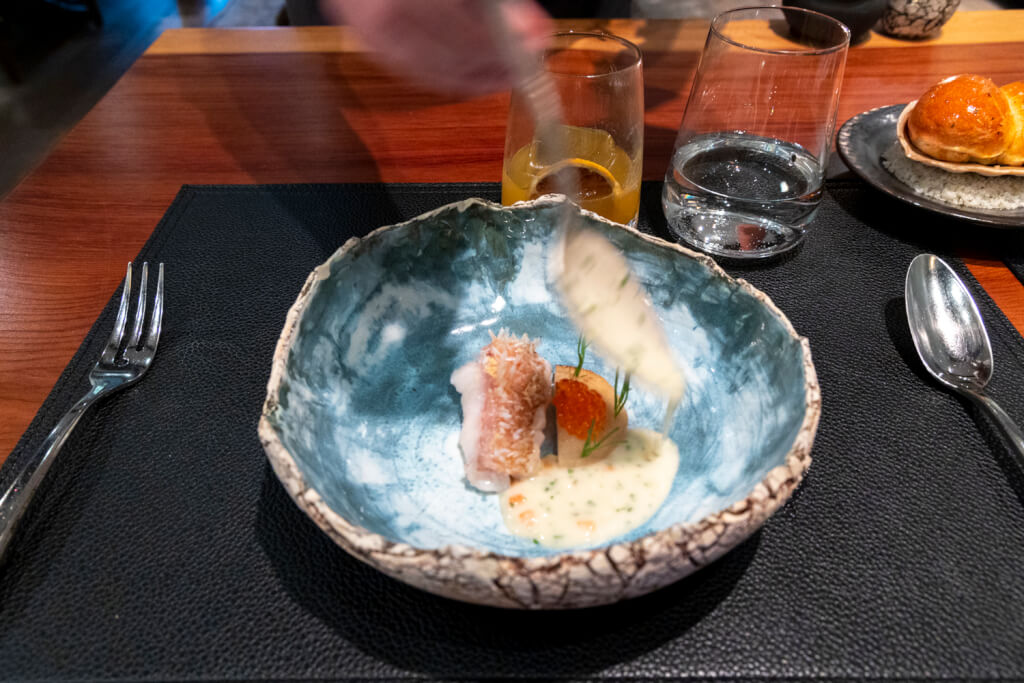 AND it came with sea lettuce butter brushed brioche baked in an abalone shell!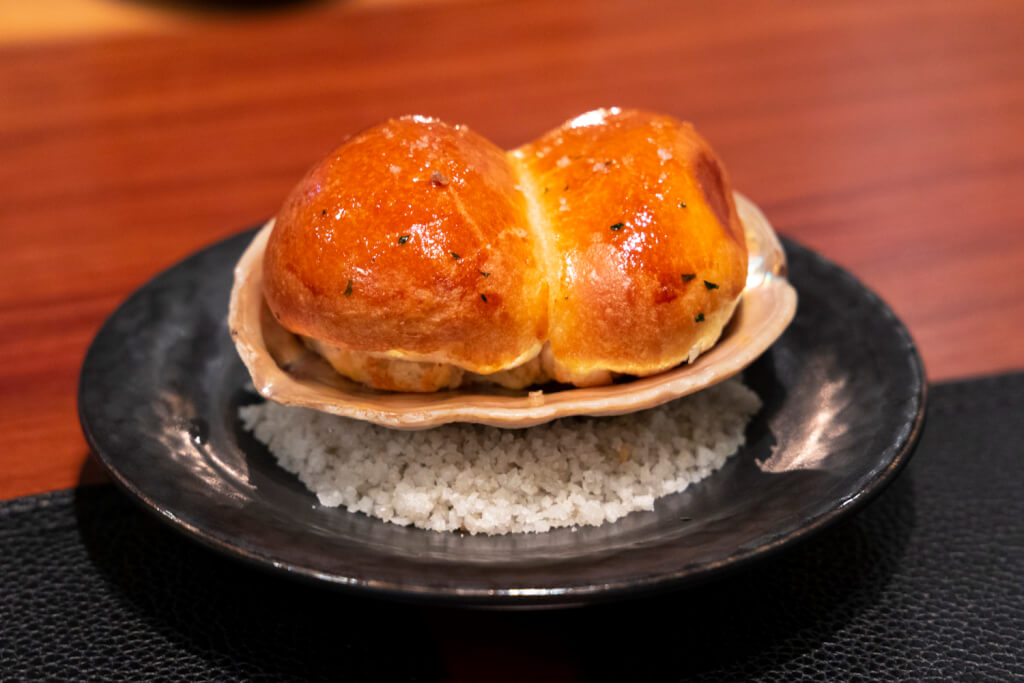 This fish – known as Japanese Horsehead Tilefish in English – was cooked to utter perfection. So light and crispy on the outside while tender and flakey on the inside. The Shio Dashi butter sauce was nearly identical to the one at Bar Maze (I mean, I'm not surprised), though the addition of minced bell pepper provides a lightly sweet, vegetal quality to it. The bread was the perfect vehicle to sop up the extra butter and was delicious on its own.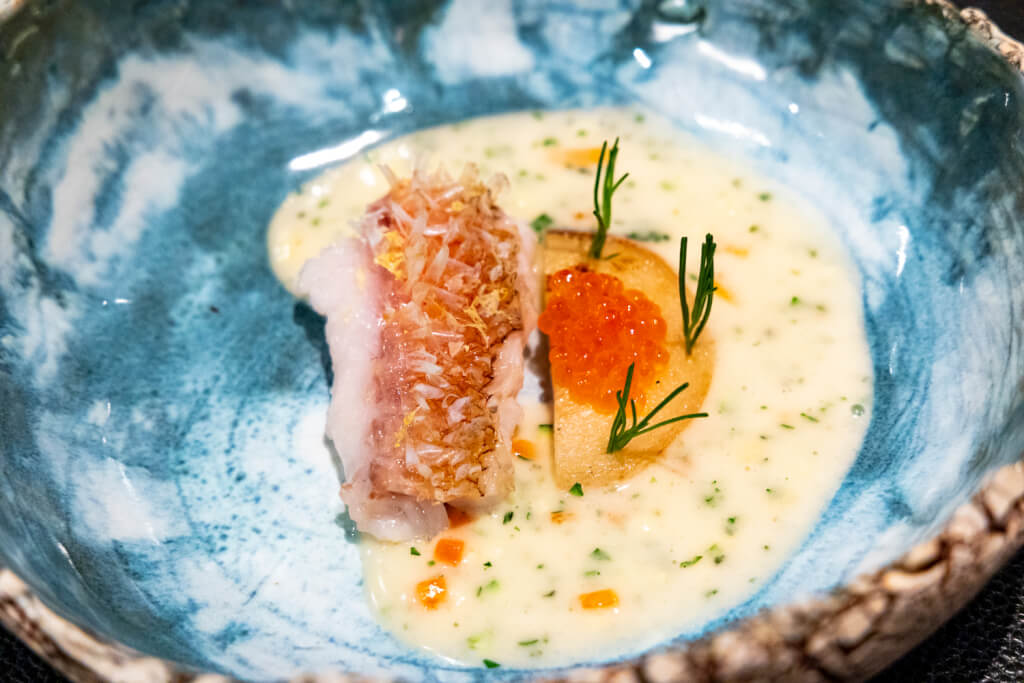 The next course was a 12-day dry-aged lamb. I didn't get to partake in this, but Mrs. Island Miler did. She enjoyed it, and she doesn't care for lamb. Just look at how tender and juicy that looks!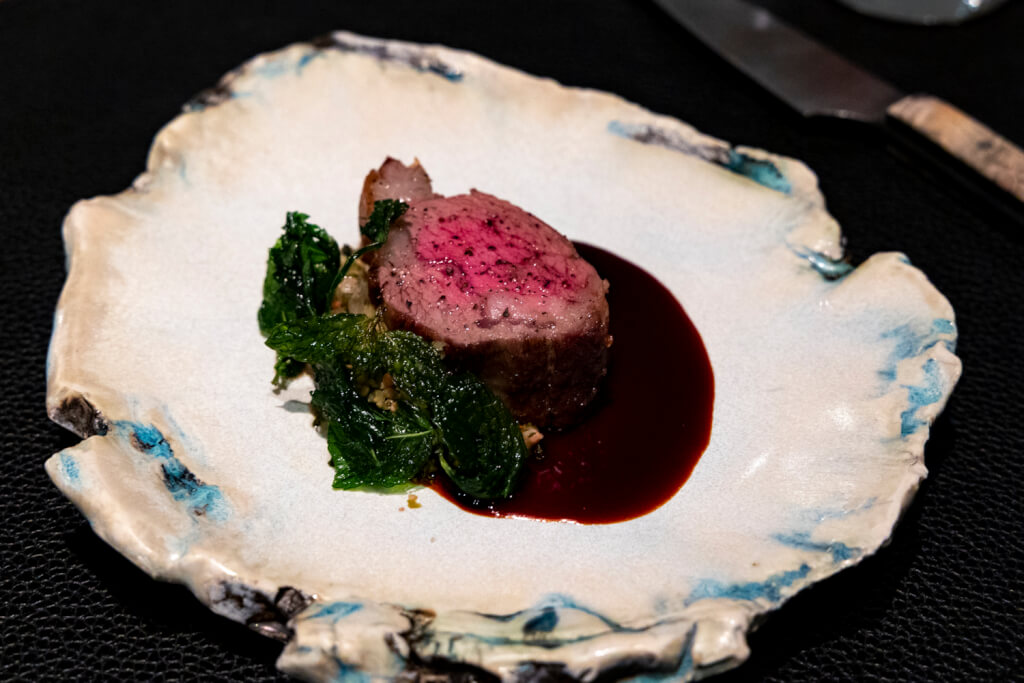 My non-lamb dish was Wolf of the Sea. I'm really not sure what species this actually is, but the best I could tell is this is Loup De Mer or Branzino. It came with fried mint, caper berry, and mustard seed relish, and a red wine reduction. While not the same as lamb, this was a lovely fish dish that had more of a meaty quality to it, and I'm sure its accompaniments certainly helped.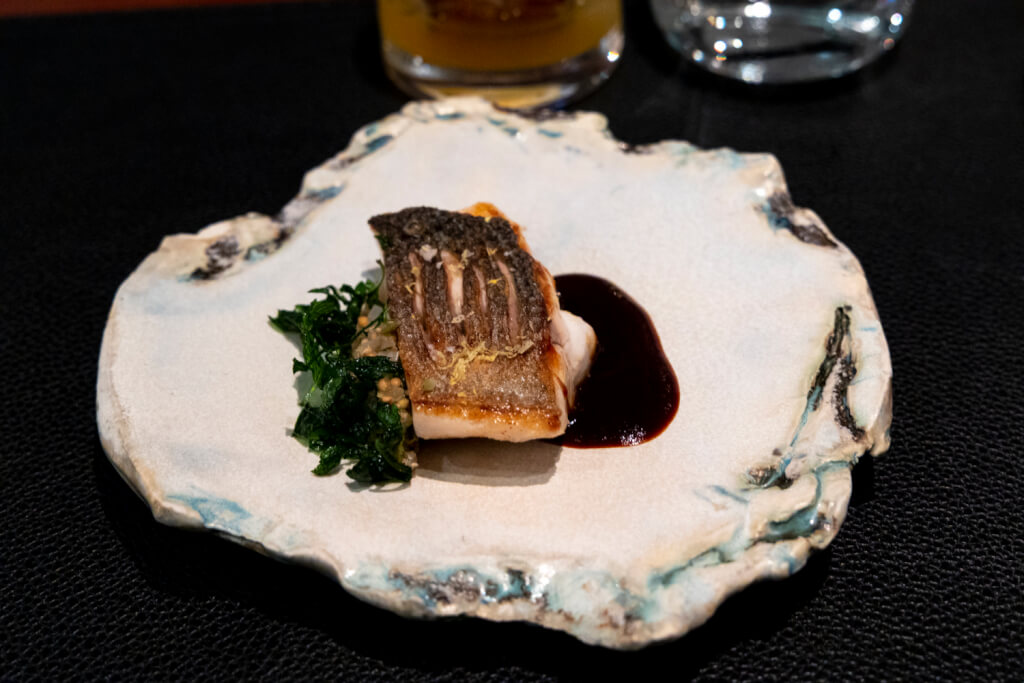 Before our next course came out, a basket of Rye Baguettes and Dukkah Butter landed on our table. These baguettes were simple but amazing! They were steaming hot with a thin, crispy exterior and a satisfying soft and chewy interior. So good! And it was even better with the salty, herbaceous butter.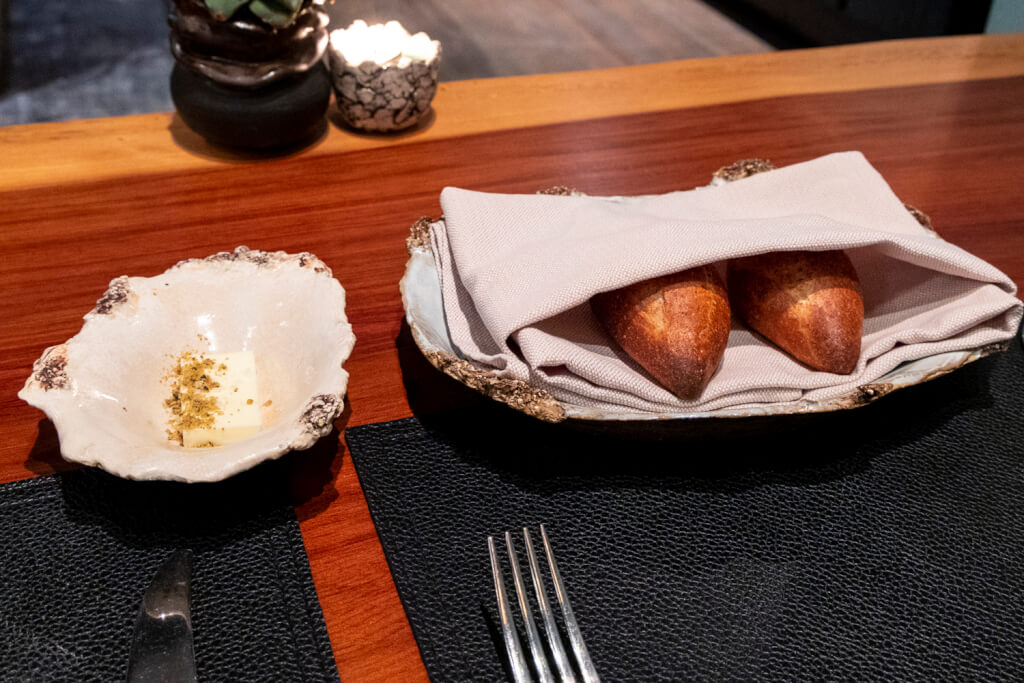 The final entree of the night was a choice between a 32-day dry-aged ribeye or A5 wagyu beef from Japan, both of which comes with ricotta cheese wrapped with leeks. Mrs. Island Miler went with the dry-aged ribeye and was really happy with this dish!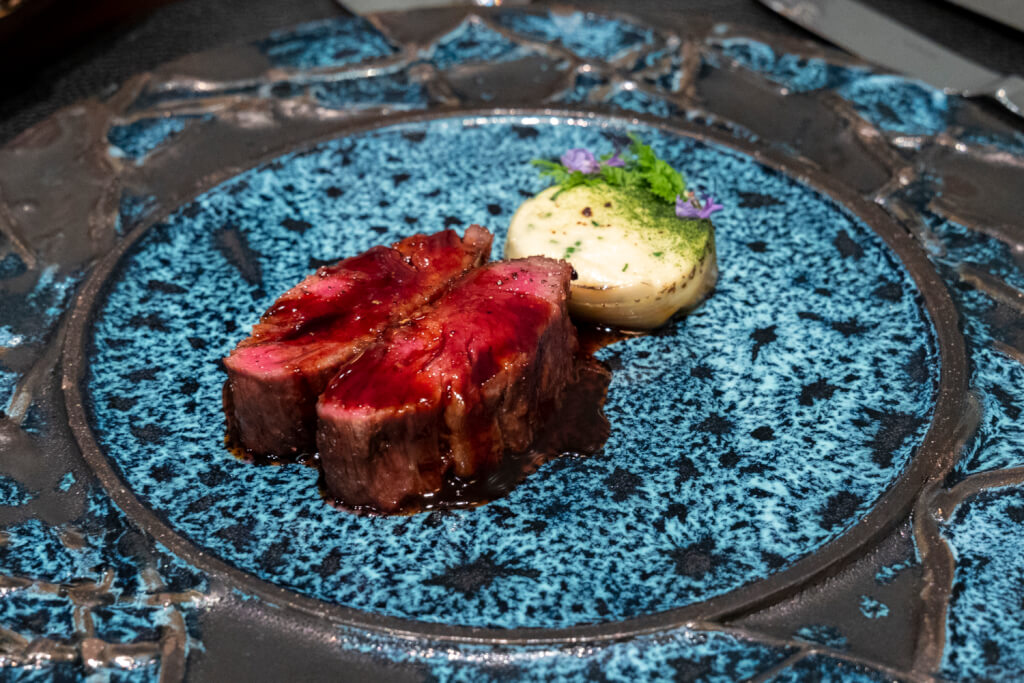 My final dish ended up being Sawara with chanterelles. On the one hand, I was excited because I love chanterelles, and these didn't disappoint. But, on the other hand, I'm not really a fan of Mackerel in general, though this one isn't as bad as Saba. I can see why they used it here, though, as this fish is rich, fatty, and meaty.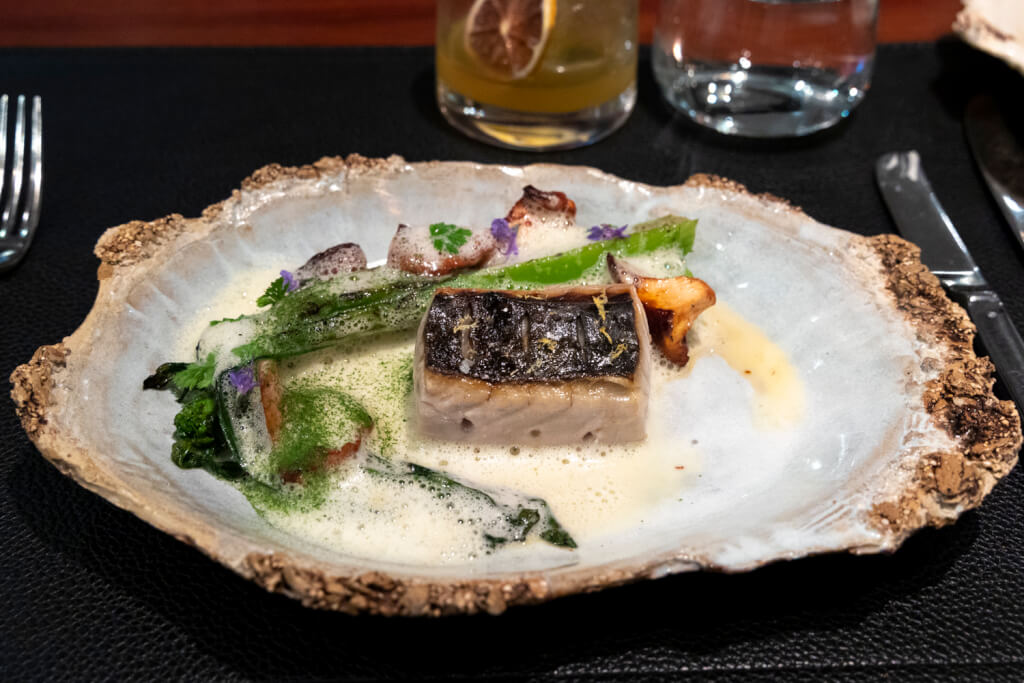 After our main course was cleared away, we were offered after-dinner drinks. I ordered a pot of green tea, which was of outstanding quality. It was sweet, grassy, and lightly floral, with just the right amount of bitterness.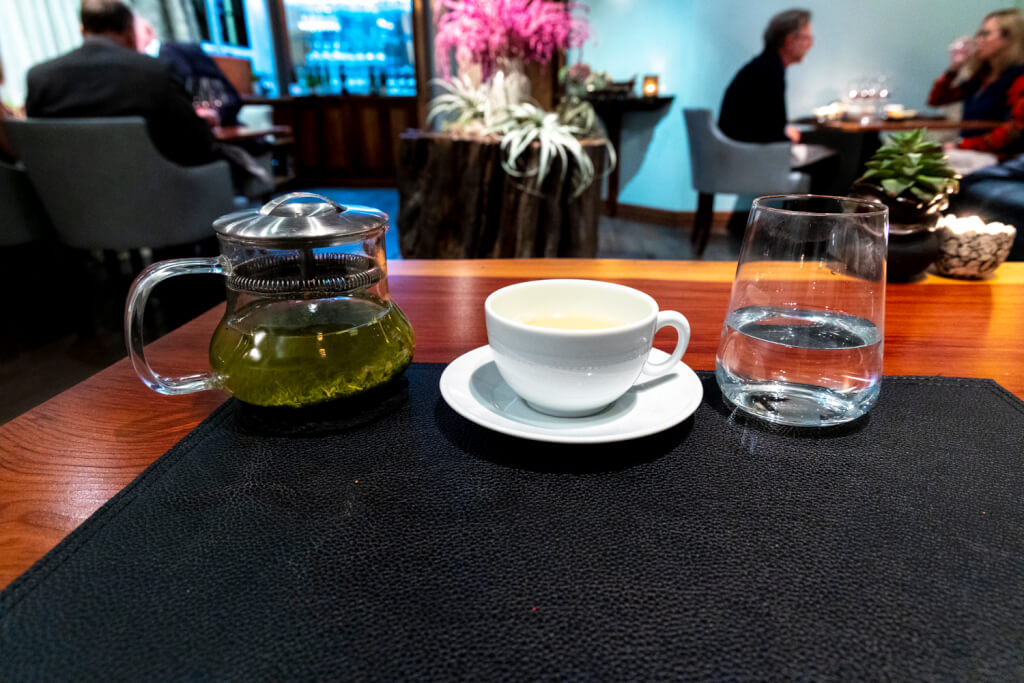 The first of our desserts at Aubergine Carmel was probably my favorite – Crimson Apple Tart. Here, thin slices of apple are wrapped in puff pastry and is topped with apple chips and a small quenelle of vanilla ice cream. While apple tarts are normally quite sweet, this one was mildly sour and had an intense apple flavor to it. It was fantastic!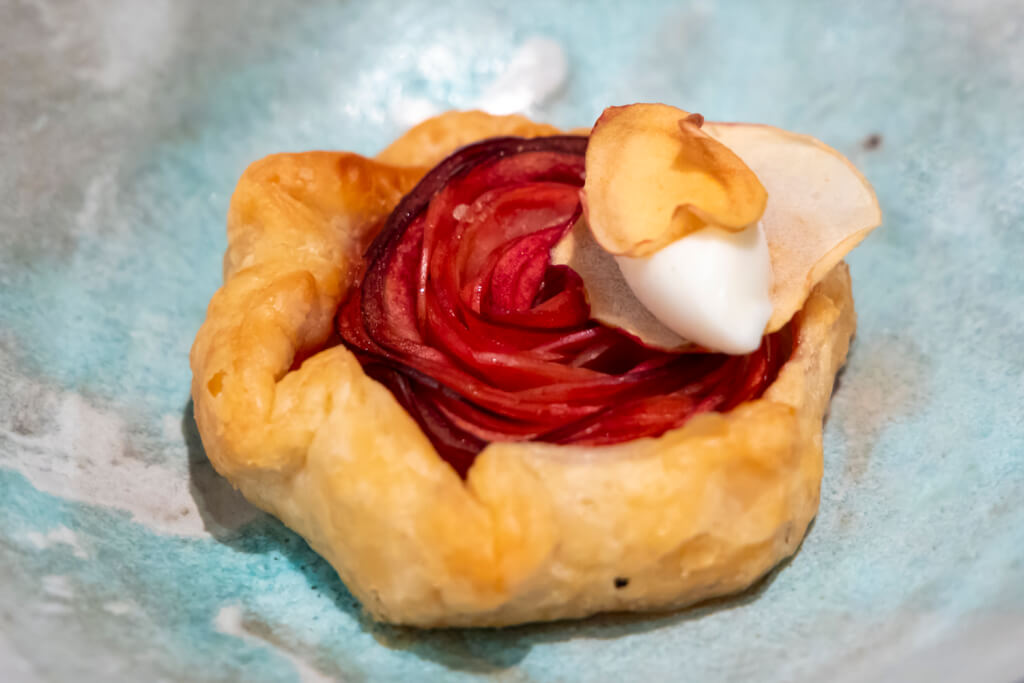 Since we were celebrating Mrs. Island Miler's birthday, the Aubergine Carmel team brought out a deep, dark chocolate cake coated in chocolate ganache and sprayed with a bit of 24-karat gold. This was also a winner!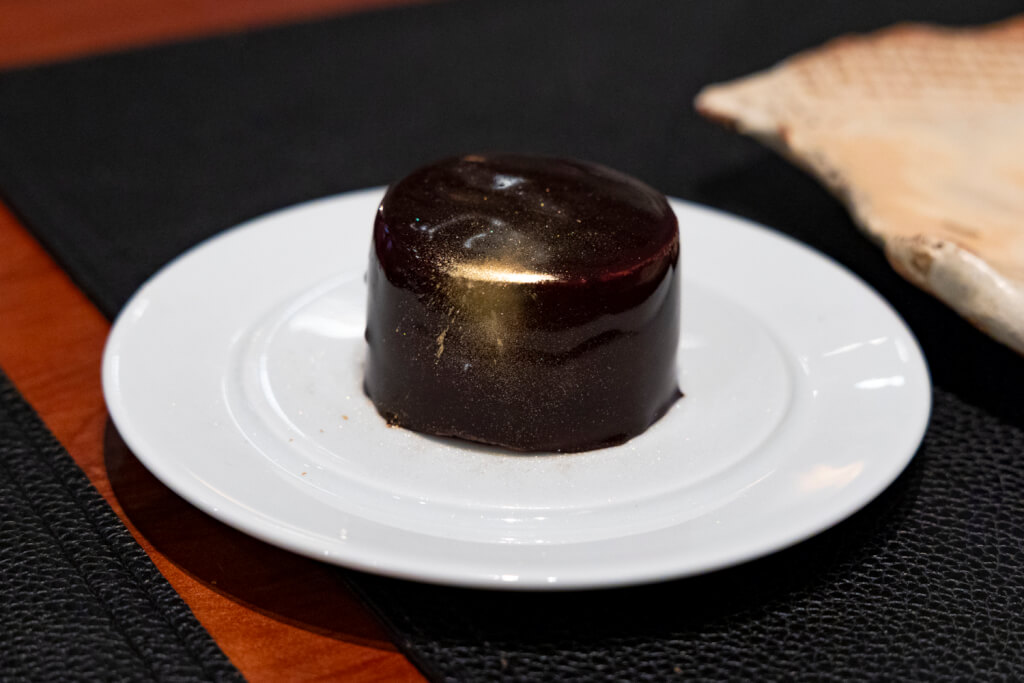 The next dessert was a Milk Chocolate Cremaux with hazelnut "noodles," hazelnut nougat, and cacao ice cream. This one wasn't really my kind of thing, as I don't care for milk chocolate. I do love hazelnut, but I wasn't really a fan of those needles, either. The cacao ice cream was definitely interesting in a good way!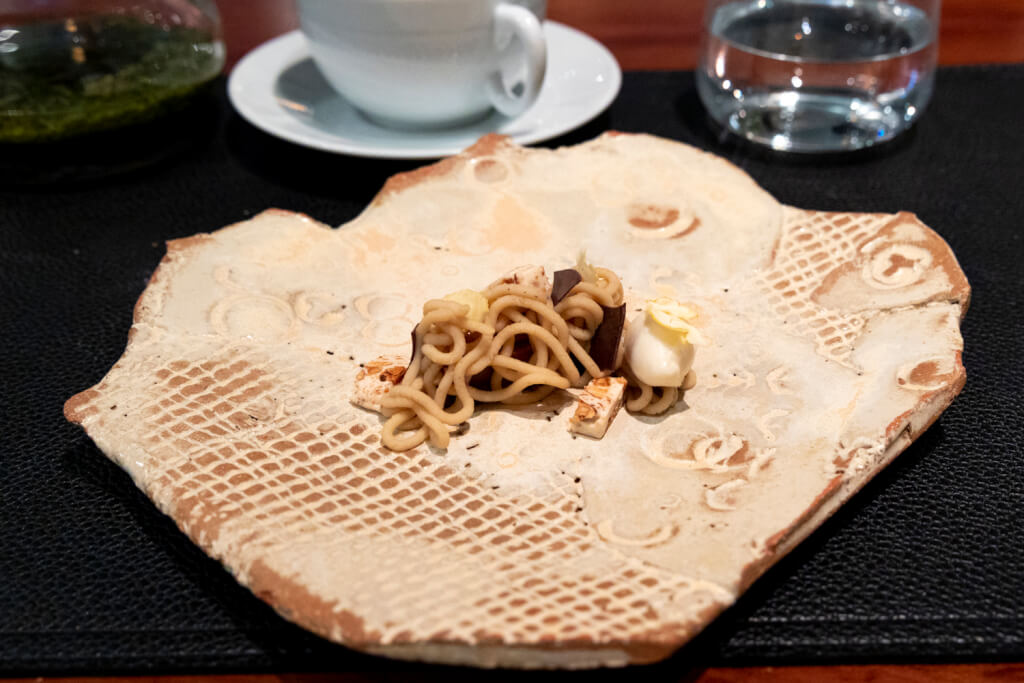 Finally, a platter of petit fours was brought out, including Quince Paste, Fig Cookies, Tart Raspberry Financiers, and Dark Chocolate Bonbons. Of these, the financiers and bonbons were my favorites.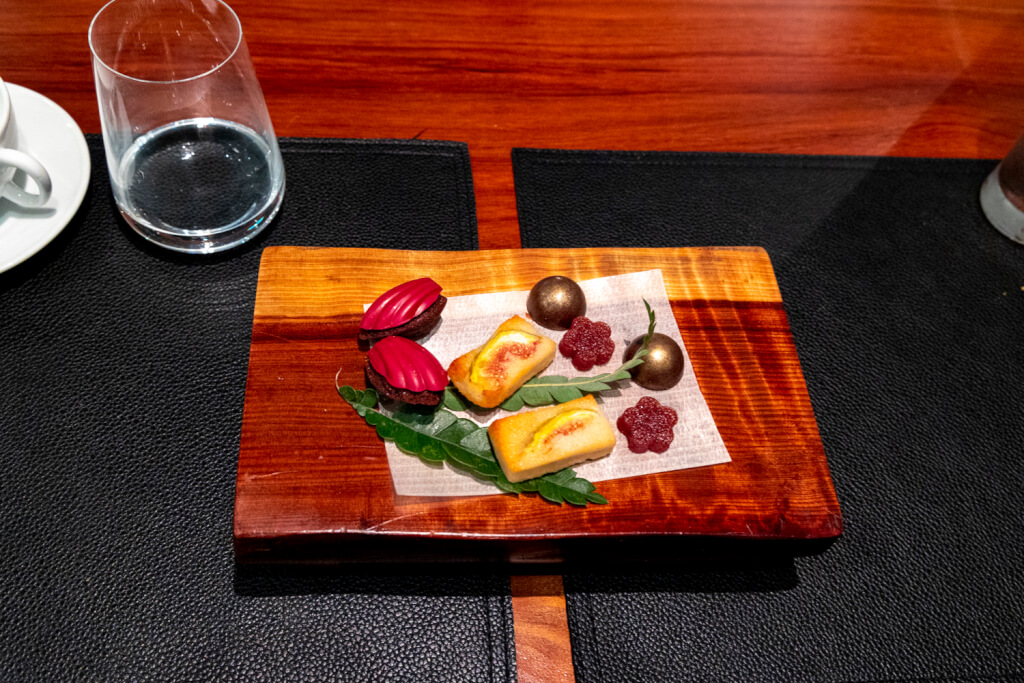 As a parting gift, little Aubergine Carmel branded boxes were presented to us. In it was a house-made white chocolate bar studded with dried fruits.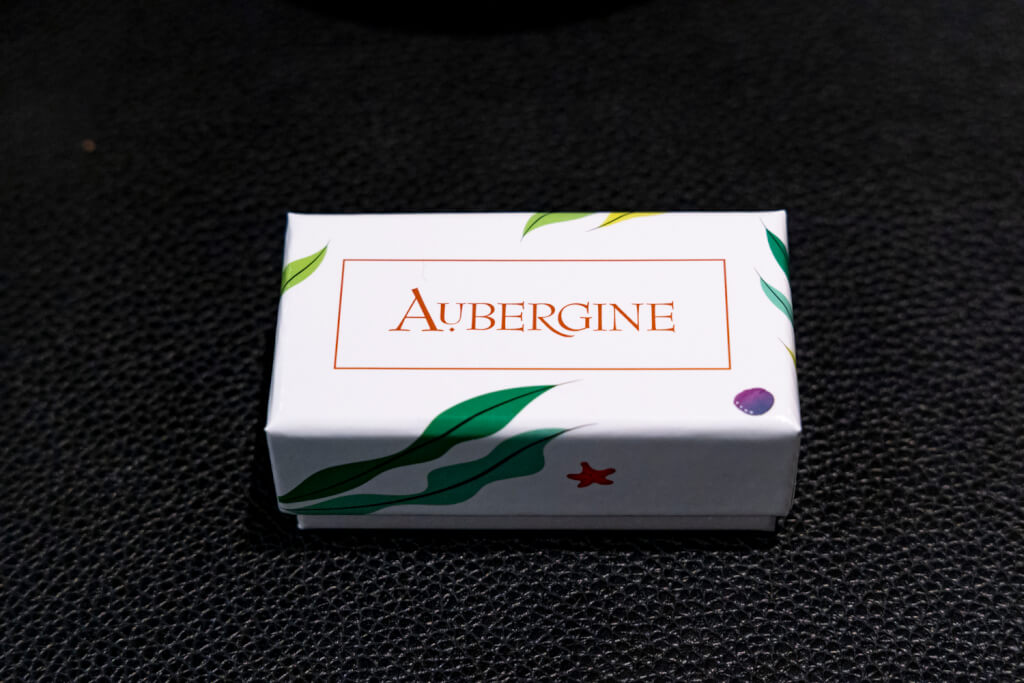 Final Thoughts
A meal at Aubergine Carmel is not an inexpensive affair. In fact, dinner here is more expensive than many of the menus at the three-Michelin Star Le Bernardin in New York. That said, I'd say a dinner here is worth every penny. Yes, I didn't love everything I ate, but there were several truly remarkable dishes, while the service and overall experience is simply fantastic. I'd highly recommend dinner here and can guarantee you it'll be the best meal you have in Carmel!
Living It Up in California