On our second day in Carmel, I decided to take us off property for brunch. While I think brunch at our hotel is quite good, I really wanted to check out Stationaery Carmel, which is a really popular neighborhood restaurant in Carmel by the Sea.
Carmel by the Sea is filled with restaurants. But as is often the case with popular tourist destinations, you have to be careful about where you go. Some places are truly great, while others are tailored to transient guests. Stationaery Carmel is definitely not one of the latter – they're here for area residents.
Stationaery Carmel Location
While Stationaery Carmel is in Carmel by the Sea, it's actually towards the beginning of downtown, just blocks away from the main artery in – Ocean Avenue. Parking is street only, so be sure to arrive with enough time to find an available stall or take a rideshare. We chose to drive in, which took us all of 10 minutes from the Hyatt Carmel Highlands, while it took another five-ish minutes to find a stall.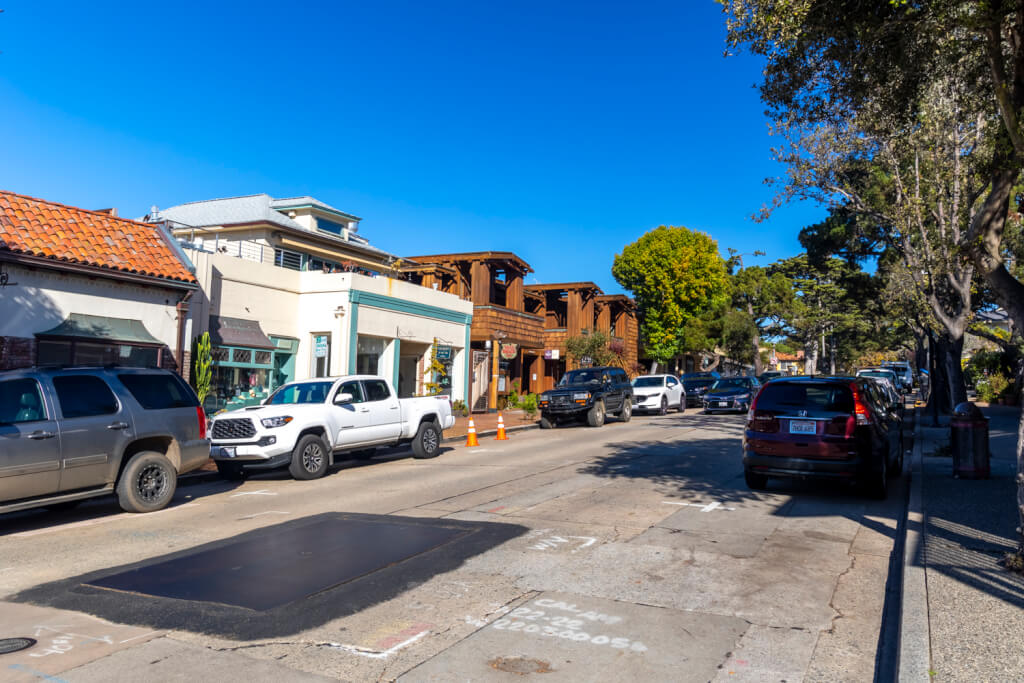 It should be noted that you cannot see Stationaery Carmel from the street. Instead, you'll need to park and walk into the collection of buildings in which it is located. Further, while you don't need a reservation to dine here, I highly recommend that you make one. It's a small restaurant that can fill up quickly. Luckily, you can easily make a reservation via their Tock page.
Stationaery Carmel Service
Despite being a small, bustling neighborhood restaurant, Stationaery Carmel has excellent service. The staff here is attentive, friendly, and expedient. They really help to make this place a special one.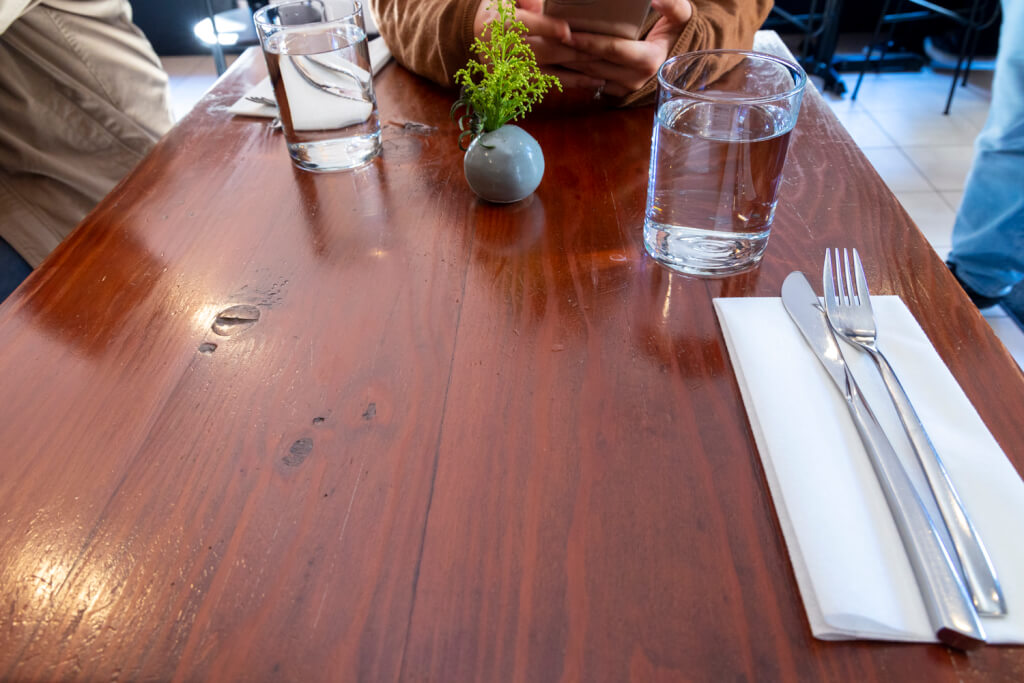 Stationaery Carmel Menu
The menu at Stationaery Carmel appears to remain mostly the same, which is a good thing because (I think) it's great! There really is something for everyone on it, including standard American breakfast fare, sandwiches, Shakshuka, Chilaquiles, steak, and more! That said, the restaurant's signature Potato Pancake does change seasonally.
What We Ordered
To kick off our meal on this chilly morning, I ordered a cup of green tea while Mrs. Island Miler went with a latte.
Figuring out what to order here can actually be pretty challenging, especially if you're just visiting and aren't likely to be back again any time soon. Wanting to try something different, Mrs. Island Miler went with the Avocado Toast ($18). Sure, that doesn't sound all that different, but Stationaery does their's differently. Atop a toasted slab of sourdough is a layer of crushed avocado with Meyer lemon and chili pepper flakes, radishes, and Monterey Bay seaweed. It wasn't a token amount of seaweed, either.
To the standard Avocado Toast, Mrs. Island Miler added an egg.
I didn't try any of her toast, but Mrs. Island Miler liked it. She said the seaweed added an intriguing oceanic quality to it, and the spice of the chili pepper flake was just right.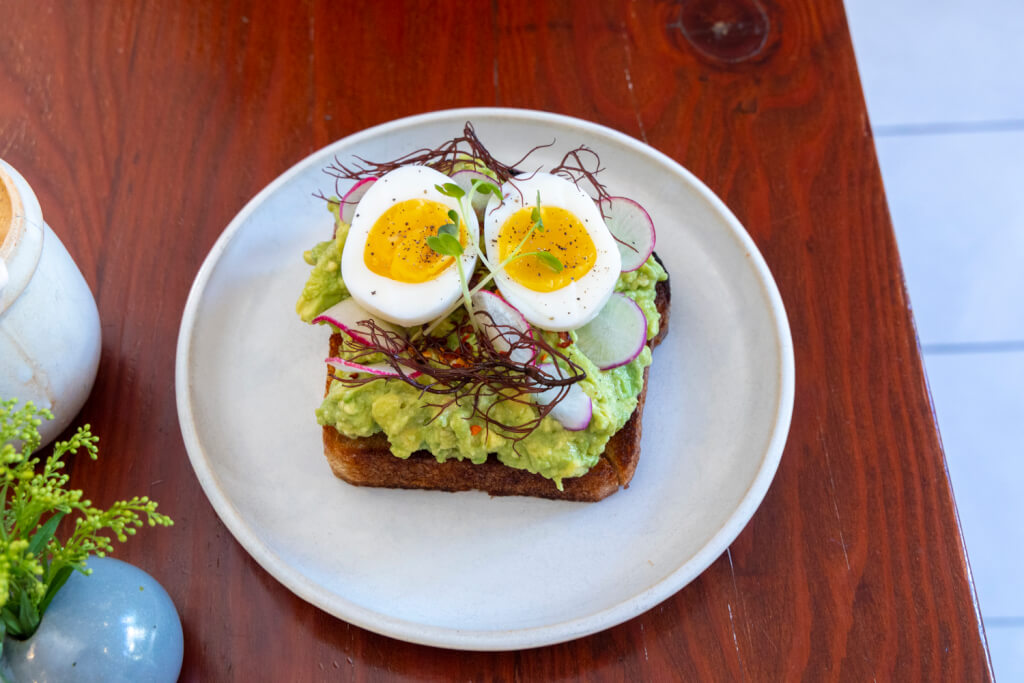 For my order, I went with the Stationaery Carmel's signature Potato Pancake ($32) during our particular visit, the potato pancake came topped with a thick smear of pesto, roasted Delicata squash, crisped lardons of bacon, basil leaves, and a dusting of parmesan. I chose to top it with an egg.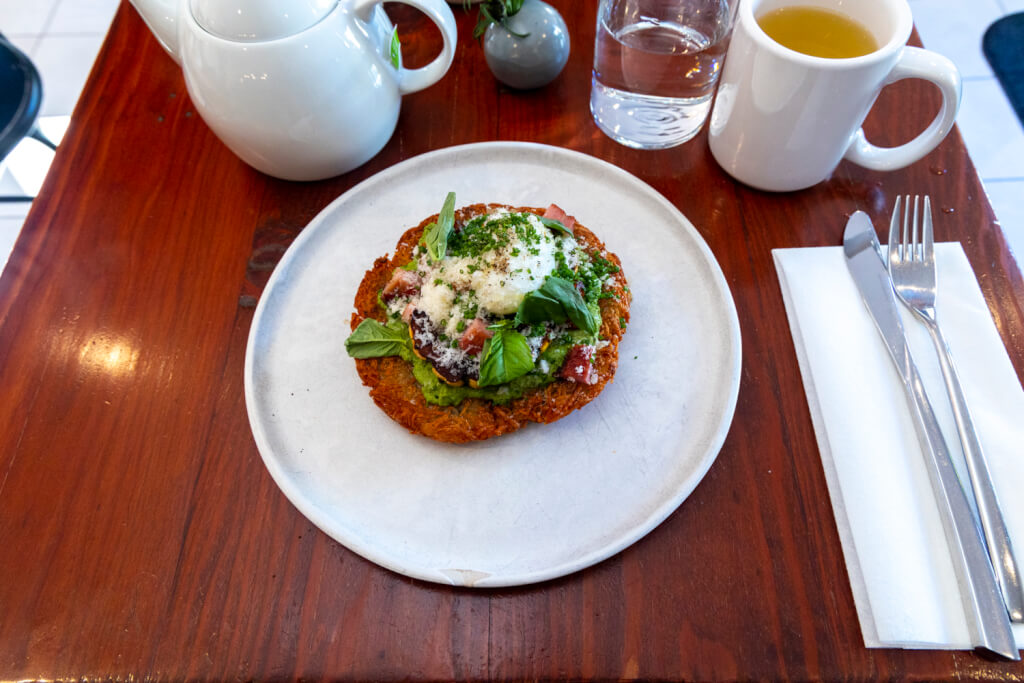 Initially, I thought, how good could a potato pancake be? It's just a giant hash brown, right? But I was wrong. This thing was super crispy (without being hard) on the outside and soft and creamy on the inside. The deeply browned potatoes also lent a broasty flavor to the overall dish.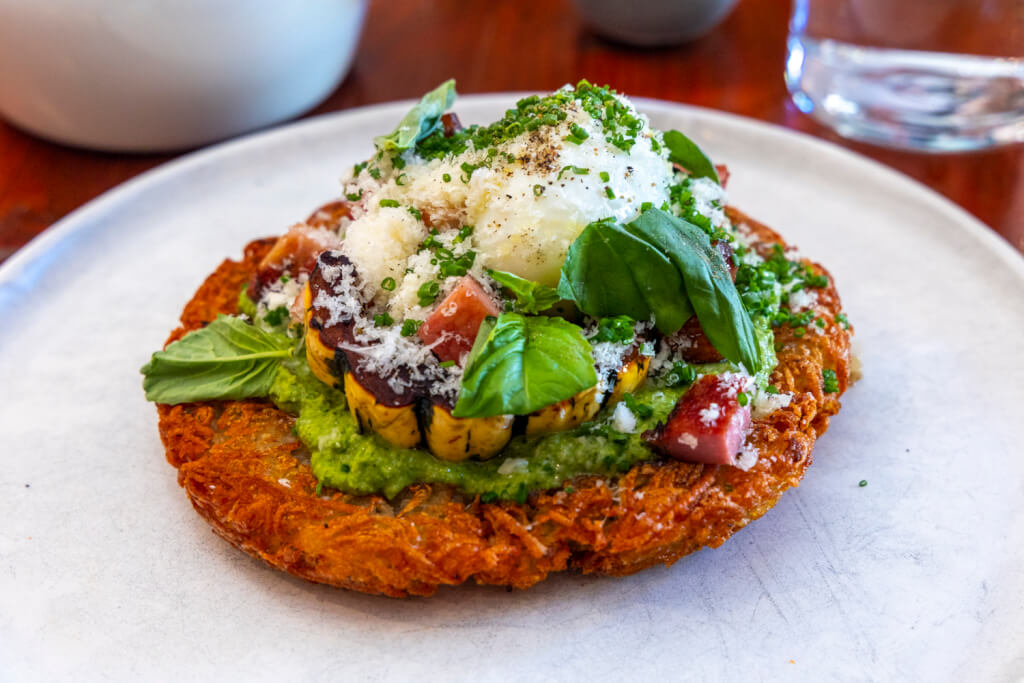 The pesto was fantastic! While a little cheesy for my liking, it was bright and vibrant and had a texture that makes me believe they didn't prepare it in a blender. The whole basil leaves further enhance the herbaceousness of the pesto. These elements then help to further enhance the sweetness of the roasted Delicata squash. The meaty, crisp bacon chunks lend a lovely smokiness to everything that brings balance to it all.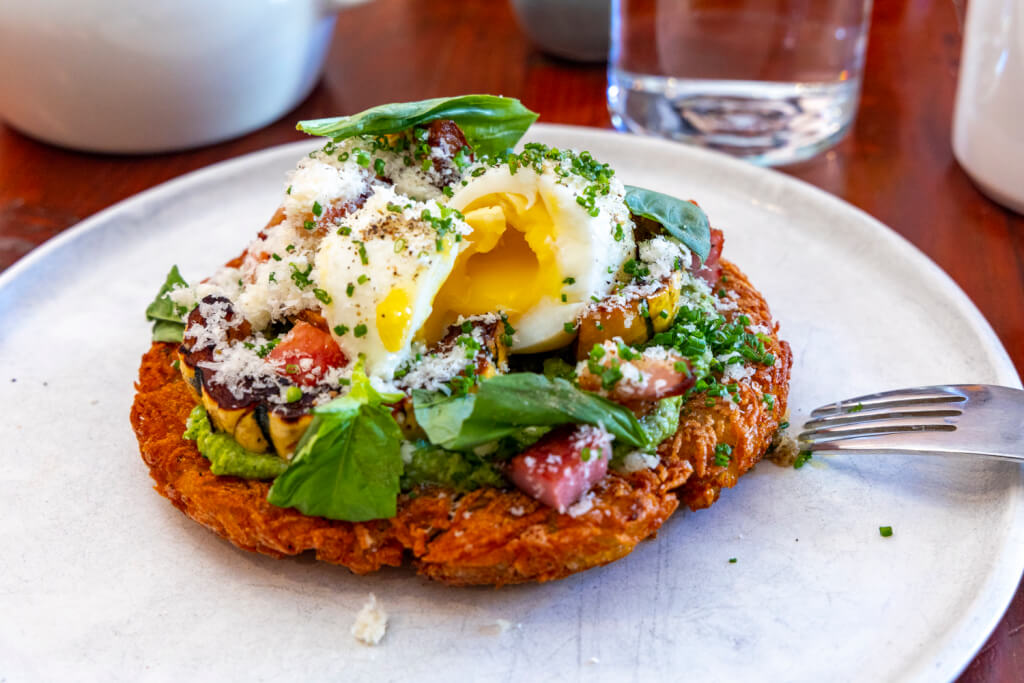 The egg, while not as runny as I would've hoped, added a lovely creaminess that really helped to further tie everything together. This, if you haven't figured out by now, is a seriously tasty dish. I could order this again, and again, and again.
Final Thoughts
Following an outstanding meal at Auberge Carmel the prior night, brunch at Stationaery Carmel was a fantastic way to begin the next day. If and when we make it back to Carmel by the Sea, I'm definitely coming back here. The food, the service, the atmosphere – it's all great! This truly is a gem and makes me envious of those that call the area home.
Living It Up in California