Last updated on January 6th, 2023 at 12:03 pm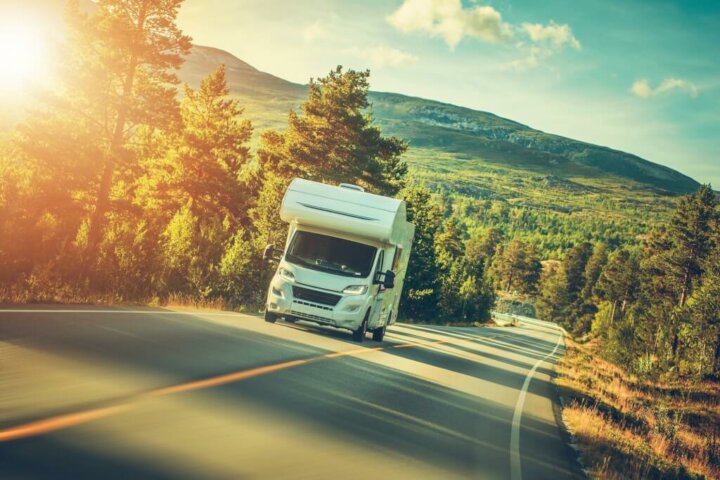 All of our reviews are based on exhaustive research, industry experience and whenever possible, hands-on testing. When you make a purchase using one of our chosen links we'll get a small percentage of the proceeds. This supports the site and keeps Jeffsetter running. You can read more here.
If you are looking for a compact and capable RV, you may be curious if there are Class C RVs under 25 feet in length. Thankfully, there are, and we have compiled a list of some of the best options on the market currently.
However, do you know everything that you should be considering in a Class C RV purchase, especially one that is shorter in length than the average Class C?
In this article, we will go over everything you need to know about purchasing a Class C RV that's under 25 feet long, including some of the pros and cons of choosing an RV of this length.
Let's go over everything that you should consider before we get to our list of some of the best options in the RV world today! However, if you are only interested in viewing our list of some of the shortest Class C RVs on the market currently, you can click here to jump ahead to our top 10 best Class C RVs under 25 feet.
Why Choose a Class C RV That's Under 25 Feet?
There are a number of benefits to choosing a Class C RV that's under 25 feet long. Not only will it be easier to drive than longer RVs, but it will also have less square footage to clean and maintain. This includes RV maintenance, such as resealing windows and roofs.
You can stay in just about any state or national park in a 25-foot-long RV, given that some parks have length limits depending on their sites and the way their parks are set up. Many people find that Class C RVs under 25 feet long are very versatile in where they can stay and how long they can stay for.
You may find that choosing such a small RV is valuable for boondocking or otherwise dry camping. Having a small rig with few fuel needs, including electricity, can be extremely valuable for living off-grid.
However, there are reasons to not choose a Class C RV that's under 25 feet long. The primary reason to go with something bigger is that you have multiple members of your family coming with you, or perhaps you need more storage space.
This isn't to say that Class C RVs under 25 feet long don't have plenty of storage, but you may simply have more people traveling with you than this size of RV can accommodate. I highly recommend checking out our list of some of the best Class C RVs for a family of five if you are worried about the size of any of these Class C RVs.
What to Consider in a Class C RV Under 25 Feet?
There are a number of things for you to consider in a Class C RV under 25 feet long, and you might have thought of a few things already. Let's go over some additional considerations and factors in case you haven't thought of them yet!
Length and Width
You are obviously already considering the overall length of your Class C RV since you want to keep it under 25 feet long. However, you should consider if the size is right for you, along with the overall width of your favorite choice.
Depending on how much time you spend inside of your Class C RV, you may find that an RV of this size is particularly small. As a full-time RVer, I can definitely attest that the overall width of your RV helps you feel as if you have more space overall.
You might also want to pay special attention to how much space you'd feel comfortable traveling in for a short or long trip accordingly. You may find that a 25 foot Class C is the perfect size for you, but as a tall and large individual, you may also find that it is too small.
If you are able to tour any RVs in person, I highly recommend doing this!
Layout and Floor Plan
Sometimes, it's not about the overall length, it's about the layout. This is true for just about any RV on the market today, as more and more RV manufacturers create smaller and smaller RVs with more innovative floor plans than ever before.
Depending on what exactly you are looking for, many of these compact Class C RVs offer a variety of floor plans and layouts to choose from. You can find walk-around queen beds as well as two twin beds, or even some options with convertible furniture.
This is also an opportunity for you to prioritize certain areas of your RV where you want more space or desire more special features. For example, you may want a larger fridge in your RV kitchen compared to the average-sized option, or perhaps you want a more dedicated bedroom rather than a Murphy bed option.
No matter what you are looking for, keep in mind that you are dealing with only 25 feet of RV length. You may not get everything you want in an RV of that size, but you can certainly come close!
Storage Solutions
RVs are getting better and better storage-wise with each passing year, and this is even more true with compact RVs. RV manufacturers understand the importance of space and having enough room for all of your items and recreational belongings, just as much as you need a place to sleep.
However, depending on what you plan on using your RV for and how often you plan on using it, you may desire more intricate storage solutions compared to the average camper.
Thankfully, just about every RV on the market nowadays has ample outdoor storage compartments, and additional storage inside of the RV, so it's likely that you'll find something that works perfectly for you.
Boondocking Capabilities
One of the most appealing parts of a compact Class C has to be your ability to boondock or camp off-grid. In fact, most small motorhomes and campervans are utilized for this reason and this reason alone.
Why camp at a traditional RV park when you have the ability to camp on any public land in the United States!?
However, there are many different boondocking features and capabilities that you should keep an eye out for, should you be interested in doing this sort of thing.
Some of the most common features to look for include:
Solar panels

Large holding tanks, including freshwater

Large propane tanks, or a completely electric setup
Sleeping Arrangements
While it may sound obvious, you should have a good idea about how many people you plan on traveling with before you purchase an RV.
This is especially true if you are looking for a Class C RV under 25 feet. While you may want to bring the whole family along inside of a small RV because it is easy to drive and maintain, you may not have enough sleeping arrangements for everyone.
Most Class C RVs offer an above cab bunk area for a single adult. However, other than that, you likely can't sleep more than two, maybe three additional people. It is rare to find a Class C RV that is under 25 feet long, and capable of sleeping more than four people!
Towing Capabilities
Are you interested in purchasing a Class C RV with towing capabilities so that you can bring along your residential vehicle?
You may want an RV that is capable of towing either another vehicle or a boat so that you can maximize your adventures.
However, it is something that you should pay special attention to should it be one of your top priorities. While all Class C RVs have some amount of towing capacity, these smaller rigs may or may not be able to handle your boats or car, depending on the size.
While it all depends on your specific vehicle, the average car or automobile weighs anywhere from 3,000 to 5,000 pounds. Choosing a Class C RV with at least 5,000 pounds in towing power is a good idea to start, but always check your weights and measures before making your final purchase.
Budget
Finally, you should always consider just how much you are able to spend on your new Class C RV. While a compact model costs less than larger Class C RVs, it is still a purchase that needs consideration in terms of your budget.
Depending on the specific make and model, most Class C RVs cost anywhere from $90k-$200k, if not more. You can find RVs with lower price tags but fewer features, and vice versa. It all depends on what you're looking for, but compact RVs can be less expensive overall!
The 10 Best Class C RVs Under 25 Feet
Do you know what you're looking for in a Class C RV besides how long you want it to be? Then let's take a look at some of the best Class C RVs under 25 feet long!
Beautiful interior design
Boondocking features come standard
Diesel engine for fuel savings
Might feel a bit cozy if there are more than two of you
Budget-friendly, luxurious enough, and with two available floor plans, the Winnebago Vita is a fantastic choice for those of you looking for Class C RVs under 25 feet long. Most of the available floor plans measure up at 24.5 feet, making them perfect for those of you seeking a compact rig. Let's check out all of its features now!
With plenty of luxurious features inside and out, the Winnebago Vita is ideal for sophisticated couples as well as the single traveler. You can choose from a cozy corner queen bed or a walk-around queen bed. Either choice gives you a spacious kitchen and an open floor plan for your partner or guests.

In addition to being luxurious and practical, you can also boondock in the Winnebago Vita with relatively few issues. It has some of the largest house batteries on the market today found inside of it as a standard feature, which may help you save some money in terms of your upgrades.
Plus, this RV is built on a Mercedes-Benz chassis, one of the most sought-after options on the market currently. You can expect a smooth ride and an RV that is easy to drive, with a powerful diesel engine to help you save on fuel costs.
Starting at $136k, the Vita is difficult to find at the moment, given its popularity and versatility. While it can't sleep everyone in the family, this compact RV is beautiful and detailed, with enough features to keep you camping, day after day!
Light and bright interior
Budget-friendly price point
Plenty of features at a fair price
Interior design may be a bit blah
Starting at $117k, the Four Winds by Thor is a great starter Class C RV under 25 feet for a number of reasons. With two available floor plans below 25 feet in length, you can expect a rig with a lot of comfort and storage space for all of your belongings, all while being on a budget. Let's check it out in more detail now.
Not only is this rig budget-friendly, but it also offers enough fantastic features to make even the average RV enthusiast pay attention. It has plenty of outdoor storage, it's built on a sturdy Ford Chassis, and even has washer and dryer prep available on larger models. Even the compact floor plans for this rig are functional and unique.
The interior is light, bright, and easy to maintain. While it isn't anything particularly special, it has a lot to offer in terms of the layouts and floor plans.
There are Dinettes that convert into additional sleeping areas, as well as large kitchens with double-door refrigerators. Plus, the exterior offers automatic awnings with LED lighting so that you can be outside no matter the time of day.
There are plenty of storage solutions inside the rig as well as outside, and you can get a fairly spacious bathroom for the size of the rig. Speaking of size, this rig is even smaller in length compared to the Vita, coming in at just over 24 feet. It's easy to drive and ready to go, thanks to Thor!
Boondocking features included means you save more
Easy to drive with 4 wheel drive
Ready to tackle all weather and seasons
The high price tag may put you off this one
After reviewing the many Class C RVs over the years, the Winnebago Ekko remains one of my favorite choices on the market today. Not only is this RV a compact 23 ft long, but it also maneuvers like a campervan more than a Class C. This means you can take it just about anywhere, which is exactly what it was designed for. Let's dive into one of these Class C RVs under 25 feet now!
One of the best reasons you may want the Ekko is because it has a technologically advanced four-wheel-drive chassis, built by Ford. If you have always wanted to get off the beaten path in your RV, this is one that can take you there. Plus, it is outfitted with a number of boondocking features to keep you on the road for longer.
Not only is this RV 4-season ready, but it also comes with a variety of boondocking features that you may be looking for, all included as standard purchases. Three solar panels, a second alternator dedicated to charging the batteries while driving, and lithium-ion batteries provide further energy independence. Plus, it has a 50-gallon freshwater tank plus proportionate waste tanks!
The Ekko has a fairly simplistic interior design, but it is modern and minimalist rather than lacking. Additionally, the Ekko has a unique rear storage compartment along with many other storage options inside. But what's the catch?
Given the size of this RV and the fact that it may not work well for everyone, the high price tag of $171k may be enough for you to pass it by.
Multiple floor plans and Chassis options
Boondock ready, with some adjustments
Easy to clean and maintain
May need more exterior storage
If you are seeking more options in terms of floor plans under 25 feet, you should check out the Forest River Forester LE. This rig offers 4 possible floor plans under 25 feet, and two-floor plans that stop right at 25 feet, giving you more options than any other mentioned on this list so far. Let's see what else makes this rig so special now.
Forest River is known for building high-quality RVs without breaking the bank, and the Forester LE is no exception. It has a lot to offer in terms of its interior design and high-quality building materials, capable of taking you on your camping excursions throughout the year, even in freezing weather.
One of the main reasons why there are so many floor plans is the fact that the Forester LE can be built on either a Ford or Chevy Chassis, depending on which one you prefer. Other than that, these floor plans offer easy-to-clean interiors and family-friendly layouts, should you want to bring along a few friends or relatives.
You can even get this rig built for boondocking if that is something you are looking for!
Only one of the chassis comes with a built-in or onboard generator, which means you should keep this in mind while you look at floor plans. However, all makes and models have the option to have solar prep and solar panels installed on the roof. Alongside your heated tanks, you should feel confident taking this RV wherever your journeys may lead you.
All in all, this is a well-appointed RV with a number of fantastic features and storage solutions. However, this option from Forest River may not have as much exterior storage as you're looking for, especially if you want to bring along any additional recreational items.
So, make sure that you have enough space before committing to this compact RV!
Fair price point for what you get
Compact floor plans that sleep up to 5
Homey interior design that is easy to clean
Doesn't have very many boondocking features
The Minnie Winnie from Winnebago has a lot to offer, all in a compact frame. With two floor plans under 25 feet long, you can sleep up to five people inside of their 23'10" floor plan, and that's truly impressive! Let's check out what else is exciting about this Class C RV under 25 feet now.
Starting at $120k, the Minnie Winnie is affordable as well as unique. Depending on the floor plan, you can get a queen bed that is easier to walk around or choose a cozy corner bed to maximize your living area. This is an especially good idea if you want to bring up to five people along with you.
The interior design of this rig is more homey than it is modern, making it appealing to a variety of people. Winnebago uses a certain level of interior design to make a comfortable living space without it feeling too kitschy or boring. You can expect dark wood cabinets alongside lighter laminate floors, and plenty of easy-to-clean upholstery for the kids or your pets.

While you can't get a number of boondocking features on board this RV, it does come with an onboard generator along with some of the largest house batteries possible in this size of RV. You can still get off-grid for a few days, or have solar panels installed later. However, not having the option to boondock right away may be something that is a deal-breaker for you.
Clean and bright interior design keeps things simple
Unique split floor plan means you get headroom where it matters
Multiple chassis and floor plan choices
Does not have as many full-time features as you might be looking for
Not only does Forest River make RVs that stand the test of time in many respects, but they also keep full-timers in mind when they are designing RVs. That's why the Forest River Sunseeker LE is a great choice for those of you hoping to live in your RV full time, all while remaining under 25 feet in length.
Take it from somebody who is living full-time in their 19 ft travel trailer. It is absolutely possible to do, and this RV makes it possible for you as well!
You have four different floor plans that are under 25 feet in length to choose from on this particular make and model, giving you more options than the majority of RVs on this list. Similar to the Forester, you can get the Sunseeker on either a Ford or Chevy Chassis, depending on your personal preference.
As a full-timer, I highly recommend this rig because of the ample amount of storage space it has, both inside and out. There are overhead cabinets throughout this RV, alongside a unique split floor plan. This allows you the maximum amount of headroom possible in the areas you want, such as the living and kitchen area.
Plus, despite this adjustment in the floor or level of the interior of your RV, Forest River still ensures that you have pass-through storage color no matter the floor plan you choose. This is even more necessary if you are looking at an RV under 25 feet in length, and even more so if you plan on living in your RV full time.
However, the Sunseeker does not have any washer dryer hookups or prep in that respect, and you may not be able to get a larger fridge or a more spacious bathroom. While a larger RV means you have more space to spread out, you may find that this one is enough for your full-time needs.
Boondock ready with some additional features
High towing capacity means nothing gets left behind
Multiple floor plans to choose from
Interior design is nothing to write home about
While The Coachmen Cross Trail isn't exactly a toy hauler, it does have fantastic exterior storage compartments for a number of recreational items. You can fit multiple bikes, kayaks, and much more in this storage cubby, all out of the way of your interior storage. Let's take a closer look at this Class C RV under 25 feet now.
With 4 floor plans all under 25 feet long, The Coachmen Cross Trail is a great choice, especially for those of you seeking an RV on a budget.
Plus, if the exterior and interior storage is still not enough for you to bring everything you want with you, the Cross Trail has a 7500 pound towing capacity. This is enough for the average residential vehicle as well as a boat or storage trailer.
While the interior design is definitely nothing special, you have everything you need inside of this rig. There are storage compartments above and below, including a unique closet embedded in the lofted bed, depending on the floor plan.
Additionally, this RV is built for boondocking or otherwise traveling off the beaten path. You can get all wheel drive as well as solar equipped with a small additional fee, and the clearance on this particular Class C RV is very good for a number of different road conditions.
While you may not be able to fit more than you and a partner, the small floor plans offered by the Cross Trail work fantastically for multiple people. You can get one compact floor plan that has a separate shower from the sink and toilet, making it easy for everyone to access the amenities they need.
Beautiful interior design that is easy to clean
Mercedes-Benz chassis keeps you safe on the road
6 floor plans, which is more than any other option on this list
Price point could have more features to offer
We are sticking with Coachmen as we explore the Prism, a more luxurious option compared to the Cross Trail, and definitely some of the other options on this list. Built on a Mercedes-Benz chassis, this RV is perfect for many different situations and camping excursions. Let's take a closer look at it now.
One of the most fantastic options for the Prism to have is the fact that it has 6 available floor plans, making it more than just about all other options on this list. All of these floor plans are under 25 feet in length, though just barely. However, this gives them plenty of space to offer you a variety of choices and layouts.
Not to say that you were particularly worried about driving a 25 foot long Class C RV, but the Prism offers a safe and easy to drive RV using their Mercedes-Benz chassis. It's loaded with safety features as well as surprising touches to keep you safe while driving as well as while parking. There are optional automatic leveling jacks so that you don't have to worry about that when you reach camp.
Another fantastic portion of this RV has to be the kitchen. You can get a full-size range and oven inside of this compact RV, with each one equipped with a fold-down counter. This gives you extra counter space without taking up more space, something that is obviously at a premium in a 25 foot long RV.
Plus, this RV has a unique and luxurious interior design that feels like a modern vintage look. You can get easy to clean faux leather upholstery alongside complementary flooring and cabinets. The main drawback to this rig? It definitely doesn't have as many luxurious features as it should offer for the price.
Beautiful interior design with a step in the center
Large kitchen and living area for two
Ready for boondocking with a few adjustments
Only a single floor plan may leave a lot to be desired
The Thor Quantum makes a number of our RV lists, including this one. While the Quantum comes in a number of different lengths and styles, you can get a single floor plan that is under 25 feet long for this class C. But that isn't the only thing that makes it special. Let's take a closer look at it now.
While the Quantum isn't exactly reinventing the wheel in terms of RV layouts, the floor plan that is below 25 feet long is a functional one. It has a corner bed that can sleep two, making it cozy and reliable. Additionally, there is a large refrigerator and spacious kitchen for those of you who enjoy cooking while on the road.
You can easily outfit this RV for your boondocking excursions, especially if it is just you and one other person doing so. This rig is ideal for the boondocking couple, as you can get it with an onboard generator, solar prep, and solar panels, as well as additional batteries. If it is just the two of you, the holding tanks should be plenty large to take you where you need to go!
If there isn't enough storage space on board for you, this RV has an 8,000 lb towing capacity, which means you can bring along with whatever doesn't fit on board the RV. While the Quantum isn't the most affordable option on this list, it certainly has a lot to offer for the price. The shortest option starts at roughly $120k, making it budget-friendly for the average couple as well!
Multiple floor plans with unique features
Sophisticated and stunning, inside and out
Plenty of storage, depending on the floor plan
Price point might be high for some of you
Starting at $140k, the Wonder from Leisure Travel Vans is a luxurious Class C for you. It actually feels more like a Class B+, but there's no reason to scoff at everything they manage to fit inside of this 24 foot long rig. Plus, built on a van chassis like this, the Wonder is easier to drive than any other option on this list of some of the best Class C RVs under 25 feet!
There are three available floor plans for this RV, each one as unique as the next. You can get a floor plan with two front twin beds, one with two rear twin beds, and a final floor plan that is my personal favorite. This one offers a rear lounge area that converts into a queen bed, as well as multiple other lounging capabilities.
Both the interior and exterior design on the Wonder feels modern, sleek, and easy to maintain. You can get this rig with optional all-wheel drive, and there is nearly 70 cubic feet of storage, depending on the floor plan.
Plus, with the option of a dry bath on every one of these floor plans, as well as possible boondocking features, the Wonder is truly easy to choose for the runner-up of our number one spot. While the price may be high, it offers a lot of sophistication in a compact design.
Final Thoughts
Choosing a compact Class C RV doesn't have to be a chore. You can find something compact, affordable, and feature-packed for your needs using our helpful list alongside your own research.
Enjoy shopping for any of these Class C RVs under 25 feet long, and happy camping!