Last updated on July 25th, 2023 at 07:25 am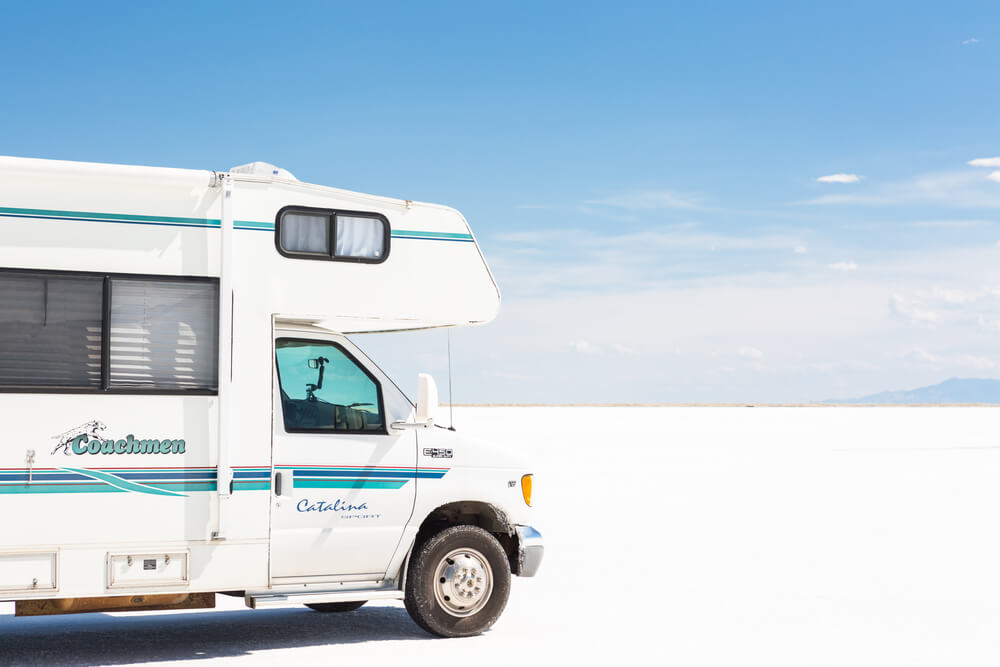 All of our reviews are based on exhaustive research, industry experience and whenever possible, hands-on testing. When you make a purchase using one of our chosen links we'll receive a small percentage of the proceeds. This supports the site and keeps Jeffsetter running. You can read more here.
Hitting the road in a Class C RV can be life-changing, or at the very least, it will be a vacation to remember! Are you shopping for a reliable and convenient RV, such as a Class C with a diesel engine?
Class C RVs are built with either a traditional gasoline engine or a more fuel-efficient diesel engine. If you're shopping for a diesel engine Class C RV, then you're in the right place!
But why shop for a diesel-engine RV or motorhome? What might some of the pros and cons be, and what RV manufacturers have some of the best diesel engine Class Cs on the market right now?
Let's dive in and learn more about diesel-engine RVs now!
What Are Diesel Engine Class C RVs Like?
There are many different types of RVs on the market today, and it can be difficult to find the right one for you and your family's needs. How much space do you need, do you need to be able to tow something, will there be enough beds for the whole family?
Class C RVs are one of the most popular styles of RV on the market today, given their overall ease of driving and compact frame. They aren't as small as teardrop travel trailers, nor are they as large as a more buslike Class A. Class Cs are great in-between-sized motorhomes, large enough for one or even a big group, depending on the length and layout that you choose.
Some Class Cs will be perfect for large families if that's one of your priorities. While Class C RVs range in length from 20-40 feet, these motorhomes are often built on a sturdy and maneuverable truck or van chassis. While my example length of these rigs may seem like a huge range, it's the rig's above the cab bunk that ultimately determines the class of this motorhome.
Diesel Class Cs are usually a bit nicer and of a higher quality than gasoline engine Class CRVs. Why is this? Diesel engines usually cater to a more luxurious clientele, and therefore these Class Cs are usually built with more stylish interior features as well as sturdier frames.
While this isn't always the case, diesel Class Cs definitely maintain a level of elegance and reliability not found in many gasoline-engine RVs. While this makes the upfront cost of diesel rigs much more expensive, it may be worth it in the long run!
What Are The Pros And Cons Of A Diesel Class C?
Just like all RVs, there are pros and cons to diesel engine Class C rigs. It's up to you to decide which pros and cons matter the most to you, as it's always difficult to get exactly what you want from an RV.
Let's take a look at some of the various pros and cons now.
Pro: Fuel Efficiency
The number one pro of a diesel engine Class C? It is going to be far more fuel efficient than a traditional gasoline engine. Diesel engine rigs are known for fewer fill-ups as well as a more efficient engine, leading to an overall lower cost for your fuel budget.
If you are new to RVing, it's important to keep your fuel consumption in mind. Not only is gassing up in an RV a stressful affair, but it can also get costly very quickly. Diesel engines may be large and expensive to fill, but that fuel will last you far longer than traditional gasoline will.
Con: Expensive
While diesel fuel may save you a lot of money in the long run, the upfront cost of a diesel Class C is always going to be higher than a traditional gasoline RV. The difference can be striking: the average cost of a gasoline Class C ranges from $50-$150k while most diesel engines begin at $100k and only go up from there!
The upfront cost of a diesel engine rig can be daunting, and this is a huge con for many RVers not searching for an expensive monthly payment. While Class B rigs are notoriously more expensive at the moment, Class Cs come with a hefty price tag too! This should be a big consideration for you if your budget is a concern.
Pro: Well-Made
Known for their excellent resale value, diesel engine Class C RVs are well-made, sturdy, and reliable. Nothing is skimped on or ignored in a Class C rig with a diesel engine, and so these RVs are some of the few that can just keep on going, mile after mile.
Having a well-made rig should always be at the top of your priorities list, and many of the quality rigs on this list have additional features not found in cheaper Class Cs. Knowing you are making an informed purchase is important, and a diesel-engine RV is always a good choice.
Con: Not The Largest RV Available
If you are hoping for an RV with ample space for you and your family to spread out, a diesel engine Class C may not be your top choice. There are much bigger rigs out there, including motorcoach-style RVs. And if you're comfortable towing, a fifth-wheel or travel trailer may suit you even better.
While Class Cs do have ample floor plans and features, you may feel a bit cramped in some shorter-length models. However, make sure you tour some Class C RVs before making your final decision, as the overall size and feel may take you by surprise!
Pro: Versatile Floor Plans
As I mentioned in the previous con, there are some pros to diesel engine Class C interiors, including their many floor plan options. With a convenient overhead bunk as a guaranteed sleeping area, there are many other layouts packed into these rigs.
Class C RVs have floor plans made for large families, couples, and full-timers, including room for outdoor kitchens and washer/dryer hookups. You may find your perfect fit in a diesel engine Class C, whether you were expecting to or not!
What Are Good Brands Of Diesel Engine Class C RVs?
With so many RV brands on the market today, it can be daunting to determine what brand is the best for you and your RV needs. Here are some of my top picks for RV brands and what they can offer you while shopping for a reliable Diesel Class C.
Forest River
Forest River is well regarded in the RV world and has been for decades. They make a great variety of rigs, from fifth wheels to Class Cs, so definitely keep them on your shortlist! Their diesel class Cs are some of their best-selling models, and they have roughly 6 different diesel engine models.
Winnebago
Who hasn't heard of Winnebago? Known for their affordability and overall customer service, Winnebago keeps wowing RVers with their innovations, usually for a good price. While they don't have many diesel Class Cs (about 4 models), the ones they do have are winners.
Thor
You may not have heard of Thor brand motorhomes yet, but they are popular! Known for being budget-friendly like Winnebago, Thor is proving to be another reliable brand in the RV world. Plus their Super C diesel engines make for a luxurious RV; they only have two diesel engine models, but they are both winners.
Jayco
Much like Forest River, Jayco has been talked about among RVers for some time. This brand seems to often focus on durability, advertising special sturdy RV frames. Their diesel engines are top-notch and usually affordable with four different models to choose from.
Coachmen
Coachmen is another classic RV brand with a focus on family-friendly layouts. They use their space wisely more often than not and are a well-known brand. While they only have one diesel Class C option, it's a great and affordable contender.
Entegra Coach
If your budget isn't at the top of your list of concerns, an Entegra coach may be a good fit for you. With a superior foundation, unrelenting attention to detail and old-world craftsmanship, unmatched engineering innovation, rock-solid construction, and a ride that's as smooth and quiet as it is invigorating and well-appointed, Entegra makes quality diesel Class Cs!
What Should I Be Looking For In A Diesel Class C RV?
There are still a lot of things worth considering before making your final diesel Class C purchase. But what might some of those considerations be? Let's go over some of my top things to keep in mind while you're shopping!
Floor Plan Options
The number one thing to keep in mind, in my opinion, is what floor plan and floor plan features you are looking for. While there are countless and it may begin to feel overwhelming, determining what layout might work best for your family is a good place to start.
While a virtual tour isn't ideal for getting a true feel of an RV's interior, it could be a good place to start. Otherwise, I suggest touring your local RV lot or manufacturer for Class C layout ideas. You may find some things that you really love, and some things that you really don't!
Diesel engine Class Cs are designed with your needs in mind, including unique storage solutions and perks for kids and pets. If you are planning on living in your rig full-time, you should keep an eye on floor plans that lend well to this situation.
Overall Length
While you may not have considered this yet, the overall length of your rig should be a big decision for you to make before you start shopping. While more length leads to more interior living space, you may want to consider where you plan on traveling in your rig first.
Some campgrounds and RV sites have length limits to each individual parking space, and getting a rig that's too long may spell trouble for you. If you plan on boondocking and going off-grid, you may further encounter length issues or spaces that you simply can't fit into!
Class Cs are easier to drive than many other RVs out there, but that doesn't mean they aren't affected by their overall length. Having a shorter diesel engine Class C may prove easier to maneuver in the long run, especially if you plan on venturing where other RVs wouldn't dare to go.
However, a longer Class C does indeed mean more living space and many Super C diesel rigs are large, up to 45 feet! While this blurs the line between Class As and Class Cs for me, diesel engines can handle a lot of weight. You may find that a Super C suits your needs best!
Diesel Tank Size
Choosing an RV with a decently sized fuel tank is an important consideration, especially for a diesel RV. If you are planning a long journey or one with frequent stops, a larger fuel capacity may be of interest to you.
If you are just planning to take your rig out on quick adventures or short trips, your diesel tank size may not be of much concern. While the fuel tank capacity isn't something that you can change, it may be something to take note of before making your final purchase.
Standard And Optional Features
Before making your final decision, know that there will be many standard features found in a Class C RV, and even more decisions to make regarding these features, such as interior and exterior design and more. But you're not done! There will also be optional features to choose from.
Additions and optional RV choices can feel even more daunting than standard features, especially considering just how fast your overall total will increase. Adding on some features to your diesel Class C may prove useful, depending on what you plan on doing with your RV.
For example, full-timers may want luxurious theatre seating in the living area, or a convection oven and full-size fridge. Boondockers will want to add on any and all solar panel options and generator hookups. It all depends on what you will use your Class C for the most.
Some features to consider adding on, no matter your situation, should be a tank heating system for any winter camping, additional outdoor storage cubbies, and auto-leveling jacks, should your RV manufacturer offer such options. These are handy features, and are usually worth the cost!
Budget
I've already mentioned that Class Cs are a bit of an investment, so you should definitely consider your budget before diving into your online shopping. Ranging in cost, diesel engine Class Cs are some of the most expensive RVs on the market.
While there are always used options, purchasing a Class C can be a big commitment, especially when you consider their resale value remaining high. Keep your budget in mind, even when you think you really want a four-season package or an outdoor kitchen added to your overall standard feature cost!
The Best Diesel Engine Class C RVs
If you're feeling confident about your wants and needs in a diesel engine Class C, it's time to see my top picks for the best diesel options on the market today!
And, if you're still on the fence about Class C RVs, feel free to check out my picks for some of the most lightweight travel trailers, as well as some luxurious aluminum rigs should you be looking to camp in style!
Onto the diesel engine Class Cs!
There's a reason Forest River has taken the best overall spot for diesel engine Class Cs. Forest River has long been regarded as a wonderful name in the RV world, choosing quality materials and designs over cheap and quick manufacturing which means full-timers like me can rely on Forest River's vehicles to get to dream destinations across the country!
The Forester MBS is no different as it's a powerful rig built around a diesel engine, offering comfortable floorplans with spacious interior living, well-appointed décors, and several slide-out floorplan options. Plus, all Foresters are "Certified Green" by TRA Certification which I love as it means the company is taking into consideration their impact on the environment. The MBS model has a total of four intricate floor plans, all built atop a reliable Mercedes Benz chassis.
The overall features and tank capacities of this rig are standard and suit an average small family's needs. However, for a family heading off the grid for a few days, the 35-gallon fresh tank might not last very long, so it may be wise to bring some extra water containers just to be safe. The diesel fuel tank is 26 gallons and with a large 56-gallon propane tank on board, it's easy to keep the rig fueled up and then cook up a feast to fuel the family at dinnertime.
It's hard to believe each of the floorplans fits into a 25-foot rig but it's true! By fitting into a relatively compact space, the Forester is far less intimidating to drive and I know I wouldn't be sweating it if I had to maneuver around busy areas! While this may not be large enough for bigger families, this rig can sleep up to five people, depending on the floor plan so I know extra adventurers can jump on board when they fancy coming along.
The kitchen features a large fridge, a convection microwave, and flip-up or fold-down countertop extensions so I know there's ample space to prep veggies and chef like a pro. The living room can be built with a dinette or theatre seating, depending on the floor plan, and it's this flexibility that proves Forest River are thinking with RVers at the forefront.
The bathroom is a little on the small side in my eyes, and it's slotted in at the rear corner of the Forester. I'm a tall RVer, so the last thing I want to be concerned about in an RV is feeling cramped when I'm using the bathroom. It's not the end of the world though, and since the bathroom has a built-in fan and shower skylight, the space is kept light and airy for the whole day.
With ducted AC, a gasoline generator, heated tank pads, and more standard, included features, it's impossible to feel neglected by Forest River. There are even tank-level monitors and optional solar hookups, as well as auto-leveling systems and blackout shades throughout to really make this rig feel like a solid home on wheels but with impressive functionality too.
Forest River offers a 12-month warranty, in addition to a comprehensive chassis warranty as well. Their customer service is excellent, and RVers don't tend to have much trouble at all reselling a Forest River RV when they are ready for a new exploration vehicle!
Although there are plenty of huge, mighty RVs available, I prefer living in my small travel trailer where I can comfortably cook, eat, sleep, socialize, and move around whenever I want to! However, I totally understand this isn't the idea of perfect RVing for everyone, and that's why I've added the Thor Magnitude to our list. This rig is ideal for families and starts at 32 feet in length, with 5 floorplan options to explore, with the impressive capability of sleeping up to 8 people!
This isn't a traditional Class C, and it shows. The heavy-duty Magnitude is a Ford F-550 or F600, depending on the floor plan, with a V-8 engine rumbling under the hood. Having a robust and reliable RV from the ground up is crucial in my eyes for a successful RVing experience. The four-wheel drive platform is the ultimate way to get away from the crowds and enjoy time with loved ones by heading off into the wilderness.
I like that it's possible to bring along the family car and hook it up to the 10,000 or 12,000-pound hitch for getaways whilst out on the road. The Thor Magnitude can be used in a variety of ways such as a weekend of canoeing and kayaking, or a full-time home on wheels. With several different floor plans to choose from, it's simple to find the right layout for individual needs and lifestyles. Magnitude's adaptable layouts allow travelers to use, enjoy and take full advantage of the RV experience.
The Magnitude Class C diesel RV has residential vinyl flooring covering the entire coach, a must-have for pet parents or busy families. The large powered sky view in the cab overhead bunk brings in natural light which I think is essential in an RV to avoid the space feeling dark and cramped. Satin-finish cabinetry with nickel-finish hardware gives this potential home-on-wheels a chic and modern look, helping it feel more like a home than a vehicle.
The living area allows the whole family to gather on every floor plan. The Dream Dinette with cup holders is comfortable for coffee and watching a family favorite on the 39-inch TV, but I also feel it's a great place for those who work on the road too. The cab overhead bunk is the ideal place for little ones to draw or read, and when the kids are in bed, the leatherette sofa or theater seating is a place for adults to relax and let the world go by.
I love that once I'm off the beaten path, the Magnitude takes care of every need. The large roto-cast storage compartments safely store camping must-haves so nothing gets left behind. The exterior kitchen – offered on select floor plans – is perfect for sunny days and socializing with loved ones during the warmer weather. After a BBQ, I think it's best to make the most of the powered patio awning with LED lighting and watch live TV on the 32-inch with a built-in Bluetooth soundbar.
Thor offers comprehensive warranty options, and a robust owner's club, with RVing information exclusively for Thor RV owners. This luxurious rig may cost a pretty penny, but it ensures the entire family can vacation or travel in comfort and style.
One of my favorite RV brands, Jayco, has a great diesel engine Class C for full-timers; the Jayco Seneca. Not only does every available floor plan feel like home, but it also has Jayco's reliable and sturdy build to back it up. With three floor plans, all on a nearly 40-foot rig, this rig is a great contender for full-time RV living! My partner, dog and I would feel like queens in a rig of this magnitude!
This diesel engine is a beast, with a 100-gallon fuel tank and one-piece fiberglass exterior construction. This makes all Jayco RVs excellent resale rigs, should you ever look at selling it in the future. It has an 83-gallon propane tank capacity as well as an onboard generator, so it's possible to stay warm and cozy when heading off-grid or boondocking.
The interior is just as luxurious as the materials used for construction, as every floor plan includes an electric fireplace and much more. It's touches like these that truly transform life on the road, and create an elegant but functional space to live in. I find the additional washer-dryer hookup options useful, as nothing is worse than tackling laundry on the road and having to spend a fortune every couple of weeks!
At least in the Seneca, when the laundry has been defeated, I can melt into a king bed and even have an en-suite bathroom at my disposal! There are many different kitchen layouts, including ones with apartment-sized kitchens, if you can believe it. With a residential fridge, built-in spice rack, and deluxe hardwood cabinetry, I find it difficult to remember this is an RV. Plus, the bathroom layouts on this rig are incredibly useful, with separate toilet, sink, and shower options, so couples and families can get some much-needed privacy at bathroom time!
I've lived on the road full-time for a few years, and I can confirm, having ample storage space is a must! That's why in the Seneca, the various cabinetry provides awesome storage capabilities so the rig can be kept neat and tidy without much hassle at all. This RV also has lockable pass-through exterior storage, as well as an outdoor entertainment system to extend the space. Plus it has on-demand hot water and wifi capabilities, all standard so I can head into the heart of nature and still stay connected when I need to.
All of Jayco's diesel engine Class Cs include a computer-balanced driveshaft, rear air suspension, heavy-duty rear stabilizer bar, full air brakes, and Bilstein shocks allowing me to feel safe no matter the driving conditions. Jayco offers great warranties and chassis insurance as well which I find reassuring as it means there's someone to call if I have any issues.
Seeing double? Yes, Jayco takes two of my top slots on this list, including the coveted budget-friendly position. While all diesel Class C RVs ultimately cost a chunk of change, the Jayco Melbourne has so much to offer, at a fairer price than most! Let's check it out now.
The turbo diesel-powered Melbourne Class C motorhome boasts everything I know I need for a comfortable adventure, all in an RV that's powerfully compact and fun to drive. Melbourne is the ideal mix of craftsmanship, value, and drivability, and since it's budget-friendly, it's great for newbies who are new to the RVing world. Plus, the Melbourne is built on the expertly engineered and fuel-efficient Mercedes-Benz Sprinter 3500 chassis, which I trust to carry me through all the RVing adventures I have in mind.
While this is in the budget rig position, the interior of this rig is nothing short of stunning. Rich, dark cabinetry is scattered throughout, with wood grain visible and light marble countertops further highlighting the hardwood's details, bringing warmth and color to the space. There are three unique floor plans, each one catering to different groups.
For couples, I think the Melbourne's 24L floor plan with a queen bed and intimate curved dinette is a match made perfect. For friends traveling together in need of separate beds, the 24T is a great fit with two twin beds to the rear, and a spacious open living area throughout. There's even a floorplan that's ideal for families too; the 24R which is equipped with an optional overhead bunk with an outstanding capacity of 750lbs and a queen Murphy bed to the rear so there's room for everybody.
Given this is a Class C on a budget, diesel generators, and solar hookups don't come standard which is disappointing for RVers looking to take time away from the campground and venture to the wilderness instead. However, there are many standard features of note, such as electric stabilizer jacks, black-out shades, and a smart television in the living area. There are also Jayco's fantastic warranty options backing up the durable exterior and powerful chassis giving peace of mind on any and all journeys.
The overall length, width, and height of this rig lend greatly to boondocking or otherwise remote travel, and Jayco offers wonderful drive-assist technologies on board which makes life a lot easier on the open road. I find it's relatively easy to maneuver this 25-foot rig down any highway or city street, especially with many backup and side-view camera options included.
What else can I say about Jayco rigs? They are reliable, have excellent resale value, and Jayco is always a phone call or email away should you be struggling with your rig in any way. This is a great diesel Class C to invest in, and it may be the first and last RV purchase you ever make!
I love Winnebago rigs for their affordability and revolutionary design choices, including how many storage solutions they pack into one compact frame. The Winnebago Vita is just that; a 24-foot Class C with a powerful diesel engine, ready for anything. Winnebago does good work, having been in business for so long. Let's find out what makes them so awesome.
This budget-friendly Class C coach is large and spacious inside, while still allowing for freedom of travel. There's a compact and easy-driving package that's perfect for solo adventurers and families alike, and something I know I would have appreciated at the start of my RVing journey! The Vita tops the Class C Sprinter category with a carrying capacity of up to 1,810 lbs and features a multipurpose wardrobe and customizable pantry for a personal touch.
The Vita's lounge is the perfect place to unwind. Guests can enjoy additional space from the driver's-side slideout, theater seating, and swivel seats providing a social setup for friends and families to connect. There's only one floorplan with the Vita, and it's the 24P. Although it would be useful to have a few different floorplans to choose from, the 24P is a pretty good all-rounder.
There's the potential to sleep at least 4 in the Vita thanks to the rear queen bed, overhead bunk, and even the dream dinette. The fuel-efficient new chassis offers upgraded safety features like active brake assist, lane-keeping assist, and attention assist, plus the MBUX Infotainment Center with an interactive voice interface, Wi-Fi hotspot, and rear camera. In camp, the available automatic hydraulic leveling jack system levels and stabilizes the coach which is a game-changer as often I have no choice but to park on an unlevel spot.
With the largest batteries found in a Class C coupled with standard 200-watt solar panels, a 1,000-watt inverter, and a 3,600-watt LP generator, there's no need to stay at the campground for days – it's time to head off-grid! That's a lot of good packed into a compact frame, and many expensive or add-on features are found standard on this Winnebago.
Winnebago has perfected the art of RV storage with their Smart Storage solutions too, which as a full-timer who sometimes struggles with storage areas, is awesome news. Smart Storage places bulky systems and tanks in improved configurations, leaving more room for basement storage. Exterior storage is also easy to access with innovative features such as a large trunk with multiple doors and sliding storage trays.
Winnebago is constantly improving their rigs and business practices, offering extensive warranties for their diesel Class Cs. Plus their customer service is top of the line, and I know I feel comfortable asking them anything. The Vita may not fit a large family, but it's a lot of RV packed into a small frame for a few onboard adventurers.
While Tiffin may not have made our top brands list for Class C RVs, they have one fantastic diesel Class C, one I see on the road more and more frequently: the Wayfarer. This stylish and well-built rig is perfect for an adventurous couple or small group, especially those hoping to boondock. Designed inside and out with every need in mind, this diesel Class C features a spacious interior, industry-standard safety features, and high-performance handling with its Mercedes-Benz chassis.
I love the way this rig sits on the road, with its modern and sleek aesthetic matched with Mercedes' reliability. Spontaneous adventures and exploring nature are what the Wayfarer is all about. That's why it's ingeniously engineered with ample storage room for all the gear I can imagine like SUP boards, dog gear, a ladder, and more.
There are four stylish floor plans found on this 25-foot rig, from twin beds to Murphy beds. I love how effortless it is to find a layout to suit my style, and you can get an awesome look at the 25RW layout in the video above.
There's also nothing like the peace of mind that the interior of the rig is protected behind Tiffin's one-piece, moisture-resistant molded fiberglass roof cap. This is not only a rig that works well for boondocking; it's luxurious in its standard features as well. It has an instant hot water heater, two large house batteries, ducted heat and cooling, heated holding tanks, and a shower with a skylight which I think makes such a difference in brightening RV bathrooms.
It's a little frustrating that handcrafted cabinetry is an upgrade, but I do think it would bring a warmer feel to the overall interior. I like that adding solar panels can be done easily as the Wayfarer has wiring already in place for it. This is one of the ways in which the Wayfarer is awesome for boondocking. Matched with premium insulation, great moisture resistance, and a 38-gallon fresh water tank, the Wayfarer was designed for small off-grid RV trips.
Tiffin offers the most warranties out of any of these brands for its Wayfarer, including an exclusive owner's club. The warranties cover the overall rig, paint delamination for three years, two separate chassis warranties, and one year of reliable roadside assistance. You'll feel safe and taken care of in your Tiffin!
One of the most luxurious and stylish rigs I've ever seen, the Entegra Coach Accolade XL isn't just beautiful; it's huge. This is a rig for any sized family, any group arrangement. And with 3 versatile floor plan options, you should have plenty of decisions to make on this fancy rig!
Built on a Freightliner S2RV chassis, the Accolade XL Super C RV is equipped with an E-Z Drive Premier package – something I'm definitely not used to in my old trailer! I would, however, love to travel in this big beast for a flawless ride and handling capability – it's one of the biggest wagons I've ever seen! This front-engine powerhouse is up for just about anything, from mountain roads to rainout at camp which is what I need as I travel year-round in all sorts of gnarly weather.
I find the way Entegra have blended luxury and opulence with the interior of the Accolade, and the premium construction and materials for the RV's bones, simply magical. There's nothing like having a stunning home on wheels, but it needs to be strong and reliable from the ground up. That's exactly what the Accolade is. Luxurious features inside and out combine with premium construction and materials to make for a world-class experience.
This super C has a 100-gallon diesel fuel tank capacity as well as a huge freshwater tank- about 72 gallons! It's all housed on a nearly 40-foot frame, so I know all my belongings and RV equipment can come onboard with ease. Not only does the Accolade have a lot of temping non-standard features, but it also has a list of surprisingly included perks too.
The fact that heated floors, an onboard diesel generator, solar prep, a satellite dish, and an on-demand hot water, all come standard blows my mind. But the list doesn't stop there. I can even have control over the entire rig through an onboard integrated touchpad, or an app I can download on my phone. I'm just as impressed by the interior features though, particularly the conventional-sized fridge, hardwood cabinetry, electric fireplace, king-size bed, and choice of interior design options.
Entegra is a luxury brand name, and they offer a comprehensive and competitive warranty for their rigs, including the super C Accolade. They back their chassis, construction, and interior with a two-year warranty, and have customer service members readily available. Although I certainly don't want to think about my rig breaking down or experiencing problems, it's nice to know there's support available for times when I need a helping hand or some educated advice.
While the Accolade XL may be a bit large and more difficult to drive than other rigs on this list, it's one to remember for an oversized Class C RV able to provide ultimate comfort and luxury. It has a lot to offer, and you can rest assured that the resale on this rig will be high!
I love living in my travel trailer, after all, it's my home! But something I wish I was able to do, is go off-road a little and find park-ups where I can hide away in nature for a while. Well, this is possible in the Dynamax Isata 5, and the reason it takes our 'best 4×4' Class C category is down to its impressive Ram 5500 SLT Chassis and factory 4-wheel drive, supported by a Cummins diesel engine.
The ability to go off-road is matched with off-grid features on this Dynamax rig, thanks to a 190W solar panel, 30 Amp controller, 3,000W inverter, and an Onan diesel generator. I love being at one with nature, and this rig seems fit to tackle it all. Along with an electric slide system, the construction and bones of this rig remind me of how tough and ready Dynamax rigs always are.
To kick things off, there are 2″ aluminum-framed sidewalls with high-density insulation to stay cool in summer and warm in winter. There's no exterior wood which reduces the risk of mold and rotting substantially, and instead, there are composite exterior fiberglass, aluminum-framed floor, and roof trusses, and a one-piece fiberglass roof.
I take pride in my rig looking good, and so I'm drawn to the custom full-body paint package, premium cut, buffed paint finish, and diamond shield paint protection that adds an extra sparkle to an already impressive wagon. Dynamax have packed plenty into this rig, and across all three floorplans, RVers can enjoy a large king or queen-size bed, innovative seating and sleeping arrangements, and a high-end finish across every inch of this Class C RV.
The exterior of the Isata 5 is also something not to be missed. I value spending time outside, and it's where I'm truly at my happiest. So I love the addition of outdoor features such as the patio awning with light, power entry steps, entertainment center, docking lights, and even a lighted handle for safe entry and exit at night.
The Dynamax Isata 5 is truly a spectacle, and for anyone who has always pined to nestle in the trees and know they can return home again without getting stuck – I would put this 4×4 rig high on your list!
I love cooking. It was a passion of mine before I became a proud member of the RV community, and I have adapted and expanded my skills thanks to living on the road in a travel trailer! I've met so many other RV chefs out there who love to cook up a feast in their rigs and that's why I've added the Coachman Prism Select to our best diesel Class C RVs list.
The Prism Select is ideal for couples transitioning to life on the road, or even those wanting an adventure rig for weekend trips. It's a stylish motor with the reliability of a Mercedes diesel chassis. I love that it's easy to drive as I find it stressful to navigate big RVs down narrow streets! The elegant touches in the kitchen as one of the reasons this rig is perfect for us foodies. There are solid surface countertops, a three-burner stovetop, a sink, an oven, and a pantry across all four floorplans, but I'd advise against using the oven while driving!
It's also one of the biggest and most well-equipped Class C kitchens I've seen, and once dinner has been made, I know I'd head straight for relaxing on the sofa or dinette. The 24MBS is the newest floorplan addition to the Prism Select and is the layout I lean toward as it simply offers so much whilst remaining spacious and airy at the same time.
The bathroom in the 24MBS has a large corner shower, along with a sink, toilet, linen storage, and a washer/dryer. Packing so much into the bathroom helps create room for a spacious kitchen, which is impressive, to say the least. The refrigerator is sizeable, and the volume of prep space is ideal for whipping up a banquet fit for kings on a late summer evening.
The Coachman Prism Select isn't the cheapest Class C RV out there, but by no means is it the most expensive. It would be nice to see the Prism capable of handing off-grid use and having a substantial solar setup, but this is typically something that can be added to an RV in the future.
Conclusion
Choosing a diesel engine Class C RV is a great choice overall. From maintaining their resale value, offering many floor plans, and giving RVers a luxuriously smooth ride, choosing a diesel Class C will make any RVing excursion exciting.
Enjoy shopping for a diesel Class C, whether you choose something from this list or do your own research! I hope you have found this useful and informative for your next big RV purchase!