Last updated on October 30th, 2023 at 09:34 am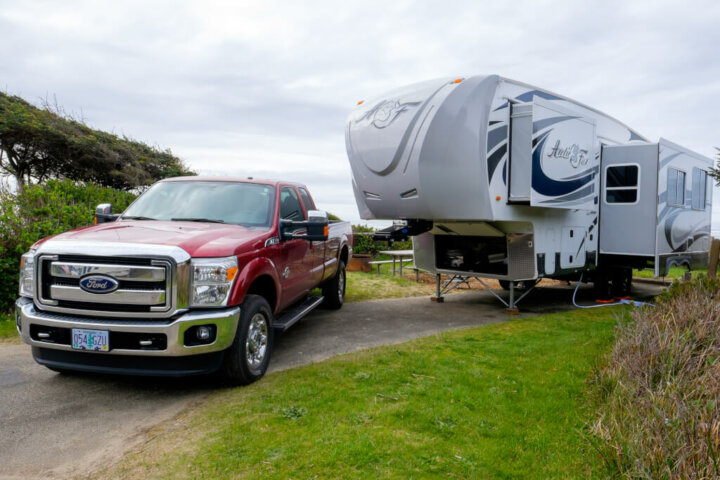 All of our reviews are based on exhaustive research, industry experience and whenever possible, hands-on testing. When you make a purchase using one of our chosen links we'll get a small percentage of the proceeds. This supports the site and keeps Jeffsetter running. You can read more here.
You may be looking for some of the shortest front living room fifth wheels on the market today, and the good news is that you're in the right place! We've compiled a list of some of the best fifth wheels available without them getting too long, and with each of them having front living rooms! Why might you be interested in a fifth-wheel floorplan with a front living room in the first place?
What are the pros and cons of having an RV with this type of layout, and what might you not have considered yet in terms of this type of floorplan? In this article, we'll address all of your questions and concerns regarding front living room fifth wheels and why they might work well for you.
We'll then explore some of our top picks for the shortest front living room fifth wheels on the market for 2023. If you're only interested in finding out which front living room fifth wheels made it onto our list, then click here to jump ahead and discover the 6 best options available!
Why Might You Want A Front Living Room On A Fifth Wheel?
There are a few reasons for being interested in owning a fifth wheel with a front living room, especially a fifth wheel below 45 feet in length. You may be seeking an RV with a dedicated living space, but you don't want a living area taking up too much square footage within your RV. What does this mean exactly? When you choose a front living room on a fifth wheel, it's always in the front nose of the rig.
This essentially means the area where you hitch your fifth wheel to your tow vehicle is your entertainment center and living space. You may enjoy this utilization of space, as it feels particularly cozy and homey. In addition, the bedroom, bathroom, and kitchen area will also be more spacious, given these rooms take up the majority of the interior square footage.
However, it's also important to note front living room fifth wheels don't work well for everyone. They might tick every box and be exactly what you are looking for, or they may be an absolute disaster for your desired floor plan layout. Let's take a look at some additional considerations before you make your final decision.
What To Consider In A Short Front Living Room Fifth Wheel?
No matter what you're looking for in a compact fifth wheel with a front living room, there are plenty of things you need to consider before you even start shopping. Working out what you both need and want before heading to RV sales centers can help make the buying process easier and far more straightforward.
Overall Length And Width
While you're already looking for a smaller fifth wheel compared to a great number of the giants on the road today, the overall length and width of your RV matter in this context. You should always make sure you have enough interior living space without getting something too big, but this can be difficult to figure out.
When considering some of the shortest front living room fifth wheels on the market today, it's wise to pay attention to the layout of the living area itself. You should make sure you have enough room to stand and walk around, especially if you're a tall individual. For full-time RVing in particular, it's worth making sure the bedroom and kitchen are to your specifications.
Budget
While fifth wheels aren't as expensive as a number of high-end motorhome options on the market today, you should still keep your budget in mind when shopping for some of the shortest front living room fifth wheels. This is because you'll be looking at specific floorplans that only come at precise prices, so you may find you need to budget either more or less, depending on the RV that catches your eye.
Layout Or Floor Plan
You already know where you want your living room to be in terms of your RV layout or floor plan. But this is only a quarter of the amount of living space inside an RV. Even if you get some of the shortest front living room fifth wheels, you still need to take a look at the rest of the layout to make sure it works for you.
For example, do you want the bathroom located closer to your bedroom, or closer to the living area? Do you want a large kitchen or a spacious master suite? Do you want two bathrooms, or is there even room on board your short fifth wheel for this option?
These are all important questions for you to consider as you shop!
Stairs And Other Placements
Given the fact front living room fifth wheels are lofted or otherwise elevated using stairs, you should think about the placement of these items when looking at the overall floor plan of your RV. While RV manufacturers try to build things as practically as possible, there are still certain floor plans that just don't fit the bill.
Take care to also pay attention to the heating and AC options for your fifth wheel. Even if you're looking at a particularly compact fifth wheel, you may have trouble adequately heating and cooling your front living room. So, make sure to get a secondary AC if need be, and always keep comfort in mind. You're getting a front living room fifth wheel because you want to hang out in it, after all!
Sleeping Arrangements
Since you already know you have a front living room onboard the fifth wheel, it's a good idea to make sure this works for the rest of your guests too. You'll likely have a dedicated master bedroom, but the rest of your sleeping arrangements will presumably be in the lofted living space. It's important to make sure there are enough beds and sleeping arrangements for all the guests you anticipate camping with.
The 6 Shortest Front Living Room Fifth Wheels
Ready to check out some of the shortest front living room fifth wheels available in 2023? Here's our top list of these unique floorplan fifth wheels!
Interior Height: 7′
MSRP: $85,935
Exterior Length: 39′ 2″
Exterior Height: 13′ 4″
Coming in just under 40 feet in length, the Keystone Cougar 354FLS is a fantastic choice for those looking for a front living room fifth wheel floor plan without it being too long. This RV has a lot to offer in terms of its luxury as well as its price point, with a fair starting price of $85k. The front living room of the Cougar has an entertainment center with an electric fireplace, two fold-out sofas, and a third loveseat option, making it a great fit for couples!
I love the option of a full-size residential kitchen and fridge in this RV, as it means I'm not limited to what I can cook in this rig, and instead, I can whip up delicious meals whenever I want to. I'm also a huge fan of the luxurious king-bed master suite which truly makes this rig feel more like a traditional home, and less of a camper.
The bathroom may be a bit of a walk from the living room, but this isn't too much of an ask and helps keep travelers moving around the rig, instead of getting a little too comfortable in the luxury seating options. The entire back wall is dedicated to the kitchen countertop space, and although this may seem like wasted space for some, as a food lover, this opens up cooking options considerably.
Along with ample storage throughout, and a spacious bathroom guests will be blown away by, the Keystone Cougar is a great option to go for. It's ideal for full-timing and weekend trips alike, all thanks to Keystone's ingenuity and creative thinking.
Pros:
Compact trailer
Luxury finishes
Spacious and functional kitchen
Cons:
Bathroom is far from living space
Nearly 40′ long
Slide-outs require extra maintenance
Interior Height: 7′
MSRP: $74,999
Exterior Length: 42′ 6″
Exterior Height: 12′ 5″
While this fifth wheel is over 42 feet in length, there's still a lot to love about the Coachmen Chaparral 334FL. It has a fair price along with a comfortable front living room, and a large master bedroom with a bathroom attached. While the living area is lofted into the nose of the RV, it still feels open and welcoming to the kitchen area.
It has a low wall with storage compartments included, which means I can still look into the rest of the RV when stood up. There may not be a fireplace on board this RV, but the entertainment system is top-notch and means I can stay entertained even on wet, rainy days. There's a residential fridge and pantry in the kitchen, all surrounding a central island for a unique RVing experience.
Plus, the master suite can be upgraded from a queen bed to a king bed making things as comfortable as possible for each and every traveler. Theater seating is also included standard in the living area, making my home theater dream on the road a reality. The main drawback to this front living room floorplan is the fact that the bathroom is at the opposite end of the rig, and there's a walk through the bedroom in order to access it.
For couples, this may not be an issue, but traveling with family or friends on board, this may be a bit invasive in terms of privacy. Overall, the Chaparral boasts an abundance of impressive features, and the homely front living space is just one of them.
Pros:
Large living room
Spacious bathroom
Diverse seating in living area
Cons:
Over 40′ long
Bathroom attached to the bedroom
Interior Height: 8′
MSRP: $118,410
Exterior Length: 41′ 4″
Exterior Height: 13′ 5″
Grand Design makes a number of outstanding 5th-wheel RVs, and they are a favorite among both full-timers and casual RVers. The Grand Design Solitude 380FL is an incredibly luxurious upon with a comfy front living space and high-end touches throughout such as rich wood and upholstery finishes. The front living room in this shortest front living room fifth wheel has an entertainment center for catching up on great TV on vacation.
The living space is diversified with a couple of different sofa options, meaning guests can get as comfortable as possible in next to no time and can enjoy the fireplace when temperatures drop over winter. The kitchen is a fantastic space, and with a dinette opposite the island and a residential oven, hosting friends and family is effortless and can be done all in the same place.
Unlike our last option, there's a bathroom at the midway point in the RV rather than at the very back, creating an entirely private and spacious master bedroom in the rear perfect for couples. This shows the in-depth thought process of Grand Design RV, and proves they know what we campers want most! For luxury alone, I highly recommend checking this fifth wheel out, especially to get a true feel for the front living layout and surrounding space.
Pros:
2 bathrooms
Ample storage and wardrobes in the bedroom
Theatre seating and tri-fold sofas
Cons:
Numerous slide-outs mean additional maintenance
Interior Height: 6′ 3″
MSRP: $97,286
Exterior Length: 43′ 6″
Exterior Height: 13′ 2″
For bringing the whole family on vacation, it's best to choose an RV able to accommodate several people comfortably. The Forest River Arctic Wolf 3910Suite is a front living room fifth wheel, boasting countless features, all at a relatively budget-friendly price. This RV reaches 43 feet in length, making it one of the longer fifth wheels on our list of the shortest front living room fifth wheels. However, it has a lot to offer, including a second bathroom and multiple sofas for kiddos.
Not only does this RV have open pass-thru storage on the exterior, but it also has theater seating in the living area and an electric fireplace by the entertainment system. It's simple to reach this area by taking the stairs over to the master suite, located at the rear of the RV. I love the ensuite bathroom of the master bedroom, as it ensures privacy for couples.
This fifth wheel is one of the larger options on our list, but it still only just creeps over 43′ in length. It will likely be harder to store, but inevitably, it's a matter of weighing up the pros and cons of a rig of this size. It's also worth mentioning that the kitchen on this Arctic Wolf is more compact than other short fifth wheels on our list.
This is a little disappointing in my eyes, and there's so much space to play with. It's clear, however, that the additional length has instead been used to create a lovely spacious living room at the front, and an entire master suite at the rear of the fifth wheel.
Pros:
Washer and dryer prep
2 bathrooms
Ample exterior storage
Cons:
Long length may be difficult to store
Compact kitchen
Interior Height: 8′ 6″
MSRP: $140,168
Exterior Length: 44′ 5″
Exterior Height: 12′ 8″
Speaking of large fifth wheels, the Jayco Pinnacle FLGS is the largest of the shortest front living room fifth wheels on our list. Measuring in at just over 44′ long, it's hard to call this fifth wheel small! It is, however, a very impressive layout, with 2 bathrooms, and a front living room that's spacious and comfortable for multiple RVers to enjoy.
Jayco is known for creating durable and reliable rigs, and the Pinnacle is no exception. There's Climate Shield weather protection, in the form of a 40,000 BTU furnace, double-layer fiberglass insulation, a fully enclosed and heated underbelly, and more! These features work together to create a rig that's capable of tackling all four seasons with ease. This is the kind of reliability I need when living and traveling on the road full-time through a range of destinations and climates.
The kitchen isn't my favorite of all our fifth wheel, as the counter space is completely separate from the fridge and stove. I think this will result in a bit of a struggle when preparing large meals, but it's nothing a little effort can't get around! The half-bath, on the other hand, is a huge bonus for those looking for an additional bathroom due to traveling with multiple people. Plus, the rear master suite with the bathroom is truly stunning and a joy to spend time in!
The Pinnacle is also backed by Jayco's fantastic industry-leading warranty, as well as their high-quality building materials and supplies. While the price point may be high on this one, it's a large and in-charge fifth wheel, should the short ones not be ticking as many boxes as they could.
Pros:
Fully enclosed, universal docking center
Large en-suite master bedroom
Convenient built-in laundry hamper
Cons:
Kitchen is compact and not the most convenient
Slide-outs will likely require more maintenance and can be hassle in winter
Interior Height: 6′ 3″
MSRP: $130,476
Exterior Length: 42′
Exterior Height: 13′ 3″
The main perk of purchasing a Heartland Bighorn Traveler 38L is the fact that it's all on one level, making it perfect for senior couples. The 38L still has a front living room, but there's also the opportunity to take advantage of the stunning and spacious rear master suite. The bedroom has a walk-around king bed and ample storage for keeping belongings packed away and organized for the duration of any vacation.
The kitchen is abundant with storage, and there's even the option of washer and dryer prep which is a game-changer for full-time living. Night roller shades throughout keep the rig private and cozy come nightfall, and the large fireplace helps keep the fifth wheel warm in winter. There's nothing quite like the feeling of enjoying a fireplace in winter, and the front lounge is somewhere I would stay while snowflakes fall outside!
The living area has plenty of seating, should any guests want to come inside and explore the space. Plus, this Bighorn Traveler also has an outdoor kitchen with numerous features and amenities to enjoy when the sun is shining, and there's no better excuse to get outside and cook up a feast. Heartland offers generator prep with this RV, which is something I would be tempted by for making boondocking a lot easier.
Overall, the Bighorn Traveler 38FL is a great fifth wheel with a front living space that doesn't cost an arm and a leg. Instead, this rig is relatively budget-friendly and is well-suited to older RVers who don't want to leave the convenience and comfort of home behind.
Pros:
One-level floorplan
Ample storage throughout
Exterior kitchen
Cons:
Mid-price range
Only 1 bathroom
Final Thoughts
Finding some of the shortest front living room fifth wheels on the market today can be more difficult than you think. However, any one of these six options should work well for you, even if it isn't quite as small as you want it to be.
Purchasing one of the shortest front room fifth wheels for 2023 can be a fantastic option for you and your family, so do some research, and dive right into this new and exciting RV-living experience!