Last updated on June 5th, 2023 at 12:03 pm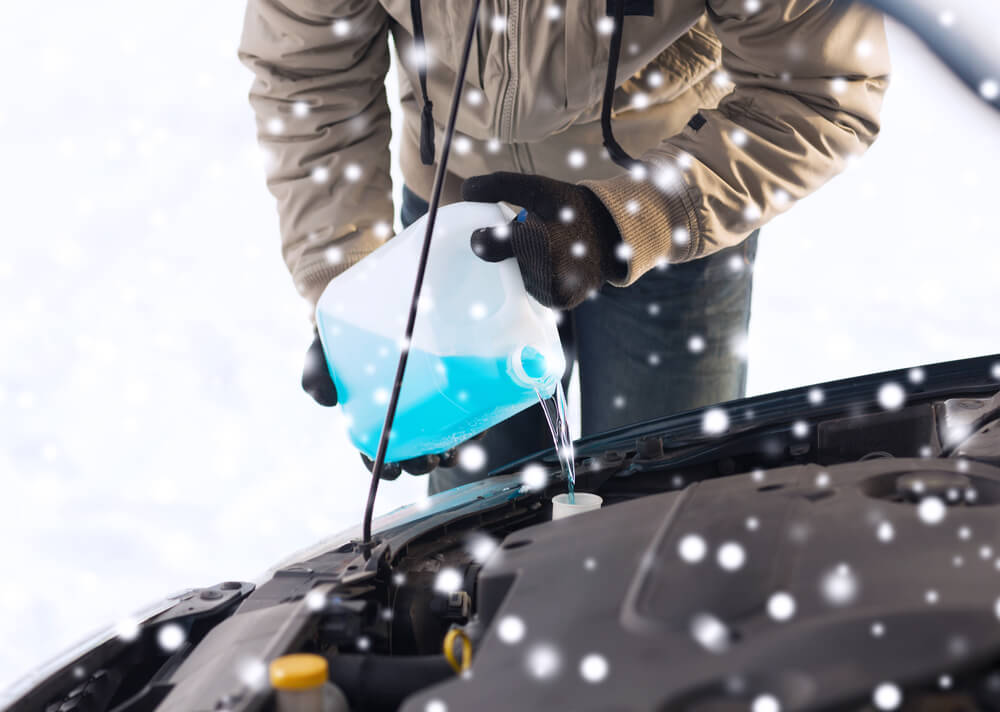 All of our reviews for the best Class C RVs for tall people are based on exhaustive research, industry experience and whenever possible, hands-on testing. When you make a purchase using one of our chosen links we'll a small percentage of the proceeds. This supports the site and keeps Jeffsetter running. You can read more here.
An essential aspect of preparing your RV for cold weather is winterizing it. If you plan on storing your rig for a lengthy period of time in a cold climate, winterization is a must. Something that is synonymous with winterizing an RV is antifreeze. A common problem encountered by winter travelers is water freezing within their pipes or tanks. Antifreeze, however, is a great tool to prevent this from happening.
Before using antifreeze though, it's important to know how to properly dispose of it.
Antifreeze should either be disposed of in a drainage system or reused in the future by you or others. It should never just be dumped on the ground as the materials it's made from can be toxic to the environment.
Let's dive deeper into why antifreeze can't just be dumped on the ground and why more careful measures need to be taken.
Why Can't RV Antifreeze Be Dumped On The Ground?
Due to the chemical composition of antifreeze, there are a multitude of reasons why it should not be dumped on the ground.
Groundwater
Groundwater as the name suggests, refers to the bodies of water found underground. This can relate to small wells to large underground lakes and streams. Groundwater is so plentiful and essential, that it accounts for around half of all drinking water in the United States. For those in the rural areas of the country, that number skyrockets from half to nearly 99%.
If antifreeze is dumped on the ground, it runs the risk of seeping into groundwater and contaminating entire supplies of it. Ethylene Glycol is found within many types of antifreeze and if it enters groundwater it can pose serious problems. The chemical is toxic if ingested by both humans and animals. By contaminating groundwater with it, not only can it be drunk by people and animals, but it can also affect irrigation and make its way into our produce.
If ingested, it can cause either lactic or metabolic acidosis in the body. These conditions can increase lactic acid in the body's bloodstream and even contribute to kidney failure.
Instead of ethylene glycol, some antifreeze contains propylene glycol. This compound is dangerous for groundwater as it does not dissolve easily. As such, marine life, from the smallest microbes to fish and animals, can all be severely impacted by it. Among its affects in marine life and other animals is hemolysis, the destruction of red blood cells. Without these cells, the body's ability to circulate oxygen effectively is heavily disrupted. For many animals, this is not a condition they can recover from.
Damage to Plant Life
The contamination of groundwater caused by antifreeze is not the only way it can affect plant life. The toxicity of antifreeze can often cause chlorosis in plants. Chlorosis is when a plant is unable to produce sufficient amounts of chlorophyll due to inadequate nutrients or damaged roots. As a result, the natural green color is replaced by a dull yellow or brown. While a change in color is natural due to seasonal changes, chlorosis is not part of a plant's ideal lifecycle and can impact an ecosystems growth and development.
The chemicals found in antifreeze can also negatively impact the soil which can slow down the growth rate of many plants by over 70%. Even worse, ethylene glycol itself in higher concentrations can kill plants once absorbed through soil or water. Propylene glycol while less harmful than its more toxic counterpart, should still not come into contact with plants. Crops such as corn and soy beans in particular are most susceptible to propylene glycol. It is absolutely crucial that it is kept away from crops as the risk of human consumption is far too heavy.
Permafrost
Permafrost refers to swaths of water underground that has remained frozen for a few years. It is most commonly found in the arctic but exists wherever the climate supports it. Just an antifreeze can be dumped on the ground and disrupt groundwater, so too can it disrupt permafrost. Antifreeze poses the risk of melting permafrost if disposed of incorrectly. Melting permafrost poses a risk to land destabilization, flooding, environmental damage and more.
With all these problems being outlined, its clear that dumping antifreeze on the ground is the last thing you'd want to do. So how should you safely dispose of your RV's antifreeze instead?
Antifreeze Disposal Options
Luckily, there are a few options ahead of you as to how you can dispose of RV antifreeze.
Drainage
As long as the antifreeze you are using does not contain ethylene glycol, you can flush it down a drain. Generally, a drainage system will not release its content into groundwater or other important environmental locations. Instead, it will be treated at a nearby water treatment plant and be used elsewhere. It is important though to always check the local governmental regulations in your area on antifreeze disposal before doing so.
Having it Disposed For You
If you do not have access to a drainage site of your own while camping, you can take your excess antifreeze to a local shop or manufacture that offers to dispose of it. This not only takes the responsibility out of your hands, but also ensures that the process will be taken care of correctly.
Reuse or Recycle Antifreeze
Excess antifreeze can be used for other vehicles if they are compatible with it or even for your at-home plumbing system. If not, you can simply hang onto it until you need to winterize your RV again for a later date. RV antifreeze when stored well will typically last you a few years.
Additionally, many facilities accept antifreeze for use of recycling. Much of this is the result of increased government regulations on the disposal of antifreeze and environmental protection becomes an increasingly urgent concern. This is great as these facilities will accept your RV's antifreeze and break down its components for future use in other products.
Closing Thoughts
Winterizing your RV is super important when preparing for travel or simply storing it in a colder climate. However, it never needs to come at the cost of the environment, your health, or the health of others. That's why being aware of the proper disposal of antifreeze is so important. It is a great tool for your RV, but it is still a fairly dangerous one. As long as you are responsible when using it, you'll have no problem both protecting your RV, and those around you.