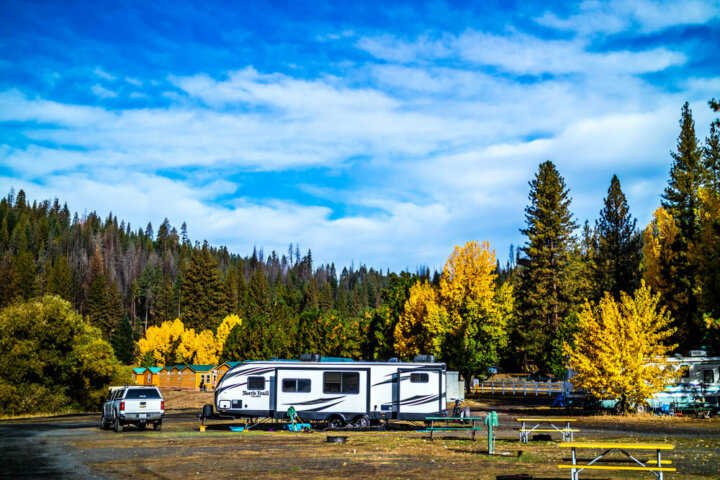 All of our reviews are based on exhaustive research, industry experience, and whenever possible, hands-on testing. When you make a purchase using one of our chosen links we'll get a small percentage of the proceeds. This supports the site and keeps Jeffsetter running. You can read more here.
No matter the reason, some of the most popular RVs on the market are also some of the longest RVs on the market. Whether you are seeking the maximum amount of square footage possible in a portable home or perhaps you are simply curious about just how large RVs can be, there are a number of long and impressive homes on wheels.
Class A RVs are some of the longest and largest, reaching 45 feet in length. You can also find extremely long travel trailers and fifth wheels, over 45 feet long. The longest RV allowed on the road is usually 45 feet long, some states allow RVs up to 48 feet long, or only 40 feet.
In this article, we will go over just how long some of the longest RVs that are currently available are, as well as which type of RV reigns supreme in terms of its length. Plus, we will discuss whether or not you need any additional licensing to drive an extra-long RV as well as what you can expect when it comes to camping in an RV that is larger than average. Let's get started!
If you are seeking a particular section of this article, feel free to use our table of contents to navigate to your desired section now. Otherwise, read on to learn everything you need to learn about the longest RVs out there!
Longest RVs: Everything You Should Know
When it comes to the nationwide average, many people seem to gravitate toward RVs that are 30 ft in length. However, this is certainly not as long as an RV can get, especially when we look at fifth wheels and Class A motorhomes.
In fact, a school bus that is likely a popular choice for people who are building out their own tiny home or RV averages above 35 ft and typically ranges to 45 ft long. While school bus conversions or schoolies are not the only way to hit the road, some of the longest RVs out there are of a similar length.
But just how long can an RV be before it is either illegal or dangerous to be on the road? Are there any rules or regulations surrounding long RVs when it comes to taking them into state or national parks? Let's take a closer look at all of these questions now.
What Is The Longest RV Allowed On The Road?
The longest RV allowed on the road varies depending on what state you are traveling through, but the nationwide average in the United States is 45 ft long. Some states allow up to 48 ft long, while others limit RV drivers to only 40 ft. It is unlikely that you will be penalized in these states should you own an RV over 40 ft long, but it is potentially still a risk.
In addition to this, RV lengths are separated by whether or not you are driving a motorhome or a trailer. Many states have separate length limits depending on the type of RV you have, so keep this in mind should you be worried about keeping your trailer under a certain length. For the most part, motorhomes can be slightly longer than trailers, but not in all states.
This is why most Class A motorhome manufacturers maintain a maximum length limit that hovers close to 45 ft. Travel trailers and fifth wheels are also of a similar length, though 40 ft is a more approximate average for the towable rig. However, when it comes to driving an RV of this size, what should you know about licensing and other legalities?
Length And Licenses: Does It Matter?
You technically don't need a separate license to operate an RV, unless it or over a certain weight or length and has air brakes on board. Given the more complicated operations involved with air brakes and the fact that you are driving something heavy enough to merit air brakes, you will likely need a CDL license to drive a motorhome of this size.
This is also something that varies on a state-by-state basis, with Canada also having its own rules. On average, you shouldn't need a different license to operate a Class A motorhome so long as it is under 26,000 pounds. However, some states require a commercial license if you are towing or driving an RV that is longer than 40 ft long, and the weight limit is indeed a huge factor as well.
This rule regarding length and weight limits can be frustrating for new RV owners, but it isn't rare for a Class A motorhome to reach these immense sizes. It's also something to consider if you are shopping for a new RV and don't want to fuss with additional licensing. By simply choosing an RV that is slightly smaller, you can avoid this potentially costly RV requirement!
How Long Are Motorhomes While Towing?
Another important factor to keep in mind when considering some of the longest RVs on the market is whether or not you plan on towing an additional car or vehicle behind your motorhome. Again, this is a state-by-state rule and there is no set standard for just how long your motorhome can be while towing, but certain locations are strict about this.
For example, most states do not allow you to triple-tow things, though some are more flexible about this rule. In addition, the nationwide average for how long your motorhome can be while towing appears to be 65 ft long. Some locations don't allow the overall length of your vehicle to exceed 60 ft, while other locations don't want you to exceed 70 ft.
While it all depends on where you are traveling, it's important to always consider your safety while on the road. Let's discuss just how long some motorhomes are on average while they are towing a separate vehicle behind them and what that might mean for you.
Maximum Combined Length For A Motorhome That's Towing
As previously mentioned, the maximum combined length for a motorhome that's towing an additional vehicle behind it averages roughly 65 ft nationwide. Some states allow slightly longer vehicles, while others prefer slightly shorter vehicles. These maximum combined lengths can also include truck and trailer combinations, so keep this in mind.
Many people purchase motorhomes because they are drivable RVs and you don't have to worry about towing or hitching up any vehicles. However, what these people don't realize is that they won't have a vehicle to drive into town once they set up their motorhome at camp. That's why towing an additional vehicle or even a boat behind your motorhome is a common practice nowadays.
But this common practice isn't always the safest, especially if the RV owners in question only purchased a motorhome so that they could avoid towing anything. As someone who lives full-time in an RV, I see people who own extremely large Class A motorhomes as well as tow vehicles that they bring along with them.
While there isn't anything inherently wrong with this, some of these combinations can get extremely long. Safety should be your first priority while on the road, so you may want to consider a slightly smaller RV if you plan on towing anything behind you!
What Is The Longest Class A RV?
Currently, the longest Class A RV is found under the Tiffin Motorhome brand. They currently have three different models that are 45 ft long, including the Phaeton, the Allegro Bus, and the Zephyr. These are all diesel Class A Motorhomes packed with features, including many luxury options.
The Zephyr in particular is Tiffin's flagship diesel Class A RV. It only has one floor plan, but it is 45 ft long and very nearly 75,000 pounds when it is unloaded. When you add your cargo, passengers, water, and whatever else you plan on bringing with you, this is an extremely heavy and large RV!
The Zephyr comes equipped with air brakes for this reason alone. Given the immense size of this motorhome, it isn't for the beginning RV owner, even if it happens to boast over 400 square feet of interior living space and plenty of storage.
This is also not an RV for the beginning RVer budget, as it costs $850k on average, without any additional amenities included.
Given that the Zephyr is a flagship model for Tiffin, it has been around for quite some time. Plus, it has been 45 ft long for multiple years, which may mean that this size of an RV is more in demand than we think!
When you check out all of the amenities and luxurious features included, it shouldn't be a secret why the Zephyr is potentially so popular.
Runner-Ups For Longest Class A RV
Besides the 45 ft long diesel motorhomes found under the Tiffin brand name, Entegra Coach also has a few different Class A options that are an inch under 45 ft long. The Aspire, Anthem, and the Cornerstone in particular all have floorplans that reach 44 feet and 11 inches long!
When you contemplate towing an additional vehicle behind an RV like the Cornerstone, things can get a little intense. There is a 20,000 lb towing capacity available on this Class A RV, but beginning with a 45 ft long RV and then adding an additional vehicle behind may be dangerous if you are unpracticed.
With porcelain floor tiles, large holding tanks, and floor plans to suit just about any lifestyle, Entegra Coach manufactures motorhomes that are certainly worth considering.
However, nearly all of their diesel Class A RVs require an additional license in order to drive them, given their immense size and weight limits. This is definitely something to consider, besides the cost!
Speaking of cost, there is another brand name that ties Tiffin in terms of the longest Class A RV. the Newmar Corporation has multiple luxury diesel motorhomes at 45 ft long, including the King Aire Class A RV. While these are certainly some of the nicest RVs on the market currently, the King Aire is over 1 million dollars!
What Is The Longest Class B RV?
While Airstream is known for its aluminum travel trailers, they also have a few different Class B RVs that they have dubbed as touring coaches. The Interstate 24 GT in particular is almost 25 feet long, which is longer than the average Class B RV for sure!
There are a few different Interstate touring coach models to consider, all of which are under 25 ft, but over 20 ft long. while the floorplans appear to be best suited for travel rather than full-time living, these Class B RVs have plenty of interior space compared to shorter Class B RV models.
If you are considering a motorhome and are too worried about its size, Class B RVs might be a great choice for you. even the motorhomes manufactured by Airstream have a 5,000 lb towing capacity, which gives you the option to bring an additional vehicle along for the ride without stressing just how long your overall length is!
Runner-Ups For Longest Class B RV
Winnebago has a few extremely popular Class B RVs, including the Winnebago Boldt. This camper van is just under 23 ft long, but it still maintains a nimble Mercedes-Benz chassis. It also has a decent towing capacity in case you want to bring along a car or boat behind your van, and the height of this RV gives you a bit more interior living space than you might expect.
This popular RV manufacturer also has a few other camper vans that are just under 23 ft long. The average Class B RV typically hovers around 20 to 21 ft long, so you may appreciate the extra Square footage. No matter the size, Class B RVs are incredibly easy to drive, especially if you get one with all-wheel drive and a raised chassis!
What Is The Longest Class C RV?
Class C RVs can be tricky when it comes to determining the longest option available on the market currently. That's because there are standard Class C RVs and there are Super C Class C RVs. These Super Cs are typically built on a large truck chassis and are closer to your typical Class A RV than they are to a typical Class C RV.
With this in mind, let's address the largest Super C RV available on the market currently. Newmar produces a Super C diesel motorhome that is 40 ft long and over $700k: the Supreme Aire. One of the main benefits of owning a Class C RV of this size is the towing capacity, as the Supreme Aire has a 30,000-pound capacity!
However, when you consider towing something with a 40 ft long RV, it gets trickier to drive down the road. plus, a Super C RV of this size has a weight capacity of nearly 60,000 pounds. This means that you will likely need an additional license to drive it, something that the average Class C RV does not require.
Runner-Ups For Longest Class C RV
Now that you have an idea of what a Super C RV is like in terms of its size, let's take a look at some runner-ups for the longest Class C RVs available on the market today. Ignoring other Super C options that will be of a similar length, some of the largest standard Class C RVs reach lengths of up to 32 ft.
Both Entegra Coach and Thor produce Class C RVs that are just over 32 ft long while still maintaining a standard Class C chassis rather than the Super C Freightliner chassis. This is an important distinction when it comes to horsepower, towing capacity, and even fuel type. While many larger Class C RVs can come equipped with diesel fuel, this is a standard for Super C RVs.
If you find yourself feeling anxious when it comes to purchasing a motorhome, Class C RVs may be the way to go. Not only are there plenty of different sizes to choose from, but these motorhomes are often the perfect size for many different lifestyles. You still have a decent towing capacity so you can bring along a standard vehicle behind your RV.
Plus, even if you are towing a car behind your Class C RV, you won't be close to the nationwide average length maximum of 65 ft long. This may make a Class C RV a bit more feasible compared to a class A RV that is nearly 50 ft long!
What Is The Longest Travel Trailer?
When it comes to towable RVs, there can be some extremely long travel trailers. Given that travel trailers are the most popular type of RV purchased nationwide given their affordable price point and flexible floor plans, it isn't all that rare to come across a travel trailer that is over 40 ft long. However, when it comes to the longest travel trailer currently available on the market, SpaceCraft MFG makes custom travel trailers that reach up to 48 ft long!
While there's no telling how much a custom travel trailer might cost you, SpaceCraft creates most of the largest towable RVs currently available on the market. However, they are not easy to purchase and are indeed custom, which means that they will take some time to manufacture.
When it comes to readily available travel trailers on the market, just how long do some of these RVs get?
Runner-Ups For Longest Travel Trailer
The Jayco Eagle has been amongst some of the largest travel trailers on the market for multiple years. For their 2023 lineup, Jayco still has a floor plan for the Eagle that is just over 40 ft long. While many other RV manufacturers make travel trailers that are close to this number, Jayco still holds the top prize for the largest travel trailer currently being manufactured.
Starting just under $80k and weighing just over 10,000 pounds, the Jayco Eagle is extremely popular and has floor plans to suit a number of different lifestyles and family situations. However, there are other travel trailers available that are large and impressive in size, best suited for families seeking bunkhouse floor plans.
For example, the Keystone Hideout has multiple floor plans that are an inch under 40 ft long, rivaling the Jayco Eagle. Forest River also produces a number of travel trailers that are close to this length as well. However, it is rare to find a travel trailer that is over 41 ft long, unless you opt for something custom-made.
What Is The Longest Fifth Wheel?
SpaceCraft MFG also holds the record for the longest fifth wheel currently available. However, it is also a custom-only option, with no models available unless you are looking for something that is made to order. This company offers a standard fifth wheel as well as a semi-truck fifth wheel model that can reach up to 57 ft long!
Even their standard fifth wheel custom options can be made to 51 ft in length. While this may require an extremely large truck to tow it properly, there are simply no fifth wheels being manufactured that are as large as this.
Given that they are custom, there's no way to say just how much a fifth wheel of that size might cost, but let's take a look at some slightly smaller options to get an idea.
Runner-Ups For Longest Fifth Wheel
When it comes to the longest fifth wheels available on the market today, nearly all of the top contenders are fifth-wheel toy haulers rather than standard fifth wheels. This typically means that they have a garage opening on the back of the rig and have other features that support you bringing along your recreational toys such as ATVs, scooters, and kayaks inside.
With this in mind, some of the longest fifth wheels currently being manufactured are manufactured by Grand Design, Keystone, and Jayco. The Grand Design Momentum holds the top spot as the longest fifth wheel toy hauler currently being manufactured, with an overall length of 46 ft and 8 in.
Keystone offers a few different toy hauler fifth wheels that top out at just under 45 ft long. Two notable models are the Raptor and the Fuzion. These toy haulers are over 16,000 pounds, so you'll need to make sure that you have an adequate tow vehicle before falling in love. finally, the Jayco Pinnacle is just under 45 ft and ranges in weight, but it is over 12,000 pounds standard.
If you are looking for a long fifth wheel without a toy hauler option, these typically average around 40 ft long, similar to travel trailers. However, fifth wheels are typically heavier than travel trailers, but certainly not heavier than Class A motorhomes!
Long RVs And Square Footage
One of the main reasons why you might want to choose amongst some of the longest RVs currently available on the market is because you are looking for the most square footage possible on board.
Depending on the style that you choose, some RV types offer slightly more square footage than others but come in a smaller package in terms of their length.
For example, the average fifth wheel may offer you slightly more square footage compared to the average motorhome. This is because fifth wheels can take advantage of height, particularly the height that is above the cab of your truck as you tow it.
These RVs often utilize this space as a bedroom, living room, or bunkhouse, and offer you a bit more square footage thanks to the unique design of fifth-wheel RVs!
Class B RVs also might be able to offer you a surprising amount of square footage when it comes to their ability to lift their roofs. Many camper vans have pop-top roofs that accommodate an extra sleeping space or additional storage, which may be just enough extra square footage for you to enjoy!
Slide-Outs And Square Footage
Another important factor when it comes to choosing an RV is the number of slide-outs that you have. Slide-outs are an innovation in RV technology, as it allows you to expand your interior living space at the touch of a button. Depending on how many slide-outs you have, you can add a significant amount to your RV, no matter the type you have.
For example, nearly all types of RVs have the option for slide-outs, with some exclusive Class B models even offering a wall that can pop out. Having the option to expand your living space out rather than lengthwise may be a fantastic option for those of you who are hoping for a slightly shorter RV overall.
Long story short, length isn't everything when it comes to RV living. Choosing a floor plan that works well for your lifestyle is always a good place to begin, even if you know you need plenty of interior living space for you and your family.
While this often does indeed result in a long and heavy RV, there are some slightly smaller options but still big on interior living!
Long RVs And National Parks
Another potential factor to mention when it comes to knowing everything you should know about the longest RVs on the market is what it's like to drive along RV in a national park. Many national parks don't allow RVs over a certain length, particularly if you want to camp overnight.
A great deal of all national parks doesn't allow RVs that are over 40 ft long, with 25 ft long being a safe maximum to consider if you want to camp in these locations. While there are always exceptions to the average, most national parks truly don't have the space to accommodate rigs of this size.
While this may not be a problem for you, you may want to reconsider a longer rig if visiting our national parks is high up on your list. Because it isn't just camping that becomes an issue when you have an RV that is over 40 feet long. Some roads can't accommodate these enormous RVs, both inside and outside a park setting!
Final Thoughts
No matter the reason, many RV customers are interested in owning some of the longest RVs currently available on the market today.
While there are many things to consider, including the potential for an additional license, there's no denying just how impressive some of these large and in-charge RVs are!