All of our reviews are based on exhaustive research, industry experience and whenever possible, hands-on testing. When you make a purchase using one of our chosen links we'll a small percentage of the proceeds. This supports the site and keeps Jeffsetter running. You can read more here.
Do you consider yourself a senior couple looking for a safe and reliable recreational vehicle? Perhaps you are thinking about using your RV to camp in the winter months or maybe you have even considered the awesome opportunity of living in your RV full time.
No matter the case, it is important that you find a travel trailer that suits your lifestyle best. Whether this is your first time purchasing an RV or perhaps you are a seasoned pro, we can help you find the travel trailer that suits you best.
Before we dive into some of the best travel trailers for senior couples, we should discuss some things that you should consider before making your final purchase. If you'd like to skip the background information, you can use the table of contents below to check out our favorite travel trailers: 
Let's get started!
What to Consider in a Travel Trailer for Senior Couples
Even the most camp savvy of senior couples may need to take a look at this list of considerations before shopping for a new travel trailer. You never know when there could be more information out there for you! 
Overall Length
If you are a senior couple that is brand new to RVing, you may want to consider a rig that is shorter than what you first expected. The overall length of your travel trailer greatly affects your ability to tow carefully and safely.
Having a level trailer for towing is one thing– having a trailer that you can safely drive down the road is another. For your own safety while towing on the road, a shorter travel trailer is always a better option than a longer one. 
While you may be thinking that a longer rig will give you more amenities, small and lightweight travel trailers are being given all the bells and whistles that you would normally expect in a much larger rig.
 Not only are many smaller travel trailers well-equipped, they can bring you real opportunities to get close to your partner or loved one. If you are full timing, you may want to consider a bigger rig, but if you only plan on taking your RV out on the weekends a small rig should work fine.
RV parks and campgrounds also consider length to be a major component to your RV. If you are hoping to camp just about anywhere, with little to no hang-ups, a smaller travel trailer is the way to go. Take a look at some of these small and lightweight toy haulers for inspiration.
However, if you are a senior couple that likes your space and privacy, a longer travel trailer may suit you well. This is especially true if you plan on full timing in your room or living in it for any length of time.
Most campgrounds and RV parks can handle RVs up to 40 feet in length, and this usually doesn't include your tow vehicle length as well. Most RVers can definitely find everything they need in a rig that is 40 feet long! 
Layout and Floor Plan
Finding an ideal layout and RV floor plan is harder than you think. You may not know what you need in an RV layout before you have the opportunity to be in one, and online tours leave a lot to be desired. 
However, it is important to discuss what you want out of an RV floor plan before you go shopping. Sit down as a couple and talk about what priorities matter most for you, and then see what is possible in an RV of your desired length.
For example, not every travel trailer is equipped with two bathrooms and a master suite. However, there are so many different RV layouts on the market today that you will no doubt find something that ticks most of your boxes. 
Ideally you will be able to visit an RV lot and tour some of your top choice rigs in person. However, there are plenty of resources online for you if you are unable to visit a location in person at this time. 
You should consider certain floor plan features depending on what you plan on using your rig for. For example, if you plan on living in your RV full time as a retired individual, you will want an RV with a spacious kitchen and potentially even laundry hookups. 
Or perhaps you are the type of couple that just needs a bed to sleep in and a reliable RV grill propane hookup for BBQs. Whatever the case may be, you will no doubt find a floor plan that works best for you.
Privacy
It is difficult to find privacy if you are traveling and living on the road full time. You may want to seek out an RV that offers more privacy than others, usually in the form of more insulation and light blocking RV curtains.
Having a master bedroom that has a door that closes is usually valuable for many senior couples camping in travel trailers. This allows for even more sound and light blocking options as well as privacy should you be traveling with guests.
There are many other things to consider in terms of your privacy and the best small travel trailer for retired couples. However, it all depends on how often you plan on using your RV and where you plan on going.
For example, if you plan on boondocking almost exclusively, you may not need very many private accessories or additions. Speaking of boondocking check out our list of some of the best Class Cs for boondocking while you're at it. 
Accessibility Needs
Whether you need a ramp for your walker or wheelchair, or even a ramp for your elderly dog, accessibility needs are something for you to consider when shopping for a new travel trailer for senior couples. 
For example, accessibility can have something to do with your ability to get into the RV as well as your ability to maneuver inside of the RV. You may be seeking a rig with taller ceilings or wider aisles, for example.
Not only are RV steps a bit tricky to navigate on the best of days, they are not always the most safe and secure. Many RV manufacturers offer a more secure and even automatic RV steps so that you don't have to worry about slipping and falling.
However, a ramp is always a good idea to consider installing on your rig so that you can safely walk up and down it. This is especially true if you are bringing in food or luggage consistently while RV camping. 
You may also want to consider the bedroom layout for you and your significant other. Many RV beds do not offer a walk around option, which means you'll be crawling over your partner while they are sleeping. This isn't ideal for many couples, especially senior couples.
Finding a bedroom with a walk-around bed is a good idea, as well as considering a dry bath as opposed to a wet bath. This way, you have access to the toilet and sink while someone is taking a shower just in case. 
You may have even more accessibility needs, such as a CPAP machine plug, ample space for a wheelchair to maneuver, and more. Many modern RVs have taken these needs into account and are building their RVs to suit these needs. But it is always good to know what you are looking for beforehand!
Budget
Your budget is absolutely something for you to consider while shopping for a travel trailer for senior couples. Even if you are looking for something small, maybe something with just enough room for a bedroom, kitchen, and bathroom with shower, your budget plays an important role.
Depending on the bells and whistles you add on after the initial purchase price, your travel trailer can get expensive quickly. However, most travel trailers are much more expensive than a Class C, and especially cheaper than a Class B.
You can always consider purchasing an older RV, especially one in need of some renovations that you feel comfortable doing on your own. However, many senior couples aren't interested in purchasing something used in need of fixing, and understandably so.
If you are able to purchase a new RV and have the budget for it, I highly recommend it. This is especially a good idea because all new RVs come with some form of warranty and these warranties often cover more than you think. 
Plus, if you purchase a new RV, you are more likely to be able to work with the manufacturer and get all of the things you are hoping for. This could include a more sturdy step to your front entrance, solar panels, and tank heaters so that you can travel in the winter months as well. 
The average new travel trailer cost anywhere from $20,000 to almost $100,000 depending on what you are looking for. You can keep this cost down by purchasing used or installing many aftermarket features yourself, but if you have the budget, I say go for it. 
Travel Trailer Weight
You will soon learn that towing a travel trailer is all about weight. While the average 30 foot camper weighs around 5,000 pounds, you may find options that are both lighter and heavier, depending on what you are looking for.
Your travel trailer weight matters not only for towing, it matters for how you distribute your gear and cargo inside of your rig. You can read all about increasing your RV's tongue weight capacity here, as it could have some good insight for you.
Your weight mostly matters when it comes time to tow. you should ensure that your tow vehicle can handle whatever size RV you purchase, as you should never tow anything nearing or above your tow vehicle's weight capacity. 
The smaller and more lightweight your travel trailer is, the easier it will be for you to maneuver and park when it comes time to unhitch at camp. Many people find RVing daunting at first, especially if they purchase a travel trailer. 
However, with a bit of practice, you will be a pro in no time. But more on how you can best prepare yourself for RV travel later. 
Amount of Automated Accessories
Just like accessibility should be high up on your list of needs in a travel trailer for retired couples, you should consider how much of your rig you want automated for your own convenience. 
While my vintage rig from the 1970s doesn't have any bells and whistles in the grand scheme of things, modern-day RVs have come a long way. There are many options that are now automated that weren't before. 
For example, you may want to consider purchasing an RV with an automatic tongue jack so that you don't have to worry about cranking your RV's nose up and down. Some jacks will even self level so that you don't have to worry about an uneven rig as well. 
You can get an RV with automatic blinds indoors, awnings outside, and even automatic stabilizers that self level as well. Your RV steps can extend and retract at the push of a button, and you can get fully automated systems that can sense when your tanks need emptying.
So much of RVs are automatic these days, and if you are willing and able to spend a little bit extra, your needs for convenience will be met. This can be extremely important for many senior couples looking to RV for the first time: it should be easy!
Full-Time Living or Not
I have already touched on this, but knowing whether or not you want to live full-time in your RV can make a huge difference while shopping for a travel trailer for senior couples. Let's talk more about this now.
I am a State Park camp host, so I meet a lot of retired couples, especially those who didn't know what they needed out of an RV when they first got started. My partner and I are young, and didn't think much of the needs of senior couples living in their rigs full time.
However, the more we got to know some of these older couples, the more we realized their needs are very different from ours. Many senior couples I know who live full time in their rigs have laundry hookups, walk around king-sized beds, and huge kitchens.
This is no doubt due to their own personal priorities, but there were a few overlaps that seem universal to many retired couples living in their travel trailers. For example, storage is another must for all of these people, especially ample food storage. 
Not only is a large and spacious residential kitchen with a freezer a must for many full-time couples, they also love having most other creature comforts in their kitchens. Many senior couples I know who full-time in their travel trailers have had a larger RV stove and oven installed.
No matter what you are looking for, keeping in mind whether or not you want to live full-time in your RV is important. This will drastically affect your layout, storage needs, and what you expect out of an RV kitchen.
All RVs are livable full time to some extent. However, you may find that an RV is lacking compared to a more traditional residential home. You may want to have a tankless hot water heater installed much sooner than you originally expected! 
Tips for Senior Couples in Travel Trailers
If you are a senior couple considering a travel trailer for either weekend visits or living full-time, there are a few more things for you to consider before making your final decision. Let's take a look at some of those tips now. 
Take Your Time on the Road
While RVs aren't considered entirely unsafe to drive, there are many things you can do to further extend your safety while on the road. This is especially true for travel trailers, as these rigs are much more dangerous to drive than Class Bs or other motorcoaches.
Taking your time while driving is always important, especially if you are towing a travel trailer. Perhaps you are already a couple that prefers the slow lane, but perhaps you are not. Regardless of your driving style, taking your time while towing a travel trailer is important.
You should always observe posted speed limits and potentially even drive slower than the recommended limit by 5 to 10 miles per hour. The way your travel trailer is weighed can have a serious impact on your driving ability and safety while on the road. 
Make Sure Your Weight is Evenly Distributed
Speaking of travel trailer weight, knowing how to evenly distribute the weight of your cargo inside of your travel trailer is key to your safety as a senior couple on the road. Why might this be? It is simply due to the way your travel trailer is designed!
You should think of your travel trailer like a see-saw: placing all of your weight toward the back end of your travel trailer will cause your rig to lean backwards with the nose up in the air. This is not an ideal way of towing.
Not only should you place more weight toward the front of your rig, you should know how much your rig weighs overall. Feel free to learn more about that by clicking here, on our article all about weighing your travel trailer at home.
It's important to be able to bring along everything you need, especially if you are a retired couple living full-time in your travel trailer. However, knowing how to best distribute the weight inside of your rig so that your trailer remains level is just as important. 
Practice Hitching Up 
The last thing you want to do is look like an inexperienced senior couple towing a rig for the first time. That's why it is important to practice pitching up and backing in with your new travel trailer. This is easier said than done, however.
Watching videos all about how to back in your trailer could be very valuable for you and your partner, especially if this is your first time accomplishing anything like this. You should utilize hand signals and communication while hitching up and towing. 
The more you practice, the better you will get. It's never too late to learn something new, and the process of hitching up and unhooking your RV may bring the two of you closer together! 
Consider Automating Things
If you are concerned about maintaining and living in your RV without a certain level of automation, you aren't alone. Senior couples have different needs than young adventurous couples who are traveling in their new travel trailers.
This is why it is important to consider purchasing an RV with a decent amount of automation in the first place, or you should plan on adding these features after you make your final purchase. Some of these features include:
Automatic tongue leveling jack

Automatic stabilizers

Tank monitors and indicators

Motorized awnings

Motorized front steps

Climate control and propane monitoring
Keep in mind that all of these things will no doubt cost extra, whether or not they are already included in your desired RV layout. However, all of these features may make your experience as a senior couple far more enjoyable and easy. 
Are You Living in Your RV Full-Time?
As I've already mentioned, knowing whether or not you plan on living in your RV full time is important to decide on before you go shopping. Your full-time living needs are no doubt very different from your weekend summertime camping needs.
These needs can include more storage, a chef's kitchen, and heated tanks or further insulation so that you can camp year-round. You may also want adequate laundry facilities as well as a more spacious bathroom or bedroom. 
No matter your needs, there is a travel trailer out there that fits those needs. It may take some time and discussion with an RV manufacturer, but you will no doubt find what you need so that you and your significant other can camp and RV comfortably. 
The 6 Best Travel Trailers for Senior Couples
Ready to discover some of the best travel trailers for senior couples on the market today? Let's take a look at some of those options now and learn what makes them so special. 
With 10 unique floor plans and the Jayco name to back it up, the Jay Flight takes the top slot for our best travel trailers for senior couples. Let's look at this rig in more detail to find out why it is our best overall winner.
All of Jayco's travel trailers and motorhomes utilize something known as JAYCOMMAND- this is Jayco's unique monitoring system. The Jay Flight is a smart RV with this system onboard, capable of automating many manual RV functions.
You can control your slide outs, temperature, tank levels, and more with this technology. Having more things automatic for you can make things easier for senior couples to enjoy life on the road.
Jayco has thought of many unique features to make your life easier while RVing, including easy to use front steps and a wider entry door. You won't have to worry about moving your luggage and cargo in and out of a cramped RV front door!
Depending on the Jay Flight floor plan you choose, you have the option to have a walk around queen or king size bed, electric fireplace in the living room, and full-size residential kitchen. This kitchen is complete with a center island and size stove and oven.  
Ranging in length from 28 feet all the way to just under 41 feet, you should feel capable and comfortable in your Jay Flight. While some floor plans sleep up to 14 people, some have couples and small groups in mind.
With floor plans made for smaller groups, this means that you and your partner will have plenty of room to spread out and enjoy time both separately and together. Plus, all Jayco rigs come furnished elegantly and stylishly so that you never feel like you are missing out on the comforts of home.
While this rig may seem like a large travel trailer to tow with you, Jayco always has safety in mind. Plus, they have a comprehensive warranty package with the construction to back it up. Jayco is a wonderful brand for RVers of any age!
With 23 possible travel trailer floor plans, the Palomino Puma is a wonderful choice for full timers. You won't have any issue finding a floor plan that works for you, in a size of rig that suits your tow vehicle, all complete with durable construction and extra features. 
This travel trailer is a wonderful choice if you are considering full timing in your RV. That is because this particular model has an abundance of floor plans, including those with washer and dryer prep and large walkaround beds.
Many floor plans include an electric fireplace, Bluetooth entertainment center, and spacious shower with included sitting area. You can further upgrade your Puma to include power tongue jack and retractable heavy duty aluminum steps.
Every floor plan has a convenient and functional kitchen, with decorative backsplash that is easy to clean and a glass induction cooktop. The residential sized fridge is also nothing to scoff at, especially if you plan on full timing and need ample room for food. 
There are more added perks to this RV. You'll find LED lighting throughout, reliable rack and pinion slide-out systems, and included backup camera, and hardwood cabinetry in the kitchen and bathroom. This RV is safe, stylish, and functional.
The Puma also includes an easy to understand control panel, giving you access to your slides, awnings, heater, water, and more. You can control everything with a simple flip of a switch. You can also upgrade to a tankless propane water heater so that you never have to sacrifice long showers.
Overall, the layouts are built for enjoying quality time with your significant other. The living room is spacious and open, the kitchen gives you ample space to cook together, and the bedrooms are cozy and comfortable. It is a wonderful rig for retired senior couples to live in full time!

With 8 unique floor plans ranging from 24 feet all the way up to almost 40 feet, the Coachmen Spirit has a lot to offer a wide variety of RVers, including senior couples. Coachmen has done a good job with making their RVs accessible and complete with signature touches you may not find in any other rig.
Coachman has taken its time building rigs with unique features, such as a full under bed closet storage, wireless charging stations, and special locations for all things pets. Your dogs will feel spoiled by the accessories available on this rig. 
This travel trailer has some of the most unique storage solutions I have ever seen. There are pass-through fishing pole containers, more secretive drawers and cupboards to keep your valuables, and ample room for whatever you may need in the chef's kitchen. 
Speaking of unique storage options, a few of the Spirit floor plans come with a unique entertainment system pantry storage solution. The entertainment center swings out to reveal more than enough dry pantry storage, and even a wardrobe with closet rod. 
Some of the standard exterior features include a dog hitching post, dog wash area, and solar prep. It also has an included heavy duty front entrance step, as well as scissor style stabilizers so that you won't feel your travel trailer rocking and shaking as you move about. 
This rig may appeal to many of you who are RVing for the first time given its many standard features. It has motion activated floor lights for safety, optional theater seating, and an optional second air conditioning unit in the bedroom if this is something you are interested in. 
Coachmen is also a well-known brand given its fair and more budget-friendly pricing. They pack a lot of value into their rigs, especially their travel trailers. If you are looking for a rig with a wide variety of floor plans built for accessibility, check out the Spirit now. 
I see the Forest River r-Pod throughout Oregon and the West Coast, and I think it's because it is a rig that is easy to hitch up and hit the road in. With roughly seven unique floor plans and the reliable Forest River name behind it, the r-Pod is a model to consider.
The main perks to these rigs is their overall size. The longest length for any one of the r-Pod floor plans is 25 feet, making it easy to tow, park, and store. While 25 ft may not feel like enough if you plan on living in your RV full time with your significant other, these floor plans have a lot to offer.
Not only can you get a walk around queen bed and a full dry bath, you can also find floor plans that work best to bring guests along with you. Some of these floor plans include bunk beds, electric fireplaces, and optional residential size fridges.
You can also get optional solar panel installation, theater seating, and outdoor cooking areas as well. No matter what, all of it is being housed inside of Forest River's specialty Azdel walls and thorough insulation techniques.
While the size of this rig might be too small for some senior couples, the ease of hitching and towing may make this RV more appealing. Plus, it has ample storage and plenty of privacy features, such as tinted windows and mini blinds. 
If you are looking for a lightweight and capable RV built perfectly for two, you should look at the Forest River r-Pod. It has a lot to offer senior couples, especially those of you who are interested in camping on the weekends rather than full time!
If you have been waiting for an aluminum travel trailer to come your way, now is the time- check out the Airstream Flying Cloud. This aluminum beauty is full of features and has the most floor plans to offer senior couples- 13 floor plans, to be exact!
Ranging from 23 feet to 30 feet, this compact silver bullet may have just about everything you've ever wanted out of an RV on a compact and sturdy frame. If you are a senior couple looking to camp in style, then you can't go wrong with an Airstream.
With storage throughout, you won't have to worry about not being able to bring everything with you. And all of the cabinetry and storage cupboards are finished in a clean light wood, so that you can pack away everything fashionably.
One of the most attractive features about the Airstream Flying Cloud is its rear hatch opening. The back end of this aluminum rig lifts open so that you have complete and total access to the outside world, all from within the comfort of your RV. 
The kitchen may not be the largest given the overall length of these rigs, but it is complete with stainless steel finishes and a full-size cooktop and oven combination. There's also a lot of technology inside of this Airstream, including Bluetooth capabilities and Wi-Fi. 
This rig is also pre-wired for solar and has a backup camera as a standard feature. It has a retractable automatic awning, blackout curtains and roller shades, and some floor plans have specific features such as a dedicated office space and bunk bed.
There's a lot to love about Airstreams, not just including their stylish features. They are built to last, and you will no doubt enjoy this rig on all of your camping adventures, no matter your age! 
Best for the Adventurous Couple: Winnebago

Micro Minnie FLX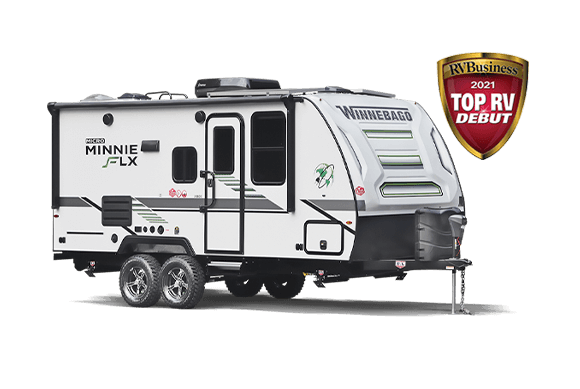 If you are looking for a travel trailer to bring with you on all of your boondocking adventures, you should check out the Micro Minnie FLX. This brand new debut from Winnebago can run for up to five days without shore hookups, remarkable for boondocking adventurers!
This rig comes complete with multiple solar panels on the roof, along with additional space to add more should you need more power. It also utilizes a unique fresh water system, with instant hot water and ample fresh water to use throughout your time on the road. 
Even though this rig is an average of 20 feet in length depending on the floor plan, it has slide outs and ample sleeping arrangements for up to 5 people. It has a full-size kitchen, with three burners and a microwave oven, complete with easy to clean stainless steel accents. 
Winnebago has outfitted this travel trailer with energy-efficient appliances, such as heating and air conditioning. You can run these appliances using a single solar panel, making your energy needs easy to keep track of. 
They have also given this travel trailer ample insulation so that you can camp in any season or weather. Some floor plans also offer walk around queen beds or murphy beds, giving you more space and security while camping on the road with your partner.
While this rig is brand new to Winnebago's line of travel trailers, you shouldn't shy away from it. It has won both the best debut award and the best new model award for 2021, making it a highly anticipated rig for campers of all ages!
Best of all, Winnebago has a comprehensive warranty option and owner's club so that you can feel connected and a part of something during any stage of your RVing journey. You may find and connect with other senior couples who love their Winnebago!
Final Thoughts
Finding a travel trailer as a senior couple can feel like a daunting task. However, your needs can be met with a little bit of time and research. No matter the age, you and your partner can camp and hit the road both in style and in comfort.