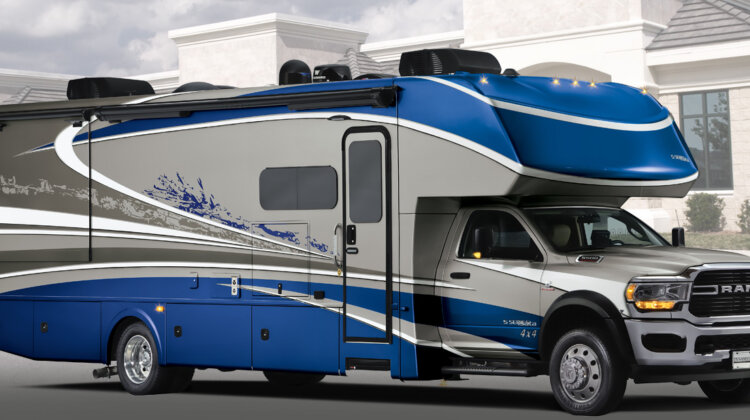 All of our reviews are based on exhaustive research, industry experience and whenever possible, hands-on testing. When you make a purchase using one of our chosen links we'll a small percentage of the proceeds. This supports the site and keeps Jeffsetter running. You can read more here.
When it comes to finding a luxury RV that is also fairly easy to drive, I always recommend checking out what Class C RVs are available on the market today. There are many fantastic luxury Class C RVs for sale these days, but what should you be looking for as you shop and research?
In this article, we will discuss some of these necessary considerations as well as what exactly defines a luxury Class C RV. We will include some of our favorite Class C RVs on this list as well so that you can get a good idea as to what you can expect while shopping for one of these rigs. Let's get started.
Are you only interested in checking out our 9 best luxury Class C RVs? Click here to jump ahead to our expertly curated list! 
What Makes a Class C RV Luxury?
There are many things that make a Class C RV a luxury one, and this doesn't just include its price. Here are some of the top things I think of when I think of a luxury Class C RV:
Diesel fuel

. While this is not always a guarantee while shopping for a luxury Class C RV, many manufacturers have chosen to equate a luxury rig with a diesel fuel engine. As I said, you may still find luxury Class C rigs with traditional gasoline engines, but diesel seems to prevail over gasoline in a luxurious setting. This is likely due to the power that is offered through diesel engines, as well as the overall price savings that you can find with diesel fuel rather than gasoline. 
Standard features

. With all luxury RVs, you will find that you get more things as standard features rather than additions. This simply means that an RV manufacturer has chosen to include more features and gadgets in the initial purchase price rather than as aftermarket additions that you can choose to pay for. However, luxury RVs will still have additions available for any make and model, so that you can customize your brand new Class C however you like- for a price. 
Overall price. Speaking of cost, you can define an RV as "luxury" based on its purchase price. While Class Cs are more expensive than travel trailers and other types of rigs based on their engine and features alone, luxury Class Cs can cost even more than standard ones. You may be expected to pay anywhere from $80,000 to over $200,000 for a luxury Class C motorhome.
Finishes.

When it comes to shopping for any luxury RV, you will find that the interior and exterior finishes are where you will see a huge difference. Most luxury RVs choose to outfit their rigs in high-quality finishes, such as hard wood cabinetry and luxurious upholstery fabrics. Standard RVs are often finished plainly or without much style, depending on the manufacturer. While it may not be something you notice at first, the finishing touches and design often reflect the overall purchase price. 
Technology. A luxurious RV may have more technological advantages over a standard RV. Some of these features may include backup cameras, automatic shades and awnings, outdoor kitchens, and even upgrades to your drivetrain or chassis. While every RV manufacturer prioritizes different things, most luxury Class C motorhomes have some level of technological advantage over standard RVs. 
Brand

. While it may not be something that is obvious to you at first, the brand of Class C that you are looking at may have more to do with luxury than you first expect. Some RV manufacturers bill themselves as luxury suppliers, no matter the make and model of their rig. It is often a manufacturer choice rather than something based on the individual make and model of the rig. However, many standard RV manufacturers choose to produce luxury versions of their standard models, so this is not always a hard and fast rule. 
But this is only the beginning in terms of what you should consider in a luxury Class C RV. Read on to learn more about what you should think about before making your final purchase, luxury or otherwise. 
What to Consider in a Luxury Class C RV
Curious what else you should be considering before making an informed luxury RV purchase? Here are some of my top considerations for you to think about before shopping for a luxury Class C RV. 
Your Budget
Like any major purchase, your budget should be a huge consideration when shopping for a luxury Class C RV. Not only are these rigs more expensive than their standard make and model Class C options, the purchase price is not always the price that you will end up paying in the end.
For example, most RV manufacturers offer a base price for their rigs, with the option to improve the model in a variety of ways. While you may think that you don't plan on adding any aftermarket features, you may change your mind once you realize that very few things are considered standard in RVs. 
Luxury Class C RVs also come in a variety of different price points. However, it is unlikely that you will find a brand new luxury Class C motorhome for less than $100,000. This is important to keep in mind as you shop, as your budget will determine the type of rig you are able to afford.
Ability to Boondock
Another consideration for you to think about while you shop for a luxury Class C is whether or not you would like the ability to boondock. Boondocking, also known as dry camping, essentially means how long you are able to camp in your RV without regular access to electricity and water. 
While all RVs are made to hit the road without hookups, no one can camp forever without access to electricity or water. However, many luxury RVs these days are built for boondocking, and the amount of time that you can go between utility refuels keeps getting larger. 
You may find that some Class Cs have larger holding tanks than others, or even come equipped with solar and other off-grid power capabilities. If you are interested in camping without a need for hookups, you may want to keep these features in mind. 
How Many Passengers
While Class C motorhomes aren't the largest of all motorhomes available on the market, you can still fit a large number of people inside of one. However, Class Cs aren't miracle workers, and you will likely find the interior living space cramped if you bring more than your family of five! 
Knowing how many people you plan to camp with on average can be a huge determining factor when you shop for a new RV. You may be able to find a layout that works better for you and your significant other, rather than a layout that suits half a dozen people. 
The amount of passengers may also determine your overall layout for a variety of reasons. For example, having a dedicated master suite may be something you are interested in, or you may be set on having bunk beds inside of your Class C at all times. 
Towing Capabilities
Did you know that you can tow a car or a boat behind your class C? These motorhomes are very versatile in their size and capabilities, including their ability to tow your standard car or small boat behind it.
Having the option to tow may be something that you are interested in, especially if you plan on hitting the road for a long time. Many RVers prefer being able to disconnect from their motorhome and take a drive in something that is a bit more compact.
You may also have a wide variety of recreational gear and toys that you want to bring with you. If you have ATVs, kayaks, or other outdoor activities, you may enjoy the option to tow it behind your Class C rather than waste valuable interior living space. 
Gasoline or Diesel
Another consideration that we have already discussed is whether or not you want a luxury Class C RV with a diesel fuel engine or a traditional gasoline fuel engine. There is a wide variety of debate regarding this topic, from brand new RVers to full-timers that have been doing this for years. 
Many consumers prefer a diesel engine in their motorhome over a gasoline one, mainly for the long-term savings and reliability of a diesel engine. However, diesel engines cost more upfront, and the fuel savings may be negligible if you plan on towing anything behind your luxury Class C. 
Finishes and Luxury Features
While luxury Class C RVs come fully loaded with high-quality finishes and features, you may want to shop with these things in mind. Some RV manufacturers include fine features in their initial purchase price, but some have a variety of options available as additions or nonstandard features.
For example, not every Class C will have an onboard generator, but it may be something that you can purchase through the RV manufacturer and have installed before your RV is delivered to you. This is only one example of countless luxury features for you to consider. 
While some of these luxury features and finishes will be included in the initial purchase price of your RV, it is important to take a look at any non-standard features that you may want before making your final decision.
Luxury finishes also have the possibility of being more durable than non-luxury finishes. This includes your flooring, upholstery, countertops, and even your insulation found within the walls of your RV. If you are looking to purchase an RV that will last you a lifetime, you may want to take a close look at the finishes. 
Ease of Driving
A final consideration for you to think about before taking a look at our list of the best luxury Class C RVs is how easy the rig is to drive. While Class Cs are among some of the easiest rigs to drive around, there are many different features that affect this possibility. 
For example, many Class C RVs include features that help you drive safely. Some of these features include backup cameras, lane assistance, braking assistance, and more. You can always get in touch with an RV manufacturer and ask them about the safety features in more detail. 
The 9 Best Luxury Class C RVs
Ready to check out some of our top picks for luxury Class C RVs? Here are nine luxurious rigs for you to look at in more detail. Let's dive in now and talk about what makes them so special! 
If you are looking for a more compact but still luxurious Class C RV, you should check out the Tiffin Wayfarer. Built on a nearly 26 foot Mercedes-Benz chassis, this Class C is the perfect in-between for those of you who have been considering fitting everything you need into a Class B RV.
Known as a luxury RV brand, Tiffin has spared no expense to make this Class C versatile, unique, and boondock ready. And, with five unique floor plans, you will likely find a layout that suits your needs as well as the needs of your family or guests. 
Not only does this Class C come with an efficient diesel engine, it has loads of features included standard rather than as non-standard additions. Some of these standard features include a large residential refrigerator, wind sensing power awning with built-in speakers, and you will also be pre-wired for solar panels and solar electrical systems. 
While solar isn't considered a standard feature, you can easily have an inverter and panels installed by Tiffin. Another non standard feature to consider may be Wi-Fi, something that may be necessary for those of you that plan on living full-time in your Class C rig. 
While solar panels may be a non-standard feature, there are plenty of other perks that come included in the purchase price. Some of those include an on-demand hot water heater, a hydraulic leveling system, and moisture-resistant structures and materials. 
In addition to being safe and easy to drive, the interior of this rig can be customized with four different interior design options. Having many different choices for your high quality upholstery and kitchen finishes may be appealing to those of you looking for an RV that doesn't look like all the rest. 
The interior itself feels luxurious and spacious, with hardwood cabinetry and durable vinyl flooring. You will likely forget that this rig is built on a 25 foot frame, as it feels spacious and open throughout. The lighter finishes assist with an overall airy feel as well. 
While Tiffin doesn't have very many RVs in their lineup yet, they seem to be choosing to specialize on a few makes and models. Plus, they can offer each of their owners five different warranty options, including a five-year limited chassis warranty. 
While none of these luxury Class C RVs are known for being budget-friendly, you may find a lot of features packed into the price of this option from Leisure Travel Vans. The Unity is a fantastic model for a wide variety of people, especially adventurous couples. 
With 5 unique floor plans including a Murphy bed set-up or a rear lounge area complete with spacious kitchen, you will likely find something that suits your small party. While none of the floor plans can sleep more than four people, this travel van is ideal for quick getaways. 
Given that it doesn't sleep very many people, you no doubt have guessed that it isn't a very large Class C RV. However, this makes it fairly easy to drive given its overall length, in addition to its added safety features. Let's talk about how easy it is to drive this rig now. 
The Unity is built on a durable Mercedes-Benz chassis, complete with a variety of safety and driving assistance features. You'll get a touchscreen system as well as Traffic Sign Assist, Attention Assist, cruise control with Active Distance Assist Distronic, Active Brake Assist, Active Lane Keeping Assist and more.
It feels as if Leisure Travel Vans have thought of a wide variety of things that other RV manufacturers haven't. For example, their interior design remains unique and modern without inconveniencing RV living, such as built-in LED lighting and dedicated dry baths in every floor plan. 
There are hidden perks and features throughout, such as rounded cabinets to give you additional storage, hidden cabinets including a pantry, and swivel mounted tables in the best places. There is also an onboard generator and an on-demand hot water heater in this Class C as well.
What else is there to say about the Unity and Leisure Travel Vans as a whole? They offer their customers a comprehensive warranty program as well as an Owners Club, complete with events and updates to their products. No matter your budget, the Unity is a model that stands out to me as simplistic luxury at its finest. 
We've made it to our first Super C on this list, which essentially means that you're looking at the biggest and most powerful Class C rigs on the market now. And the Jayco Seneca Prestige is no exception to this rule. Let's talk now about why this rig is so special.
Capable of sleeping up to 9 people depending on the floor plan, the Seneca Prestige is a beast of an RV. While there are only three floor plans, this rig measures almost 40 feet in length, making it an incredibly large Class C RV. Many consumers enjoy Super Cs more than standard Class Cs given that they can bring the entire family or group of friends along with them. 
Built on a powerful chassis and using a huge diesel engine, this rig can bring the whole crew and then some. With a 12,000 pound towing capacity, you can bring along whatever cars, boats, or towables that you like! And the excitement doesn't stop there.
The interior design of this RV feels like a residential home, from the bedroom to the kitchen. The kitchen in particular does feel like one you would find in a traditional home, with quality countertops and cabinetry as well as a large 21 cubic inch refrigerator. 
One of the 3 floor plans on the Seneca Prestige has a master suite complete with quilted headboard, wardrobe and entertainment system, and even an ensuite bathroom. The luxury features included in this Super C continue to wow consumers and RVers of any age. 
Not only will you have space to sleep every one of your guests, including Jayco's patented cabover bunk that's perfect for the kiddos, you'll also have space for all of your things. There are many exterior storage compartments and thoughtful storage throughout the interior as well.
Jayco is an extremely popular name in the RV game, for many reasons. They offer luxurious features at an affordable price, and they build their RVs to last. Jayco also offers some fantastic warranty options, and their customer service is top-notch. Definitely check out this rig if you have a large group!
If you are looking for a more compact Class C that you can take just about anywhere in the world, you should check out the Winnebago Ekko. This RV is Winnebago's attempt at making a perfect hybrid of a Class C, Class B van, and an SUV with all-wheel drive capabilities. And it's getting great reviews! 
A 2022 RV of the year finalist through RV Business, the Ekko is perfect for off-roading and going off of the grid. While there is only one available for plan, it tends to tick all the boxes that you are looking for if you're shopping for a Class C RV.
The main perk or potentially drawback to this RV is its overall size. The Ekko is built on a compact 23 foot frame, making it one of the smallest Class Cs on this list. However, this is extremely beneficial for those of you that want to truly explore areas that a larger RV can't.
And speaking of exploring, this RV is unique in its external storage. It offers a huge rear garage, kept underneath your bedroom and accessible from the outside. It also has built-in roof racks, a roof ladder for easy access, and even a unique pop-up roof for added room when parked and living inside the RV. 
Speaking of the interior, there are a lot of fantastic features inside of the Winnebago Ekko. Not only does the pop-up roof give you space for an additional lofted bed area, the primary bedroom has an insane amount of built-in drawers and storage opportunities. You can combine the two twin beds into one large sleeping area as well.
One of the main drawbacks to a compact Class C is the notion that you will be dealing with a wet bath rather than a dry bath. However, Winnebago has thoughts around this, including an accordion style or sliding door to and close the shower when in use, leaving the toilet and sink area dry. 
We've only scratched the surface of the fantastic features found inside and out of this rig, and we haven't even mentioned all of the fantastic boondocking features you will receive. Not only will you have all-wheel drive and a raised chassis, you have an on-demand hot water heater and ample solar electricity to power all of your adventures!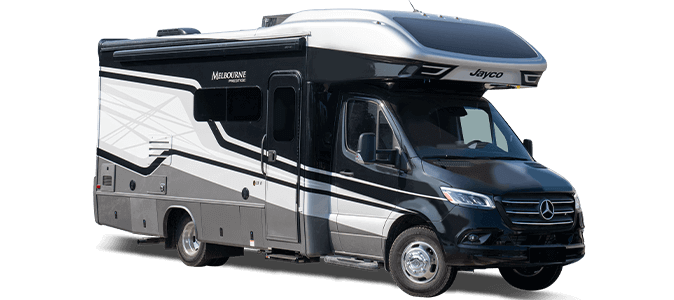 We have another Jayco RV on this list, and it is the very popular luxury version of the Jayco Melbourne. The Prestige version of this RV gives you many different luxury features and finishes, as well as a bit more space. Let's talk more about this diesel rig now. 
The Melbourne Prestige comes in 4 unique floor plans, including ones with a rear lounge area and Murphy beds. While there's only one interior design option that is particularly beige, you are likely to not notice this drab design because check out has set things up in such a way that they feel clean and modern rather than boring.
The kitchen in particular stands out in the Melbourne Prestige. Depending on the floor plan, the kitchen is spacious, with durable countertops and enough counter space to make you feel like you are in a residential home. This is a huge perk, especially considering that the Melbourne Prestige is only 25 feet in length. 
Given that this is a Jayco RV, you can expect a single piece for the fiberglass roof and front area, as well as all of its being supported by a reliable Mercedes-Benz chassis. The diesel fuel option is also encouraging too many RVers, as you may be able to save on your fuel costs over time. 
While this rig has a lot of standard features, there are additional options that you may consider adding on before making your final purchase. For example, Jayco can install an on-board generator that also runs on diesel fuel so that you can boondock in this rig with ease. You can also get hydraulic leveling jacks installed that make setting up a breeze as well.
Overall, this rig feels open and spacious on the inside, capable of sleeping up to 5 people depending on the floor plan. You can also expect it to be easy to drive with all of Jayco's fantastic safety features included. And you will also be backed by Jayco's warranties and customer service, ready whenever you need them. 

Looking for a Super C that would really wow your family and fellow campers? Check out the Entegra Coach Accolade XL. Not only is this rig an entire residential apartment on wheels, it has a lot to offer in terms of its technological advancements. Let's dive in now.
There are three floor plans available for this particular motorhome, with a wide variety of interior design specifications for you to choose from. You can choose your upholstery finishes, your cabinetry, and your countertops so that you can further customize your luxurious home on wheels. 
Given how large this rig is, almost forty feet, there is a pretty big diesel engine included with this powerful chassis. Given its size, this rig comes complete with an on-demand hot water heater as well as too efficient rooftop air conditioning systems. You also won't scoff at the amount of space allotted to every guest sleeping in the rig. 
The first thing you may notice when stepping inside the Accolade XL is the ample amount of storage cabinetry above all of the seating areas. There are cupboards and storage compartments throughout the rig, surrounding the electric fireplace as well as the theater seating in the living area. 
The bathroom is surprisingly spacious, and it is a proper dry bath so that you can utilize all areas of the bathroom no matter who needs to shower. The master suite is also luxurious, complete with a wardrobe and entertainment center that should make anyone feel at home.
All of the floor plans for the Accolade XL include a walk around king-sized bed in the master suite, along with washer and dryer preparation. This might be an appealing feature for those of you that plan to travel for a great deal of time and don't want to worry about laundromat fees.
In terms of some of the high-tech features included as standard in this rig, you can expect Wi-Fi and satellite as well as heated floors and a convenient LED panel to control all of your tanks and monitor your plumbing and electric systems. There is something to impress anyone with this RV!
Whether you plan on living full-time in your Class C or simply want to have all of the conveniences of home, you should check out the Thor Magnitude. This Super C offers four unique floor plans, some of which include washer and dryer prep as well as two bathrooms. Let's talk more about this option now. 
Depending on the floor plan, this rig ranges from 35 to 37 feet in length, making it quite large for many different applications. However, this means that you will likely feel at home inside of it if you plan on living and it full-time, and you will have no trouble bringing your friends along for the ride. 
Built on a strong and reliable Ford chassis, this diesel Class C can take you just about anywhere that it will fit. It has a roof ladder so you can do all of the maintenance you need, as well as a 12000 pound towing capacity so that you can bring along your residential vehicle or any other toys. 
The interior can be finished in two possible interior design palettes, both of which are modern and clean. The furnishings can all be upgraded to power lift beds and theater seating, and there are many standard features that make the interior of this rig comfortable. 
The kitchen itself includes high-quality cabinetry and countertops, as well as a stainless steel double-door fridge and 3 burner induction cooktop. If you don't want washer and dryer prep, you can get a large and residential sized pantry in your kitchen instead! 
The bedroom is also no exception in terms of luxury, as well as convenience for a full-time couple or family. You can expect king beds in almost every floor plan, complete with wardrobe and entertainment system. One of the floor plans also has a master ensuite bathroom, totally separate from the rest of the rig. 
There are also many electrical and plumbing features to benefit you if you are living in this rig full-time. Some of these include on demand hot water, solar panels, two air conditioning units, and an onboard diesel fuel generator. There's a lot to love in this Class C!
Here's another beast of a Class C, and for good reason. This Super C from Dynamax is ideal for those of you helping to tow as well as fit the entire crew inside of your RV. The Isata 5 is fantastic for many reasons, including its interior design and thoughtful storage features. Let's dive in and learn more about it now. 
Built on a Ram chassis with a powerful diesel engine, this Super C can tell up to 10,000 pounds, making it ideal for a wide variety of gear. You can easily tow a midsize car or boat using this rig, though it may be fairly long for you to tow with no experience! 
With 3 floor plans, you are likely to find a layout that suits you and your needs. There is a single layout with a king bed, while the other two have queens. However, there are plenty of storage opportunities as well as comfortable living for you and your guests or family. 
Not only will you be able to tow whatever you can't fit inside of your rig, you will have plenty of other perks and benefits as well. For example, there are two ducted AC units atop your roof, a powerful onboard diesel generator, and multiple solar panels for your convenience, all included standard.
You'll also have spacious bathrooms on board this rig, complete with on demand hot water. The Isata 5 also includes WiFi and satellite setup, an exterior shower, heated and enclosed holding tanks, and blackout roller shades on all windows for that luxurious touch.
The amount of exterior storage compartments on this rig is truly astounding. There are at least five to six securely latched storage compartments so that you can bring just about anything you can think of along with you, no matter how many guests you have on board.
Given that most of these floor plans can sleep six to eight people, it makes sense to have so much interior and exterior storage. Plus, the living areas and bathrooms are spacious on all of the available floor plans, making it convenient and easy to bring people along with you. 
Finally, Dynamax is a division of Forest River, which means it is built with strong and reliable materials. Plus, Forest River has a fantastic owner's club, warranty options, and their customer service is always ready to help.
We've already addressed one of Entegra's larger Class C models on this list, so now it's time to check out their more reasonably sized option, known as the Odyssey. The Entegra Odyssey is a fantastic rig for many reasons, including how stylish its interior design is across all nine of its available floor plans. 
The fact that this rig has 9 available floor plans is impressive in and of itself. Most Class Cs can only offer a few floor plans given the available interior living space. This rig is less than 30 feet in length, which makes this fact even more impressive. Given how many options there are, you'll likely find something to suit your lifestyle with ease.
Some of these floor plans include electric fireplaces and walk around king beds, While others place more square footage into the bathroom areas and kitchen. No matter what, you have ample exterior storage and inviting and modern interior design inside.
The interior design of this rig is classy and modern, complete with optional theater seating and a porcelain toilet in the bathroom. The kitchen has an 8 cubic inch refrigerator as well as a Furrion all in one stovetop and oven combination. This makes cooking easy, especially when you consider all of the interior storage options.
There are optional solar panels and an included onboard diesel generator to power your boondocking adventures in style. The cabinetry, upholstery, and flooring all blend seamlessly together to create a fashionable retreat for any camper!
Final Thoughts
Finding a luxury Class C RV is easy with so many fantastic options on the market. You can find a rig that suits your needs and wants easily, whether or not you go with one of these nine options or find something on your own. You can camp in style and comfort!