I'm a fan of Chef Ed Kenny. His mantra of local first and organic when possible has translated into outstanding cuisine, especially at his Hawaiian-local comfort place Mud Hen Water. So it only seemed right that I give Mahina and Suns dinner a try.
Mahina and Suns Location
As you'll recall from my brunch visit, Mahina and Suns is Chef Ed Kenny's Waikiki outpost. Specifically, it's nestled into the lobby of the Surfjack Hotel near the corner of Kuhio Avenue and Lewers Street. Pre-pandemic, valet parking was available at the hotel. Today, you must park at the Hyatt Centric Waikiki Beach if driving here. We were staying at The Laylow Waikiki at the time of our visit, so we walked over. After all, the parking location is only a block over from The Laylow and about two to three blocks from the Surfjack.
Service + Ambiance
During our visit back in September 2021, the service at Mahina and Suns was great. Our server was friendly, attentive, and knowledgeable. The ambiance is as it always is – lively. With nightly live music, Mahina and Suns isn't a tranquil date night spot. But if you're looking for something fun and interesting, you'll be happy here.
Mahina and Suns Food
The cuisine at Mahina and Suns is decidedly local. Local produce, fish, pork, and more are predominant players on the menu here. The menu itself isn't all that large but has enough variety to keep most happy. Also, like Mud Hen Water, you can opt for larger-format family meals, or you can order ala carte. We did the latter. It's also worth noting that the menu changes often. Unfortunately, that means not everything we enjoyed is available today.
A'u Crudo
A'u is the Hawaiian name for Blue Marlin, a fish you don't often see served raw. But, Chef is a fan of promoting more sustainable, under-appreciated species of fish, which is why we see A'u here. Even better, this isn't your average crudo. No, this version fuses endemic ingredients like limu and inamoa with more mainstream ones like smoked shoyu, yuzu, and green onions. The resulting dish is packed full of flavor!
Here, the inamona helps to provide a rich, nutty, umami to the clean, unctuous fish. Limu adds a bit of iodine-y saltiness which, together with the citrus and vegetal green onions, helps to offset the richness a bit. The smoked shoyu helps to add another layer of umami, while the chile adds a pleasant, mild heat. This is a wonderfully playful dish that mashes together elements of traditional poke with crudo.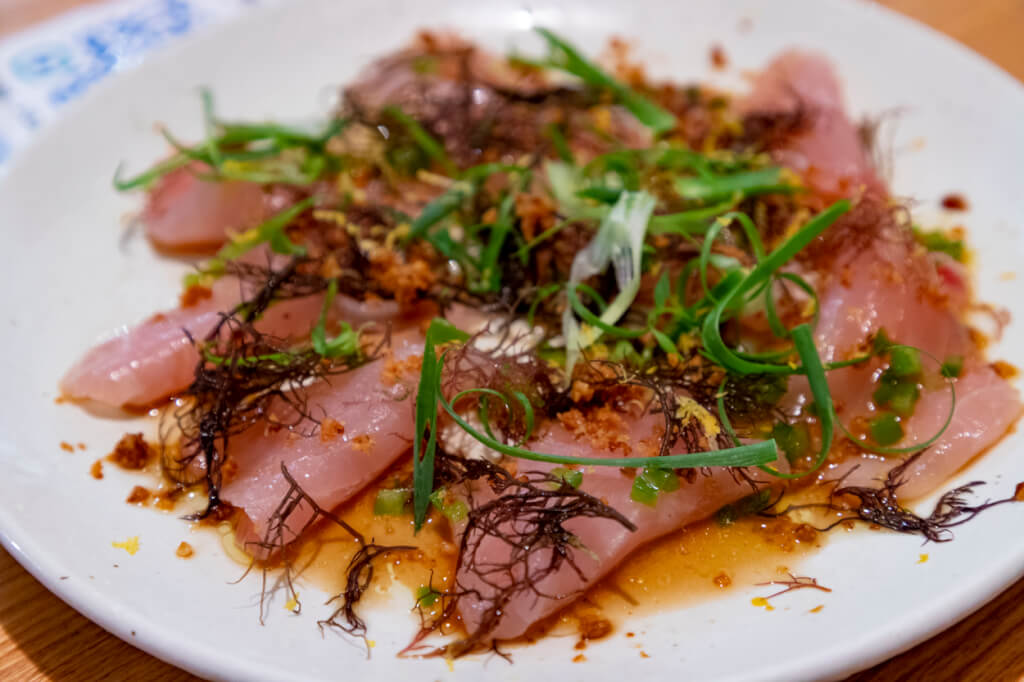 Ahi Tartare
This dish came highly recommended by our server and is one of the items that doesn't change during menu refreshes. I guess it's a bit of a signature dish at Mahina and Suns. It's easy to see why, though. Here, we have buttery ahi tartare atop crispy risotto cakes. It's a deeply savory dish that has texture, yet melts in your mouth at the same time. A drop of balsamic vinegar on top helps to cut the richness and tie everything together in an unexpected way.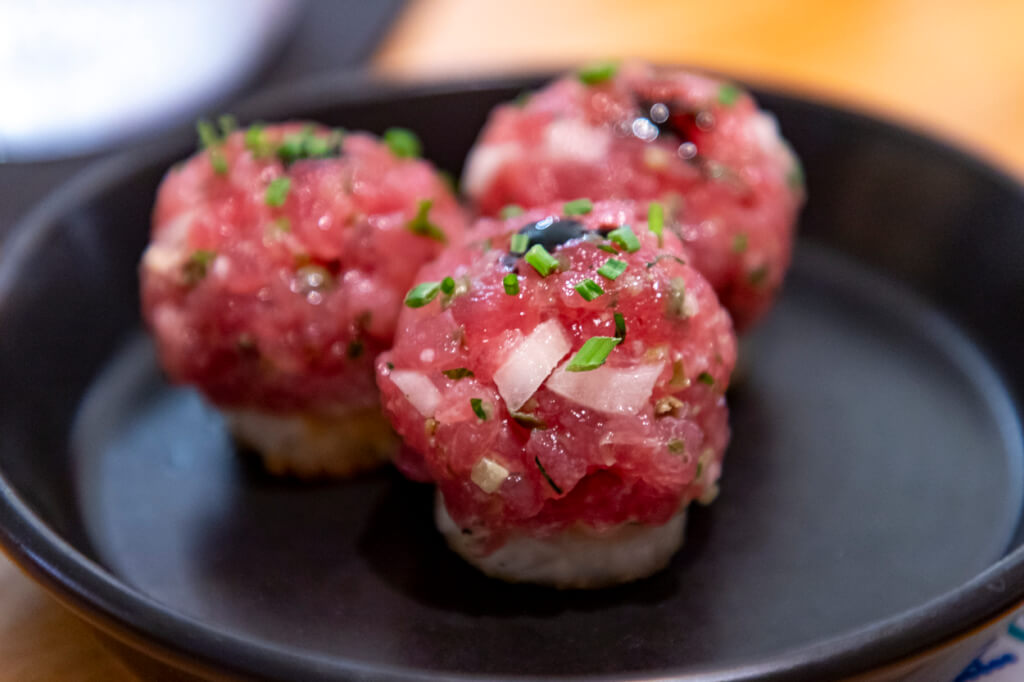 Margherita Pizza
Mrs. Island Miler felt like eating pizza. So that's what she ordered! It was fine. Not nearly as good as some place like Brick Fire Tavern, but still good nonetheless.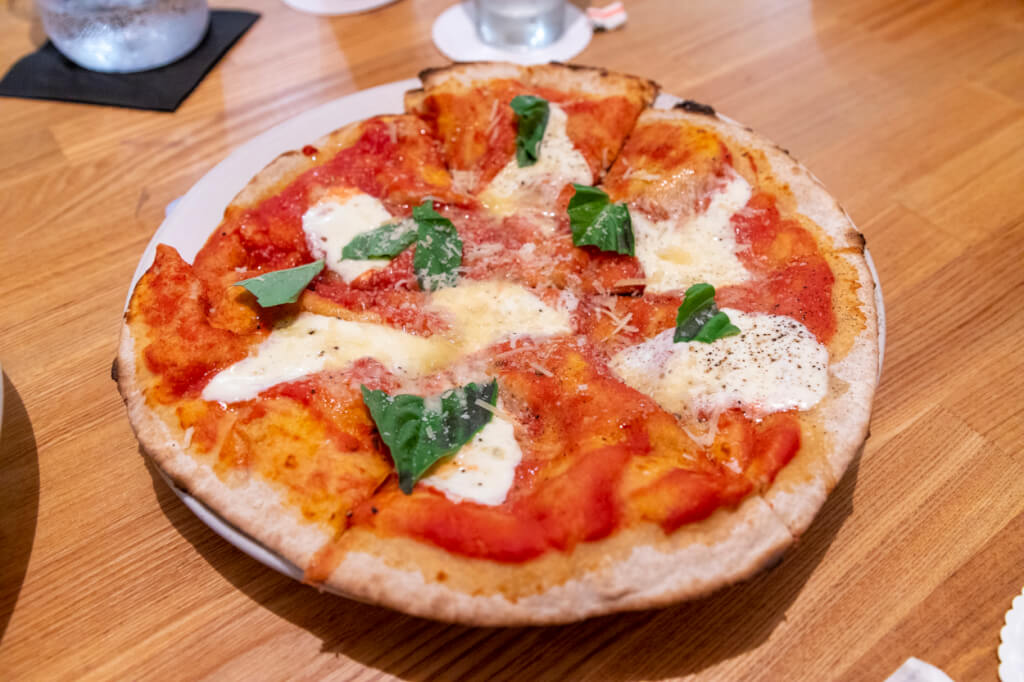 Monchong
As soon as I saw the Monchong on the menu, I knew I had to order it. Not only because I like Monchong, but because it looked really interesting too. Here, a thick slab of perfectly-seared, flaky Monchong sits atop a bed of buttery baked ulu, crisp green beans, blistered tomatoes, and onions in a pool of tomato-fennel broth. As soon as the dish landed, I got a whiff of the heady fennel aroma that worked wonders in bringing balance to the otherwise rich dish. This is exactly the kind of stuff I like to eat nowadays. Fresh, full of flavor, and rich, even, without making you feel weighed down.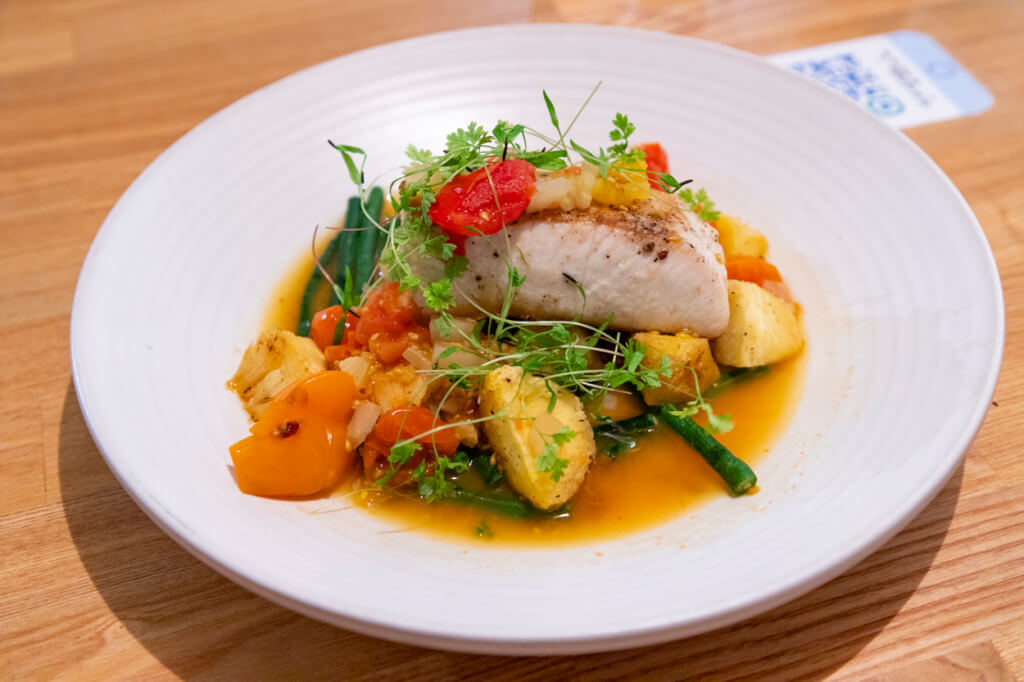 Final Thoughts
By the time we finished our entrees, Mrs. Island Miler and I were far too full to even consider dessert. Needless to say, we very much enjoyed our dinner that evening and wouldn't hesitate to return. I highly encourage everyone to check them out sometime, especially if you're staying nearby or can't make it out to Mud Hen Water. Walk-ins are welcome, but to secure your table, head over to OpenTable to make a reservation.