Though we made it back to Hawaii, this Las Vegas + Irvine Trip Report isn't over yet! That's because, upon our return, we had to quarantine away from our families for five days. Thankfully, we enjoyed a nice Laylow Waikiki junior suite during our self-imposed exile.
As regular readers will recall, my last stay with the Laylow wasn't to my liking. In fact, it was one of the worst stays I've had in Hawaii from a service standpoint. That begs the question, then – why the heck did I choose to stay here again? Well, that decision came down to two major deciding factors: price and location.
Laylow Waikiki Location
I mentioned this in past posts, but I'll mention it again here – the Laylow Waikiki has an extraordinarily convenient location. Sure, you won't get expansive ocean views here, but you're also just steps away from affordable and tasty dining options, sundries, shopping, and more. That was far more important to me since, not only would we be quarantining at the Laylow, but I'd be working remotely during our time there too. Views be damned.
Price
As I've said many times before, I'm not really interested in chasing the best redemption values possible. I had a need for a hotel and didn't want to pay cash for it, so I resorted to points. I had around 800,000 Marriott Bonvoy points at the time, so staying with Marriott was an easy choice. For this particular stay, I burned 190,000 points. What irritated me more, however, are the $371 I spent on self-parking and resort fees. Nice. Alas, Marriott is the only of the bunch that doesn't waive resort fees for reward stays.
Laylow Waikiki Arrival
Even before arriving, the hotel asked a couple of questions – would I be self-parking and would I like late check-out? Conveniently, 4 pm late check-out was approved before we even got there and we were upgraded to a better view standard room. When we finally arrived, made our way up to the lobby where Assistant Front Desk Manager, Gabrielle, warmly greeted us. She thanked me for being a Bonvoy Titanium and proactively upgraded us further to a junior suite. Then, she offered me the choice of two $15 breakfast vouchers per day or 750 points per day – I took the points. Finally, she explained the parking situation to us.
Typically, the Laylow is a valet-only hotel. But, this being 2021, we had to self-park. That meant finding parking in the underground parking lot, and if space wasn't available, parking at the International Market Place instead. We ended up doing the latter. Luckily, the hotel has a special validation program with IMP, so you get billed through your room instead. For check-in, they did let us leave our car out front, so once we took our bags up to our room, we ran back down and moved the car.
Laylow Waikiki Junior Suite
For this stay, we were assigned room 1501, which is a junior suite almost in the center of the building on the 15th floor – second to the top. We were right next to the elevator bank, which made me a bit nervous from a noise perspective. Remarkably, we couldn't hear any mechanical noise from the elevator, though corridor noise was loud and clear from our dining table. Thankfully, the "L" shape of our room likely helped to dampen the noise a bit.
That said, upon entering the room, our bathroom was on the left. Not much has changed in this regard, including the toiletries. However, I did find the water pressure to be better this time around, while the water temperature remained excellent.
Past the bathroom in a Laylow Waikiki junior suite, you'll find a little dining area, including two chairs, a bench, and a separate chair with an ottoman and side table. It's a cozy space that was used to enjoy all of our meals.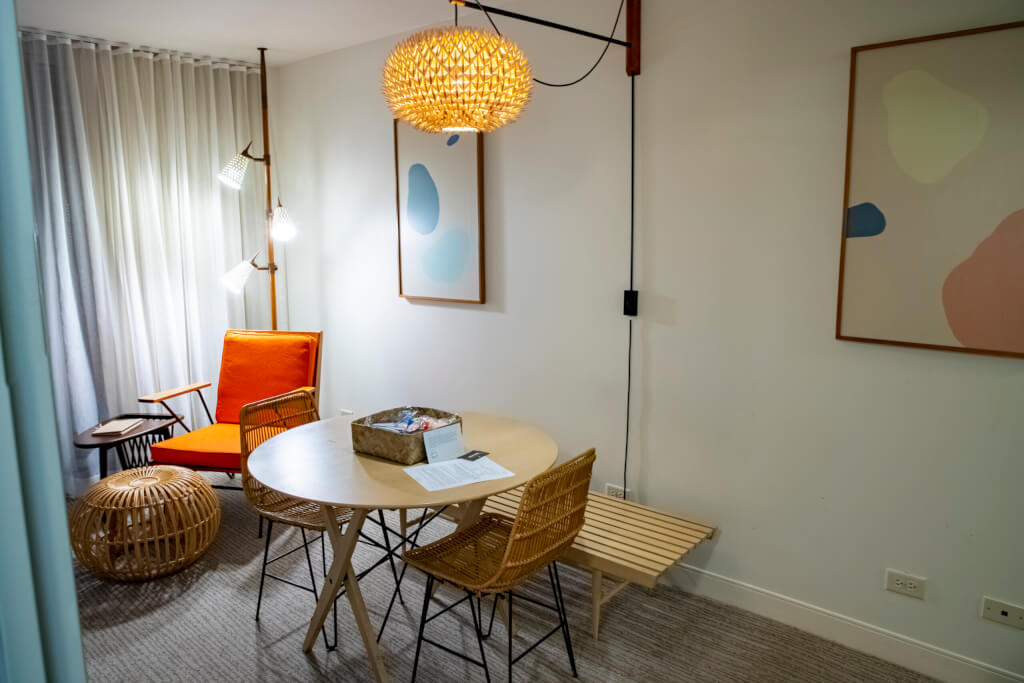 To the left of the dining area was the rest of our Laylow Waikiki junior suite. Here was a large daybed/sofa thing, a dresser, the mini-fridge, the phone next to the TV, a coffee table, and our king bed flanked by reading lights, a nightstand on one side, and a small device shelf on the other. I must say, I'm not that big a fan of this daybed/sofa thing. Actually sitting upright on it gets uncomfortable, especially since the "backrest" cushions are constantly sliding off.
In typical Laylow fashion, a gift basked awaited us in our room. They changed things up a bit this time, though, as the basked contents included two postcards, two lovely branded reusable bottles, two bottles of water, a branded rubber ducky, and a small bar of Manoa Chocolate's scrumptious 72% Pa'akai Salt bar.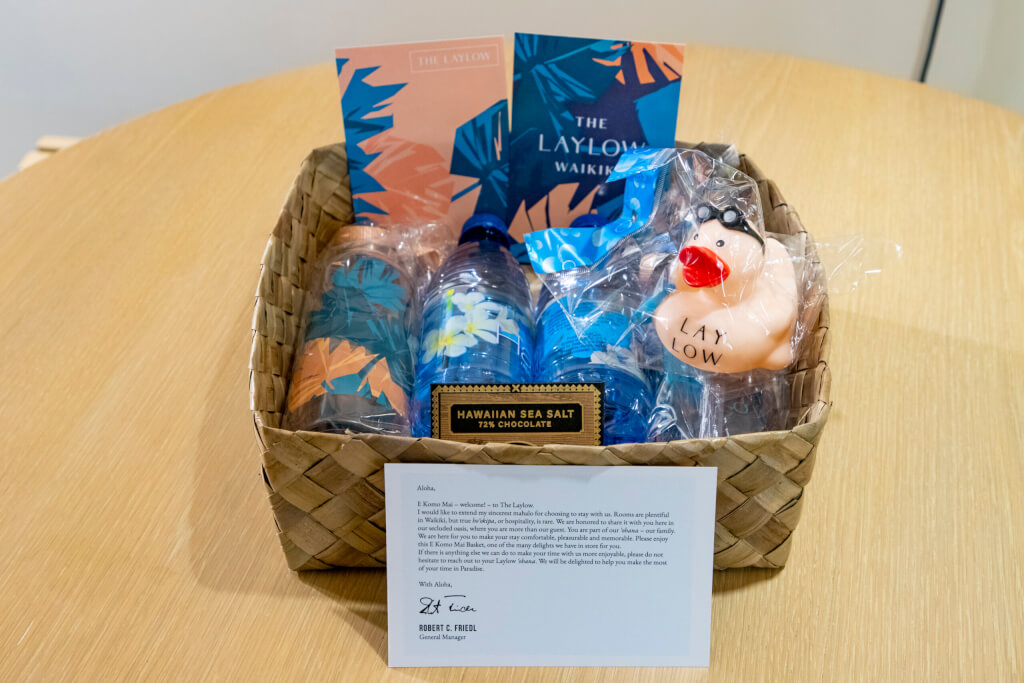 It's worth noting that the HVAC in our room was highly effective and near-silent. The corridor noise also wasn't a bother when we were in bed. Smart layout! My one complaint was that the WiFi was a bit slow and would drop here and there. Luckily, I don't need a persistent connection to work. But, it was annoying nonetheless.
Laylow Waikiki Junior Suite View
Again, you don't really stay at the Laylow for the view. We were on the west side of the building this time around, which meant that looking straight out, we saw the Hyatt Centric Waikiki.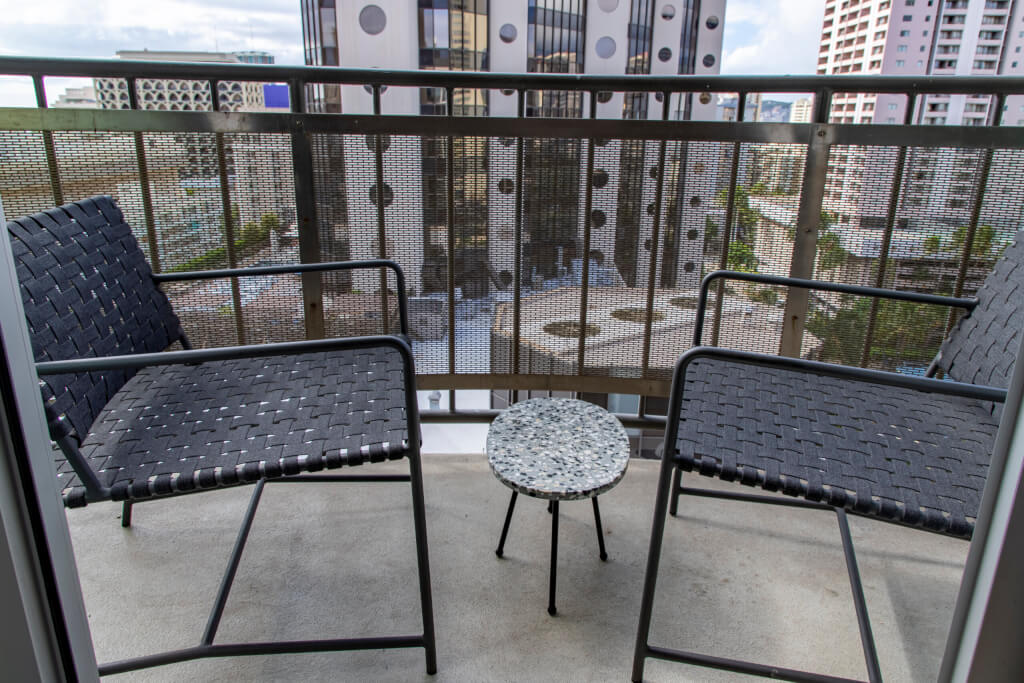 That said, if you go up to the railing and look to the left, you catch a glimpse of the Royal Hawaiian and the Pacific Ocean beyond. Look to the right and you get the Waikiki/Moili'ili skyline backdropped by the gorgeous Ko'olau Mountains.
By the way, it's interesting to see just how little of the available rooftop space the Hyatt Centric Waikiki uses! You'd think they could've been more creative in its use, as the Waikiki Beach Marriott is, but 🤷🏻‍♂️.
Final Thoughts
I didn't get out of the room much because I spent most of my time there working. However, internet issues aside, the Laylow Waikiki provided the perfect place for us to quarantine while working remotely. Plus, Gabrielle was a real gem. She's, by far, one of the best Marriott associates I've ever had the pleasure of interacting with! She totally made our stay and completely redeemed the property for our prior poor experience. Hopefully, things have remained the same as tourism came surging back.
That said, I found the Laylow junior suite to be my favorite room here. To me, the space was more useable than the "suite" we had during our first stay. In that room, the dining area was crammed into a little nook behind the TV. The seating was more comfortable, but this layout feels more spacious. Plus, I like that the TV is in front of the sofa rather than the bed.
Vegas + Irvine Trip Report
The Laylow Waikiki Junior Suite