Before we left Hawaii for New York, I learned of an interesting ramen shop thanks to Sun Noodle.  It's name is Mentoku Ramen, and they're located in New York's theater district.  Their claim to fame?  Whipped cream ramen.
After resting up a bit at the hotel, Mrs. Island Miler and I headed out for an early dinner.  You see, we had show tickets for that night, and we wanted to eat before the show.  We also wanted to have something reasonably priced and relatively quick, so we settled on Mentoku Ramen.
Location
Located on 9th Ave., Mentoku Ramen is in the heart of New York's Theater District.  It's literally steps away from the famous Ippudo Westside ramen shop, and a block away from the Eugene O'neill Theater (where we would ultimately end up).  Mentoku itself is a relatively small space, but is well appointed and doesn't feel cramped.
Service
Thank's to Mentoku's diminutive size, it has a very small staff too.  This wasn't an issue for us, as the staff was very friendly and prompt.  It's worth noting, however, that the restaurant was relatively empty during our visit.
Food
As is often the case with ramen shops lately, Mentoku Ramen specializes in tonkotsu (pork) based ramen.  But they do make their own, delicious variations, which we ordered.  For her order, Mrs. Island Miler opted for the Yuzu-Kosho Ramen ($11).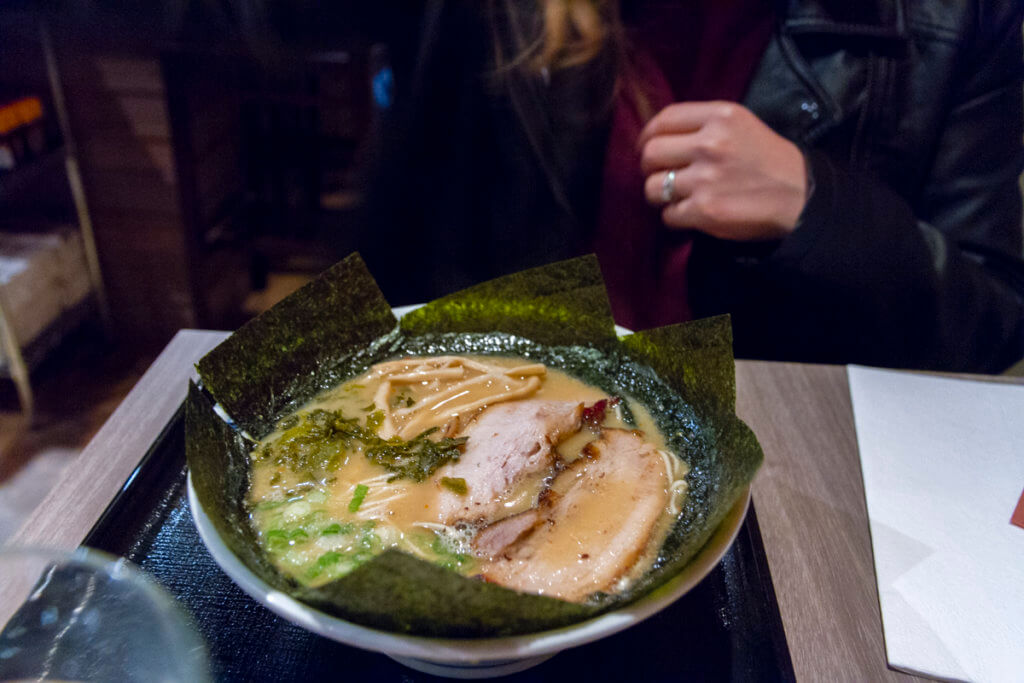 Basically this bowl is filled with tonkotsu broth spiked with the spicy-tart blend of ground yuzu and chili pepper known as yuzu-kosho.  Noodles are the thinner, Takata-Style noodles, and the whole thing is topped with sliced chashu (Japanese roast pork), menma (bamboo shoots), and green onions.  Of course the whole thing is also encircled with a crown of nori (dried seaweed).
Me?  I ordered the Spicy Whip Cream Ramen ($14).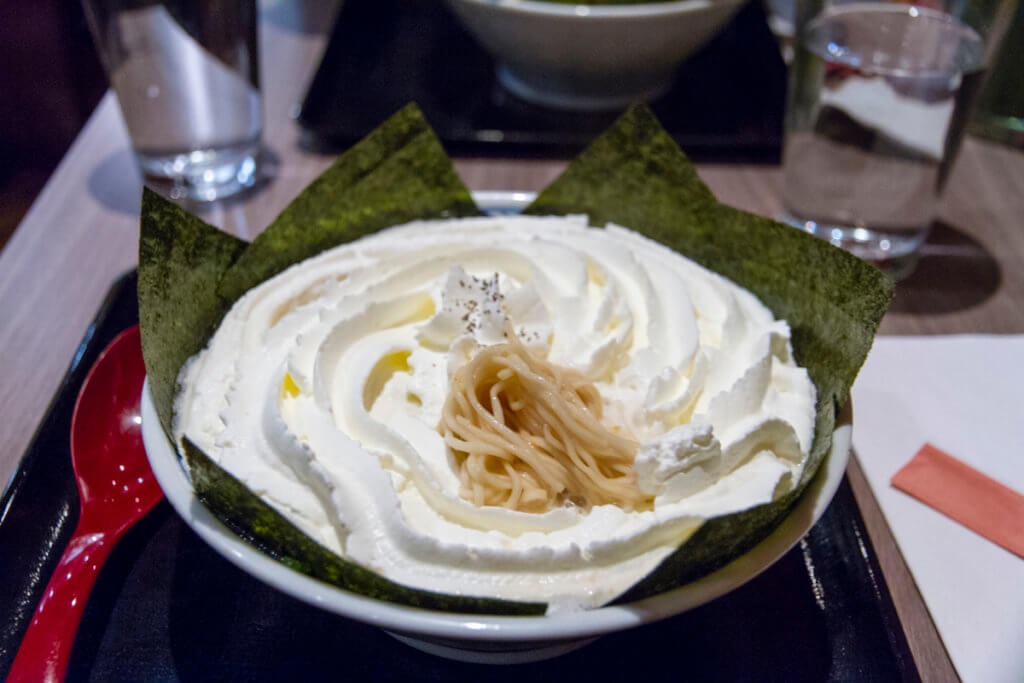 Looks interesting, huh?  Basically it's just a Yuzu-Kosho Ramen with a savory, potato-based whipped cream pipped on top.  It's really more of a novelty than anything else, but the whipped cream does help subdue the spiciness a little.  That's good for me, because I like yuzu-kosho, but it can be a little spicy for me.  Overall, the ramen was very good, though.  The noodles were perfectly cooked, and the broth flavorful.  Tonkotsu can tend to be a bit heavy, so I liked how the yuzu-kosho kind of cut that and helped to balance things out.  Oh, and the chashu was nice and soft too.
Final Thoughts
Mentoku Ramen is definitely an interesting, and for the time, unique ramen shop in New York.  We definitely don't have anything like this in Hawaii, nor have I seen this unique, quirky ramen anywhere else.  Prices are also inline with what many other ramen shops around the city, so it's not like you're paying an outrageous price for the novelty.  If you do plan on dining at Mentoku, however, be sure to bring cash.  Unfortunately, the shop doesn't currently accept credit or debit cards!
A BIG APPLE HOLIDAY ADVENTURE
Review: Mentoku Ramen