On day two of our long weekend in Portland, our only full, free day during this trip, we decided to check out the Portland State University Farmers Market. After all, that's what you do in Portland, right?
During our first visit to Portland, we wanted to check out their famous farmers markets. However, our timing and limited time in the city kept us away. So, this time around, visiting a farmers market became a priority. Luckily, much like the Hawaii Farm Bureau's markets, the the Portland Farmers Markets has many locations on different days:
Portland State University (PSU) Farmers Market is every Saturday from 8:30 am to 2 pm
King Farmers Market happens every Sunday from 10 am to 2 pm from May through November
Shemanski Park Market happens on Wednesdays from 10 am to 2 pm from May through October
Kenton Farmers Market happens every Wednesday from 3 pm to 7 pm from June through September
Lents International Market happens every Sunday from 9 am to 2 pm from June through November
The PSU Farmers Market is the only one that happens year-round. For my Hawaii readers, think of this one like the KCC Farmers Market. It's that big.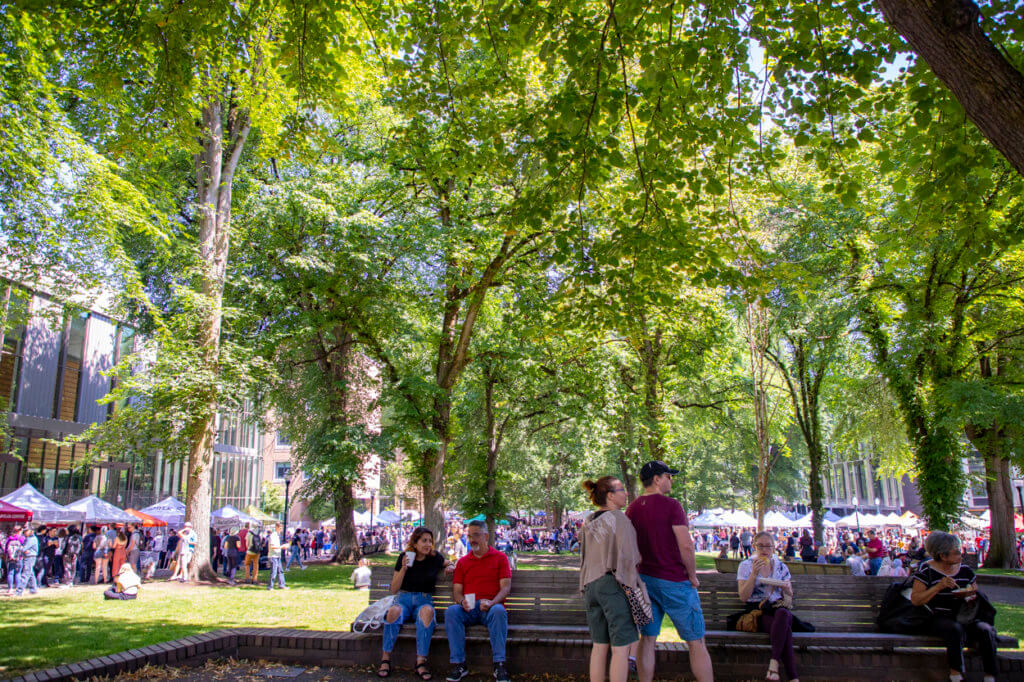 Portland State University Farmers Market Location
Obviously, Portland's main farmers market is at PSU. More specifically, it occupies the part of the campus called South Park Blocks between SW College and Montgomery. As you can imagine, parking and traffic are issues here. So, if you can, get a ride here or take the TriMet.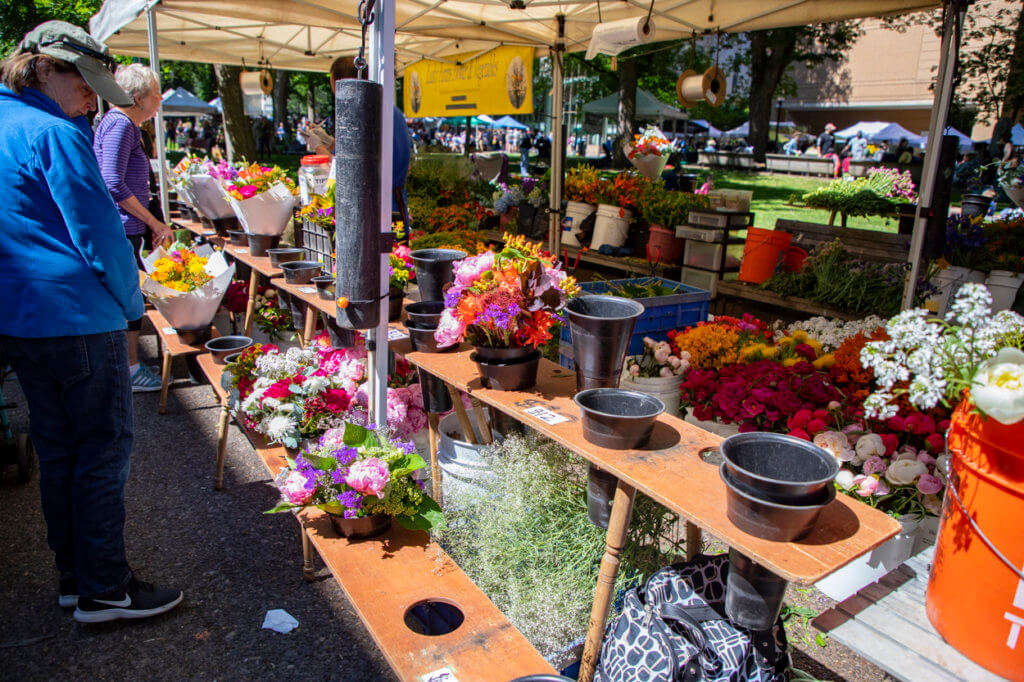 Vendors
There are tons of vendors at the PSU Farmers Market, and the selection can change often. So, it's probably best to check out the Portland Farmers Market website to see who's available before heading out. But, there was one, in particular, I knew I wanted to pay a visit: Draper Girls Country Farm.
We visited Draper Girls at the farm back in 2015. So, getting some amazing fresh fruit from them was a top priority. And, I ended up buying some bing cherries to snack on later in our room. They were very sweet and flavorful with a wonderfully crisp texture.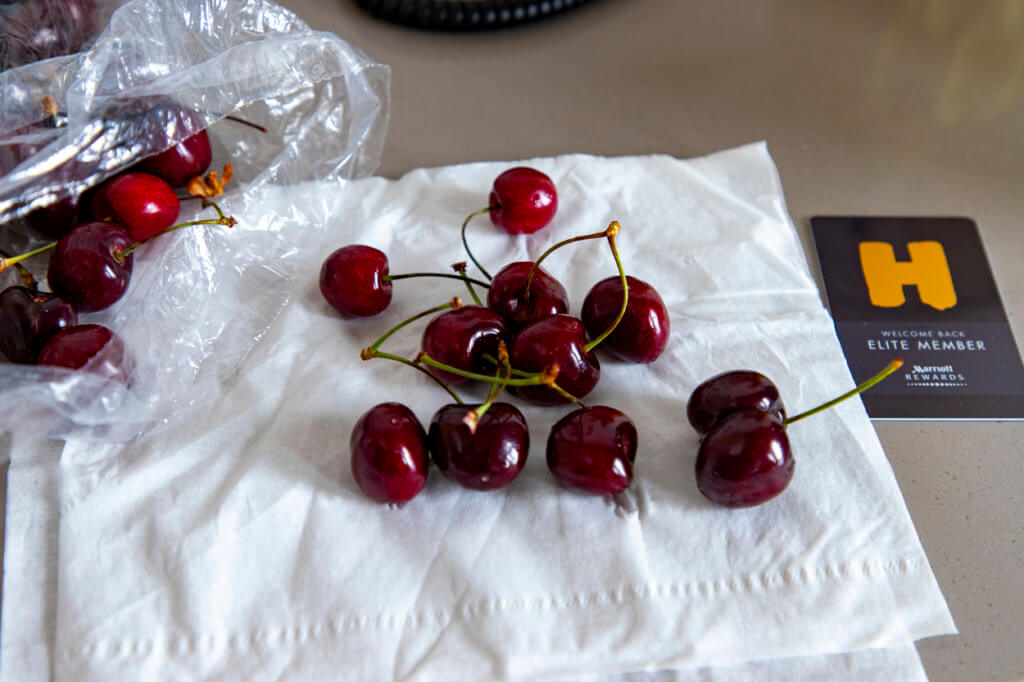 Of course, there's much more. You'll find vendors selling veggies, baked goods, flowers, processed goods like jams and jellies, seasonings, popcorn, hot sauces, hot foods, and more. I can't list everyone we looked at, but aside from Draper Girls, here are a few of my favorites: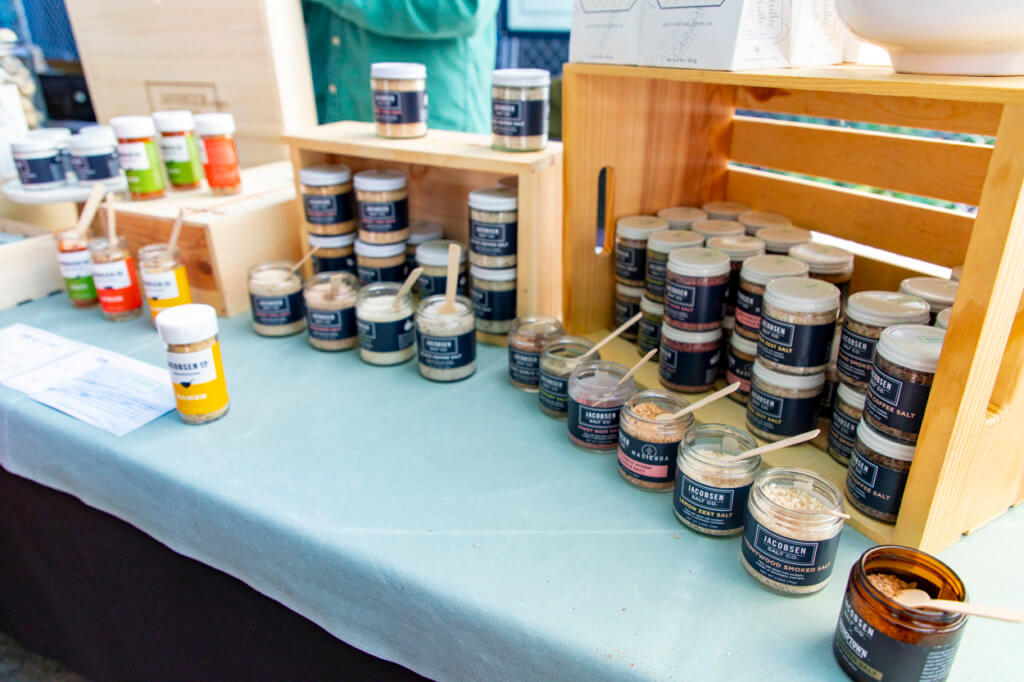 A Unique Experience
One experience from the PSU Farmers Market that stood out for me was visiting the Boyco Foods stall. You wouldn't know it from their name, but these guys sell honey. Lot's of honey. Just look at the variety!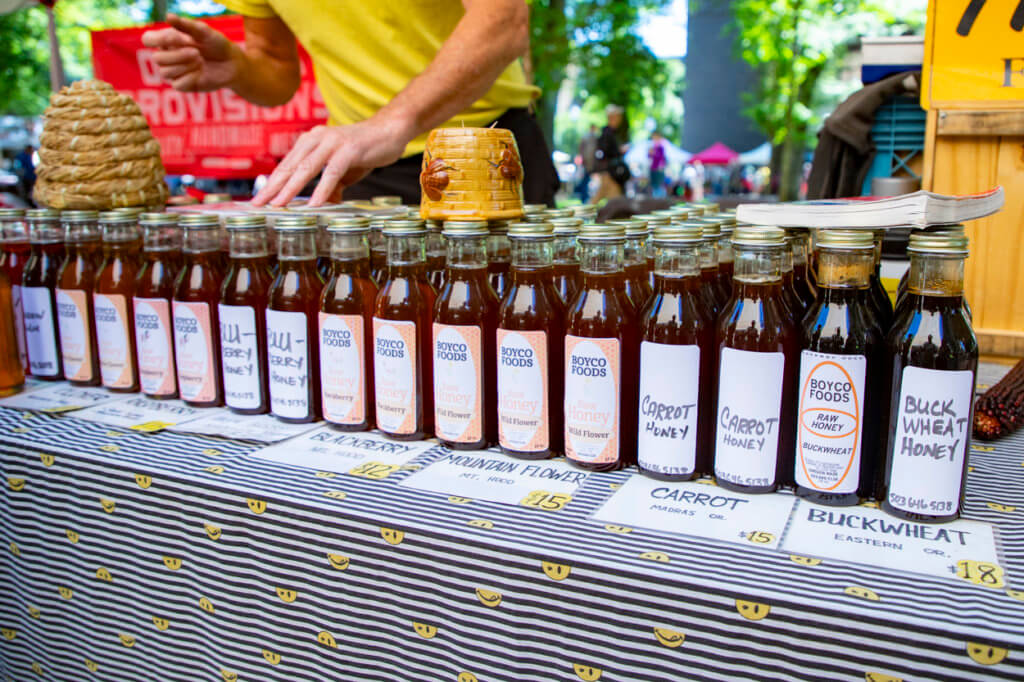 And, guess what? You can sample each and every flavor. In fact, the gentleman assisting me that day took time to explain each type of honey to me while he sampled them. There was one that he asked me for my thoughts on, and I said it tastes like vanilla marshmallow. Apparently, it comes from a rare wildflower and does consistently taste that way. Personally, though, I loved their wildflower honey for its incredible complexity, the carrot honey for its intriguing sweet vegetal profile, and the buckwheat honey for its smokey, almost savory profile.
Hot Foods
While walking the market, we did decide to grab a little bite to eat. It was hard choosing a place, but we settled on Great Tang for their Xian'r Bing. Basically, they're like large wonton/gyoza wrappers stuffed with a variety of fillings. We ended up with a pork + chive and a vermicelli + cabbage + onion one.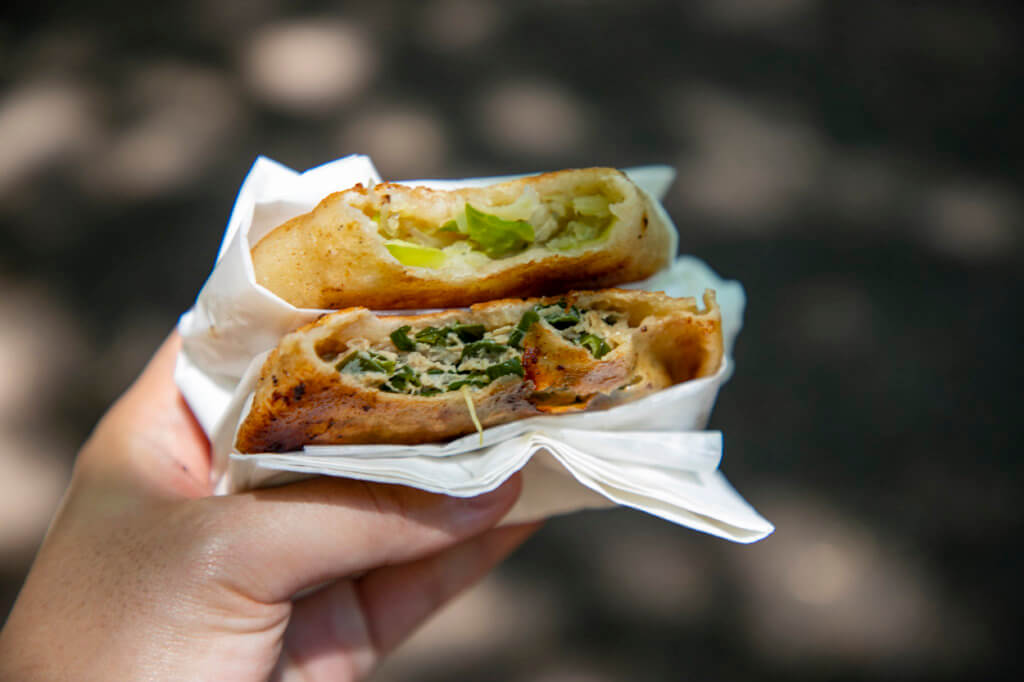 These things come piping hot and are crispy with a nice chewiness. I did think the were a little bland, though. It wouldn't been better with some shoyu/soy sauce.
Portland State University Farmers Market, Final Thoughts
It was great to finally check out the Portland State University Farmers Market. We always like discovering new-to-us vendors, and the market made it convenient to visit with some past favorites too. As a result, the market is something I suggest doing when in Portland on a Saturday. But, be sure to wake up early and be prepared for some crowds. Also, a vacuum flask filled with cold water would've been a great thing to have!
Speaking of visiting with some past favorite vendors, seeing Jacobsen Salt was a good reminder for us to finally pay them a visit. And, that's exactly what we did right after the market.
Long Weekend in Portland