There's no doubt that Portland is a foodie town. And while much of that focus is on more casual fare, Portland is home to standout higher-end restaurants too. One of those is the iconic Le Pigeon.
What is Le Pigeon?
Le Pigeon is a small, upscale restaurant hidden in plain sight along East Burnside Street. Yes, it is a French restaurant, but it is so much more than that. Here, you'll experience an amalgamation of French, New American, and even some Asian influences showcasing the best of the Pacific Northwest. It's truly sublime. And, as the restaurant's name suggests, Le Pigeon does feature squab on their menu.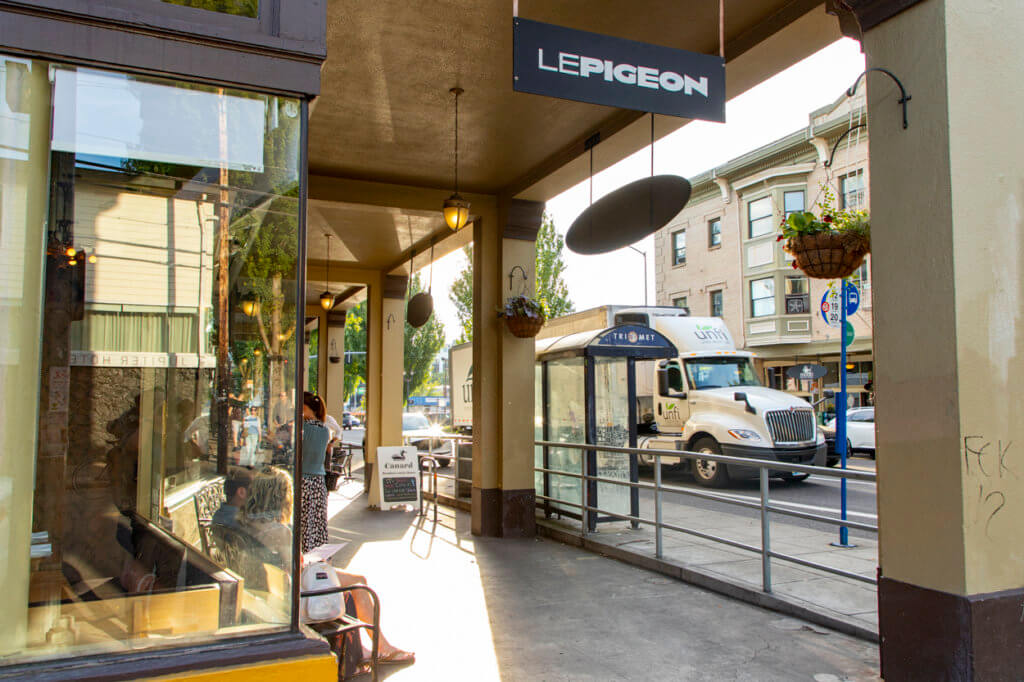 Location
As I previously mentioned, Le Pigeon is tucked away along East Burnside Street just across the Willamette from downtown Portland. Parking in the area is street-only and difficult to come by. My suggestion is to grab an Uber or Lyft, catch a cab, or take the TriMet since a route runs right by the restaurant.
Atmosphere + Service
Despite being an upscale restaurant with incredible cuisine, the atmosphere at Le Pigeon is decidedly not pretentious at all. In fact, the restaurant is downright cozy, resembling a kitchen in an old French home.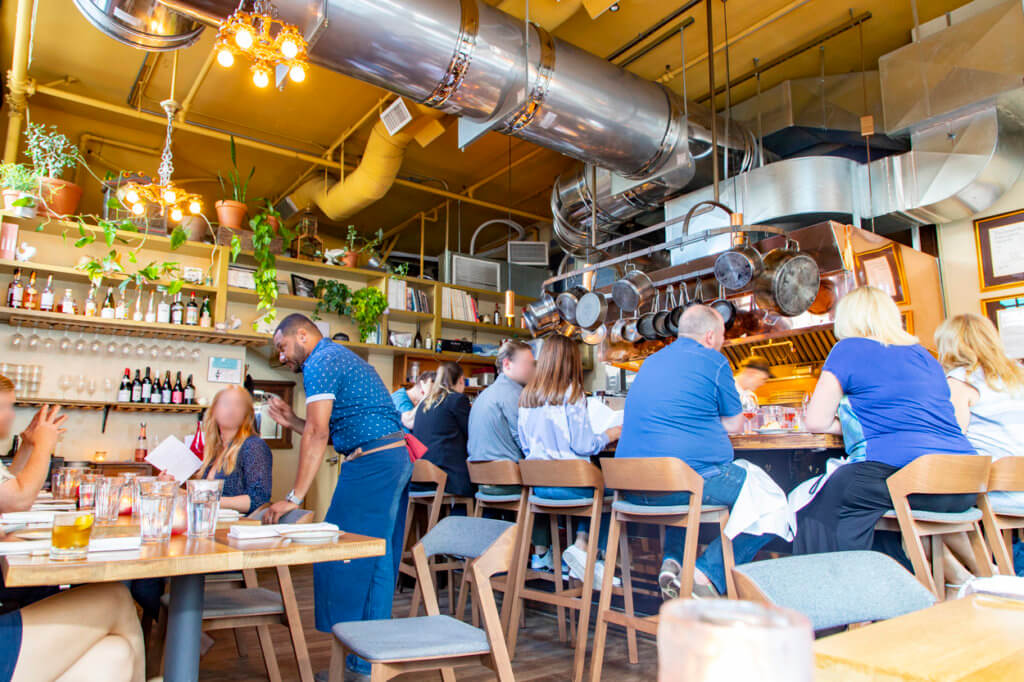 Despite the homey, rustic vibe of the restaurant, service is incredibly polished, yet genuine and friendly. Our server (pictured above helping another table) was fantastic. He made us feel welcome, like family, and was very knowledgeable.
The Le Pigeon Menu
During our visit, we were presented with three different options. We could order ala carte, a five-course tasting menu, or a seven-course tasting menu. Further, both tasting menus give the option of beverage pairings, "Reserve Pairings" or non-alcoholic pairings. Oh, and if you want to do the tasting menu, the entire table is required to participate. That said, our server explained that there is some flexibility with the menu. You see, the tasting menu features both unique dishes and ones off the night's tasting menu. But, you can request to have a specific item off the ala carte menu if you like.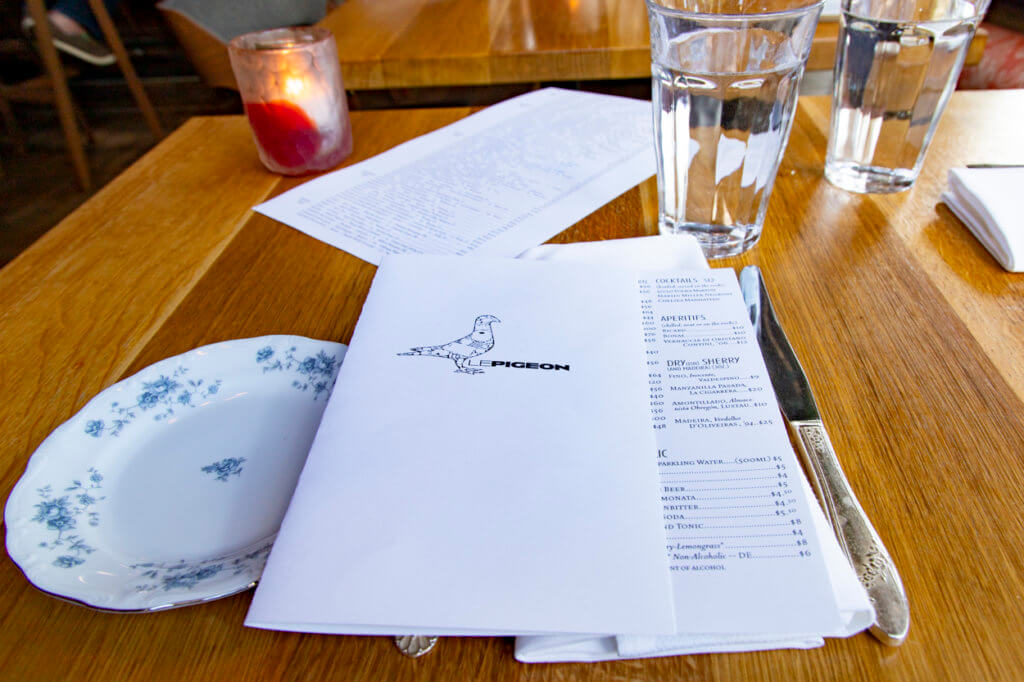 For our dinner, we chose to give the five-course tasting menu.
Bread Service
After placing our order, our server brought over a few slices of baguette along with a pad of better doused with a healthy amount of sea salt. Yum!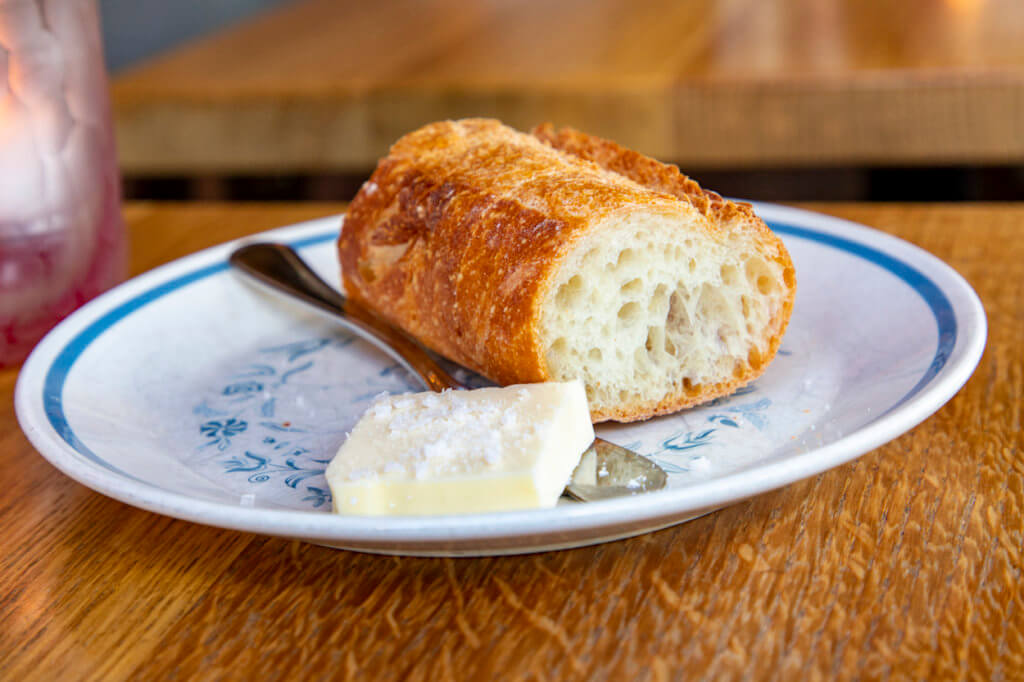 First Course
Our first course came straight off the night's ala carte menu – Geoduck Crudo. The dish combined thin slices of chewy, crisp geoduck with a green strawberry relish, grilled shiitake, strawberry dashi, and strawberry clam granita.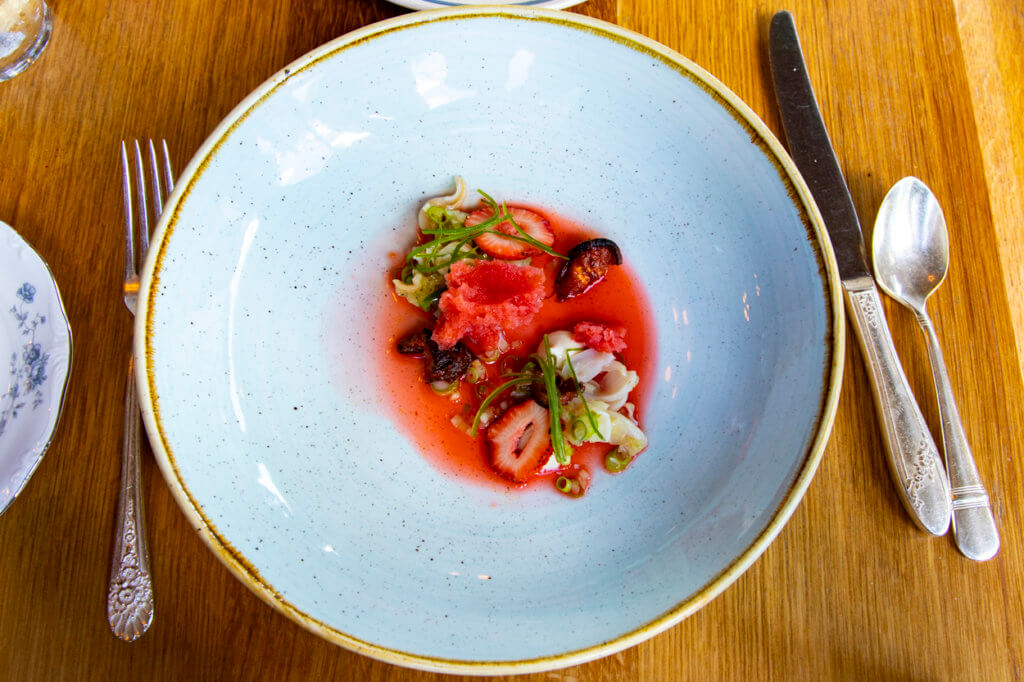 Would you look at this dish? It's a gorgeous, summery dish featuring fresh, bright flavors. You have the sweetness of the strawberries combined with the meaty geoduck, along with the smokey umami of the mushrooms and pops of vegetal flavors from herbs.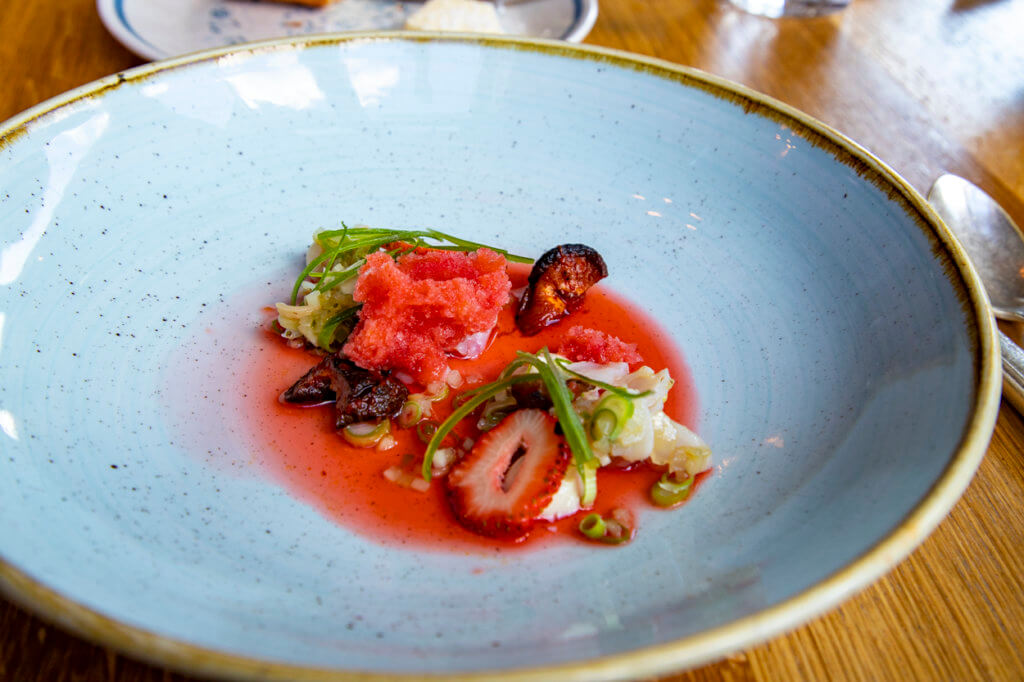 What a fantastic way to kick off the meal and whet the appetite.
Second Course
Le Pigeon is known for their foie gras dishes. So, I was excited when our second course (also off the ala carte menu) came out featuring foie gras. In this case, it was a seared foie gras with a squash waffle, camembert, apricot mostarda, basil, and curry.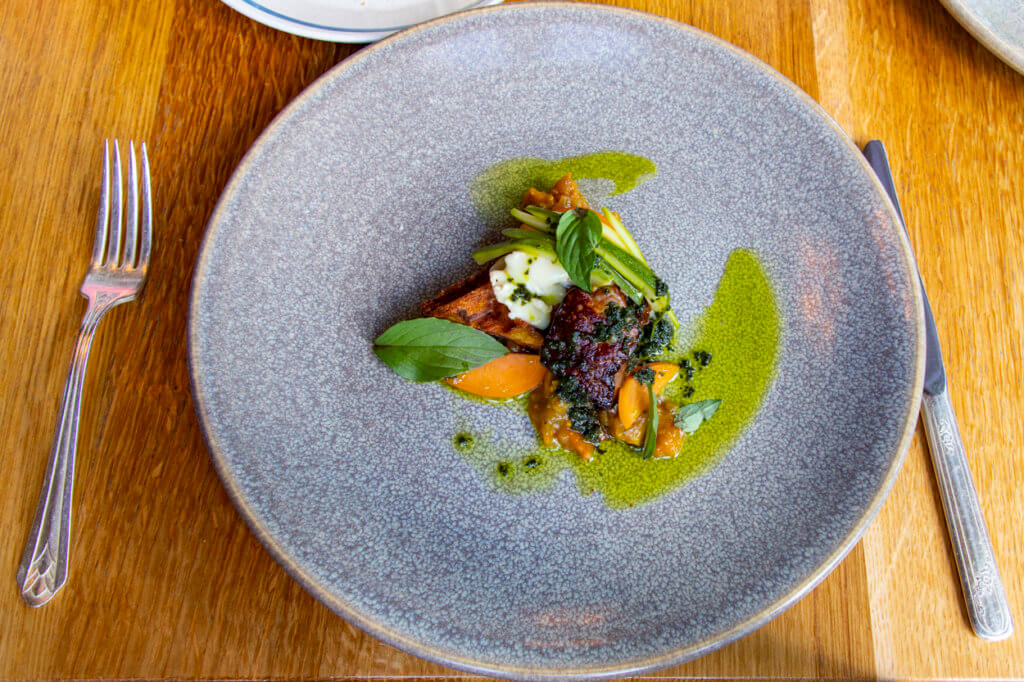 Yes, this dish was heavier than our first course. But, given that the dish features both foie gras and camembert, it was actually pretty light. The foie gras was, of course, perfectly cooked. And, it paired extremely well with the fluffy, crispy, chewy zucchini waffle.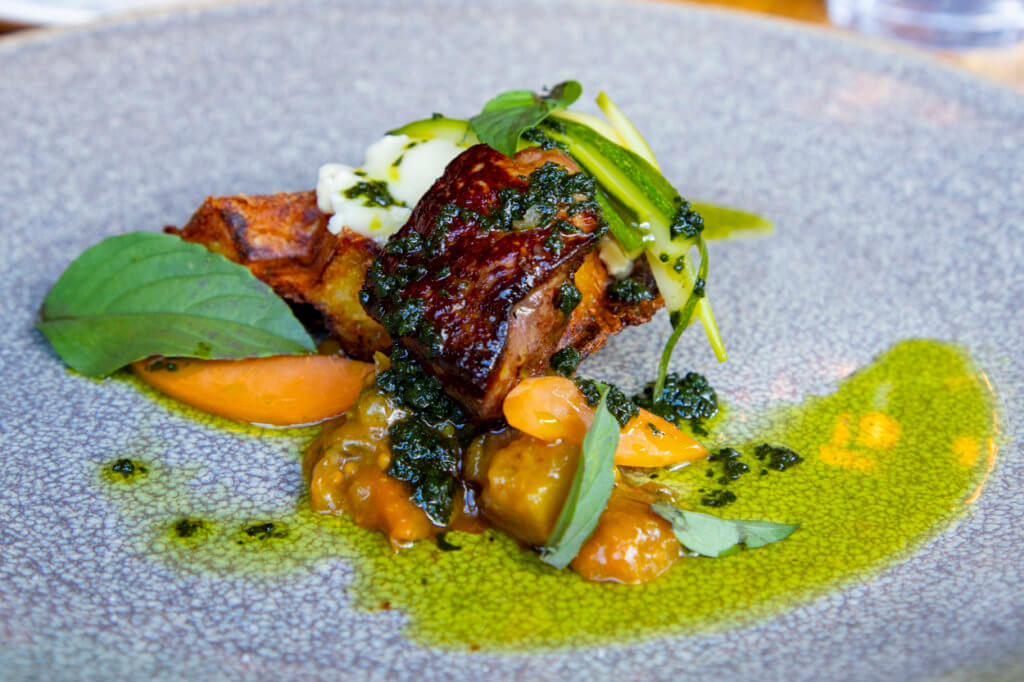 The curry in this dish reminded me of these fried curry and seaweed snacks from Japan that I love and paired fiendishly well with the foie gras. It, along with the mostarda, apricot, and basil also helped to balance out the richness of the foie gras and the cheese.
Third Course
Course three was a fish dish. In this case, it was a butter-poached halibut in a brown butter sauce, olive tapenade, zucchini, zucchini blossoms, marble potatoes, and a couple of fritters.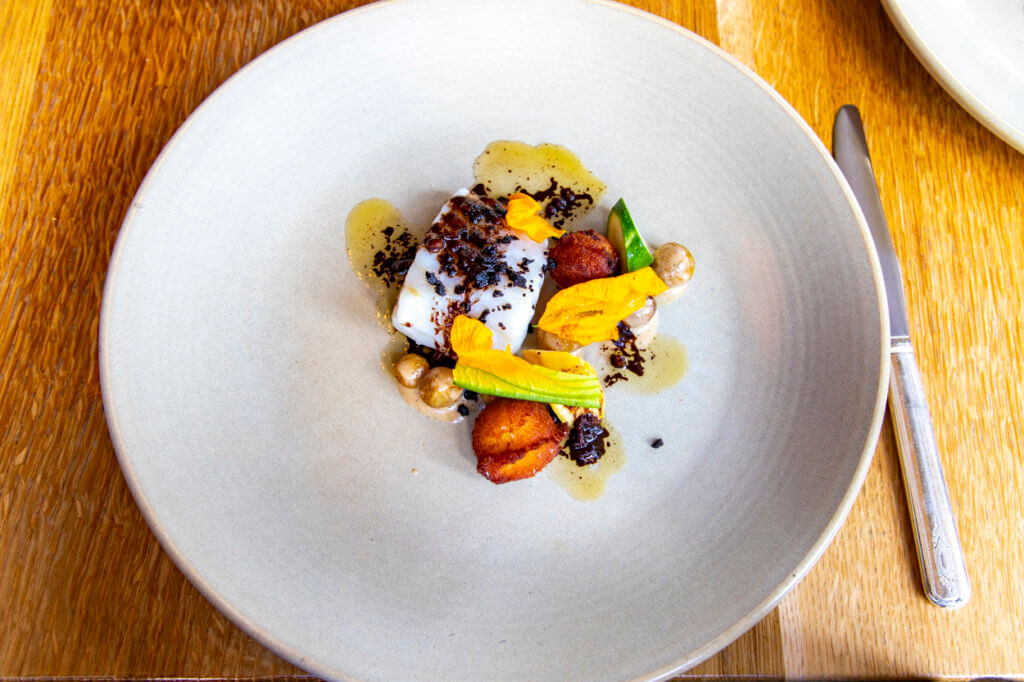 Halibut isn't a fish that has a whole lot of character. It's a very clean, mild fish with large flakes. That's why pairing it with brown butter and olives works fiendishly well. The salt and fat are amazing with fish's meaty, soft, and almost juicy characteristics.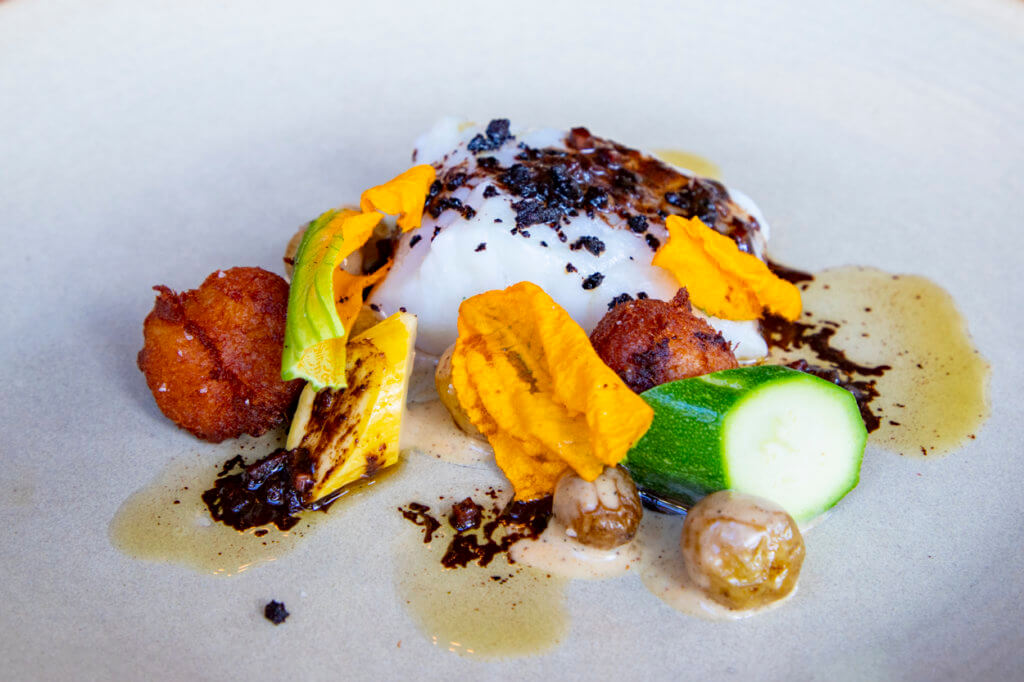 Fourth Course
Our main course, the one I was waiting for, was a pigeon dish. On that night, the preparation featured roasted pigeon stuffed with a truffle mousse along with an earthy mix of sprouted barley, pickled elderberry, wheat beer, and sake creamed morels.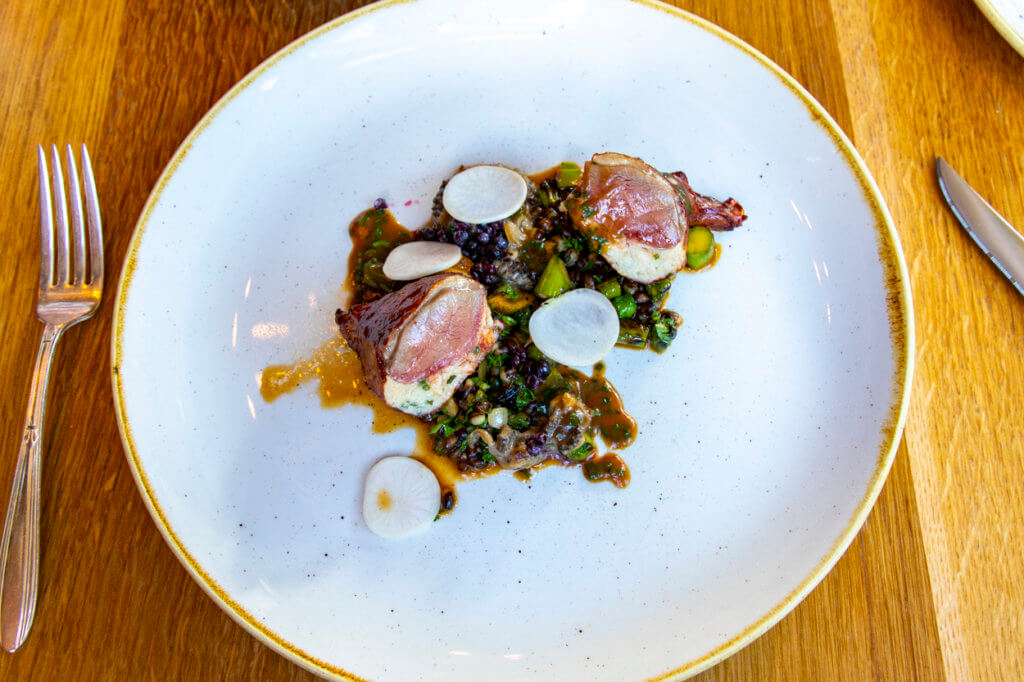 Like every other dish we had that night, the pigeon was fantastic! And, no, it's not gamey at all. Meaty, fatty? Yes. In fact, I found pigeon to be similar to duck, but meatier, softer, and juicier. SO GOOD.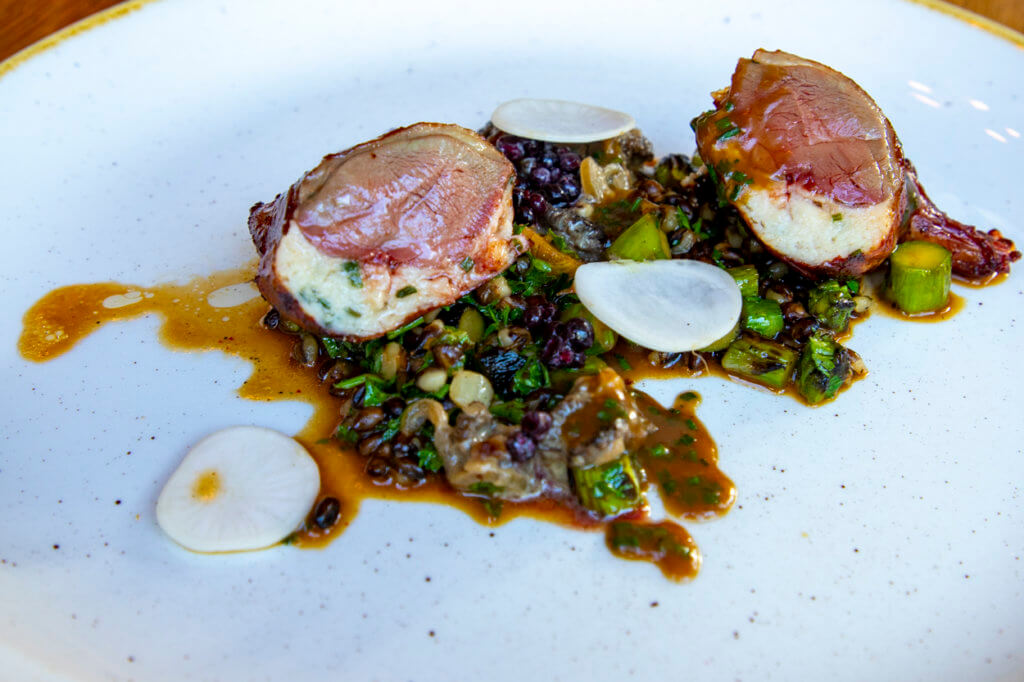 Fifth Course
Our fifth and final course was dessert. On that night the dessert plate included a purple barley macaroon + fennel pollen duck egg ice cream sandwich and an orange zabaglione. Served alongside our dessert plates was Le Pigeon's signature dessert, their foie gras profiteroles.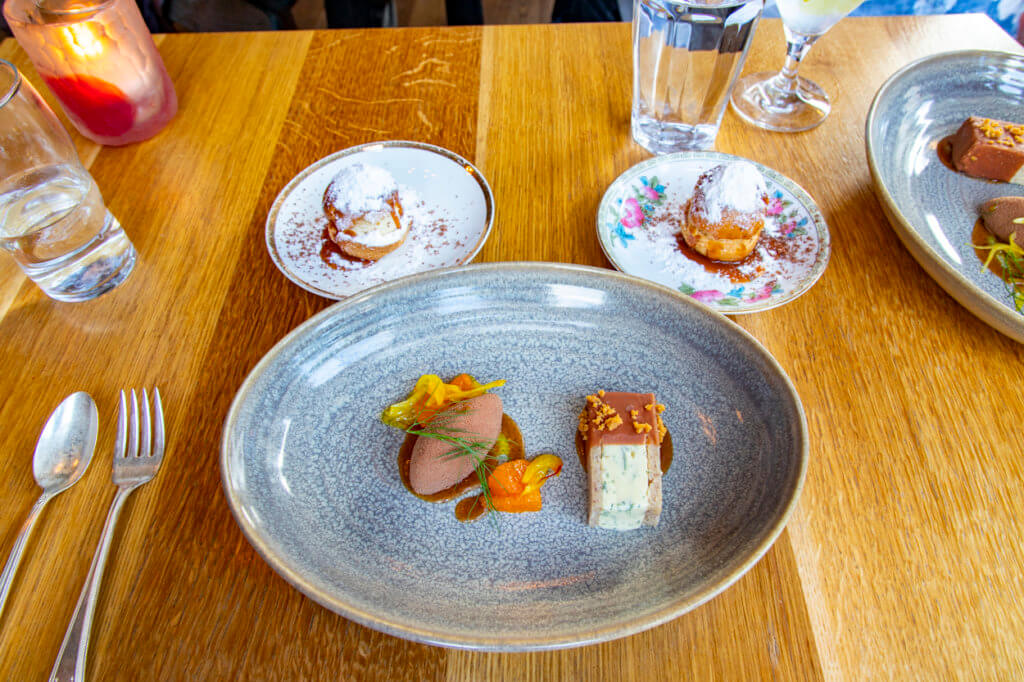 I'm not a fan of milk chocolate, nor am I a fan of chocolate + citrus combinations. But, I found the zabaglione to be tasty. Likewise, the licorice notes of fennel fronds and pollen matched very well with the rich, rich duck egg ice cream. It was indulgent and refreshing all at once.
While the standard dessert plate is fairly rich, it's nothing compared to Le Pigeon's signature profiteroles. These things are so rich that it should be sacrilege – and I mean this in a good way.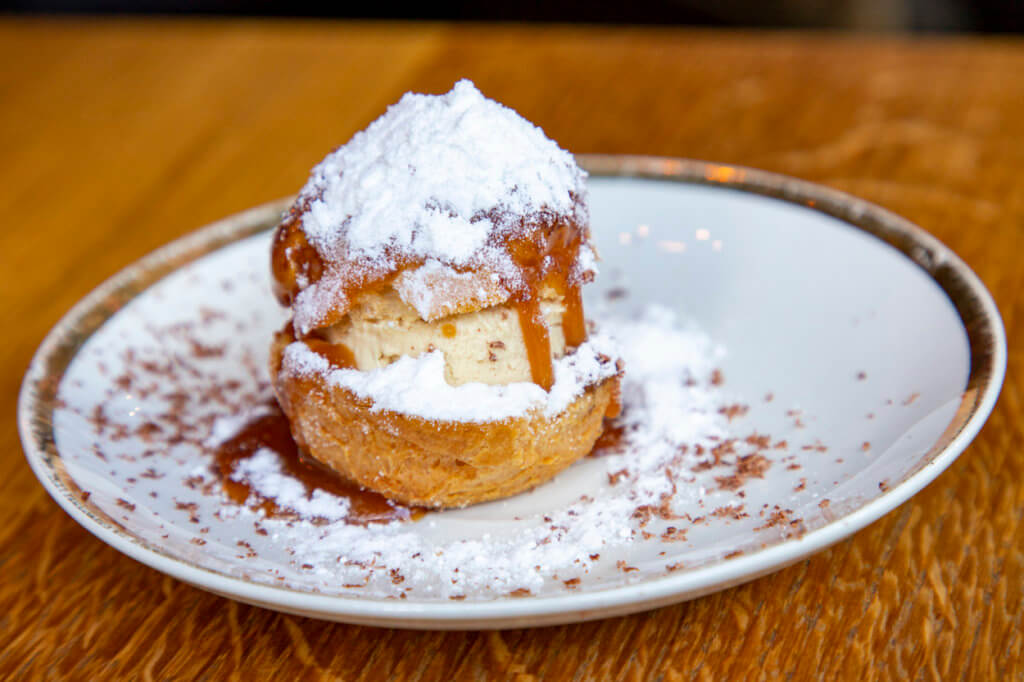 Picture this, Le Pigeon fills their profiteroles with foie gras ice cream, drizzles them with foie gras caramel, then douses them in foie gras powdered sugar. If you love foie gras, you're going to LOVE this dish. It is INSANE. Yes, it's rich, but it isn't overly decadent. Rather, it's a lovely balance of creamy, meaty, sweet, caramelized flavors encapsulated in a crispy, airy, pastry shell.
Check
At the end of the meal, the check was presented to us. Of course, it also came with truffles. These were a struggle to eat because we were so full, but they certainly were delicious!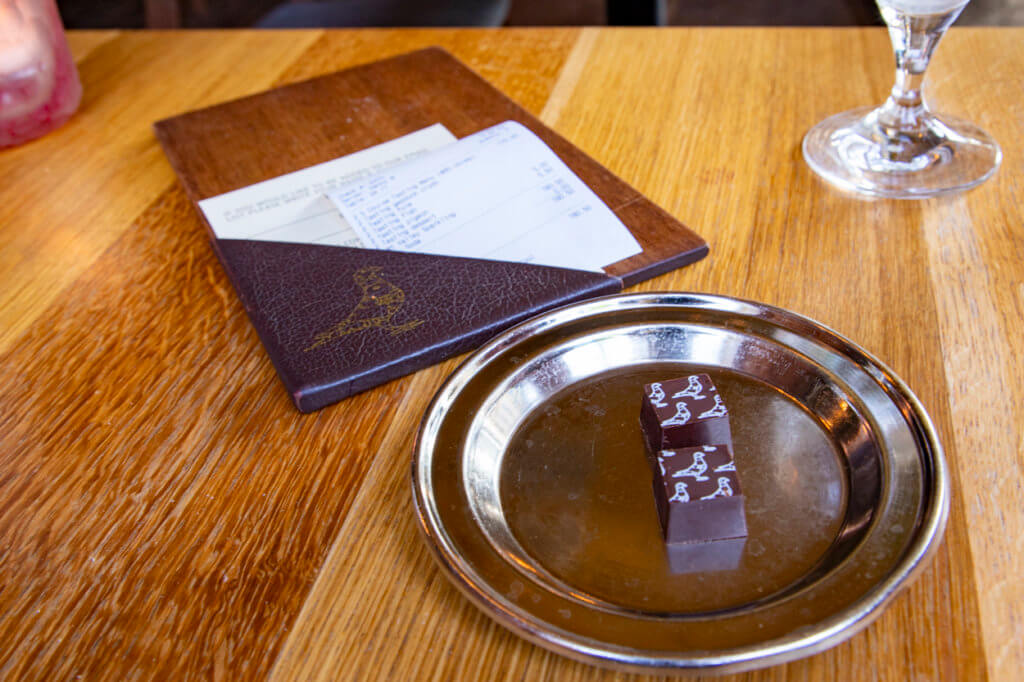 Our total? $217.50 including tax and tip. Each tasting menu ran $85 per person at the time of our visit, though their menu is, understandably, quite different right now. And I'd say the experience was worth every single penny.
Restaurant Review – Le Pigeon PDX, Final Thoughts
I can see why Le Pigeon is such a beloved Portland institution. It's a fantastic little space serving up inventive, original, tasty food. I wouldn't hesitate to return here when I'm in town again. Heck, I'd go back to Portland just to eat here again too. Luckily, I love Portland and have friends there, so it isn't difficult to pay the area a visit 😉.
Post-Dinner Shenanigans
After enjoying our amazing meal at Le Pigeon, we met up with my buddy and a few of his friends for a night of roaring engines, smoking tires, and lot's of fun at the Portland International Raceway. Though we didn't participate ourselves, it was fun watching all the different people and their vehicles race down the drag strip.
Long Weekend in Portland