During my recent trip to Vegas and Irvine, we flew on Hawaiian Airlines. Sure, Southwest is an option nowadays, but my in-laws prefer Hawaiian for the convenience and ease. So, let's talk about Hawaiian Air HA6 Honolulu to Las Vegas.
If you're curious about our ground experience in Honolulu, check out my previous post about the Daniel K. Inouye International Airport's new Mauka Concourse. That said, dropping our bags was easy if not a little time-consuming, and security was a breeze. There was not, however, much to do in the new terminal. So, thankfully, after looking around, there wasn't much time before the boarding call came.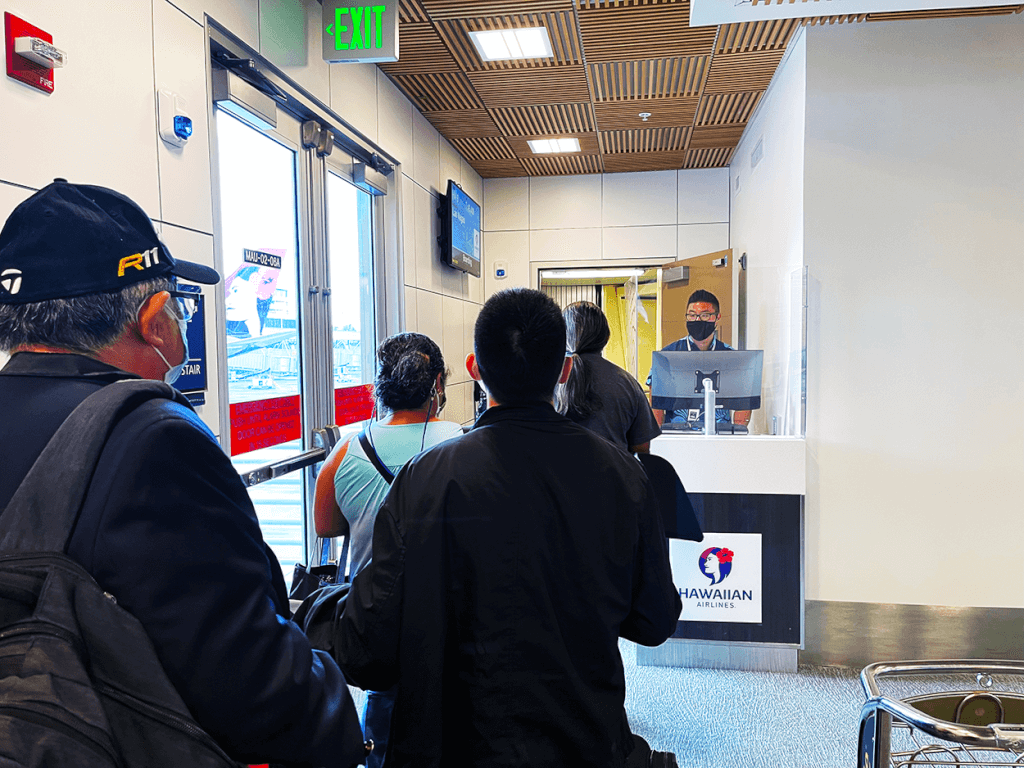 Hawaiian Air HA6 Honolulu to Las Vegas
Our flight that day was operated by N383HA, a 10-year-old Airbus A330-200 carrying the name Hanaiakamalama. In Hawaiian, Hanaiakamalama is the Southern Cross.
As originally scheduled, our flight was to leave at 7:45 am HST and had a boarding time of 7:00 am. The initial boarding call came at 7:02 am for those needing extra assistance. They were followed by the first formal group – Zone 1- at 7:06 am. Now, things changed a little since I last flew Hawaiian back in 2019. Zone 2 no longer includes Extra Comfort passengers and instead is exclusively for elites and Premier Club members and took place at 7:08 am. After Zone 2 came the call for families and active duty military at 7:10. Then, at 7:12 am, the call came for our group – Zone 3 – Extra Comfort passengers.
Though the boarding went smoothly, they didn't close the aircraft door upon completion. Instead, we sat there for a while with no announcement. Eventually, a Panasonic tech came aboard the aircraft at 7:40 am and the captain finally informed us six minutes later that they were having issues with our in-flight entertainment system.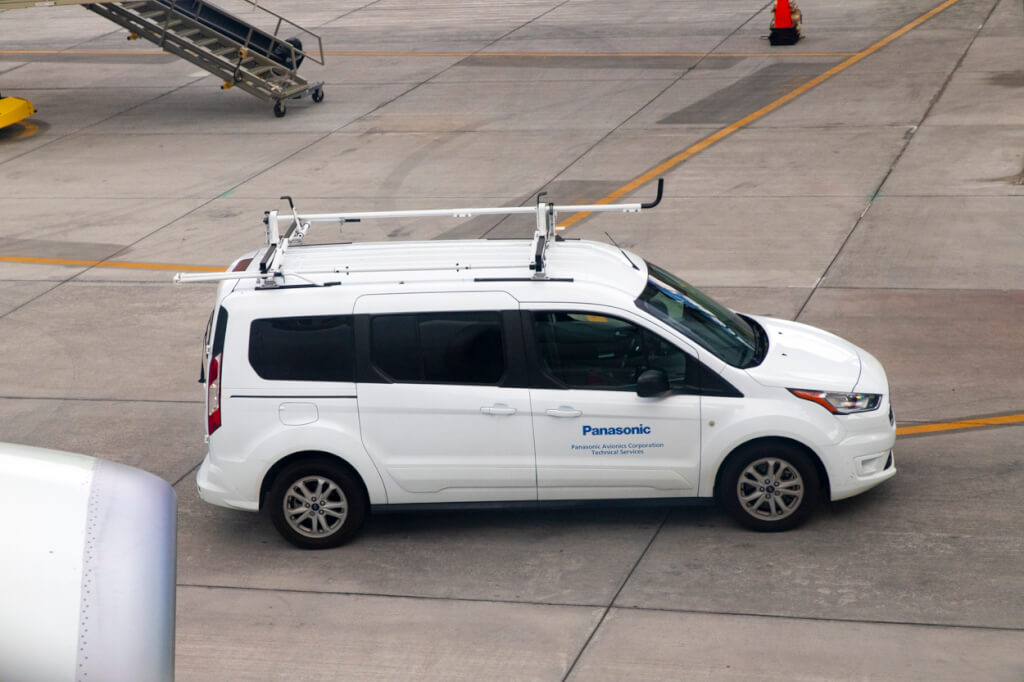 Oh and, I forgot to take a picture of the seat. So, if you want to know what the seat is like, check out my previous post on this exact product. It's been two years. I'm a little rusty, ok?
Departure
While we waited, our captain went on to inform us of a flight time of five hours and forty-six minutes with a cruising altitude of 37,000 feet.
Finally, at 7:53 am, the Panasonic tech finished rebooting our IFE system and they closed the cabin door. Three minutes later our flight pushed back from gate A10. We held near the gate for a few minutes while the engines spooled up and the safety video played. Then, we began our long taxi over to Honolulu's Reef Runway.
We arrived at runway 8R at 8:12 am and was number one for departure. Immediately, we began our takeoff roll and headed into the sky.
As we climbed out, the flight crew made an announcement about points of interest visible along our flight path.
By the way, I'm trying something new with this post. Here's an unedited video of our complete push-back, taxi, take-off, and climb-out from Honolulu. Let me know what you guys think!
Cruising
We reached initial cruising altitude about 10 minutes after departure, with intial service beginning about 10 minutes later. First up was, as always, the Pau Hana Snack cart with for-purchase snacks and other items for sale. I opted to buy a blanket kit since our flight was unusually cold that morning. The gray blanket came in a zippered Hawaiian-branded pouch with an inflatable neck pillow and cost me $10.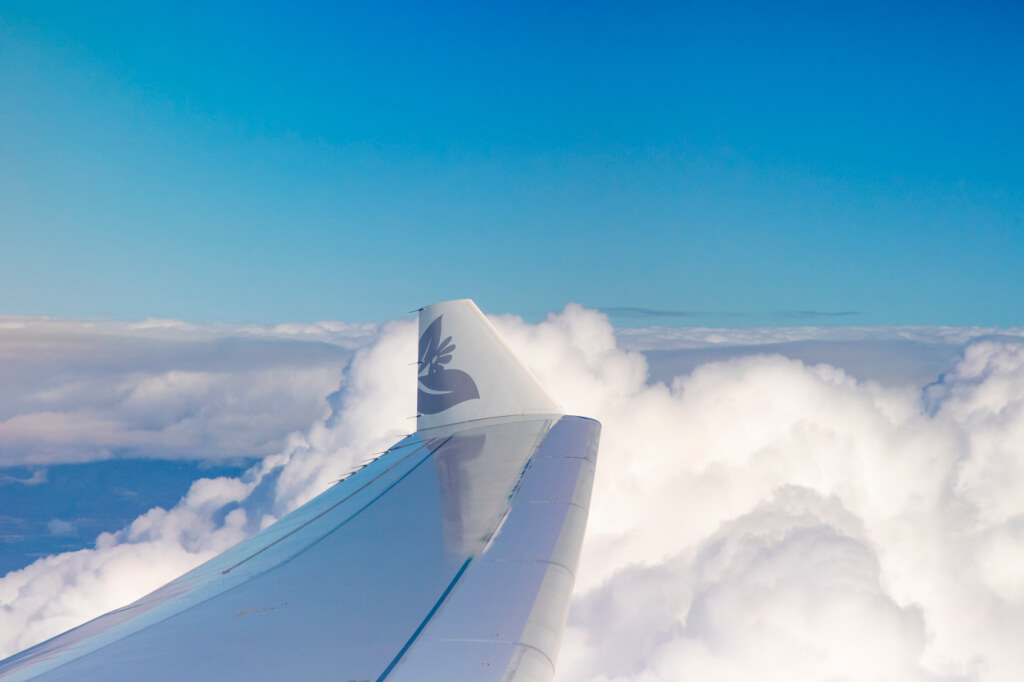 35 minutes later, our crew came back around for the complimentary service. That morning the meal consisted of a warm egg, mushroom, and bell pepper sandwich, and a chocolate chip cookie. Unlike previous sandwiches, though, there were more like bakes. There was very little filling inside a fully sealed roll. I didn't partake, but Mrs. Island Miler did. As you might imagine, she was not impressed. I'd still rather buy food on Alaska or Delta.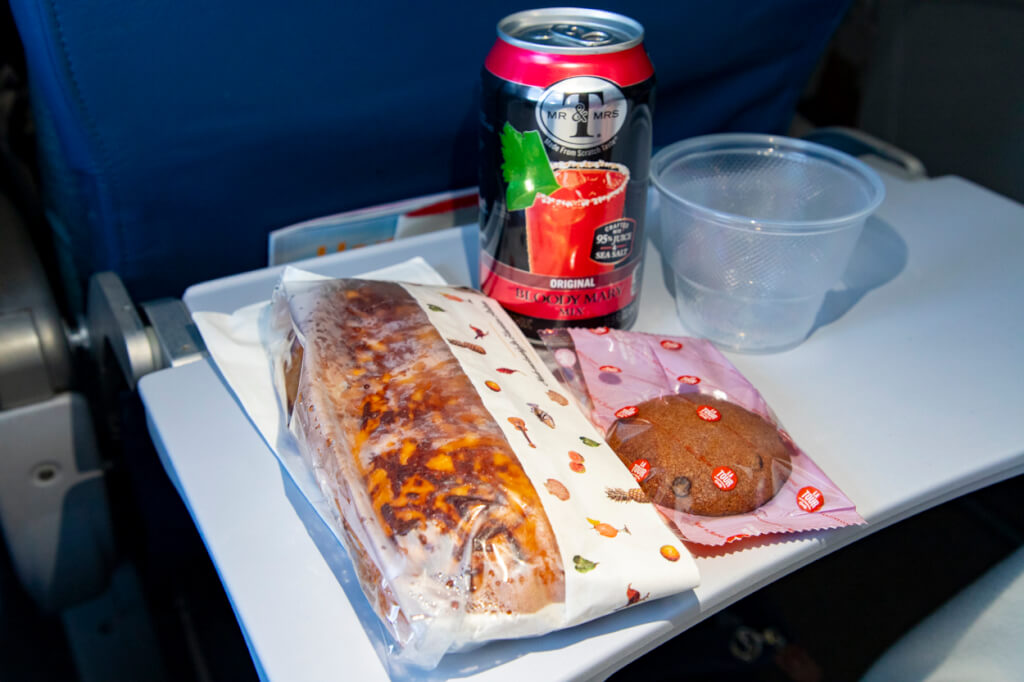 Once meal service concluded and flight attendants came around to collect our trash, they ordered all passengers to close their window shades. The reason they gave was so that everyone could enjoy the in-flight entertainment system. This, however, wasn't supposed to happen – especially not on a morning flight. After this, we didn't see our flight crew again save for water service at 11:05 am HST and 11:58 am HST.
Our final cruising altitude was 41,000 feet. There was light chop intermittently throughout the flight, so our seatbelt signs remained on a majority of the time.
Descent and Arrival
Forty minutes out, thew crew announced the end of entertainment – though my map didn't shut off until 20 minutes out.
At 1:07 pm HST/4:07 pm PT – about 33 minutes out – we began our initial descent. Three minutes later, an announcement was made closing both the walk-up beverage bars and the for-purchase Pau Hana cart. It was also at this point that I decided to open my window shade again. And this is about when we were passing over the California coast around Oxnard.
During our descent, flight attendants thanked everyone for complying with the mask mandates and made the usual Hawaiian Airlines World Elite Mastercard pitch. This time, the offer was for 70,000 miles after the first purchase, though there is a public offer available for 80,000 miles after spending a combined $6,000.
As usual, flew past the Las Vegas Strip and LAS before making a very steep bank to turn back towards the airport.
Then, at 4:26 pm PT the captain made an announcement for our final descent. 14 minutes later we touched down and had a relatively quick taxi to our gate in Terminal 3.
We pulled into our gat 18 minutes behind schedule at 4:48 pm PT with the doors opening two minutes later.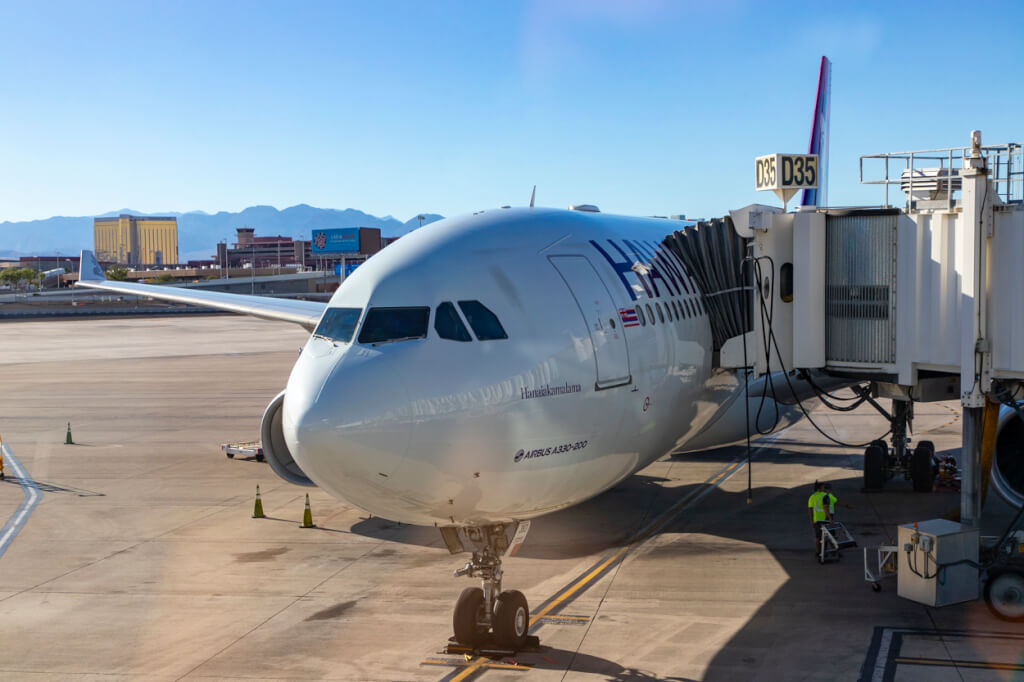 Here's part 2 of my HA6 flight video. This video encompasses our initial approach through to our arrival at the gate.
Baggage Retrieval
As is so often the case with Hawaiian, bags take a while to reach the belts. In fact, our bags were just coming down the belt when we arrived, even with the relatively long restroom stop our party made. Mind you, my in-laws flew in first class and all of our bags were tagged as such.
A Word on Masking
During the flight, our crew reminded everyone that, per government orders, masks are required throughout the flight except when actively eating or drinking. They also reminded everyone that, once you finish eating, you must reapply your face mask.
Final Thoughts
Overall, I was pleased with our flight. The crew operating our flight was friendlier than those I've encountered in the past, though having to keep our shades closed was annoying. That said, they seemed to genuinely enjoy what they do and even took time to chat with passengers. I'm also grateful that no passengers caused any issues on our flight. Though rare in Hawaii, issues do pop up from time to time.
That said, the complimentary meal got worse, in my opinion, from what was on offer in years past. I'm not sure if this was a pre-pandemic change or not. But, I suppose that the fact that they continue to offer a meal at all should be commended. Things are, after all, very familiar, especially when considering how things have changed at other airlines. My one big disappointment is that they stopped offering Pau Hana Snack mix in economy – you can't even buy it anymore!
Vegas + Irvine Trip Report
Hawaiian Air HA6 Honolulu to Las Vegas