The loss of Kaimuki's HeiHo House was a gut-punch to me. There, they served up quirky, unique, yet insanely delicious food and drink, by some of the best people in the industry. So I was elated to hear that the team would be back together at a completely different concept: Obake Honolulu.
If you haven't seen my previous write-ups, HeiHo House was one of my favorite restaurants in Hawaii. It was a casual, yet eclectic neighborhood spot, serving up dishes that would challenge your preconceived notions and blow your mind, by outstanding, passionate people. There was no place like it. In my opinion, HeiHo's closure was an enormous loss for Hawaii's culinary scene. But, it is what it is, and I was elated to learn that most of the staff landed together at a new spot – Obake Honolulu.
Obake Honolulu Location
Unlike HeiHo House, Obake Honolulu is not in Kaimuki – HeiHo House case become a noodle concept offshoot of Honolulu's Shokudo Restaurant. Meh. Rather, Obake Honolulu is in Chinatown. Specifically, the restaurant is on Smith Street, just a block Mauka from Sig on Smith, and nearby other popular restaurants, such as Lucky Belly, Livestock Tavern, Pizza Mamo, Yakitori Hachibei, Fete, Pig & The Lady, Senia, and more.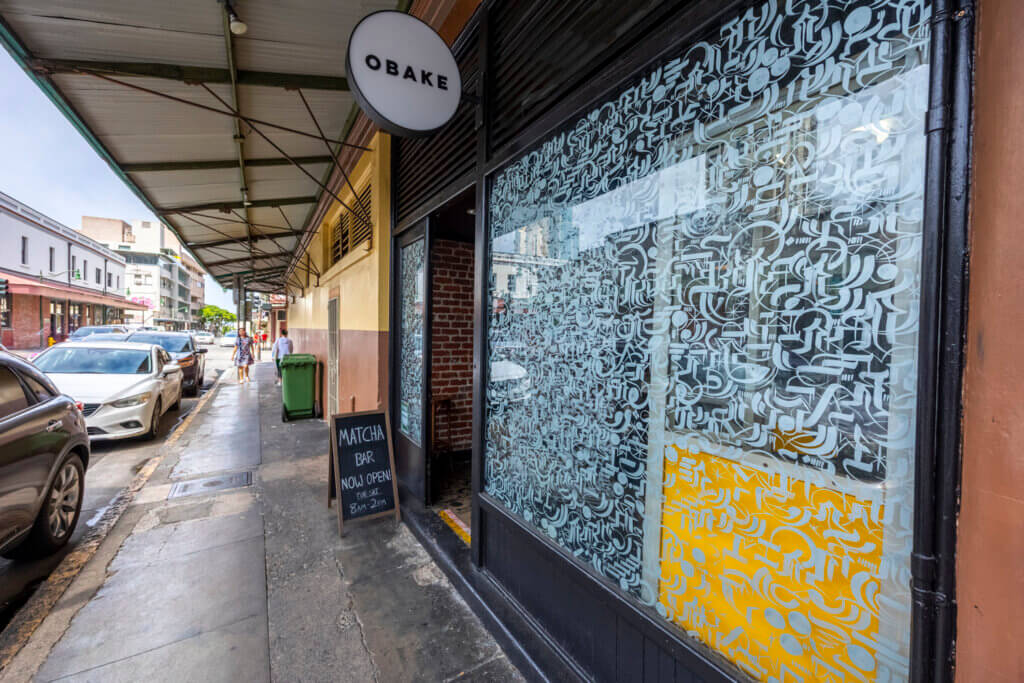 Naturally, parking in the area is a challenge. There are several open lots right across the street, but if you want to save some bucks, you can park at the underground Smith-Beretania Municipal Lot, or the municipal garage at Marin Tower.
Obake Honolulu Service & Ambiance
Given that Obake Honolulu is staffed by the same people that were at HeiHo House, it was a given to me that service would be excellent. And it was! Everyone was very personable, knowledgeable, and attentive. It really did feel like being back at HeiHo. The ambiance wasn't far off, either, though the primary dining area at Obake is bar seating. Outdoor seating is available, too, if you so desire.
Obake Honolulu Menu
The menu at Obake Honolulu is simple. After all, this is primarily a hand roll and cocktail bar. Yet, there's a large variety of flavors to enjoy here. On the food side, there are five appetizers on the current menu, six hand rolls, eight specialty hand rolls, two bowls, and two desserts. It's worth noting that you can order the rolls ala carte, or you can go with sets of four.
On the drink side of the menu, there are 11 cocktails, nine varieties of sake, four beers, and a huge collection of spirits. The cocktails are all crafted to compliment the food, so many are tasty, yet light and refreshing.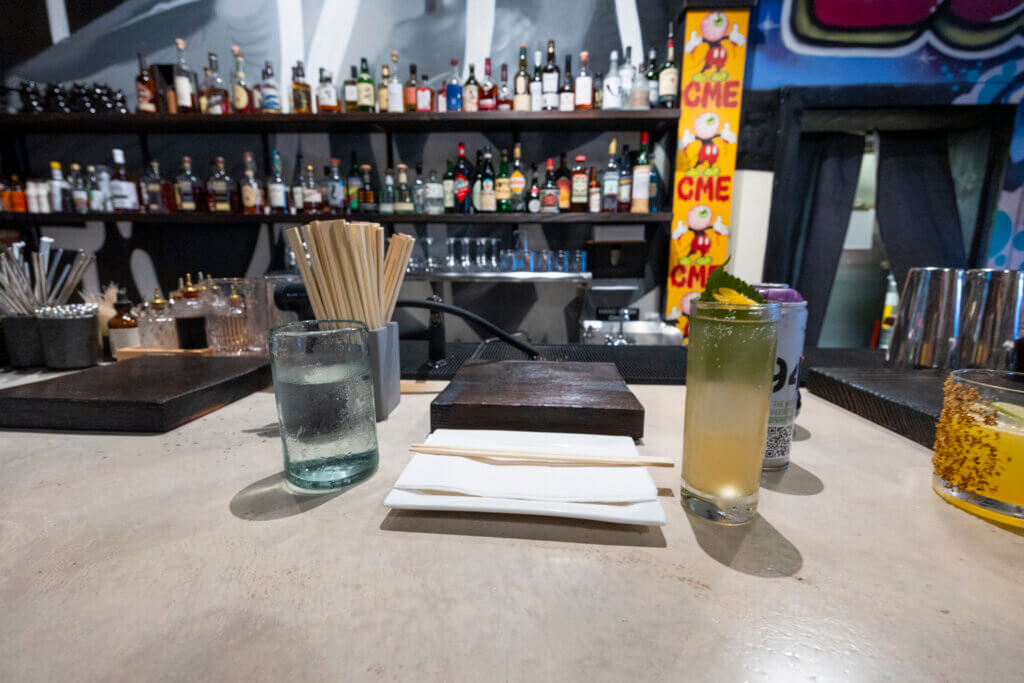 What We Ordered
To get things started at Obake Honolulu, we got a couple of drinks.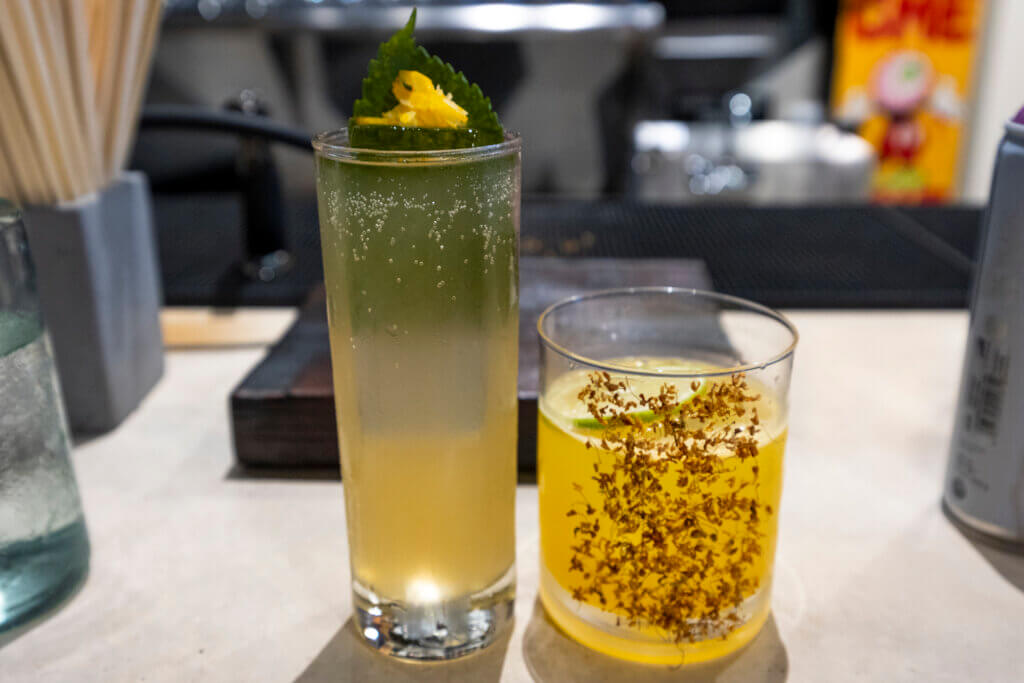 I went with the Twelve Levels ($13) – Suntory Toki Whisky, Palm Sugar, Yuzu, Soda, Orange Blossom Water, Purple Shiso, Preserved Yuzu Peel. It was a delicious drink – very refreshing and balanced, with lovely yuzu-orange aromas, and a light herbaceousness.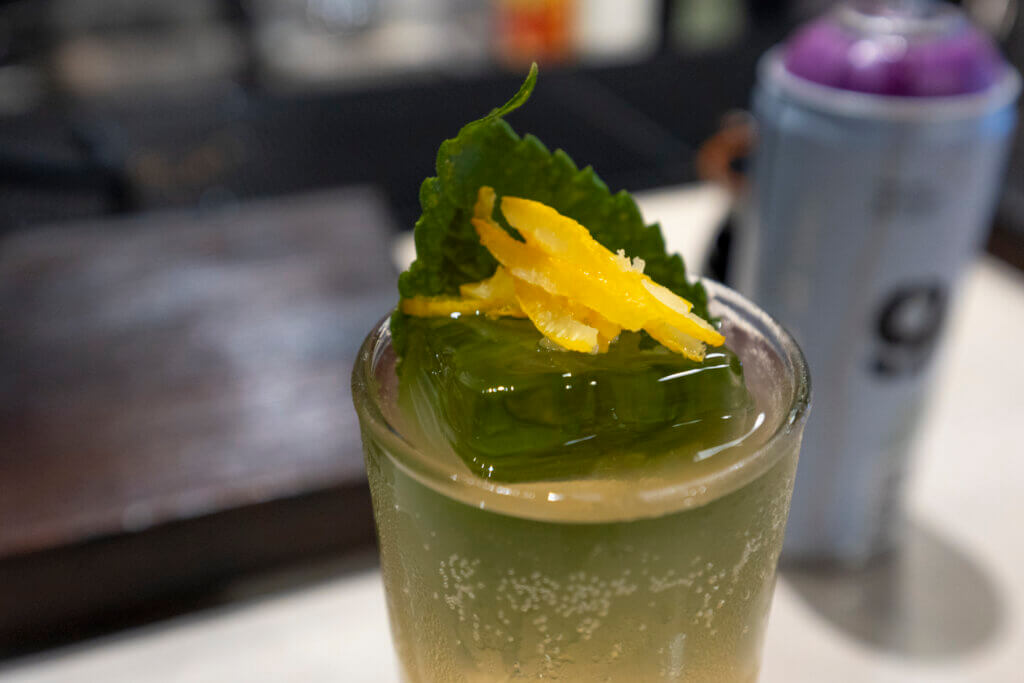 Mrs. Island Miler went with an off-the-menu Lilikoi-Orange Blossom Mocktail. This was another lovely drink. It was more fruit-forward than my cocktail, and had an excellent balance of sweet-tart flavors. So refreshing!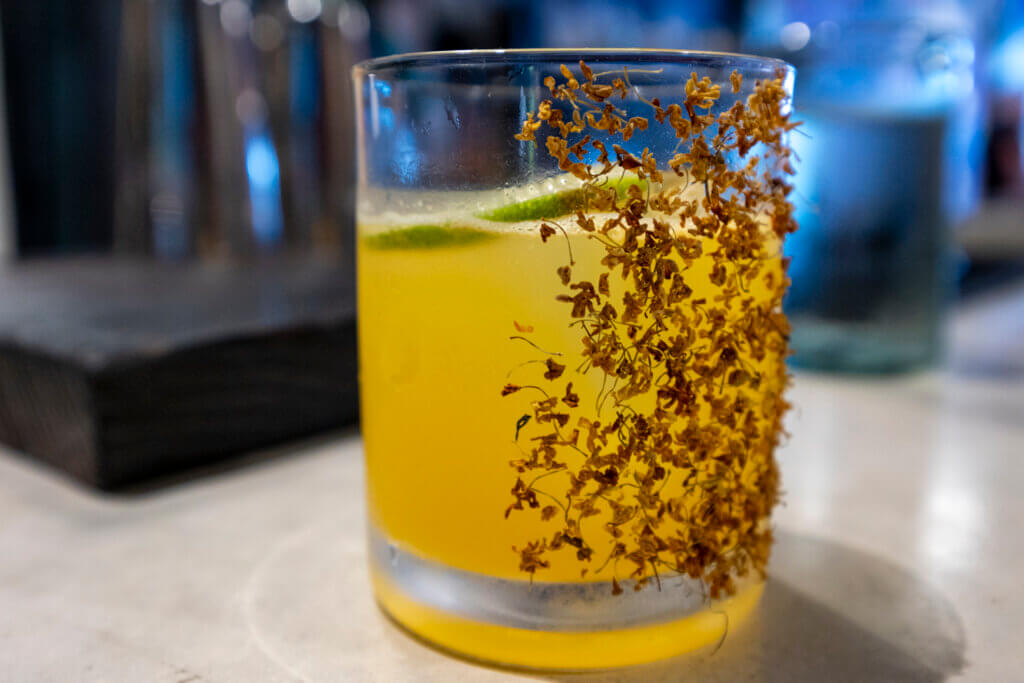 Hot Bites
For our first bites, we ordered two hot appetizers. The first to land were the Shishito Peppers. At Obake, to blister their Shishito peppers, they fry them and dust them with ume togarashi, shichimi, and goma. They come with a side of yuzu yukari mayo. This was a different interpretation of an izakaya classic that I think worked well. Unfortunately, I'm a wimp, and the second pepper I bit into was a spicy one, which blew out my tastebuds for a bit lol. But, eating these peppers are like a game of roulette.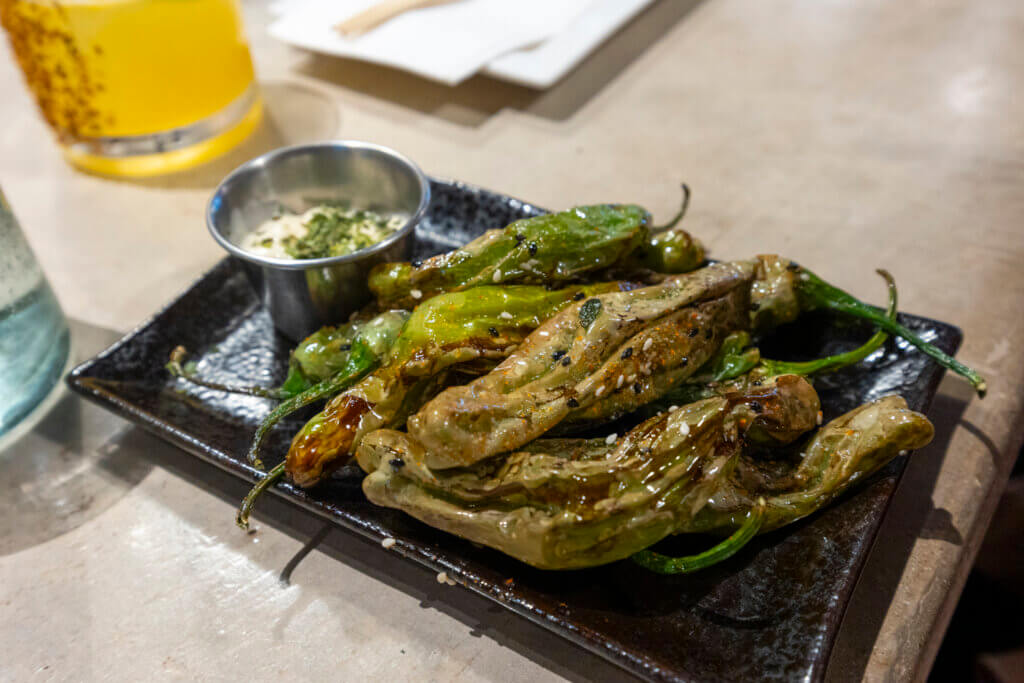 Our second starter was Mushroom Medley. Here, we got maitake and shimeji mushrooms coated in bubu arare and crispy fried. They came alongside an Ali'i mushroom escabeche atop a herb and chrysanthemum salad. The fried mushrooms were perfectly cripy on the outside, meaty on the inside, and were perfectly salted. The salad? It was so bright and vibrant! The slight bitterness of the greens were balanced nicely with a bright, citrusy vinaigrette.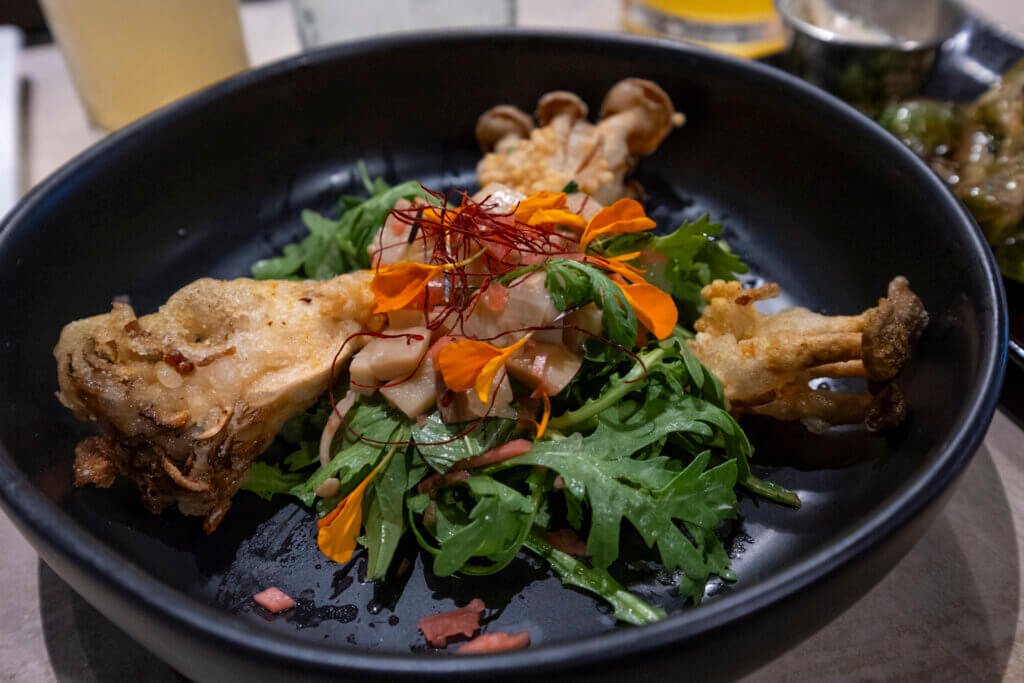 Hand Rolls
For her hand roll order, Mrs. Island Miler went with the Specialty Hand Roll Set. That night, it came with three rolls off of the ala carte menu, along with a set-exclusive Obake Roll. I went ala carte for my selections, while we both finished with the priciest roll on the menu. There was a bit of overlap between the two of us. So while we had 10 rolls overall, I'll only be covering each roll once.
King Things ($9)
First up, we have the King Things hand rolls. Here, they take dry-aged King Salmon and pair it with capers, red onion, dill, pea tendrils, lemon, and truffle oil. These were part of the Speciality set and were one I ordered. Honestly, I was a little concerned about the truffle oil in this one, but it was quite nice. Overall, this was like a bagel & lox, but without the smoke and cream cheese. The lemon, along with the sushi-su, adds a bit of brightness, while the barely perceptible truffle oil adds a lovely hint of extra umami.
Onaga/Opakapaka ($8)
This is one I ordered off of the traditional hand roll section. As such, this one was simple. All it is, is chunks of a Deep 7 snapper, seasoned rice, and nori. I don't mean that in a bad way, by the way. The fish was lovely, as these types of fish are. By design, this was probably the only roll I used shoyu with.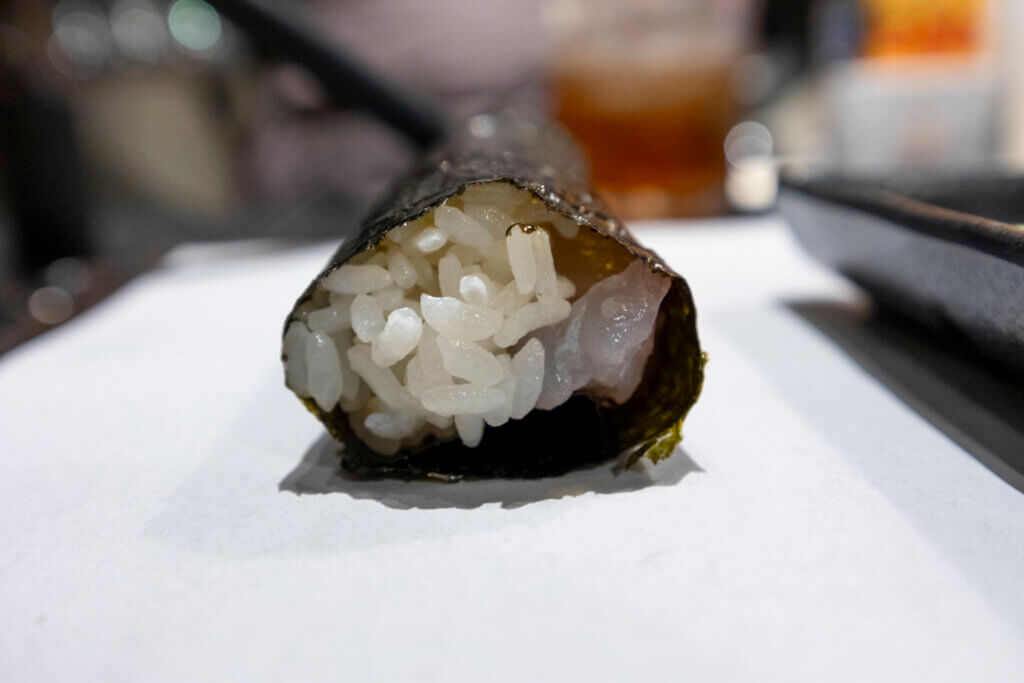 Ho, Hayan! ($9)
Next up is another that we both ordered. If you get the name, it'll be easy to guess what this one is – poke! But this isn't just any poke. Here, the Obake team takes dry-aged Kona Kanpachi and tosses it with goo, negi, Kukui Nut, and sesame, with a side of Hawaiian Chili Peppa Watah. What can I say? What's not to like? This is a hand roll filled with an incredible poke! The fish is buttery, and very well-seasoned. The chili pepper water is a nice touch, cutting the richness, and allowing you to control the spice level.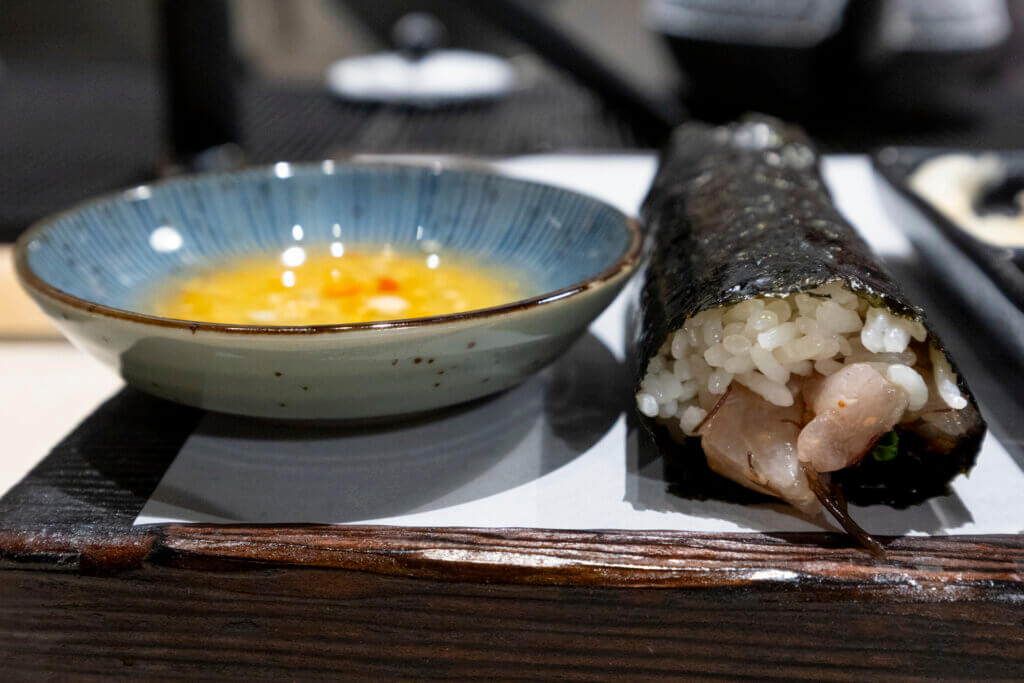 Cold Ginger Kajiki ($9)
This was another poke-inspired hand roll, which taking hunks of swordfish, and tossing it with minced ginger, scallion oil, tobiko, and fried garlic. It was a unique take on the now ubiquitous cold ginger poke, with much more textural contrast, and tons of flavor. Apparently, the night of our visit was the debut night of this roll, and I hope it's one that sticks around! This roll was an ala carte option.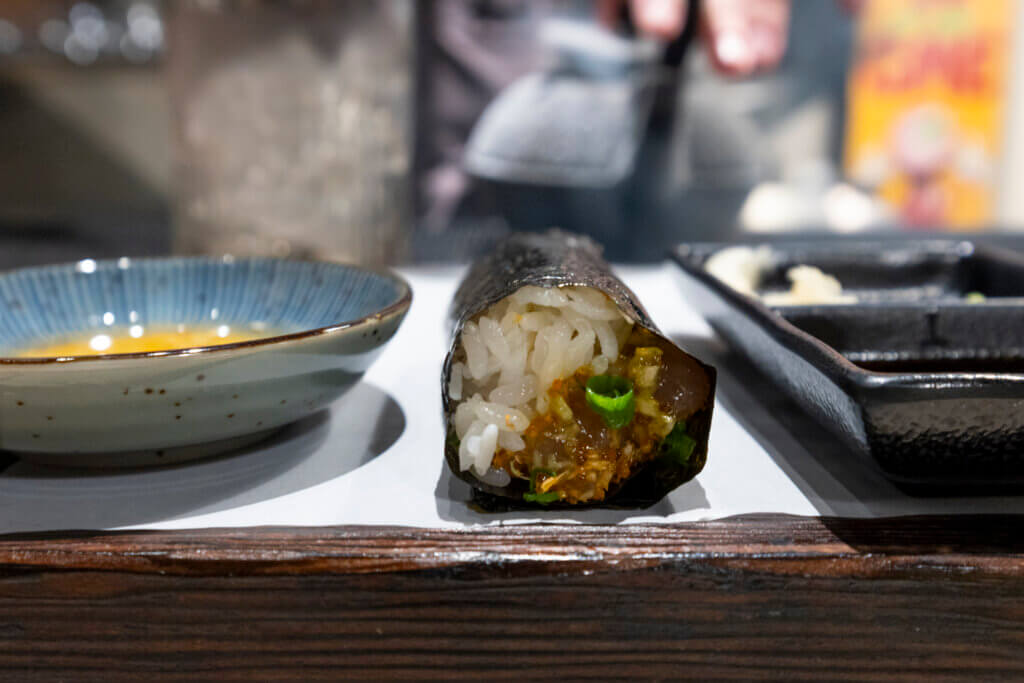 Summer Toro ($9)
Off of the set menu was the Summer Toro – probably the most unique roll of the night. Here, spicy negi toro is combined with goo, sesame, strawberry, bubu arare, and negi. This roll was actually fairly sweet. That sweetness tempers the spiciness quite a lot – so much so that I could handle it. That said, it was very interesting. It felt like something they'd serve at HeiHo House, especially with the rich, spicy, sweet, savory, herbal notes to it.
Obake Roll (set only)
Available only as part of the set menu, the Obake Roll also changes nightly. On that night, it consisted of hunks of hamachi with a bit of negi. The yuzu and negi were a great compliment to the rich, fatty hamachi.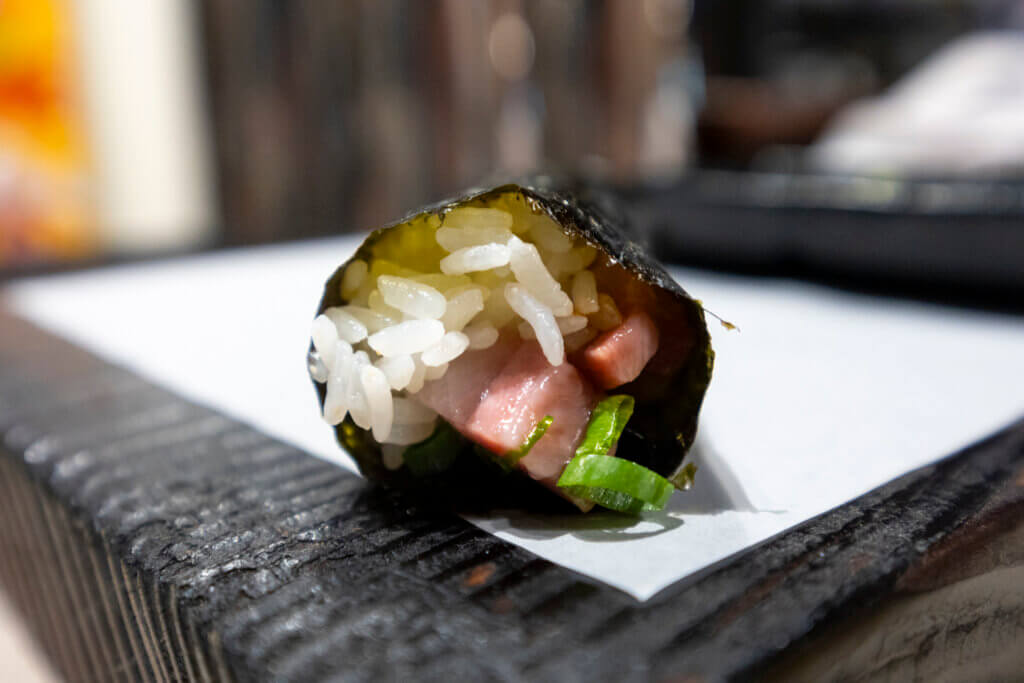 Ya, You! ($17)
Our final rolls of the night were the pricy Ya, You! rolls. Why are these so pricy? Because they come filled with Hokkaido Uni, smoked trout roe, and shiso. Yes, uni and trout roe or ikura is a classic combination, even with shiso. But the sweet, oceanic, plump, creamy uni, paired beautifully with the brine and the smoke of the roe. The shiso cut the richness fantastically and provided balance. So good!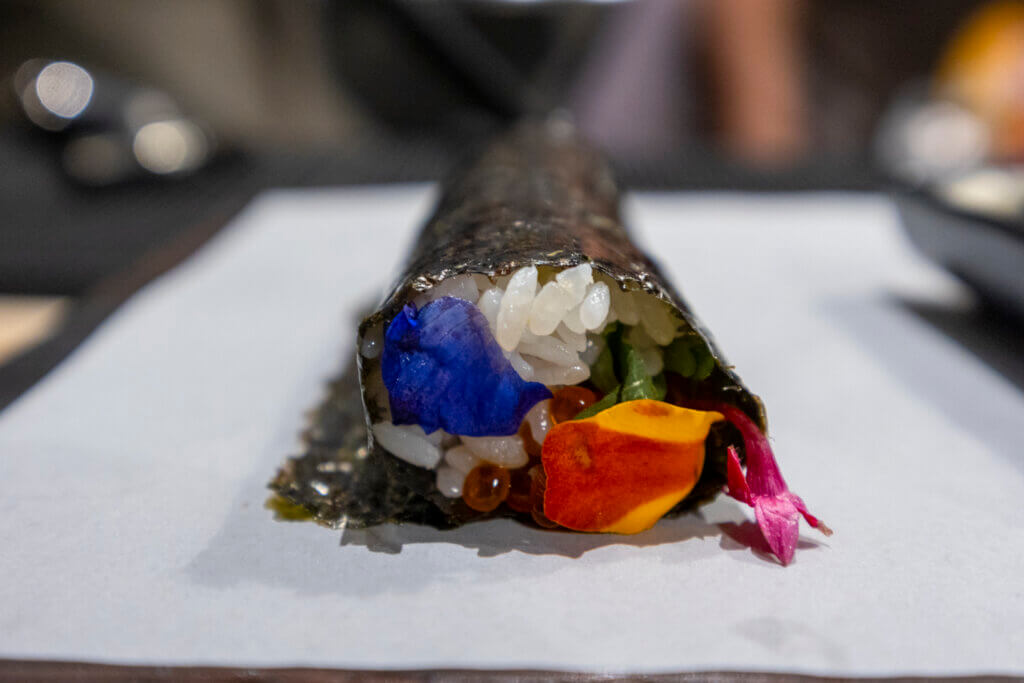 Dessert ($8)
Obake Honolulu has two desserts on their menu. Naturally, we were going to try both, but they didn't have the Yuzu Cheesecake on the night of our visit. Oh well, that actually worked out for the better. The dessert they did have, a collab with Double Fat Ice Cream, was larger than I expected. That collab is a Hurricane Ice Cream Sandwich, featuring black sesame cookies and Double Fat's Honey Furikake Ice Cream – one of my favorites.
This ice cream sando was incredible! The nutty, earthy, sweet black sesame cookie pairs beautifully with the sweet-salty furikake-infused ice cream. Fantastic!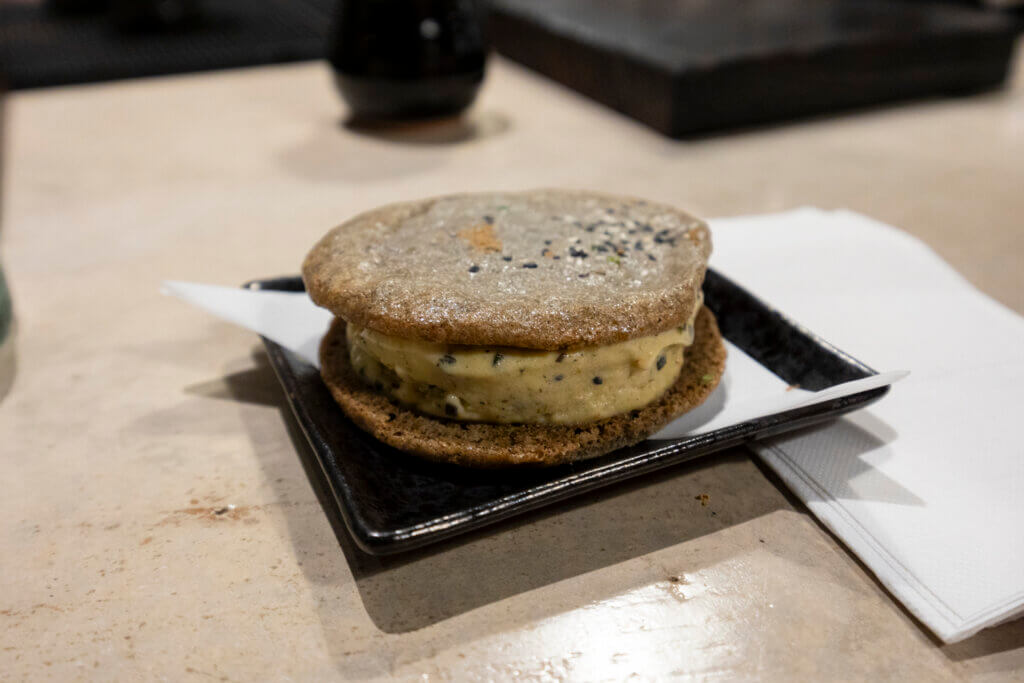 Obake Honolulu, Final Thoughts
If you couldn't already tell, I adore Obake Honolulu. Yes, it's just hand rolls and cocktails, but it's something different. Mind you, I'm usually a stickler for authentic sushi, as few places can pull off being creative well. However, the rice here is executed very well, the seasoning is on-point, the ingredients are of excellent quality, and the overall flavors are great! I will definitely be back, and can't wait to see how the restaurant evolves overtime. Though, in a way, it already has.
The night we joined Obake Honolulu for dinner, they opened a new yakitori concept next door. We could smell the intoxicating aromas wafting over from their new neighbor, and can't wait to check them out, too. Maybe we'll go restaurant hopping next time! Of course, don't forget, Obake Honolulu still has their daytime matcha and mochi bar.