As I mentioned in a previous post, we split our time on Maui between Kaanapali and Wailea to sample a Marriott and a Hilton. The first of these hotels ended up being the Westin Maui Resort & Spa in Kaanapali.
Why the Westin Maui?
When I was little, my grandparents used to take me to Maui every year. Back then, we'd stay at the Sheraton Maui next to Black Rock. Why? I'm not sure. All I know is that the Mountain View rooms there has a good view of the Sugar Cane Train. So, when I was planning this trip, I thought to stay there. But, Chris Kajioka had opened a new restaurant at the Westin Maui. Because of this, and the great things I've heard from others, I decided to give them a shot.
Booking the Westin Maui
Rates at the West Maui were insanely high during our stay – points and weekends. I didn't want to part with either, so I decided to split the difference. I ended up paying 60,000 points for a single night and ended up paying $611 for the remaining room night along with resort fees and room charges – I believe the room rate was somewhere between $300 and $400.
Westin Maui Check-In
During online check-in earlier in the week, I requested 12 pm early check-in. We ended up arriving at 12:30 pm and were informed that our room wasn't ready. To kill time, we did the chocolate tasting at Ku'ia Estate that I covered in an earlier post. While there, we got a text that our room was ready – that was at 1:30 pm – and headed back.
Overall, the check-in experience was pretty good. The associate was very friendly and professional, acknowledged my status, and waived our parking fee – we self-parked. We still had to pay the resort fee, though. It's also worth noting that this property uses stretch wristbands with a little plastic chip on them for their room key. Oh and the breakfast amenity at this property is $15 credit at Waicoco or two free breakfast items at Mahele Market. We did try redeeming the Mahele Market benefit which has extremely limited options that aren't good at all. I highly suggest going to Waicoco, though $15 won't cover much at all.
By the way, the self-parking garage is to the left of the lobby. However, you need a card key to access it.
Our Room
Once we returned to the Westin Maui, we headed straight up to our room on the 8th floor of the older Ocean Tower. Interestingly/conveniently, they have hand sanitizer dispensers in the elevators. The main corridors are, as you can see, on the dimmer side, though.
Upon entering the room, we immediately noticed the open bathroom layout. It's to the right of the entrance and includes a single vanity looking into the rest of the room with a single-lit mirror serving as the only partition there. In a separate, section was the toilet and shower stall, while immediately behind the sink was the closet with our safe, iron, ironing board, and robes. And, yes, this property has switched over to the refillable toiletries.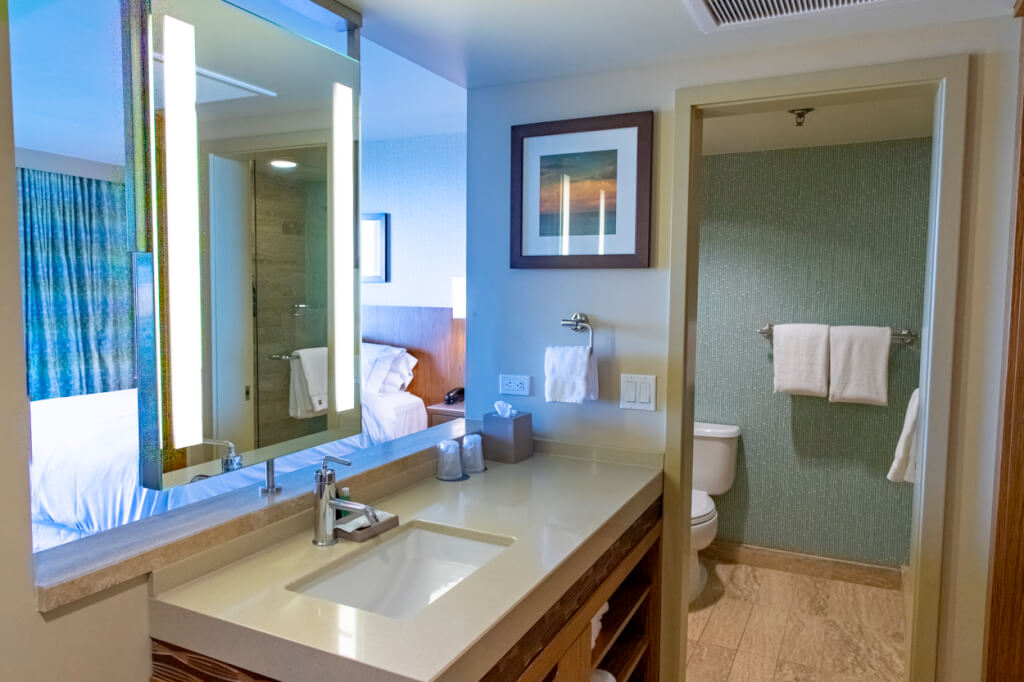 The rest of the room was comprised of a king bed with floating nightstands, a desk and chair, and a dresser with a small TV. Our room also included a single-serve coffee maker, two phones, one alarm clock, and ample power outlets via those little black hubs on the nightstand. There were also two reusable plastic water bottles waiting for us, but no bottled water that I can remember. In fact, before going to the chocolate factory, we stopped by Foodland Farms Lahaina to pick up water.
There is a minifridge in the room, which you can find below the TV.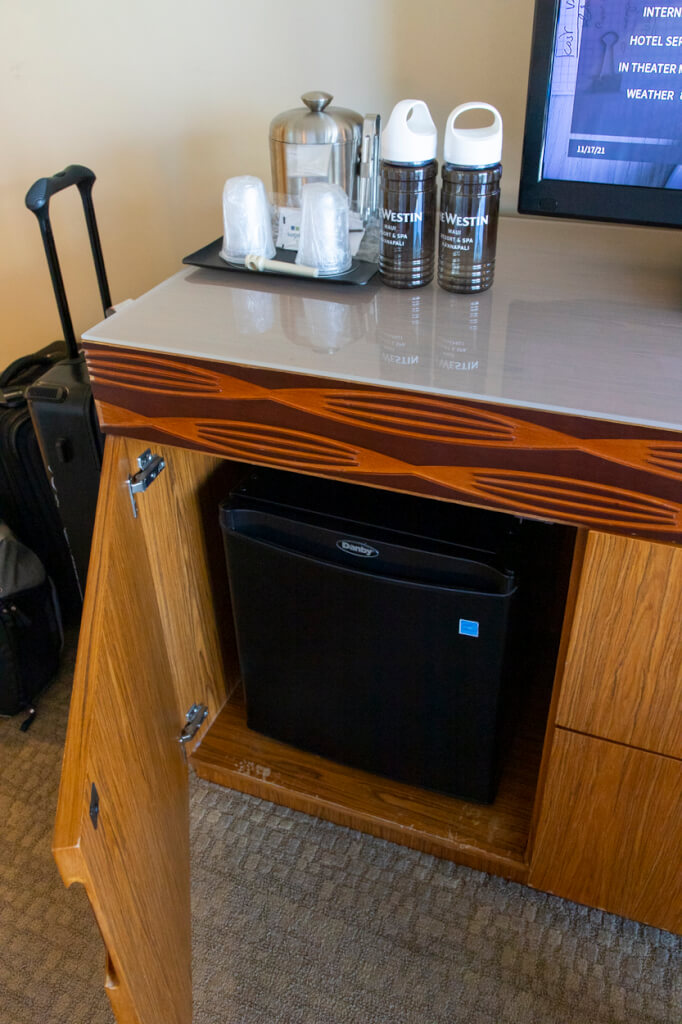 View
The view from our room wasn't bad. We were assigned a room towards the back of the Ocean Tower, which is built at an angle going from the mountain to the ocean and has a bit of a wave shape to it. As such, we didn't have sweeping ocean views thanks to intrusion from our own tower and the property's other tower, but it was nice enough.
Directly below us was the lobby and its water features which, adds a bit to the view too.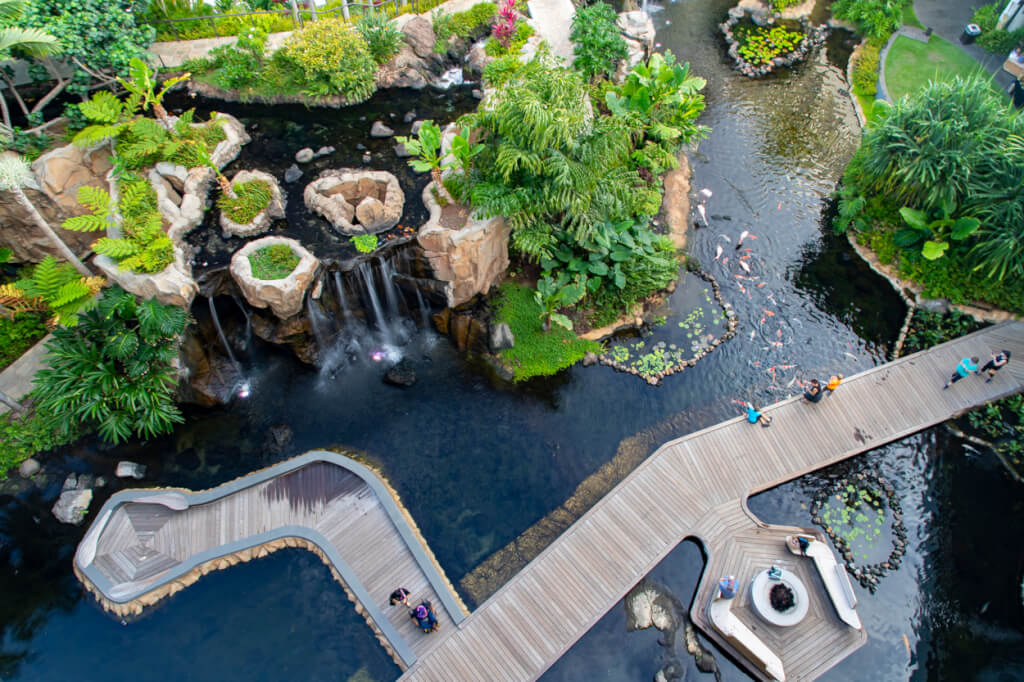 Comfort
Overall, our room was fairly comfortable with a really comfy bed and an effective HVAC system. The water temperature in our bathroom was excellent. That said, the HVAC is noisy, the water pressure is mediocre (Maui is in a perpetual state of drought), and the walls and doors are THIN. You can hear people walking down the hall and running water in the rooms all around us. But, that's fairly common in Hawaii hotels.
Westin Maui Grounds
As is often the case on Maui, the Westin Maui is an expansive resort. From our views, you can see the property is filled with water, in the form of both pools and ponds. There's also quite a bit of greenery and animals too. We didn't spend much time on property, but I did manage to walk around and snap some photos.
And here's an aerial shot of the Westin Maui's pools.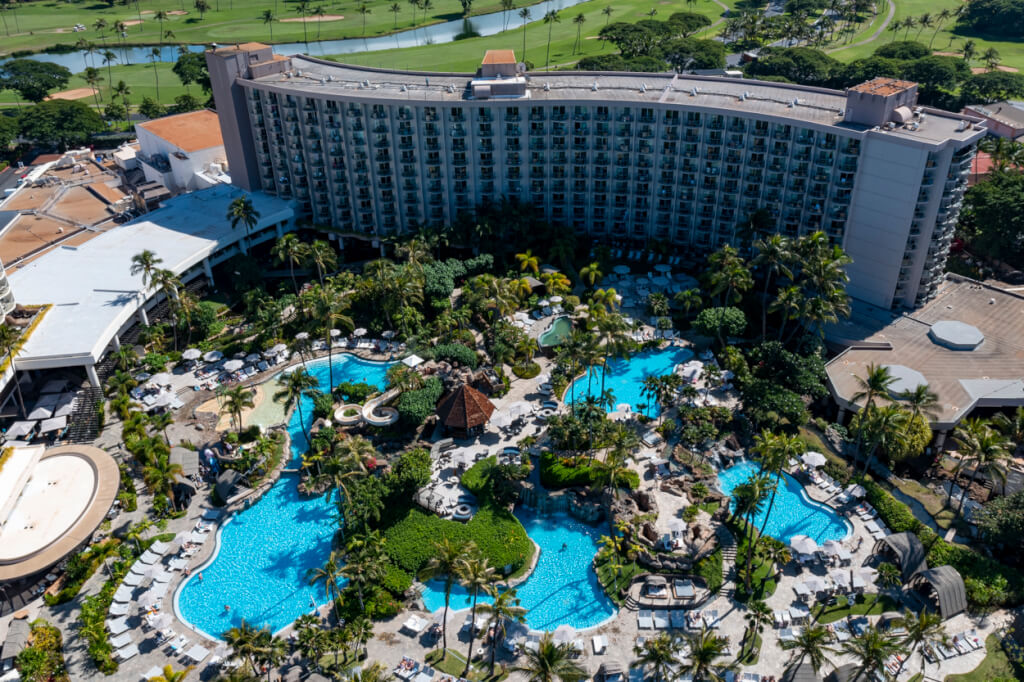 Of course, the Westin Maui sits on Kaanapali Beach right next to Whaler's Village. The beach here is nice and fairly wide, though it's worth noting that the conditions are rougher here than they are at Black Rock. What's more, a lot of boat tours seem to depart in this area, so every morning there are large crowds of people gathering on the beach fronting the hotel.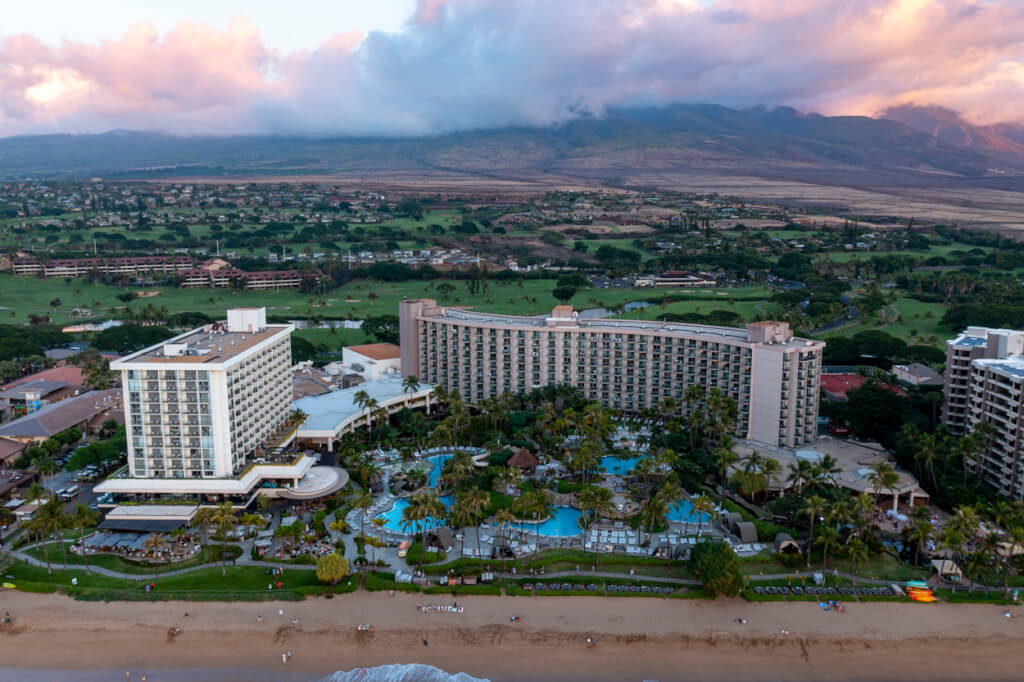 We didn't make use of the spa or fitness facilities, nor were we granted access to the lounge since we weren't staying in the Hokupa'a Tower, which is a bit of a slap in the face. We did, however, enjoy dinner and breakfast service at Waicoco, which I'll be covering in future posts.
Final Thoughts
The Westin Maui is a great property located in Kaanapali. There's a reason why it's one of Marriott's most popular properties in Hawaii. That said, is it worth the money? While the rooms are nice enough, they do feel tired and dated. The noise is pretty annoying too, even if it's par for the course in Hawaii. This is especially true at the prices Marriott Bonvoy will charge for award stays very soon. They're virtually on par with what you can expect to pay to stay at the Grand Wailea. So, with Marriott points being harder to earn, why on earth would I ever redeem points here again? And that's probably the goal. Yet, unless I can find a great deal, I probably won't be back here either way. This is sad to say since, overall, we had a very enjoyable stay.
But, Maui is a big island with numerous options to choose from. So do as I will moving forward and shop around for what fits your needs and budget the best.
Grand Maui Adventure