Last updated on October 12th, 2019 at 09:07 pm
For those of you that don't already know, I love malasadas. My favorite before they closed was Champions in Honolulu. So, I had to give the Big Island's best, Tex Drive In, a try too.
First of all, before anyone jumps on me for miss-spelling their name, Tex Drive In is spelled exactly like that. No hyphens, no double "n's," it is what it is. And, it's driving my spell check absolutely bonkers!
My Perfect Malasadas
For the uninitiated, malasadas are a Portuguese holeless doughnut. Traditionally, they're made on Fat Tuesday to use up excess butter and eggs ahead of Lent. As a result, these indulgent blobs of fried dough are, by tradition, richer and denser than your average cake or yeast doughnut. So, to me, Champions was perfect.
Their malasadas were dense and chewy on the inside, while still maintaining enough of an airiness to keep a nice balance. And, on the outside, they had a crispy, yet tender exterior coated in just the right amount of granulated sugar. Finding places that nail this balance, by the way, is becoming increasingly difficult. For example, I wouldn't call Penny Malasadas malasadas at all. But, that's my opinion.
Location
Anyway, after picking up our crap can car, we went to our hotel to check-in. Unfortunately, our room wasn't ready yet, so we dropped of our bags and headed out. The primary goals of the day were to visit Mauna Kea Tea and Two Ladies Kitchen. Both of which are on the opposite side of the island from us. As a result, I decided to visit the closest to us first; Mauna Kea Tea. But first, some lunch.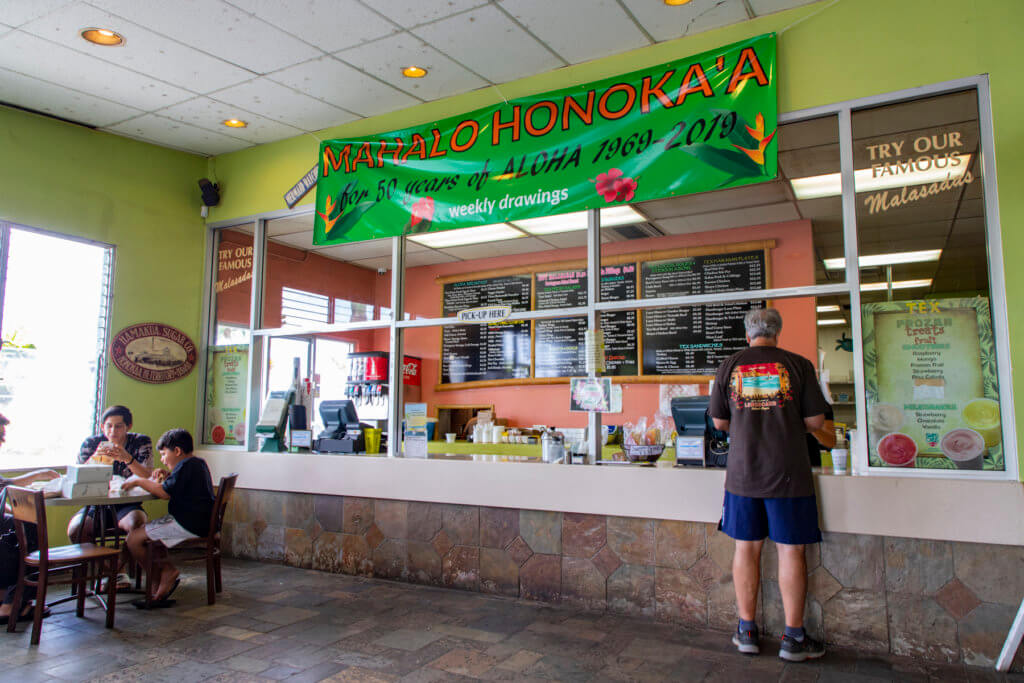 Like Mauna Kea Tea, Tex Drive In is located in Honokaa. In fact, it's a short 10-15 minute drive (it's a narrow winding road) drive from Tex to Mauna Kea Tea. So, I decided to stop their first to give us fuel for the rest of our adventures.
The main entrance to Tex, by the way, is on the backside of the parking lot. farthest from the driveway. You can park out front and walkthrough if you like, but just an FYI. And, true to its name, at Tex, you walk up to the window, order your food, and wait for your number to be called. You even get the requisite eye rolls if you take too long!
Tex Drive In's Menu
The Big Island is one of the most rural islands in the state. And, Honokaa, being almost an hour outside of Hilo, is definitely a country town. So, don't expect any fancy menu items here. It's all burgers, wraps, sandwiches, and plate lunch favorites. But even with a simplistic menu, don't expect low prices. A burger without fries or a drink runs between $7 and $10.
What We Ordered For Lunch
Wanting to keep things light, and being a lover of Hoisin, chose the China Wrap – chicken, plum sauce, veggies. Me? I went the complete opposite direction and ordered a uniquely Hilo item, the gravy burger.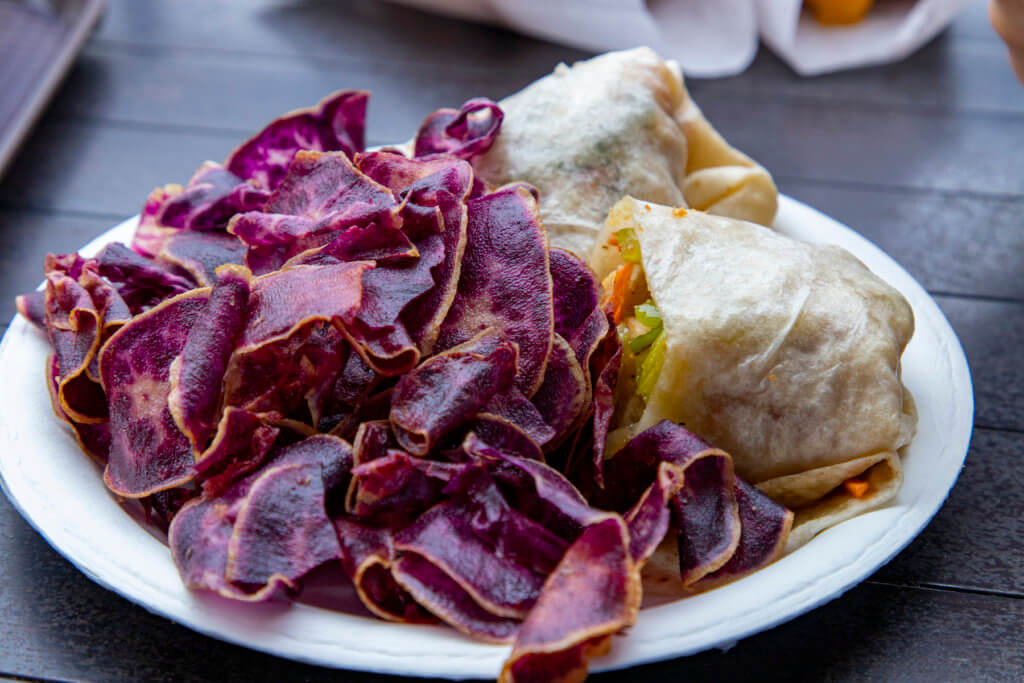 The hefty China Wrap comes stuffed with shredded chicken breast and tons of sliced mirepoix veggies in a flour tortilla. However, what we didn't notice was any Hoisin. Instead, there was a thin, vaguely Chinese-style sauce dripping out of the wrap. But, at least the house-made sweet potato chips were decent and plentiful.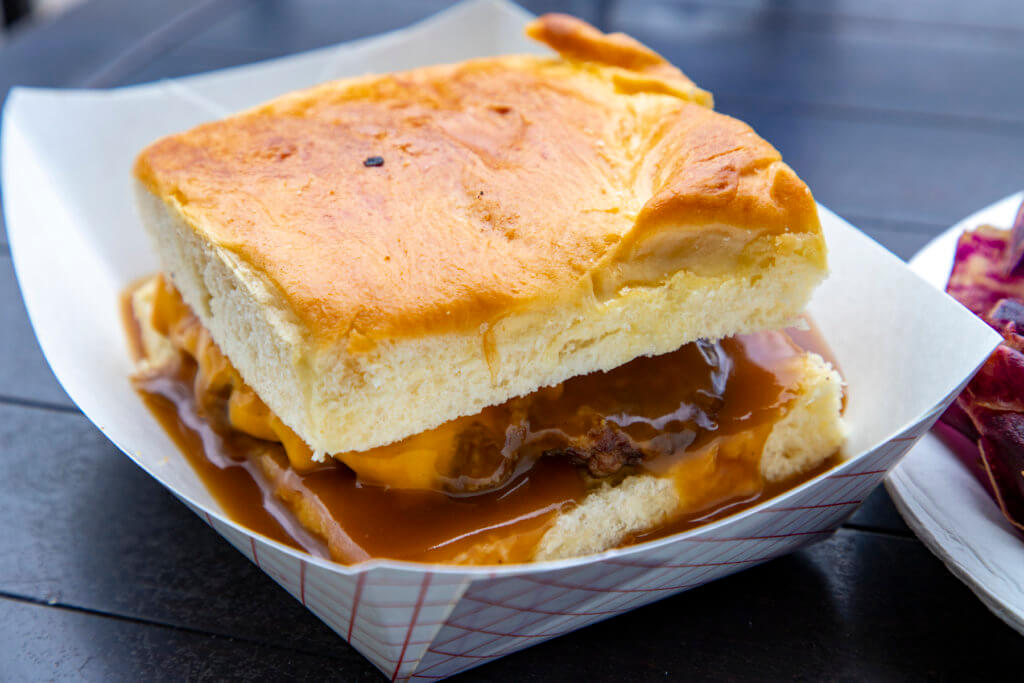 Clearly, Mrs. Island Miler's wrap was a disappointment. And, unfortunately, things didn't go much better with my burger. You see, while a gravy burger should be heaven, this behemoth was anything but. Its bun was too dry, dense and thick, while the gravy was thin and virtually flavorless. The burger itself was also relatively devoid of flavor and was cooked to a dense, dry, well-done. Heck, the primary flavor in all this appeared to be black pepper. And I'm 90% certain that the bun is their malasadas that been baked instead of fried. Why? Read on.
Tex Drive In's Famous Malasadas
What makes Tex Drive In's malasadas so famous? Seriously, I'm asking. Perhaps its the unusual shape? Or maybe it's the larger-than-average size? Whatever the case, I think the notoriety is unwarranted.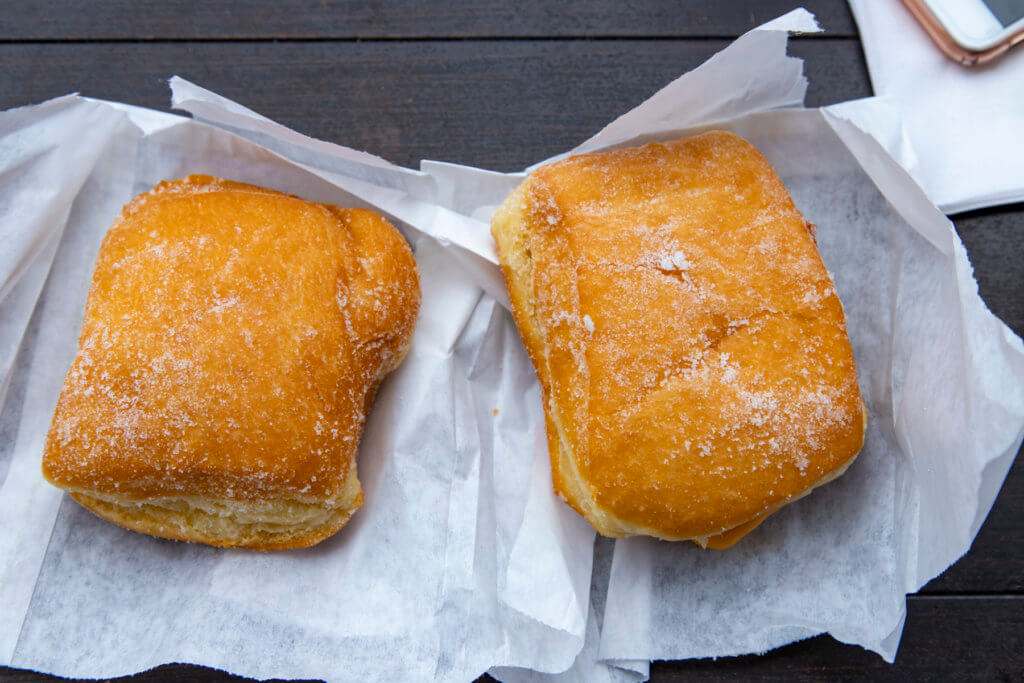 I'm a purist, so I ordered the original malasadas, while Mrs. Island Miler got a mango filled one. The first sign that things weren't quite right, though, is how quickly we got our order. Literally, within seconds of ordering, we received them and, unsurprisingly, they were cold. Then, there's the interesting fact that you can tear them cleanly in half along a seam. Weird.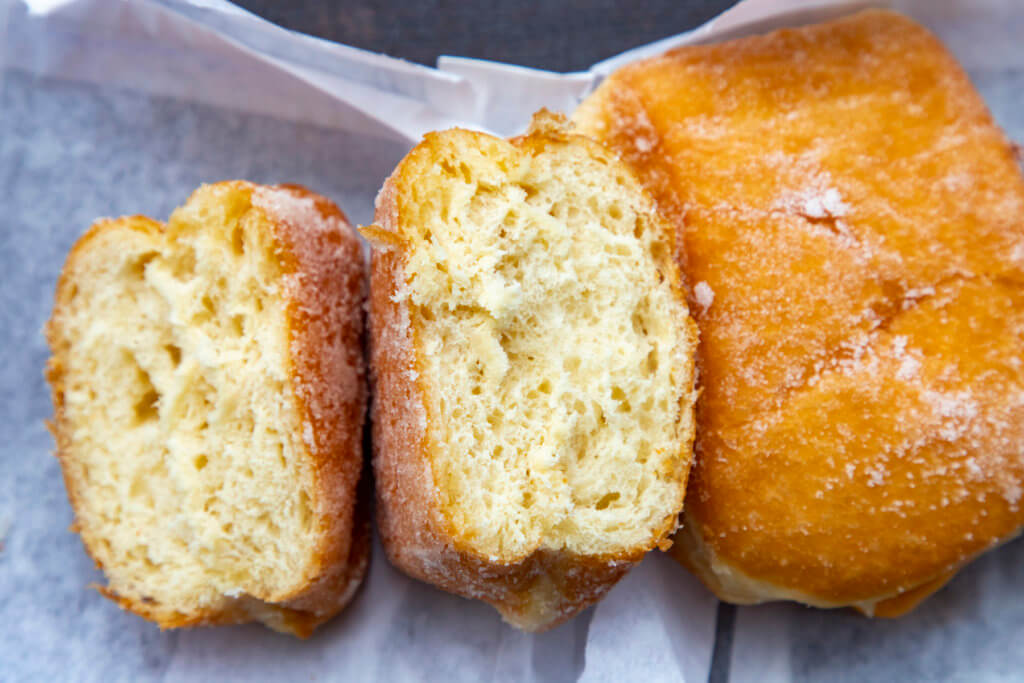 But, what really did these things in for me was the flavor and texture. To me, the Tex Drive In malasadas tastes like bread. The texture is very similar to grocery store white bread too. There is no chewiness to it despite its density, and the exterior is barely crispy at all. Hell, the interior of these things looks exactly like the interior of my burger bun. In fact, the overall color is almost exactly the same! The main difference being the texture.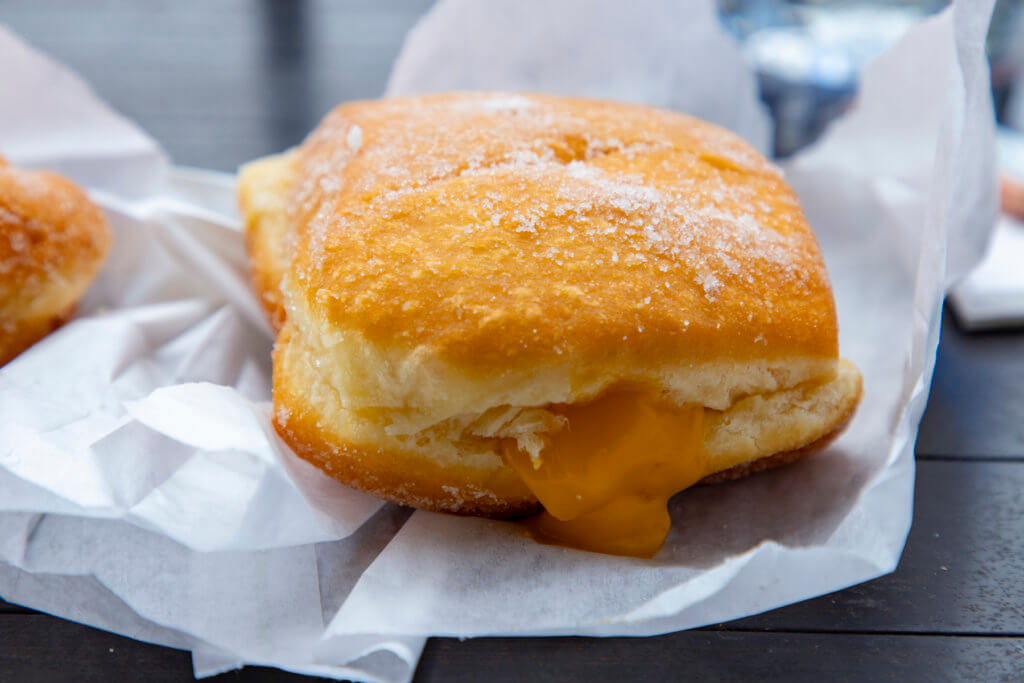 Things didn't get any better with the mango-filled version either. The gloppy filling tastes strongly of artificial mango flavoring. It wasn't nearly as off-putting as Penny's sunscreen coconut filling, but this one had a perfume-ness to it. Yuck.
Tex Drive In, Final Thoughts
Though I'm poking fun at some aspects of our experience, I really hate writing negative reviews. They don't feel good and I'd rather not have to endure an experience I'm not happy with. And, I'm sorry to say, as you can already tell, Tex Drive In was a total let down. True, it could be personal preference, and to some degree, it probably is. But, seriously? Why is a malasadas that tastes like deep-fried Wonderbread so famous?
By the way, in case you're wondering and are new to this blog, I didn't have expectations that were too high either. I love old-school, hole-in-the-wall type places. For example, I love Leeward Drive Inn on Oahu. And my favorite burger in Hawaii comes out of a truck!
Big Island LUV