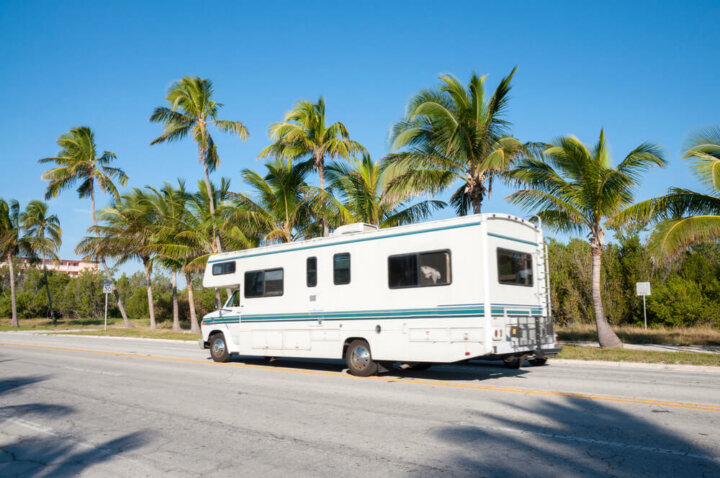 All of our reviews are based on exhaustive research, industry experience and whenever possible, hands-on testing. When you make a purchase using one of our chosen links we'll get a small percentage of the proceeds. This supports the site and keeps Jeffsetter running. You can read more here.
As an RV owner, one of the things you'll need to know is when to winterize your RV. Winterizing is important for clearing all the water out of the pipes, your hot water heater, and other areas so there isn't damage when the water freezes and expands.
However, winterizing is really only necessary when temperatures dip below freezing. This means that if you store your RV in a warmer climate when you aren't using it, you might be able to skip winterizing altogether.
This brings up the question, "Do I need to winterize my RV in Florida?"
Winterizing your RV is necessary when temperatures dip below freezing and even in the winter months, Florida has an average temperature of around 40-45 degrees. In most cases, you don't need to winterize your RV if you live in or store it in Florida, but you might want to take precautions in the cooler months.
Below, we'll take a closer look at when exactly you need to winterize your RV, as well as some alternatives that work well for those cooler Florida nights.
Do I Need to Winterize My RV in Florida?
In most cases, you do not need to winterize your RV in Florida. There are countless other RV-ers that store their RV in Florida during the cooler months that do not winterize their RV.
Plus, according to World Climate, the average low temperature in January in Florida is only an average of 49 degrees Fahrenheit. It also doesn't snow, which is another testament to the fact that it doesn't get cold enough most nights for water to freeze.
That being said, climate change has switched things up a little and 49 degrees is only an average. Some people also might find that it gets a little cooler on the northern side of the state. Even then, it usually isn't necessary to winterize your RV and there are plenty of alternatives to winterization in case temps do dip below freezing.
How Cold Does it Need to Be Before I Winterize My RV?
As a general rule, you should winterize your RV if temps are supposed to be lower than freezing, or when it dips below 32 degrees Fahrenheit or 0 degrees Celcius. The reason for this is that winterizing your RV basically comes down to removing water that is going to expand when it becomes ice.
As long as the water isn't freezing solid, there's no real risk that it's going to damage your hot water heater and water lines. This means that even when it dips into cooler temps at night, as long as they are above freezing, there's a low risk of your pipes actually freezing solid in that 6-12 hour overnight window.
Do I Need to Winterize My RV in Northern Florida?
Of course, with the state being surrounded by water on three sides and part of the state being much further north than the lowest parts, the climate can vary a little from the southern part of the state to the northern part of the state.
There is a temperature difference between the northern and southern parts of the state, however, it's still warm enough up north that you generally shouldn't need to winterize your RV in northern Florida either. For example, the average temperature for the Northern Florida city of Starke is around 40 degrees Fahrenheit in January.
Of course, that doesn't mean that it doesn't get cold in the state. There are nights when it drops below 30 degrees and if you're storing your RV anyway, in my opinion, it's best to do it just to be on the safe side. It doesn't take a lot to protect your RV pipes from freezing and it's a lot more affordable than repairing the damage that can happen if there does happen to be a series of below-freezing days.
Do I Need to Winterize My RV in Florida if I'm Living In It?
Whether or not you winterize your RV also comes down to whether or not you're living at it at the time. If you're living in an RV in Florida, then you probably don't need to winterize it even if it does get a little chilly at night. Since you are regularly inside running the heat, there isn't as big of a risk of everything freezing over.
That being said, there are certain upgrades that you find in Class A, Class B, and Class C RVs for winter that you don't find in your average rig. Things like pipes that are on the inside of the RV so they don't freeze over, insulated walls and pipes, and double pane windows help stop pipes from freezing.
These upgrades make it easier to live without worrying about your pipes freezing overnight, particularly if you're living in a warm climate like Florida. However, many people even stay in snowier climates in RVs that are designed for it. Just remember that if you don't have the heat running, you'll still need to winterize your RV if you are visiting somewhere cold!
Should I Winterize My Stored RV?
There are a few factors that go into whether or not you should winterize an RV that has been stored for the winter. First, you're going to want to consider how you are storing it. Some people choose climate-controlled storage to help prevent things like dry rot of the tires and mold during storage, which happens when temperatures fluctuate too much.
In climate-controlled storage, you don't generally need to winterize your RV because it stays warmer than the average temperature outside. This keeps the water lines in your RV pipes from freezing.
That being said, some people choose to store their RV by removing the tires and using an RV cover for the winter months. If you're going to store your RV outdoors, you'll want to pay closer attention to the temperature outdoors.
Your proximity to where you are storing your RV also might make a difference when it comes to winterizing your RV during the cooler months. For example, turning on a space heater when it's especially cold outside isn't really an option if you're in a different state.
What Happens to an RV That Isn't Winterized if Temps Drop Below Freezing?
The big risk when it comes to temperatures dropping below freezing is the potential damage that could occur to your water lines and hot water tank. When water freezes, it expands. You've probably noticed this if you've ever filled your ice cube tray and seen the cubes are a little bigger than the amount of water you put in the tray.
When you use water in your RV, it's stored in the pipes in between leaving the water reservoir and coming from your sink or shower. This water stored in the pipes freezes when it gets too cold. When it freezes, it expands.
Rigid pipelines do not expand with the growing water. The pipes resist the ice for a while, but with time, the expanding water can and will cause damage. This could include everything from causing leaks and breaking seals to making the entire pipe burst. When you add the cost of fixing the pipes to fixing any resulting water damage, the cost can really add up.
In my opinion, the risk of damage alone is enough to winterize your RV while it's in storage. Not only does winterizing your RV help prevent severe consequences that could happen if the pipes get too cold at night, but it also takes out all that extra moisture that makes you more susceptible to mold and mildew while your RV is in storage.
Not only that, but if you know how to do it, it's actually fairly easy to winterize your RV. The guy in this video provides some pretty detailed steps! However, you should always default to any info available in the user's manual for your RV first.
What Are Some Alternatives to Winterizing Your RV in Florida?
Even though Florida generally has a warmer climate, even in the wintertime, that doesn't mean that there's zero risk of a hard freeze if a cold front runs through. This is especially true in the months of December to February, which are Florida's coldest nights.
That being said, you don't necessarily need to fully winterize your RV to protect it from damage during these cooler nights. There are quite a few alternatives if you don't want to take that step, particularly if you don't plan on keeping your RV stored for very long.
One option is climate-controlled storage that stops temps from getting too high or too low. You could also run a space heater inside your RV or storage unit if you are local when the temps get cold or even use a tank heater on the underside of your RV to keep the water from freezing.
Additionally, some people find the best alternative is just to winterize their RV. They might blow out their water pipes when they're done using it for the winter or run RV antifreeze through the system, which raises the freezing temp of water enough that it should work in a warmer state like Florida.
Final Word
Winterizing your RV is usually an important step before storing your RV during those cooler, winter months. For people wondering, "Do I need to winterize my RV in Florida?", however, the answer is that it usually isn't necessary.
Of course, there are certain precautions you can take if you do plan to leave your RV stored in Florida in wintertime, just to be on the safe side. Erring on the side of caution is best when it comes to caring for your RV, particularly if there's a chance of having a cooler winter.
Have any of you winterized or decided against winterizing your RV in Florida? Feel free to drop a comment below!