All of our reviews are based on exhaustive research, industry experience and whenever possible, hands-on testing. When you make a purchase using one of our chosen links we'll a small percentage of the proceeds. This supports the site and keeps Jeffsetter running. You can read more here.
Now more than ever before, camping can be done at any level of comfort and cost. Wanting to camp in a luxury RV isn't a bad thing- in fact, it is requested by many RVers nowadays!
Finding the best luxury travel trailer is easy with this helpful guide. Not only will I tell you what to consider before making your final purchase, I will let you know reliable trailer brands and show you some of my top picks for 2021!
Let's get started, and enjoy some of the luxurious options on this travel trailer roundup!
What is a Luxury Travel Trailer?
If you aren't sure exactly what a luxury travel trailer is, you've come to the right place.
A luxury travel trailer is a type of trailer that is manufactured by most all trailer brands. These luxury options are offered as their own distinct models, and these models include many upgraded and high quality features not normally offered in lower priced models.
It can be anything from higher end interior design to more features included in the price than most bargain models. You may be paying for more technology throughout the rig, or more durable and stable materials throughout your trailer.
A luxury travel trailer always has a higher upfront cost, but it is a great option for those of you hoping to camp in comfort and style. Many luxury travel trailers have the feel of a traditional home, and this is appealing to a wide range of RVers!
What to Look for in a Luxury Travel Trailer
Shopping for a luxury travel trailer can be overwhelming, especially if you don't know quite what you are looking for yet. Here's a short list of potential things to keep an eye out for as you begin your search!
Floor Plan or Layout
Your rig's overall floor plan and layout is a huge part of shopping for a travel trailer. You may not know what you need at first, but start your considerations here: are you shopping for a travel trailer for your family, or just you and your significant other?
Many travel trailers have multiple floor plan options, especially luxury rigs. Some are more customizable than others, with nonstandard features like theatre seating and bunk beds that can be added to your overall total.
Your layout will affect your overall camping experience, especially if you would like your trailer to have room for the whole family. Would you like a master suite with a closing door? How about minimal stairs so that grandpa and grandma can safely navigate your rig?
No matter your desired layout, there should be a travel trailer that meets those needs. It may take some time to find it, but you can always be in contact with your trailer manufacturer about your desires. A convenient floor plan is number one in my book!
Bathroom Options
Choosing a luxury travel trailer with a bathroom isn't difficult, but finding a bathroom that suits your wants and needs may be harder than you think. Some luxury rigs are outfitted with standard sized bathrooms, and some may even have bathtubs!
If you are traveling with a group, you may want a travel trailer that has two bathrooms onboard, another possibility for you to consider. If you and your partner want your own master suite with another bathroom for the rest of your guests, this is an option with some luxury floor plans.
Most luxury travel trailers have dry baths instead of wet baths, meaning you won't have any trouble having separate features rather than just one room with a showerhead in it. There are many layouts that feature a separate toilet area, which can be helpful with many passengers.
Luxury rigs may also offer special bathroom features such as heated floors and towel racks, as well as skylights and double vanities. The sky's the limit when it comes to luxury rigs- well, that and your budget!
Building Materials
Most travel trailers are built with reliable and durable materials. However, some are better than others, and luxury RVs should be built to last. Choosing an RV brand that is known for its reliable building materials is a good place to start.
Choosing an RV with long lasting building materials is always a good idea, as this extends your overall investment. You may have a certain material in mind, such as aluminum or fiberglass. Both come with their own pros and cons.
You should always look for a rig with high quality insulation, no matter where you plan on camping. Many luxury RVs have reliable insulation for both warm and cold weather applications, and some will even have heated floor and heated holding tank options for extreme cold.
Standard VS Optional Features
One of the most time consuming processes of purchasing a new RV? Deciding what features you would like to add on both inside and outside of your rig!
There are always standard features on any RV, but these features will vary depending on the model type as well as the manufacturer of your rig. Luxury rigs often have more features available standard than other lower priced RVs.
Many optional features have to do with the available technology on your rig, such as Bluetooth or wireless capabilities, as well as internet. You may also have off-road or boondocking options, such as solar panels and a higher chassis.
If you plan on living in your rig as a full timer, would you like access to laundry facilities in your rig? How about a chef's kitchen? There are many features to consider before making your final decision, but there's definitely a rig out there for you!
Warranty Options
If you are investing in a luxury travel trailer, finding a brand that offers a comprehensive and useful warranty may be high on your list. That's why knowing your warranty options before you buy is important for any RVer, new or old!
Some rigs may have multiple warranties, some for structure, chassis, and tires, and others may have interior or electric warranty options. Your luxury rig deserves the best protection and should be backed up by a reliable warranty.
Any RV manufacturer should be upfront regarding their available warranties, but you should also be prepared to ask them any questions that you may have regarding your desired rig. Your safety and investment should be a priority to any RV brand!
Good Brands of Luxury Travel Trailers
Speaking of RV brands, what might some good and reliable luxury travel trailer brands be? Let's go over some of my favorite choices together.
Airstream
One of the oldest travel trailer brands on this list, Airstream is known for its trademark appearance. These silver bullets have been gracing campgrounds and highways since the 70s, and they are making them better than ever before.
If you're looking for an aluminum travel trailer, Airstream is one of your best options. Their price points are on the more affordable end of luxury, and their history and customer satisfaction simply can't be beat.
Keystone
With enough floor plans to make you dizzy, Keystone offers a decent number of luxury rigs, all with features that will make you feel right at home. Started in 1996, Keystone is a company that stands for maximum features without a high price tag.
You'll have plenty of choices to make if you go with a Keystone, and I consider this a huge positive when it comes to RV shopping. Keystone wants you to have exactly what you want, without breaking the bank!
Grand Design
While a relatively new company, Grand Design has quickly risen through the ranks of reliable luxury travel trailer brands. Started in 2012, Grand Design committed to becoming a resource for RVers across the nation.
Their primary goal? To keep in touch with RVers as they journey, Grand Design welcomes any and all feedback regarding their rigs in order to keep making the best and longest-lasting rigs out there.
Palomino
A division of Forest River RVs, Palomino is a great choice for a luxury RV. While they don't make very many rigs, each one is specially manufactured with the consumer in mind, and Forest River's reliable construction is at the heart of all of their RVs.
Palomino RVs are designed with comfort and traditional home living in mind. They have many features inside of their rigs that give each one a unique and homey touch. Plus, there are plenty of floor plans to choose from so that you can satisfy the whole family!
Jayco
One of the most popular RV brands in the business, Jayco makes an RV suitable for any and everyone. From lightweight toy haulers to Class A's, Jayco has a rig that suits your sensibilities- and did I mention they have a great selection of luxury travel trailers too?
Jayco is known for its reliable and industry-setting durability, as well as their attention to detail. They use custom woodwork in most of their RVs, as well as stone and tile work that could be found in a traditional home.
What to Consider Before Purchasing a Luxury Travel Trailer
From brands to layout requirements, there is so much to consider before purchasing a luxury travel trailer. What else should you keep in mind while shopping? Read on…
How Many People Can Sleep Comfortably?
Before you get too ahead of yourself, take a moment to consider how many people you are planning on camping with at any given time. While you may not know this number right off the bat, it is important that you have enough sleeping areas for your immediate family.
Most luxury rigs offer many sleeping arrangements and options, but it is important to get a large enough rig for everyone to feel comfortable. If it is just you and your partner, finding a smaller RV will be no problem.
However, if you have a family of five or even more than that, finding a larger luxury rig should be a consideration for you. There are usually different layouts that support this, and sleeping arrangements can be found in the form of bunk beds and fold out sleeping areas.
Luxury Features and Options
We've already touched on this but you should keep in mind what luxury features and options you may be looking for. Are you hoping for a spacious bathroom or a residential kitchen? What about a fireplace or walk around king bed?
No matter what you are looking for, there's bound to be a rig out there that has it. It may take some searching, but you should be able to find what you are looking for- so long as you know what features you desire most!
Tow Vehicle Capacity
If you are shopping for a luxury travel trailer and you already own a vehicle that you plan on towing with, it is important for you to learn your tow vehicle's capacity.
There are many different weights and numbers to learn when you are first learning how to tow, and it is important to never tow an RV that weighs more than your vehicle's towing capacity. A 30 foot travel trailer may weigh far more than you think, especially once it is full!
Many luxury rigs are also heavy, depending on their contents and design. Most RV manufacturers assume you will have a tow vehicle that can handle the weight, so keep this in mind when you are shopping (especially if you already own a tow vehicle).
Budget
While luxury goods come at a high price tag, having a realistic budget in mind before you start shopping is important. RVs can cost more than you think, especially if you plan on adding many non standard features or accessories.
Not only will the RV manufacturers have their opinions about add ons, you will also find that RVs need a great deal of gadgets and accessories so that you can safely travel, park, and hitch up. You may wish to purchase reliable wheel chocks, or additional stabilizers.
Many luxury RVs have extras and more perks than a more modest model, but it is always important to stick to your budget. The last thing you want is to overspend and then not have enough money to travel!
How Often You Plan on Using Your RV
Buying a luxury RV is a joy and an exciting time- the last thing anyone wants is to spend the money on such a nice rig and then never use it.
Are you planning a luxury RV purchase, but only so you can tow your travel trailer around twice a year? Or are you prepared to live in luxury full time? No matter the amount, it may be important to consider how often you will use your travel trailer before purchasing one.
Some luxury rigs have full timers in mind; others are simpler and less expensive, meaning you don't have to feel as bad about not taking it out every single weekend. If you plan to use your rig often, think about that before making a final decision.
Length and Weight
Just like you shouldn't purchase a rig that is too heavy for your tow vehicle, you should consider the overall length and weight of your luxury travel trailer a decisive factor before purchasing. Why might this be, especially since you could buy something that's big and heavy?
Well, owning a heavy and long trailer can be more difficult to control on the road, and the longer the rig, the more issues you will have when it comes time to park and camp with it. Some RV parks and campsites have length limits to their rigs- that's the last thing you need after towing all day!
Choosing a luxury rig means you are getting a well-built and well-appointed RV, no matter the length and weight. Consider where you plan on travelling, how many people are coming with you, and your overall towing experience before making your final purchase.
Boondocking Capabilities
Speaking of knowing where you plan on travelling, dry camping or boondocking is all the rage right now. If you plan on unplugging and boondocking in your luxury travel trailer, you should make sure that the rig you are looking at has such capabilities.
For example, you may wish to add more solar panels via the RV manufacturer, or even an extra battery built for boondocking. There are larger holding tank options as well, or even off road packages for the adventurer in you!
The Best Luxury Travel Trailers of 2021
I've made you wait long enough. Surely you have a good idea of what you are looking for in a luxury travel trailer, from the optional features to the interior design. Now let's take a look at some of my top picks for the best luxury travel trailers of 2021!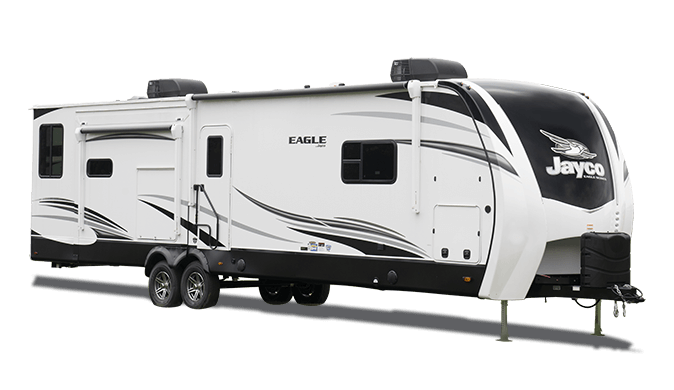 Many RVers would tell you that there's nothing better than a Jayco. While every RV has its foibles, Jayco has proven decade after decade that they are reliable, perfect for resale, and, most importantly, luxurious. The Jayco Eagle is no exception.
Eagle is one of the longest-running, most successful RVs on the market and continues to be one of the most popular in its class year after year. Equipped with the very best features and full of innovation, the Eagle makes for a downright luxurious experience.
The latest edition of this classic travel trailer features redesigned bathrooms, a smart TV upgrade and a new solar power option. The mandatory luxury package features a second power awning with dimmable LED lighting, a second 15,000 BTU "Whisper Quiet" A/C unit, and more.
Every Jayco trailer comes with their patented JAYCOMMAND "Smart RV" system. The luxury package continues, offering an LED fireplace with 5,000 BTU electric space heater, a clean Drinking Water System, as well as ample solar prep.
The kitchen features a 21 cu. ft. residential refrigerator, solid-surface kitchen countertops with bamboo sink cover and strainer, and the living area will stay comfortable with blackout roller shades. There's even washer/dryer prep for those of you full timers out there.
With 33 feet in length, you have ample space for the entire family. The Eagle has three floor plans, all with kitchen islands and fireplaces, and the optional outfitting available for this rig can't be beat. Plus, Jayco has built this rig with fantastic insulation as well as a sturdy chassis.
There's too much to list about the Jayco Eagle, making it my best overall choice. From their industry-leading manufacturing and warranties to their main interior features, the Eagle is a spacious and luxurious choice for any camper- and fairly affordable at that!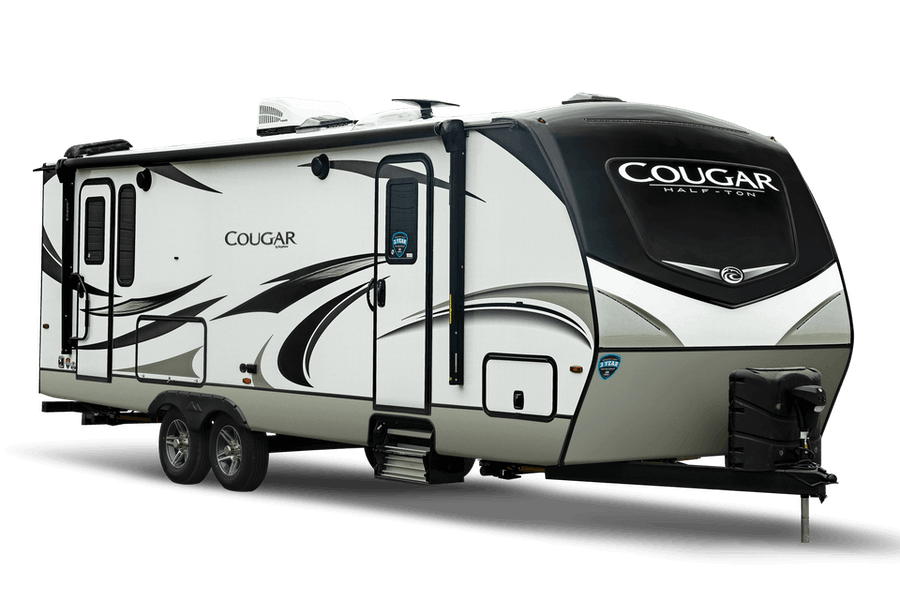 With 23 available floor plans, the Keystone Cougar Half-Ton luxury travel trailer is a winner for those of you looking for a flexible and customizable floor plan. With washer dryer prep, theatre seating, and bunk beds available, you're bound to find a layout made just for you.
Towable by most of today's half-ton trucks, this collection of Keystone Cougar luxury travel trailers is designed for maximum camping flexibility. Ranging in length from 26 feet to 37 feet, you should be able to tow this rig with ease, as no model weighs more than 10,000 pounds dry.
With all of Cougar's premium features, like full auto-leveling, and the brand's boondocking-friendly solar power prep and larger tank capacities, these RVs are equally at home at the campground or off-the-grid. And that's just the beginning of the perks on this rig.
Every floor plan comes with a fireplace and vaulted ceilings, and some of the longer rigs can sleep up to 12 people! Keystone offers some industry exclusives for all of their rigs, including a 3-year limited structural warranty, a 1-year limited base warranty, and 4G LTE and Wi-Fi prep.
Besides lovely and homey interior features, Keystone offers durable materials as well, such as water resistant flooring, uniform and color coded wiring, a climate guard package, and enhanced slide out stability and weatherproofing.
All in all, the Keystone Cougar is an excellent choice if you are looking for a variety of floor plans to compare and contrast with. There are spacious bathrooms, walk around king beds, and full size residential kitchens. Everything you'd expect in a luxury rig!
Best for Boondocking:

The E-RV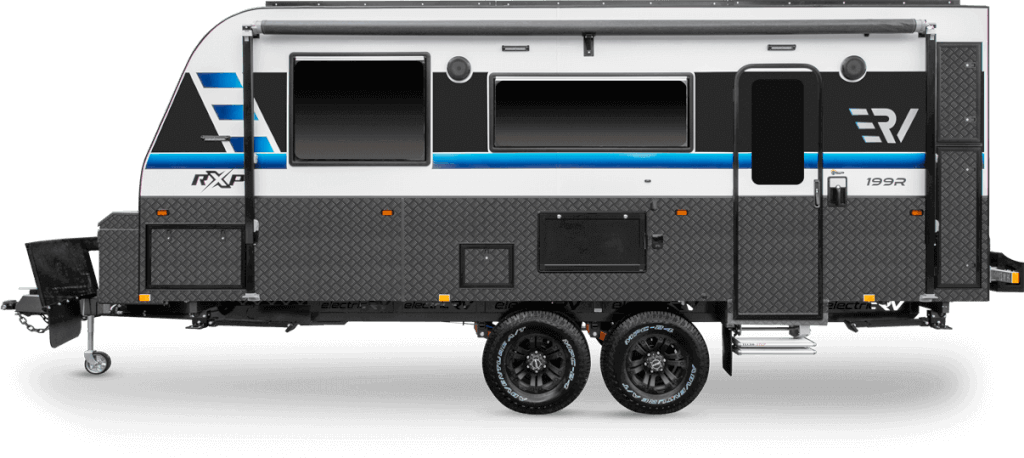 If you are expecting to boondock in your luxury rig, you can't get better than the E-RV. While most luxury rigs offer boondocking capabilities, this particular travel trailer was made entirely for dry camping- but they didn't skimp on style or comfort either!
Experience a truly off-grid adventure whilst enjoying the luxuries and practicalities of domestic living. The E-RV has been holistically designed and engineered as an energy efficient home away from home. It's entirely electric, running on solar and nothing else!
The composite constructed cabin offers superior insulating properties, ensuring that the cabin stays cooler in summer and warmer in winter. This power plant on wheels generates its own clean, renewable energy when free camping while remaining carbon neutral.
There are many other perks to this luxury electric RV, including full off-road independent suspension as standard, perfect for off-road driving in rugged terrain. There's also a semi off road independent suspension, offering incredible versatility to your semi off road adventures.
An additional 65LT Fresh Water Tank is also available as an option, should you plan on dry camping for some time. The overall battery capacity and solar capabilities have been tried and tested over 20,088 miles and 176 days through the toughest conditions only to exceed all expectations.
While having an all-electric rig for adventures sounds bare bones, the interior of these rigs is lovely. Designed in a classy black and white motif, the finishing touches on this rig are crisp and inviting. All you have to do is drive and park- your E-RV is ready to go.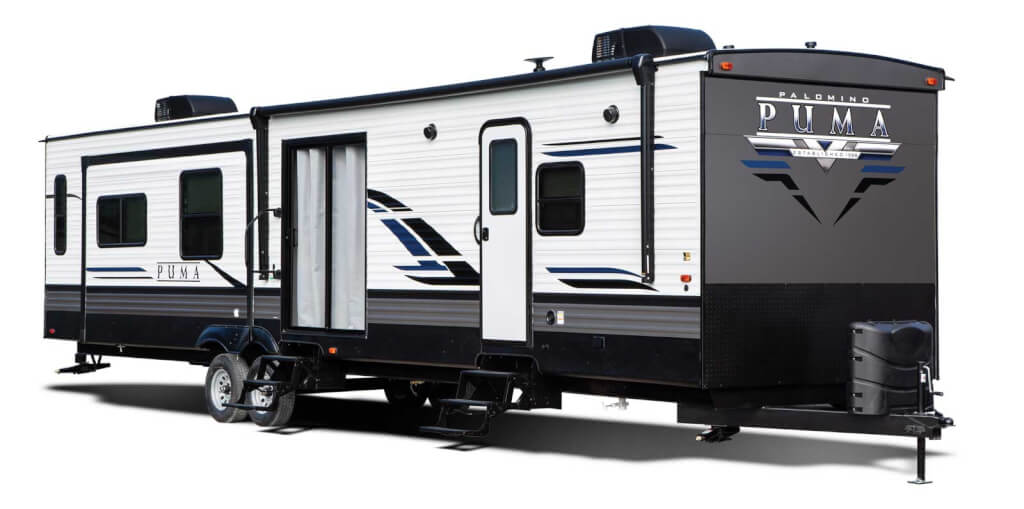 If you know that you plan on traveling with a large group and anticipate needing two bathrooms, the luxurious Palomino Puma Destination has a few floor plans to suit your needs. Plus, it comes backed with all the things that makes a Forest River subsidiary RV amazing!
Enjoy vacation comfort in your Puma Destination Model, whether for a weekend or a week at the lake, in the mountains, or at your favorite campsite. The best in leisure living with several floor plans (eight, all told), including a floor plan with two bathrooms onboard!
There are two bedroom options, and a den option to accommodate whatever your family's needs are. Each layout comes with residential style furnishings and a large master bedroom with a king size bed to ensure a comfortable and relaxing getaway.
There are loads of standard features onboard this travel trailer, including solar prep, an outdoor shower, built in knife and spice racks, nightstands and wardrobes in each bedroom, and residential carpeting throughout.
The interior design is very homey and comfortable, making this rig a great choice for the whole family as well. Some floor plans even feature two separate bedrooms should you be traveling with many adults looking for privacy and the option to close doors!
The exterior has many safety features, including a sturdy powder coated frame, backup camera prep, and more. Plus there's large pass through storage compartments so that you can bring the whole family as well as everyone's gear!

If you're looking for a luxury trailer that is in an entirely different classification than any of these other options, you're looking for the Living Vehicle Pro. Their tagline is quite literally "Luxury Unplugged", and I believe they have every right to claim that title!
This rig was designed to be taken off grid and wherever you want to go, and it has the technology to back it up. Created specifically to be used in remote environments, it is now possible to go off-grid indefinitely by creating your own perpetually sustainable power source.
Living Vehicle has created a stand-alone electrical powerhouse with an intentionally designed and integrated system. The LV power system leverages automotive-grade lithium technology and the highest energy density on the market- you can go anywhere you like in this rig.
The interior is nicer than many traditional homes. Clean lines, European fixtures and marine grade influences elevate Living Vehicle to a stunning yet functional work of art. Each space is highly functional and intuitive to use, some spaces taking on multiple functions!
Sleep four people comfortably in your Living Vehicle, with separate sleeping spaces for each pair. Effortlessly adjust the dining table and rearrange the cushions of the lounge to create a comfortable Queen-sized bed in the living area. Plus, there's an optional sleeping bunk too!
This rig is made for full time living, no matter your desired comfort level. The finishings are gorgeous- black walnut and teak, aluminum, and an abundance of windows truly make this RV anything but traditional. And the price certainly reflects that!
The LV shell is the true foundation that all systems and functionality are built on. The shell features hybrid structural engineering solutions and no use of wood. The entire Living Vehicle structure (including the subfloor!) is made from solid aluminum, proven to stand the test of time and truly last for generations.
If an RV like this is within your budget, there's nothing better. There are no other towable rigs like the Living Vehicle, and it truly is perfect. However, it is almost an unattainable price point, and these rigs are heavy- you may be in for much more than you bargained for (literally!).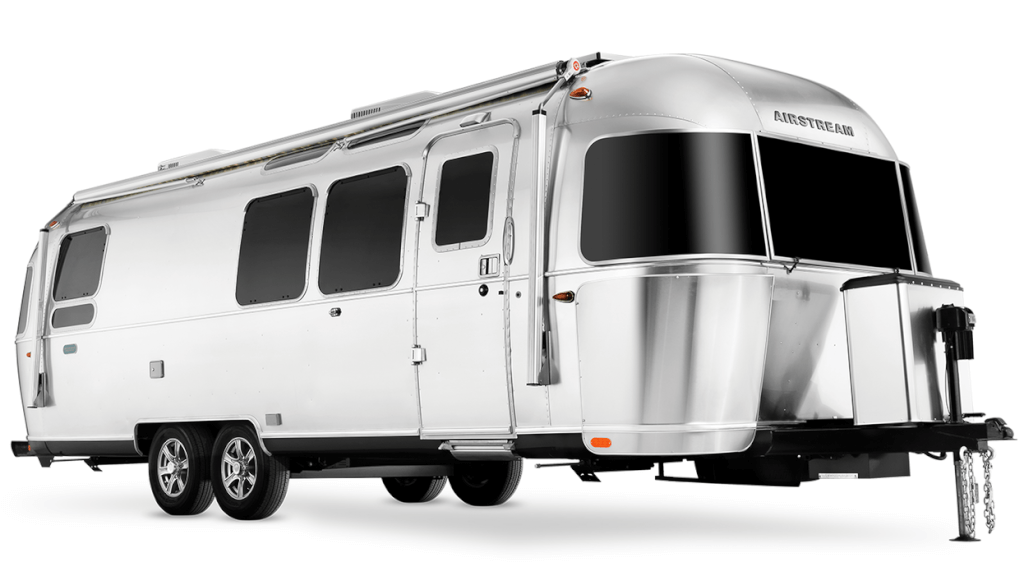 If you're looking for luxury but also for comfort, you have to check out this Airstream collaboration between this notorious RV brand and Pottery Barn, a luxury home goods store. They have combined forces to create a truly special aluminum rig.
Comfortable, connected, and capable of letting you travel anywhere while feeling like you're always home, the all-new Airstream Pottery Barn Special Edition Travel Trailer is a gorgeous, 28-foot travel trailer designed in partnership between two iconic brands.
Featuring custom furniture based on best-selling Pottery Barn designs, tailor-made storage solutions, and a timeless design aesthetic, the all-new travel trailer sets a new standard for a well-traveled life. And boy, does it look comfortable and chic!
Whether you choose the queen or twin bed floor plan, there's room for sleeping up to five people. Both floor plans feature exclusive Pottery Barn bedding that lets you sink into total comfort at the end of an adventurous day.
Pottery Barn brought to life the allure of their timeless aesthetic with a black pull-down faucet, a stainless steel flat apron sink, and a versatile cutting board sink cover. Featuring the most comfortable cushions to ever grace an Airstream, the arm hides an airline-style flip-out table.
With all modern conveniences like a shower, toilet, and sink, the onboard bathroom has a residential feel with a bowl sink, sleek faucet, and wall sconces. There's even an included outdoor accessory kit from Pottery Barn- an awning, dinnerware, table and chairs, and more.
This rig isn't all beauty- it also offers many of Airstream's reliable safety features as well. A rear-view camera mounted to the travel trailer's back shell gives you the perfect view for safely backing up. Airstream's ducted air conditioning system quietly, quickly, and efficiently cools the interior of the travel trailer. It also features a heat pump for warmth in cooler temps.
While this rig does boast a higher price tag than most, having the option to purchase a special edition Airstream is a luxury, to be sure. Plus, with so many special features and subtle perks, this is a great rig to consider- especially since Airstreams are built to last.

Speaking of aluminum rigs, have you seen this luxury vintage travel trailer from Bowlus? If you want to travel in luxury but maintain a vintage shape and feel, look no further than this travel trailer. While it only comes in one size, this beauty is worth checking out!
A spacious, Zen-like bedroom converts from two twins to an incredible king so you can accommodate all your travel companions. The hotel-style en suite bathroom makes traveling to events a five-star experience. The main cabin has dining for four, all in beautiful woodgrain.
The most powerful lithium iron phosphate power system available allows you to spend a full week off grid while running the microwave and all outlets. You can run the A/C for up to four hours off grid. The entire system can also be managed remotely, using an app.
Indulge in dozens of silent heating settings along with heated floors. Additionally, you can revel in continuous hot water onboard this rig. This Bowlus is light enough for almost any crossover or SUV, and EVs. EV owners love the Bowlus for a true earth-friendly approach to camping.
The Bowlus' reflective armor offers solace and solitude. No matter where you go, you know your privacy is respected and your information is secured. Enjoy a cellular booster, cell enabled router and private wifi network. And there's hidden USB ports throughout this rig!
The bedroom, bathroom and main cabin can become their own separate spaces, making this 25 foot rig a versatile and unique choice. It may be small, but there are plenty of benefits packed inside!
Not only is this rig delightfully planned out and an homage to traditionally vintage trailers, it offers you two standard interior designs as well as a bespoke design option. You can work with Bowlus' design team to customize your interior living space.
All in all, this rig is perfect for smaller tow vehicles and couples or single folks wanting to travel. The price point is a bit high, but if you want to travel in vintage luxury, the Bowlus has a lot to offer!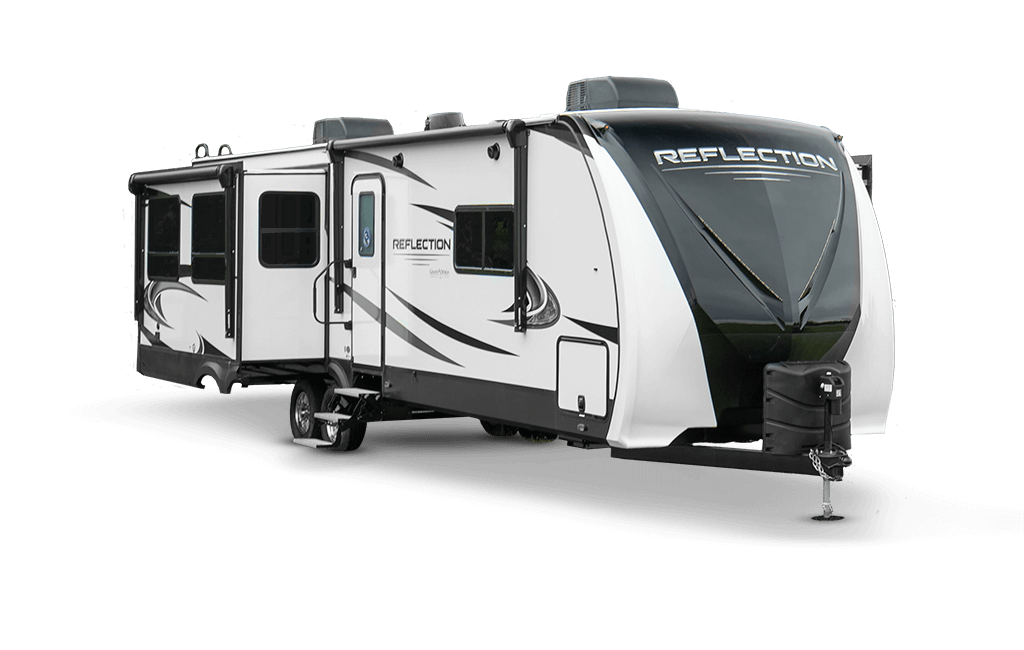 If a small aluminum rig isn't quite what you're looking for, you may have better luck with the Grand Design Reflection. With up to 37 feet in length to enjoy, this rig has enough luxury and family-friendly features to make it a great choice for your next vacation.
The Grand Design Reflection combines luxury, value, and towability in one amazing package. Grand Design's commitment to exceeding customer expectations, in quality and service, has quickly made the Reflection a top-selling name in North America. Here's why.
This rig is a favorite of many full timers I know, given that it has a lot of positive living arrangements. With a residential kitchen, on demand hot water, double pane windows, and washer dryer prep, this rig suits short trips as well as the long haul.
There's enough space in the living area for a sofa and theatre seating, as well as a kitchen island and electric fireplace. With multiple wardrobes and pass through storage areas, you won't have to worry about leaving anything behind.
There's a pantry in the kitchen, a walk around king or queen bed, a well appointed outdoor kitchen, and even a floor plan with bunk beds. This particular floor plan even has a fold out sofa and an additional flip-down bunk, making the sleeping arrangements off the charts!
There are loads of standard and optional features as well, including solar prep and a comprehensive four season package. Grand Design wants to work with their customers to ensure they are getting a rig that will suit them year after year, season after season.
Not only does Grand Design take extra care to build their rigs with quality materials- they then put each RV they manufacture through a pre-delivery inspection. With over 250 points of inspection involved in this process, you can feel confident in your luxury travel trailer purchase.
Conclusion
Finding a luxury travel trailer should be a joy, not a chore. I hope you have found a winner on this list, and are already planning your first camping trip. You can camp in style and comfort with any of these luxurious options!