All of our reviews are based on exhaustive research, industry experience and whenever possible, hands-on testing. When you make a purchase using one of our chosen links we'll a small percentage of the proceeds. This supports the site and keeps Jeffsetter running. You can read more here.
Looking for a travel trailer that's big enough for the whole family but also light enough to be towed comfortably by your midsize truck or SUV? We've compiled a list of some of the best travel trailers under 8000 pounds!
Finding a travel trailer that suits your needs can be like Cinderella's slipper. There's a lot to consider, and a lot of travel trailers to tour. You may even be looking for something lighter- check out our top travel trailers under 4000 pounds first!
Knowing what all you should consider before you start shopping is the way to go. And that's what we're here for. Let's dive in and take a look at what you should be considering in a travel trailer under 8000 pounds.
If you'd like to see the travel trailers we've listed right away, you can skip ahead using the table of contents below:
What to Consider in a Travel Trailer Under 8000 Pounds
There is a lot to consider in a travel trailer, especially if you are shopping for an RV for the first time. Knowing that you want a travel trailer that is under 8000 pounds is a good place to start!
Let's go over what else you should know before making your final purchase.
Your Towing Capacity
Not only does it matter that your travel trailer is level when you tow, you should also know exactly how much weight you can safely carry.
If you currently own a tow vehicle, knowing that vehicle's specific towing capacity is key for your shopping experience. If you are looking for a travel trailer that's under 8000 pounds, chances are high that you are already familiar with your tow vehicle's overall towing capacity.
If you have yet to purchase a tow vehicle that will be responsible for moving your travel trailer from one location to another, sticking to a travel trailer that is under 8000 pounds is a smart move.
Many trucks and SUVs have a decent towing capacity, but your budget will affect what truck or SUV you purchase. The bigger the truck, the larger your towing capacity will be, but your budget will need to be larger as well.
Weight is everything when it comes to travel trailers and RVing. You should always weigh your travel trailer while it is full, especially because the average 30 foot camper can weigh close to 5,000 pounds dry!
Overall Length
Just like the weight of your travel trailer matters, the overall length of your travel trailer matters almost as much. You may think that the bigger the RV, the better the RV. However…
While having a large RV may be necessary to fit your family of five, you may think twice when it comes time to actually tow your travel trailer home. A bigger and longer rig may not be the safest option for you to drive, especially if you are new to towing.
The longer the RV, the more likely it is to be heavy and above your 8000 pound towing capacity. You will find that many RVs on this list are quite sizable and large, but there are caveats to owning a bigger RV. 
For example, the longer your travel trailer is, the more likely you will experience shaking and rocking as you move about the rig. Plus, many campgrounds and RV parks have length limits to certain spots. 
You may not have considered it before, but length does matter in terms of booking reservations at campgrounds. Always check and make sure the RV park you are looking at has adequate space for the overall length of your RV, especially if you are renting your rig from a website like outdoorsy or RVShare. 
The overall length of your trailer also makes a huge difference in terms of your safety while towing. Even if you happen to evenly distribute weight inside of your trailer and purchase additional accessories such as sway control bars, the longer your rig is, the more likely you are to lose control over it. 
Layout of Your Travel Trailer
There are more layouts of travel trailers than you can possibly fathom, even some that include two bathrooms! While it can be difficult to determine what layout you need, it is the best part of choosing a new RV.
You may be looking for a layout that supports the whole family, or perhaps a travel trailer with extra perks for your dog or cat. Maybe you are looking for a layout with two master bedrooms so that your parents or grandparents can feel comfortable on the road as well.
There are layouts with bunk beds, layouts with fireplaces, layouts with large chef kitchens. The possibilities are endless, and many RV manufacturers have additional options for you to consider before you finalize your travel trailer purchase. 
I highly recommend touring some travel trailers you are interested in, or utilizing video tours on an RV manufacturer's website. This will give you a better idea of the overall space and room layout of the travel trailer you were considering.
You may already know where your priorities are, including whether or not you want a wet or dry bath on board your travel trailer. Looking for a travel trailer under 8000 pounds means that you will have more options than you know what to do with! 
Storage Capacity
Besides considering what layout you want, you should keep in mind how much storage you are hoping for in your new travel trailer. Storage capacity is key in any RV, especially if you plan on traveling with a large group.
RVs have gotten very unique and clever with their storage solutions, however. Even the most small and lightweight toy haulers have massive amounts of storage space for kayaks and ATVs. This can be handy for the adventurous RVer in you.
Even if you aren't planning on bringing a bunch of recreational gear, having ample storage should be a consideration for you while shopping. This is especially true if you plan on camping for long periods of time inside of your RV, or even thinking about living in it full time.
Depending on the RV manufacturer, many travel trailer options have the ability to be built out with more storage if you are in touch with the builders directly. You can easily install pass-thru storage boxes on your rig's exterior, or have a wardrobe put inside of your master bedroom.
How Many Beds You Need
Just like your layout matters in terms of housing everyone comfortably while you camp, you need to consider just how many beds and sleeping arrangements you need.
RVs are very versatile in terms of their convertible furniture and bed options, but there will likely not be room for you to bring in an air mattress or other portable bed. However, if it is just you traveling in your rig, you may consider some of our best options for solo travel.
When you are looking at various layout options while shopping for a travel trailer under 8,000 pounds, you may look specifically for rigs with bunk beds or convertible sleeping arrangements such as futon couches or Murphy beds. 
However, if it is just you and a partner, you should have little trouble finding a travel trailer under 8000 pounds. In fact, we already have a list of some of the best travel trailers for couples- check it out by clicking here! 
Budget
Your budget should be something you consider no matter the size or weight of the RV you're considering. There are many options on the market so that you can find something within your budget rather than purchasing something outside of your comfort zone.
Budget is key for many RVers to stick to, especially when buying a new RV. RV manufacturers offer their rigs with standard features as well as nonstandard features, and some of these options may be appealing to you (solar panels and tank heaters being common).
However, many of these additions will be expensive and could inflate your budget. Given that there are also many RV accessories to purchase, especially for a larger travel trailer, sticking to a set amount of money is always a good idea.
There are many features that you can choose to upgrade yourself as well, such as more durable RV underbelly insulation, solar panels, and more. This can help keep your costs down, though it will require more DIY and maintenance on your part.
If you have a large enough budget, find a travel trailer that suits your needs perfectly. Add on those additional weather packages and boondocking perks- they could come in handy!
Good Brands of Travel Trailers Under 8000 Pounds
Curious to know what brands of travel trailers are well-known and supported? Here are some of the best brands on the market today, though almost any travel trailer under 8000 pounds should be well-supported by its manufacturer.
Something to consider while shopping for a brand new RV is the warranties being offered. You may find that one company has a much more comprehensive and supportive warranty than another, so this could alter your decision.
Jayco
Beginning in 1968, Jayco has been a long-time name in the RV game, and for good reason. Not only is Jayco constantly reinventing what it means to RV- they make durable and quality rigs that last for generations to come.
Their very first travel trailer model was manufactured in 1971, and their JayFlight model has earned the #1 selling travel trailer award for the past 15 years. It isn't a secret that Jayco makes good rigs- let's learn more about them.
Jayco takes the time to make their rigs strong and durable, with ultra light and sturdy frames, Amish woodworking featured in the interiors, and one of the best warranties in the business. You won't need to worry about your travel trailer under 8000 pounds if it's a Jayco!
Speaking of warranties, Jayco offers a two year RV warranty and a three year structural warranty. This is more than you can expect from many in the RV business, as Jayco has always strived to achieve more.
Forest River
Another RV conglomerate like Jayco, Forest River owns many other RV brand names such as Coachmen, Palomino, and Dynamax. You may have seen these brands while camping or on the road, and it makes sense why: they're fantastic RVs to consider.
Forest River was founded in 1996 and has grown quite a bit since then. While they can't be considered a company that pioneered the RVing business, they can be considered one of the most reliable and versatile manufacturers around.
With multiple manufacturing companies throughout the United States, Forest River makes approximately 50 different styles of RVs under the Forest River brand name alone. This means that you should have no trouble finding a unique travel trailer under 8000 pounds!
They also offer a reliable warranty, owner's club, roadside assistance, and more. Consider Forest River for your travel trailer purchase- they no doubt have a rig made just for you.
Lance
Started in 1965 with quality as a huge goal and motivator, Lance builds truck campers and travel trailers. Some of their original models from the 60s are still on the road today, something that is wonderful to be able to claim.
What makes Lance travel trailers special is their quality craftsmanship and materials. Not only have they won multiple awards for their building supplies, they also strive to build an eco-friendly and toxin-free RV.
Their warranty is a two-year limited warranty and their customer satisfaction knows no bounds. They often have repeat customers over the years who wouldn't trade their Lance in for another RV brand, and their dealers are specially trained in Lance's unique products.
Speaking of products, while Lance only makes travel trailers up to 25 feet in length, you can count on that RV lasting a lifetime. The Azdel walls and sturdy frames keep customers coming back to Lance year after year.
Airstream
It doesn't get more classic than an Airstream travel trailer. These rigs are surprisingly light, and you can easily find these aluminum beauties under 8000 pounds. But what about this brand makes them good and reliable rigs?
While the Airstream bullet shape we know and love wasn't created until the 1960s, Airstream has long been regarded as one of the first travel trailer brands. Created as early as the 1920s, you can bet that purchasing an Airstream is an excellent decision.
According to Airstream, 70% of original Airstreams are still on the road today. This is no doubt due to their quality construction and overall customer support. These rigs are wonderful travel trailers to add to your shortlist.
If you're interested in aluminum rigs in general, check out some of our best aluminum travel trailers by clicking here.
Coachmen
You already know that Coachmen is a division of Forest River. But what you may not know is that Coachmen is invested in building affordable and family friendly rigs. Whether it be a Class A, Class C, or travel trailer, Coachmen has you and your family covered without breaking the bank.
Coachmen offers a variety of travel trailers at many different price points and sizes, including extra long rigs. They also offer unparalleled customer support and services. There's also an owner's association so that you can keep in touch with other Coachmen rig owners.
Winnebago
Winnebago is another classic name in the RV game, and their travel trailers are chic and affordable. They have about six different travel trailers on the market currently, with even more Class Cs and Class Bs to consider as well.
This company, founded in the early 1960s, is dedicated to its customers and their overall satisfaction. Winnebago has had decades to improve their products and their relationship with customers, and it has proven effective year after year.
Tips for Travel Trailers Under 8000 Pounds
Looking for some additional tips to consider before purchasing a travel trailer under 8000 pounds? Check out these helpful facts below, or skip ahead to the full list!
Distribute Your Weight Evenly
If you are new to RVing, especially towing with a travel trailer, you should understand how important it is to distribute your weight evenly.
There's a lot to understand about travel trailer weight, including how to increase your RV's tongue weight capacity. Having an RV with unevenly distributed weight can spell disaster if you're not careful.
While a travel trailer is built to distribute weight evenly when empty or dry, it is up to you to pack your rig well in order to avoid unsafe road conditions. Swaying and rocking back and forth can be extremely dangerous, and this is caused by unevenly weighted rigs.
Take your time packing up your travel trailer, especially if it's your first time. Keeping your travel trailer from shaking is a key step for you to take, especially if your travel trailer weighs less than 8000 pounds!
Practice Hitching Up
Hitching up safely and efficiently is key for any new travel trailer owner to understand. You can mess up hitching very easily, leading to unsafe driving conditions, and even potentially damaging your tow vehicle or RV.
Take your time hitching up, and always practice backing your trailer into place before you hit the road. You may also want to weigh your travel trailer at home, just to ensure you have purchased the proper hitch and know how much your rig weighs when it is fully packed up.
Get Creative with Storage
There's more to your RV's storage than meets the eye, especially if you take the time to get it exactly how you want it. From keeping your sewer hose in your RV's bumper to having an onboard generator, storage is key.
You can always purchase additional shelves and storage capabilities, or various closet organizers to maximize your existing storage. Practicing packing is something that most RVers do as well, so don't be afraid to take risks!
Check Out All of the Non Standard Features
While you are shopping for a new travel trailer under 8000 pounds, you may want to check out all of the non standard features available to you. This could be anything you can think of, from a second AC unit to additional awnings.
Your budget may not be large enough for you to purchase all of these extra features, but you may find some more necessary than others. For example, if you plan on camping in the cold or winter months, you may consider a travel trailer with an all-season package.
You could also check out our top picks for some of the best travel trailers for cold weather by clicking here.
Get Stabilizers
A stable travel trailer is a happy travel trailer- but this is easier said than done. There are many different jack stands and stabilizers that you should consider purchasing, and for good reason.
Having a stable and level RV helps with the overall life of your travel trailer's frame, and will only increase your enjoyment while inside of it. Stabilizers are the number one item to purchase for helping against dreaded travel trailer shaking.
While you may not think of this as a big deal or concern when you first start camping, it will soon become apparent to you once you walk around in your RV without stabilizers. Some new travel trailers come with built in stabilizers, so it may not even be a purchase you have to worry about.
The 8 Best Travel Trailers Under 8000 Pounds
Are you feeling ready to look at some of the best travel trailers under 8000 pounds? Hopefully you know the layout and feel you are looking for, as well as your budget and towing capacity. Let's take a look at the rigs now!
With 22 different floor plans to choose from, and all of them under 8000 pounds, it's no secret that the Grey Wolf by Forest River is a top contender in the mid-size travel trailer world.
The Grey Wolf doesn't appear to have very many bells and whistles from the outside, but after living and camping full time, the sheer number of these rigs that I see at campgrounds must have something to do with their reliability and popularity.
Their largest travel trailer model comes in at almost 37 feet and weighs just over 6000 pounds. That's a lot of travel trailer living space for your tow vehicle's weight limit! This particular floor plan features two sets of bunk beds and a walk around queen bed as well.
Speaking of sleeping arrangements, the Grey Wolf floor plans offer no shortage of sleeping options, such as multiple sleeping sofas, bunkhouse models, and more. The Grey Wolf has standard travel trailer floor plans and toy hauler options so that you can bring everything with you.
There are smaller Grey Wolf trailers too, some as small as 20 feet in length. While these rigs may not be large enough for the whole family, it can be reassuring to know that there are rigs that are easier to tow.
In terms of the interior, the Grey Wolf features many residential options so that you don't have to feel like you've even left home. Some floor plans offer a full tub, an 11 cubic foot residential fridge, and cozy electric fireplaces.
You'll never need to worry about where you camp if you add on the Grey Wolf's optional Base Camp package. Complete with underbelly armor, outdoor hot and cold running showers, and a quick connect for your RV grill, you'll have everything you need for a long campground stay.
Forest River offers a comprehensive roadside assistance package as well as a limited warranty. Each and every single one of their travel trailers goes through detailed inspections before being shipped to you, so you can rest easy knowing Forest River has your comfort in mind.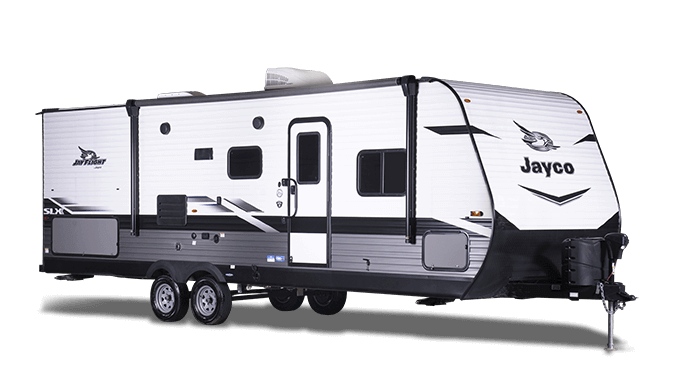 You won't believe all of the perks you can get in this Jayco travel trailer, especially for the price. Coming in with 9 unique floor plans, the Jayco JayFlight SLX 8 is a wonderful option for those of you seeking a reliable brand, large living space, but on a budget.
Currently, the largest model for this Jayco comes out to roughly 34 feet long and just barely over 6000 pounds. You can fit the whole family in this rig and have weight to spare! Plus, the price remains reasonable across all of the floor plan options.
Jayco is proud to offer some of the most solid frames in the RV business. With trusses made of structural steel and a seamless roof with a 20 year warranty, you will no doubt come to appreciate Jayco's care for their customers.
The interior is nothing to scoff at, especially considering a more limited budget. Standard interior equipment includes solid hardwood cabinets, a premium multimedia sound system, durable and fashionable laminate flooring, and residential countertops.
With an additional package purchase, you can have your JayFlight built with thermal insulation and all weather resistance. In fact, you can also get solar and a second powerful AC unit installed on some of these rigs too, giving you the freedom you want without paying too much.
Many models feature cozy bunk beds with privacy screens, efficient and compact outdoor kitchens, and ample storage both inside and out. You should have little trouble packing up everything and hitting the road.
Jayco is also one of the best RV manufacturers in terms of warranty. Your new JayFlight comes complete with a two year limited warranty, a three year structural warranty, and countless individual warranties for your many features and finishes inside and out of your rig.
While the JayFlight may not be the most beautiful inside and out, it does have enough floor plans and signature touches to make it a fantastic rig for many budget-conscious shoppers. You may feel as though you are getting more bang for your buck on this one.
You can still hit the road and get adventurous, even in a travel trailer under 8000 pounds. In fact, all eight floor plans offered by the Forest River Ibex are all under 7000 pounds, with countless boondocking perks to spare. Let's take a look at this rig now.
If you know that you are planning on driving over difficult terrain and camping off-grid, you may be looking for a travel trailer like the Ibex. It features a much higher clearance than other RVs, including all terrain tires, all standard.
Speaking of standard, this rig is built with boondocking in mind. It comes standard with solar panels, a cold weather package complete with tank heaters, and a panoramic front window so that you can see the beautiful places that you're visiting.
The largest Ibex model is a toy hauler, complete with a sturdy and easy to lower ramp. It also has a large amount of pass thru storage so that you don't have to worry about packing anything- it's all going to fit, including your ATVs.
The Ibex is also built to Forest River's specialized standards. Complete with Azdel walls, underbelly insulation, and a 15 year warranty for your seamless roof, the Ibex is built to last for generations to come.
The main drawback to the Ibex has to be it's very beige interior. It isn't special inside, but it seems to suggest that Forest River wants you to be enjoying the great outdoors even more. After all, isn't that one of the many reasons why you have chosen to boondock?
All of the appliances in the Ibex are stainless steel, which means they will be easy to clean. You will spend more time enjoying company and hiking or other recreation instead of cleaning the inside of your RV.
Best of all, the Ibex comes complete with Forest River's customer service specialty as well as various warranties. Having solar and a cold weather package as standard features? That's a great perk to have in a travel trailer under 8000 pounds.

As a division of Forest River, Coachmen has many RVs and travel trailers to offer that are built well and that are affordable. The Apex Ultra Lite has much more than affordability to offer: these travel trailers are built lightweight too.
There are 12 unique Apex floor plans, some 8 foot wide options and some 7.5 foot wide options. Having the ability to drive a narrow rig can be beneficial, especially if you plan on traveling through locations that may not have great clearance.
The largest Apex floor plan is just over 7500 pounds dry and can sleep at least ten people. It is just about 35 feet in length too, making it an ideal size for most RV parks and campgrounds. Plus, this floor plan is complete with sleeping bunks and more.
Speaking of floor plans, many Apex models feature fireplaces, entertainment centers, and theatre seating. You can also expect many floor plans to feature sectional sofas, expansive kitchens, and residential sized bathrooms.
That isn't where the perks stop, however. The Apex also has an entirely fiberglass exterior so that you won't have to worry about battling the elements while camping. It also includes outdoor speakers and a small solar set up.
You have the option to upgrade to a 50 amp service with an additional AC unit as well as install tinted windows. This could be extremely useful if you plan on camping anywhere that gets extremely hot.
The Apex seems to have a bit of an upgraded interior as well, with classy hardware cabinetry and a two-tone color scheme. Add in your own unique bedding and furnishings, and you won't feel far from home at all!  
Coachmen offers a limited one year warranty on all of their travel trailers, a roadside assistance program, and an owner's club. You should feel comfortable bringing the whole family along in your Apex!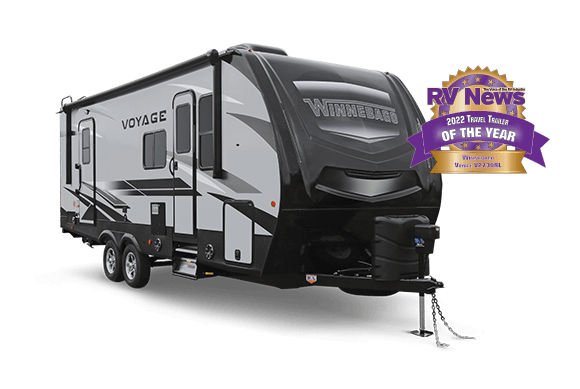 Winning RV News' award for best travel trailer of the year for 2022, there's a lot to look forward to in the Winnebago Voyage. This travel trailer under 8000 pounds has a lot of features many RVers are searching for- including ample storage solutions.
While you can't get the top two largest floor plans of the Voyage for less than 8000 pounds (they top off around 10000…), you can enjoy at least four unique floor plans that Winnebago stands behind.
These floor plans range in length, but all of them have a unique interior design that they can offer. With residential style cabinetry in the kitchen and a full size residential fridge as an option, you won't feel far from your home kitchen.
Most every Voyage model features washer and dryer prep along with walk around king beds, making you feel even more at home. Plus, we haven't even begun to discuss what makes the Voyage stand out: it has storage to spare.
Claiming that it has storage around every corner as well as walk-in pantry options, the Voyage is a winner just from sheer square footage alone. It even offers many murphy bed options that allow for additional storage.
The floor plans, while not all of them under 8000 pounds, offer a lot of unique positioning, no doubt in an effort to maximize storage. Having a fridge located in a slide out is not often seen in RVs, but it can truly help you maximize your interior living space!
Winnebago has been around a long time, and they know how to care for their customers. They offer competitive warranties, but it would seem that Winnebago has a lot to offer in terms of their owner's clubs and lifestyle.
Winnebago wants you to enjoy their RVs- so much so that you can even rent one before committing to buy. That's a big deal for RVers, especially those of you that want to shop around for a floor plan that suits you best.
The Voyage is a brand new rig, but it is already making waves. With unique floor plan choices and a massive amount of storage, it could be a great choice for your family. Feel free to rent it before you buy too!
I mentioned the Jay Feather travel trailer earlier, when talking about Jayco's most popular models. This particular RV has been a crowd favorite for decades, and their new 2022 model is sure to please as well.
With 11 floor plans and the heaviest one just over 7000 pounds, you can tow any of these with ease. Some models start at just 20 feet; the largest is nearly 40 feet long. With so many options, you will no doubt find something that works best for the whole family.
The Jay Feather is also beautiful on the inside too. Their bunkhouse model features enough sleeping arrangements for ten, with leather sofas and durable laminate flooring. You can sleep the kiddos in the bunkhouse while the adults enjoy a walk around queen bed in the master suite.
A Jayco rig is always built to last. With vacuum bonded floors and walls, you can rest easy knowing that leaking is unlikely. It also comes with a one piece, seamless roof with a 20 year warranty, which means you can enjoy your Jay Feather for season after season.
There are two interior design options on this rig as well, though they are both a bit similar. However, the cool greys and modern farmhouse design appeal to a wide variety of people, especially when paired with dark wood trim and finishes.
The sleeping situations on this rig are impeccable. You can get all the kiddos comfy in their bunkhouse, and you have the option to close doors in order to get more privacy. Add in a residential fridge in the kitchen and you have enough space for everyone's snacks.
Speaking of space, this travel trailer has ample storage, both inside and out. There's overhead master bedroom wardrobe space, and a kitchen that rivals many studio apartment kitchens. Plus, the bathroom is fantastic, with a huge rounded shower that truly stands out.
As mentioned before Jayco has a fantastic warranty program to offer, and they build their rigs to last in the first place. Your Jay Feather is going to be built well from the get-go, allowing you and your family more peace of mind for years to come.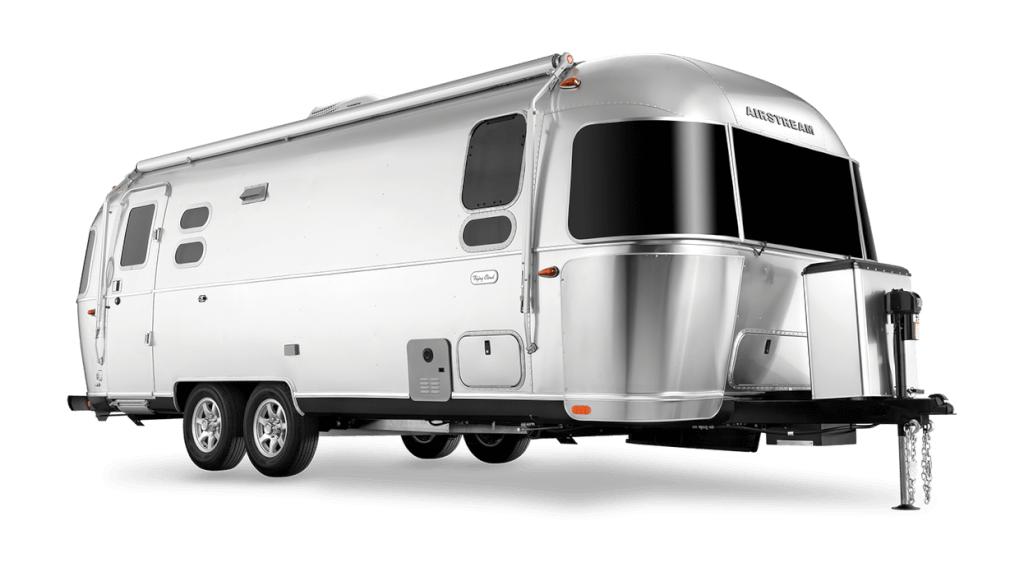 If you've been waiting for a more stylish RV to come along that's also under 8000 pounds, you've come to the right place. Airstream travel trailers are known for their striking designs, both inside and out, and the Flying Cloud is no exception.
Besides the silver bullet design of the Flying Cloud, you'll notice an immediate lightness upon entering. The light wood interior and attractive leather finishes are enough to appeal to even the most picky of RV owners. You can't beat an Airstream in terms of style.
Speaking of style, it is infused into every single floor plan of the Flying Cloud. And the Flying Cloud has a whopping 13 floor plan options. That's a lot to choose from, especially when you consider they are all meant to fit into an aluminum shell!
Each of these floor plans is under 8000 pounds, and even the 30 foot long Airstreams fit that bill. Some floor plans even have unique labels such as "office" or "bunk", meaning that your Airstream floor plan could include some of these things.
Did I mention how gorgeous the Flying Cloud's interior is? With light wood walls, cabinetry, and trim, you'll feel as though you've brought the outside in. The kitchen is replete with high end appliances and full size fridges too.
Airstream makes great use of space, especially given their uniquely shaped rigs. You will find u-shaped dinettes and beds, convertible furniture, and all of it is tear, stain, and scratch resistant. The aluminum exterior shines through inside as well.
There is also a fantastic level of climate control happening inside of the Airstream's Flying Cloud. With quiet and efficient heating and cooling, you and your guests will always feel comfortable, no matter the season.
Owning an Airstream becomes almost like a way of life, and many Airstream owners can attest to this. This is also true given how long Airstream trailers last. Between warranties and quality construction, your Flying Cloud will last for a lifetime. 
The main drawback to the Flying Cloud has to be the price. Most Airstreams are out of the average RVer's budget. However, if you're looking for something sturdy and stylish, the Flying Cloud should have a floor plan that suits your needs.
Lance may not be the best known brand of travel trailers, but they do make sturdy and efficient ones. The 2465 travel trailer is ideal for couples given its small size and ease of towing. But just because it's small doesn't mean that it isn't packed with features.
Boasted as Lance's ultra lite flagship trailer, this 25 foot long travel trailer is made of some of the best materials possible for RV construction. Lance is based in California, which means they have many legal requirements to make their RVs some of the safest on the market.
While you won't be able to sleep a large group in this smaller rig, it only weighs close to 6000 pounds. With large windows and slide options, you will likely feel as though you have much more space than you first expected.
While there are many different floor plans and lengths that Lance has to offer, the 2465 is almost the perfect size, especially for couples or small families. This rig also features three unique interior design options to suit your needs.
The living area features a plush and comfortable sectional seating area, along with a convertible dinette and kitchen with ample counter space. The bedroom features a walk around queen bed and a unique wardrobe/entertainment setup.
The bathroom is also surprisingly spacious, especially given all of this is being packed into a 25 foot frame. It features a vanity and shower area- a complete dry bath perfect for you and your partner!
What Lance can't offer in length and size of their trailers they make up for in construction. They build their rigs using eco-friendly materials and strive for a four-season trailer. This means that you can bring your Lance anywhere, during any weather, without worry of unseasonable climates.
Lance also offers a two year structural warranty and a comprehensive description of how their travel trailers are built. If there is a doubt in your mind about the reliability of a Lance, they are quick to dispel it.
The main drawbacks to these fantastically built trailers is their price, especially for only a 25 foot rig. However, if you and your partner are seeking a travel trailer that can last for years to come, you may in fact find it in a Lance.
Final Thoughts
Finding a travel trailer under 8000 pounds is much easier than you may think. There are even more options than the ones listed here. No matter your needs, there's no doubt an RV that suits your expectations- and your towing capacity.