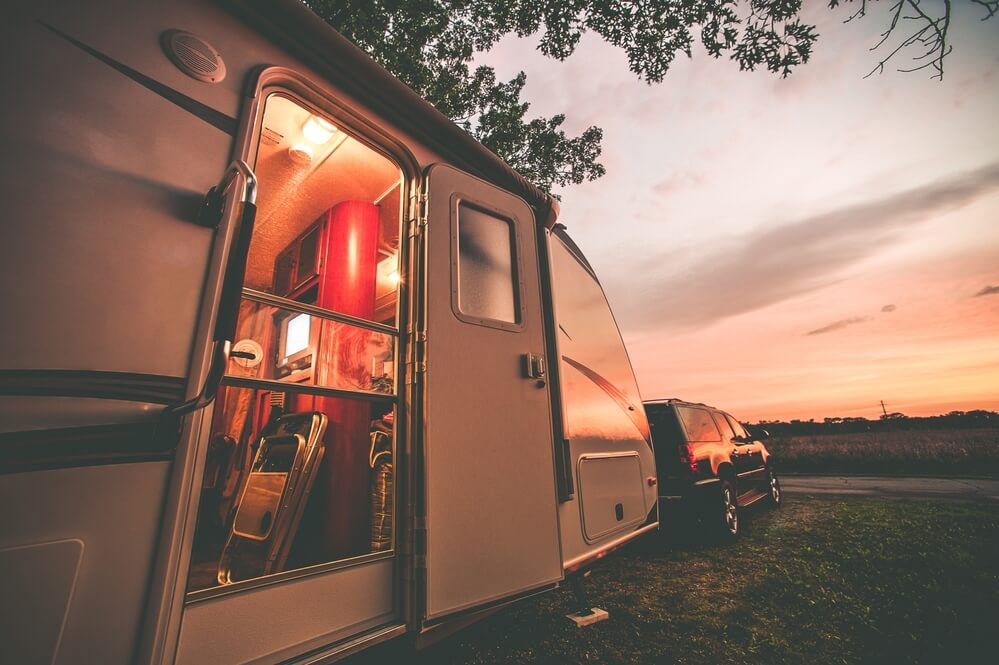 All of our reviews are based on exhaustive research, industry experience, and whenever possible, hands-on testing. When you make a purchase using one of our chosen links we'll a small percentage of the proceeds. This supports the site and keeps Jeffsetter running. You can read more here.
When it comes to buying an RV, making sure you have all the important accessories and tools is a must. You've heard about a few necessary gadgets that you should consider purchasing, and one of those may be known as a multimeter or digital multimeter.
But what is a multimeter, why do you need one, and which multimeters out there are considered the best of the best?
A digital multimeter or multi-tester does exactly what it sounds like it should do: meter or test various electrical systems in your RV. But why might this little tool be so important to you?
Let's check it out! But if you want to skip ahead and see which ones are my favorite you check out my top 5 below:
What Does A Multimeter Do?
As stated before, a multimeter tests different electrical systems in your RV including your standard AC system voltage, DC battery system voltage, circuit continuity, and much more. Depending on how sophisticated a multimeter you get, the more it can measure. Digital multimeters are usually standard now, though analog multimeters can still be purchased.
One of the worst troubleshooting you'll do as a new RVer is to determine how much amperage you're using. If you own a 50 amp service RV or fifth wheeler, you may be feeling less stress than someone like me, a 30 amp service RV. Amperage matters when you don't have an endless amount, and you may run out of it faster than you think!
That's where a digital multimeter comes in handy: measuring your amperage is one of the many things it is able to do for you, and it only becomes more useful from here!
Need to check your RV's batteries after a season of sitting idle? Use a multimeter! Trying to troubleshoot whether your RV's converter is broken? A multimeter will tell you if it is converting your electricity properly.
Using a multimeter before you plug in at camp will even help preserve your RV's electrical system. Measuring the voltage of your campsite's pedestal before plugging in can guarantee your electrical system remains undamaged should there be a problem.
There are loads of benefits you can reap from owning a digital multimeter, but how do you operate one, anyway?
How to Use Your Multimeter
A multimeter may seem a bit overwhelming at first. Depending on how fancy you get, most models seem to have more settings than you need! This may in fact remain true, but it's always better to be prepared!
Operating your digital multimeter depends on what you are hoping to do with it. Let's go over some possible scenarios below.
Voltage Testing
Some of you may have only purchased or plan on purchasing a multimeter to use for one reason and one reason only: to test the voltage on your appliances and camp pedestal should you be worried about improper power supply to your campsite.
This is an easy task for a digital multimeter. Simply turn it on, change the settings to measure either DC or AC currents, use the attached multimeter probes against whatever electronic device you're trying to measure, and read the number on the screen.
This may be all your multimeter ever does for you and that's okay! Voltage testing is the best way of troubleshooting many of your RV's most intricate electrical systems and it's never a bad idea to purchase a digital multimeter for this use exclusively.
Battery Testing
Another necessary part of owning an RV is taking care of your batteries. You may have purchased a used rig or are unsure if your batteries survived the winter. A multimeter is perfect for testing these, and may be a lifesaver should you find fault in your battery's charging systems.
For reference, 12.6 volts is the average resting voltage for a fully charged battery. A digital multimeter can measure the voltage and you'll have some idea whether or not your battery is fully charged, half charged, or nearly depleted.
You can also measure your battery's voltage while in use to observe its operation and ensure it is charging up and outputting its voltage properly. Your batteries have optimum voltages while they are charging, in float mode, or while operating. Test your battery during each of these stages and measure your readings against the optimum voltages. You may find a bad battery faster than you think!
Poor Connections
Sometimes poor electrical connections in your RV can only be found by a multimeter. If you suspect you have a poor connection in your rig, it's time to buy a digital multimeter. You'll be glad you did!
These poor connections are trickier to test than others, but a multimeter will make quick work of it. By attaching your meter at one end of a cord and then at the other end, you can measure a bad connection.
If the voltage is fluctuating from one end of an electrical cord to the other, then chances are you have a poor connection and should replace it.
Testing Your Current Draw
One of the most important parts of RV life is knowing your expected amperage usage and making sure to not exceed it. That's where a multimeter comes in, and you may find it exceedingly useful for years to come!
If you think something in your rig is drawing amps that exceed your expectations, you can narrow down the source with a multimeter. Make sure it is on the amperage setting before utilizing it.
This is an especially useful tool if you find your battery draining while you are parked. These are called parasitic loads and every RV has a certain level of drainage when parked. For example, some RVs utilize small amounts of electricity to power appliance clocks and other low level needs.
However, if the amperage draw seems high, something may be pulling from your battery power when it isn't supposed to. Your digital multimeter can help you narrow down which appliance or electronic device might be causing it, so that you can save your battery for the next time you hit the road!
Frequently Asked Questions
Digital multimeters are great little devices but require a lot of explanation. Here are some frequently asked questions about multimeters and some helpful answers!
What Does A Multimeter Measure, Anyway?
If you're confused as to what a multimeter actually measures, you're not alone! A digital multimeter measures a great many things, including voltage (volts), current (amps) and resistance (ohms). You may find multimeters out there that measure even more things including temperature, and most professionals seek out multimeters that measure things more advanced and specific than just voltage.
However, most RV owners should be satisfied by what a standard digital multimeter can measure! All of the multimeters included on this list should satisfy your basic needs.
What Are The Wires For?
All multimeters should come with test leads. If not, they should be simple enough to purchase separately. You may need to purchase more as they age and wear out.
These wires are flexible and insulated, and they plug into your multimeter. They serve as the conductor from the item being tested to the meter. The tips on each lead are used for testing circuits, much like you will see if you are working with your RV's battery.
Unless your digital multimeter is designed with a clamp, these wires are necessary for measuring any part of your RV's electrical system. Much like jumper cables for a car, the red wires are positive and the black wires are negative. This is an important distinction to remember as you work with electrical systems!
There Are So Many Symbols. What Do They All Mean?
Looking at the face of a multimeter, digital or otherwise, can be intimidating, especially if you have one with a dial and this dial points to seemingly countless symbols and measurements! It can be overwhelming, and what might all of these symbols possibly mean?
While every multimeter is designed differently, they all include similar necessary features. Your user manual should enlighten you on some of the basic operations, but there are some universal symbols you should get to know on your multimeter.
If you're hoping to avoid looking up what these mean every time, study these key measurements!:
V: Volts

A: Amps

Ω: Ohms

µ (micro): one millionth

m (milli): one thousandth

k (kilo): one thousand

M: (mega): one million

~ : Alternating current (AC). You use these settings when you are measuring a circuit with alternating current (or voltage).

—, – – – (solid line or dashed line): Direct current. You use these settings when you are measuring a circuit with direct current (e.g., most circuits that are powered by a battery).

Continuity check (series of parallel arcs): This is a setting used to check if two things are electrically connected.

Diode check (triangle with some lines through it): This function is used to test a diode, which is like a one-way valve for electricity, only letting current flow in one direction.

DCV, ACV, ACA, DCA, VAC, or VDC: Sometimes multimeters will use the abbreviations AC and DC, which stand for alternating current and direct current, respectively.
Don't forget that every multimeter is different! Hopefully, these key symbols will help you in your learning and practicing of your multimeter, but keep your user manual in case you ever get confused about a particular button or symbol!
How Can I Stay Safe While Operating My Multimeter?
There are always safety precautions you should take while operating your digital multimeter. Electric systems are no joke and should be treated with care, both for your safety and the safety of your RV's electrical system.
According to Fluke, one of the best professional multimeter manufacturers in the business, there are some easy safety steps you can take:
"Before you take a measurement with your multimeter, you should visually inspect it first. Check the meter, test probes and accessories over for signs of physical damage. Make sure all plugs fit securely and keep an eye out for exposed metal or any cracks in the casing. You should never use a damaged meter or damaged test probes. After the visual inspection is done, check to make sure your multimeter is working properly. Never just assume it is."
Take your time, check your connections, and you should be able to safely test almost anything with your digital multimeter!
How Can I Extend The Life Of My Multimeter?
Like any piece of technology or equipment, your digital multimeter has a lifespan. However, if you're hoping to extend the life of your gadget as long as you can, there are some simple things you can do to help.
Most multimeters last many years if stored properly and handled with care. Dropping your multimeter should be avoided as this is the leading cause of damage and misuse of most multimeters. Most multimeters are made with magnets or kickstands to prevent some instances of mishandling, though user operation is the best way of protecting your device.
Proper storage also matters to your multimeter. Many multimeters come with protective cases, or they can be purchased separately at little cost. Keeping your multimeter in a case while not in use is very important. You may also consider removing the batteries from your multimeter if you are storing it away for some time, as batteries often corrode and damage the inside of your devices.
The Best Multimeters For Your RV
Feeling a bit more confident about what a multimeter is and how it can benefit your RV lifestyle? Great! Let's take a look at some of the best digital multimeters on the market.
Best Overall: KAIWEETS Digital Multimeter
Currently topping the charts as a best seller in the multimeter category, KAIWEETS Digital Multimeter will get the job done for you and then some. This little device will most likely measure more than you need it to, all with handy LED lights and a kickstand!
This multimeter boasts accurate measurement of AC/DC voltage, AC/DC current, resistance, continuity, frequency, capacitance and diode, liquid temperature, wire on-off, and battery checking. If that's not enough for you, this multimeter also has a large backlit LED display and a 36-month warranty.
Weighing less than a pound, this multimeter is built tough. It is encased in a silicone protective case, which means you don't have to worry about dropping it from time to time. It also is double insulated and built with surge protection and anti-burn technology.
The only drawback to this little guy is the price, though it should still remain a fairly budget-friendly multimeter. It can do it all with ease, which should make you feel like the capable RV owner that you are!
You can click here to see the latest price on Amazon.
Best On A Budget: WeePro Vpro850L Digital Multimeter
Tired of paying an arm and a leg for RV accessories? Worry no more, as the WeePro Vpro850L Digital Multimeter can do everything that the competition can do as well as save you some cash!
This multimeter is an AC/DC voltmeter, ohm volt amp tester, electric ohmmeter, diode, resistance, and audible continuity detector. It is encased in durable rubber and also includes a kickstand so that you don't have to worry about holding it upright while you work.
Many reviewers mention this little multimeter as being a steal for how many features it has, including the option to hold a reading on the screen if you can't see it while you're working. This device will be the best bang for your buck, and even comes with a 10-year limited warranty!
The only drawback of this multimeter is its potentially small LED display and the need for a 9-volt battery as opposed to more common AA batteries. However, if these things aren't deal breakers for you, this multimeter might be a good choice!
Click here to read more reviews and see the latest price on Amazon.
Best Workhorse Multimeter: AstroAI Digital Multimeter, TRMS 6000
Looking for a multimeter that can handle the job for years to come, perhaps even in a commercial capacity? The AstroAI Digital Multimeter, TRMS 6000 may be the multimeter for you!
This little multimeter is like the others, which means it allows you to run tests on diodes and transistors while being able to measure voltage, current, resistance, continuity, capacitance, and frequency. This multimeter is designed to be used in commercial settings, but can also be brought home to use with automotive or RV electrical issues.
Powered by a 9 volt battery, this multimeter has a large LED display and a kickstand. For ease of use, it will hold your reading for you if you are unable to see the screen while you work. It also has a handy magnet feature, allowing you to hang your multimeter on any surface!
Some reviewers mention the magnet feature not being as strong as they need it to be, but with a durable exterior and a 3 year warranty from AstroAI, you should be in good hands for whatever you need your multimeter for!
You can see today's price on Amazon by clicking here.
Best For Beginners: Bside Upgraded Multimeter Digital Voltage Tester
Still feeling nervous about purchasing and using a multimeter? Me too, so I'm particularly drawn to the Bside Upgraded Multimeter Digital Voltage Tester. What's so cool about it? This multimeter automatically identifies the tested parameters and chooses their required range, which means you don't have to worry about messing up a reading!
Besides automatically setting itself up for you, this gadget also features the largest display out of all the multimeters on this list. It is designed to show 3 test results, such as voltage, frequency and analog bar. This can be extremely useful for testing, and the screen is 3.5 inches!
Despite being on the higher end of the budget compared to the other multimeters on this list, it may be a small price to pay for automatic detection and smart technology. This little guy also weighs about 5 ounces and is very thin, making it a breeze to store. You may even lose it without a case!
The main drawback of this multimeter is the battery location: it requires the round, coin type batteries and they are lodged behind a circuit board. Once you master how to change the batteries however, this multimeter should be here to stay!
You can see the latest price on Amazon by clicking here.
Best Clamp Multimeter: Etekcity Digital Clamp Meter Multimeter
While most multimeters are essentially the same, some of you may prefer a clamp style of multimeter, and that's where the Etekcity Digital Clamp Meter Multimeter comes in. This clamping multimeter does all the stuff the other guys do while boasting a convenient clamp!
Clamp multimeters are great for avoiding hazardous situations by using their convenient clamp to safely measure AC currents without having to strip a cord or break a circuit. This multimeter also easily tests AC/DC Voltage, diode, continuity, and resistance, just like all the others!
With a reliable LED display and carrying case, this multimeter is a breeze to use and store. It also features a sleep mode that engages after 15 minutes of inactivity. It also requires AAA batteries, which most people have in their home already.
Some reviewers mention trouble with the sturdiness of this device, especially compared to others on this list. But with a two-year warranty and lifetime support from Etekcity, hopefully, you will find the peace of mind you're looking for with this multimeter!
You can check out today's price on Amazon by clicking here.
Conclusion
What more can be said about multimeters? These little devices are wonderful necessities for most RVers, especially if you need to troubleshoot your rig. With all of the options on the market you should be able to find a multimeter that's right for you, no matter your experience level!