Last updated on May 23rd, 2023 at 01:46 pm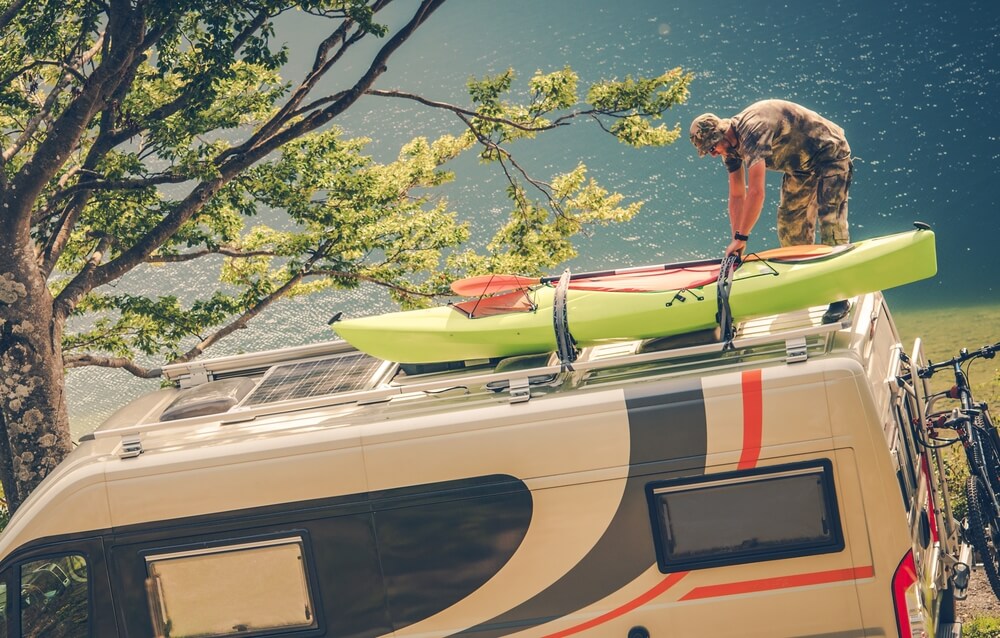 All of our reviews are based on exhaustive research, industry experience, and whenever possible, hands-on testing. When you make a purchase using one of our chosen links we'll receive a small percentage of the proceeds. This supports the site and keeps Jeffsetter running. You can read more here.
If you happen to be an adventurous camper who loves bringing your kayak along on every trip you take, what do you do when you are RVing in your big rig, but don't have space for your boats?
It may be time to invest in a kayak rack!
But what should you consider in a kayak rack before making your final purchase, and how will you know what option is best for you?
We've compiled a list of the 9 best RV kayak racks so that you don't have to worry about making an uninformed decision. Let's discuss what you need to know about RV kayak racks before we dive into the products.
Already familiar with why you need an RV kayak rack? You can jump ahead to our list of products by clicking here.
What To Consider In An RV Kayak Rack
Now that you know some of the reasons why you may want an RV kayak rack, here are some very important considerations you should think about before making your final purchase. Let's take a look at those now.
Mounting Style Of Rack
Given that every RV is different, you may prefer a different mounting style of kayak rack depending on the RV you own. There are a few different styles for you to consider in the first place.
For example, many RV kayak racks can attach to your rig's bumper or hitch as a vertical mount, meaning the kayaks will be standing upright. This allows you to avoid adding too much overhead height to your already tall Class A or C.
There are also racks that attach to your RV's roof. This can affect your gas mileage and fuel efficiency, so you should consider this before committing. Many small travel trailers for couples probably won't be affected by a roof rack, but take your time deciding on a style.
You can even find roof racks that attach to your tow vehicle. These are just another solution to your kayak rack troubles, but these roof racks may not be ideal to have installed on your tow vehicle when you're not camping.
How Many Kayaks You Plan On Bringing
While there are many different sizes and styles of kayak racks on the market today, knowing how many kayaks you plan on bringing is important. While you may be able to fit more than you think when you get the rack installed, you should never overload it.
Kayaks are definitely something to plan ahead for should you want to bring them with you. They take up a lot of space and need extra time when packing them up, so knowing how many you might bring on an average camping trip is key before you shop.
Some racks are only built for one kayak; some are built to handle up to four. Some racks are even built with bigger boats or kayaks in mind, allowing for a wider recreational toy. Do your research first, and consider how many kayaks you need to pack with you, especially if you're in a small rig.
Budget
Your budget could be a determining factor when it comes time to shop for an RV kayak rack. Depending on the style of the roof rack and the number of kayaks you plan on bringing with you, you may be surprised by how pricey RV kayak racks are.
Most RV kayak racks have a price range of $200 to over $1,000, depending on the capacity and other features. This could be what you were expecting to pay, or more than you want or can afford at this time.
Many RVers tend to find this price high, and usually DIY their own rack setup, depending on their rig and capabilities. However, that is up to you to decide!
Ease Of Installation
Having an RV kayak rack that is easy to install and set up can be great peace of mind for the average camper. Not only should an RV kayak rack be easy to use, but it should also be easy to install.
Depending on the style and installation location of your new RV kayak rack, you may have more trouble than others. This is why it is important to have an RV folding ladder close at hand, especially if you are installing your rack on the roof of your RV.
Some kayak racks simply mount onto your hitch receiver if you have one on your Class C made for boondocking or another motorhome. However, not every travel trailer will have a hitch receiver so it is important to consider this while you shop.
If you don't have a hitch receiver, the installation gets a bit more complicated. However, RV kayak racks are designed to go up with relative ease and not damage your RV or tow vehicle exterior.
Aerodynamics Of The Rack
While the average RV gas tank is quite large, this doesn't mean that RVs are fuel-efficient. Quite the opposite, to be honest! So considering the aerodynamics of your kayak rack is important no matter the RV style you have.
Vertical rear-mounted hitch receiver racks are often the most aerodynamic, given that they are flush against the back of your RV. They won't interfere as you drive down the highway, and won't be jostled by high winds.
While RV kayak roof racks are usually more affordable, you risk losing some of your valuable aerodynamics and fuel efficiency by mounting your kayaks this way. You also risk increasing the height of your rig to a dangerous level, depending on the style of RV you own.
However, many RVers don't notice or mind the difference a kayak roof rack can make to their travels. When your fuel efficiency is already so low, you may not even notice what a roof rack changes about your fuel expenses!
Finish Of The Rack
Choosing an RV kayak rack that matches your RV or overall exterior can be something that you're interested in. You should also consider the quality and finish of the rack itself.
Given that the kayak rack will be facing the elements as well as many road conditions that are unsavory, you may want to consider a durable finish for your kayak rack. This could include steel or matte black metal.
These racks will have the potential of losing their veneer as well as transferring their finish onto your kayaks if you aren't careful. This could be something to consider as you shop as well, as the last thing you want is to damage your kayaks in the process of bringing them with you!
However, most RV kayak racks are built to handle many different weather scenarios and situations. You should feel confident attaching your kayak rack to your Class C built for winter weather camping!
Accessibility
If you have just arrived at camp and can't wait to take your kayak out on the water, having an accessible and easy-to-use kayak rack could be important to you. After all, you're there to enjoy the great outdoors with all of your recreational gear in tow, right!?
Having a kayak rack that is mounted to the rear of your RV can be a much easier access point than a kayak rack that is attached to the roof of your tow vehicle. This is even more so the case if you have a kayak rack attached to the roof of your RV.
While there are many things to consider about RV kayak racks, having one that is easy to access as well as easy to free your kayaks from the rack could be something else for you to consider.
The 9 Best Kayak Racks For Your RV
Feeling confident about what you want and need out of a kayak rack for your RV? Then it's time for us to take a look at some of the best kayak racks available on the market today! Let's dive in now.
Best Overall:

Thule 830 The Stacker Kayak Carrier
This Thule 830 The Stacker Kayak Carrier is ideal for RVers who already have a roof rack on their RV or tow vehicle. As I sometimes go on RVing adventures with friends, I particularly like that this carrier has the capability to carry up to four kayaks, side by side, on my standard roof rack or cross-beam system.
Small and easy to install, The Stacker can make quick work of a large number of kayaks or stand-up paddle boards so I can take all the gear I want with me on the road! So long as my kayak is 34 inches wide or below, I can use these bars to stack them atop my RV roof, laying on their sides, side by side.
This particular carrier can also handle kayaks up to 75 pounds, which is ideal for carrying my kit, and my partner's too! I also don't get stressed if ever I have to place four kayaks on the roof of my tow vehicle as Thule is a reliable and top-rated brand for cargo carrying and outdoor adventure.
These bars are meant to attach to an existing roof rack with no tools needed. They have a fold-down powder-coated steel design, which means I won't risk damaging the roof of my vehicle and they are both corrosion and weather resistant for improved longevity. This is music to my ears as RVing costs enough already, and I don't want to be replacing my carrier in a few months' time!
It has side attachment straps allowing me to secure two kayaks on either side, with room in between to wedge two more, should my friends be visiting. While this particular kit from Thule only has one large tie-down, I can easily purchase another set of ratchets or bungees for very little money to improve the security further.
These bars are also aerodynamic when not in use, capable of folding down and laying flat when I'm not bringing my kayak along. This can be an added bonus for RVers with a trailer, who have a car as a tow vehicle that's regularly driven around. Unlike the other cargo carriers, these rods are designed specifically for kayaks.
They are built to hold up a wide range of boats and water hobbies- it isn't simply an open basket that you might be able to secure your kayak to! However, the main drawback of this particular product is that these are specifically designed for use in tandem with other Thule roof rack products, so you may need to make sure they work with your existing roof rack first.
Read more about this product and see today's price on Amazon by clicking here.
Best On A Budget: MaxxHaul 70107 Hitch Mount Compact Cargo Carrier
Budget is always one of my top priorities, that's why I've added this MaxxHaul hitch-mount cargo carrier to this RV kayak rack list. This cargo cage has a 500-pound carrying capacity, which should be plenty for at least two kayaks!
With an inside basket dimension of 51-1/2″ x 17-1/2″ x 4″, I have the ability to stand my kayaks upright and attach them to my rig. Plus, the basket weighs a sturdy 27 pounds, which makes it easy to have in the hitch but also is a reliable weight.
Given its size and weight, it's easy to think this basket can't handle very much weight capacity, but it can actually carry a whopping 500 pounds, so long as everything is safely secured! I can easily pack a full ice chest in it, firewood, and more- such as kayaks!
That's another perk about this hitch basket: its versatility. I can always use it with my tow vehicle for smaller trips, like a day trip to the lake, or I can pack extra cargo in it, such as camp chairs or tents. Whatever I need to bring with me, this compact cargo carrier can handle it!
Not only is this cargo carrier ready to carry whatever I put into it- it's safe too. I always put safety first, and will only ever use products in my RV that I trust are safe. It has included reflectors and remains balanced with the weight evenly distributed throughout the rack. If you tow a travel trailer, you know how important it is to maintain an even weight!
And this basket is made of a powder-coated steel frame so I don't have to worry about weather or UV damage wearing it away over time. The entire cargo carrier is rust and corrosion-resistant to help make it last longer, so I don't have to splash out on another carrier next year.
The main con of this cargo basket is that it only fits standard class 3 and 4 standard 2-inch hitch receivers. If you have a smaller or larger hitch receiver, this cargo carrier won't work for you. You may be able to purchase an adapter, but that may affect the safety of the product.
This cargo basket also isn't specifically made for kayaks, so it can be a little bit of a hassle arranging them to fit properly in the basket. However, for a limited budget, this is a good storage solution for taking kayaks out on the road!
You can check out the latest price for this product by clicking this Amazon link.
Most Aerodynamic:

RecPro RV Kayak Rack Vertiyak
One of the top names for RV products has to be RecPro – and they've even got my kayak-carrying needs covered. This Vertiyak kayak holder can carry my kayaks vertically along the backside of my rig, making it a highly aerodynamic kayak rack! This rack mounts onto my motorhome, car, or RV's hitch, so long as it has a standard 2-inch hitch receiver. It simply goes in, and allows me to carry up to two kayaks behind me with no issues!
This particular rack is recommended for use with kayaks that are 12 feet or less in length, and the overall carrying capacity of this rack is 150 pounds, making it perfect for a couple of kayaks. While it can't handle the whole family's boats, it suits me and my partner.
This hitch-mount carrier is heavy-duty too. It weighs almost 50 pounds and is made here in the USA out of 14 gauge stainless steel. It's tough and built to last, but it isn't powder coated, so not recommended for leaving on the back of my RV when not in use.
However, it can be removed and folded flat for storage so I don't have to worry about it taking up too much space. It comes with a few sections of pool noodles so I can safely store my kayaks in this rack without getting them all scratched up.
RecPro has considered many issues that most RVers face, including the rattling and shaking that, can occur when towing kayaks. There is nothing more nerve-wracking than towing and having something bouncing around!
There is even a lower cradle hoop that has three different levels of access points, allowing me to safely secure my kayak at different levels for maximum safety. It's a bit frustrating that I have to purchase ratcheting tie-downs separately as this isn't the cheapest kayak rack out there, but overall this rack has my back covered.
Read the reviews and check today's price on Amazon by clicking here
Multi-Use:

AVENN Rooftop Basket & J-Bar Kayak Rack
If there's anything I've learned from living full-time on the road for the past few years, it's that products able to do more than one thing are SO useful, as they help keep space to a maximum and budget to a minimum. That's where this AVENN Rooftop Basket and J-Bar Kayak Rack Combo comes in as it's a rooftop cargo carrier also able to carry my kayak alongside it.
This unique storage solution measures 64 x 23 x 6 inches and weighs just over 35 pounds, so although it's hefty, it doesn't weigh too much. The heavy-duty robust metal cargo basket and kayak rack can complete any RV or tow vehicle storage setup. It is, however, best designed to mount on existing or after-market installed roof cross racks.
While you'll need to consider a cross rack if you don't have one already, the price point on this cargo basket is fairly reasonable. Considering I get storage space for one kayak along with a sizable carrying basket, means I don't have to worry about struggling to bring everything I need with me on camping trips.
This rack has a carrying capacity of up to 150 pounds and is made of durable galvanized stainless steel, so I trust it to last for a substantial amount of time, with no problems. It also includes everything I need to safely install it, and has additional ratchet tie-downs and bungees- all included, so I don't have to take a trip to the hardware store to complete the installation.
The kayak rack portion of this cargo holder includes thick foam to better protect my gear and tow vehicle. Plus, the basket has an included wind fairing for better aerodynamics while traveling at high speeds – not that I drive fast at all in my rig!
While it may look a bit complicated to set up at first, this cargo basket truly offers multiple capabilities. While it can hold a kayak that is up to 36 inches wide, it can also support skis, snowboards, surfboards, and more. This is great for me as I love trying new sports and activities, so I don't know what the future looks like and what I might be needing to store in my RV.
The main issue for me is the high price tag, which can increase even further if you don't already have a crossbeam roof rack installed on your rig or car. You may not need the extra storage at this time either, but you never know when it might come in handy!
You can read more about this kayak rack and check today's price on Amazon by clicking here.
Easiest To Use:

Swagman RV Bumper Rack
I like adding items to my rig that are simple to use and easy to install, just like this bumper rack from Swagman, which is RV approved. It's a unique setup of two smaller bumper racks, perfect for transporting bicycles, but they can also be used to transport a kayak.
All I have to do to get this bumper rack set up is simply secure the steel bolts to my bumper's frame. There is included hardware to do this, and I can place the racks wherever I want them to go along my bumper, giving me the freedom I need to best-decide where the rack will work better.
While this rack is not designed for use with an aluminum or spot-welded bumper, most RV bumpers can handle the weight of these racks and their cargo. Given that it only weighs a pound or so, these racks are lightweight and portable, two features I consistently look for in an RV product.
Each rack can hold up to 30 pounds, so laying a kayak flat across both allows me to carry a 60-pound kayak! There should be plenty of locations and opportunities to ratchet tie down a boat, whether it be on my RV ladder or on the rack itself.
Made of powder-coated metals, this rack is weather and corrosion-resistant, which is exactly what I need as I travel year-round, often facing soggy winter days. I enjoy being able to leave it attached to my RV long term but also find it useful that I can remove it too for ease of travel and storing my RV. The bolts are very easy to remove and reinstall, so I don't have to struggle one bit taking it off and putting it back on again.
Just like the RecPro product, this bumper-mounted rack is a wonderful aerodynamic rack to consider. I don't have to worry about losing precious height or gas mileage by storing my kayak on the roof of my rig!
It's a reasonable price point and can install around standard 4-inch to 4.5-inch RV bumpers. The simplicity of this rack may prove useful for the more DIY or adventurous RVer, as securing a kayak may take some time and engineering.
However, given that this is technically rated for bicycles, I think it's best to weigh your kayak and make sure it doesn't weigh more than 30-60 pounds. It's also advisable to test this rack out before hitting the road, just in case!
You can read the reviews and see today's price on Amazon by clicking here.
Top Rated Brand:

Rhino Rack Kayak & Canoe Carrier
Just like the Thule kayak rack product on this list, this Rhino-Rack carrier is a streamlined and innovative solution for carrying multiple kayaks at once. It can attach to the crossbeam roof rack on your rig or tow vehicle, and these simple rods substantially maximize my storage possibilities!
While this piece is just an extender to an existing Rhino-Rack product, it allows me to carry up to four kayaks on my roof – ideal for when the whole family gets involved in RVing! I like that it comes with durable foam to protect my toys and car, along with ratchet tie-downs and securing straps for ultimate safety.
I can use these simple J-style holders to secure my kayaks with ease. Plus, they fold flat against my roof rack when not in use, so I won't lose out on any aerodynamics while traveling without your boats. The heavy-duty alloy steel construction on this Rhino carrier is a huge bonus in my eyes as it resists water, rust, and corrosion.
These J-style bars are made to be left on the roof of my tow vehicle year-round, in case I ever need to break out the kayaks in inclement weather! This also means I don't have much maintenance to take care of, giving me more time to enjoy the things I love most like being out in my kayak.
Given this is just an extension of an existing Rhino-Rack product, the price point is a bit higher than other options. However, much like Thule, this top-rated brand from Australia often means that you get what you pay for.
See if this rack works for you, and read the reviews and check today's price on Amazon by clicking here.
✅ Custom-made options mean you can bring all of your toys
✅ Room for up to four kayaks so no one has to leave their boat behind
❌ High price point can keep buyers from going with this brand
To find the best of the best in terms of RV kayak racks, I think it's worth going to the source. Yakups is a company that specializes in RV racks, especially for your water sports gear. They even make custom racks- let's talk about them now.
From one to four kayaks, Yakups has a setup to suit any RV type. I love the ability to choose from many rear hitch or bumper-mounted options, and some can even come equipped with a swinging arm! I can easily maneuver my kayak storage into any position, all while still being attached to my rig. This ease of use is shown in the video below:
Yakups, also known as RV Kayak Racks, is a veteran-owned company, and each of its racks is built with unique RV experiences in mind. These racks are built to not wobble, and they are made of quality powdered steel and stainless steel finishings. Having a robust construction is crucial for me, as the last thing I want to do after splashing out on new kit for my rig, is need to replace it in a few months, or even a year's time!
Not only are these racks built for kayaks- I can get a Yakups RV rack built for bikes, surfboards, and more, leaving my future open for new sporting activities while I'm RVing. Yakups offers custom RV rack orders so I can build my own, and get the perfect setup for my camping adventures!
I find the easy installation handy, as it takes the stress away of adding something new to my rig. The rack arrives in one solid welded metal piece, all I need to do is insert a couple of bolts and attach it to my hitch receiver. These are designed to work on any rig too, from Sprinter vans to fifth wheels.
This company has thought of everything in terms of RV life. Their kayak racks are designed to work alongside a roof ladder, spare tire, and backup camera if you have one. Plus, all of these kayak racks are complete with a sleek matte black finish, giving me the clean aesthetic I want.
You may be asking yourself: what's the catch? Buying a custom kayak rack for your RV doesn't necessarily sound cheap, does it? That's because it isn't. A Yakups branded kayak rack may cost you more than your kayak originally! However, given their fantastic touches, customer service, and ability to house up to (if not more than) four kayaks at a time, this might be one purchase worth investing in.
Consider a Yakups, if you have the budget to support it – you can click here to check them out.
Best For Trucks:

Thule 997 Goal Post Hitch Mount Truck Adapter Canoe and Kayak Carriers
Although this Thule 997 Goal Post Hitch Mount Truck Adapter is primarily for use with a pickup truck, I thought it was worth a mention for the adventurous truck campers out there! This rack only works with Thule kayak, canoe, or paddleboard racks, so this may require an additional purchase if you don't already have one.
It's an ideal rack for carrying kayaks whilst RVing in a truck as it's hitch-mounted, has a telescoping mast for fitting a range of truck cab heights, and also has height-adjustable load bars. This means I can get the carrier in the exact place I need it to be without too much of a problem. I like that the Thule steel load bar is 58″ and has a durable plastic coating, as this means it's less likely to show damage from wear and tear and should last for a substantial amount of time!
As I've mentioned before, safety is a top priority for me, so I enjoy that this carrier has 2 load straps to help keep the load secure and safe, even when I'm driving. The maximum weight capacity is 70 pounds which isn't the best when friends and family want to bring their kayaks along, but for solo travelers this is plenty!
You can read more and find the latest price by clicking here.
Best Multiple Carry Option:

Thule Compass Kayak and SUP Roof Rack
When it comes to RVing, having a variety of options is essential for me, as I have no plans of leaving the RV lifestyle behind me, and want to leave my options open for the future! This Thule Compass Kayak and SUP Roof Rack have universal mounting hardware to fit existing rack systems, and with a variety of carry options, I'm not limited to just one piece of kit in my rig.
I can carry a single kayak in either J-style or saddle mode, up to two kayaks in stacker mode, and two paddleboards in saddle position. This is ideal as I don't know when a friend might join me for a vacation on the road and bring their kayak along too! I love knowing our equipment won't get damaged either, thanks to the thick rubber saddles and padding.
It would be great if this rack was a bit easier to install as it's hard to get everything into place alone. The StrapCatch is handy during installation, but it would be ideal if Thule could make things a little easier for solo RVers!
However, the fold-down design is convenient as I can fold the rack down when it's not in use, helping the aerodynamics of my rig. The high price tag means this piece of kit is an investment, but it has multiple carry options, and tie-downs for enhanced safety, so overall, it's worth considering for your rig.
You can see the latest price on Amazon by clicking here.
Why You Might Need An RV Kayak Rack
You may not have considered the benefits of an RV kayak rack before. There are more than you may think, especially if you are worried about packing everything inside your new RV for the first time.
Even the biggest travel trailer with two bathrooms may not be able to fit a kayak inside. Let's learn more about why you might need an RV kayak rack now.
Frees Up RV Storage
RV storage is always at a premium, no matter who you are traveling with or where you are going. RVs have come a long way in terms of their innovative storage solutions, but most have not taken kayaks into account.
Purchasing an RV kayak rack means that you can bring along all of your recreational toys without having to sacrifice valuable storage for your goods or luggage. This can be a valuable purchase for people with fifth wheels and especially some of the smallest travel trailers on the market today.
Not only does an RV kayak rack save your interior storage word exterior pass-through storage from getting taken up, but it's also ideal for keeping your RV clean. Most RV kayak racks are attached to the exterior of your RV and will keep any dirt or debris out of your way.
Perfect For Bringing Along Your Kayaks
If you are an avid kayak user, you no doubt know the value of bringing along your kayaks, especially on camping trips. Even if you are new to kayaking, having the ability to easily pack your toy means you are more likely to bring it with you.
Purchasing an RV kayak rack means that you are investing in your hobby and recreational time. Whether you are packing a kayak for yourself and your significant other or plan on using a kayak during your solo travel trailer journey, you won't have to worry about your kayaks.
More People Can Travel With You
If you normally pack your kayak in valuable RV underbelly storage compartments for even in your tow vehicle, purchasing a kayak rack may give you more space to bring more guests along with you on your travels.
While bringing a kayak for each member of your family of 5 can be too many kayaks for any rack to handle, even just securing one or two to the outside of your rig can make a world of difference with your storage!
Even allowing for more luggage space or space for food and other supplies can be a huge perk when you consider that your kayak will be packed on the roof or side of your travel trailer or RV. Storage matters, especially when you want to bring more friends along!
Safe And Secure Way Of Transporting Your Kayaks
Not only will securing your kayaks out of the way give you more storage space, but chances are it is a much safer and more secure way of bringing your kayaks along with you.
If you have always used tie-downs or bungee cords to attach your kayaks to your tow vehicle's roof or elsewhere, you may enjoy the peace of mind that a proper kayak rack can give you. You won't have to worry about anything coming undone or falling off!
While attaching your kayak yourself using only a few tie-downs and accessories can be much more affordable, purchasing a kayak rack is one of the only ways to secure your gear in a way that is safe for both the kayak and the RV.
Protects Your RV Exterior
Kayak racks are designed to keep your gear from denting or otherwise damaging your RV exterior. They are positioned far enough away so that the gear you place in the rack doesn't crash into the rig while you are driving.
It can be risky to tie down or otherwise attach a kayak to any other part of your RV or tow vehicle. Your RVs exterior, while ugly, is a delicate thing. It is much easier than you think to scratch, dent, or permanently damage it.
Protecting your RV's exterior should be a priority for you, no matter the age of your rig. Your aluminum or fiberglass walls are key to keeping out pests, rain, and more.
Alternatives To An RV Kayak Rack
If you are thinking that an RV kayak rack is too expensive for your existing budget, you may consider an alternative method for bringing your kayak along with you. However, keep in mind that you risk damaging your RV or kayak if you don't do this successfully.
Here are a few possible solutions to consider instead of purchasing an RV kayak rack.
Tie Downs
There are many different types of tie-downs, ratchets, and bungee cords that you could use to tie your kayak to either your tow vehicle or RV. Keep in mind that, just like it is important to only cover your RV properly, you run the risk of damaging your RV with these types of tie-downs.
However, many RVers find great success in attaching their kayaks in their own, more affordable way. Bungee cords and tarps are much less expensive than kayak racks, and it isn't very difficult to get things secure for a long drive.
You could also consider attaching your kayak to your RV roof ladder, should you have one permanently installed on the back of your rig. Again, this isn't ideal for the life of your ladder, as some RVers report it getting damaged in the process.
Bed Of Truck
If your tow vehicle happens to be a pickup truck, you may consider storing your kayak in the bed of that truck. There's usually a space for a kayak to rest in a truck bed, depending on the make and model of your truck.
However, many RVers are already using their truck beds as storage or have shorter beds that don't allow for kayaks to fit. This may not work for your particular situation, especially if you already have a truck bed full of cargo.
Toy Hauler
Have you heard of a special type of travel trailer called a toy hauler? These towable rigs are perfect for bringing along your kayaks, ATVs, and much more.
Through unique modular furniture and RV slide-outs, toy haulers are designed as empty garages on wheels. They still have bathrooms and kitchens inside, but the bulk of the living space remains barren so that you can fit your recreational toys inside.
Toy haulers are useful given that they have hooks and tie-down options inside. If you aren't bringing too many other things, you can easily set up your kayaks inside of your toy hauler and bring them with you with no issue.
If you haven't purchased an RV yet and are considering which one may be right for you, I highly recommend checking out our list of some of the best small and lightweight toy haulers by clicking here.
Final Thoughts
Finding an RV kayak rack doesn't have to be a chore. Whether you have a kayak just for you or a kayak for each member of your family, there are RV rack options that can work for you. Camping is a time of adventure, so be sure to bring the kayak along with you!