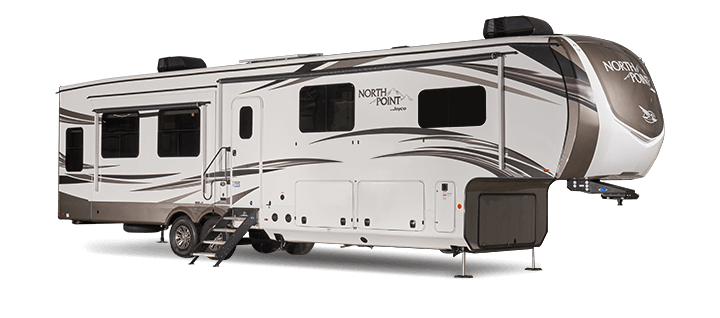 All of our reviews are based on exhaustive research, industry experience and whenever possible, hands-on testing. When you make a purchase using one of our chosen links we'll a small percentage of the proceeds. This supports the site and keeps Jeffsetter running. You can read more here.
There are a wide variety of RV manufacturers on the market today, but have you read any Jayco RV reviews recently? What are some of the pros and cons of this particular RV manufacturer, and what sets them apart from all the others? You may also be wondering why a particular RV company might be gathering negative or positive reviews, and Jayco is a good representation of the discourse that comes with RV brands.
In this article, we will address all of the things you need to know about Jayco and how they produce their RVs. We will also go over all of the different travel trailers and motorhomes produced by Jayco so that you can get an idea of their products and product quality. Let's get started and talk all about Jayco and Jayco RV reviews now!
Jayco RV Company Overview
The Jayco brand name is renowned throughout the United States, given that it was founded by a single owner in 1968. Lloyd Bontrager created one of the first ever pop up travel trailer systems on his home farm, using an innovative array of products and manufacturing techniques. From there, the rest is history!
Nowadays, Jayco is well-known for its fantastic owner warranty program, their dedication to new ideas and RV innovation, as well as their high-quality building materials and standards. Plus, Jayco has received countless awards for their RVs over the decades, and they have racked up nearly 100 of them for a variety of different RVs and innovations.
While Lloyd Bontrager died in a tragic plane accident in 1985, this didn't stop Jayco from continuing onward. The company swiftly grew and developed beyond a simple pop-up and a travel trailer model that would eventually become the top selling travel trailer in North America for 15 consecutive years!
Jayco prides itself on its quality construction and its ability to make both their workers and customers feel like extended family. The company itself extends beyond Jayco's product line, as the company has purchased many other RV brands in the previous decades. Some of the brands that fall under the Jayco company umbrella include:
Starcraft RV

Highland Ridge RV

Entegra Coach
Located in the heart of RV country in Indiana, Jayco continues to produce stunning and family friendly RVs, year after year. They consistently incorporate real wood and wood cabinetry throughout their rigs, as well as four season capabilities and reinforced roofs. But what types of RVs does Jayco offer? Let's take a look now!
What Do Customers Have to Say About Jayco?
At the end of the day, a product is only as good as the reviews it gets, so what do customers have to say about Jayco RVs? While there are a great deal of reviews and comments surrounding Jayco, there are a few different things we will focus on today. Let's begin with an overview of what customers have to say!
Positive Reviews
Considering the fact that Jayco has been a reliable RV brand for decades, it has garnered a number of positive reviews from its customers over the years. In fact, Jayco has a large customer base that continues to buy their travel trailers and motorhomes year after year, upgrading and purchasing new Jayco RVs when the time is right.
The build quality of Jayco RVs has always been admired by a variety of customers and consumers. Many reviews mention that Jayco RVs feel solid in their construction as well as reliable depending on the season and how old the RV is. However, the majority of positive reviews regarding Jayco construction were posted pre-pandemic, and refer to a variety of older Jayco models.
One of the most positive things that people have to say about Jayco RVs is that the interior living area feels homey and welcoming. It is easy to enjoy the inside of your Jayco RV while camping, as the layouts are ideal for a variety of families and groups of people. Depending on the size of the RV that you purchase, you can expect everyone to be comfortable and content.
In fact, as a full-time RVer, I see a great number of other full-timers living in their Jayco RVs. Many of these full-timers enjoy the luxurious interior features as well as the well thought-out living areas in a number of floor plans. This means that you should have little to no issues enjoying your RV, whether you plan on living in it full time or not!
A final positive that often gets mentioned by Jayco RV owners is Jayco's fantastic warranty program. They offer one of the most comprehensive and complete warranties in the RV business, covering a variety of structural and cosmetic issues. However, even the most positive of reviews has its downside. Let's take some time and discuss the most common negative reviews associated with Jayco RVs.
Negative Reviews
No matter the year in which customers purchased their Jayco RV, one negative review pops up year after year. The most negative comments surrounding Jayco RVs has to do with redeeming or utilizing the fantastic warranty offered by Jayco. Many customers mention that it takes a great deal of time and effort to have their warranty recognized and to initiate repairs. But why might this be?
The trouble with utilizing and redeeming any type of RV warranty is that you often have to do this in a facility that recognizes the warranty in the first place. These facilities are limited, including ones offered by Jayco, and you may find that the amount of time it takes for you to get an appointment and get your RV fixed is longer than you may have anticipated or wanted.
Customers who have taken the time to get an appointment for their warrantied items complain about waiting months with their RV in the shop. This is an unfortunate fact of RV ownership, especially if you purchase a brand new RV with a warranty. While it is fantastic to have things covered by the RV manufacturer, it does not mean that these things do not take time.
Another negative review surrounds the reliability of Jayco RVs and the build quality. Jayco recommends anticipating an average of 3 to 5 repairs during the first few years of RV ownership, which is why they offer such a comprehensive warranty program. However, many customers mention that they still experience issues with their RV once their warranty has expired or lapsed.
Having an RV that requires repairs is like saying water is wet. However, this is no excuse for a shoddy product or cutting corners- which is something that some Jayco customers report. Jayco has a lot to offer in terms of its budget friendly RVs, but purchasing something that is less expensive may result in a less durable product overall.
Things to Consider
One of the primary things that all new RV owners should consider is the way that the Covid-19 pandemic has impacted the RV industry. Not only has the RV business taken off in recent years due to an inability to travel, but demand has skyrocketed beyond what any RV manufacturer could ever anticipate. But what does this mean for you as a consumer?
It means that many RV manufacturers are doing everything they can to move RVs out of the door and to your home so that they can continue to meet demand. However, this can mean that things fall through the cracks and mistakes get made. The amount of product needed to satisfy consumers is something that the RV industry simply wasn't ready for- and this includes Jayco branded RVs.
This isn't enough of an excuse to justify mistakes or loose ends. However, Jayco consistently makes a product that fits a variety of budgets and lifestyles, and they may be manufacturing quickly and inexpensively to meet these demands. When you think of the different price points of RVs, you may be surprised at the quality of the RVs found at the lower or more budget friendly end of the list!
All of this said, let's take a look at some of Jayco's reviews in more depth.
Jayco 5 Factor Review
If you want to know about all of Jayco's reviews in more detail, you're in the right place. We have compiled a five factor review of everything you need to know surrounding Jayco RVs.
These topics include the build quality of Jayco's RVs, the customer service and warranty options, the layout and design elements, the budget friendliness and price points of the RVs, and finally the boondocking and off-grid capabilities of these rigs. Let's get started and go over all of these reviews in more detail!
Jayco RV Reviews: Build Quality
While they're good name may have declined in the most recent years, Jayco has a lot to offer in terms of its build quality and construction. They do many things differently than other RV manufacturers including making custom metal frames for each one of their individual makes and models. Let's talk more about what makes the build quality of Jayco special.
One of the reasons why Jayco has typically high marks for its build quality is likely due to the fact that they offer a reinforced roof as well as vacuum bonded and sealed walls that has proven to withstand the test of time and a variety of road conditions. When it comes to purchasing a motorhome, specifically a Class C, Jayco offers a laminated and single, seamless piece for their front caps or section above the cab area.
Jayco also offers different handling packages as well as ride assistance technology, trademarked as JRide. Depending on the type of RV you purchase, it will have a great deal of additional safety features, including durable shocks, state-of-the-art electronic brakes and pin connections, as well as rubberized suspension and a balanced drive shaft.
However, as many negative reviews mention, the build quality of Jayco RVs seems to have gone down in recent years. Many of these reviews surround the RVs that are more budget-friendly or affordable, rather than the RVs built for a more luxurious price point. However, quality construction is always something that you should consider when looking to purchase a new RV!
Jayco RV Reviews: Customer Service and Warranties
One of the main issues plaguing Jayco RVs in terms of reviews has to be their customer service and warranty options. Jayco offers an extremely comprehensive and valuable warranty program, with a 2 year limited warranty, a 3 year structural warranty, and an additional 15 other warranties depending on what products you get inside of your RV.
These warranty programs last for far longer than the average RV, and Jayco prides itself as a family brand, both in ownership and in the way that it respects its customer base. Its customer service is as good as any large company, but many customers complain that their warranties are not honored in a reasonable amount of time.
You may speak to a perfectly pleasant Jayco representative on the phone, but when it comes time to bring in your RV for any warranty based repairs, the process seems to be long and arduous. Many reviews mention the fact that there aren't very many shops that they can bring their RVs into, and the shops that do take Jayco RVs are very booked and busy.
However, having a warranty option that is nearly double what any other RV company is currently offering is important to mention, and Jayco includes a comprehensive maintenance and repair guide with every travel trailer or RV owners manual. They also offer a fantastic owners club and forum should you have any basic questions or concerns with your new rig. Just keep in mind that if you need any extensive warranty repairs, it may take some time for that to happen.
Jayco RV Reviews: Layouts and Design Elements
One of the most positive aspects of Jayco RV reviews surrounds their layouts and design element choices. Jayco is consistently thoughtful in their interior design and storage solutions, as well as their ability to make you feel at home while on the road. But why does Jayco rate so highly in terms of its design choices and layout options? Let's take a closer look.
One of the main positives of a Jayco RV interior is that it feels as if every square inch has a purpose. Given how long Jayco has been in the RV business, they have a clear understanding of what matters to RVers, of any experience and price point. They offer a wide variety of unique layout solutions so that more people can sleep, relax, and enjoy their camping experience indoors as well as outdoors.
Depending on the size of the RV that you purchase, Jayco offers a variety of simplistic solutions as well as luxurious features. Some larger RVs feature walk around powerlift king beds, theater seating, as well as residential sized refrigerators and washer and dryer hookups. However, Jayco really shines when it comes to their smaller rigs, as every bit of it is used in a thoughtful and useful way, something that only the very experienced RV manufacturer understands.
Jayco also utilizes hard wood cabinetry as well as durable laminate flooring throughout their rigs. Some larger options even feature electric fireplaces as well as ceiling fans, which can truly make an RV feel like home. You can even get some of these features included with your toy hauler purchase, even though toy haulers often feel cold and impersonal.
This isn't to say that Jayco only builds one specific RV for one specific type of family. They have a wide variety of layouts and floor plans for an even wider variety of people and customers, which means you should have little to no trouble finding something that you truly enjoy on the inside. It's harder than you think to choose an RV layout that works well for you, but Jayco makes that process a dream!
Jayco RV Reviews: Price Point and Budget Friendliness
In the grand scheme of RV brands and the cost of some of these rigs, Jayco seems to offer an RV to fit every budget. However, they are a more expensive brand compared to Coachmen and Forest River. Depending on what you are looking for, you may or may not find what you are looking for in Jayco, and this often comes down to the amount of RVs that they have available. Let's talk more about the budget friendliness of Jayco and the reviews surrounding the cost of these RVs.
Just like Jayco advertises that they want to make an RV for every family, the same could be said for their desire to manufacture RVs that fit every price point. For example, one of their most popular travel trailers starts at $20,000, which is incredibly reasonable for a brand-new towable rig. On the other end of the spectrum, some of their fifth wheels start at over $120,000, and their luxury motorhomes and Class Cs start at over $200,000.
This may sound expensive, but even this price point isn't out of the ordinary or unexpected when you look at the wide variety of RVs for sale. Given the fact that seems to price their luxury rigs accordingly, you should be getting enough bang for your buck. However, the cost of the less expensive rigs that Jayco offers may leave something to be desired. Let's talk about the more negative reviews surrounding budget and price points.
Many negative reviews mention that the average Jayco RV tends to fall apart sooner than expected, despite warranty repairs and expert evaluations. However, most of these negative reviews are in conjunction with an RV that is set at a budget-friendly or low price point. This isn't an excuse for Jayco to manufacture shoddy trailers at a reasonable price, but it may explain some of the negative reviews surrounding Jayco RVs. You truly get what you pay for, with the Jayco brand name and many other RV brands.
Jayco RV Reviews: Boondocking and Off-Grid Capabilities
One of the things that many new RVers are looking for is the ability to go off-grid or otherwise boondock. Boondocking, also known as dry camping, is your ability to camp without hookups or other utility resources such as electricity and water. Having large holding tanks as well as solar panel and generator capabilities are only some of the things that are in high demand right now, but does Jayco deliver?
The short answer is, it depends. Jayco offers a variety of off-grid perks and features, but rarely do these features come as standard or included in the initial purchase price. Additionally, there are many different travel trailers and motorhomes that do not have the option of adding solar capabilities or other boondocking luxuries. Considering the fact that these features do not come standard, as well as some features not being an option at all may be a bit of a downside to purchasing a Jayco RV.
However, Jayco has a few specific RV models that offer boondocking capabilities as well as solar panels and solar prep as a primary feature. It feels as if Jayco has taken the time to build RVs specifically with boondocking in mind, though many other RV manufacturers offer a more casual approach to off-grid camping. This typically means that solar is available on just about any make and model of RV, rather than Jayco's approach of keeping it exclusive and only available on certain models.
The reviews that mention off-grid camping and boondocking mention that Jayco goes above and beyond with these features. From ensuring that your RV has adequate solar as well as large enough tanks to accomplish a weekend in the woods, Jayco has you covered. They just don't choose to cover every single make and model that they manufacture.
Top Rated Jayco RVs
Now that we've gone over all of the reviews surrounding Jayco RVs and Jayco manufacturing, what are some of the top rated RVs offered by Jayco? Here are five of their top selling rigs across a variety of types, including travel trailers, fifth wheels, and all three types of motorhomes! Let's take a closer look now.
Jayco Travel Trailer: Jay Flight
Originally manufactured in 2001, the Jay Flight is consistently sold year after year, and is considered the most popular travel trailer purchased over the last 15 consecutive years. And it's easy to see why this particular travel trailer is a star and extremely popular among the wide variety of RV consumers. Let's take a closer look at what makes this travel trailer special.
Built on a sturdy and lightweight frame, you can get the Jay Flight in a number of lengths, ranging from 28 feet all the way to 40 feet long. There are also 10 available floor plans so that you can find something that suits you and your family with ease.
You can easily see why this travel trailer is extremely popular based on the layouts and floor plans alone. Between the standard features as well as the optional features, you can truly build a travel trailer that is perfect for your particular situation and guests. For example, one of the Jay Flight layouts has a double bunk bed set up, while another has a sophisticated electric fireplace living room feature.
You can also get the Jay Flight in a convenient full timer set up, with a large wardrobe and washer and dryer prep. Most of the kitchens feature residential appliances as well as kitchen islands and additional dining seating. Plus, this travel trailer is priced fairly, ranging from $40k-$53k, which is likely one of the reasons why it has sold so well for decades.
Offers many floor plans for just about any situation

Wide range of lengths means that you won't end up towing something too large

Homey and welcoming interior living

May not offer enough boondocking capabilities and features
Jayco Fifth Wheel: North Point
As someone who lives full time in an RV and who knows a lot of other full-time RVers, the Jayco North Point is an extremely popular fifth wheel among full-timers as well as other RV customers that know exactly what they are looking for. This particular fifth wheel is considered a luxury fifth wheel, but it is priced significantly lower than the majority of luxury fifth wheels with all of the same features. Let's talk about some of those features now.
With 6 unique and interesting floor plans ranging in price from $109k-$123k, there are likely a wide variety of appealing options for you to choose from. These floor plans also range in length, from 36 feet all the way up to 44 feet, if you need ample space for guests or family members. In fact, the North Point sleeps an average of 6 people, and all the way up to 10 depending on the floor plan!
Given its unique fifth wheel setup, most North points have an extremely interesting lofted area that Jayco utilizes in a variety of ways. You can have the master suite set atop this lofted platform, as well as an additional living room with reclining sofas. As we have already mentioned, Jayco utilizes just about every inch of space on board their rigs.
Another reason that this fifth-wheel appeals to a large number of people is that it can be outfitted with solar power and four season weather capabilities. This makes it an RV built for just about any situation, not just towing and camping with hookups available. Plus, the interior design is stunning and you feel as if you are in a residential apartment rather than an RV!
Unique and beautiful fifth wheel layouts

Perfect for full-timers looking for luxury at a fair price

Can be outfitted for boondocking

May be too large for many RV buyers
Jayco Class A: Precept
Jayco recommends the Precept to anyone purchasing a Class A rig for the first time, but those of you who are looking for a smaller Class A rig are in the right place. The Precept ranges in length from 33 to 38 feet long, making it an ideal choice for those of you who are nervous about driving a Class A for the first time. Let's take a look at this rig in more detail now.
Available in five floor plans, all with walkaround king beds, the Precept isn't short on space or storage solutions. It is a gas powered Class A, which may be considered a downside for those of you that prefer diesel-powered engines. However, given the length and size of this class A, a gas-powered engine should be more than capable of handling this RV.
The interior design of this rig is clean and simplistic. If you aren't satisfied with the overall design choices that are included in the Precept, you may be interested in looking at its luxury alternative, the Precept Prestige. This rig is much more expensive than the Precept, but it has all that you need and then some, should you be looking for a Class A with a couple more bells and whistles.
However, depending on whether or not you want the luxury version or the standard version, you will notice a difference in price. For example, the Precept when outfitted with standard features starts at $186k, while the Precept Prestige starts at $225k. Definitely something to consider in terms of your Class A budget!
Roomy and spacious with multiple floor plans

Shorter length makes this Class A easier to drive

Fair price point when you consider the cost of Class As

Doesn't offer any boondocking features
Jayco Class C: Melbourne
One of the best selling features about the Jayco Melbourne is the fact that it is an RV that is in theory easy to drive. It is a compact Class C with an abundance of features, including boondocking and off-grid capabilities. Plus it has a classy and unique interior design that keeps campers happy whether or not they are inside or outside. Let's look at this Class C in more detail now.
While there are only three floor plans, all built on a 25-foot frame, the Melbourne still has a lot to offer. For example, each floor plan is as unique as the next, and this rig is ideal for couples as well as small families looking to hit the road without all of the hassle that typically comes along with RV camping. The Melbourne is also a fair price as well, costing $143k-$147k, depending on features.
You may be wondering if this class C is reliable for boondocking or dry camping, especially considering that it is easy to drive and capable of handling a wide variety of terrains. The short answer is yes, the Melbourne is ideal for boondocking, as it comes prepped for solar panels. You also have the option to add solar as well as an additional house battery, depending on your needs and wants.
At the end of the day, the most negative review surrounding the Melbourne is the fact that it is compact. However, this is a huge selling point for small families as well as couples, or those of you seeking an RV that is easy to hit the road in. That's what RVing should be about after all!
Boondocking and solar capabilities easily installed

Fair price for a classy diesel Class C

Easy to drive on a compact frame

May be too small for the larger family or group
Jayco Class B: Swift
Speaking of compact, if you are shopping around for a Class B camper van, the Swift from Jayco may have everything you're looking for, and at a fair price. You can either choose from a $131k layout or a $133k layout, and each has their own perks and amenities. Let's take a closer look at this Class B from Jayco now!
One of the best things about this Class B is that it is built for boondocking. It has included solar panels in the standard purchase price as well as many other handy features such as an on-demand hot water heater, multiple house batteries, a built-in gas generator, and more. But this is only for the Swift standard model. There is a more luxurious version of this Class B for those of you seeking more features and function overall.
While it may be compact, this RV offers ample storage solutions, and in creative ways that only Jayco can manage. You have a full wet bath as well as a versatile kitchen, and a bed area with under-bed storage. While there isn't much to talk about with this particular rig, it still maximizes its potential.
Perfect camper van for off-grid living

Easy to drive and maneuver given its size

Fair price point for Class B RVs

May be a bit bland compared to other Class Bs
What Kinds of RVs Does Jayco Offer?
Given how large the Jayco brand is, they have the ability to offer a wide variety of RVs across all different types and sizes. Jayco offers travel trailers, toy haulers, fifth wheels, motorhomes, and the original style of pop-up camper that they became well-known for. Let's take a look at some of their makes and models in more detail now.
List of Jayco Travel Trailers
Jayco offers nine different models of travel trailer, in various lengths and price points. Many of them are variations on a single model. These models are called:
Jay Feather

Jay Feather Micro

White Hawk

Jay Flight

Jay Flight SLX 7

Jay Flight SLX 8

Jay Flight Bungalow

Eagle Travel Trailer

Eagle HT Travel Trailer
List of Jayco Fifth Wheels
While Jayco only offers 4 different fifth wheel floor plans, they are all unique and popular for various reasons. These models are named:
Eagle Fifth Wheels

Eagle HT Fifth Wheels

North Point

Pinnacle
List of Jayco Toy Haulers
There are three different types of Jayco toy haulers, based on luxury finishes and features. The names of these toy hauler models are:
Jay Flight Octane

Seismic

Seismic Luxury Series
List of Jayco Motorhomes
Jayco offers 15 different motorhomes, spanning across Class As, Class Bs, and Class Cs. They have four Class A motorhomes, eight Class C motorhomes, and three Class B camper vans. Here are those model names, along with what type of motorhome it is:
Alante (Class A)

Embark (Class A)

Precept (Class A)

Precept Prestige (Class A)

Swift (Class B)

Swift Li (Class B)

Terrain (Class B)

Redhawk (Class C)

Redhawk SE (Class C)

Greyhawk (Class C)

Greyhawk Prestige (Class C)

Melbourne (Class C)

Melbourne Prestige (Class C)

Seneca (Class C)

Seneca Prestige (Class C)
If you look hard enough, you can find versions of Jayco's classic pop-up camper, but they do not currently manufacture any new models. These are all 2022 models of RVs, new and to the market since their new founder took over at the beginning of 2020!
As you can see, Jayco offers a solid list of RVs that appeal to a wide variety of consumers and RV customers, depending on the size of the family and other needs. While Jayco doesn't offer nearly as many RVs as Forest River, they still have plenty to offer and offer a quality product!
Final Thoughts
Choosing a new RV takes a lot of time and consideration, which is why our handy guide for Jayco RV reviews is here to help! After considering everything there is to know about Jayco and their line of products, hopefully you are feeling confident about what they have to offer, along with their honest and insightful customer reviews! There are always more brands to choose from, but perhaps Jayco offers the right amount of quality products for the right price.