Choosing only one place to eat in Portland is incredibly difficult. But with just one night in the city, I could only choose one dinner spot. And after a lot of research and debate, I settled on giving the seafood-focused Jacqueline PDX a try.
Honestly, my initial thought was to go to my go-to Portland restaurant – Tasty n Alder. Unfortunately, they didn't survive the pandemic. While I'm still sad about the loss, I am glad that it pushed me to try the outstanding cuisine at Jacqueline PDX.
Jacqueline PDX Location
As I'm coming to learn, many of the newer and more interesting restaurants are opening in South Portland. In this case, Jacqueline PDX is in a largely residential area of Portland's Hosford-Abernethy neighborhood. Parking is street only and is very tight in this area. Knowing this going in, I decided to catch a Lyft there. That night it cost me $19 for a 9-minute, 2.3-mile ride. Our return ride cost me just under $18.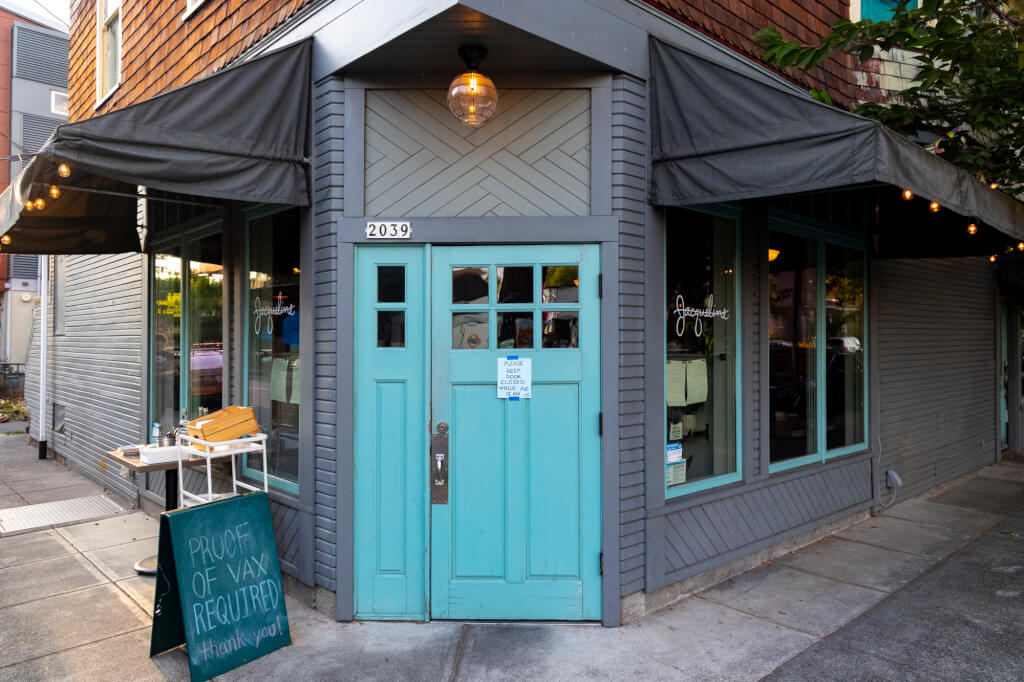 Ambiance + Service
Jacqueline PDX is a cozy little restaurant split into several different zones. Portions look a bit like a home, while the back area we were seated in had tons of natural light. Overall, the space is both rustic and stylish all at once.
Likewise, the service at Jacqueline PDX is fantastic. Not only was the waitstaff friendly and professional, but they were also very knowledgeable and polished without being stuffy.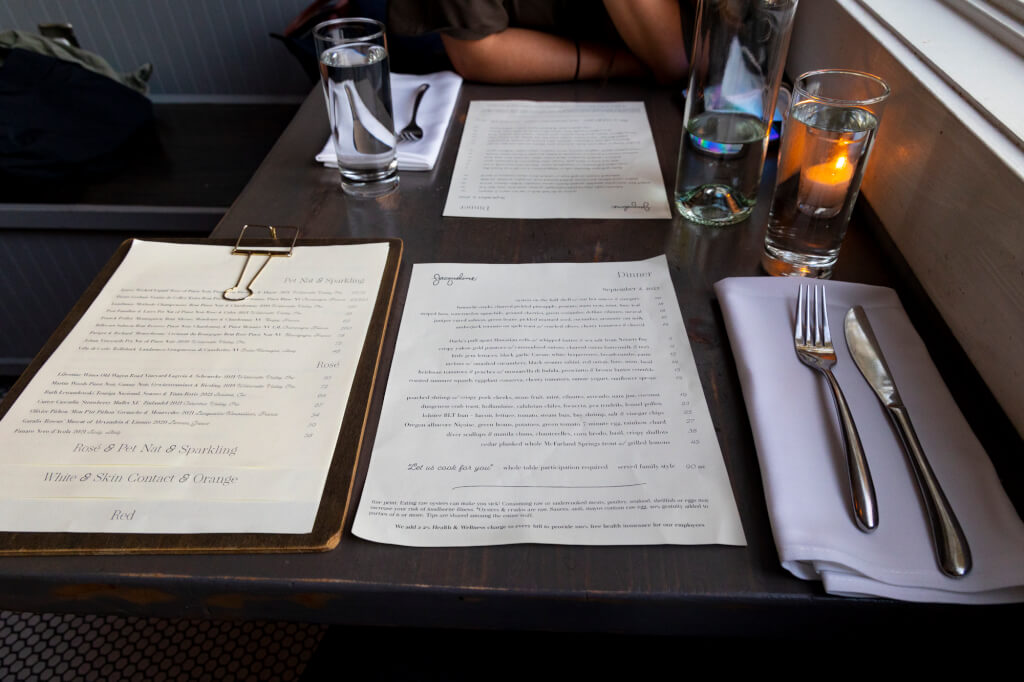 Jacqueline PDX Menu
When dining at Jacqueline PDX, you can choose from two different dining experiences – an ala carte or a bit of an omakase-style, family-style meal that came in at $90 during our visit. We chose to go the ala carte route. It's worth noting that if you go that route, the top third of the menu consists of small bites, the mid-section features small plates, and the lower section is comprised of larger plates.
What We Ordered
To kick things off, we went with two small bites and one larger plate, which was described to us as being more like a salad. All of these were fairly light, though one of the small bites wasn't exactly small. But that's ok!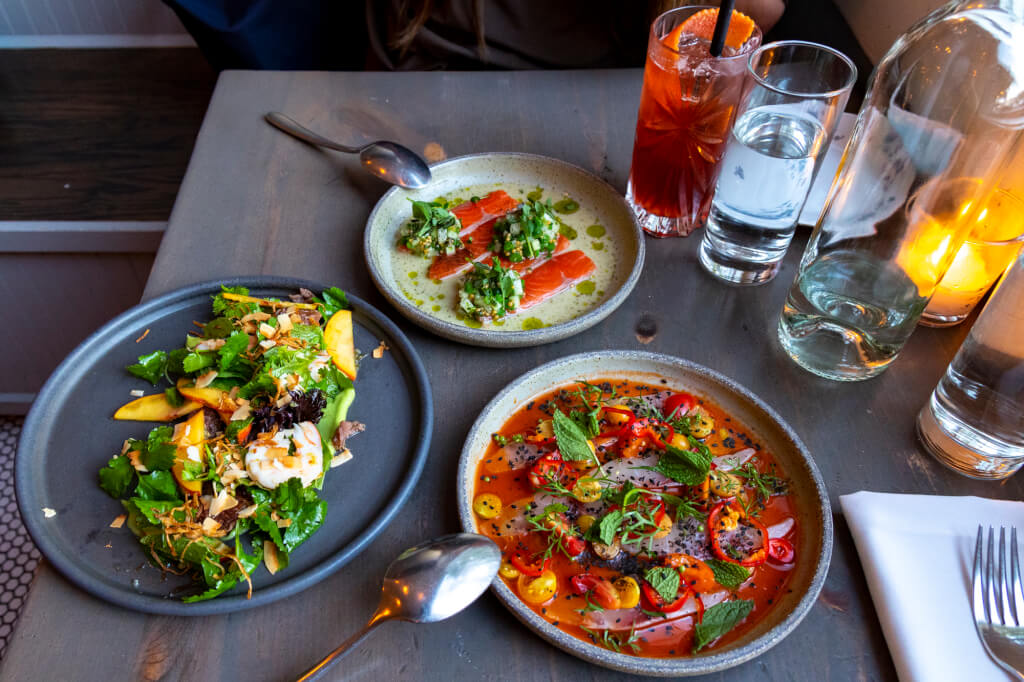 The smallest of the above plates was the Juniper Cured Salmon with green beans, pickled mustard seeds, cucumbers, and aromatic oat milk ($16). While this dish looks simple, it's actually very big on flavor! The smokey, fatty, unctuous salmon is offset by the fresh, crisp vegetables, the acid of the pickled mustard seeds, and the savoriness creaminess of the oat milk. Overall, this was a refreshing yet deeply savory dish.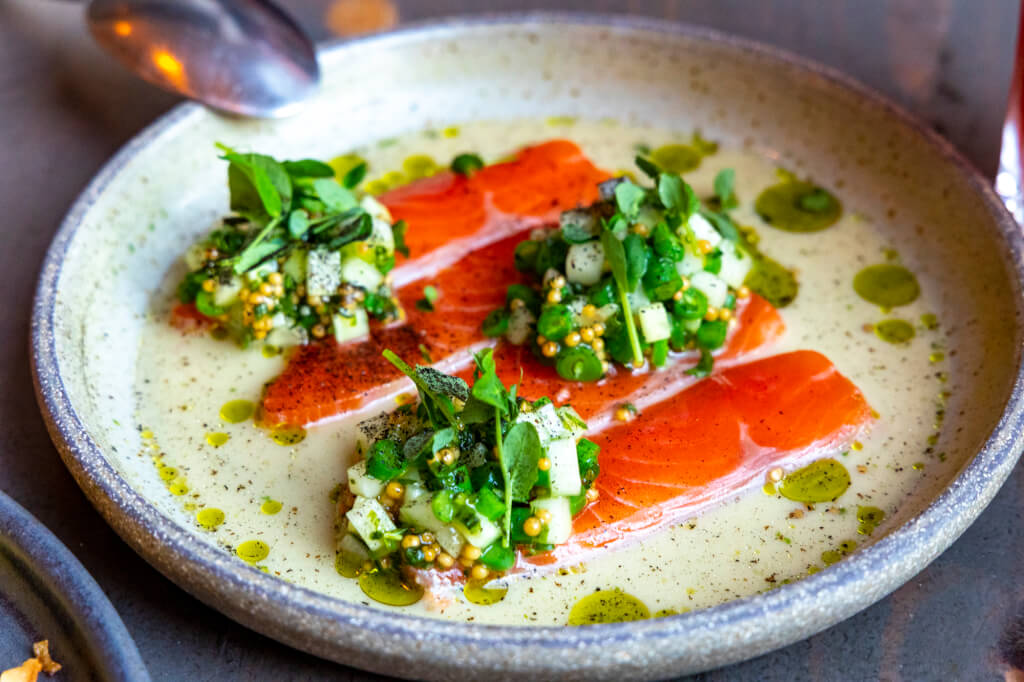 Our other small bite was the Striped Seabass (raw) in watermelon aguachile ($18). Ground cherries, tomatoes, green coriander, Delfino cilantro, mint, peppers, and mezcal round out the dish. This one was definitely more assertive than the first, but it wasn't overly so. It was lightly spicy, tangy, slightly sweet, and cooling/herbaceous all at once. The tanginess of the aguachile, the sweetness of the tomatoes, and the mint really played well with the richness of the snapper.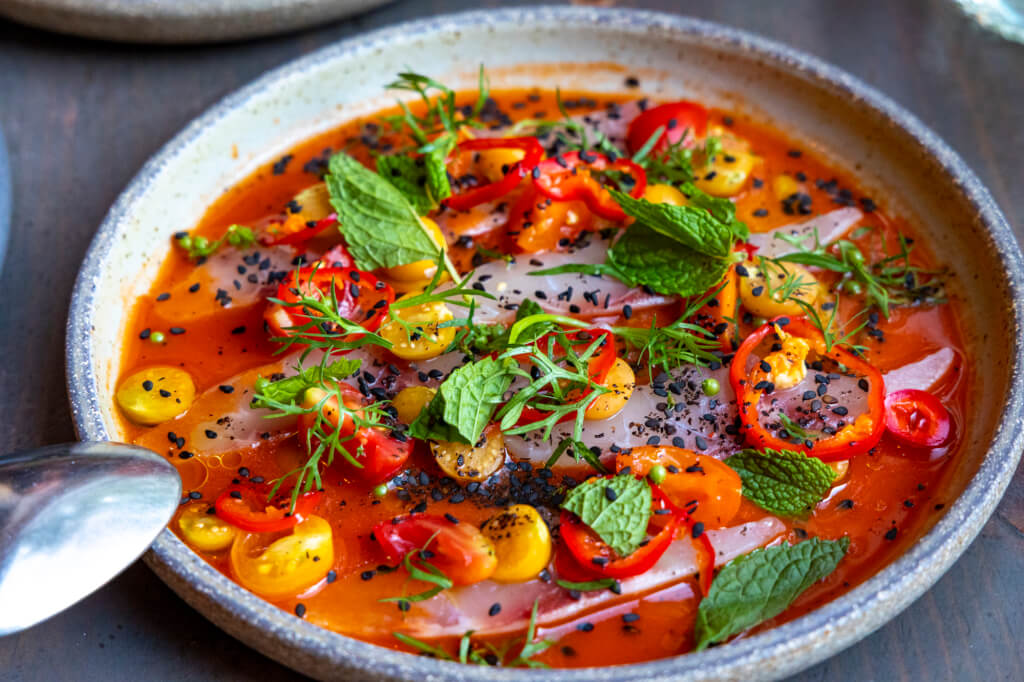 Our final starter was the Poached Shrimp with Crispy Pork Cheeks ($19), stone fruit, mint, cilantro, avocado, nam jim, and coconut. What the menu description leaves out are shiso, coconut chips, and crispy-fried shallots. The resulting dish was, honestly, one of the best things I've ever had. The crispy, meaty, tender, fatty pork contrasts really nicely with the sweet/tart/juicy yellow nectarines, the allium bite of the crispy shallots, the cooling and herbal notes of the herb salad, and the spiciness of the nam jim. The shrimp, while perfectly cooked, was a little unnecessary, in my opinion. That said, they did add another layer of sweet meatiness that played well with all of the other components of the dish.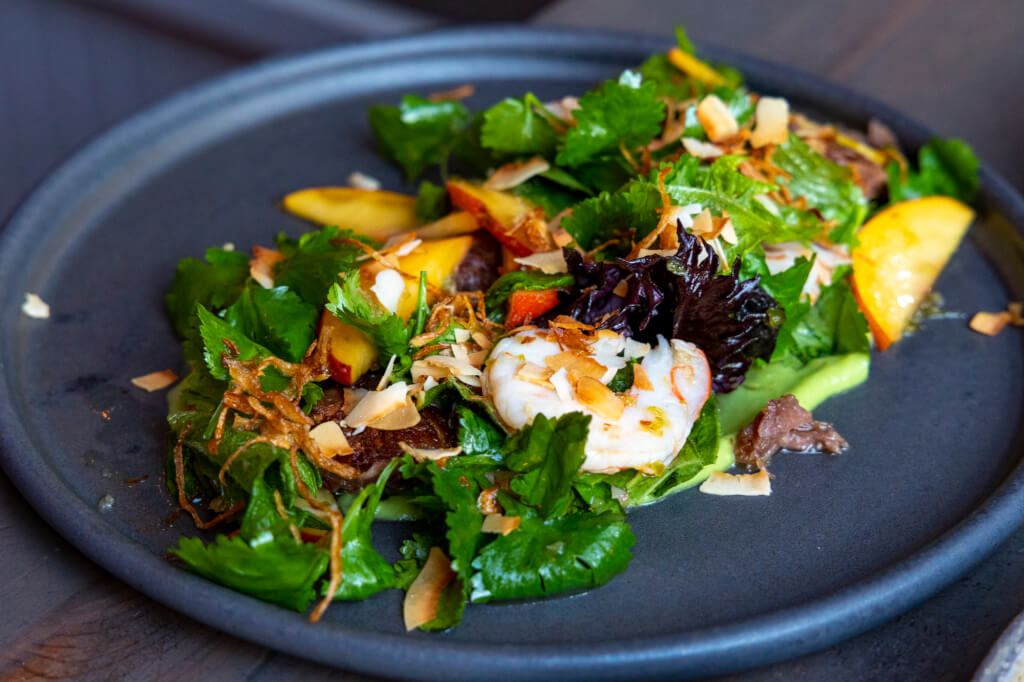 For her main, Mrs. Island Miler went with the signature Dungeness Crab Toast ($23), which comes atop focaccia and is smothered in Hollandaise, Calabrian Chilis, pea tendrils, and fennel pollen. Though they could definitely get away with using substandard crab, Jacqueline PDX uses superb quality Dungeness crab on its toast. And sure, it looks exceedingly rich – which it kind of is – but the richness is offset by the spiciness of the Calabrian Chili and the sweet vegetal crunch of the pea tendrils.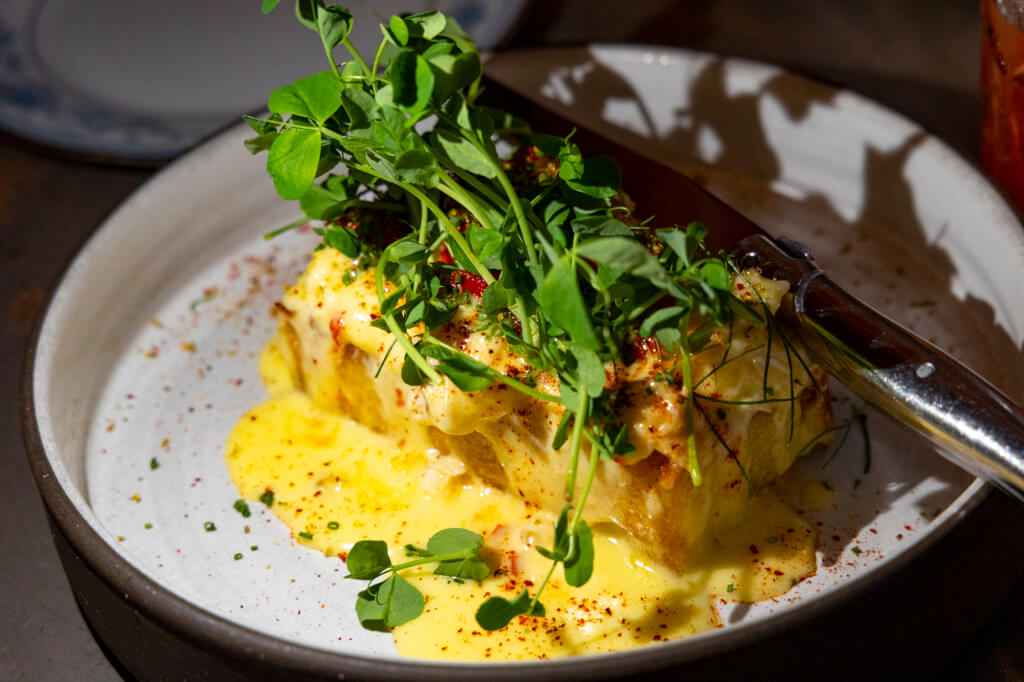 For my main, I went with the Diver Scallops & Manila Clams ($38). These perfectly cooked morsels came in a pool of corn brodo with chanterelles, basil, and crispy shallots. Not only were the clams plump and the scallops perfectly seared (crusty on the outside, medium-rare inside), but they, and the chanterelles, were seasoned just right too. The corn brodo in the bottom of the bowl was light and flavorful, while the kernels of corn in it were bursting with tons of sweet, summery flavors – a perfect counter to the intense savoriness of the mushrooms. The basil helps to further freshen up the dish with a light, sweet herbaceousness.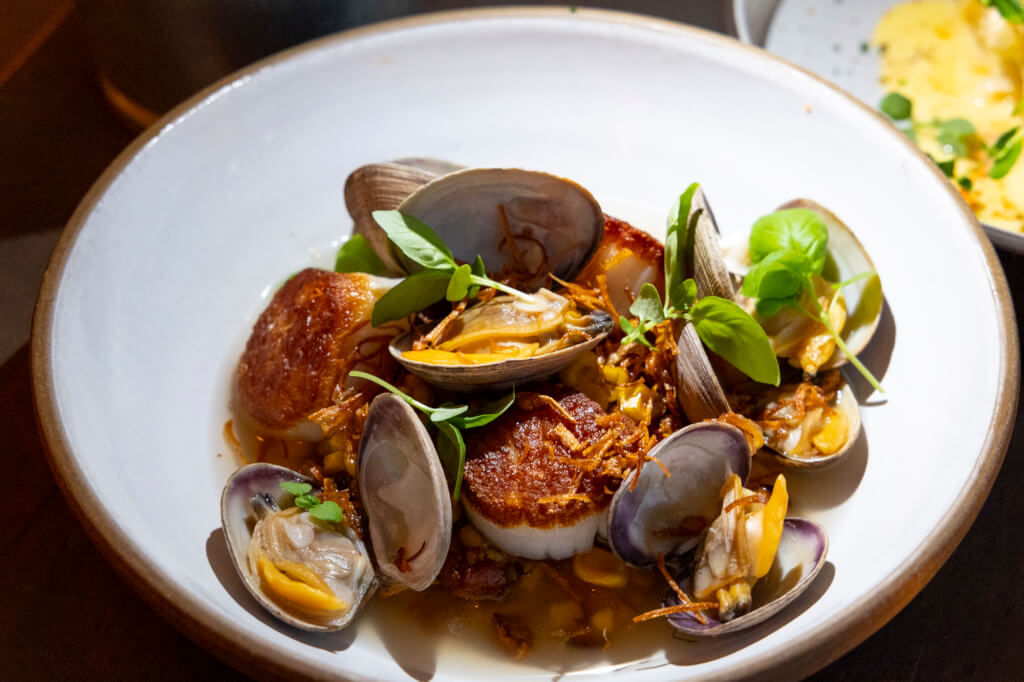 As you'd imagine, we were pretty full by the time our entree dishes were cleared, so Mrs. Island Miler and I decided to split a dessert. If I recall correctly, we ordered a blueberry pie, though it was more like a cheesecake. Though it looks super rich and sweet, it really wasn't. While rich, it's also kind of light and has a wonderfully tart, savory, slightly sweet flavor profile.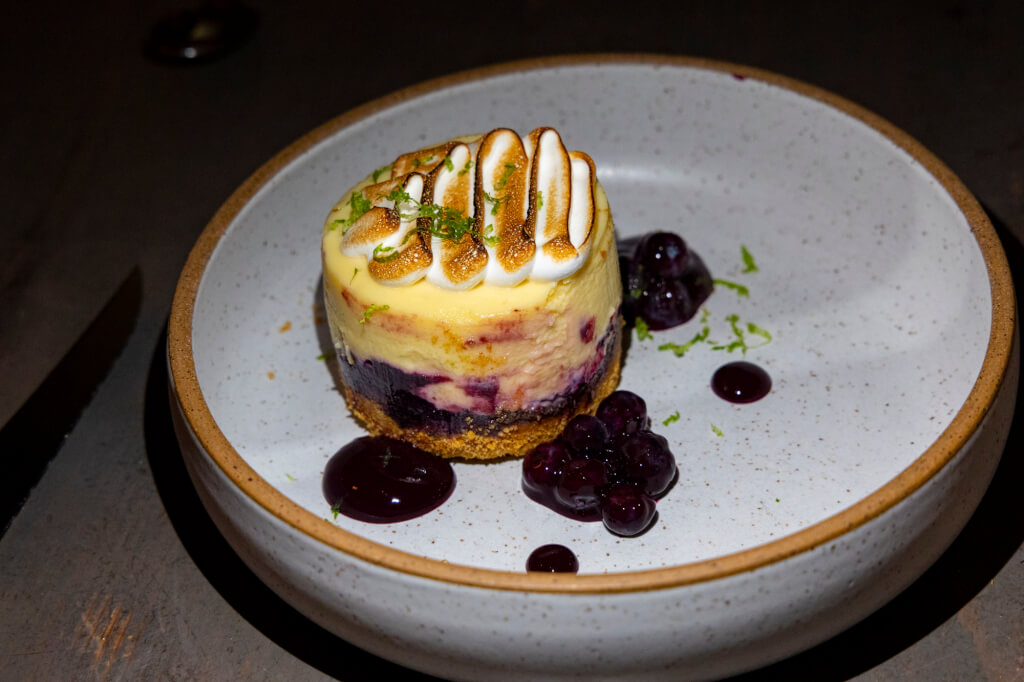 Final Thoughts
This was, hands down, one of the best meals I had in 2022 and, perhaps, ever. The combination of flavors were so different and delicious! These are the kinds of flavors I'm liking more and more – vibrant, different, balanced, etc. So if you ever find yourself in Portland and can't figure out where to eat, I strongly urge you to consider Jacqueline PDX! Just be sure to make reservations via Resy as far ahead as you can, as they fill up QUICK.
Labor Day 2022 PNW Adventure
Kamonegi
Deep Sea Sugar and Salt
Portland Marriott Downtown Waterfront
Jacqueline PDX