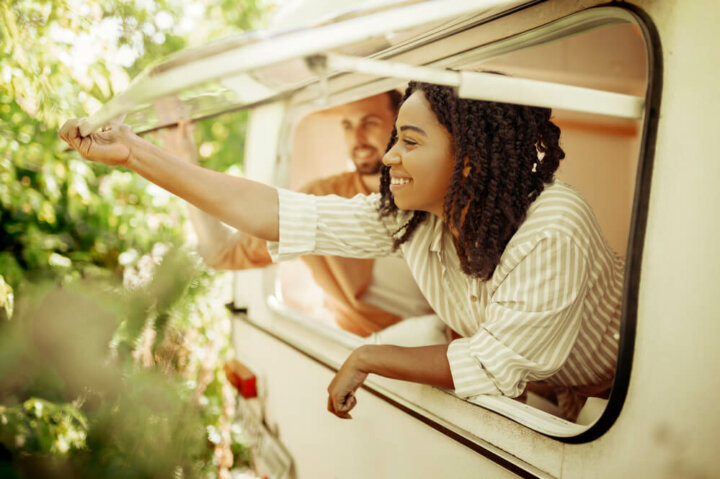 All of our reviews are based on exhaustive research, industry experience and whenever possible, hands-on testing. When you make a purchase using one of our chosen links we'll get a small percentage of the proceeds. This supports the site and keeps Jeffsetter running. You can read more here.
RV blinds are great for providing both privacy and shade whilst you're inside your RV, but they can become a nightmare when they start banging around and making a racket. This can be especially frustrating for those living full-time in their RVs!
Before going ahead and taking your RV blinds down, however, it's worth finding the cause of the problem and figuring out if you can stop your RV blinds from being noisy.
So, how do you stop RV blinds from banging?
There are a few ways to help stop your RV blinds from banging around, like adding some padding to reduce clanging sounds, securing the blinds with velcro or something similar, checking whether the fit is correct, and installing a hold-down bracket. Upgrading to motorized blinds may be worth it if you have a flexible budget.
Experiencing banging blinds is a common issue with many RVers, as blinds tend to become noisy when you're driving or when there's a breeze flowing through your RV.
Fortunately, there are some easy tips and tricks to stop your blinds from banging around and driving you crazy every time you get behind the wheel. So, let's see what you can do about the banging blinds and why your blinds might be constantly breaking!

How Do You Stop RV Blinds From Banging?
RV blinds allow you to comfortably relax in your RV with privacy from the outside world. They are very useful during the summer months when the sun's rays are beaming down onto your RV and through the windows. RV shades help provide protection from the sun by blocking the rays and helping prevent them from heating up the inside of your rig.
When you're having some downtime in your RV and it's a still day, you'll likely not pay much attention to your RV blinds. On a hot, windy day, however, your blinds may spring to life and start banging, clanging, and knocking against the windows in your rig.
This noise can be disruptive, but luckily there are some simple things you can do to help quieten the blinds in your RV.
Method 1: Use Padding
Although there are numerous types and styles of RV blinds, many of them have a bar at the bottom to increase the durability of the blind and ensure it remains straight and in place. Even though the bar can be very useful in providing overall structure to the blind, it's also a nightmare when it starts to knock against your RV window.
If you have roller blinds throughout your RV, it can be useful to add some sort of padding along the bar to dampen the noise if the blind bumps against the window. Material such as foam can work well, just be sure to apply the layer of padding as neatly as possible as otherwise, it may be a bit of an eye sore!
Method 2: Secure Blinds
The blinds in my camper used to move around a lot whilst driving and along with the noise being frustrating, I also found the blinds became a distraction during journeys. Securing the blinds down with velcro was an easy way to stop them from having a party in the back of my rig!
It may be possible to use adhesive tape to secure the blinds down, but this comes with risks such as permanent damage to the blind and potential sticky residue being left behind. I chose to use velcro instead as it is hassle-free and allows me to secure the blinds down in next to no time before hitting the road.
Method 3: Check The Fit Of The Blinds
We've all been there when you've ordered something for your RV online, and when it arrives, the part isn't the correct size, or it's not the right item.
If you installed the blinds in your RV after-market, it may be possible that the blinds aren't quite the right fit for your window. A blind that's not custom fitted to your window may move around more and be far noisier than a blind that fits the windows perfectly.
Method 4: Install A Hold Down Bracket
For a more permanent and robust option than velcro or adhesive tape, a hold-down bracket can be used to help secure RV blinds and stop them from banging around. Using hold-down brackets can also help protect your blinds from accidental damage, and keep them in better condition, looking fresher for longer.
RV blind maintenance may not be something that crosses your mind much, but it's important to give your blinds the care they deserve. Remembering to look after your rig by changing the oil and coolant is easy, but sometimes we can forget about other components of our RVs that may also require some additional care from time to time.
I like to take care of the blinds in my RV by gently vacuuming them with a bristle-head adaptor before wiping them down with some warm water and a soft cloth. Using harsh chemicals on your RV blinds may not be the best idea as they are often not environmentally conscious products, and can cause staining along with weakening the fabric of the blinds.
If you've simply had enough of your RV blinds banging around and are thinking of replacing your window shades, there are several different options to consider.
Regardless of the choice of window shades you make, you may still need to make slight adjustments to ensure they won't bang against any windows like your old blinds. RV curtains may be worth considering if you're considering a different window shade option that's arguably less likely to break or be noisy!
Why Do My RV Blinds Keep Breaking?
RV shades are an essential part of the RVing lifestyle as they not only provide privacy for those inside the rig but also help keep things cool when the sun is beaming down. If the blinds in your RV keep breaking, it's likely making you feel eager to get to the bottom of the problem.
1. Broken Interior Strings
In an ideal world, RV blinds wouldn't bang around, and they also wouldn't break, but unfortunately, broken RV blinds are a common problem in the RV world.
Sometimes the cause of an RV blind breaking or not working optimally is broken interior strings. If you haven't changed the blinds in your RV in a while, the strings inside the mechanism can fray and worsen over time, eventually breaking.
There are several different types of RV blinds on the market from pleated, cellular, and roller shades to aluminum blinds, so there's a wide range to choose from.
The blind you'll need to choose for your RV will depend on what you desire from the blind. For example, if keeping shaded from the sun is high on your list, a solar shade might tick the box.
For RVers traveling with pets and children, it may be wise to choose blinds that are cordless, to avoid any accidents or injury. Motorized RV blinds can also be a great option but often come with a significantly higher price tag than standard pleated RV blinds.
2. Incorrect Tension
RV blinds, like most types of window shades, need correct tension to work properly, and if there's too much or too little tension in the blind, it may eventually break or get damaged.
You may need to refer to your owner's manual for instructions on how to adjust your blind, and although it may initially take some trial and error, once you know how to adjust your blinds, you'll be able to do it across your RV and have blinds that work great moving forward.
A problem many RVers face is the blinds in their rig not staying up and slowly creeping down the window when left alone. This can be frustrating, but luckily, adjusting the tension in the blind should help solve the problem.
The video below shows a great detailed explanation from a fellow RVer of how to adjust standard RV blinds and stop them from falling down all the time!
It can take a bit of time to walk through your RV and adjust each of the window blinds, but once you've adjusted the tension correctly, you shouldn't need to do anything to your blinds for a while.
Giving your blinds clean every now and again will help keep them in the best condition and will also aid in keeping mold away.
3. Frayed Interior String
If the strings in your blinds have started to show signs of wear and tear, they will likely be starting to fray. Although this doesn't mean your RV blinds are completely broken, it does mean the fraying bits of material can get trapped in the mechanism causing the blind to jam.
It's worth checking the strings in your blind if you've noticed the blind hasn't been operating very smoothly lately. Frayed or broken blind strings will need replacing in order for the blind to work at its best again.
4. Accidental Damage
Before I started using velcro to hold my RV blinds down, I used to get very nervous about having the windows in my rig open and the blinds banging and crashing around.
The RV lifestyle is one that gets you out into the wilderness, and unfortunately, this also means getting up close and personal with some gnarly weather conditions.
Accidental damage can happen to your RV blinds when the windows in your camper are open and windy conditions make the blinds fly and bang around, hitting against the windows.
This can lead to problems such as ripped or tangled blinds that may need replacing. I find it's best to secure my blinds in windy conditions to help prolong their life and prevent accidental damage.
5. Incompatible Blind
Having a blind that fits perfectly with your RV window is essential for the privacy of everybody inside the RV and also for the blind's function. A blind that is too big won't sit right against the window and along with looking a little strange, it wouldn't work the best either.
Similarly, purchasing a blind that's too small won't cover enough of the windows in your RV, meaning you won't receive adequate privacy or shade from the sun.
RV blinds are often a part of our rigs we don't often give much thought to, even though we use them every day. Allowing your RV blinds to bang around during windy conditions, or when you're driving can cause them to break and need replacing.
This is not only expensive but can also be time-consuming, as it's crucial to find a blind suitable for the windows in your RV. If you're wanting to replace the blinds in your RV, it's worth noting down the measurements of your windows so you can find the ultimate blinds for your rig.
Closing Thoughts
RVing is a fantastic but often challenging lifestyle, with RVers having to tackle frustrations, repairs, and breakdowns throughout their RVing journey.
The blinds throughout your RV may not be at the forefront of your mind, but when you get behind the wheel to hit the open road ahead, you may start to hear that dreaded banging sound of your blinds hitting against the windows.
Stopping RV blinds from banging around and being a nuisance is simple, and thanks to the many different methods available, from adding padding or velcro to installing hold-down brackets, there will be an option suitable for you and your blind situation.
Just remember to be mindful of your RV blinds, and show them plenty of love by keeping them clean and secured during drives and windy conditions to avoid any RV regrets or broken blinds!