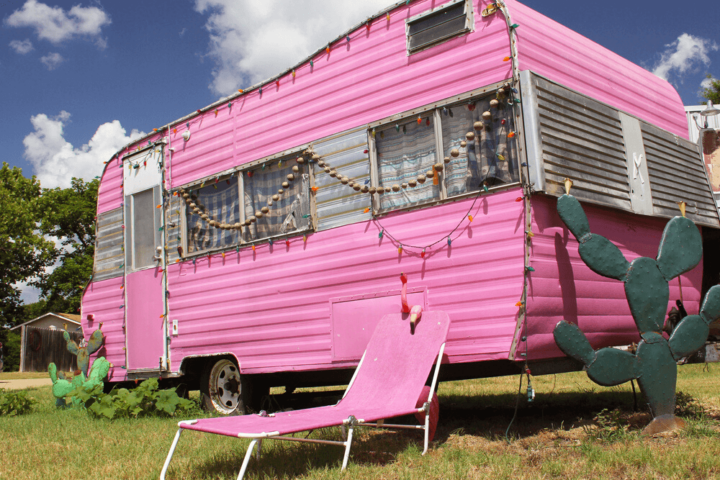 All of our reviews are based on exhaustive research, industry experience and whenever possible, hands-on testing. When you make a purchase using one of our chosen links we'll get a small percentage of the proceeds. This supports the site and keeps Jeffsetter running. You can read more here.
I often find that whenever I flip through RV magazines and then look back at my RV, I cringe a little bit at the huge difference. Don't get me wrong I love my little home on wheels, but after years on the road, things end up looking a bit rough in places.
If you're like me then you know that a new paint job can help make you feel proud of your RV and give it a great face-lift. It's important to maintain your rig in all ways, and that includes a paint job. If you've had the exterior of your house painted, the numbers associated with painting your RV might put you into a mild state of shock though.
So, how much does it cost to paint an RV?
Painting your RV can cost anywhere between $5,000 and $15,000. The cost varies based on the size of your RV, the number of paint colors, and your design. A large amount of the cost is due to the extensive prep work needed to make the paint job adhere to the RV and last.
It's an investment to paint your RV, so this article will explore how much you should budget, how to decrease the expense, and possible alternatives to painting.
How Much Does It Cost To Paint An RV?
Painting an RV can cost anywhere from $5,000 to $15,000 or more. While that number might seem high, repainting an RV is a labor intensive task that requires a lot of prep work and materials. It's not a small job, so don't budget for less than $5,000 when looking to get this project done. It is possible to get a lower price than that, but it's always better to over budget than under.
There are tons of different factors that come into play when pricing out a paint job on an RV. Things like the size of the RV, the number of paint colors in your design, the type of paint needed, the amount of prep work that needs to be done, and where you are located will all make an impact on the pricing.
I admit, five to fifteen thousand dollars is a huge range and doesn't give you much help when trying to figure out how much money to set aside for a project like this. This article will guide you towards a clearer number for your particular situation giving you a better idea of what to expect when you start getting quotes. Our numbers will not be reflective of an exact quote, but rather give you a reasonable expectation of cost.
I recommend getting at least three quotes from local professionals in your area and comparing them to get the best price you can. Keep in mind that the best price isn't always the lowest – the quality of the work performed is an important consideration.
RV Paint Job Cost Breakdown
There are a lot of factors that affect the pricing of painting an RV. When you get an estimate, it should include surface preparation, the removal of hardware, and the protection of the customer's property. Surface preparation can mean scraping, pressure washing, covering woodwork outlets, floors, etc.
Your estimate should also include sanding and priming. These steps are vital to getting the paint to adhere to the surface and last. The actual painting of the RV will on average include three to five coats as well as a finish coat. Some companies will also reseal with new weather stripping and repaint accessories and vents as needed.
The prep work is where a large chunk of your quote is coming from. The prep work is vital to making the paint job last and look good. All of that washing, scraping, sanding, wood filling, removing vents, hardware, and applying covers for protection takes time and time costs money. Don't forget that the roof also needs to get done too.
The paint itself is also not incredibly cheap, it costs at least $50 per gallon, and an RV will most definitely need more than a single gallon. Some larger RVs might even need several dozen gallons of paint to get the job done. The amount of primer, paint, and sealant needed is going to be a large factor in the final price of your paint job.
Most RVs are not one solid color and have some sort of design. Most of the designs are stripes, swoops, or zig-zag lines but regardless of how simple the design might seem, that will add to the cost of the paint job. Having more than one color will also add to the cost. If you have an incredibly intricate design, then you can expect that to drive the cost up quite a bit.
Cost To Paint A Class A, B & C RV
Most RVs on the road are going to be classified as either an A, B, or, C. All of these classifications have variations within them, so there still isn't a cookie cutter answer to how much each type costs, but there is a smaller range you can expect.
With the expectation of a detailed design or having a large number of different paint colors, you can expect any of these types of RVs to cost between $5,000 and $10,000.
Class A – $8,000 to $1,0000
Class B – $5,000 to $7,000
Class C – $5,000 to $8,000
An intricate design or extra prep work will definitely make your pricing go up. The more simple your design, the less it will cost. Another factor to keep in mind is the size of your RV. If your RV is on the larger side of its class, then expect to be on the higher end of the range.
Cost To Paint A Travel Trailer
Travel trailers are not easy to estimate because they can vary so much in size. Just know that the large your trailer, the higher the number. The low end you can expect is around $5,000 and the high end is about $8,000.
The easiest way to figure out how much to expect when you get a quote is to figure out exactly how big your travel trailer is.
Cost To Paint A Fifth Wheeler
Fifth-wheelers are technically trailers since they are hitched onto the back of a truck, but can be some of the largest RVs on the market. This means they can be some of the most expensive to paint.
It depends on the size of the fifth wheeler that you own, but you can expect around $10,000 to get the paint job done. If yours is on the smaller side, you may be looking at less money, but keep in mind these numbers reflect a standard paint job. It doesn't include a design or multiple colors.
Hidden/Extra Costs
I've already mentioned a few of the things that can make a huge difference in the end cost of your RV. This includes the design and the number of paints you plan on using in that design.
Having multiple paints in your RVs design can easily add up to 20% to your final cost.
If you have slideouts, make sure to mention that to the paint shop before getting your quote from them. A lot of estimates won't include them, so it might come as a surprise to you later if you expected them to be painted and they aren't or if your bill is higher than originally quoted in order to include them.
Be realistic about the shape your RV is in when you get your quote back from the paint shop. If your RV needs extra prep because it's in bad shape, then it will cost them more to get the job done. If your RV is in need of repair work, make sure to get that completed at a dealership or repair shop before bringing it in for a new paint job.
Is RV Full Body Paint Worth It?
Ultimately, it depends on how much you are willing to spend on your RV and how badly you need the new paint job.
New paint can help give your RV a new lease on life, but it doesn't necessarily add any value to the vehicle. You may want to consider finding out how much you can get to trade it in for a newer model at the dealership instead of investing tons of money into your RVs paint job.
That being said, giving your RV a paint job can help make it feel more like yours, especially if you are a full-time RVer and you live out of it. It can be nice to give it a bit of your personal flare while also making sure the place you live looks nice.
There are plenty of ways to save some money on your paint job, but it will definitely cost a couple of thousand dollars to get it done professionally. Make sure that you get multiple quotes before you decide where to take your rig for its new paint job. When looking for a paint shop, take their reviews into consideration even if their prices are amazing they might not give you the quality your money should be buying.
In this video, a couple of RVers take you on their journey to get their rig painted and they explore whether they felt it was worth the cost or not.
Can I Paint My RV Myself?
A great way to save money on painting your RV is to do it yourself. The only thing to keep in mind is that it's not a quick or easy task to do. It will take many long hours to get done, and those hours will be spent sanding, priming, painting, and sealing.
Weigh the cost of getting it done professionally with how much spare time you realistically have before deciding to go the DIY route. It will cost significantly less, but it might not end up being worth the difference.
It takes around 30 hours of work and can cost as little as $300 to do it yourself. That might sound appealing to you or you may have no idea where you can find an extra 30 hours to get a project like this done. The amount of time it takes will also depend heavily on you and your abilities as well as the size of your RV.
It's not a bad idea to consider doing part of the work yourself before bringing it to the paint shop. Anything you can do to cut down on the prep work for your professional will make the cost go down.
You can prep your RV by cleaning it, taping off anything that you don't want to get painted, caulking all of your exterior joints, and scuff sanding the vehicle. Scuff sand just means to lightly sand.
This would take a lot less time than doing the entire project yourself but will still cut the overall costs of the project.
Is It Cheaper To Paint Or Wrap An RV?
Another more affordable option you can explore is wrapping your RV instead of painting it.
Wrapping is less expensive because it doesn't need as much prep work, is easier to apply, doesn't take as long and the materials cost less than paint. It can cost as little as $1,000 or less to wrap a small RV.
The ultimate price will vary depending on the size of your RV and the design you want. You can easily make wrapping your RV cost as much or more than painting with an intricate design choice or if you have a particularly large RV.
Wrapping your RV is usually a more cost-conscious choice, but it doesn't typically last as long as a good paint job will last, so factor that into your decision making when the time comes.
Conclusion
Getting a professional paint job done to your RV will cost you at least $5,000 and can go over $15,000. The cost is going to be determined by how big your RV is and how many paints you want to use in your design.
A large amount of the cost is due to how long and labor intensive the prep work is for the paint job to adhere properly and look its best. It's also due to materials being expensive.
You can do this job yourself, but it does take a long time which might not be worth it depending on your lifestyle.
A new paint job for your RV can give it a pick-me-up and make it feel more like home. It's also a great way to reflect your personality in your RV as well as make sure it looks nice on the road and in the camps.