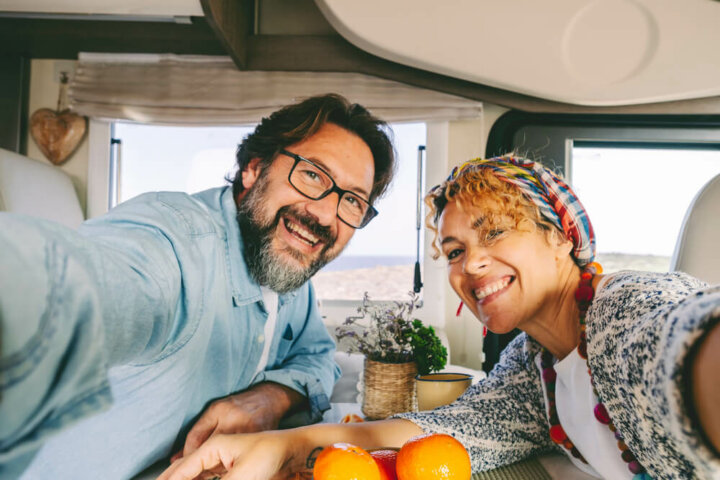 All of our reviews are based on exhaustive research, industry experience, and whenever possible, hands-on testing. When you make a purchase using one of our chosen links we'll get a small percentage of the proceeds. This supports the site and keeps Jeffsetter running. You can read more here.
If you are wondering how to make an RV look like a house, there are plenty of tips and tricks that you can try. Whether you live in your RV full-time or simply want to make your weekend getaway a bit more inviting, it's easier than you think to change up your home on wheels.
But how do you make your RV look like a house?
Decorating your RV by hanging things on the wall, and using rugs, curtains, throw blankets and stylish bedding can help make your RV feel like a house. Additionally consider, painting your RV walls, refinishing or building your own furniture, adding shelves, and kitchen accessories, as well as adding plants, and investing in your outdoor space!
In this article, we will go over more than 10 different tricks to consider in order to make your RV look more like home!
Take it from a full-timer who completely remodeled their own travel trailer: there are plenty of things to do to make your RV as comfortable as your residential home. Let's get started!
If you're only looking to learn more about certain tips and tricks, you can use our table of contents just below to navigate to whatever section you desire. Or, feel free to read on and take in all of our methods for how to make an RV look like a house!
How to Make an RV Look Like a House: 10+ Tips and Tricks
Remodeling an RV can be much more difficult than you think, especially if you are remodeling a travel trailer or other towable rig. There are many things to consider when it comes to remodeling a home on wheels, with weight capacities being one of them. However, I successfully remodeled a 1976 travel trailer so that it would suit my full-time lifestyle.
Making my vintage rig feel like home was very important to me and my partner. This wasn't an easy process entirely, given the fact that our new home was only 19 ft long! However, with enough vision, tools, and accessories, it didn't take long to make our vintage home shine.
Here are some tips that we utilized so that you can utilize them too!
1. A Little Paint Goes a Long Way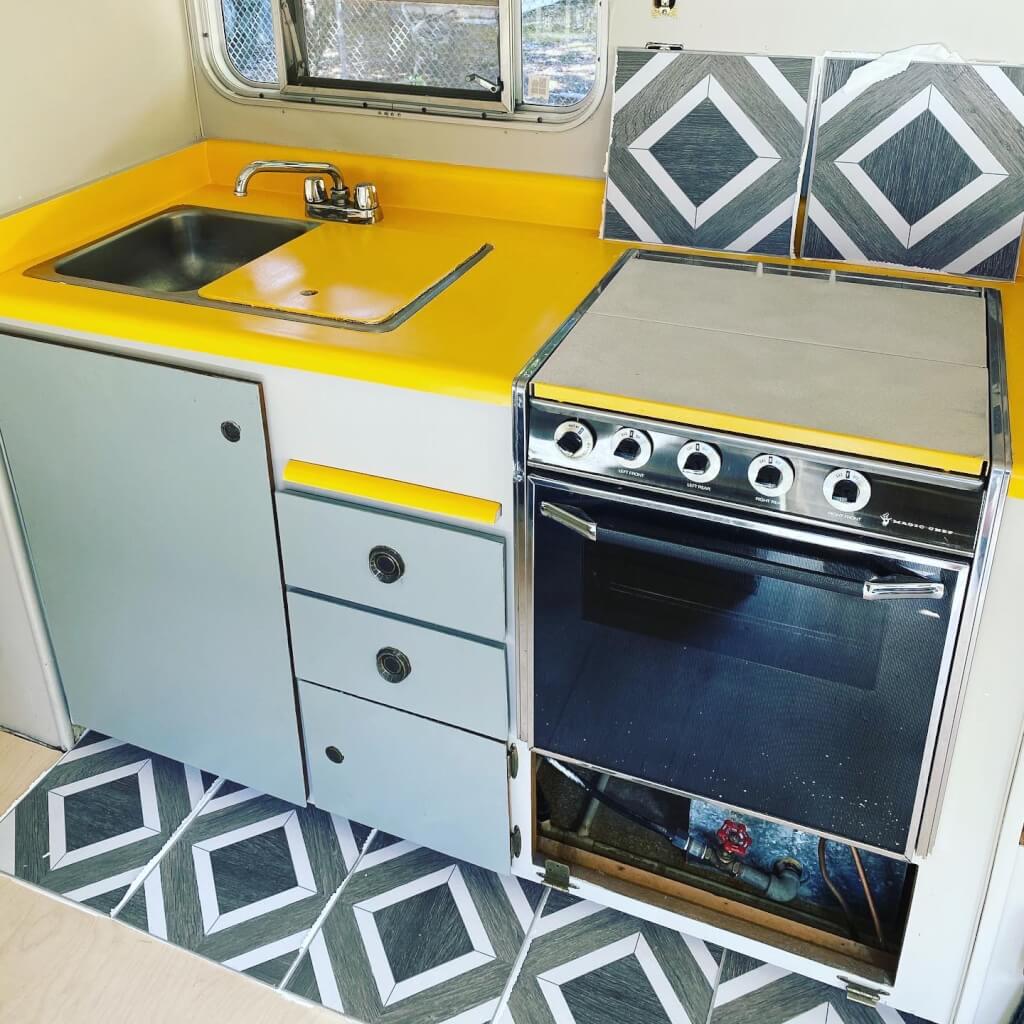 Our travel trailer was straight out of the '70s, which can essentially mean only one thing: wood paneling. The entirety of our rig was full of fake wood veneer, something that we found charming at the time but knew we couldn't live with. The very first thing we did to our vintage rig was to paint the interior.
A little bit of paint can truly go a long way in a small space, especially if you prioritize lighter paint colors to make your interior feel more expansive.
We opted for a whitish-gray color for our walls, choosing to leave the delightful wood paneling on our refrigerator only. We also decided to choose a bright and cheerful egg yolk yellow to incorporate in other accent locations in our design.
No matter how large your rig is, paint can help your RV feel larger, custom, and more like home. Once we started painting the walls and ceiling, we realize just how spacious our RV could feel. Plus, it helped the natural light bounce and reflect off of the interior, further enhancing the appearance of more square footage.
Even if you only paint an accent wall or a table, this is one of the easiest ways to make your RV feel like a place that you can enjoy, full-time or not.
Plus, a small amount of paint is extremely affordable, which makes it an easy change to make in an afternoon! A chalkboard paint wall could be an easy addition to your RV design.
2. Hang Things on Your Wall (With Care!)
There's no reason to not have artwork or personal images on the walls of your RV. You may also consider hanging other things on your walls such as tapestries, shelving, and other accents.
However, just make sure that whatever you choose to hang on the walls of your RV isn't too heavy, as RV walls are not built as solidly as residential home walls.
While my partner and I felt comfortable hanging some posters, we never hung up anything that was framed. This was primarily because life on the road means moving your RV constantly, and we didn't want to have to remove any framed images each time we needed to drive away from our campsite!
However, displaying things on the walls of your RV can help you feel like you are living in a residential home. This is especially true if you don't have very many windows on board your rig, as wall hangings may help take up some of the blank space that is common amongst many new RVs.
Keep in mind that you shouldn't hang anything that's too heavy, and you should avoid hanging anything that might interfere with your RV slide-outs. However, personal photographs, artwork, and other design accents definitely make a home on wheels feel like a permanent home!
3. Textiles Are Your Friend (Rugs, Curtains, Throw Blankets)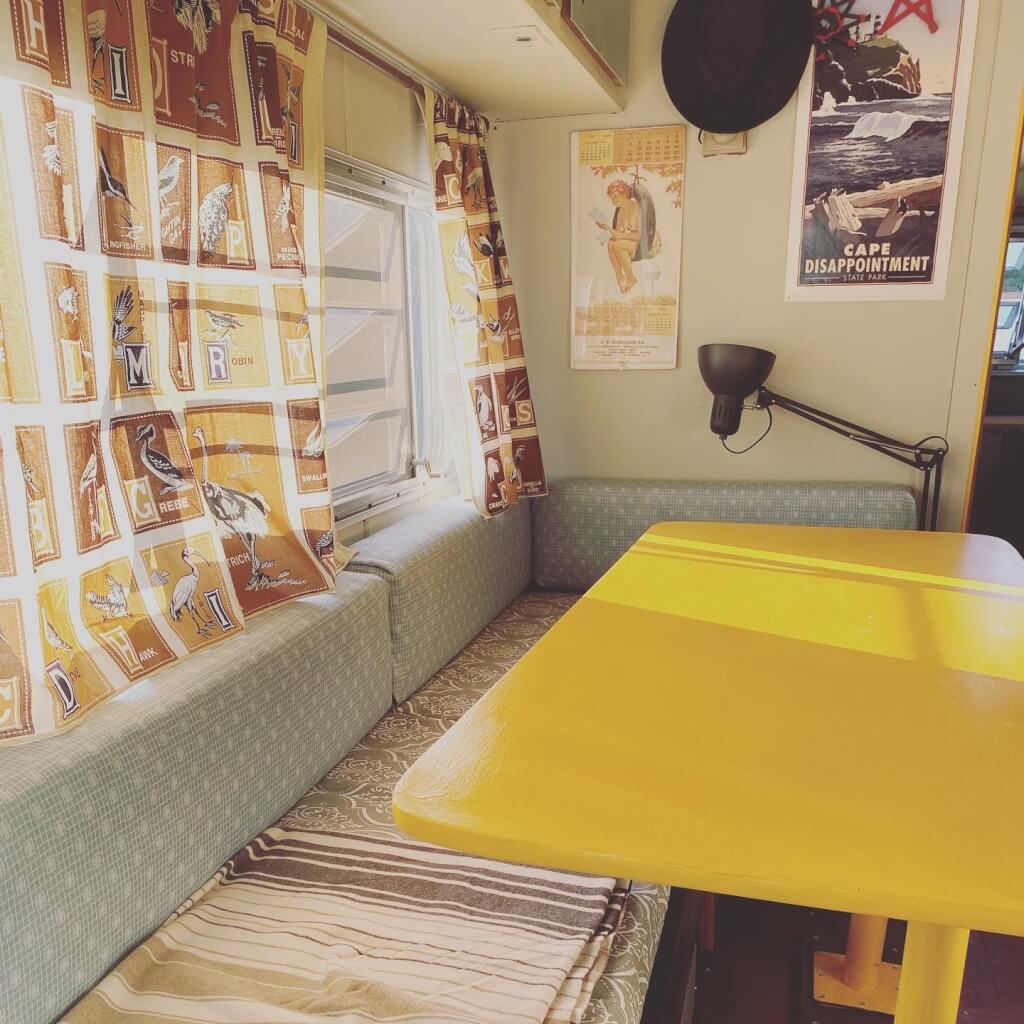 Unless you have a fairly luxurious RV or have custom-made your rig with an RV manufacturer that allows for a bit more creativity, it's not a secret that most RV upholstery is pretty boring.
This is primarily because they are designed for longevity as well as general wear and tear, but this doesn't always result in the best interior design! RVs are notoriously ugly, after all!
However, you can always introduce your own textiles. For example, my partner and I incorporated a small set of curtains that originated from the 1970s into our 1976 RV. We also sewed curtains of our own in a cute pattern so that we could invite more uniqueness into the space.
Curtains are one of the easiest things to introduce in an RV setting, especially if you need more insulation. The fabric can help absorb excess noise as well as light.
Plus, it can be fun choosing your own fabric, especially when you consider the fact that many RV windows are too unique to purchase standard curtains and expect them to fit properly.
Besides curtains, it's easy to introduce other textiles into an RV. You can choose unique throw pillows, throw blankets, and rugs are always great options in an RV setting.
It can get cold while on the road, and my partner and I made a perfect-sized rug for our living space from an existing rug. It's helped warm up our living space, in more ways than one!
4. Refinish Some Furniture
You don't always have to get brand-new furniture for your RV if you are hoping for a new look. Simply refinishing your existing furniture, whether you use wood stain or paint, can help greatly.
If you are bored of your existing dinette or kitchen cabinets, you can always redo them and bring new life into your RV!
Even if you simply repaint an end table in between your theater seating, this subtle accent will likely make your RV feel more like home.
So much of RV interior design is made for simplicity, durability, and life on the road. However, that doesn't mean you can't slap a new coat of paint or wood stain on it!
5. Decorate With Your Family
Even if it's only in subtle ways, your residential home likely feels like home because the entire family helps shape it. Decorating with your family can be extremely rewarding in an RV setting, even if you only hang up a few pieces of art or repaint a single wall.
The act of decorating all together may help bring a sense of home and warmth into your home on wheels.
One of the best options you could choose when it comes to decorating the interior of your RV might be to decorate with objects found on your travels with your family. Not only will this shared memory likely bring you closer, but it is also a memory attached to your RV.
Plus, you could always decorate using interactive pieces of art, such as a map that you use to cross out or mark your destinations while you travel!
6. Make Display Shelves
While it may take a bit of customization and ingenuity, you may want to make some additional display shelving for the interior of your RV.
While you need to keep in mind that your RV walls can't support anything too heavy, additional shelving that is custom-made for your space will not only help it feel more like home, but it will also give you additional storage.
Depending on how custom you go, you may even be able to fabricate an option that is capable of holding your items on the shelf while you drive down the road. Even a custom-made, wall-mounted shoe rack can make a huge difference in a small space.
With enough little touches, even the most boring RV interior can start to feel homey!
7. Replace Some Lighting Fixtures (Or Just the Bulbs!)
While most of our vintage light fixtures were adorable and worth keeping, the one above our dinette left something to be desired. My partner and I replaced the entire light fixture in our vintage RV with a movable, custom light on an extra-long cord. This allowed us to move it about the interior of our RV, but it was still fashioned with a cute lampshade.
Replacing your lighting fixtures, even if it's just the shades or covers, can make a huge difference inside of an RV. Pay attention to your materials and make sure to not choose anything that is too fragile to put in an RV or mobile home setting before you get too excited.
For example, a blown glass sconce above your kitchen island might look good, but it might not appreciate all of the sway and motion that comes with driving an RV!
You may also find that simply replacing the light bulbs inside of your RV makes a huge difference. While not all RV lighting is as simple as residential lighting, choosing a light bulb that is a warmer color may help invite a sense of home and comfort into your home on wheels.
8. Make Your Bedding Special
Just like the upholstery on your RV sofa, the bedding found on the average RV bed isn't exactly stunning. That's why bringing in your own bedding, sheets, and more can make a huge difference when it comes to furnishing your RV bedroom. And I'm not talking about sleeping bags– I mean bring your king-sized comforter!
Sleeping while traveling is often a difficult task, even if you're tired after a long day on the road. By incorporating more of your own bedding from your own home into an RV setting, you may be surprised by just how comfortable you might feel!
This could be something to consider not only for the master bedroom but for your bunk beds and other sleeping areas as well.
9. Hide Your TVs
While not necessarily an easy task, televisions in an RV setting can have the opposite effect when it comes to making an RV feel like home.
While most residential homes have televisions in them, RV TVs often overwhelm a space and make it feel more like a hotel rather than a house. This is especially true if you have more than one television on board your fifth wheel or motorhome.
Our vintage travel trailer did not come with a television, but we knew we wanted the option given that we would be living in our RV full time. My partner and I installed a simple projector and utilize a plain white sheet as our screen, something we could easily fold up and store when not in use.
Not only did this maximize our screen size compared to a standard television, but it gave us the option to store our electronic devices and not think about them.
Given that most people purchase RVs to enjoy the great outdoors, it's not a bad idea to consider storing or otherwise hiding your television while you camp.
Some RVs have TVs that can be hidden in cabinets or shelves. While you may have to build your own custom option, this might be a good chance to flex your creativity and make your RV interior truly special!
10. Give Your Pets Their Own Space
It can be extremely difficult to designate space in an RV to just one thing, as most spaces are flexible in order to maximize every available inch of square footage. However, by giving your pets their own station or space, you are also helping them feel more at home too!
Likewise, you may find that having a designated space for your pet helps you feel like you are at home.
Some RV floor plans offer amenities for pets, such as a stowable drawer that holds their food bowls, leash-up areas or areas that allow you to clean your pets, and some options even have designated sleeping areas for Fido!
Regardless of what you are hoping for, you can always create a custom space for your pets in your own RV.
11. Have Fun With Bunk Beds
The kiddos also need a designated space on board an RV in order to feel comfortable too. If you have an RV with a bunk bed or bunkhouse design, it may be a good idea to have some fun with the interior of this particular area.
Even if you are traveling with adults that will be sleeping in a bunkhouse, there are plenty of things to do with this special area of your RV.
You can always paint your bunk beds, and utilize textiles to create a comfortable and unique fort, or you may want to consider installing a projector or other form of entertainment in this space.
Creating a curtain divider or fabric enclosure for your bunk beds may also help it feel special and assist with noise while you all sleep in a fairly small space!
The ceiling of your RV above your bunk beds may also be a good place to incorporate additional lighting or artwork. Likewise, the underside of your upper bunk could also have some special touches that not only help the kiddos feel more at home but give you even more customization to suit your lifestyle.
12. Create a Unique Outdoor Space
While you'll likely enjoy the outdoor space no matter where you camp, creating a special outdoor area may help the entirety of your RV feel more like home.
This RV patio makeover video is a perfect example and it offers simple but unique ideas.
You can always create some indoor-outdoor living, depending on the type of RV that you have. For example, some toy haulers are fantastic for this, given their ramp access.
By packing some outdoor furniture, including some tablecloths, chairs, umbrellas, and more, you can make the exterior of your RV look like a house as well.
Most RVs have awnings, helping you enjoy the outdoors just as much as the indoors. You may also consider bringing along a propane fire pit so that you can enjoy an evening outside without being too cold.
13. Incorporate Wood or Stone Elements
While my vintage RV had a bit too much wood paneling, incorporating wood or even stone elements inside your RV may help it look more like a house. This could include exposed beam additions, tile backsplashes in the kitchens or bathrooms, and even wooden paneling in tasteful, small amounts!
If you are feeling particularly ambitious, redoing the floors of your RV can truly help it shine. You may want to research the types of flooring that work best in an RV setting, given just how much an RV floor can shift while you travel. Vinyl flooring is always an option, and these tiles are incredibly easy to install.
While these may sound like huge changes, keep in mind that you are making these changes on an extremely small scale. We redid all of the floors in our 19 ft long travel trailer and did it for an extremely low price given that we didn't need very many materials.
Another change you could make might be adding texture or tiles to your ceiling. For example, tin ceilings might help your RV feel more like home, especially if you only add such a touch in a small space such as your kitchen.
There are plenty of other things to try, including painting the ceiling a different color from the walls. Get creative and consider other materials!
14. Plants Make an RV Feel Special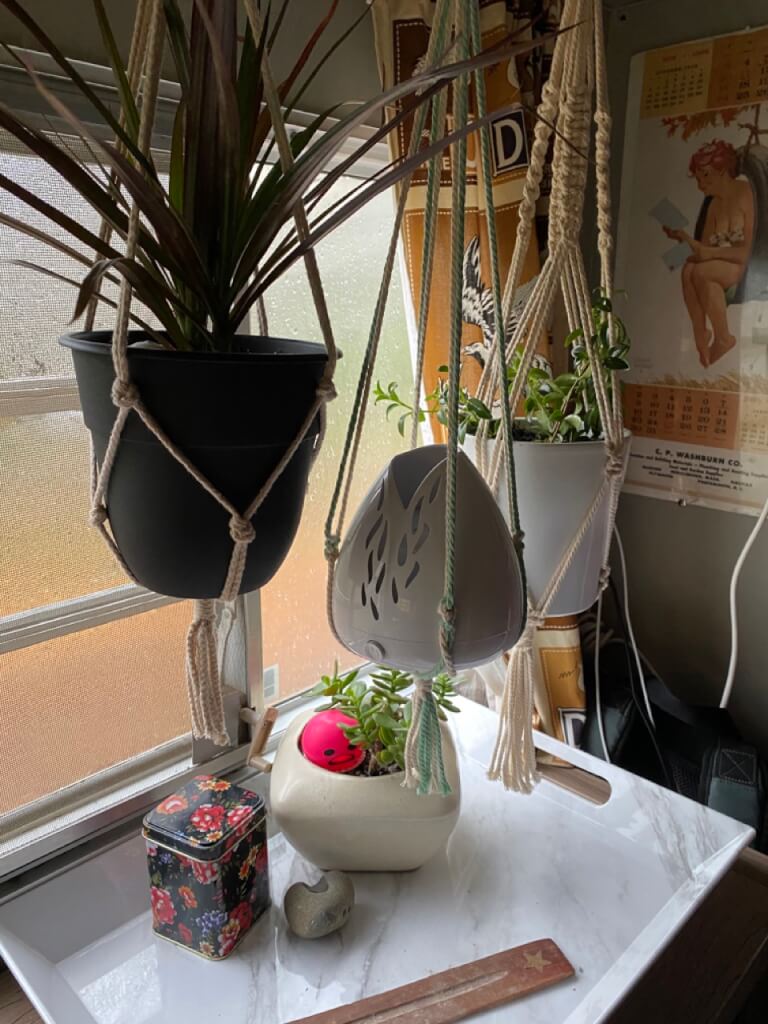 So While it may not be terribly convenient if you aren't living full-time in your RV, incorporating plants into your interior design is one of the easiest ways to make a space look like a house.
You can always use fake plants if you don't want to have to worry about taking care of actual plants while you travel! It's simple to add a bit of green to your home on wheels.
My partner and I have some homemade macrame plant hangers for our plants, and hanging them up helps us save counter or floor space as well. Plus, it gives our living area a natural, special look that helps it feel like a more traditional home!
15. Mirrors May Help With Small Spaces
So long as they are installed safely, mirrors can help make an RV look more like a house in terms of its overall size. Given the way that light and space reflect in a mirror, this is a simple way to make a space feel bigger, even home on wheels.
You can also get extremely creative with mirrors, especially ones that come in unique shapes. For example, there are mirrored tiles that are easy to stick onto a wall.
With a bit of creativity, you can transform just about any wall or ceiling of your RV into a spacious and reflective area. Plus, a full-length mirror in an RV can be extremely helpful and help you feel more at home, as it can be difficult to see your entire outfit otherwise!
16. Build Your Own Furniture or Accents (Especially Storage Solutions)
Given that my partner and I completely remodeled the interior of our 19 ft long travel trailer, we knew that it was extremely unlikely for us to find things that would fit in such a small space.
While Ikea gave us plenty of accents and storage solutions, we ended up rebuilding our bedroom area to maximize our interior living space.
You can do anything inside of your RV to help it feel more like home, including building your own furniture or interior design accents. This is often a necessity given that standard furniture doesn't often fit in such a compact space.
While it may not be feasible for you, building shelves, tables, or other furniture pieces may truly help your RV look more like a house.
Depending on the type of RV you purchase, you may not need to incorporate more storage solutions in your interior design. However, anyone who's ever set foot in an RV knows just how important storage is in such a small space.
You may find that building your own custom storage helps you not only create a more personal space, but a more efficient space as well!
17. Don't Forget Some Kitchen Accessories!
Speaking of storage solutions, there are plenty of things you can do in your RV kitchen. While RV manufacturers utilize as much cupboard space as they can in an RV kitchen, there's always room for more storage.
My partner and I installed some options that not only help us keep our kitchen accessories in a convenient place, but it also helps display some things and make our kitchen look more like home.
You may also consider using your kitchen accessories as interior design accents. For example, my partner and I utilize a Moka pot to make our coffees in the morning, but it typically ends up resting on our RV stove top for most of the day.
Not only does this solve the problem of having to store it (at least until we travel), but it also looks cute and makes the space look more inviting!
We also utilize a magnetic spice rack so that we don't have to worry about keeping spices in a cupboard. Magnets in general can help an RV space look more like a home, whether you utilize them on your RV fridge or on a magnetic wall.
Likewise, you may consider installing hooks for your mugs. Just don't forget to pack them away safely when you pack up the rest of camp!
Finally, kitchen towels and kitchen curtains can help an RV kitchen look more like a house. Not only are these functional pieces to bring into a space, but you can truly find something that speaks to you and suits the rest of your interior design.
Final Thoughts
No matter the type of RV you have, it's easier than you think to make an RV look like a house. Whether you utilize paint, textiles, or storage solutions from Ikea, it's typically easy to fix up the average RV interior.
With the right creativity and an eye for design, a home on wheels can truly feel as comfortable and welcoming as a traditional home!