On Christmas Day I flew home to Honolulu from Seattle.  And while flying Hawaiian on this route wasn't anything new for me, their meal service was.  That's why I had been looking forward to, yet dreading this flight all along.
As I mentioned in the previous installment of my Snowy Seattle Trip Report, this past Christmas was the first time I traveled on a major holiday.  And the reason Mrs. Island Miler's sister & I chose to fly home that day was so we could split the holiday between our families, and the fact that the fares on Hawaiian were much cheaper that day.  But, thankfully, while Seattle-Tacoma International Airport was crowded, it wasn't chaotic.  And the Priority Pass Lounge we killed time it was empty too.
Boarding
The flight my sister-in-law (SIL) and I took on Christmas day was a seasonal second flight from SEA to HNL.  Our flight, Hawaiian Airlines flight 27, was scheduled to depart at 11:00 a.m. with a 10:15 a.m. boarding time.  So 20 minutes to the scheduled boarding time we headed over to the gate area.  And as is often the case, our boarding time came and went.  Slightly behind schedule, pre-boarding commenced at 10:19 a.m., with the actual boarding call being made at 10:21 a.m.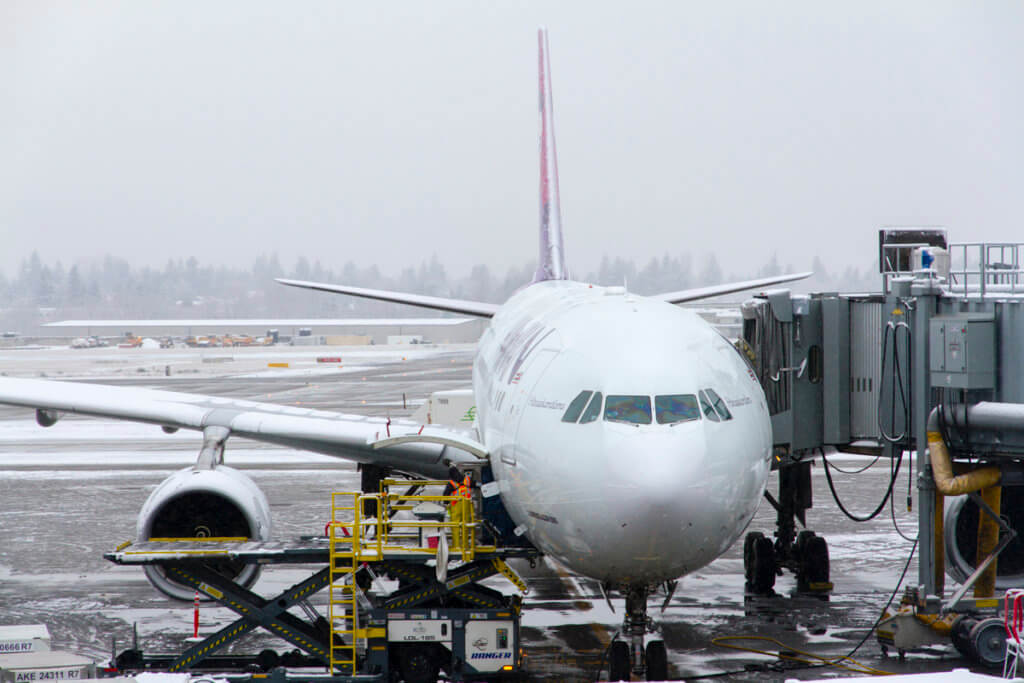 My SIL and I booked Extra Comfort seating, so we had Zone 2 priority boarding and were able to settle in quickly.  Initially we were in the center set of seats; however, a family was occupying our seats.  Somehow they thought A and B were where C and D were.  But, we preferred the window seat and didn't want to separate the young children from their parents, so we swapped seats with them with my SIL taking the window, and myself in the aisle.
Seats
I've reviewed Hawaiian Air's Extra Comfort seating back when we flew from Las Vegas to HNL earlier last year.  And these seats were no different, except for the massive amounts of leg space we had.  Our seats were the bulkhead seats, though there's no physical bulkhead separating the first class and Extra Comfort cabins.  However, what this meant for us was gobs of legroom!  More, in fact, than you'd find in the exit row Extra Comfort seats.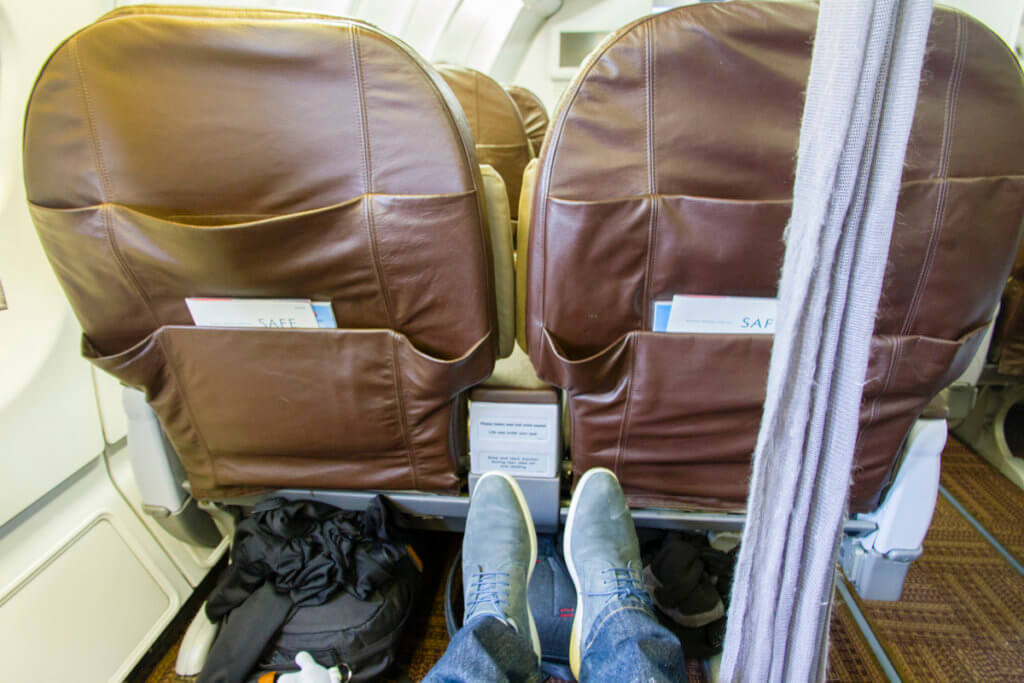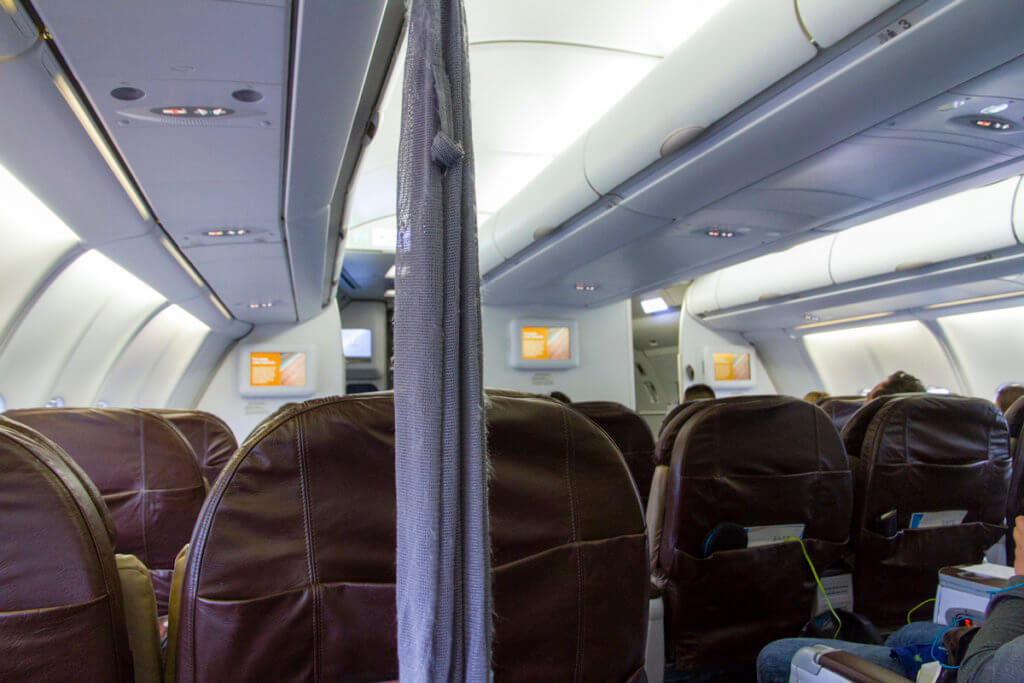 Unfortunately, our seats had seen better days, which is sad because this product is relatively new.  For example, my SIL's IFE wouldn't work.  Period.  And that's a major bummer since the only benefit besides early boarding and extra space for Extra Comfort seats is the "free" in-flight entertainment.  Me?  My power outlet kept popping out, which was really annoying and probably isn't the safest issue in the world.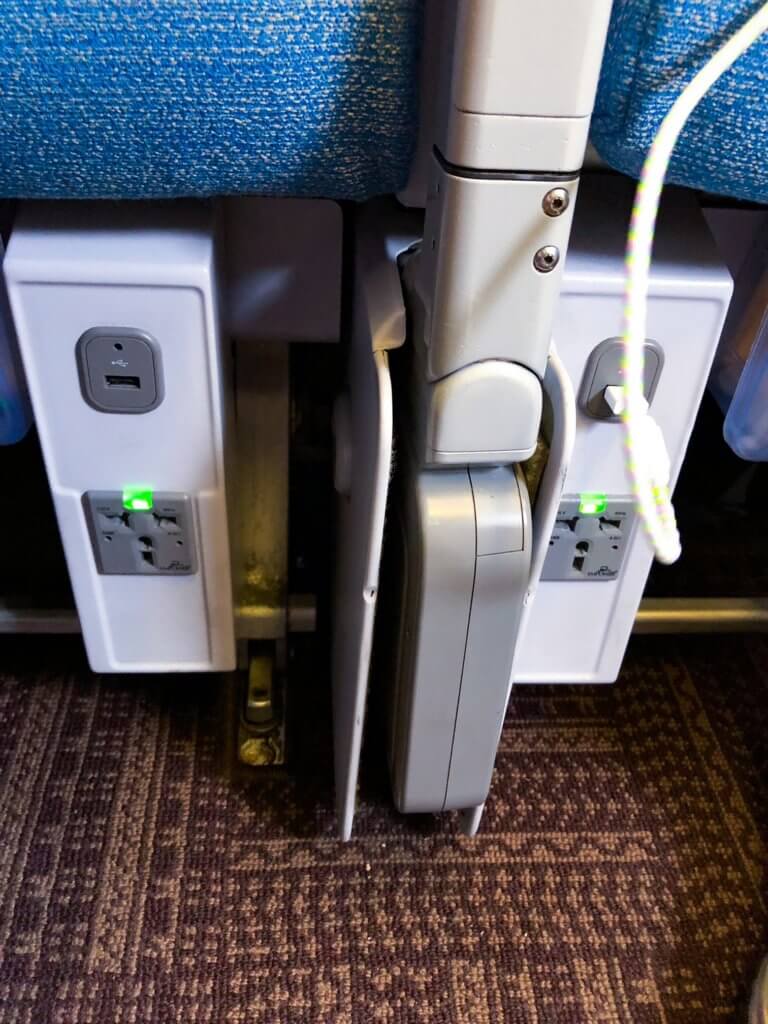 As a result of our issues, my SIL just slept most of the flight, while I watched Netflix shows I had downloaded.  The Ranch to be specific, in case you were wondering.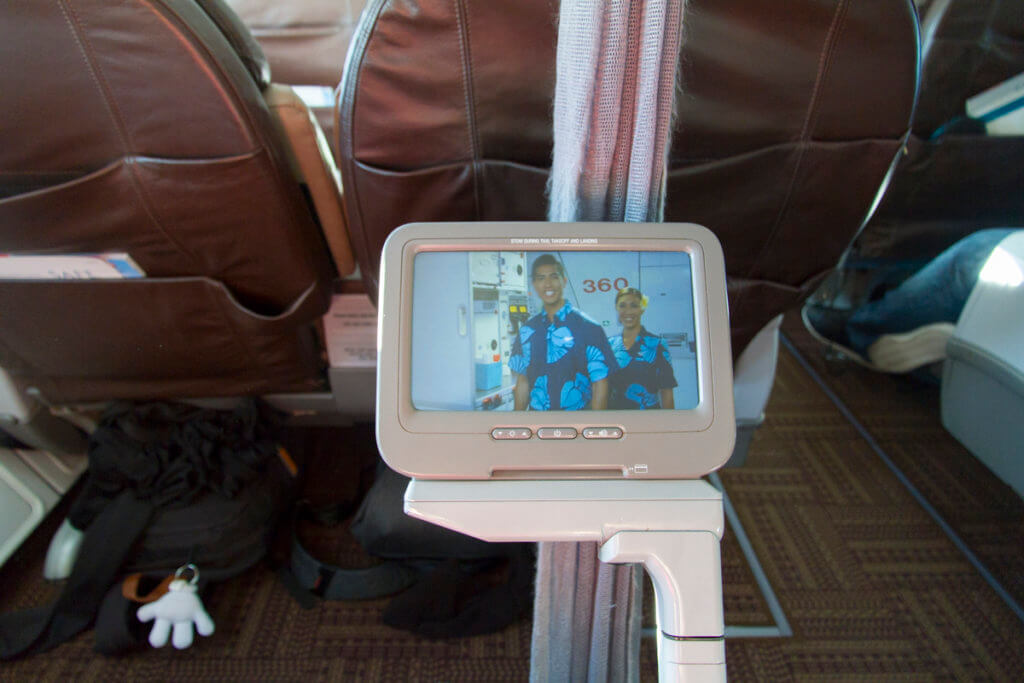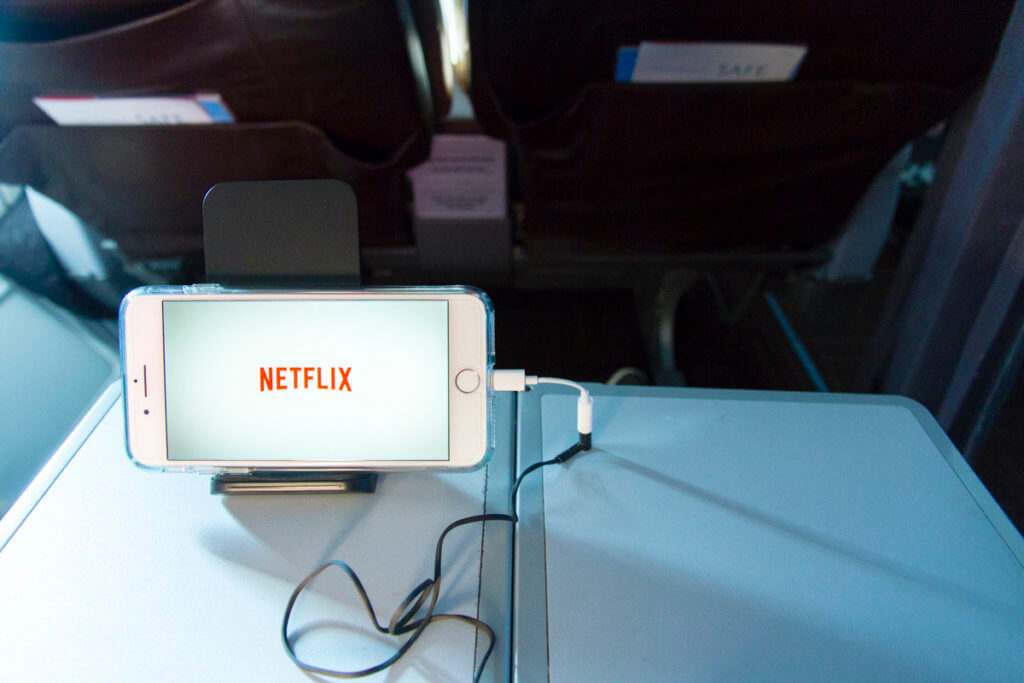 I will say, though, that it's kind of cool that the airshow features Hawaiian's updated liver.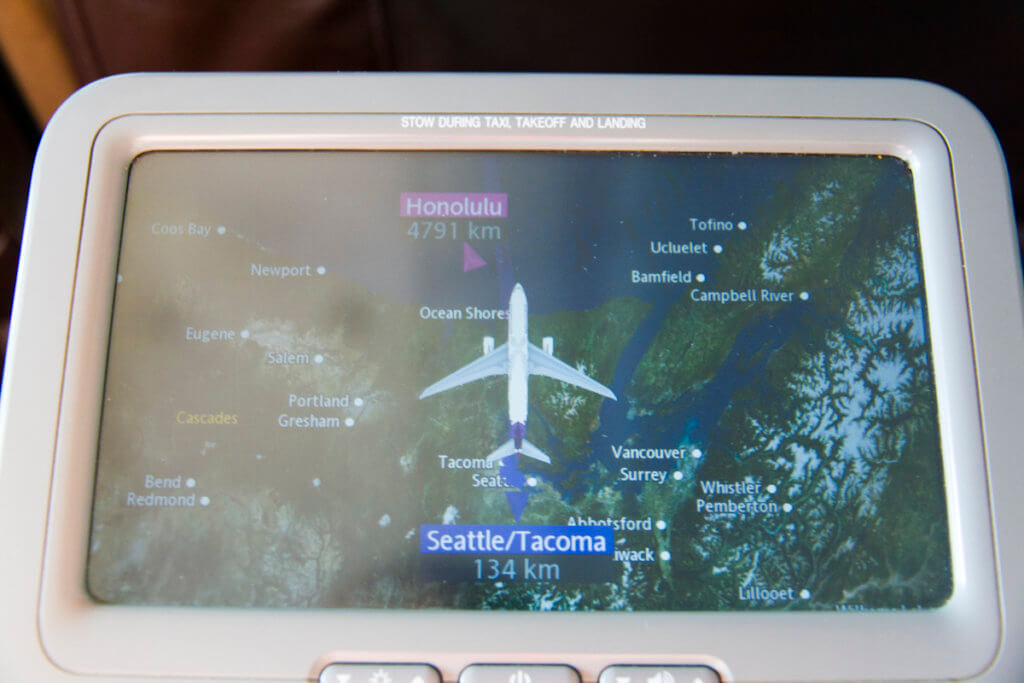 I did end up checking out the lavatory too, first time on Hawaiian if I'm not mistaken.  It is, as you'd expect, rather small and inoffensive.  The lavatory was clean, though I don't dig the 60's style tile pattern on the floor.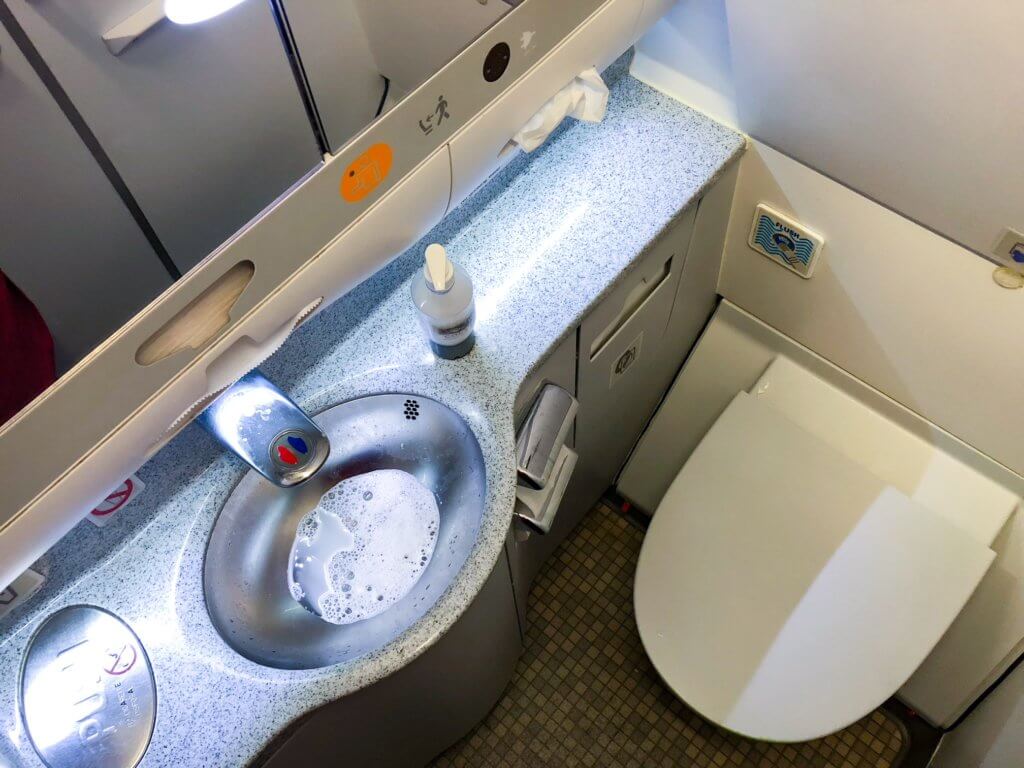 Departure
Boarding took around half an hour to complete, with the cabin door closing at 10:52 a.m.  However, a cargo loading delay kept us at the gate longer than expected.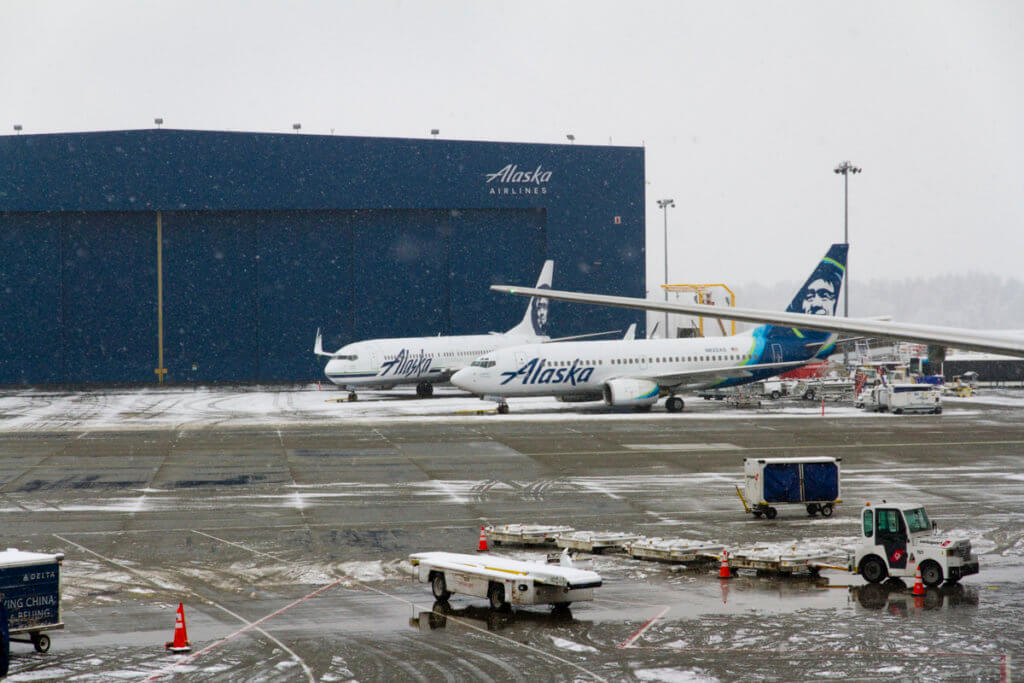 And then, an issue occurred on the ramp somewhere near the South Sattelite.  As a result, we had to sit tight at the gate until the all-clear was given.  This happened around 11:29 a.m., at which point we had to pause again for de-icing.  And thanks to the event, de-icing took longer than expected, wrapping up around 11:54 a.m.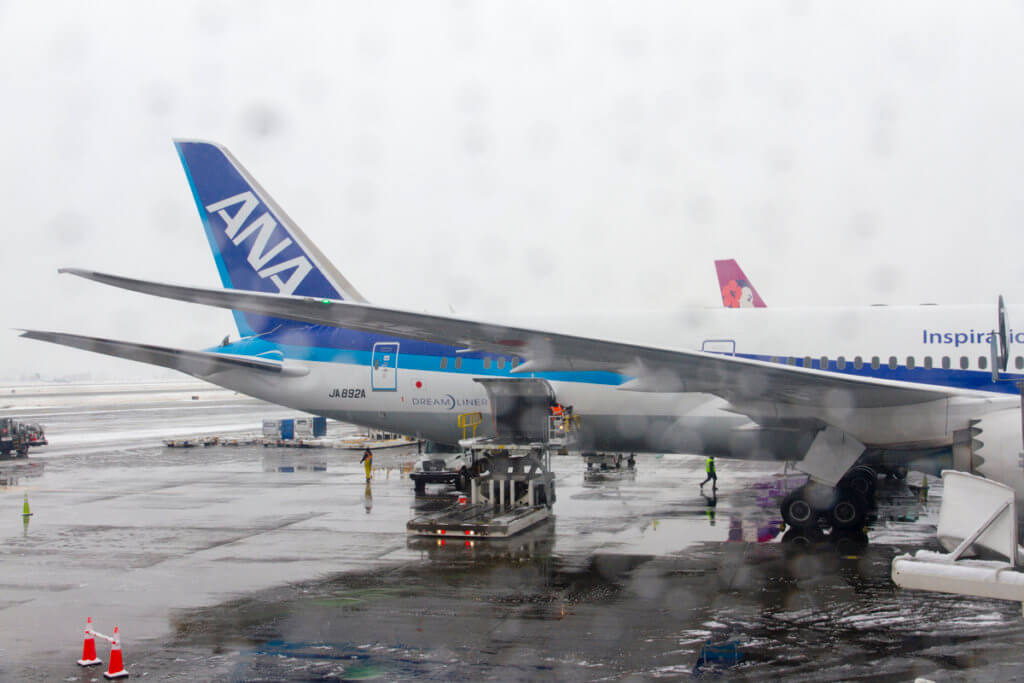 We then took a short 10-minute taxi to the runway, where we queued for another fives minutes.  But, at least there were some interesting planes to look at.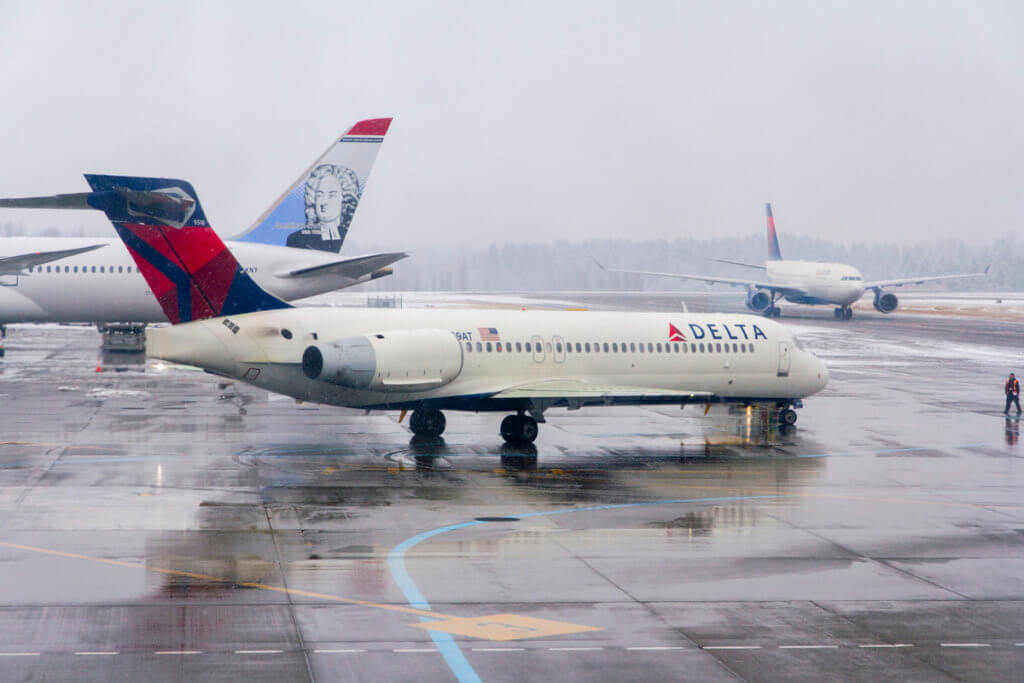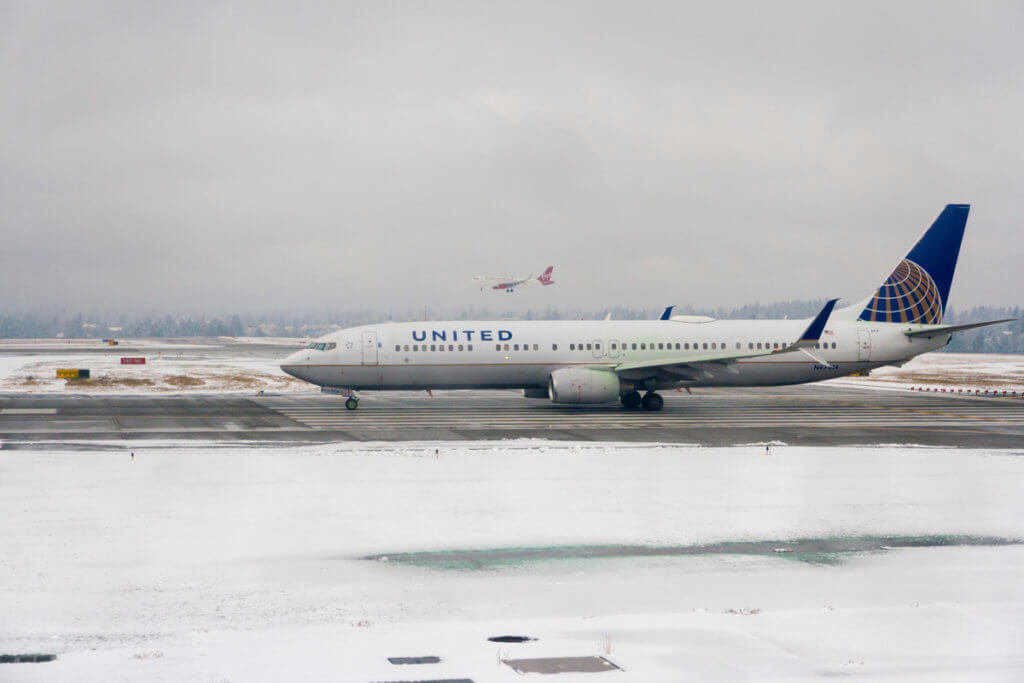 Then, at 12:16 p.m., our pilot eased on the throttle an hour and fifteen minutes behind schedule.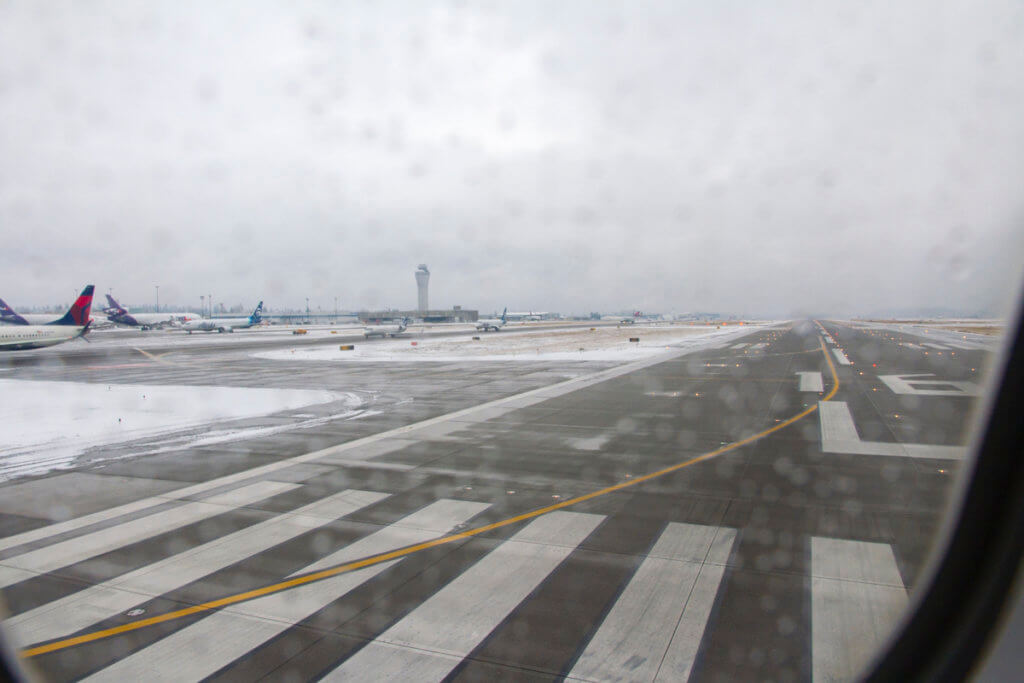 Our estimated flight time that day was five hours and fifty-nine minutes, with an arrival estimate of 4:20 p.m. Hawaii Time.  And unlike our last flight on Alaska Air from SEA-HNL, the winds weren't too strong, so there wasn't a lot of turbulence and our flight time was around the average length.  Thank goodness.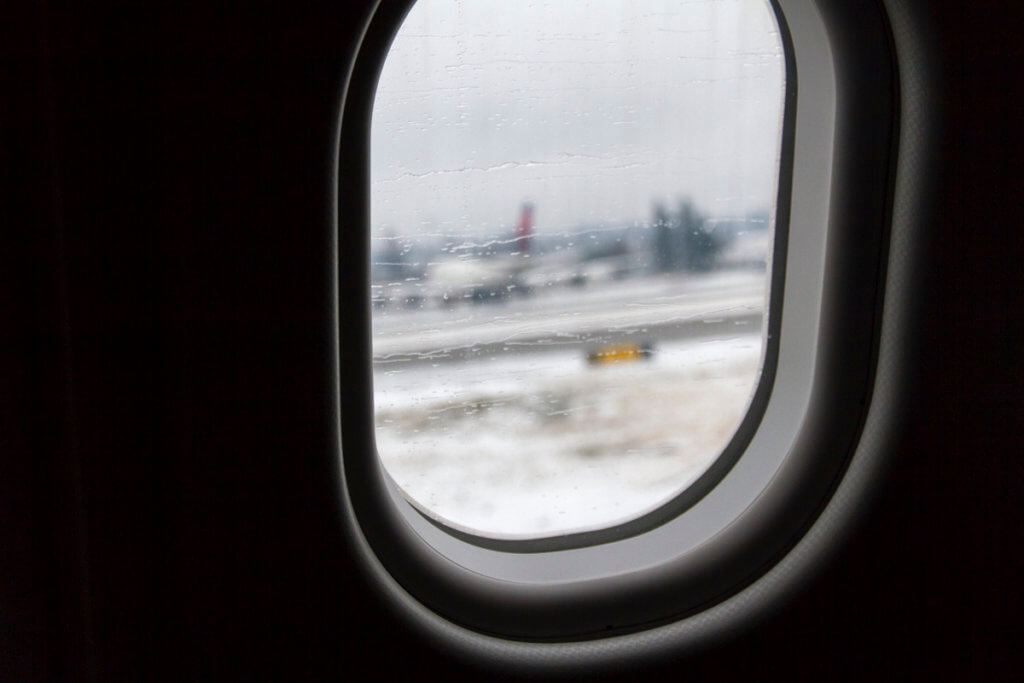 Meal Service
Meal service began around an hour after departure.  And, per the usual, the crew started with Hawaiian's annoying Pau Hana cart for-purchase service.  Then came the main event; Hawaiian's new hot sandwich lunch service.  As you may recall, sandwich service was announced last year alongside the Airline's new uniforms.  And, back then, I was skeptical of these new, cheapened meals.  Guess what?  I was right.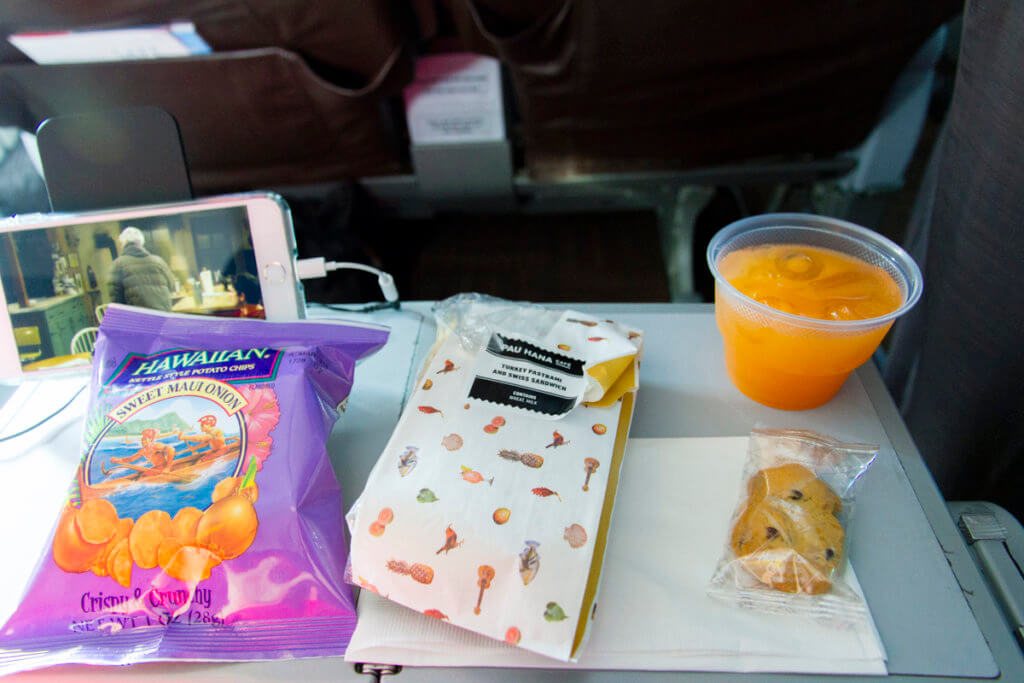 On this flight, passengers were offered their choice of soft drink or alcohol (for purchase) in addition to a hot turkey pastrami, arugula, and swiss cheese sandwich with a bag of chips and Honolulu Cookie Company cookies.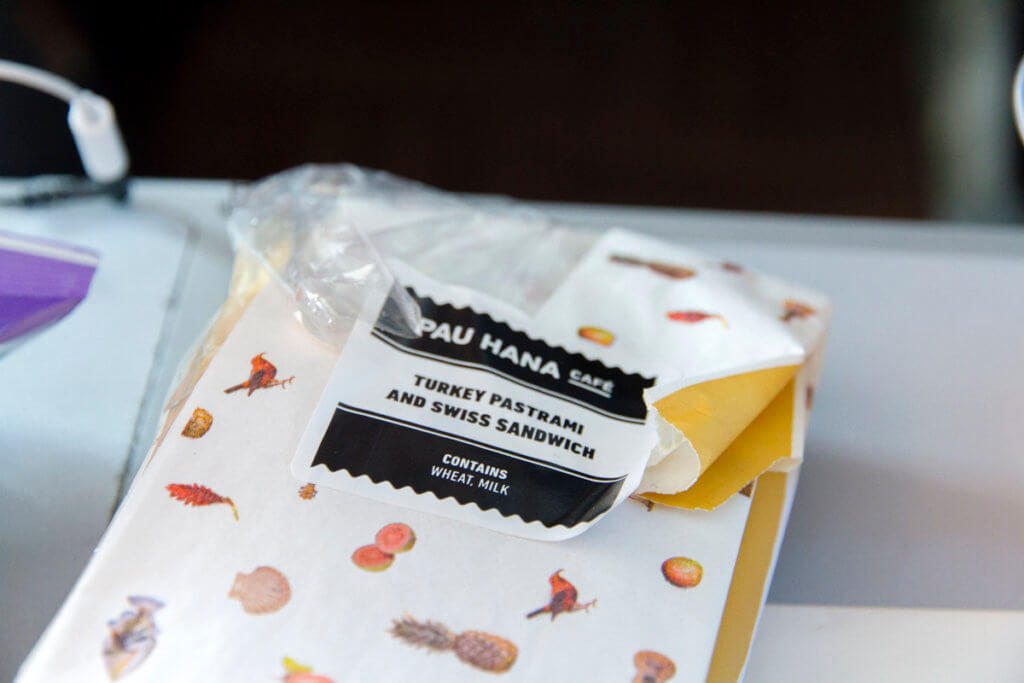 When I first saw this sandwich on Hawaiian's menu, I was concerned.  This being economy class, I was certain they'd toss the whole thing into the oven, arugula and all.  And guess what?  I was right.  The sandwich was nice and warm, but the arugula was wilted into oblivion, and the cheese melted so much it all ran out of the sandwich and got stuck in the bag.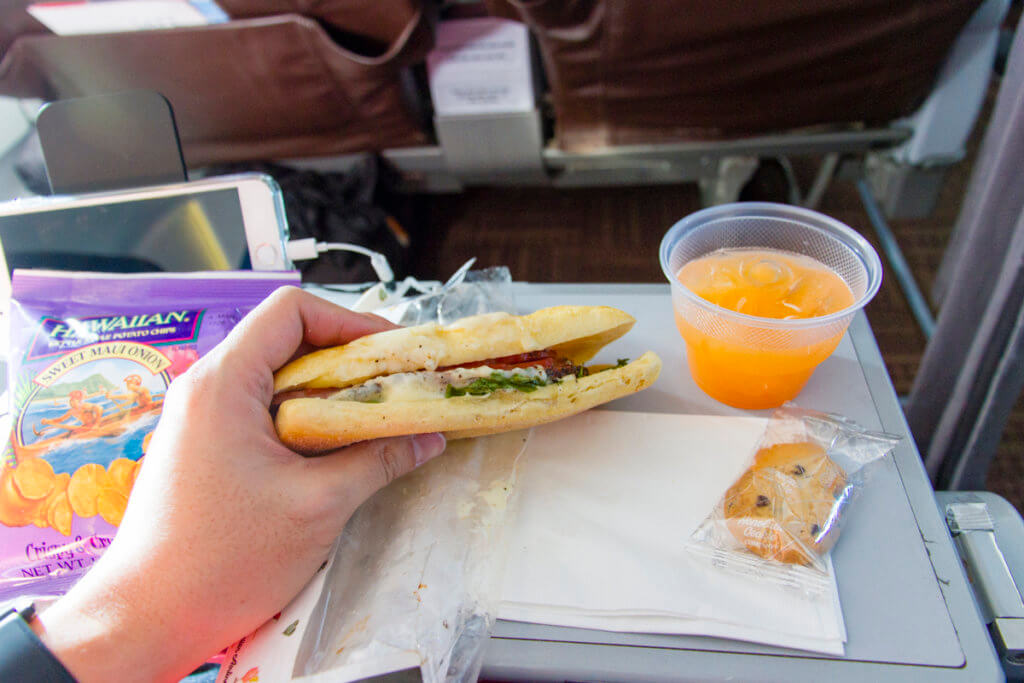 Taste-wise, the sandwich is ok.  It's not offensive, but not great either.  It would've been better if the arugula wasn't wilted and the cheese wasn't non-existent but, again, this is economy.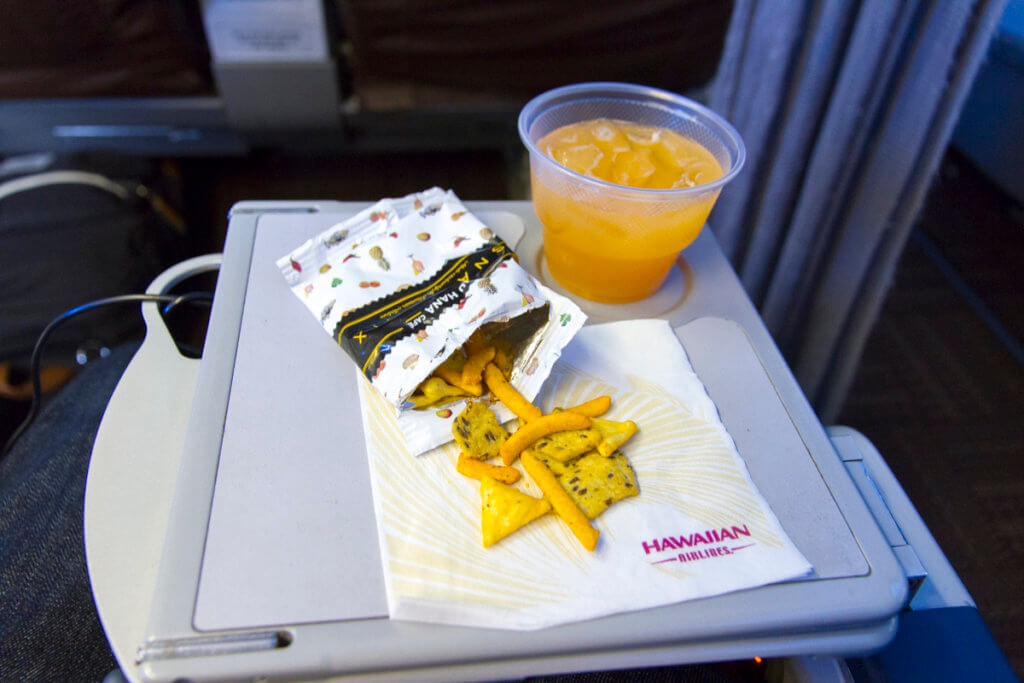 Nearly four hours later and about an hour from landing, our crew sprung into action for the pre-arrival beverage service.  At this time the crew wished our flight a Merry Christmas and offered all a complimentary Mai Tai Punch.  I opted for a POG, which was served with a bag of Hawaiian's Pau Hana Snack Mix.
Arrival
At 5:44 p.m. Pacific Time or 3:44 p.m. Hawaii Time, we began our descent.  However, our flight took a different route into Honolulu that day.  We approached the island much further to the west than normal.  So instead of flying over the east coast, out to sea, and turning over Ko Olina, we flew past the North Shore and turned east off of Kaena Point.  This gave us spectacular views of Oahu's rugged North Shore and Waianae Coast.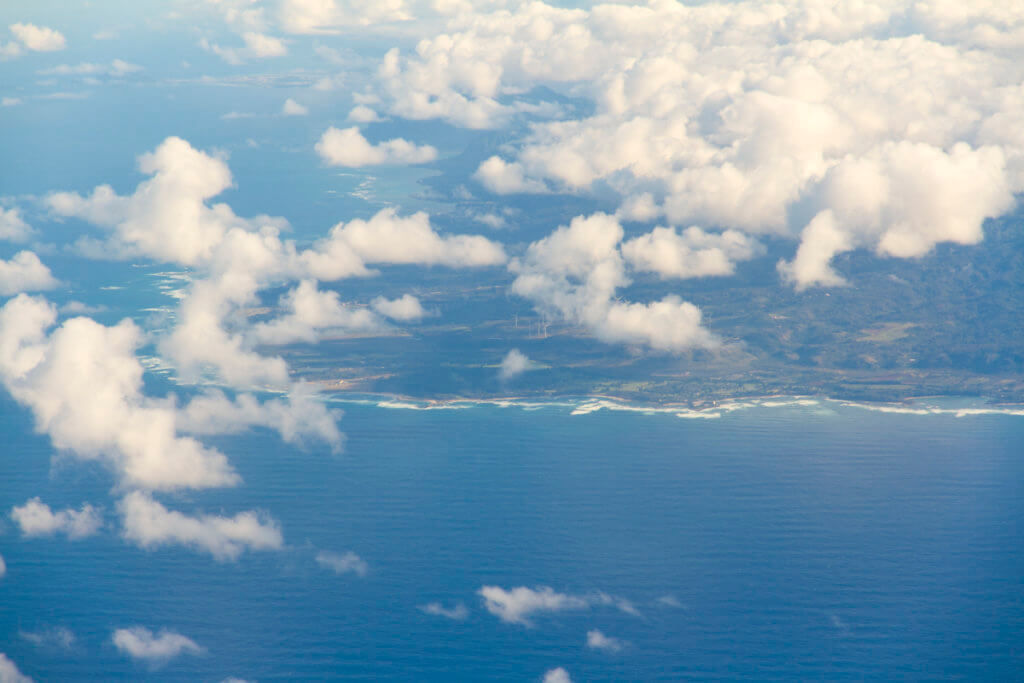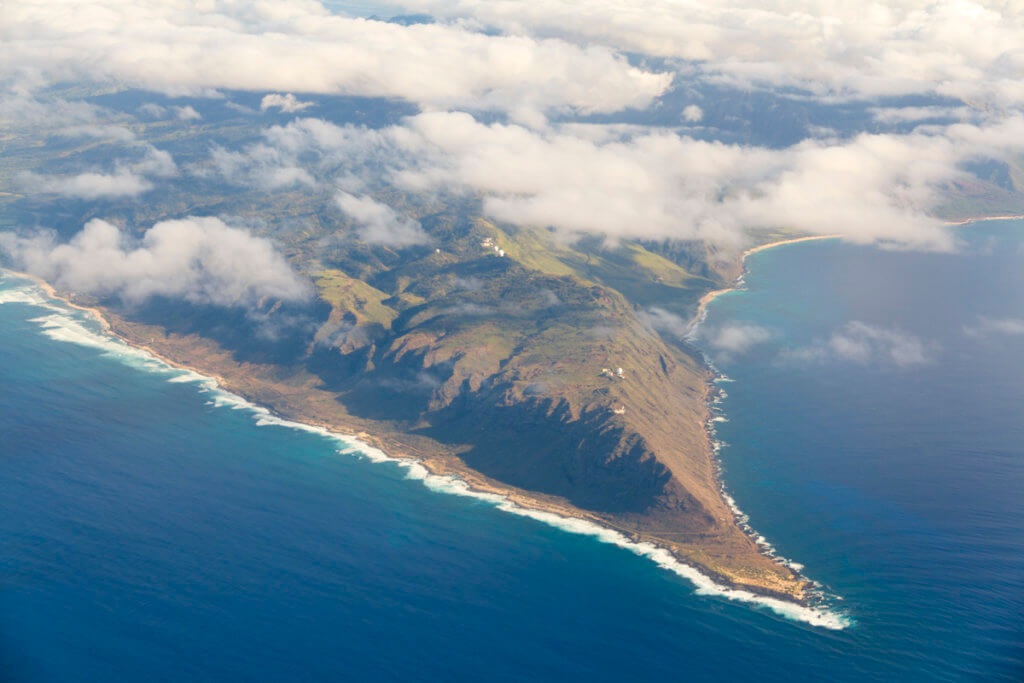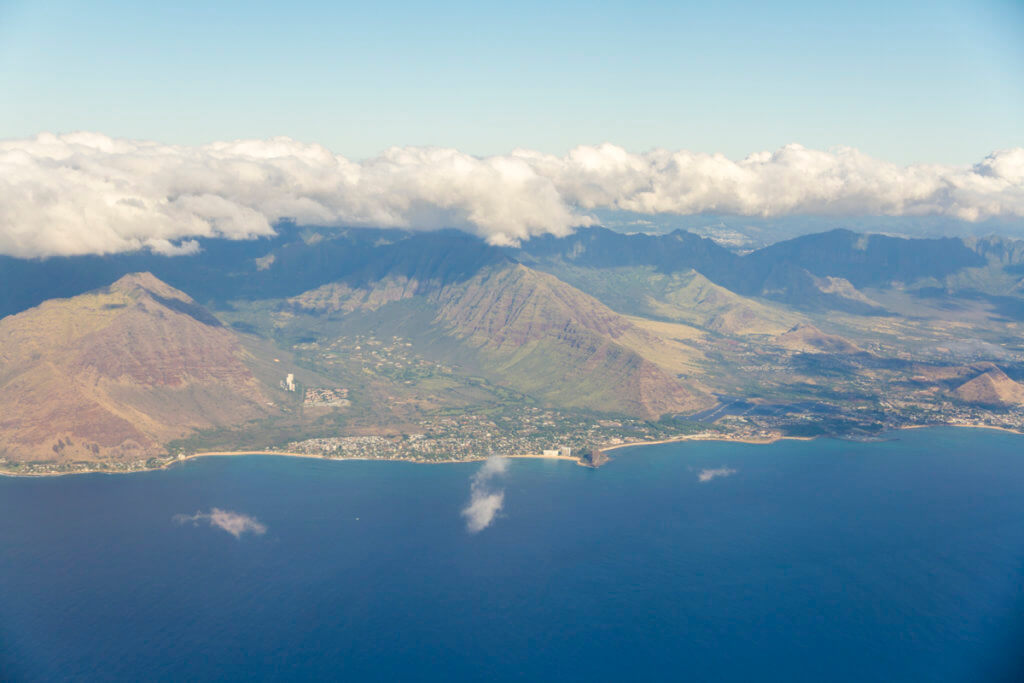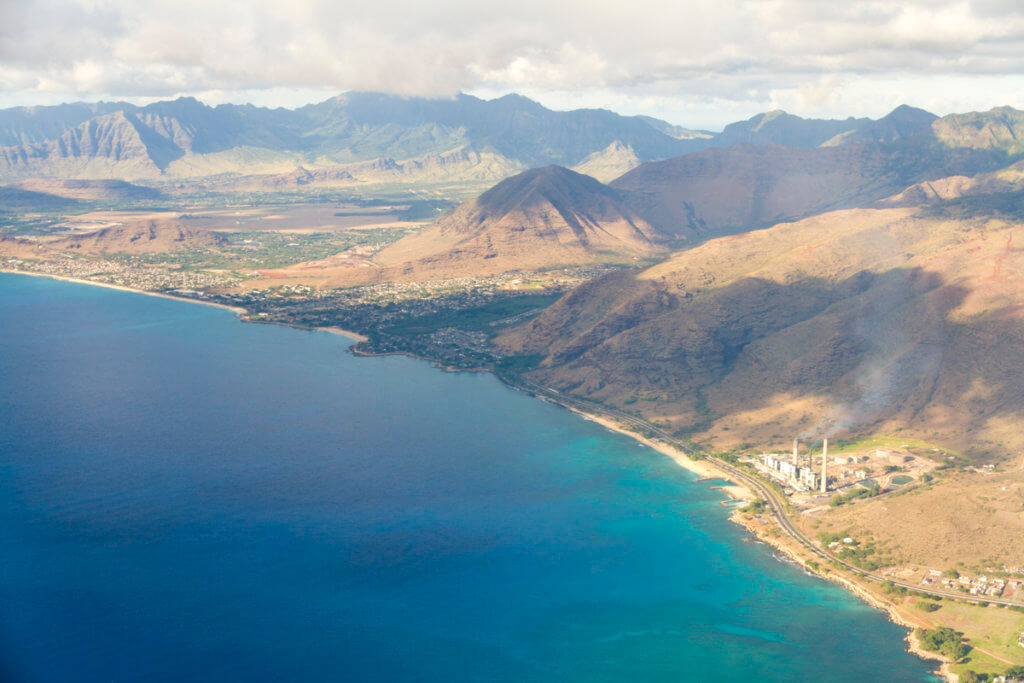 The views Ko Olina, Kapolei, Ewa, Pearl Harbor, and HNL itself were also great, as usual.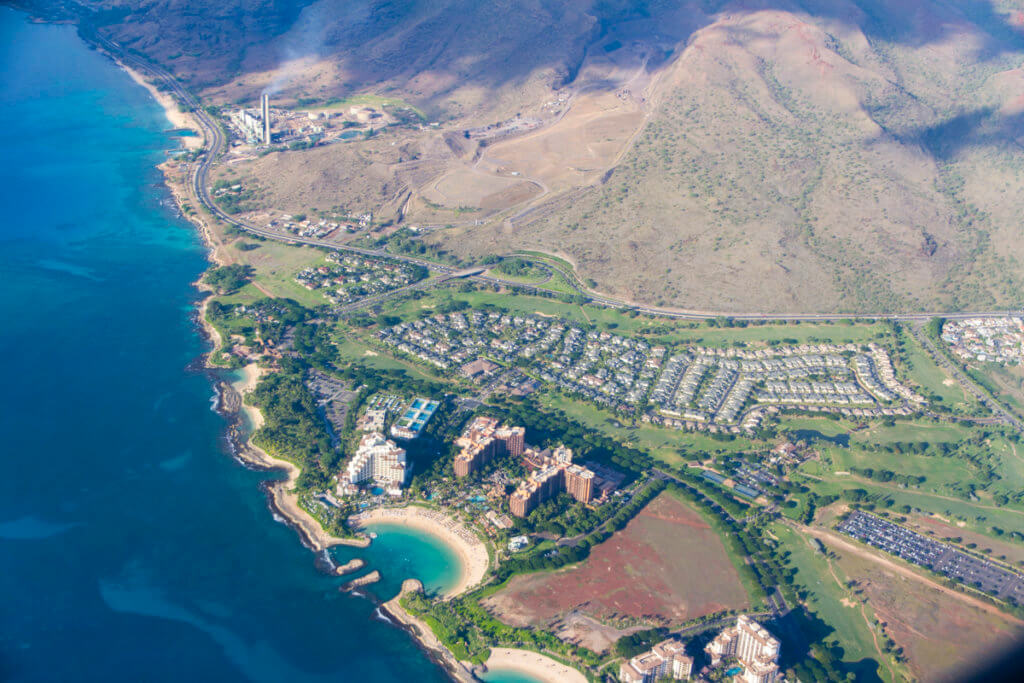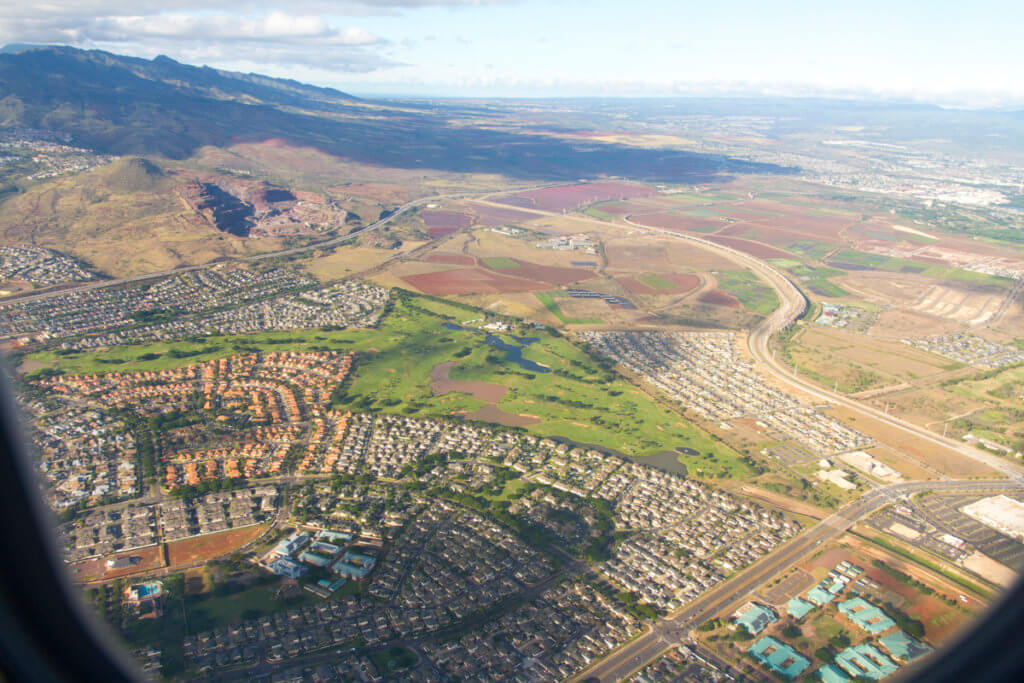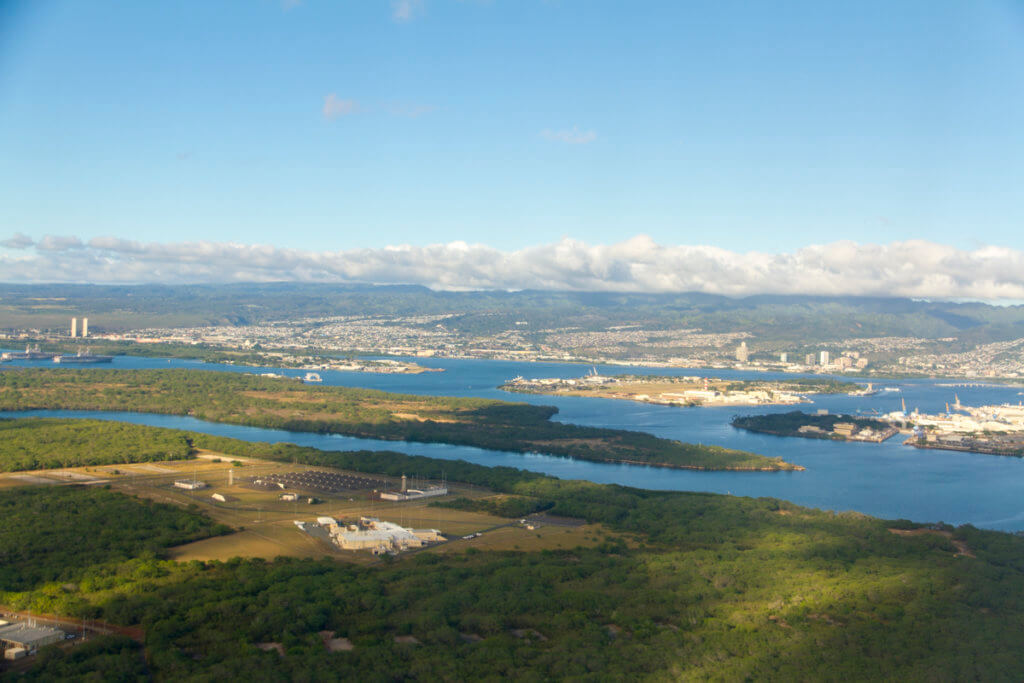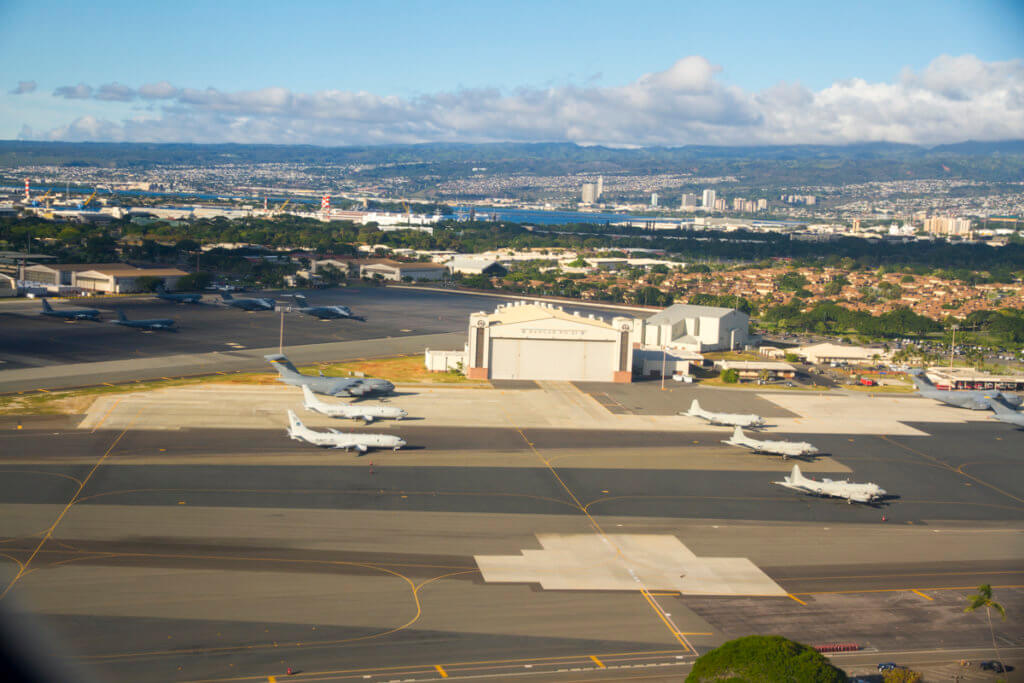 Then, finally, we touched down at 4:16 p.m. Hawaii Time, an hour and 16 minutes behind schedule.  We then took a quick, four-minute taxi to our gate, pulling in at 4:20 p.m.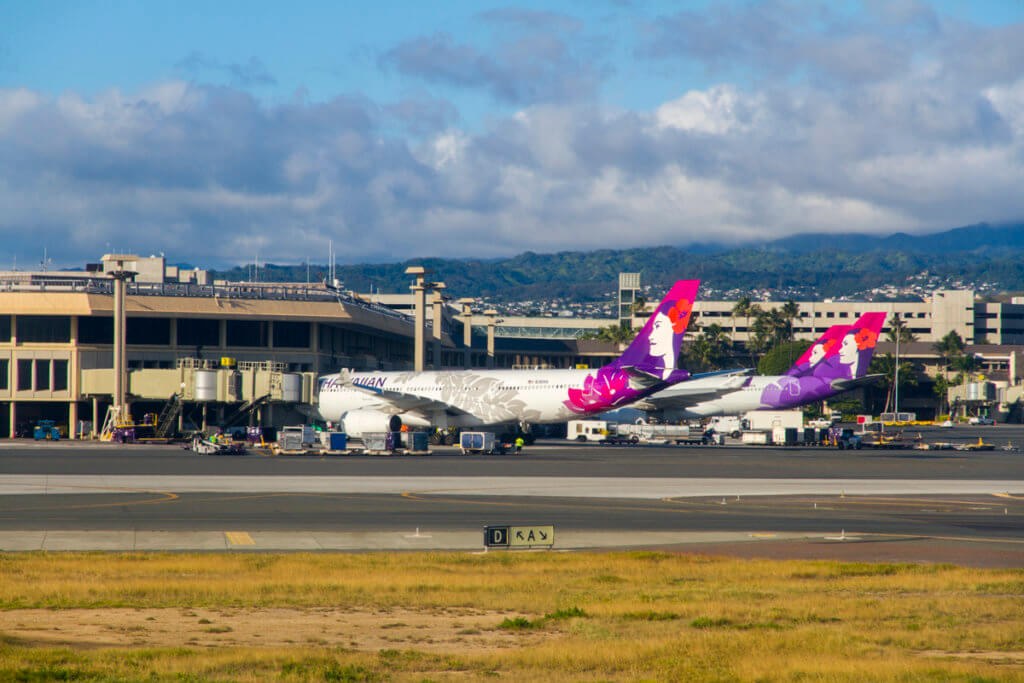 Hawaiian Airlines New Economy Meal SEA-HNL, Final Thoughts
Hawaiian's new meals are, well, a major step backward from the previous meals.  I don't care what they say.  The new sandwich service cheapens the experience and is just as unsubstantial as the old meal service.  Plus, the sandwich, while good in concept, is a fail in practice.  What would be better is something more like Starbucks' hot sandwiches like the turkey pesto or chicken artichoke.  But it is what it is.  At this point, I'd rather pay $7 or $8 for a more substantial, tasty meal on Alaska Airlines.
As for the rest of the flight, our crew was friendly and effective.  The flight, as you know, was late as is often the case when I fly Hawaiian.  And the equipment is in poor condition.  So, par for the course, really.
Snowy Seattle Trip Report
Alaska Airlines Premium Class HNL-SEA
SpringHill Suites Seattle Downtown/South Lake Union
Starbucks Reserve Roastery Seattle Revisited
The Club at SEA – South Satellite
Hawaiian Airlines New Economy Meal SEA-HNL