Following our adventures at Zion National Park, we returned to the SLS Las Vegas.  We decided to have two dinners that night, with the first one being at Katsuya Las Vegas.
After the long journey back from Zion National Park, Mrs. Island Miler and I discussed dinner plans.  This would be our final night at the SLS Las Vegas before moving to Aria.  But, there were still three restaurants on-property that we wanted to try.  So made the logical decision to try two that night.  That's right.  We had two dinners in a single night.  And with that, it was time for a nap.
Katsuya Las Vegas Ambiance + Service
Katsuuya Las Vegas is one of the first restaurants you see when you walk into the SLS Las Vegas' casino.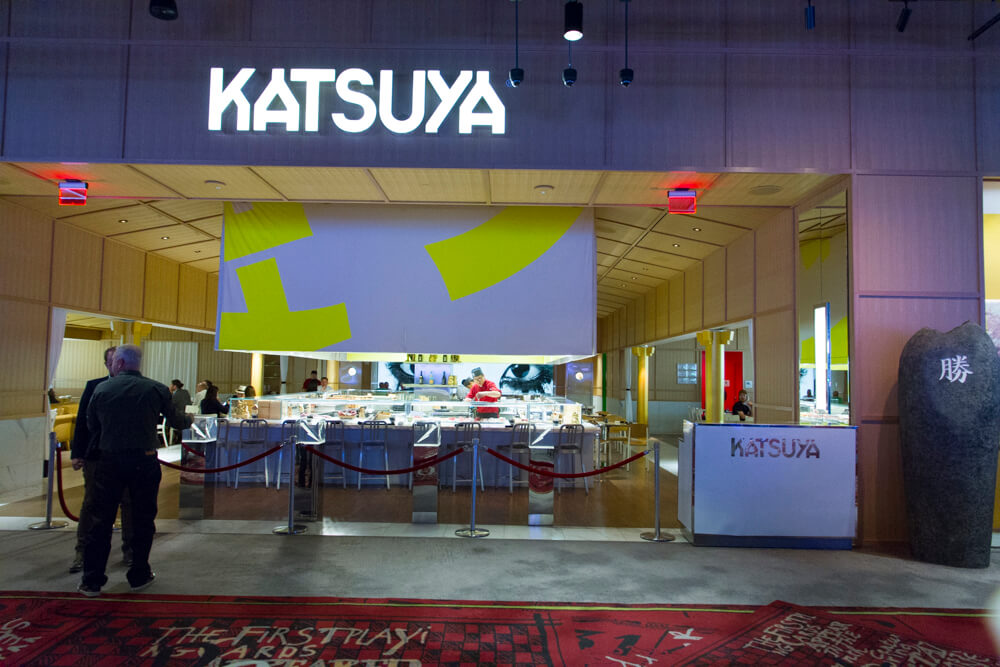 The restaurant has a very open floor plan, with a central bar, and seating off to the side.  And much like the rest of the hotel, Katsuya is designed by Philippe Starck.  This means, of course, the restaurant is filled with modern art and makes liberal use of silver and white.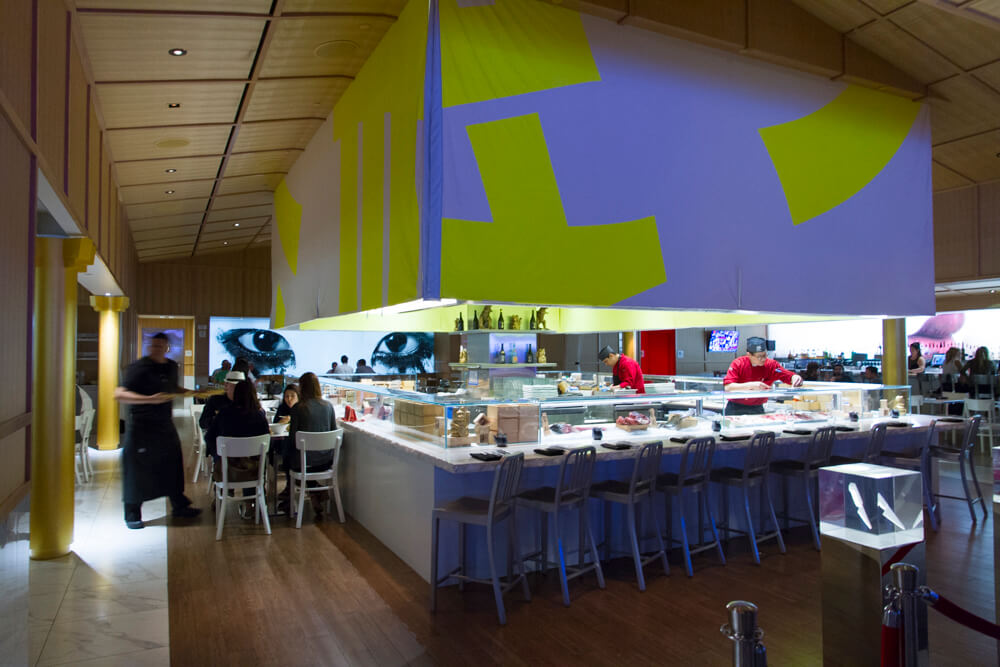 Because the restaurant is so open to the casino, it can be a little noisy.  But, as I mentioned earlier, the SLS Las Vegas isn't generally all that crowded.  So noise wasn't really an issue for us at Katsuya.  Service, on the other hand, wasn't quite what I expected.
Our server took a while to introduce herself to us.  We we probably sitting there for about 10 minutes before being approached, and the restaurant was empty.  She informed us that she'd have a trainee shadowing her so he could become familiarized with the dishes.  Throughout our dining experience, though, the staff in general were a little standoffish.  They weren't actively rude, but they weren't friendly either.  And service was almost painfully slow for such an empty restaurant.
Cuisine
As you may imagine, Katsuya serves a modern interpretation of Japanese cuisine.  The menu is fairly diverse, but with two dinners that night, we decided to order a handful of small bites instead of a full meal.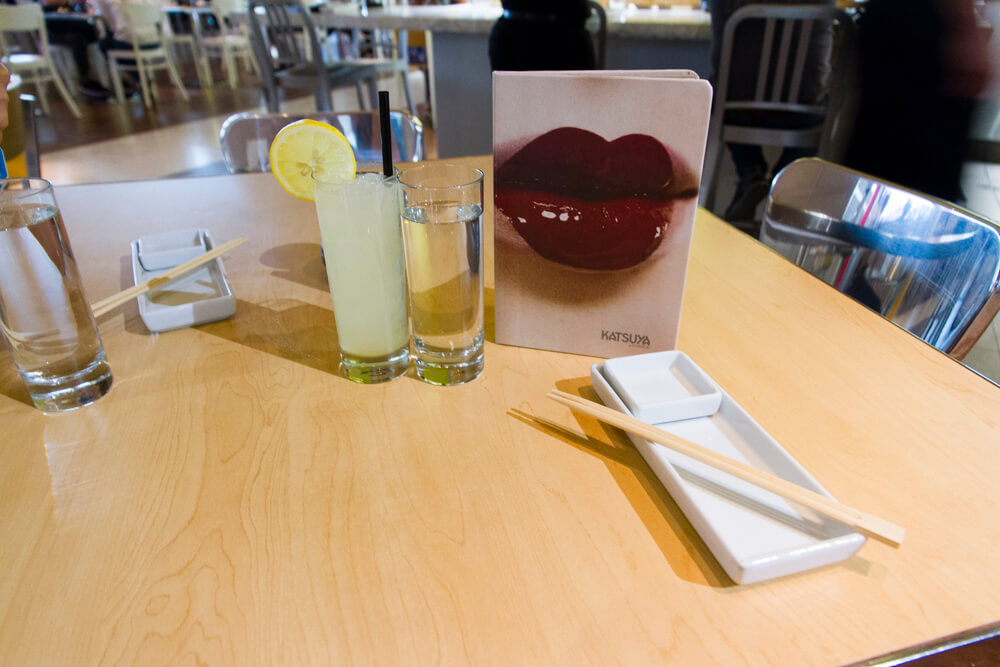 First up was the Crispy Rice with Spicy Tuna.  The dish dis described as one of their signature menu items, and while good, wasn't that spicy.  That's good for me, but disappointing for Mrs. Island Miler.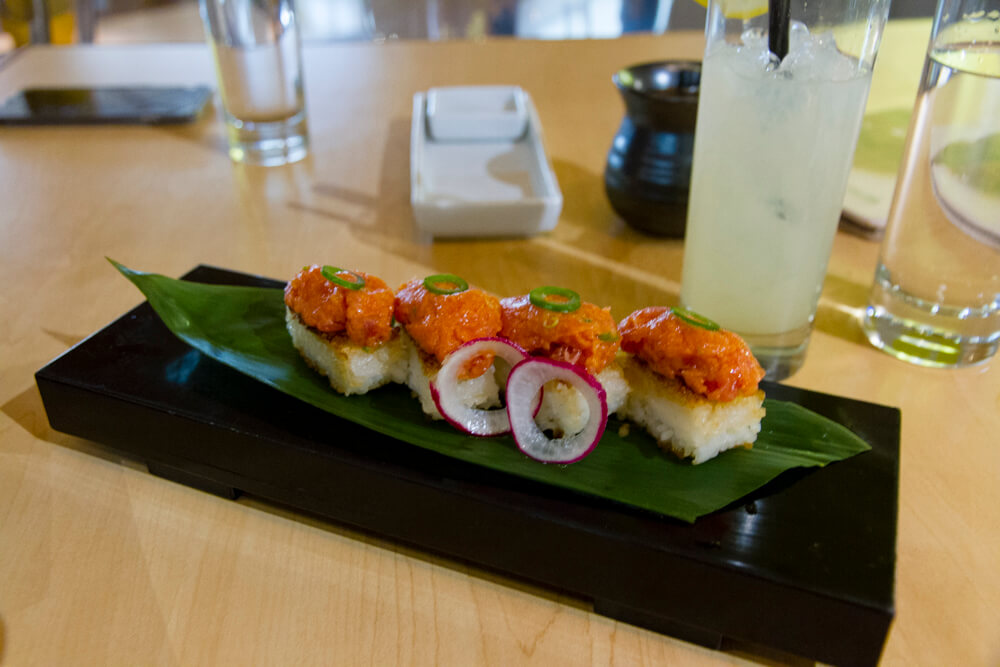 Next up was something just for me: Lobster & Truffle Chawanmushi.  I love chawanmushi, but Mrs. Island Miler doesn't care for it.  This was good, being perfectly silky and all.  But it wasn't as remarkable as it sounds.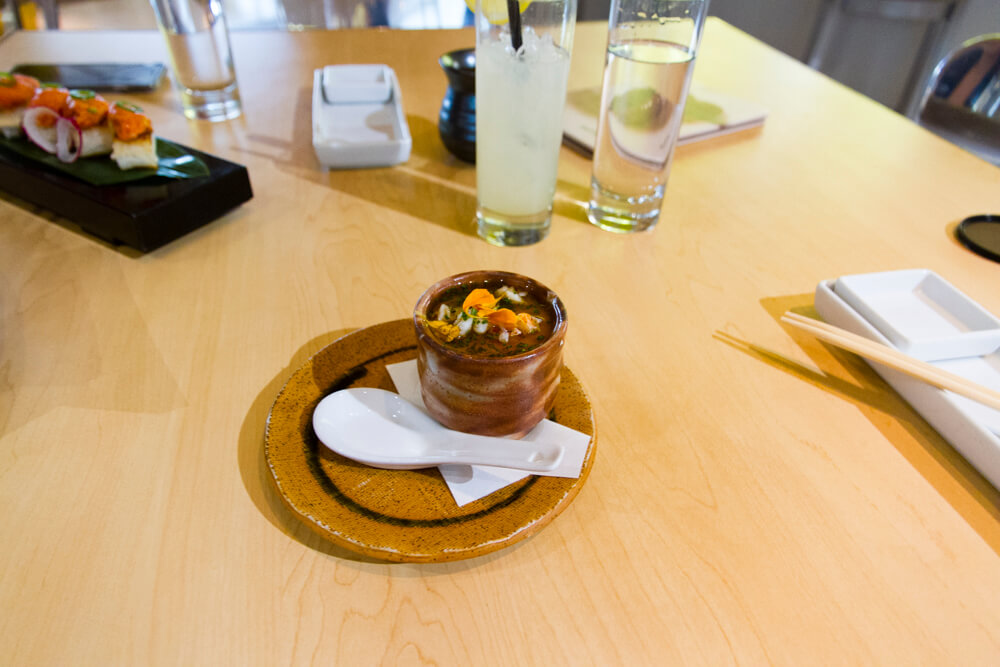 Our third dish was probably the highlight of the meal: Crispy Brussels Sprouts with a balsamic soy reduction and toasted almonds.  Well, and a heaping of shaved katsuobushi.  The brussels sprouts were separated into individual leaves and deep fried to caramelized, crispy perfection.  And the soy balsamic reduction was a perfect blend of sweet + savory with a nice umami punch.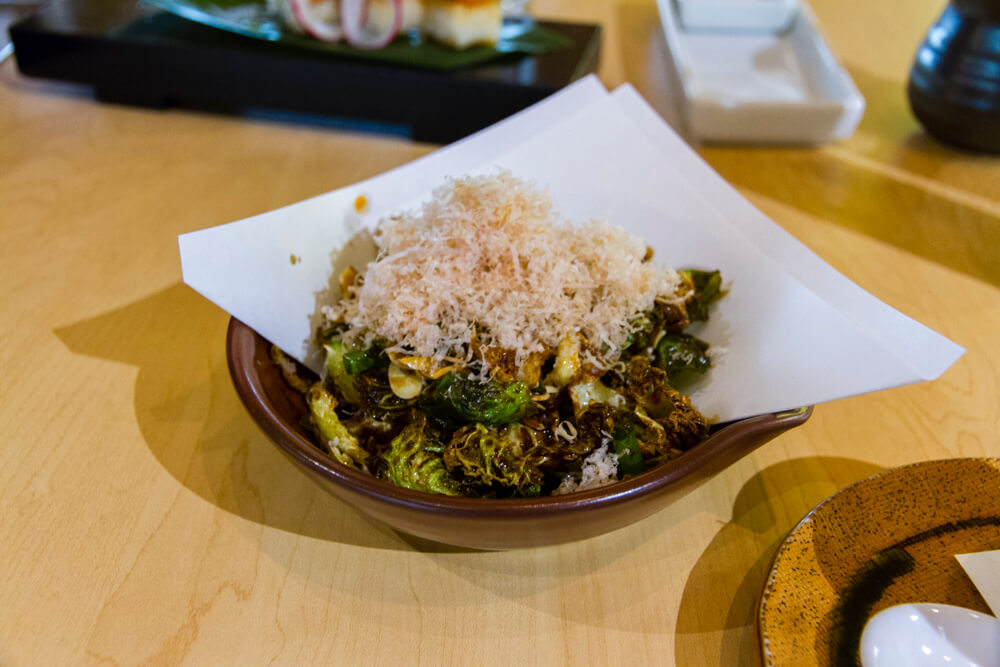 Course four was our other favorite dish, which was the Wagyu Sashimi.  Basically thin slices of raw wagyu beef on which hot oil is drizzled.  The oil lightly cooks the meat on the outside, while leaving the inside raw.  The shoyu (soy sauce) drizzled on top adds a nice saltiness, while the ginger and scallions provide some freshness and counter the richness.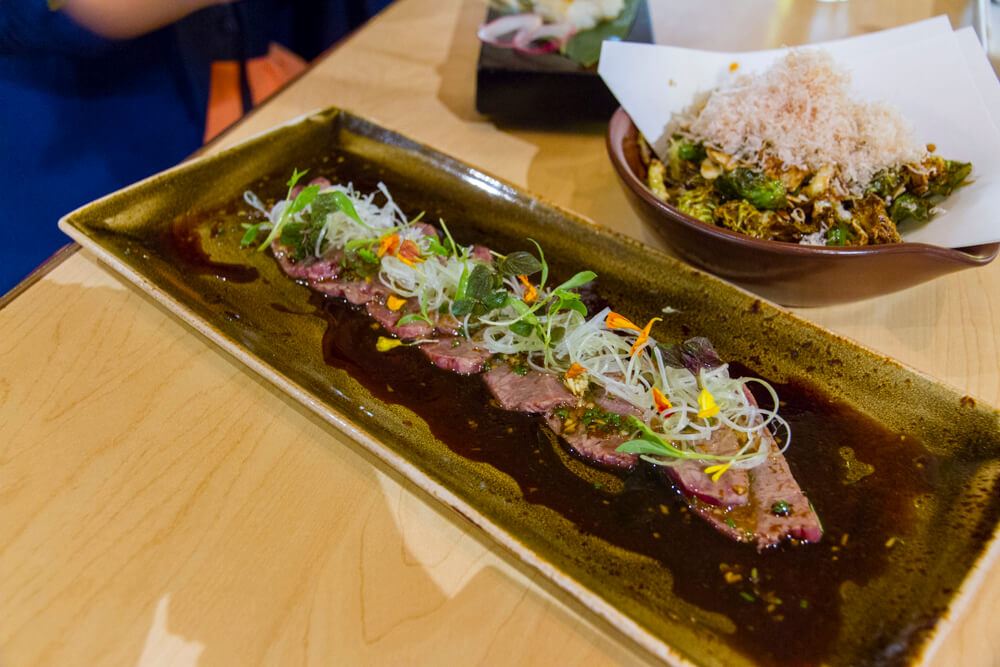 The final dish for us at Katsuya was the Lobster Tempura.  Basically half a lobster tail that's been battered and deep-fried, then smothered with a creamy, spicy sauce.  Some candied walnuts are tossed on, in addition to some blistered shisito peppers.  In concept it sounds good, but the greasiness combined with the creamy (mayo) sauce was too much for us.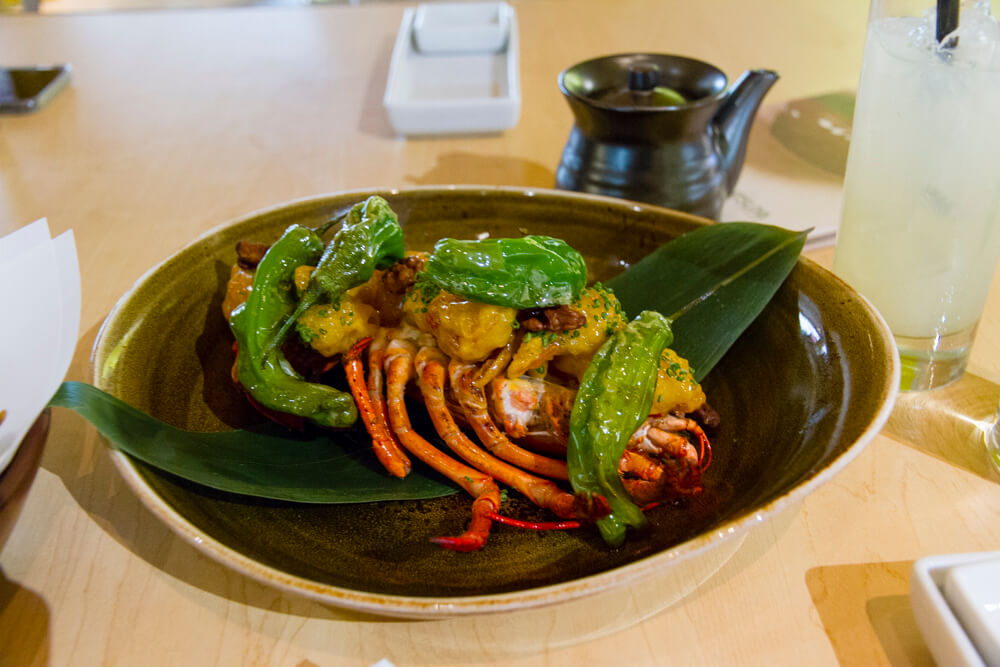 Katsuya Las Vegas Final Thoughts
To me, Katsuya Las Vegas was a bit of a disappointment.  Service was rough around the edges and the food was pretty hit or miss.  There were some winners, like the crispy brussels sprouts and the wagyu sashimi, but even those seemed over priced.  I believe the sprouts were $14 and the sashimi was $22.  Comparing that to another great hotel restaurant in Waikiki, Katsuya comes out more expensive too.  Crispy brussels sprouts with crispy pork belly can be had at said Waikiki hotel restaurant for $13.  That's a $1 cheaper than Katsuya's version, while also including pork belly and a slightly larger portion.
But, I do have to admit I'd want to give them a try again.  The A5 Wagyu Fried Rice intrigues me, but at $51, I wouldn't be surprised if its a disappointment too.  The brussels sprouts, though, are good and I'd return just for that.  Can't say I'd recommend this restaurant, though.  Maybe if service got better and you don't mind the prices, but that's still a stretch in my opinion.
My First Las Vegas Adventure
Flights
Car Rental
Hotels
Dining
Katsuya Las Vegas
Activities/Sights