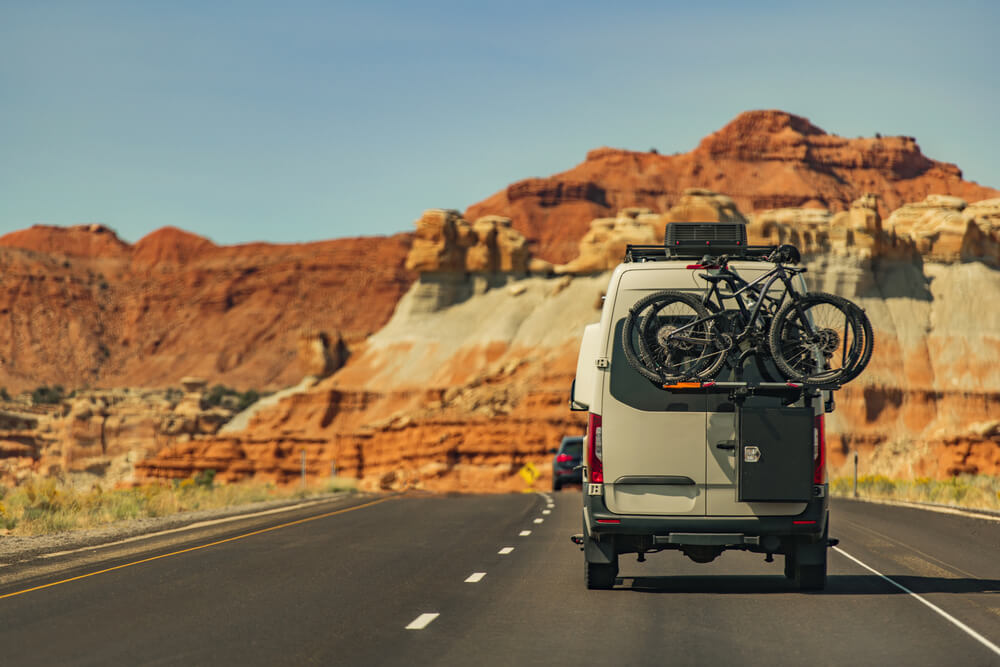 All of our reviews are based on exhaustive research, industry experience and whenever possible, hands-on testing. When you make a purchase using one of our chosen links we'll a small percentage of the proceeds. This supports the site and keeps Jeffsetter running. You can read more here.
If you are looking for a high end and luxury Class B RV to hit the road in, you've come to the right place. Also known as camper vans, Class B RVs are some of the most innovative and compact RV options on the market today.
In this article, we will discuss what it means to define an RV as luxury, what all you should consider before purchasing a luxury RV, and then we'll give you our list of some of the best luxury Class B RVs on the market today. Let's get started!
Interested in our top 7 list of the best luxury Class B RVs only? Click here to jump ahead.
What Makes a Class B RV Luxury?
When it comes to defining luxury, how can you tell what makes a Class B RV a luxurious one? There are many different definitions and schools of thought behind this, but here are some common considerations to think about when it comes time to shop for a luxury RV.
The price often indicates a luxury RV, whether or not the particular brand you are looking at is considered a luxurious brand. Many Class Bs are considered expensive, so it can be difficult to define a luxury RV on cost alone. However, it may help you gain some insight into what you can expect out of a rig that costs $50k versus $100k.
The finishes

play a huge part in determining whether or not a Class B RV is luxurious. It may not be something that you notice right away, especially if you are relatively new to RVing and RV finishes. However, most luxury RVs show off elegant finishes and have more unique touches when compared to standard RVs.

Speaking of standard RVs, most luxury Class Bs will have

non-standard features

included in the price. While it will depend on the specific RVs and the RV manufacturer, luxury RVs usually have more features included, especially when compared to standard RVs set at lower price points. 

The brand

itself can often indicate whether or not a Class B RV is a luxury one. There are some RV manufacturers that only build luxury RVs, though you may not recognize this at first. However, most of these brands tend to mention their luxury status, given that it is often appealing for consumers to know this. 

The

technological and fuel-efficient capabilities

of many luxury class B RVs should also be mentioned. RVs at this level of budgets usually leads to a more technologically impressive and fuel efficient vehicle so that you can enjoy the great outdoors however you prefer. 
There are other factors that can potentially make a Class B RV a luxury one, but most of these facts are enough for you to get started on your shopping journey. Speaking of shopping, let's discuss what all you should consider before shopping for a luxury Class B RV. 
What to Consider in a Luxury Class B RV
There are a few key things for you to consider when shopping for a luxury Class B RV. Whether you are looking for something perfect for boondocking or simply want a smaller recreational vehicle for hitting the road in, you're in the right place. Here's what you should keep an eye out for.
Your Budget
The budget that you plan on shopping with should be a huge consideration when thinking about a luxury Class B RV purchase. If you are planning on purchasing a luxury RV for the first time, you likely have a healthy budget plan.
However, it is important to stay realistic about your budget and what you can comfortably spend. Many luxury class B RVs have additional features that are not included in the main purchase price, so it is wise of you to have the features that you are hoping for in mind, as well as the budget to pay for them. 
Luxury class B RVs are some of the most expensive options on the market today, especially when you consider the overall size and capabilities of these RVs. You should anticipate spending anywhere from $50,000 to over $200,000, depending on the features and finishes. 
Ability to Boondock
Your ability to boondock in your brand new luxury Class B RV may matter more than you expect. Also known as dry camping, boondocking is a phrase that refers to your ability to camp off-grid, or otherwise disconnected from all utilities.
Many Class B RVs keep boondocking in mind, whether or not they are luxury or standard. Class B vans are easy to drive, maneuver, and they are often used in conjunction with people living and traveling in them full-time. This leads to a desire to camp free or relatively affordable areas, and having the option to be disconnected from utilities can be very freeing.
How Many Passengers
The amount of passengers should be something that you consider while you shop for a Class B RV. Most RVs of this size cannot accommodate more than four people, so if you are hoping to fit your entire family of five and a Class B, it may be very tight. 
If you know that it will just be you and your significant other traveling during this time, you may want to look at luxury Class Bs that suit two people rather than 4 or more. This can usually lead to a more innovative layout, something that suits your lifestyle as a couple rather than your lifestyle as a family. 
However, having the option to sleep multiple people may be something that you are interested in. There are some luxury Class B's that may surprise you, and it's important to keep your needs and wants in mind. 
Off Road Capabilities
Similarly to boondocking, knowing the off-road capabilities of your luxury Class B may matter to you. Some campers enjoy the ability to go anywhere and everywhere, any time of year and during any weather conditions. Your Class B should be able to handle snow, ice, and rough road conditions. 
However, if you know that you will only be camping at campgrounds or RV parks while you own your Class B, you may not need to worry about any four-wheel drive or off-roading capabilities. This can help save you money in the long run, but the last thing you need is to end up stranded somewhere because your RV couldn't handle the road! 
Gasoline or Diesel
A hotly contested debate in the RV community, Class B vans are available in traditional gasoline fuel or diesel fuel formats. Choosing one over the other may be something that you consider before you begin shopping.
Many long-term RVers recommend committing to a diesel Class B RV over a gasoline one, for many reasons. While the upfront cost of a diesel RV is higher, you tend to save more money in the long run when it comes to fueling up at gas stations. Diesel RVs usually also come with more luxury features over gasoline rigs.
However, you won't need nearly as much fuel for a Class B RV as you do for a Class A motorhome, so the cost of fuel may not be something that is on your mind. This is especially true if you have a credit card that goes hand-in-hand with your RV journeys. 
Finishes and Luxury Features
The finishes and luxury features found in your Class B RV should matter to you. This is because a luxury RV isn't complete without high-end finishes as well as features that don't normally come standard on lower-priced RVs. 
You may find that some luxury Class Bs offer solar panels and generators as standard features, along with dry baths and four season capabilities. The interior and exterior finishes should also be of quality, including hardwood cabinetry and solid kitchen countertops. 
Most luxury Class B RV manufacturers are capable of working with customers so that they can take home the RV of their dreams. However, it will all depend on the make and model of the RV, so keep this in mind while you shop. 
Ease of Driving
While Class B RVs are considered one of the easiest forms of recreational vehicle to drive, you may want to consider your overall ease of driving when purchasing a Class B RV. Some of this may be determined by the overall length of your rig, as well as the optional driving safety features that some luxury Class B RVs have. 
For example, you may find a Class B van with a backup camera and lane assistance already installed. However, this may not always be the case, and you may need to consider purchasing additional technology to help you hit the road in safety. 
Given that Class B RVs are essentially van sized and a much more approachable vehicle than fifth wheels or Class A motorhomes, you will likely have few issues driving one. Take your time, and be sure to hit the road slowly and efficiently! 
The 7 Best Luxury Class B RVs
Curious to see what we consider some of the best luxury Class B RVs on the market today? Let's take a look at our top 7 picks, and what you can expect from each one of them. 
If you're looking for one of the most luxurious Class B RVs on the market today, you should definitely check out the Entegra Ethos. Not only does this Class B RV look and feel luxurious to drive, it comes equipped with just about everything you need to camp, season after season.
Upon first looking into the interior of the Ethos, you will notice how light and bright it feels. The upholstery and countertops are all finished in a light tan color, leaving things feeling open and airy, whether or not the main door is closed. 
There is ample storage onboard this luxury Class B, from the rear exterior door opening to the interior cabinetry throughout. You will likely not need additional storage space after touring this rig. However, if you need additional storage, the included roof racks may be just what you need to pack the rest of your things. 
This camper van comes in two distinct layouts, one with a rear wet bath and a convertible king bed, and the other with a more conveniently located bathroom and a Murphy bed style sofa. While there may not be very many options to choose from, both make great use of the limited living space. 
Speaking of living space, you likely won't want for anything on board this Class B. It has a luxurious kitchen complete with a two-burner induction cooktop and large refrigerator. It also has ample counter space for you to prep food on and set things down. 
This rig is perfect for camping in RV parks and campgrounds, but it also is capable of taking you off grid. You can boondock easily in this luxury Class B RV given its on-board generator and two capable house batteries. Plus, it has solar panels already installed on the roof as a standard feature.
We've only just scratched the surface in terms of everything that we can talk about regarding this RV. Entegra is a fantastic brand in terms of its warranty options and owner's club, as well as their comprehensive customer service. While the price point may be high for a great deal of RVers, this is a fantastic choice for those of you looking to purchase a luxury rig. 
If you thought the last luxury RV on this list was perfect for boondocking, wait till you see what the Winnebago Revel has to offer. Not only did this rig win RV Digest's award for the best RV debut in 2021, it is built to hit the road- no matter how rough that road might be!
With two 125 amp hour batteries equipped in this rig, this is just the beginning of all of its fantastic boondocking features. While this particular model from Winnebago only has a single floor plan to offer, this floor plan is a fantastic and versatile option for just about any couple.
The bathroom is conveniently located and the kitchen galley is convertible in such a way that you can access your refrigerator from both inside and outside of the RV. Plus, there is another exciting feature found at the rear of the van: a powerlift sleeping area. 
What does this mean? This essentially means that the owner of the Winnebago Revel sleeps at the rear end of the cabin, on a comfortable double sized bed. This bed is attached to a lift system that raises it up all the way to the ceiling when not in use, leaving you with ample storage underneath where your bed would normally lie. 
Now that you know that all of your storage area is taken care of, let's talk more about the specifics of this RV. You will have the opportunity to drive the coveted Mercedes-Benz chassis, complete with fuel efficient diesel engine. This particular rig also comes complete with four-wheel drive so that you don't have to worry about road conditions while you travel. 
Not only do you have two capable boondocking batteries onboard- you also have solar panels as standard features. With extra roof racks and exterior storage, complete with a movable roof ladder, you can customize your RV to fit any and all recreational toys. 
Winnebago is the only brand that you will see another Class B RV on this list. This is because they seem to listen to their customers and fully incorporate feedback into their designs, year after year. Plus they have a wonderful owners club as well as many warranty options for you to consider as you shop. And if your tall, this class B could still work for you and even made our list of the best class B RVs for tall folks!
If you are looking for a luxurious Class B RV that is less than $100,000, then you should check out this option from Pleasure-Way. The Toffino Class B van has a lot to offer, not only including its appealing price point. Let's dive in and learn more about it now.
This RV is built on a reliable Ram chassis with gasoline engine and is also a pre-wired for solar. Solar panels do not come standard and you can add these on after the initial purchase price, either in single panel or two. The lithium ion batteries included will help you store any excess power.
There is a lot to be said in terms of onboard storage with this Class B RV. You have the option of interior storage cabinets, rear door storage that can exist after converting your sofa and lofted bed area, and you can even add on roof racks as a non-standard feature after the initial purchase price.
Given that there are two bed areas, you can comfortably sleep for people in this Class B RV. This is good news for any of you helping to travel in style and comfort with your young family, as the lofted bed area is perfect for young children.
Another fantastic feature in this rig has to be the galley kitchen. It is set up with minimalism and simplicity in mind, but this leads to an ultimately elegant choice for the average luxury RV consumer. The countertops are made from sturdy laminate, and the fridge works on both the shore power and battery power. 
The uniqueness in this class B RV is found in the vaulted pop-up roof. This campervan combines the best of motorhomes as well as pop-up travel trailers, giving you an enclosed living area with additional storage and skylights if you choose to raise the roof area. 
Other than that, this RV has fantastic warranty options, including a Ram chassis warranty and roadside assistance, as well as a 5 year warranty from Pleasure-Way that is comprehensive in its coverage. You can also reach out to their customer service line at any time.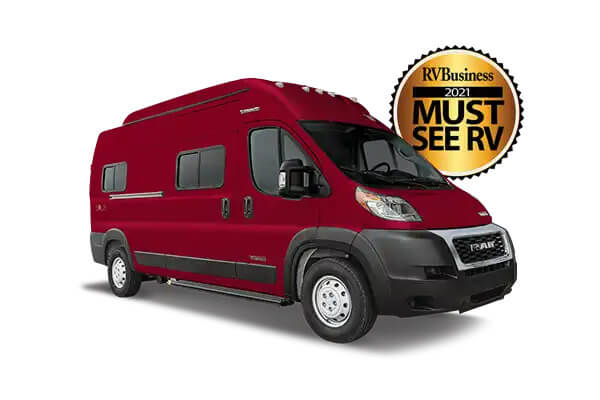 I already mentioned that Winnebago had another selection on our list of some of the best luxury Class B RVs, and now we finally made it. The Winnebago Solis is fantastic for a great many RVers, especially those of you hoping to sleep more than two people inside. Let's learn more now. 
Built on a Ram ProMaster chassis, this pop-up Sprinter van is a fantastic choice for those of you hoping to sleep up to four people inside. While the finishing touches may be a bit more simplistic on this particular Class B when compared to other options on this list, it offers a wide variety of features at a more flexible budget.
For example, the front cab itself has a lot to offer in terms of safety features. It includes blind spot assistance as well as lane assist, and you can even get a backup camera installed as a standard feature. Another huge perk in terms of standard features has to be the solar options available for this RV.
You can choose to have the pop-up roof if you are interested in the additional sleeping arrangements. Either way, a streamlined solar panel rests on the roof of your class B, providing you with ample electricity needs. You also have two high-end batteries to store any excess power. 
In terms of interior features, this rig can be considered fairly Spartan but well put together. For example, the walls and ceiling are well-insulated, capable of tackling all four seasons. You can also expect that the interior seating is ergonomic and comfortable, especially the cab seats.
Your kitchen is fairly standard, with a two-burner induction cooktop and a 3 cubic foot refrigerator for all of your essentials. It also comes with high-quality laminate countertops and a built-in spice rack 4 additional storage and that extra homey touch.
Another fantastic feature that goes with this Class B van is its on demand hot water system. Whether you are just traveling in a pair or anticipating for travelers, having an endless supply of hot water is a true luxury! This one is worth checking out, for any budget.
Did you know that Airstream doesn't just make aluminum travel trailers? They also have a line of signature motorhomes, including a high tech Class B that's perfect for a healthy budget. While the Airstream Atlas may not suit every budget, it's too good of a Class B to simply ignore. Let's chat now.
One of the first perks to this Class B right off the bat is its quiet and efficient slide out. Airstream is one of the few RV manufacturers to offer a Class B camper van with a slide-out Murphy bed suite area. This means that you can house your guests in the living room while you enjoy a spacious Murphy bed and extra square footage when your slide out is activated. 
But this isn't where the deluxe features end. This particular Class B is built on a Mercedes-Benz chassis with powerful diesel engine and four-wheel drive capabilities. You will also have access to an on-board generator as well as solar panels and battery storage, making it easy for you to get off grid. 
Airstream boasts their ability to offer you 50 luxury features at the standard price, all included. One of these features includes the ability to furnish the interior of your rig to your liking. While most Class B RVs don't offer interior design options, the Atlas has up to 5 potential interior designs for you to choose from. 
And the perks don't stop there. This RV has made use of its small interior living space in ways that few other campervans have done. For example, the kitchen is spacious and well-appointed, and the bathroom feels like a standard residential bathroom rather than an RV wet bath. 
There are many personal touches in this rig as well, from stainless steel accents throughout as well as the ability to hide your entertainment center during the day. You can also expect this rig to have fantastic storage, both inside and out using exterior roof racks and more. 
Plus, everything can be controlled from a comprehensive electronic control panel, including your on demand hot water system and solar panels. This campervan can also come complete with Wi-Fi and cable, keeping you connected no matter where you decide to travel. 
While there are a great number of diesel Class B's on this list, the Coachmen Galleria deserves its own recognition. This diesel Class B is perfect for a wide number of RVers and customers, given all that it has to offer at an affordable price. Let's talk more about those offerings now.
Not only does this class be run with an efficient diesel engine, it is one of the few options on this list that has multiple floor plans. You can choose from up to four distinct layouts, depending on what you need. There are convertible sofas as well as power lift beds so that you can utilize your storage and sleeping arrangements to the maximum. 
But before we get inside this rig, let's talk more about some of the luxurious upgrades that you can purchase in addition to the initial purchase price. Coachmen has the ability to make this rig all-wheel drive, as well as additionally insulated with higher quality insulation. This means you can go anywhere you'd like, anytime of the year. 
However, don't assume that you aren't getting a great deal of features coming to you as standard. You can expect an on-board generator, a fridge with a pull out freezer drawer, as well as solar panels and Wi-Fi, all included in the initial purchase price. 
The kitchen comes equipped with a two-burner induction cooktop and a large amount of counter space, including a kitchen sink countertop insert to fully maximize your capabilities. It also can be finished with either maple or cherry hardwood cabinetry, completing the luxurious look inside of this rig. 
There are a great deal of features that come standard that really add to the luxurious feeling of this particular Class B van. You can expect under mount LED lighting, both inside and out, as well as a fully furnished wet bath complete with on demand hot water. 
While this rig isn't one of Coachmen's more affordable options, it still comes backed by their comprehensive warranty options as well as their customer service line. Coachmen has been a big name in the RV game for many years, and you will likely find a great deal of options under their manufacturing label. 
Even though this particular Class B motorhome is still under development, we couldn't wait to put the Tiffin Cahaba on the list of luxury rigs. While Tiffin has primarily made Class C rigs before this point, they are currently developing a Class B that is sure to impress, especially when it comes to interior design. 
Built on a 19 foot Mercedes-Benz chassis, this class B has been built with many different needs in mind. While it only comes standard in a two-wheel drive format, this van has off-road tires as well as countless safety features, including lane assist and a backup camera. The diesel engine may appeal to a great many of you, given its fuel efficiency. 
Not only does this RV have three rooftop solar panels as standard features, it also offers rear luggage racks, a roof ladder, and additional rooftop racks for storage and bringing along just about anything you can think of while you camp. 
The luxurious features don't stop at the exterior. You can expect heavy-duty cabinetry, a spacious kitchen, luxurious upholstery finishes, as well as privacy shades throughout. You also can expect discrete LED lighting as well as tinted windows to further maximize your energy efficiency while on the road. 
Maximizing space is important to Tiffin, and it is evident inside of this particular Class B. The kitchen comes fully equipped with a refrigerator and freezer combo, a stainless steel sink, and a single burner induction cooktop with ample countertop space, all made out of heavy-duty materials. 
While it only has a wet bath on board, this bathroom should have everything you need, including a retractable shower screen to keep the rest of your bathroom relatively dry while you bathe. The on-demand hot water also can't hurt, and you can expect the overall storage inside of this Class B to be maximized because of this particular bathroom layout.
All in all, the Tiffin Cahaba has a lot to offer, even though it isn't technically available for purchase yet. However, based on the Class C's that Tiffin has put out in the recent past, you can expect a beautiful and luxurious RV to camp in. 
Final Thoughts
Class B RVs are some of the most popular recreational vehicles on the market today, including ones that offer customers a touch of luxury. If you have been looking for a particularly luxurious Class B RV, we hope that you have found an option on this list today!