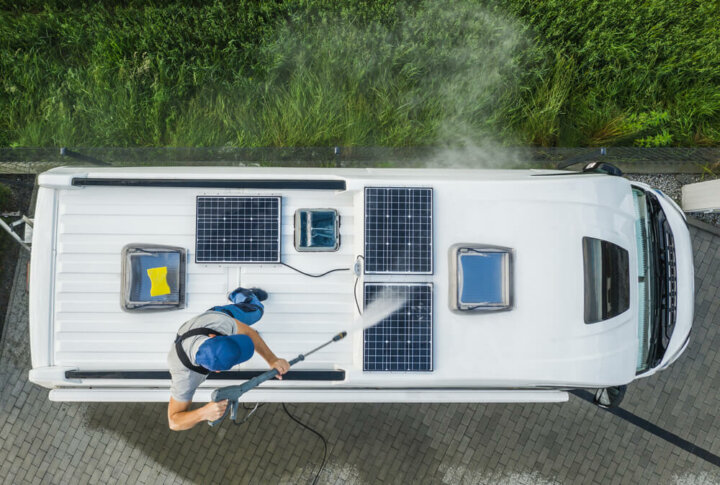 All of our reviews are based on exhaustive research, industry experience and whenever possible, hands-on testing. When you make a purchase using one of our chosen links we'll get a small percentage of the proceeds. This supports the site and keeps Jeffsetter running. You can read more here.
Regularly washing your RV gets rid of dirt and debris that builds up over time. Corrosive substances like salt from the coastal areas cause rust over time, while dirt and debris provide the organic matter that mold and mildew need to take hold of.
Of course, washing your RV is a big undertaking. You can't really take your RV through your local car wash because it isn't going to fit.
So, where can you get an RV washed in Florida?
You can get an RV washed in Florida at a car wash that accommodates RVs or at an RV wash! Alternatively, you can use a truck wash (these are pretty common at gas stations like Pilot that service truckers) or have a mobile detailer come to you. Washing your RV yourself is also an option.
Below, we'll take a closer look at where you can get an RV washed in Florida, as well as how much it costs to have an RV washed, plus tips on how often you should wash your RV.
Where Can You Get an RV Washed in Florida?
One of the great things about Florida is that there are tons of amenities for RVers. It's pretty common to find car washes, especially for RVs, as well as services like RV storage and RV mechanics. You might even find that your local car wash accommodates RVs too, though you can expect to pay more to have your RV washed than your car.
If there aren't any drive-through style RV washes in your area, then checking around at popular truck stops is also a good idea. Pilot, Flying J, and Love's are all great options, though there are plenty of other truck stops. Call ahead if you aren't sure if they offer truck washing services.
You also have the option of having the RV wash come to you. Florida has a lot of mobile RV detailers who specialize in cleaning RVs. You can have just the exterior washed, though some also offer interior detailing services at a higher cost. Of course, people who have the time, space, and supplies they need can also wash their RV themselves.
How Much Does It Cost to Have an RV Washed in Florida?
The cost of having an RV washed depends on the size of your RV and the thoroughness of the cleaning. You're also likely to find that it's a little more affordable to go through a truck or RV wash than to have a mobile RV detailer visit you. However, mobile RV detailers rely on a person rather than a machine to wash your RV, so they are also a lot more thorough.
It's really hard to put a price on RV cleaning and detailing because it varies from place to place. If you are going to use an RV wash or truck wash, you can expect to pay anywhere from $30-100. This is going to vary based on the specific prices at the stop you choose, as well as any extra treatments.
When it comes to RV detailers, whether mobile or at a fixed location, the total price changes based on how thorough the detailing service is, the size of your RV, and whether or not the detailer has to travel to you. While you might pay just $5 per foot for the exterior of your RV, more thorough cleaning jobs that include the exterior and interior might cost as much as $35 per foot.
In addition to the costs of cleaning and detailing, some RV detailers also inspect for damages like leaks in the roof or around the windows. Companies specializing in RV detailing and repair may also offer services like roof resealing as well. You can expect to pay more for these types of services.
How to Choose an RV Wash or Detailing Service
The best advice that I can give whether you are looking for someone to detail your RV or to provide routine RV maintenance is to shop around and don't be afraid to ask questions. After all, when you are paying someone for this type of service, you want to be sure that you're going to be happy with the finished product.
In addition to asking about the total costs, you'll want to ask what is included with the service. For example, some technicians wash the wheels of your RV in addition to the rest of it, while others might charge you extra for each wheel that they clean. Some also include complimentary RV inspections with the wash, while others only do detailing.
You'll also notice there's a difference in how thorough the exterior cleaning is. A detailer is going to be able to extend the slideouts and RV awnings and clean them too, while using an RV wash won't be as thorough on these delicate areas.
Checking out online reviews is also really helpful when you're looking for any kind of RV service. When other people have a great experience at a fair price, it makes it easy to know that you'll be getting the quality of services that you're paying for.
How Often Should I Wash My RV?
To start with, it's a good idea to wash your RV before putting it in storage at the end of each RV season. Washing your RV rinses away dirt, debris, and other organic matter. This is important for preventing mold during storage because while mold spores exist in the air all around us, they don't really take hold and cause damage until they can grab onto organic matter.
Additionally, washing your RV before storage in Florida rinses away salt debris that may be leftover from being near the coastal air. It also rinses away oil, chemicals, and other substances that might cause damage and dry rot in your tires.
During RV season when your vehicle is actively being used, there isn't really a hard-and-fast rule about how often you should clean your RV. At a minimum, a good standard to set is about once a month. This will stop too much dirt build-up from happening and gives you a chance to look your RV over and inspect for damages, too.
Some people also prefer to wash their RV every time they bring it home from a trip. This is a good idea for removing dirt, bugs, and leaves you might have encountered on your adventures. While it's not necessary if you plan on heading out again soon, you should definitely wash your RV if you plan on storing it for a while before your next outing.
What Do I Need to Wash My RV Myself?
There isn't a lot that you'll need to wash if you're cleaning your RV yourself and if you've ever washed a car then you pretty much know the basics. All you'll need is non-corrosive soap (or even soap for your car), water, and materials to clean with. Soft sponges and cloths work well because they won't scratch or damage your paint.
Of course, you'll want to consider how you are going to wash the higher spots on the side of your RV and the roof. You can climb up there with a ladder to get the job done or consider purchasing a long-handled brush that helps you reach the places you can't.
Final Word
One of the nice things about warm-weather states like Florida is that they're a popular destination both for season long RVers and people who are passing through. This means that it's pretty easy for people wondering, "Where can you get an RV washed in Florida?"
Some car washes are large enough to accommodate RVs and there are also RV washing stations. Using the truck wash at a truck stop is also an option.
Alternatively, you could also have a mobile RV detailer come to you or wash your RV yourself if you have the space. Keeping up on washes will go a long way in preventing the build up of dirt and debris, plus it keeps your RV looking sharp!