Admittedly, there's nowhere I wanted to eat in Salt Lake City, so finding someplace to eat at was a challenge. And thanks to various reasons, my reporting isn't so great. So here's where I ate in Salt Lake City all at once.
Whiskey Street
When I think Utah, I don't immediately think of bars and whatnot. So, to find a popular spot named Whiskey Street was a total shock. But, the menu looks good, and it's close to my hotel, so why the heck not?
Location + Service
Whiskey Street is three blocks away from the Salt Lake City Marriott at City Creek along Main Street. The restaurant has a tavern-y vibe to it and always seems to be packed. Service was decent throughout my time there, and it's worth noting that they scan your ID at the door and don't ask for it again.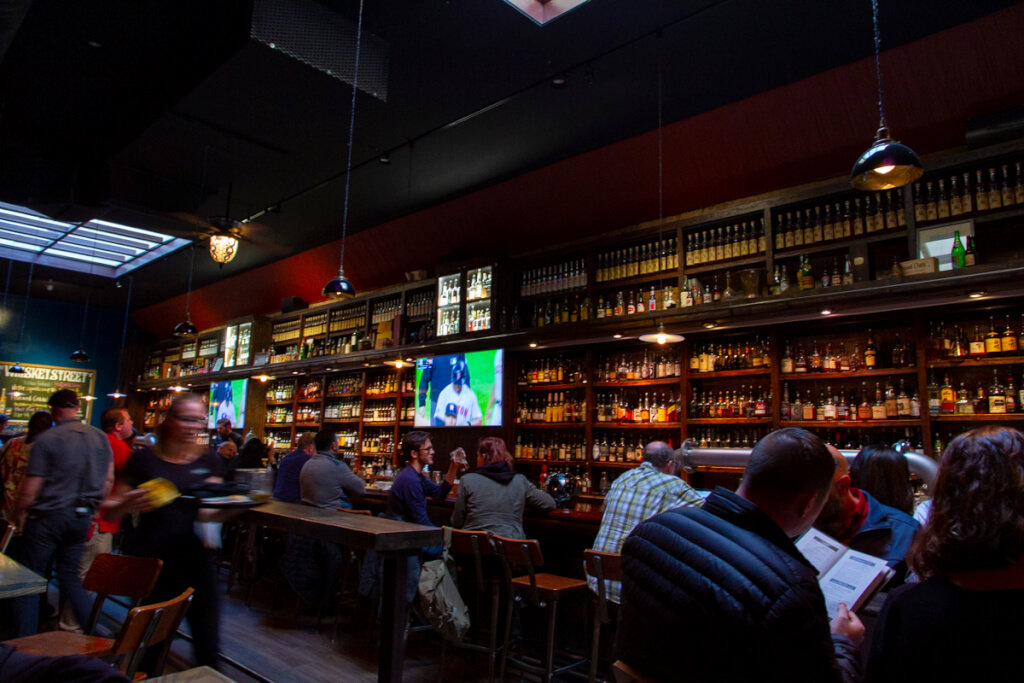 Cuisine
While intriguing, Whiskey Street's menu isn't anything special. There are a lot of modern American standbys that are slightly tweaked. As a result, I ended up ordering a roasted beet salad with goat cheese and a pork belly Cuban.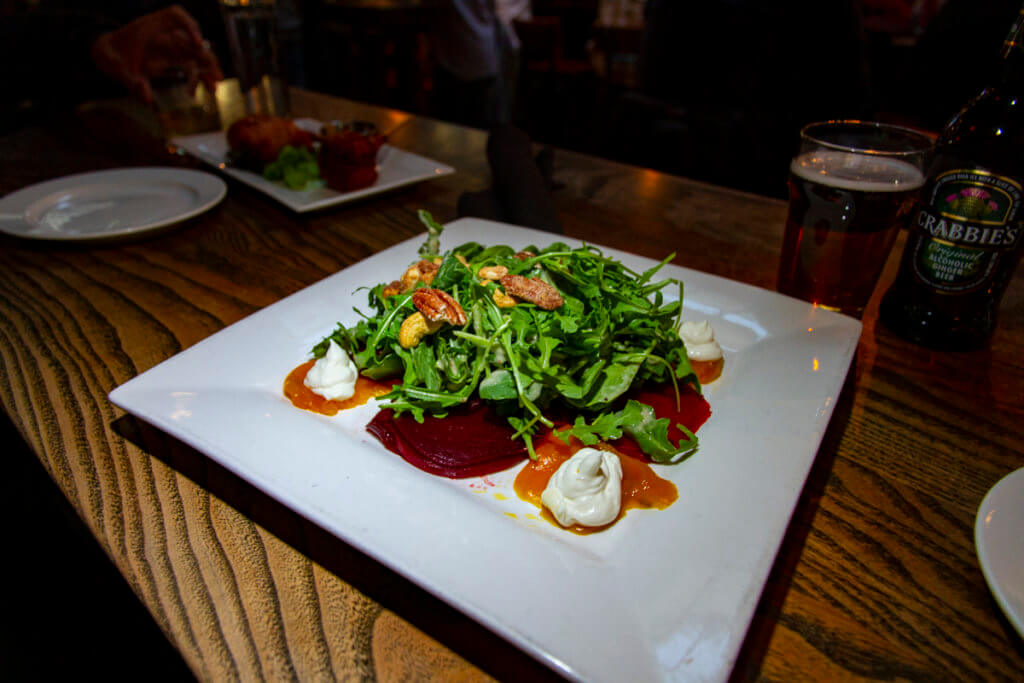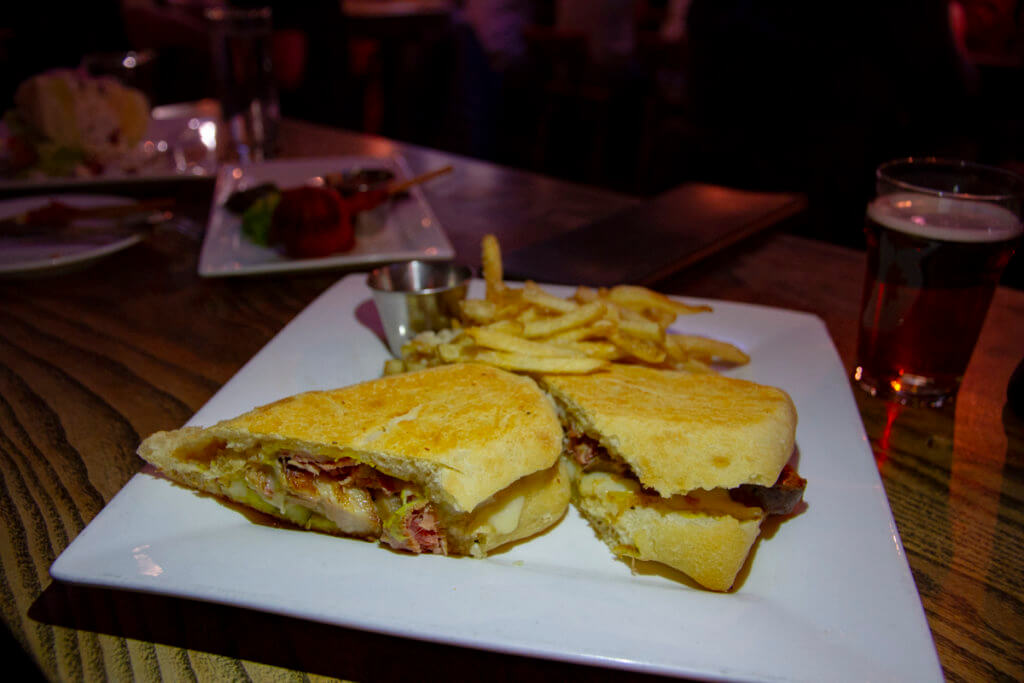 The salad was tasty, but was nothing special. It's pretty hard to screw up arugula, beets, and goat cheese after all. My one complaint, though, is that the menu didn't mention it having nuts, and it ended up having peanuts… Which I'm allergic to. Yay! The Cuban was tasty too, but the pork belly did make it a little difficult to eat. Unfortunately, the fries were soggy, though.
Christopher's Prime Tavern & Grill
My co-worker wanted to check out a steakhouse while in Salt Lake City, so we checked out Christopher's Prime Tavern & Grill based on the recommendations of my favorite Marriott lounge attendant.
Location + Service
Christopher's Prime Tavern & Grill is even closer than Whiskey Street to the hotel, being only two blocks away in the Peery Hotel. The place is decked out in the typical steakhouse fashion, though the interior design is brighter airier. Service is also, as one would expect, with servers in dress shirts and ties.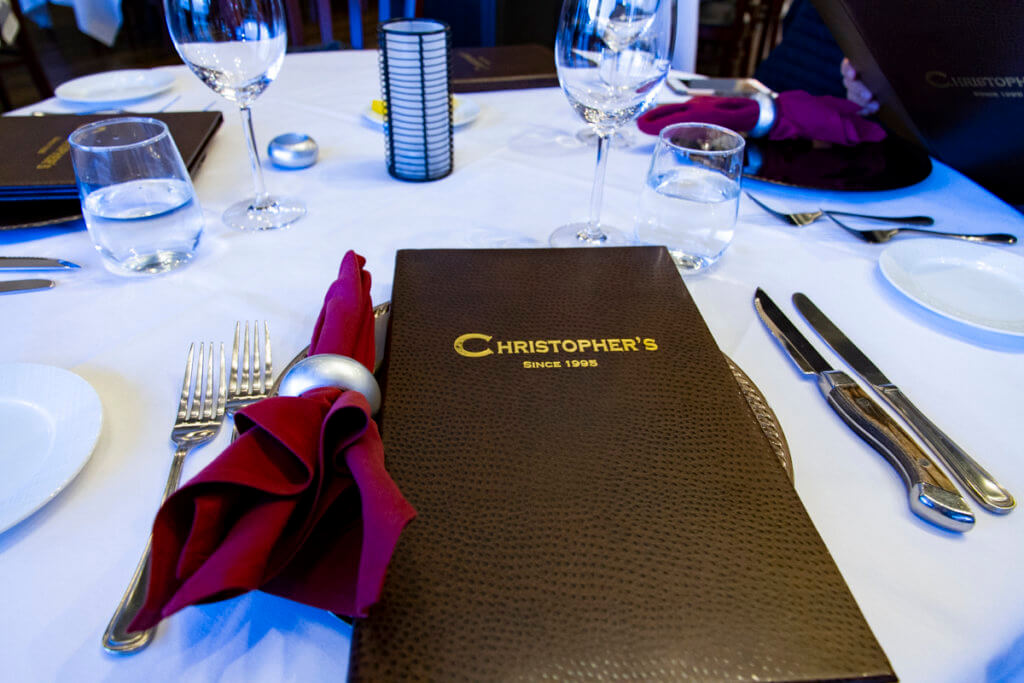 Cuisine
If you guessed that Christopher's serves steaks, you'd be right! My favorite lounge attendant gave me a referral card, though, so we got some crispy calamari to start.
The calamari was good, though, again, it was nothing special. And instead of serving it with cocktail sauce or something similar, it comes with sweet chili sauce.
For my main, I ordered a USDA Prime Delmonico with a side of Brussel sprouts.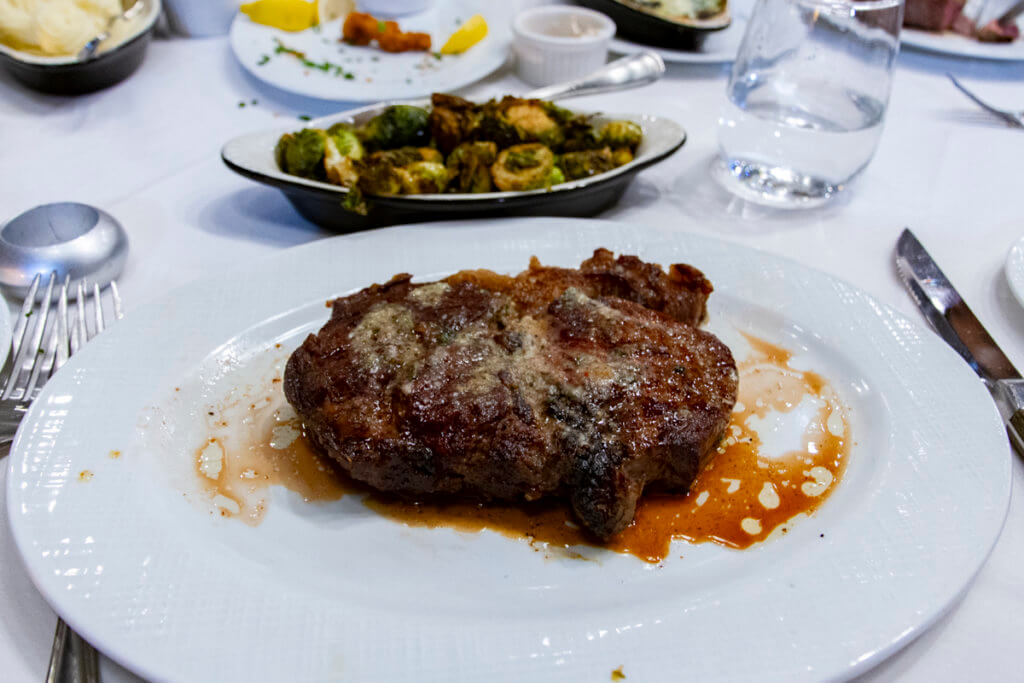 Ok, so if you didn't already know, I'm a stickler for steak. Ribeyes are my favorite cut, but, despite it's USDA rating and aging, the steak was a little underwhelming. It was a bit sinewy and underseasoned for my liking. The Brussels sprouts also weren't to my liking as they were coated in some sort of spicy mayo. Bleh.
White Horse Spirits and Kitchen
My second-to-last dinner in Salt Lake City was at White Horse Spirits and Kitchen, which is around the corner from Whiskey Street. And, like Whiskey Street, the place is super busy.
Location + Service
White Horse Spirit and Kitchen is on Main Street next to a few other restaurants. Its layout is similar to that of Whiskey Street, though it's not as dark. But the seating is similar, which is to say, tight and focused on drinking rather than eating. Service is ok, if not a little chaotic, and, like Whiskey Street, they scan your ID before heading in.
Cuisine
I wasn't too hungry the night we went to White Horse, so I kept things simple. To start, I ordered a cider tasting flight because I like cider.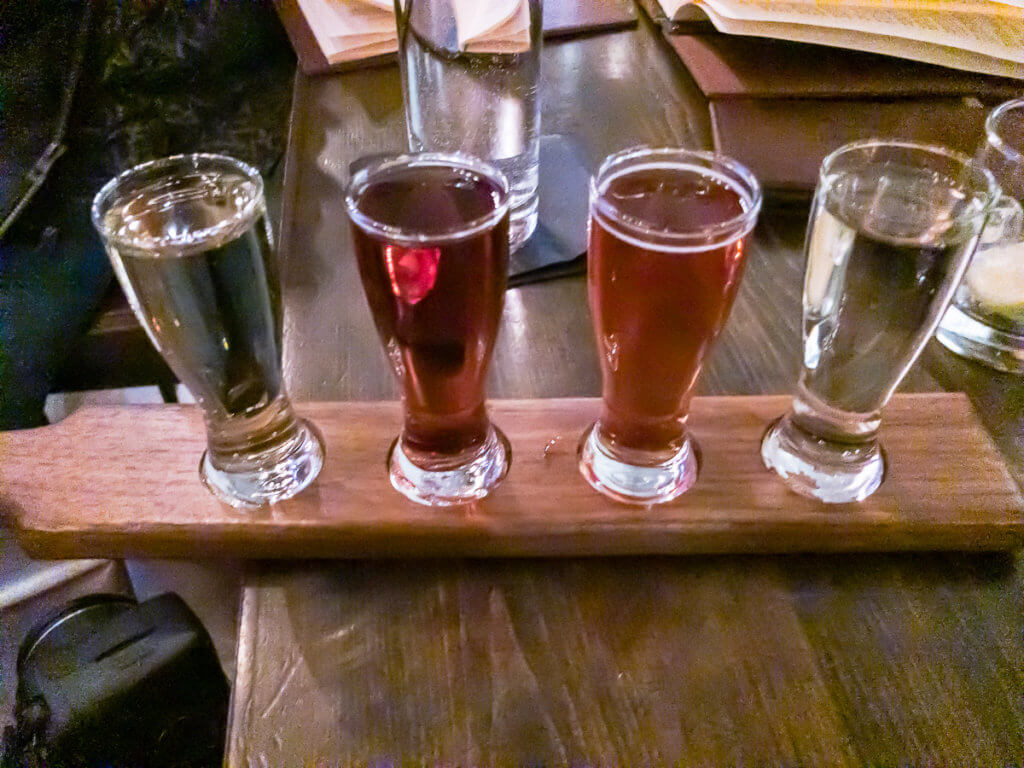 If memory serves me right, the flight included a dry apple cider, a honey cider, another apple, and a tart cherry cider. Of them, my favorite was the cherry, though it was a seasonal flavor.
As far as food goes, I ended up ordering the Duck Breast with duck fat potatoes, sour cherries, port wine sauce, and crispy Brussels sprouts.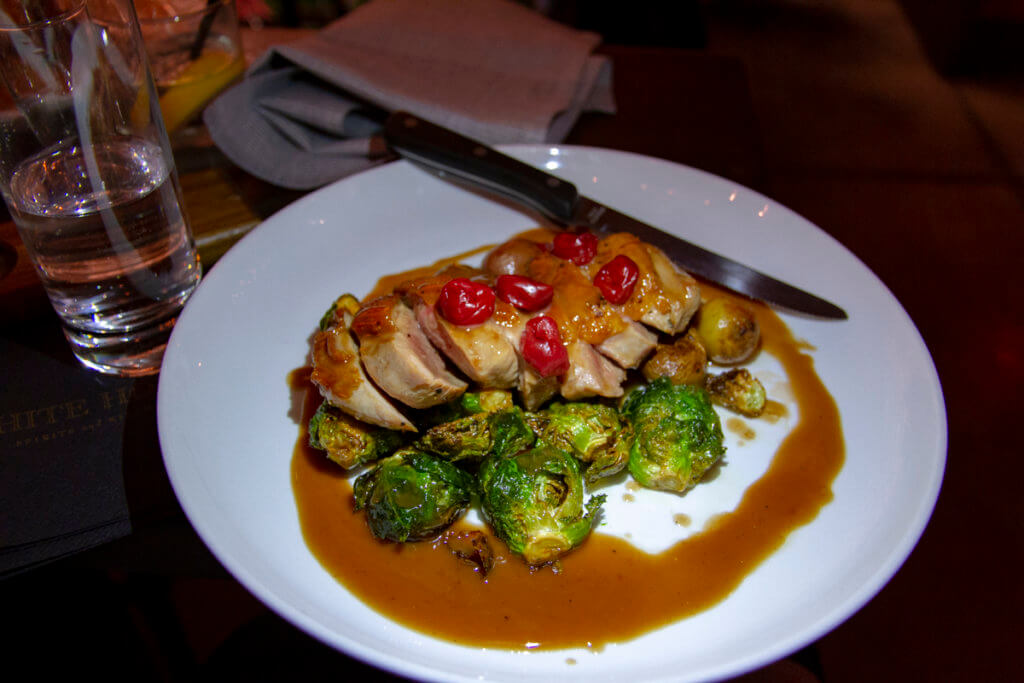 The skin on the duck wasn't as crispy as I'd like, but it was a perfect medium-rare. The Brussels sprouts were great, though, and the sauce and tart cherries paired nicely with the fatty duck.
Where I Ate in Salt Lake City, Final Thoughts
Of the three places in this post, White Horse was my favorite. The food was the best of the bunch, though the seating situation wasn't ideal. And while it sounds like I didn't care for Christopher's, it is a great place. The steak, while not perfect, was good overall, though I still don't like the Brussel sprouts. Whiskey Street, on the other hand, is a great place to go if you like whiskey, any whiskey. This is especially true in a town with limited drinking options.
Utah 2018