It's long been my dream to see endemic Hawaiian honeycreepers in the wild. So, with some time to kill on our second day on Maui, we decided to go bird-watching at Hosmer Grove in Haleakala National Park.
Prior to our bird-watching at Hosmer Grove, the closest I've ever gotten to seeing Hawaiian honeycreepers was hearing them while walking along Hawaii Volcanoes National Park's Devastation Trail. Hearing their song is an undeniable treat – they are both beautiful and haunting. Yet, seeing these elusive birds can be a real challenge. They are, after all, becoming rarer with each passing year. In fact, on my home island of Oahu, you need to be very lucky to catch a glimpse of our two remaining birds – Apapane and Amakihi. However, more varieties persist on Maui and the Big Island, and they're easier to see. And that's why we made the 1.5-hour drive out to Hosmer Grove from the Westin Maui.
Bird-Watching at Hosmer Grove
As I mentioned earlier, Hosmer Grove is in the Haleakala National Park. To get there, you drive up to the summit area entrance. Once you pay your entry fee ($30), you take the first left onto Hosmer Grove Access Road. Follow the road to the campground and nab any available parking stall. From here, you'll embark on the Hosmer Grove Loop Trail – a quick 0.54-mile trail. Elevation change along the trail is minimal at 50 feet, though the terrain can be a little uneven. However, the goal is to make it to the lookout points about halfway through the loop. A word of caution, Hosmer Grove is at the 7,000-foot level. I had no issues with the elevation here, though others might. At the very least, take some time to acclimate when you arrive and move about cautiously.
A Bit of Backstory
Hosmer Grove is named after Ralph S. Hosmer. He was the first Superintendent of Forestry for the Territory of Hawaii and is responsible for the conifer and eucalyptus forest you find at Hosmer Grove. It creates an interesting dynamic as you'll immediately recognize the smell of evergreens, cedar, and eucalyptus. At the same time, you'll likely begin hearing the calls of the I'iwi – Scarlet Honeycreeper. As you hike more, you'll realize that the forest is a mixture of both these introduced trees and endemic ones such as the Ohia Lehua and  Mamane.
What We Saw
During our time at Hosmer Grove, we primarily saw I'iwi. That said, I could've sworn I also saw an 'Apapane and Amakihi as well. However, that was fine with me since the I'iwi was my primary target. These birds are iconic, with their long, hooked bills and bright red plumage. There are other incredibly beautiful honeycreepers on Maui, though they are exceedingly rare. One of these is the 'Akohekohe, a mostly black bird with striking orange and white feathers. Unfortunately, these birds are critically endangered and, as a result, are exceedingly rare. In fact, you'll only find them in the upper elevations of Haleakala's east side – an area most of us can't easily reach.
What to Bring When Bird-Watching at Hosmer Grove
When you're venturing to Haleakala's Summit District, you'll want to bring proper clothing. The weather up there can change rapidly, so it's a good idea to bring a water repellent jacket or umbrella. A jacket, in general, is a good idea, though, as even in the mid-day, it can be quite cold in shaded areas at these elevations. Beyond this, bring as much gear as you're comfortable carrying. Personally, I brought a Canon EF f/2.8L 70-200 USM IS lens, which I mounted to my 6D Mk II. That's likely the minimum lens length for anyone looking to take photos of the birds. Ideally, I would've had something at least in the 400mm range. Binoculars are also a good idea for those not looking to take photos. However, the birds do get fairly close at times, so binoculars aren't essential. Oh, and, do bring a bottle of water.
Whatever you bring with you, please remember to leave nothing behind. Hosmer Grove and Haleakala National Park are critical habitats for numerous endangered species. The last thing we want to happen is to have the area desecrated.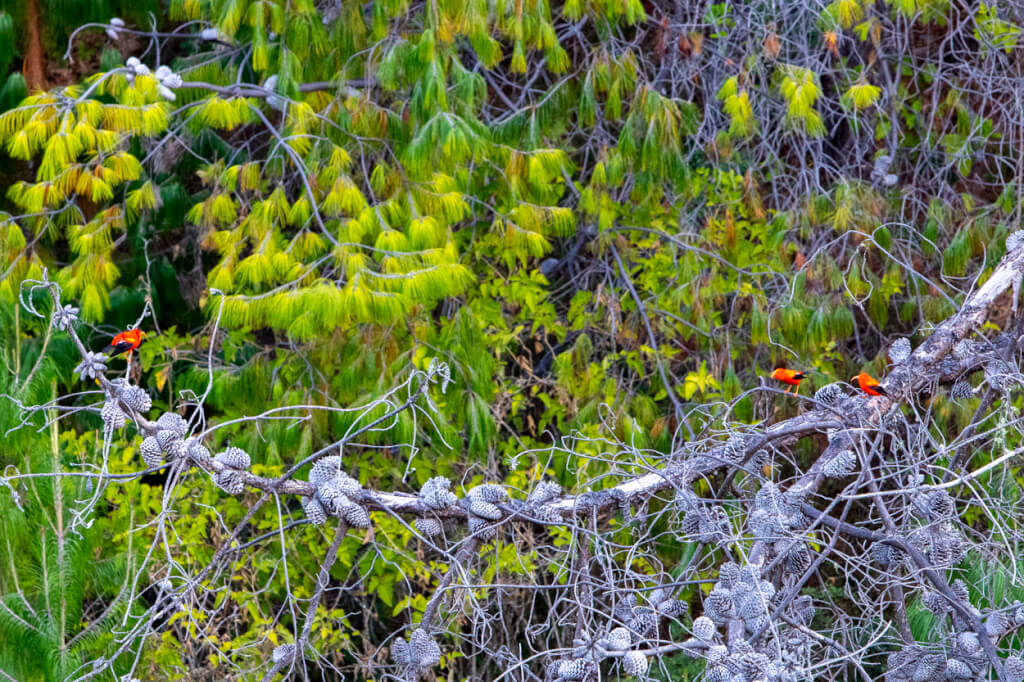 Haleakala Summit
After wrapping up at Hosmer Grove, we headed up to Haleakala's summit. Sure, we've been up there many times before. But it's always great to head up there to view this otherworldly landscape. Plus, it was such a nice, clear day that you could clearly see the Big Island off in the distance!
Final Thoughts
What a rewarding experience it was to finally see these critically endangered birds.  The I'iwi remains one of the most common honeycreepers around, though their numbers are rapidly declining. Climate change is increasing the temperatures at the elevations, allowing mosquitos to move further upslope. This movement is putting increasing pressure on our precious bird populations, nearly all of which are highly susceptible to avian malaria. The Kiwikiu, for example, is one of the rarest birds on Maui. Just 300 are believed to be left in the wild, all of which are limited to a single, 7,000-acre tract of forest on Haleakala. But much of that habitat is being invaded by mosquitos. So, short of eradicating mosquitos, the Kiwikiu could be the next honeycreeper to go extinct, with the I'iwi likely to follow down the road.
As sad as the situation is, there's still time to try to save these incredible birds and enjoy them. Hiking the loop trail at Hosmer Grove represents what is probably the easiest way to see the I'iwi and is an experience I highly recommend to all.
Grand Maui Adventure