Last updated on June 23rd, 2023 at 12:03 pm

All of our reviews are based on exhaustive research, industry experience and whenever possible, hands-on testing. When you make a purchase using one of our chosen links we'll receive a small percentage of the proceeds. This supports the site and keeps Jeffsetter running. You can read more here.
If you're considering traveling in an RV but aren't sure where to begin, a travel trailer might be a good match for you!
However, the biggest unknown when it comes to travel trailers is knowing what you can and can't tow. But chances are likely your vehicle can tow something, including certain travel trailers!
Are you looking for a light enough rig to hit the road with? Then this list is for you! Let's go over some of the best travel trailers under 4000 pounds, and some other extremely helpful information!
What Weight Can I Tow, Really?
If you're concerned about towing your travel trailer, you should be aware of the many different weights that are worth knowing before you hit the road. They matter because an even distribution of weight is key to towing safely and securely. Plus, you never want to go beyond what your tow vehicle can handle!
Thankfully, these weights and numbers are fairly easy to understand, and manufacturers always include a starting weight of any travel trailer they make, so that you won't be entirely in the dark about how much your trailer weighs. Even if you buy used, the weight of your rig should be readily available from the manufacturer or elsewhere. If you're really in a pinch, you can even weigh your travel trailer at home.
Here are some of the terms you should know when it comes to the weight of your rig, and what it means for you when it comes to finally purchasing a lightweight travel trailer!
Gross Vehicle Weight Rating (GVWR)
This is the maximum allowable weight of a fully-loaded trailer, including liquids, passengers, cargo, and the tongue weight of any towed vehicle (most travel trailers can't tow an additional vehicle). This is the weight you will want to know before departing on your first camping trip with your new travel trailer! It is the most a trailer can weigh in total, as determined by the trailer manufacturer.
Gross Combined Weight Rating (GCWR)
GCWR is the maximum weight of your vehicle with a trailer attached, as determined by the vehicle manufacturer. This means the weight of both the tow vehicle and the trailer together. It also includes any cargo or load placed in either vehicle.
Dry Weight or Unloaded Vehicle Weight (UVW)
UVW means the weight of an RV as built at the factory, by the manufacturer. It does not include the weight of the cargo, fresh water, propane gas, occupants, etc. It is the weight of the trailer with nothing extra in it, and is the weight you should know when shopping for a new travel trailer!
Tongue Weight or Hitch Weight (HW)
Also known as tongue weight, HW is the amount of weight of the trailer that is carried on the hitch. You will need to know this weight when shopping for a proper hitch. Hitches are rated both by their towing capacity and their tongue weight. You can learn more about tongue weight capacity (and tricks for increasing it) in this article.
Gross Axle Weight Rating (GAWR)
GAWR is the maximum allowable weight each axle assembly is designed to carry. This is important to know because it's possible to be under the GVWR and still exceed an axle rating, depending on how you load the RV with your personal cargo.
This is a lot of information to digest, but once you get more familiar with travel trailers and what it all means, the various weights of your trailer will make a lot more sense! You will come to understand why it is necessary to know these weights and the importance of staying within certain ranges depending on your tow vehicle.
What Are The Pros And Cons Of Travel Trailers?
So you've looked at the various weights necessary for towing a travel trailer. You know your weight limits for your tow vehicle, and you have to keep it under 4000 pounds. Great! There are lots of options out there for you.
But what else about travel trailers makes them a good choice over truck campers or Class B, C, or V RVs for you? And what might be the downsides?
Pro: Travel Trailers Can Be Left
The main perk of travel trailers in my book is their ability to be left at camp. If you're on traveling to a new place, and seeing new sights, the last thing you want is to travel in an overly large motorhome or camper. The best part of a travel trailer is the ability to leave it behind! Once you unhitch your RV from your vehicle, you're free as a bird!
Con: Towing Can Be Stressful
No matter what specific type of travel trailer you look at, you need to be prepared for one very important detail: your trailer must be towed. This might not be what you are hoping for, but there are a lot of positives to towable travel trailers versus motorhomes. However, towing takes a lot of practice and concentration, and RVs are notorious for not being the easiest to drive, so you may consider this a con.
Pro: Light Doesn't Mean Compromising
Another perk of travel trailers is their lightweight design. Motorhomes and coaches guzzle diesel fuel or gasoline, a huge drawback if you are only planning a small budget for your upcoming trip.
Some travel trailers are so light that you can tow them with the smallest of cars, which means you won't have to worry about renting or borrowing someone's large truck to tow your new rig!
Con: Trailers Are Small
No matter what, a travel trailer may feel like fairly tight quarters. If your tow vehicle can only handle the smallest of rigs, you may not find a travel trailer large enough for your travel plans, especially if you're traveling with a dog or other pet. No matter how long the trip, travel trailers never feel like they have enough space!
However, there's always the great outdoors if you're looking for some time and space to reflect, and the travel trailer will be there when you are feeling relaxed and ready to turn in for the night!
Types Of Travel Trailers
If the weight limits and pros and cons haven't changed your mind, the fun research can begin. There are many different types of travel trailers out there! Heck, you can even find travel trailers with two bathrooms in some cases!
All travel trailers are towed behind a vehicle using classic ball hitches. But how else do they vary from one another? Let's take a look!
Classic Travel Trailers
The most classic travel trailer you can get may be the right fit for you. And that's because there are so many different fits! A classic travel trailer is towed behind your vehicle using a ball hitch and ranges in length from 10-35 feet. These classic trailers often have four tires total, and are the most traditional setup when it comes to the interior (bedroom, bathroom, living area, kitchen).
Slide-outs are also a popular feature on nearly all newer travel trailers, allowing more space on a lightweight frame. Given the range of length, weight, and specifications possible on classic travel trailers, it is recommended that you check out all of the necessary weight requirements before purchasing one. Some trailers require a heavy-duty truck for towing, despite their small size.
My vintage rig may only be 19 feet long but given its old metal frame, I need a V8 truck to tow it! A classic travel trailer may give you the space you want, but make sure your vehicle can tow it! You may also consider the durability of travel trailers; if you're planning to offroad or venture anywhere remote and unpaved, some travel trailers may not be made for that sort of trek.
The classic travel trailers on this list will be under 4000 pounds, but not all of them are created equal. If you are planning to do your own research and shopping, don't forget to check your weight limits first.
Toy Hauler Trailers
Looking for a home on wheels that will also transport all of your other recreational toys? A toy hauler does exactly what it says in the name, and might be a good choice for you if you have a lot of other fun vehicles! Toy haulers are towable rigs and some of the largest travel trailers out there.
They come with a fold-down ramp often at the back end of the trailer, perfect for wheeling out your ATVs, motorcycles, jet skis, and whatever else you can fit back there! These trailers are designed as a half garage, half living space, with various different layouts affecting the style. The sky's the limit in terms of customizing your toy hauler but at the end of the day, you need a vehicle that can tow it!
Toy haulers are often the heaviest of travel trailers, as they are carrying even more vehicles inside of them! These are the peak of recreational vehicles, allowing you the maximum amount of entertainment possible, but just make sure you can handle the weight!
However, there are some toy haulers on the market that are under 4000 pounds. You may not be able to bring the whole family plus every single recreational item you own, but there are options out there.
Teardrop Trailers
Now that you've seen the biggest travel trailer options, let's take a look at the smallest: teardrop trailers! These little guys are amazing for those of you hoping to tow with your small car, as most teardrops weigh less than 1,000 pounds to tow! What a great idea, making a camper so little! This also means it will be easy to store at your home. What's the catch?
As I'm sure you might've guessed, these trailers are tiny. So much so that for the most part, teardrop trailers only have enough space for a mattress inside. A kitchen is often built off the back of the trailer, which means your cooking must be done outside. There are rarely ever bathrooms, which could be a deal breaker for some of you new campers out there.
However, teardrops are amazing little trailers and are so easy to tow! Their kitchens are often high-tech and amazing to have while camping, and I can't think of a better trailer to bring along on short road trips or wonderful weather outings. These little teardrops are great for you adventurers out there looking to off-road it or travel more ruggedly, and they will almost always weigh less than 4000 pounds.
Pop-Up Travel Trailers
Unconcerned about the elements and looking for the best of both worlds when it comes to trailer towing? How about a pop-up travel trailer, which brings the best of towing, size, and budget to you?
Pop-up trailers are inconspicuous at first, residing inside a flat, easily towable frame. When you arrive at camp, the canvas sides can pop up to create your camper, much larger than teardrops and lighter weight than toy haulers or classic travel trailers. It is a perfect combo of RV and tent and is recommended primarily for camping where the weather is nice.
Some pop-ups even have more rigid sides to their tents in order to better your experience if camping in a colder climate. Given the extra interior space, some pop-ups include bathrooms and living spaces, and usually always have a kitchen. This may make pop-ups a good fit for you if you're worried about the weight of your rig but don't want to sacrifice space.
The Best Travel Trailers Under 4000 Pounds
While RVing gets more and more popular, the demand for lightweight rigs has skyrocketed. Here's what you have all been waiting for the ultimate list of travel trailers under 4000 pounds!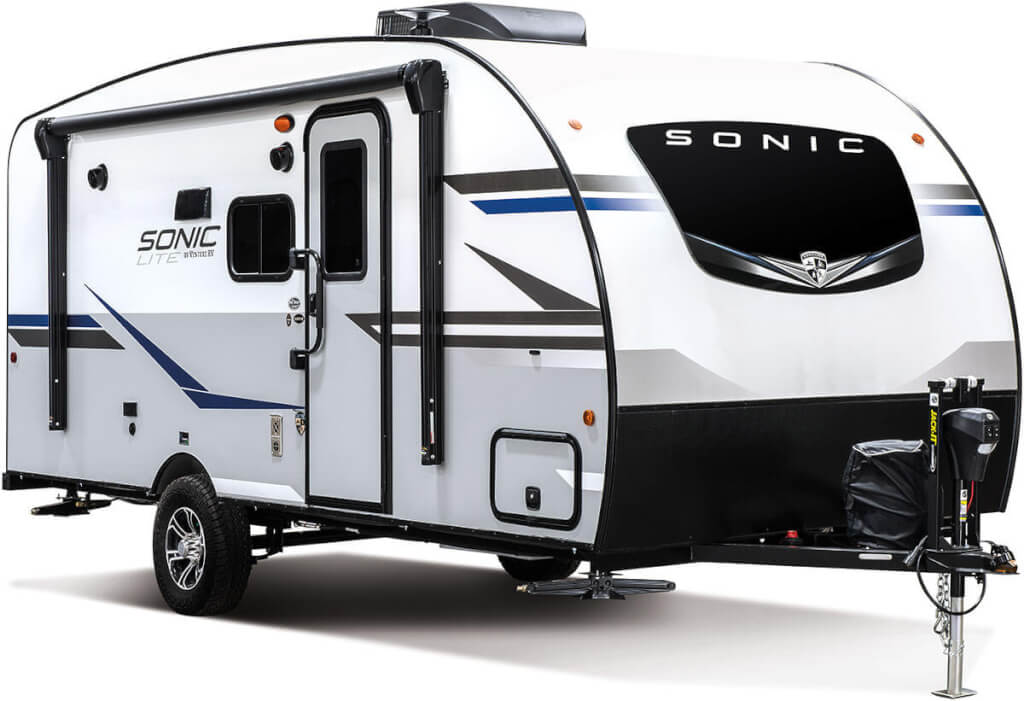 Looking for a classic travel trailer with many floorplan options, all of which are under 4000 pounds? The Sonic Lite may be what you're looking for. Venture RV's single-axle travel trailer offers solid construction, with floorplans starting out at a fuel-saving 3,000 pounds!
Sonic Lite features the most interior storage in its class, which as a full-timer, I absolutely need! Interiors are surprisingly spacious – there's ample storage and this rig boasts many features on a more compact scale. This travel trailer is engineered with a one-piece seamless fiberglass roof system. By arching the roof front to back, this system provides a more durable roof that shouldn't need resealing. This means when it rains, the water runs off, making all of my water worries a thing of the past!
All of the floorplans vary in terms of their offerings, but almost all include a bedroom with overhead storage, a full-length shirt closet, and StorMore nightstands with 110V outlets and USB charging ports. Although I prefer to not look at my phone before bed, I need an alarm to get me up in the morning, so the charging ports and nightstands are super helpful.
Double bunk floorplans offer Teddy Bear bunk mattresses, and each bunk has its own window which is perfect for guests when they stay over! The bathrooms include a porcelain foot-flush toilet, tub or shower surround, and skylight to let all the heat and steamy air escape.
Sonic optimizes every possible opportunity to offer virtually unlimited storage, which is a huge perk with lightweight RVs. Exterior features include a power awning with LED lights, nitrogen-filled radial tires, and slam-latch baggage doors with magnetic catches. I could talk about this camper all day, but to round it up, there's simply so much on offer with the Sonic Lite, you'll just have to check them out for yourself here!
Best Teardrop Trailer: iCamp Elite

Any teardrop trailer should be under 4000 pounds, which means options are close to endless. However, the iCamp Elite is one of the few teardrops out there with both a shower and a toilet! Not to mention an interior kitchen! These luxuries may seem silly to mention, but finding the perfect teardrop can be tricky, but I think the iCamp might the process a bit easier.
The iCamp Elite is a fully laminated travel trailer. The body is reinforced with aluminum tubing frames, and a high gloss fiberglass skin is laminated over structural Styrofoam made by the Dow Chemical Company. I love that the interior walls are covered with wallpaper for luxury and easy care, whilst underneath is a strong structure I know will support me on all the adventures yet to come in the future!
The furniture is a sandwich structure made with solid wood and high-grade plywood, before being finished with semi-gloss PU paint for style and durability. The furniture is curved and although I think it looks great, it's also functional, as it makes for the best use of the space. This teardrop is equipped with the most classic travel trailer amenities and best of all, it's fitted with a spacey one-piece modular bathroom with shower and toilet.
This may not be the first rig you think of when someone says teardrop travel trailer (don't worry, there are a couple of other more traditional looks on this list!), but it's an option I simply couldn't skip. Best of all, I can tow it with ease because it weighs less than 2000 pounds! You can learn more about this compact travel trailer here.

There's nothing I enjoy more than getting out and exploring, and with an easy setup, this Coachmen is well worth considering! This is a tow and store trailer, which folds down to create such a compact rig for storage! Coachmen have been a big player in the RV game for some time, and their reliability stretches from their more traditional trailers into their exclusive pop-ups!
There are options such as two queen beds, a kitchen, and many additional features- did I mention all of this for under 2000 pounds? It's all part of the Clipper Camping Trailer! I enjoy relaxing outside, so the awning offers ideal protection from the elements, and when the weather gets a bit too gnarly, I can get cozy inside as the 70″ gauchos will provide plenty of comforts.
I'm able to cook meals from scratch using the two-burner range, and washing up is a breeze with the deep bowl acrylic sink. The residential laminated countertop offers space to place all the ingredients I can think of! There's also an optional Off-Road package, offering 15″ off-road tires and a spare, plus length stabilizing extended jacks and more to explore even further each trip!
Each Clipper is built on an E-coated tubular steel frame, with cable supported structured platform bed system, the J-track metal door hook system, and Velcro attached valances, so I can trust this rig is built to last. Plus removable curtains and cushions provide a comfortable and flexible RV experience.
Without a proper bathroom, this may not be the best choice for you, but pop-ups pack a lot of features into a lightweight frame! It may be possible to hook up a portable shower outside, and a cassette toilet inside to improve practicality, so don't wipe this trailer off your list just yet! Plus the option to store a pop-up trailer in your garage or elsewhere is an awesome perk, and you can check out the rest of the Clipper Camping Trailer by clicking here.
A mainstay and a family name, Winnebago has been regarded as one of the best in the RV business for quite some time. They aren't reinventing the travel trailer wheel, but the Micro Minnie 1708FB is a comfortable and lightweight classic, all with an affordable price tag!
If the smallest Micro Minnie floor plan doesn't fit the bill, there are ten others to choose from, ranging in size from 19 feet to 25 feet. No matter what, these trailers remain lightweight, easy to tow, and comfortable inside! Winnebago has thought about where to place windows for the best cross breezes, as well as keeping the kitchen and living area open which I especially love as nothing is worse than a cramped, stuffy RV!
As I've said before, I love spending as much time outside in nature as possible, so therefore, the patio speakers, motorized awning, and LED lighting are big draws for me! There's even seemingly endless exterior storage to make packing up a breeze and provides space to keep extra blankets for when evening temperatures drop. The Micro Minnie's dry weight is just over 3,000 pounds, making it lightweight but probably still necessary to own a larger towing vehicle.
The price on this trailer can't be beat and it's definitely the most budget-friendly on this list. If you're hoping to start your travel trailer journey with tradition and budget in mind, the Micro Minnie is perfect for you and your lightweight trailer goals! It also made our list of the best travel trailers for solo travel, and you can check out all of the features of the Micro Minnie by clicking here.

I didn't even know toy haulers could be made so small until I found Livin' Lite's designs. The Sportsmen Classic 130RB is an impressive travel trailer, as is the entire Sportsmen line. The 130RB weighs 2,800 pounds, yet still includes a full bathroom with toilet and shower, well-equipped kitchen, large dinette, AC, sofa, and plenty of interior storage! The 10′ awning is a standout feature for outdoor lovers, and if kept in good condition, it can provide additional space for all the camping days of the future!
The construction of this Sportsmen Classic is impressive and gives me the peace of mind I need when traveling around the country! They even offer a lifetime warranty on the Dicor Tufflex PVC roof membrane which is something I haven't come across with many travel trailers at all!
There isn't simply one Sportsmen to fit every RVer, and that's why there are several options and add-ons available. I'm particularly drawn to the Off-Road Package which features aluminum rims, mud tires, additional ground clearance, a double entry step, and an electronically controlled heated holding tank so I won't have to worry about water freezing come winter.
You can learn more about the Sportsmen Classic and everything it offers here.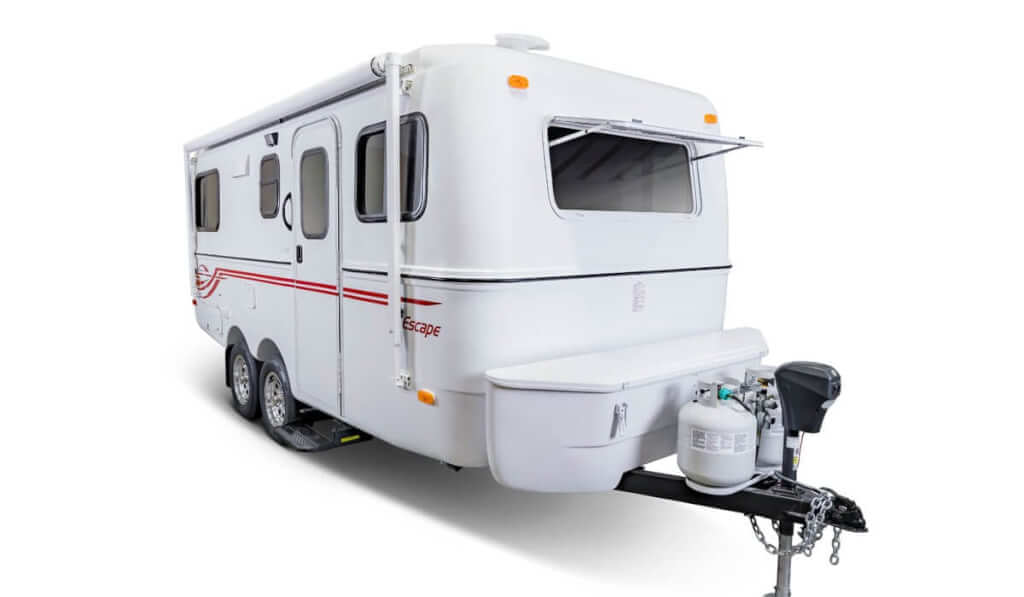 Given that I'm currently full-time in a 19-foot vintage rig, I love to keep an eye on comparable models I might want to upgrade to in the future. The Escape 19-foot model has every amenity you (and I) might be looking for in a lightweight and waterproof fiberglass shell, just under 4000 pounds dry!
The Escape 19 includes lots of room for storage and the ability to sleep 5 with an optional cot, all while being able to be towed by an SUV or small truck. This compact and efficient trailer is a best seller and one of the most regularly personalized trailers at Escape. The solid one-piece fiberglass shell is strong, durable, easy to clean, and completely waterproof, meaning I won't be facing structural issues in the future, allowing the resale value to remain high!
This slightly longer model includes a wet bath, an optional raised frame, and loads of standard features to make for a comfortable RV vacation. Its non-standard features are also impressive, including solar, additional storage hatches, and interior outlets, making boondocking and going off-grid possible! Every Escape is made to order from the manufacturer which is a unique situation if finding a used model is difficult, as a new one can be made exactly how you like it!
Escape trailers also allow for customization of the flooring, countertop, and fabric choices; there is a small additional fee for bringing them your own materials but it is rare to have the option to customize to your heart's content! I'm saving up for an Escape, and if you're interested you may want to put a deposit down for their lengthy waiting list now…
Find out more about the Escape and all its features here.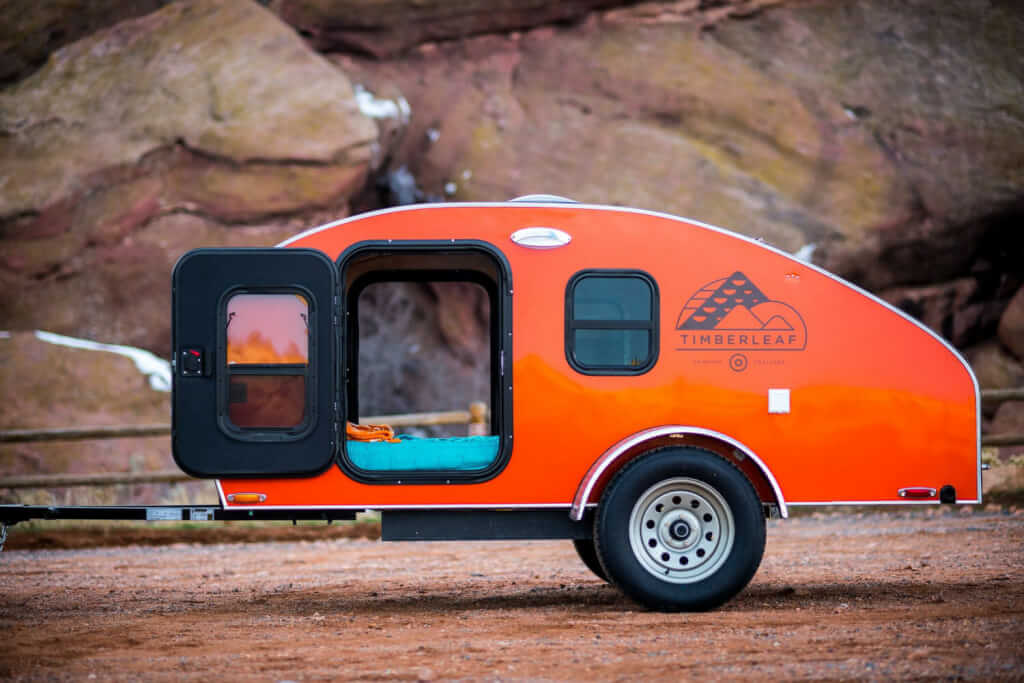 The name itself can't be beaten when it comes to teardrop trailers, and Timberleaf knows modern teardrops like no other. Their Classic model is everything I know I'd want when it comes to a teardrop trailer, with even more customizable options than I thought possible in such a small space!
Coming in at 1,500 pounds dry, this little guy can be towed by almost any standard vehicle. The main perk of ordering a Timberleaf trailer, however, is their attention to the suspension. The Classic Teardrop can come in 3 different suspensions, varying depending on the expected level of adventure. There's even a totally off-road option for those expecting to be off the beaten path!
There's no bathroom with this teardrop, but there is an amazing kitchen off the back. Not having a bathroom might be a dealbreaker, but there's always the option of bringing a cassette toilet along. If I owned this little rig, I'd probably fit a small cassette toilet or stay at a campground for a few days to use the facilities.
As an avid cook, I'm really impressed with the kitchen on this rig. It's fully customizable, the galley is a stunner, and I sacrifice nothing in terms of comfort (except of course a dishwasher!). The interior itself is clean and fits a queen bed so I know a good night's sleep is pretty much guaranteed! It includes tons of storage too so I don't have to worry about bringing too much.
The best part of the Classic Teardrop for me has got to be its large skylight over the bed. Bringing the outdoors in, this skylight is the biggest offered in the teardrop industry, and I couldn't even imagine how beautiful the night sky looks through it. It may be small, but this trailer makes a huge impact!
You can learn more about this classic teardrop trailer from Timberleaf by clicking here.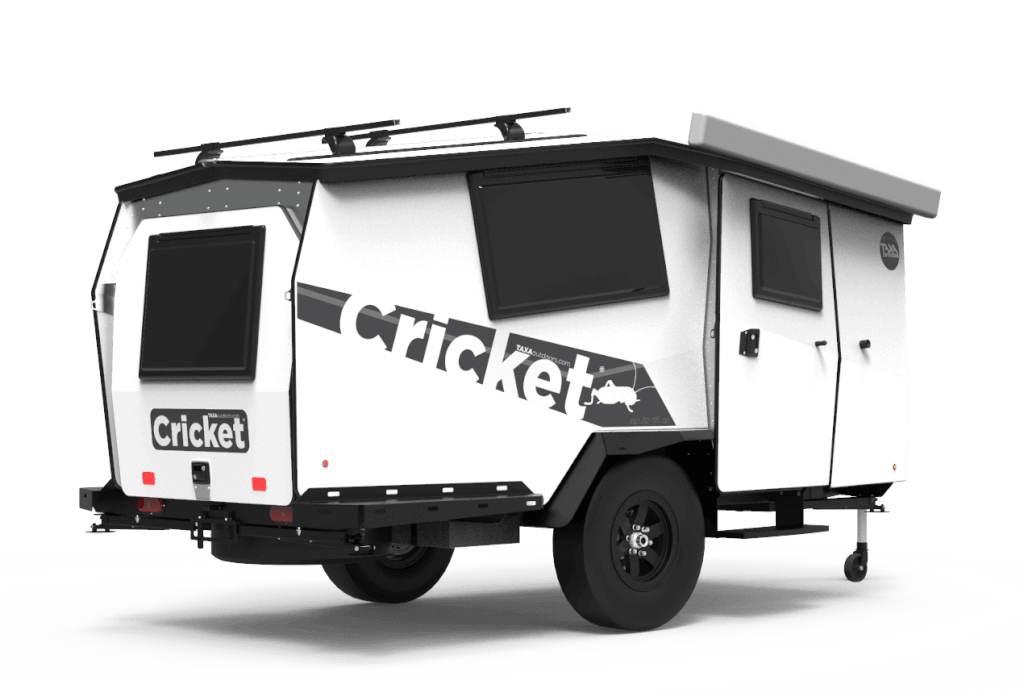 I have to start off by saying that this is not your mother's trailer. In fact, this little guy is the most unique trailer on this list! The Cricket pop-up travel trailer by Taxa Outdoors is made for adventurers, outdoor enthusiasts, and designers. How can it please all of these types of people? Through one-of-a-kind building and design.
First off, this little guy is tiny: it's only 15 feet long, less than 7 feet across, and weighs 1,700 pounds dry. While there are countless non-standard features, the Cricket comes built out with a full bed, kitchen, and loads of storage for such a small space. It also has an included cafe table, a standard entry door, and a back hatch that opens, allowing even more of the outside in.
The roof pops up, as is the way of pop-up travel trailers, providing an extra 3 feet of headroom and windows! I don't like feeling cramped in an RV, but as I'm tall, this happens quite often! I like that I can easily stand up in the Cricket and won't feel claustrophobic at all. These little guys can also come with a portable toilet, outdoor shower, and awnings to fully enclose your outdoor needs. There are also additional roof racks for storage, but these don't come standard. This is frustrating but may be worth it to bring lots of additional equipment and gear camping!
What else can be said about the Cricket, besides its eye-catching good looks? It may be at the higher end of the budget and be a bit too unique for the average camper, but if you are up for the challenge, this little pop-up might be exactly what you've been searching for! It also made the list of our best travel trailers for couples if you're looking to hit the road with your partner!
Find out more about this trailer by clicking here.
As an Oregon state camp host, I see these little r-pod trailers everywhere. Ranging in size from 17 feet to 20 feet, r-pod trailers are all the rage right now. I can't help but wonder why, and now I know. Forest River has been in the business for a long time, and they know what RVers are looking for, especially when it comes to lightweight camping!
The r-pod RP-180 is the smallest trailer of this model that still comes with a bathroom. I had no idea how lightweight they could be, coming in at under 3,000 pounds dry! 18 feet shouldn't be too difficult to control on the road, and I'm comforted knowing I have every amenity I need at a weight I can tow. However, there are around 11 different floor plans to choose from, most all very lightweight and easy to tow, but make sure to confirm your weight limits before falling in love.
With a powder-coated steel frame that resists corrosion, this trailer requires little to no maintenance, although I'd definitely still winterize when the cold season is near! It can also be designed and ordered with many upgrades such as an entertainment system, solar panels, and even a screened-in awning so I can choose the amenities I need most.
With an awning, one easy-to-operate slide, and boasting tons of interior and exterior storage, I feel comfortable camping anywhere, anytime in this trailer. Even if I'm simply camping for the weekend, this r-pod has everything I need to get cozy and enjoy the great outdoors, all on an affordable luxury budget!
Weighing in at just 3,408 pounds, the Palomino SolAire Ultra Lite 147H is a dual-axel travel trailer that really manages to pack a punch! Although it's lightweight and measures a modest 19′ 1″ in length, the SolAire 147H includes luxury features such as a power awning with LED lights, Furrion entertainment system, 13,500 BTU air conditioning, stainless steel fixtures, and more!
Sometimes, it's the little things manufacturers bring to the table that make all the difference for me. Living full-time in a travel trailer, I need a functional space that doesn't compromise on aesthetics, and that's what has been achieved with this Palomino SolAire. The dual axel provides enhanced durability and capability, whilst the power tongue jack brings security once I've made it to my destination.
The exterior of this trailer is actually pretty modern, with a white hi-gloss finish, keeping things sleek and clean which is something I want from an RV. If you're new to RVing, you may not know exactly what you need from a rig, and Palomino has made this easy as there are simply countless optional extras with this rig including a countertop extension, theatre seating, AC in the bedroom, an even a washer/dryer. However, all of these options are floorplan dependant, so they may not work in the 147H so it's worth double-checking!
I love that this trailer has a full bathroom! As you've already seen from our list so far, not all lightweight trailers are equipped with a bathroom, but this SolAire has a full shower, sink, and toilet for ultimate convenience! As I love to cook up a feast for friends and family in my rig, I would prefer the kitchen to be a bit bigger with more countertop space, but this isn't really too big of a problem as the dinette table could act as additional prep space if needed, and I can always grill outside too!
Find out more about this trailer by clicking here.
I first heard about Opus Campers a couple of years ago, and I still think they are some of the most innovative, creative travel trailers on the market today! There are a few different Opus models available, but I want to talk about the Opus Camper OP LITE as it's ideal for camping year-round. I know what you're thinking…this trailer looks more like a tent! Well, hear me out because this is one ingenious piece of kit able to transform vacations on the road.
For starters, this trailer weighs just 3,527 pounds and still manages to fit a full kitchen, fridge, slide-out storage, queen-size bed, and a sizeable lounge space. The AIR OPUS system inflates this rig in under 2 minutes. One of the things that frustrated me with trailer life sometimes is the length of time I spend getting my rig into position and set up ready to use, so this is a big bonus in my eyes! You can see a full walkthrough and setup shown in the video below:
The ability to get the OP LITE set up in a couple of minutes is ideal in winter when it might be raining, windy, or snowing. It's easy to inflate the trailer with just the press of a button as the inflation technology is powered by the 12v compressor that's pre-installed in the OP LITE. As I spend all of my time traveling on the road, I need a trailer able to handle the harshness of both summer and winter.
Therefore, I think the addition of the inflatable AIR Annex is well worth it! The annex fits securely to the trailer tent and offers a substantial shaded space that's protected from the sun and rain too! The kitchen in the OP LITE is an exterior one in the form of a slide-out which I'm actually quite fond of, as it means there's less going on in the main living area, keeping it light, open, and spacious.
The biggest standout feature for me with this trailer, however, is how off-road-ready it is. I love camping in the heart of nature and spending as much time in the wilderness as possible, but unfortunately, winter weather often makes tracks muddy and difficult to drive on – especially when towing a travel trailer! But these harsh weather conditions aren't an issue with the OP LITE.
The trailer has a robust suspension system, galvanized steel chassis, articulating hitch, twin shock absorbers, trailing arm suspension, and a 360-degree hitch rotation for sharp corners. All of these incredible features come with a pretty high price tag, but the OP LITE truly is one of a kind.
You can check out more details about the OP LITE here.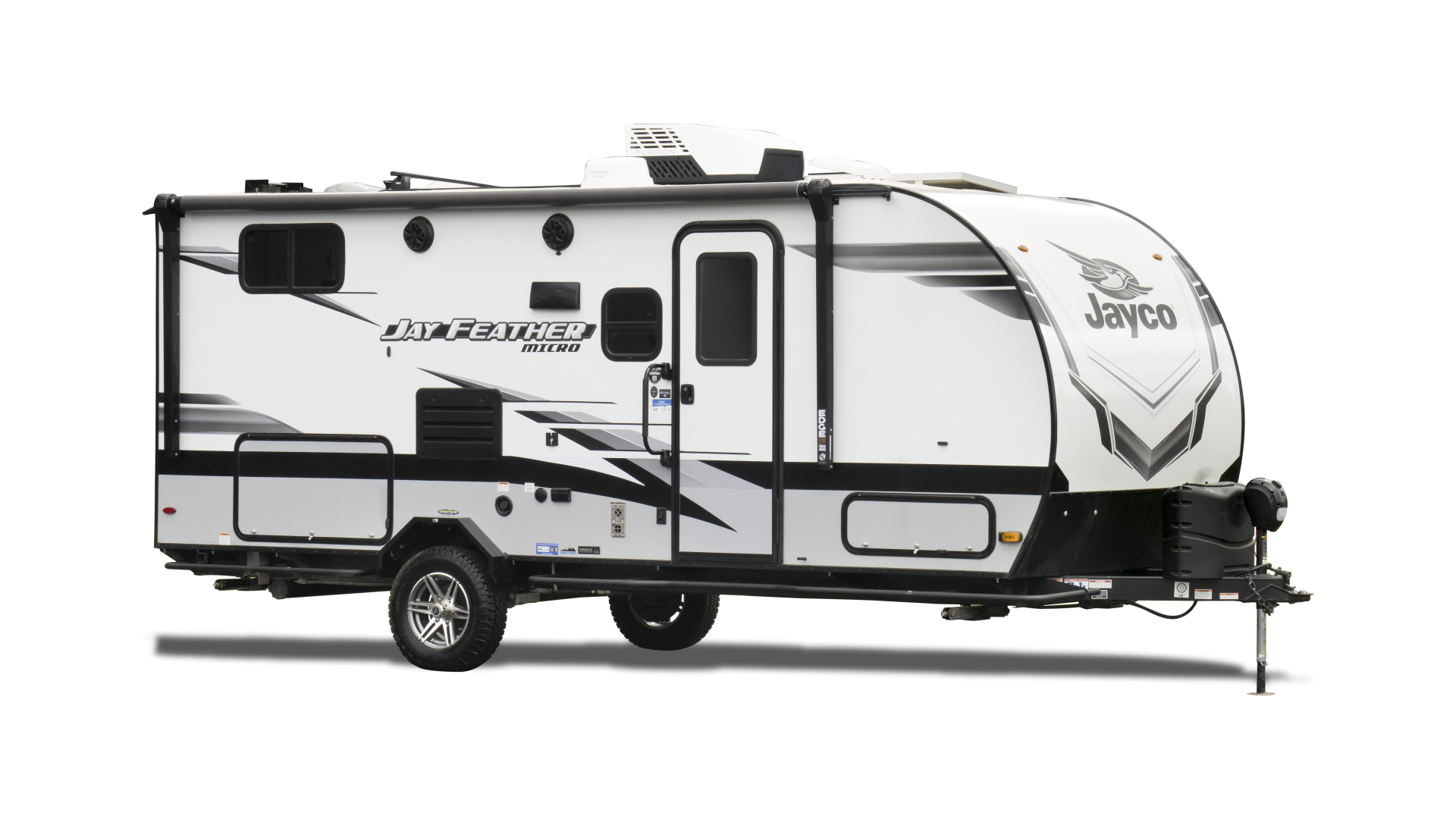 Lightweight travel trailers can often be on the smaller side, and this is great for solo travel or weekend adventures, but what about couples or small families? Well, the 2023 Jay Feather Micro 166FBS is a small trailer with an exterior length of 19′ 8″ and a height of 10′ 6″ with the additional air conditioner. What makes this trailer unique, however, is the single slide where storage and a sofa space are created.
Slides on an RV are fantastic space enhancers, and the slide on this Jay Feather Micro trailer allows for ample floor space, making the rig feel light and airy. Although this trailer is lightweight, it does creep slightly over 4,000 lbs, with a UVW of 4,025, but I wanted to add it to our list as it has so much to offer for such little weight!
As you've already seen from many of the other trailers on this list, small sometimes means compromise, but not with this Jayco! It has a spacious kitchen fitted with attractive cabinetry, a microwave, fridge, pantry, sink, and worktop space so I can cook to my heart's content! I like that Jayco has also prioritized external features with this trailer by including an exterior fridge and a sizeable 11′ awning for entertaining guests no matter the weather.
The bathroom space is also impressive, with a full shower, toilet, and sink in the corner of the trailer. Having a bathroom may not be the be-all and end-all for every RVer, but a bathroom is something I don't want to sacrifice on the road. I love the range of interior finish options as it means each RVer can customize certain areas to exactly how they want.
This travel trailer does creep slightly over 4,000 lbs, but it's a fantastic option with a slide-out and everything I could possibly imagine an RVer would need on the road!
You can explore more from Jayco and the Jay Feather Micro 166FBS by clicking here.
Conclusion
Towing a lightweight travel trailer is easier now than it has ever been before. No matter your specific amenity needs or wants, there's a model and design out there for you. And all for under 4000 pounds! Just be sure your tow vehicle has the capacity to tow the travel trailer you choose and you should be good to go for any and all adventures!