Last updated on April 19th, 2016 at 12:21 am
Our Big Adventure
Daylight Mind Coffee Company Dinner
The drive back from Punalu'u Black Sand Beach to the Courtyard King Kam Kona Beach Hotel was interesting.  We went from plains, to lava fields, then rain forests with torrential downpours.  I thought I was going to die The drive was a little unnerving and ended up taking longer than I thought it would.  By the time we got back to Kona, not much was open.  That's the thing about the Big Island, everything closes by 8 and it was almost 8.  Daylight Mind Coffee Company was one of the few places still open for dinner, so we decided to check it out.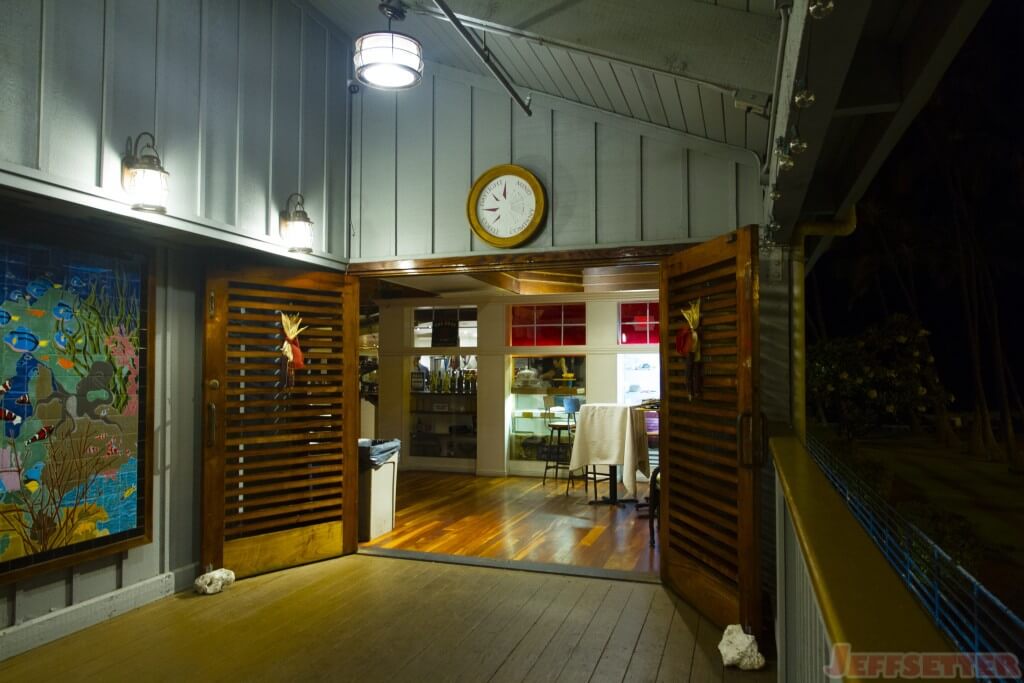 Daylight Mind is a 0.5 mile, 10 minute walk away from the Courtyard King Kamehameha's Kona Beach Hotel, or a 3 minute drive.  It's located in a strip mall with an underground parking lot.  Can't remember if you had to pay there or not, I think you do and, if I remember, the restaurant has a reimbursement scheme.  The place can be a little difficult to find, as its entrance is tucked into a back corner of the complex.  Entering for dinner can also be confusing, as you have to walk through the (sometimes closed) coffee house and roasting area to get to the restaurant portion.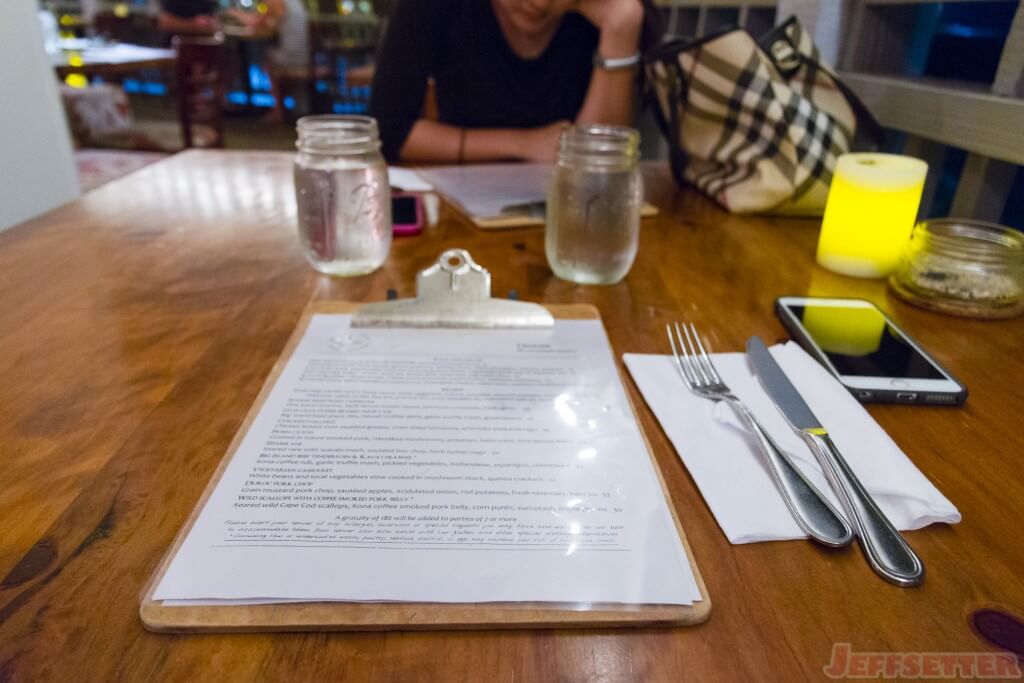 With a very light crowd we were seated pretty quickly.  Better yet, we were seated closest to the ocean and enjoyed the very last glimmers of sunlight and the soothing sounds of the waves.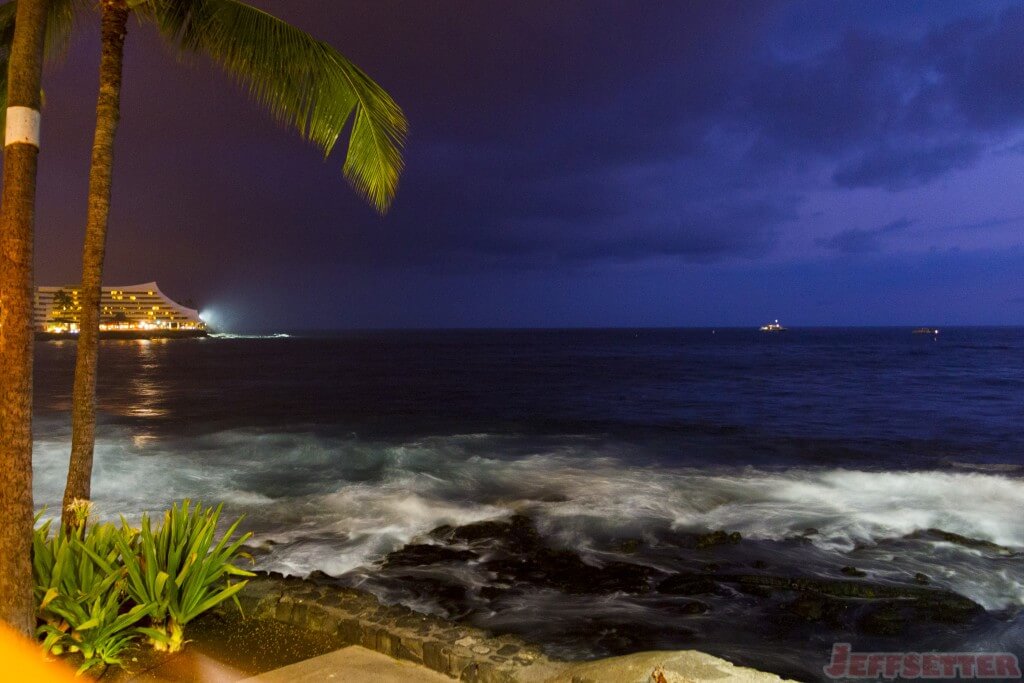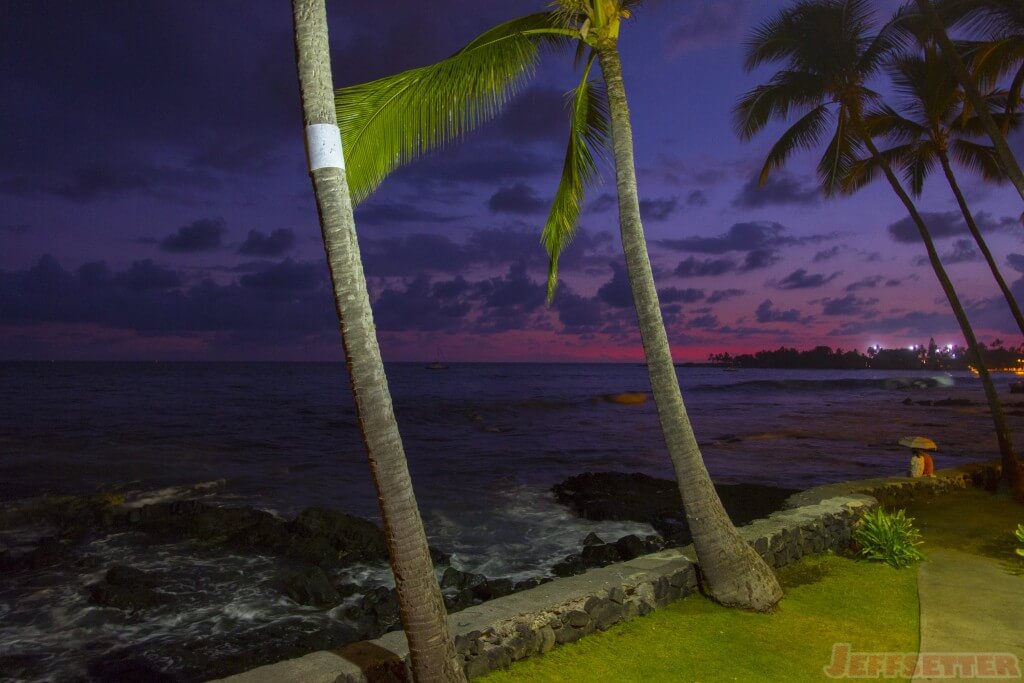 The menu here is very farm-to-table, so the menu has a tendency to change and availability can be iffy.  I take this as a good issue, though, and the chef seems to be able to improvise in case certain secondary ingredients are no longer available.  Service was also great and proactive, though we had the same outstanding waiter the two times we ended up visiting during our trip.  While we were mulling over the menu, we were offered the house-made whole wheat garlic sourdough bread with house butter.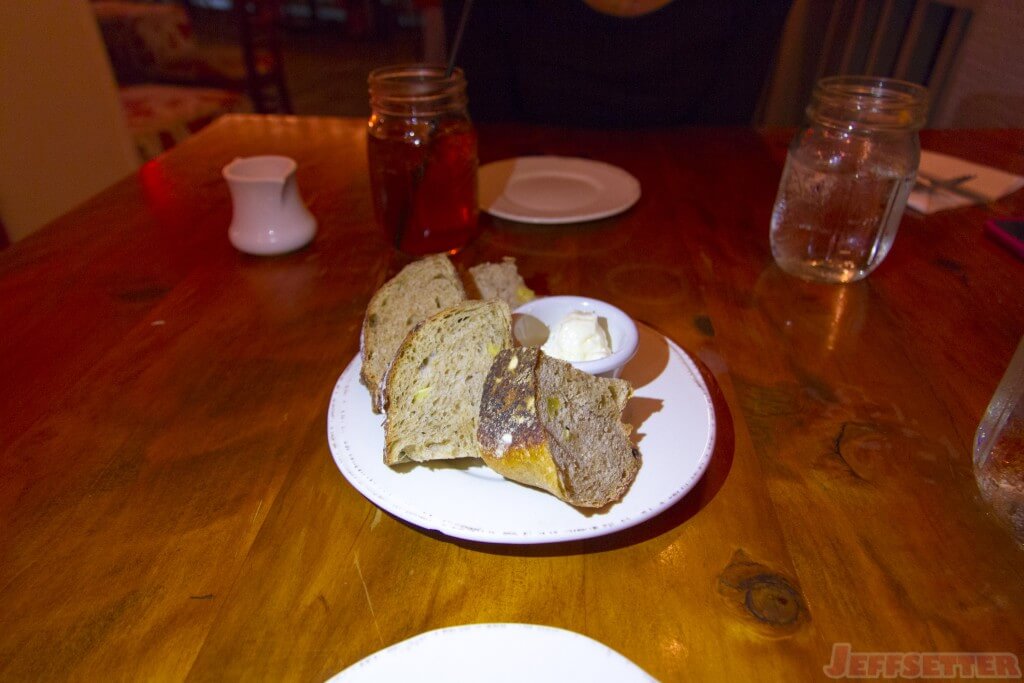 Man was this stuff good!  Had to try really hard not to fill up with the amazing dishes coming our way.  First up, the wife and I split a starter; Roasted Local Beets with Hamakua Mushrooms, Puna Goat Cheese, Watercress, and Roasted Macadamia Nuts.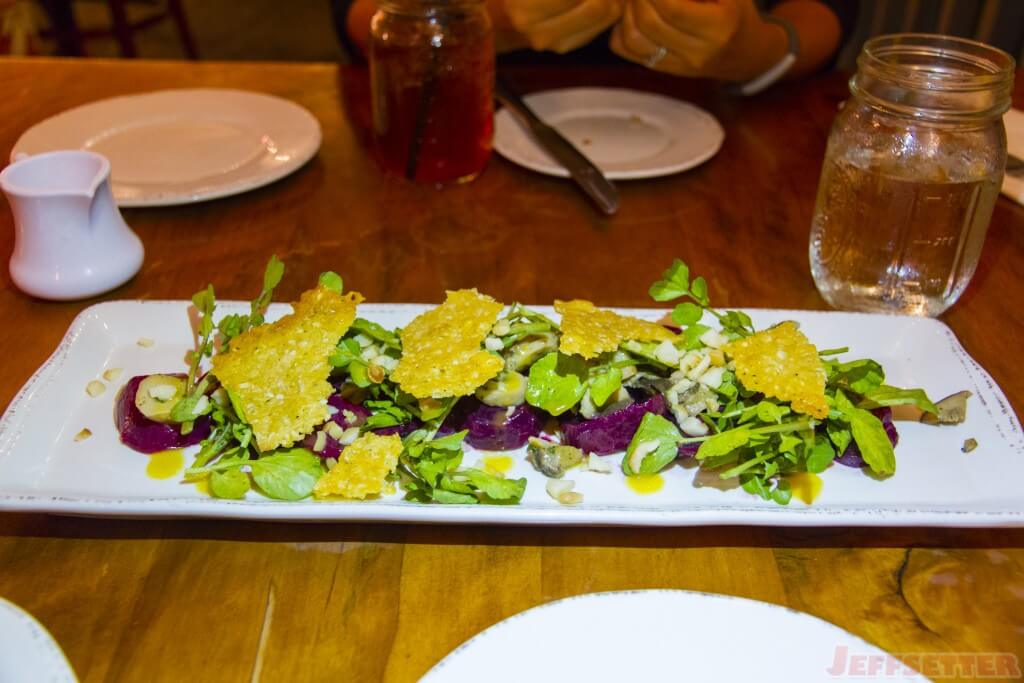 Sadly the were out of goat cheese, but we were asked if we'd allow the chef to improvise.  We said yes, and as you can see above, he subbed in some Parmesan crisps.  The dish was amazing!  Earthy, sweet, spicy, crunch, rich, and salty.  It was perfect.
For her entree, the wife ordered the the special of the night – Pan Seared Monchong (sickle pomfret) with a carrot ginger sauce, local asparagus and roasted potatoes.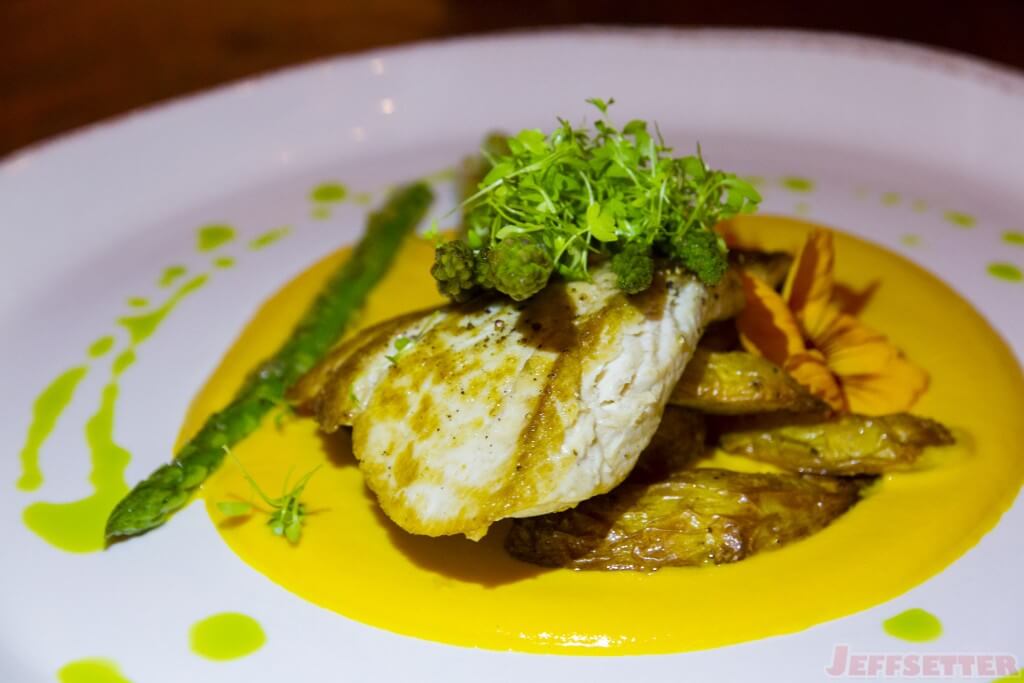 This dish was great too!  The sweetness and earthiness of the carrots along with the spiciness of the ginger made an ideal accompaniment to the fresh veggies and even fresher fish.  If you've never had monchong, it's an ugly looking fish that has a really nicely textured, mildly flavored fish.  I like cooking with it at home because it's also a very forgiving fish to cook.
For my entree I chose another rectangle dish the Wild Scallops with Coffee Smoked Pork Belly with corn puree, succotash and micro greens.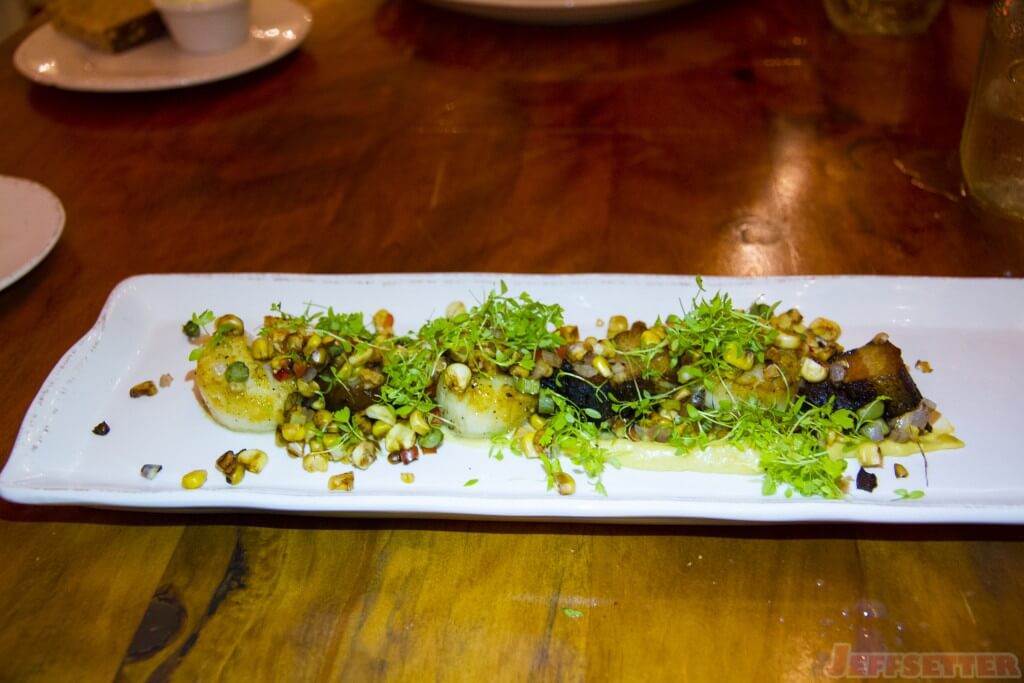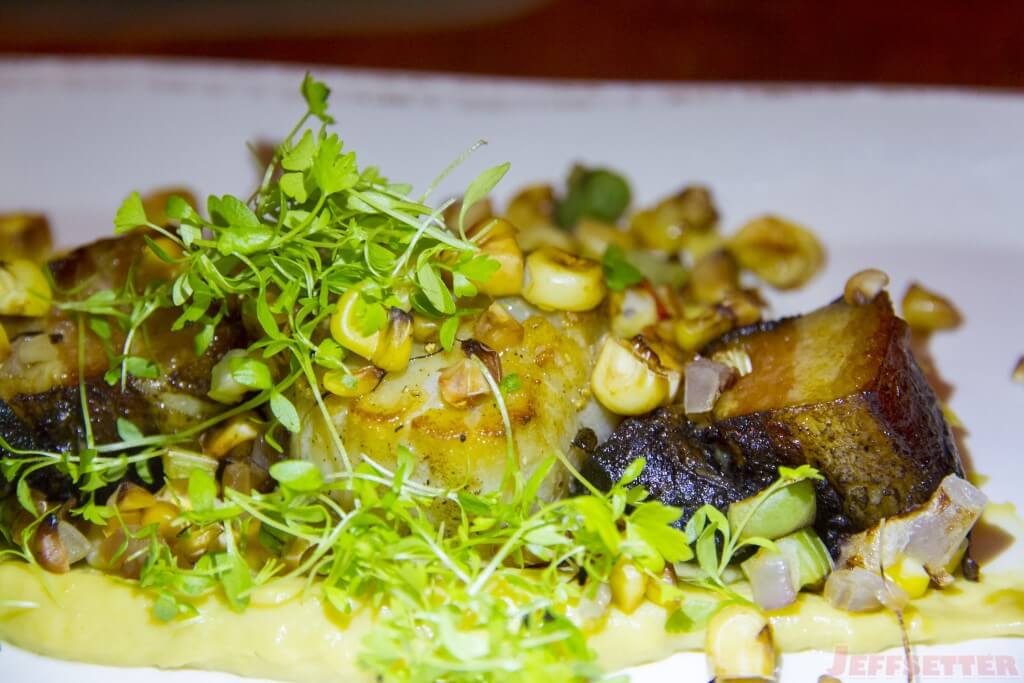 This dish was crazy good!  The large, clean, high-quality Cape Cod scallops were beautifully done, while the smoked pork was melty with bitter and earthy notes from the coffee smoking.  This was balanced really nicely with the candy sweet corn and sautéed onions.
For dessert, the wife and I split the Lilikoi Opera Gateau.  Layered almond cake, lilikoi buttercream, dark chocolate ganache, and lilikoi glaze.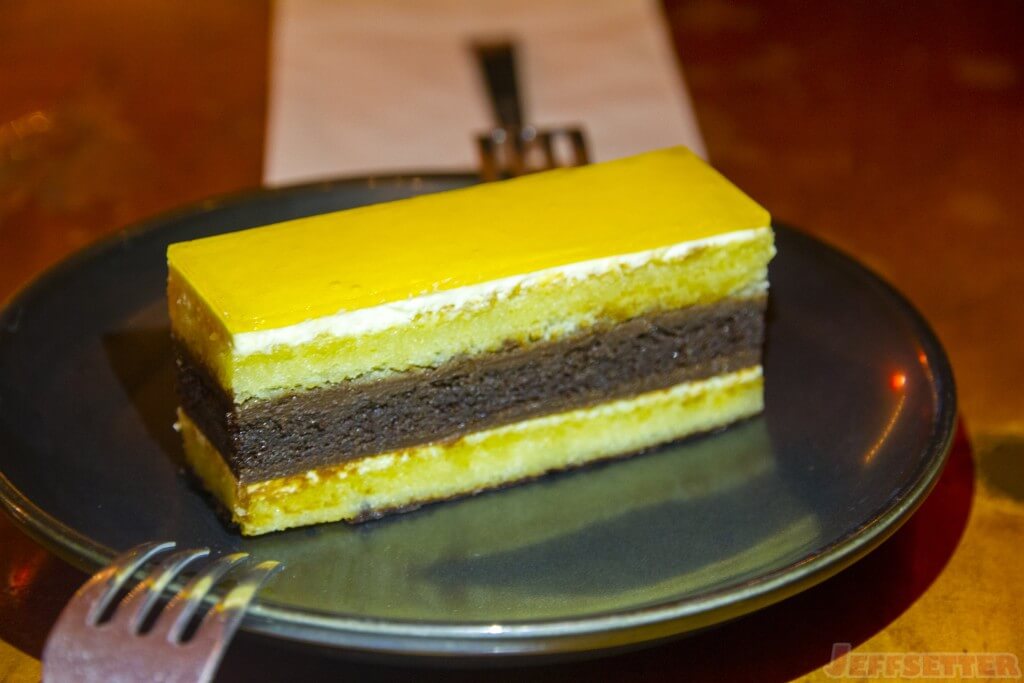 Despite being extremely full, I managed to take a few bites.  It was dense, not too sweet, slightly tart, and not overly rich.  This was definitely a well balanced dessert.
While we haven't tried all that many places on the Big Island, Daylight Mind Coffee Company is definitely our favorite restaurant on the island.  The menu, while small, is inventive, tasty, and showcases local ingredients and flavors.  I'd highly recommend a visit for dinner if you're in the area.