Last updated on April 3rd, 2023 at 06:03 am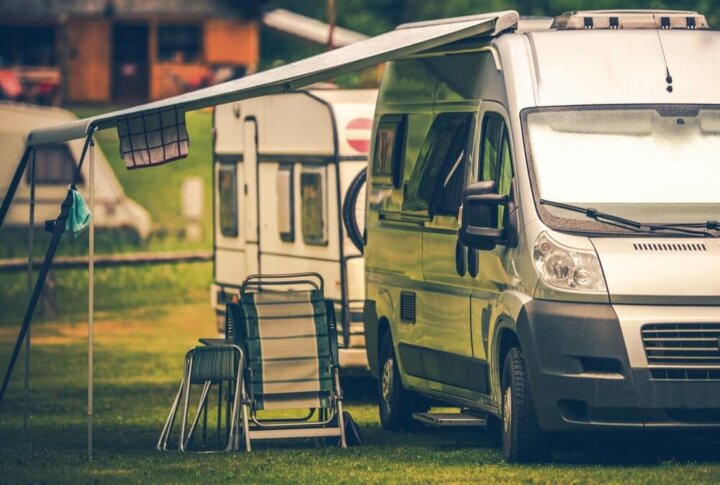 All of our reviews are based on exhaustive research, industry experience and whenever possible, hands-on testing. When you make a purchase using one of our chosen links we'll get a small percentage of the proceeds. This supports the site and keeps Jeffsetter running. You can read more here.
Planning a camping trip involves a lot of preparation and consideration, from packing the right gear to choosing a suitable campground.
Heading towards a new campground is exciting, as they are the perfect place to do laundry, charge up your RV batteries, and have a delightfully hot shower.
In the excitement of heading to a new campground, however, it's easy to forget important information such as:
Do campgrounds have check-in and check-out times?
Campgrounds usually have check-in and check-out times that help ensure RVers aren't disturbed whilst relaxing onsite. Although campground times vary, check-in is usually between 1 pm and 4 pm, whilst check-out normally falls between 10 am and midday. These times can change depending on the season, the particular RV park, or the reservation system.
Since we want to ensure that you'll arrive and get set up without a problem, we will take a closer look at whether campgrounds have check-in and check-out times, whether there are any late check-ins and early check-ins, and how to make sure that your stay at a campground is respectful and successful!
Do Campgrounds Have Check-In And Check-Out Times?
RVing is all about hitting the open road and adventuring to new and exciting places. Wild camping and boondocking are great options, but when your batteries are running low and laundry is starting to build up, you'll likely want to head to a campground.
RVing is all about the freedom to travel wherever you want with home comforts on board, but when using campgrounds, there are some rules you'll need to follow.
Campgrounds have check-in and check-out times allowing for a smooth transition of people leaving the camp and new RVers arriving. This allows campground staff to properly manage the site, maintain facilities and amenities, carry out maintenance and cleaning procedures, and make sure the camp is in sparkling condition for the next wave of arrivals.
Not all campgrounds, however, have the same check-in and check-out times, so these are important pieces of information to find out ahead of your trip.
Some campgrounds have rigid schedules while others have more lenient policies but either way, it's important to respect the designated times. By doing so, you help ensure that the campground operates efficiently and focuses on maintaining a safe and secure environment for all.
Sticking to check-in and check-out times can also help fellow RVers as they will be able to set up their camp on time and get the most out of their vacation. Having designated times for leaving and arrival also avoids overcrowding, as nothing is more frustrating than completing a big drive to a campground, only to find out there is no space for your rig.
If you're new to RVing and are planning your first trip to a campground, you may be feeling anxious, but try not to get too overwhelmed as you will be surrounded by friendly RVers and campground staff able to give you a helping hand if you have any struggles.
What Does Check-In Time Mean At A Campground?
Checking-in is the process of officially registering you and your RV at a campground and familiarizing yourself with the camping rules and regulations.
Those familiar with campgrounds will know check-in and check-out times can vary widely from one site to the next and with such a variety of rules, it can be confusing knowing exactly when you need to arrive and depart from the campground.
Phoning the campground or looking up the details of the site online or on social media will help indicate the time you should be looking to check-in to the campground. Knowing these details ahead of time helps avoid any unwanted surprises like reaching a campground only to be told you have to wait a few hours before checking-in.
Different campgrounds may have different policies which can even vary depending on the time of year. During peak season, check-in and check-out times may be stricter as there are more RVers to process and higher demand.
Visiting a campground during the off-season may result in more flexible check-in and check-out times, as most travelers store and winterize their rigs over the cold months.
What Does Check-Out Time Mean At A Campground?
Check-out times at campgrounds tend to be a bit more rigid than check-ins and are usually sometime during the morning, before noon. Although this may seem early, heading out of the campground early means the site can be prepared for the next RVers to use the facilities.
During peak season especially, it's important not to ignore campground check-out times as there will likely be another RV parked in your spot later that day.
When I head to a campground, I sometimes follow the 2-2-2 rule for RVing which gives me enough time to take a few hot showers, empty my black and gray waste, and have a couple of restful nights before continuing onwards.
On my last morning at the campground, I like to get up early and prepare my rig to hit the road again. As check-out times are usually in the morning anyway, I use the time before leaving to check the oil in my rig, fill up with water, and empty my tanks if needed.
Are There Late Check-In And Early Check-Out Options At Campgrounds?
RVing can be unpredictable, and if your travel has gone better or worse than expected, you may be wondering if it's okay to check-in at the campground a little early or late.
Each RV park will have its own rules to follow, but sometimes, you may be allowed to check-in early if the site isn't too busy and there's a space perfect for you and your RV. If the space you'll be parking in isn't ready, you may have to wait until the official check-in time to set up your gear.
While waiting for your spot, it's a good opportunity to explore the campground and nearby attractions or take a short hike to stretch your legs. It's important to note that some campgrounds may charge an additional fee for early check-in, so be sure to take a look at their policy before you arrive.
Arriving late for an RV campground check-in isn't the end of the world as most campgrounds have procedures in place to accommodate late arrivals.
Typically, you'll need to call the campground in advance to let them know of your late arrival and get instructions on how to enter the campground after hours. Some campgrounds may have a designated area for you to wait, or they may allow you to enter with a code and check-in the following morning.
The process for checking-out early is often similar, so if you need to hit the road early, just let the campground staff know in advance and they will provide you with instructions on how to check-out before the official time.
It's good to be respectful of other campers, so if you're packing your kit away at the crack of dawn, be sure to talk quietly and avoid making too much noise.
Whether you arrive early or late for check-in or check-out, it's always best to let the campground staff know to ensure a smooth and enjoyable camping experience for everyone.
Adhering to the campground's policies is always the best decision, as failing to do so can result in additional fees or even being asked to leave the campground altogether.
How To Have A Successful RV Campground Experience?
There are a few different things you can do to help both the check-in and check-out process at a campground go smoothly.
Having a successful campground experience relies on each RVer sticking to the rules and arriving and leaving the campground at the right time is a big part of this.
1. Adhere To Check-In and Check-Out Times
Sticking to the check-in and check-out times for campgrounds is key to a successful stay, and keeps the campground running smoothly.
Missing the check-out time can have a negative impact on the campground and other campers who may be waiting for the allocated spot. This can then cause a domino effect of delayed check-ins, resulting in cranky RVers and campground staff.
Overstaying the check-out time can also result in extra fees imposed by the campground management, as they may need to make last-minute changes for the next RVer coming into the site. It can also hinder maintenance teams from performing essential tasks like mowing and pruning, resulting in overgrown sites that are unsightly and potentially dangerous.
Remaining a courteous camper by following check-out times will earn the respect of other campers, and allow you to enjoy hassle-free campground reservations going forward.
2. Keep RV Spot Clean
Keeping the area around your RV clean and tidy is always a good idea as it helps keep animals away and is respectful towards other RVers using the campground.
Maintaining an organized camp makes for a better overall experience as you won't have lots to clear away at the end of your stay, and the campground will appreciate you keeping up a good appearance on the site.
Part of keeping your RV spot clean is packing all of your gear away when you're moving onto your next spot. There's nothing more frustrating than leaving something behind at a campground and having to either drive back to get it or purchase a new version.
Every time I move on from a spot, I make a habit of taking a walk around my camper to make sure I've left nothing behind. This could be a useful tip to remember if you move around a lot in your rig and don't want to leave anything precious behind!
3. Check The Campground Amenities
Not all campgrounds have the same amenities, so if you're looking for something in particular like laundry or shower facilities, it's wise to check beforehand to avoid disappointment.
Privately owned campgrounds may have additional fees for certain facilities, so it's worth bearing this in mind when choosing a campground to stay at.
Heading to a campground for the first time can be stressful, and if you're feeling apprehensive about your first visit, the video below is a great watch that will likely boost your confidence. We've all had to use a campground for the first time before, and it's natural to feel anxious.
In the video, an RVer details some of the key tips for using a campground successfully, along with a few things you want to avoid doing.
Most of the tips for using a campground correctly are about being considerate of other RVers at the campground, especially if you're arriving late for check-in and it's already dark.
Being thoughtful of others whilst at a campground means everyone will remain happy and have a good time whilst on vacation.
4. Book Ahead of Time
Campgrounds can be extremely busy places, especially in the height of summer! To avoid the crowds, it's best to head to campgrounds out of peak season or even rely on wild park ups during the busy period.
Booking ahead of time is a good idea if you're heading to a campground renowned for being busy. If you pre-booked a campground spot, it's useful to have information such as the reservation number, your ID card, payment card, and RV registration to help with the check-in.
5. Use Campground Amenities Correctly
Campgrounds usually have desirable amenities for campers such as drinking water, electricity, toilets, showers, and even grills.
Using campground amenities correctly will make sure you get the most out of your stay, and also guarantees that the equipment or area is clean and functioning for the next person.
Following the rules and regulations of a campground also includes using everything onsite respectfully and correctly. Nothing is worse than heading into a campground shower that's been a victim of a shampoo and loose hair party, or a grill that's surrounded by rubbish and food scraps.
No matter how long you're staying, treating campgrounds right is the best way to ensure these fantastic spaces remain available for years to come.
6. Return Rented Equipment
Some campgrounds may have a stunning location near a river, lake, or nature trails, and often these campgrounds will have equipment RVers can rent and return at the end of their stay.
Taking a kayak or bike out into the wilderness is a fun way to get in some healthy exercise and also explore the surroundings of the campground.
Returning any rented equipment before you head off is a must, as there may be other RVers waiting for the equipment, or it may need to be sanitized and serviced before it's ready to be rented again.
While packing up your rig during checkout, make sure you haven't left anything behind. In the rush of things it can be easy to forget to return rented equipment, so I find it better to return the gear before I start packing down my camper.
7. Be Respectful Of Fellow RVers
A golden rule of using a campground is being respectful of your fellow RVers who are using the site at the same time as you.
Most sites will have quiet hours usually falling between late evening and early morning. During this time, it's advisable to keep noise levels to a minimum and avoid shouting, playing music loudly, and generally making a racket in your RV!
If you're packing your things because you're checking out then try to avoid doing it during quiet hours, but if you can't avoid it then make sure you're as quiet and respectful as possible.
Quiet times are beneficial as they mean everyone can get a solid night's sleep and be rested and ready for action the following day. Not abiding by the quiet hour rules at campgrounds can result in a stern warning from campground staff and some grumpy RV neighbors the following morning.
8. Don't Leave a Trace
Each year, tonnes of waste end up at the roadside and in our oceans, so it's crucial that no matter where you travel in your RV, you don't leave any trace.
It's natural to accumulate trash whilst RVing, as you still need to cook and clean which often involves packaging or wrappers. Campgrounds should have waste facilities and some may even have recycling so you can dispose of your waste correctly.
When checking out of the campground to get back on the road, it's wise to double-check that no trash has fallen out of your rig and is about to be left behind.
Leaving no trace means the next RVers to take your place at the camp won't have to deal with trash, and the campground attendants have an easy clean-up job too.
Closing Thoughts
Most campgrounds have check-in and check-out times to ensure a smooth and efficient camping experience. Knowing the specific policies of your campground can help avoid confusion or delays, and if you are arriving late or early, ringing ahead can help get you into the camp without any hassle.
Some campgrounds may strictly enforce check-in and check-out times while others may be more flexible. Respecting the rules and regulations set by the campground is essential and helps maintain positive relationships with staff and fellow RVers.