Last updated on April 3rd, 2023 at 06:04 am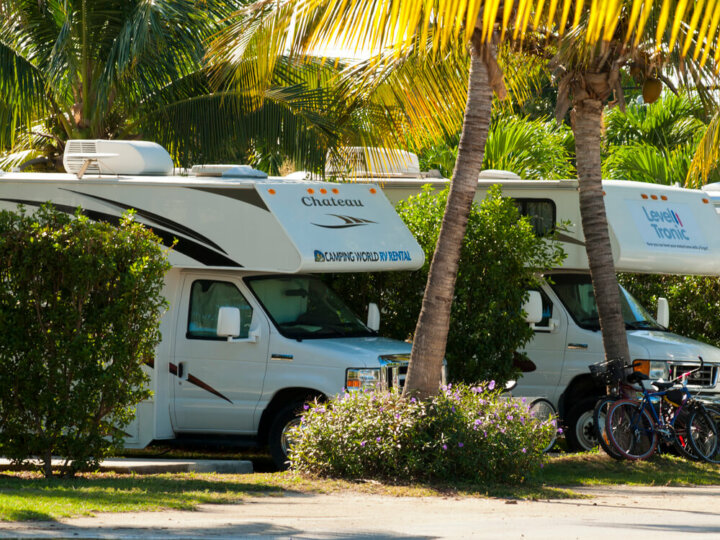 All of our reviews are based on exhaustive research, industry experience and whenever possible, hands-on testing. When you make a purchase using one of our chosen links we'll get a small percentage of the proceeds. This supports the site and keeps Jeffsetter running. You can read more here.
Florida is a popular state for RVers to travel to. It offers beaches, sun, theme parks, natural wild, and plant life, and some great campgrounds. However, it can be overwhelming to start looking because there are so many to pick from. It can also be hard to figure out what is a good rate and what is too expensive.
So, how much do RV parks cost in Florida?
RV parks in Florida have a large range of pricing depending on where, when, and how long you are staying at a campground. There is also a range of amenities offered at parks that affect the price. Based on your budget, you can find parks for under $30 a night and others for over $300.
The range of pricing at RV parks in Florida seems exorbitant until you dig a bit deeper into why the rates vary so much. This article will explore the average rates, the cheapest parks, and the most expensive as well as the best for long-term stays.
Average RV Park Rates in Florida
The rates for staying in an RV park in Florida will vary depending on where you plan on staying in the state. Typically, the closer you get to top attractions like Disney World, Universal Studios, and the beach, the higher the rates.
State parks will give you the best rates running you around $20-$35 per night. That cost can be cut down if you have a senior or a veteran pass.
The rates will also depend on the kind of amenities you are hoping for where you stay. Do you want a pool? WiFi? Full hookups? Private beach access? All of these will make a difference in the costs you might incur. Some of the more expensive RV parks will run you $75 a night.
The time of year you are traveling in Florida will definitely impact the rates at an RV park. People from Northern states tend to flock to Florida during the winter months and are called "snowbirds" because of this. The summer would probably be a more cost-effective time to visit Florida, but not the most enjoyable due to the heat and humidity.
In general, you can expect to find a park for under $50 a night that should suit your needs.
As we discuss rates throughout this article, I want to note that these are all subject to change and may not be accurate with current rates. The rates can also change based on the number of guests, the size of your RV, and other factors. I would also like to note that I have not stayed in all of these locations personally, so I'm only sharing my research, not my first-hand experiences here.
Monthly, Seasonal & Long-Term RV Park Rates in Florida
The longer you plan to stay in one place, the less expensive your daily cost will be. You are more likely to save money by staying at a campground in Florida for a longer period of time and opting for at least a monthly rate instead of a daily one.
This might mean you have to post up in one area for longer than you might have initially planned, but it could end up being worth the savings depending on the kind of traveling you want to do.
Monthly rates can save you hundreds over the course of 30 days. A daily rate of $50 would come out to be $1500 for a 30-day stay, but a monthly pass at that same site might be $650. Your daily rate gets more than halved at $21.67 per day. Even if the park charges for electricity on a monthly basis, you should still come out ahead by quite a bit.
If you plan on staying more than a month, you can look into seasonal rates at an RV park in Florida. Seasonal usually means a three to six-month stay, so if you're a snowbird looking to escape the winter months, then this could be a good option for you.
As an example, I went onto the Lake Magic RV Resort's website. They are not the cheapest option in Florida, but they're also not the most expensive and they are pretty close to Disney World. Online rates for a single night in December in their Elite Full tier pricing can go over $100 a night. When you extend that stay to a three-month long one, the monthly rate is $1250 in the same tier of pricing.
This of course is all subject to change and based on a fake booking, but the rates reflect the savings you can see when you stay longer in the same park.
You would save the most with a yearly rate. Of course, this means that you would have to stay relatively stationary for a year in Florida, which might not appeal to many RVers. If you find yourself in a situation where you love an area or need to stay put for a job, it's good to know this option is out there.
For most longer-term stays RV parks usually require you to pay for your own electricity and cable. You might also want to budget for internet if you are working, just so you have a more reliable connection throughout the year. Keep this in mind when you are comparing rates at different campsites. Some campgrounds can be as little as $400 per month and others can be well over $3000 per month. It all depends on where, when, and what you are looking for.
Not every park in Florida offers better rates for long-term stays because not every park offers long-term stays. Some need to be cautious depending on tenancy laws and others might just be sought-after destinations with too high of a demand to offer long-term stays.
Cheapest RV Parks In Florida
These parts offer some of the best rates in Florida. There are plenty of other options that have low rates, but these are some great picks all throughout the state of Florida.
Northwest – Outback Springs RV Resort
Outback Springs offers the convenience of being located in a city with the secluded feeling of living in the country. Within walking distance, you can visit plenty of restaurants and stores. There is a pool, pond, and a park on site.
There are 30- and 50-amp hookups. A nightly rate here is $50, but weekly and monthly stays save you a lot of money coming in at $295 and $700 respectively.
Near Disney World – Orlando RV Resort
Part of the Thousand Trails network, this can be a money saver if you are a member. This park is near lakes and beaches, but close to the theme parks and offers planned activities. They have 30-amp and 50-amp hookups, but 50-amp sites cost another $5 per day.
This park will cost you around $50 to $70 per day depending on what time of year you are visiting. They do fill up quickly, so book ahead if you plan to stay here.
Lake Side – Lake Louisa State Park
Located 30 minutes outside of Orlando, this state park feels so much farther. It offers beautiful nature views and a large diversity of plants and wildlife. There are 30- and 50-amp hookups, and a dump station.
This park will run you $24 per night.
Near Tampa – Fort De Soto Park
Fort De Soto Park is made up of five interconnected islands. They are home to beach plants, wetlands, palm hammocks, and mangroves. There is a large amount of biodiversity and more than 300 species of birds in the park. Sea turtles will nest on the beaches between April and September. The Park itself has 30- and 50-amp hookups, dump stations, and laundry facilities.
This park will cost you between $38 and $48 per night depending on your site location.
On The Keys – Curry Hammock State Park
This park is on the Keys and is the largest undeveloped piece of land between Key Largo and Big Pine Key. It's an important habitat for a lot of wildlife, including falcons. There are 20/30/50-amp hookups and a dump station.
This campground will cost $36 per night.
Expensive RV Parks In Florida
These parks are some of the more expensive options out there in Florida. These cater more to people looking to stay long-term and who would prefer to have lots of amenities, activities, and luxuries while traveling.
River Landings RV Park
River Landings is on the Caloosahatchee River and offers waterfront views, covered ports for your RV, and cottages. It is a private, gated entrance, so you can sleep easy at night knowing you have that added security. RV break-ins aren't common, but they are possible.
They also have a fitness center, a pool, an event space, and a clubhouse. They offer a host of other luxury amenities as well.
A week's stay will cost you $190 per night here.
Bluewater Key RV Park
Located in the desirable Florida Keys, Bluewater Key is a luxury RV resort that offers water views, a dog park, and a pool. They also have experiences like day trips, snorkeling, and water sports. They have different tiers of lots, amenities, and prices. They also have their prices updated through the 2023/24 winter season.
The least expensive option puts you at $140 per night and the most expensive is $344 per night.
Free Camping?
The video below shows a couple of RVers who found free camping locations in Florida.
Best RV Parks For Long-Term Stays In Florida
If you plan on staying in Florida for the long term, these camps are good options to look into. There are plenty more out there, but this is a good place to start!
Fiesta Key RV Resort
This resort offers the unique opportunity to stay on an island that is owned entirely by the resort. At the resort, there is a spa, a restaurant, a bar, and a pool. Located in the Florida Keys, there are a lot of activities to do nearby and some are offered by the resort as well. There is no cable here though, so keep that in mind when looking to book.
This resort is a part of the Thousand Trails network, so if you are a member, it will be significantly discounted. If not, it's about $2000 per month during the winter to camp at the Fiesta Key RV Resort.
Sherwood Forest RV Resort
This is a great option for those snowbirds with grandchildren who would love to visit Disney World. Sherwood Forest RV Resort is only 4 miles away from Disney World, 12 miles from Universal Studios, as well as close to malls and outlets. Despite its proximity to all that, it feels remote because it's tucked away behind trees and near beautiful lakes.
There are many amenities and activities to take advantage of at this resort. It is also part of the Thousand Trails network, so you could save some money if you are a member. If you're not a member, this park will be about $1500 a month in the winter months.
Are Camping Memberships Available in Florida?
Some parks in Florida will accept camping memberships, which is a great way to potentially save a lot of money while traveling. I mentioned a few above that might offer discounts if you are a member of Thousand Trails.
Thousand Trails is a camping membership worth looking into when you are looking for somewhere to stay in Florida. They have different options, including membership packages and camping passes. A camping pass will cost around $500, but it lets you stay at any campground in your Thousand Trails camping zone for up to two weeks. A membership costs more upfront but will let you go from campground to campground for longer-term stays between 21-28 days.
Do your due diligence when looking into memberships and make sure that it will actually save you money in the long run. Depending on how you plan on traveling, it could be a great deal or you might not get as much out of it as you expected.
Conclusion
Florida offers RV parks that will suit any traveler on any kind of budget. They have inexpensive options in their state parks and even nearby attractions like Disney World and Universal Studios. There are also luxury options for those who are looking to splash some cash during their travels.
Longer-term stays will always offer lower rates, even if you can manage a week over a single night, you'll save some money. Keep in mind these longer-term options might have extra costs like internet, cable, and electricity. But even when paying those, you will likely save more than you spend. You can also find savings in camping memberships if there is one that suits your travel needs.
A little bit of research into the area you want to travel to and planning how long you're going stay are the first steps in booking the right RV park for you. Ultimately, RV parks in Florida range in pricing so they only have to cost what you can afford as long as you pick the right place!