Flock and Fowl Las Vegas is another place that's long been on my list to-try in Sin City.  So I was going to eat here no matter what.
Admittedly, I wasn't all that hungry when dinner rolled around.  And having had a fantastic drink and caviar taco at Rose. Rabbit. Lie. didn't help.  But I was determined to try Flock and Fowl's legendary signature dish.  So, I jumped in my Silvercar and headed downtown.
Location
Flock and Fowl Las Vegas is in the Ogden in downtown Las Vegas.  Parking in the building is free, with the entrance on 6th avenue.  You'll also need to get a parking pass from the concierge to place on your dashboard.  Paid parking is also available in adjacent lots and on the street.
Service and Ambiance
Flock and Fowl Las Vegas is a relatively small restaurant, though it never felt like it.  Tables are spaced out nicely, and the restaurant is divided into sections, allowing it to feel a somewhat private.  Service throughout my meal was also excellent.  All staff I interacted with were very friendly and knowledgeable.
Food
As mentioned earlier, I wasn't all that hungry when I went out for dinner.  So, I decided to skip the small plates and go straight to the restaurant's signature dish, the Hainanese Chicken Rice.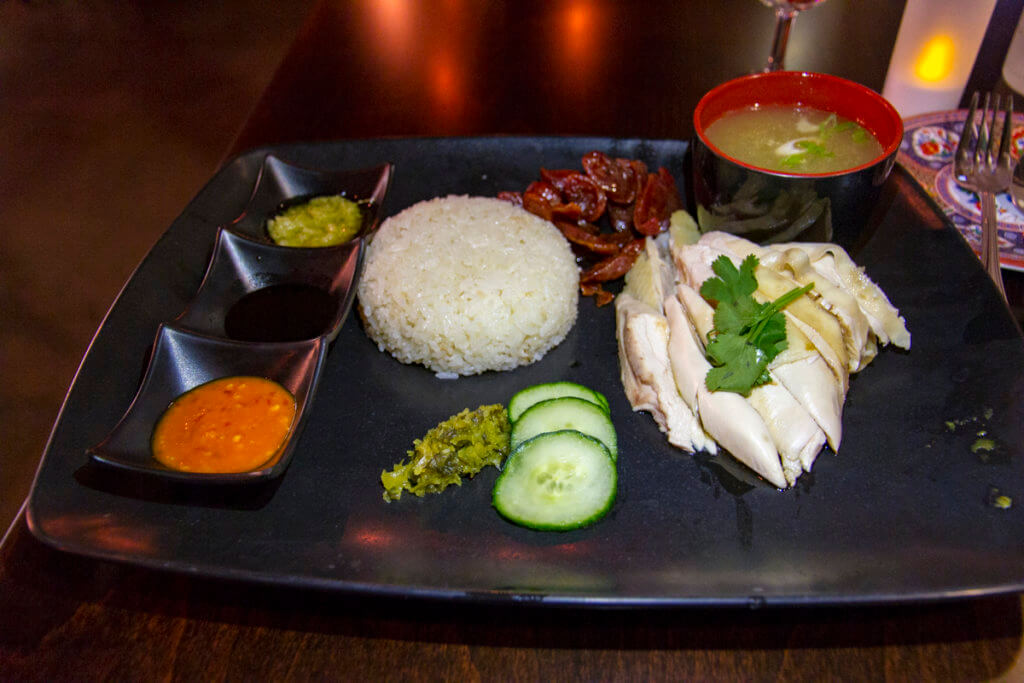 Honestly, Hainanese Chicken Rice doesn't look like much, but when properly executed, it's a phenomenal dish.  And here at Flock and Fowl Las Vegas, you get the rice; ginger scallion sauce; house-made chili sauce; house-made soy sauce; your choice of traditional boiled chicken, fried chicken, or roasted chicken; and your choice of two sides.  Those sides include a fried egg, one hour egg, sausage, farmer's market vegetables, and bone broth.  I went with bone broth, as well as my server's recommendation of sausage.  And, as can be seen, I went with the traditional chicken.
Flock and Fowl Las Vegas is, of course, known for this dish, so it's not surprising that it's excellent.  The chicken is perfectly cooked, while the rice is flavorful.  Even the sauces are fantastic, which is important, as the chicken itself traditionally doesn't have a lot of flavor.  But the best part of the dish is the bone broth; so rich and flavorful.  It's like a warm hug!  The only part of the dish I didn't care for was the sausage.  Don't get me wrong, it was prepared really well, but I just don't care for Lap Cheong, which is kind of sweet.  Had I known it was this type of sausage, I wouldn't have ordered it.
Flock and Fowl Las Vegas, Final Thoughts
Here in Hawaii, Flock and Fowl Las Vegas is a restaurant that's talked about among local gastronomes, and it's easy to see why. They make a great Hainanese Chicken Rice and serve it up in a nice environment with excellent service.  Plus, at $15, this is one of the better bargains I had during my second time in Vegas.  And, believe it or not, Hainanese Chicken Rice is a dish that's a bit difficult to find locally.  So when in Vegas, it's an easy choice when thinking of what to eat.  In fact, next time I'm in town, I think I will return to try some of their small bites like the Kaya Toast with Foie Gras.
Las Vegas 2018