When in Vegas, you have to have some excess, right?  And this time around I decided to splurge at the Cosmopolitan's Rose Rabbit Lie.
Rose Rabbit Lie is another place I've wanted to try for a while now.  See a theme going on here?  And, of course, I was reminded of this bar when BuzzFeed Worth It featured them.  Unfortunately, by the time I made it to Rose Rabbit Lie, I was already short on time and decided to stop by for a snack and a drink.  Especially since I already planned to have dinner elsewhere and had already enjoyed another Cereal Milk sundae (don't judge lol) a couple hours ago!
Location
Rose Rabbit Lie is in the Cosmopolitan of Las Vegas.  Specifically, it's in the Chelsea Tower on the second floor next to Wicked Spoon.  It's important to note, though, that the place is only open Wednesday thru Sunday from 6 pm to midnight.  And though it's listed on OpenTable, I couldn't secure a reservation through the website.  Instead, you need to call or do a walk-in.  If you walk-in, as I did, you should go right when the open, as it fills up quickly.
Service + Atmosphere
During my brief visit, I sat at the bar.  It was only me, after all, and all of the tables were reserved.  And throughout my experience, service was phenomenal.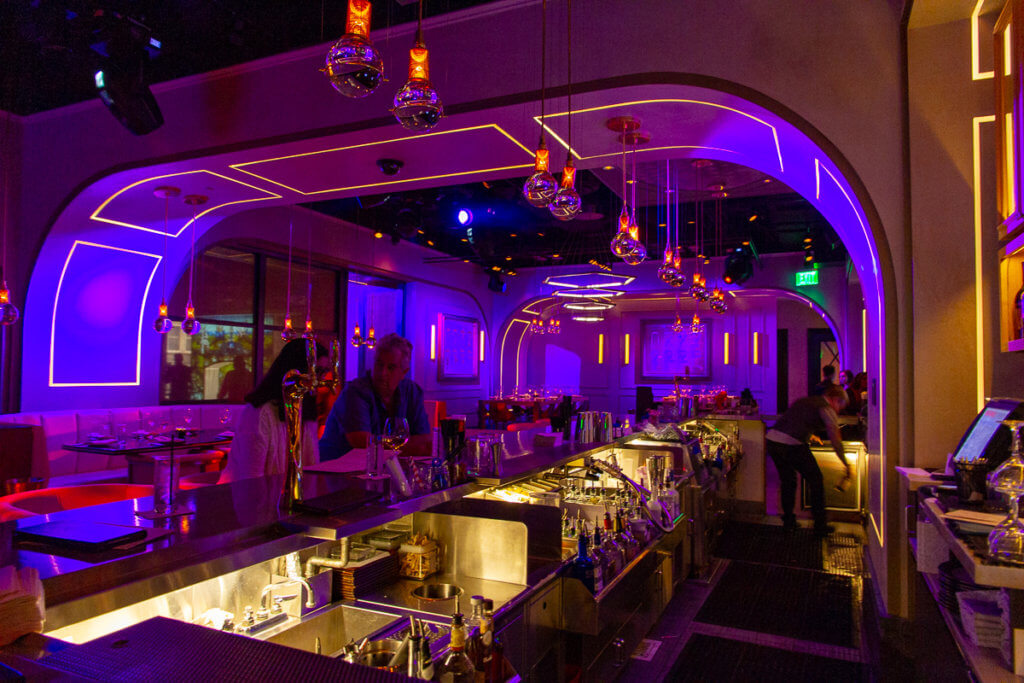 As far as atmosphere goes, Rose Rabbit Lie is a darkly lit place with tons of mood lighting.  And live music is a common feature at the supper club.  Oh, and "cocktail attire" is required, though as long as you're dressed on the nicer side, the dress code doesn't seem to be an issue.
Drink
Rose Rabbit Lie has an extensive drinks menu, including a number of cocktails.  Cocktails range in price from $17 through $35.  And though there's a lot of interesting options, I chose to order something simple and went with a Gin Mule, which came out to $20.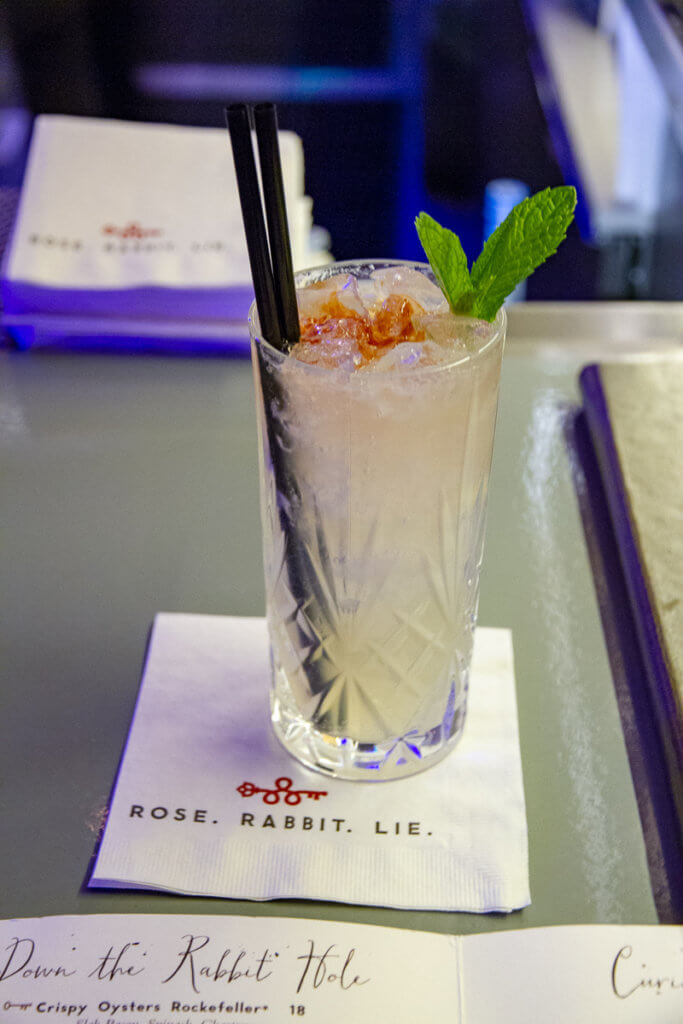 Not all Gin Mules are created equal, and this one was an exceptional one.  It was very well balanced with a nice, strong ginger flavor, as well as the herbaceousness of gin.  Not too sweet, not too tart, with a slight bite, and refreshing all at once.
Eat
The one food item I ordered was the Caviar Taco ($15).  Only, I went all out and the Osetra Caviar version ($47).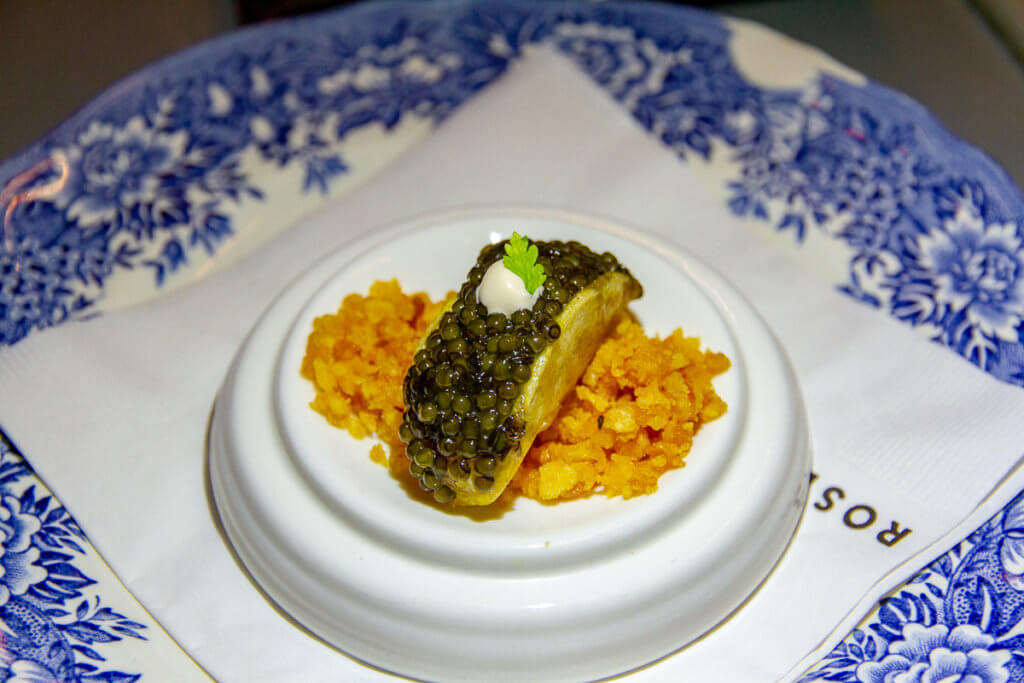 If the Caviar Taco looks small, it's because it is.  It's meant to be eaten in a single bite and is made of a Yukon Gold potato (chip) shell, Hamachi, and a uni cream.  In the normal version, the taco is topped with "wild caviar" which probably Hackleback Caviar.  But in the Osetra version, you get Golden Osetra Caviar.  For reference, the Hackleback Caviar may be ordered alone for $77 per ounce, while the Golden Osetra is $207 per ounce.
So is it a bite-sized taco worth $47?  I think so!  After all, the Petrossian Bar at the Bellagio charges $45 for a petite spoonful of Royal Osetra Caviar.  But anyway, the Hamachi filling in the taco is kind of like a poke but chopped finer.  In it is some onion, which is a common caviar accouterment.  The uni cream on top?  Doesn't really add any flavor, in my opinion.  And yes, you really can taste the caviar; it isn't drowned out by the other elements of the dish.  I'd order it again, but there are other things on the menu I'd like to try too.
Rose Rabbit Lie, Final Thoughts
My drink and Caviar Taco were both fantastic, so based off of just that I'd come back to Rose Rabbit Lie.  And really, if you want to splurge in a laid-back atmosphere, this is a great place to do it.  There are some insane items on the menu, such as a whole roasted king crab that comes with lobster, crab salad, black truffles, and caviar.  It's $1,200, but I'm sure it'll feed a sizeable group of people.
Las Vegas 2018