Mrs. Island Miler and I first tried Milk Bar when we were in New York.  So when we heard Milk Bar Las Vegas was opening alongside Momofuku Las Vegas, we were excited.  And now it's a must visit spot for us when in Sin City.
The first time I went to Vegas, I made it a point to visit Momofuku Las Vegas.  We weren't able to make it to one of Chef David Chang's locations in New York, so dining at his restaurant in Las Vegas is something I couldn't miss.  And, during our dinner at Momofuku, we inevitably enjoyed desserts supplied by Milk Bar.  But that was just a small taste of what they have, so I made it a point to return on my second visit to Sin City.  Besides, I was staying in the hotel they're in, so it was a lot easier to grab a quick snack.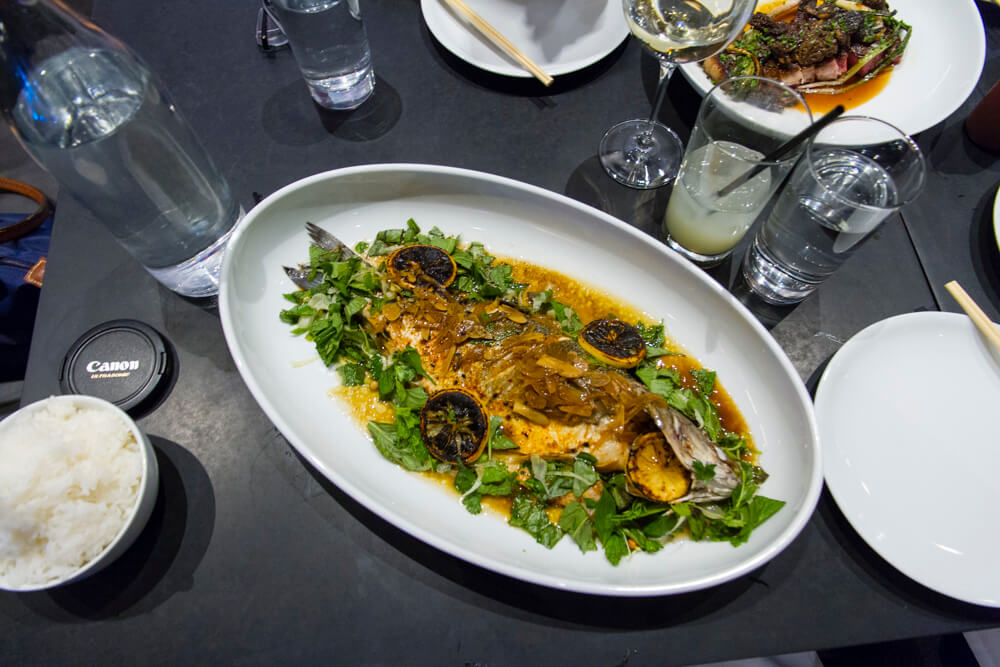 Location
Milk Bar is on the second floor of the Boulevard Tower at the Cosmopolitan of Las Vegas.  They're adjacent to and connected with Momofuku Las Vegas.  You'll also find Eggslut's Las Vegas outpost across the way too.  And despite being a desert-centric takeout spot, Milk Bar is, remarkably, open from 9 am to 1 am Sun thru Thurs, and till 2 am on Fridays and Saturdays.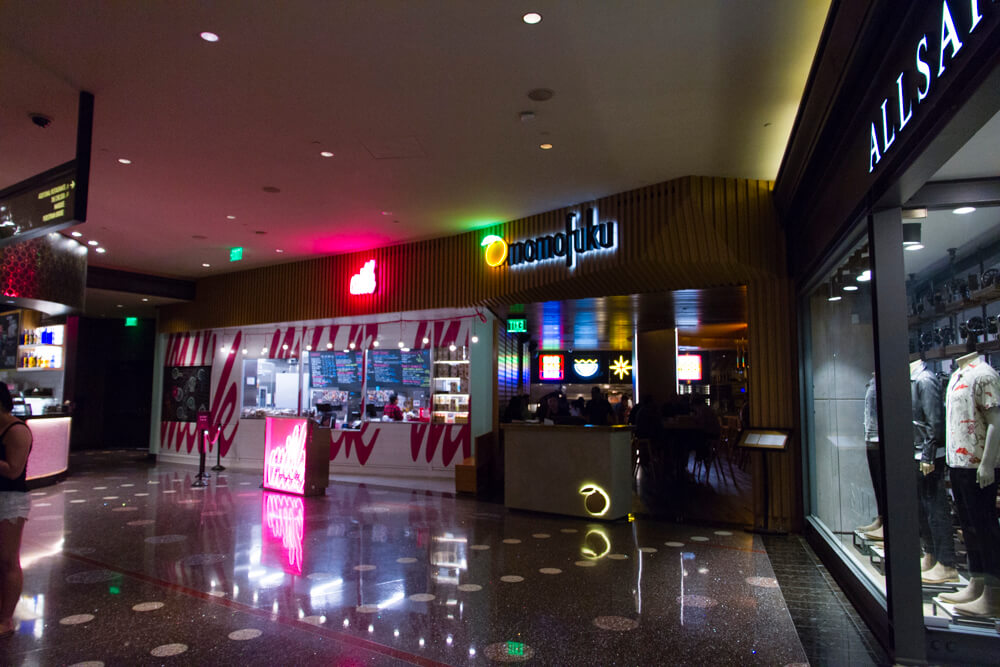 Eat & Drink
Milk Bar has an extensive menu of things to eat and drink, including coffee, cookies, shakes, cake truffles, cakes, pies, and more.  And, the Las Vegas location is the only one in which you can add booze to your beverage.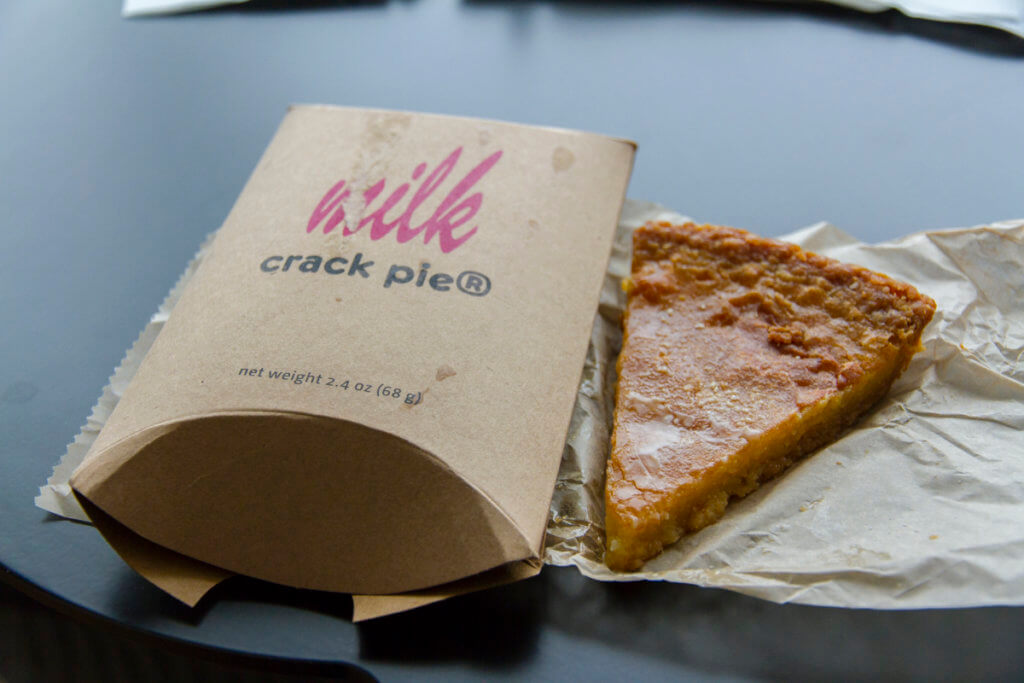 When we were in New York, we bought a variety of cookies and some cake truffles.  Mrs. Island Miler LOVES the B'day Cake Truffles, but they aren't really my things.  However, if you love vanilla frosted yellow cake with sprinkles, these babies are for you.  I do like the Chocolate Malt Cake Truffles, though, despite not liking malt.  My only complaint is that they're a bit too sweet.  But I'd get them again.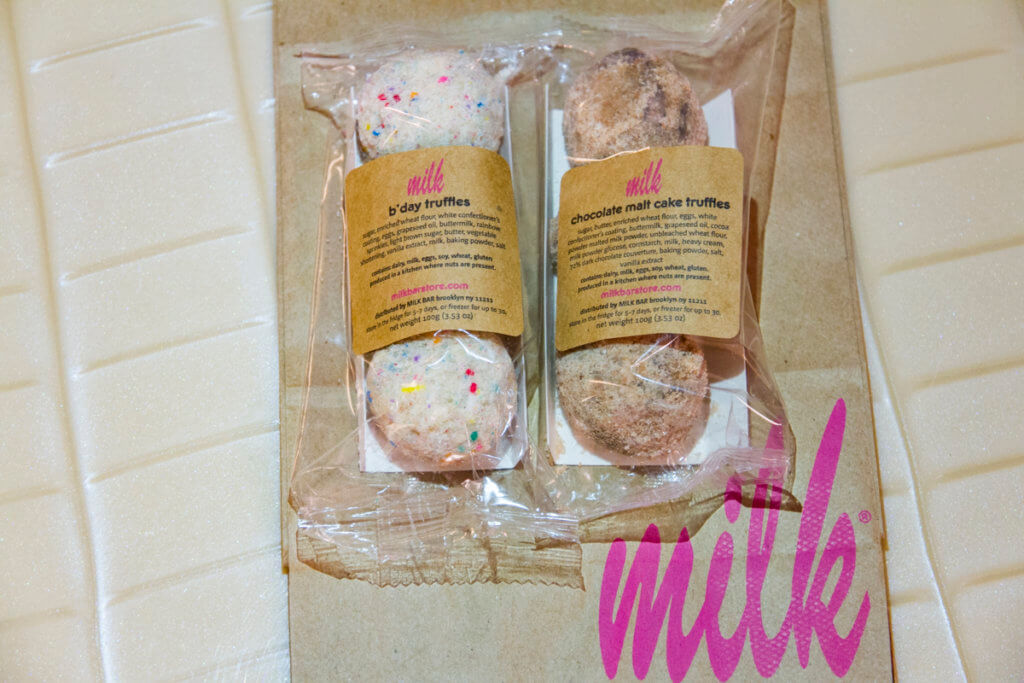 Last time in Vegas, I sampled the Crack Pie Ice Cream with hot fudge at Momofuku.  It was good, but not something I'd crave.  Even though the Crack Pie itself is really good.  But this time I tried both the Chocolate Pretzel and Cereal Milk ice cream, both with hot fudge.  And, while the Chocolate Pretzel was good, again I wasn't really a fan.  But you know what I'm still craving today?  That Cereal Milk ice cream!  It has this wonderfully well-balanced flavor of Cornflakes in milk that is sweet, savory, nutty, and creamy all at once.  And let me tell you, that hot fudge is luxuriously dense and becomes chewy as it cools with excellent dark chocolate flavor.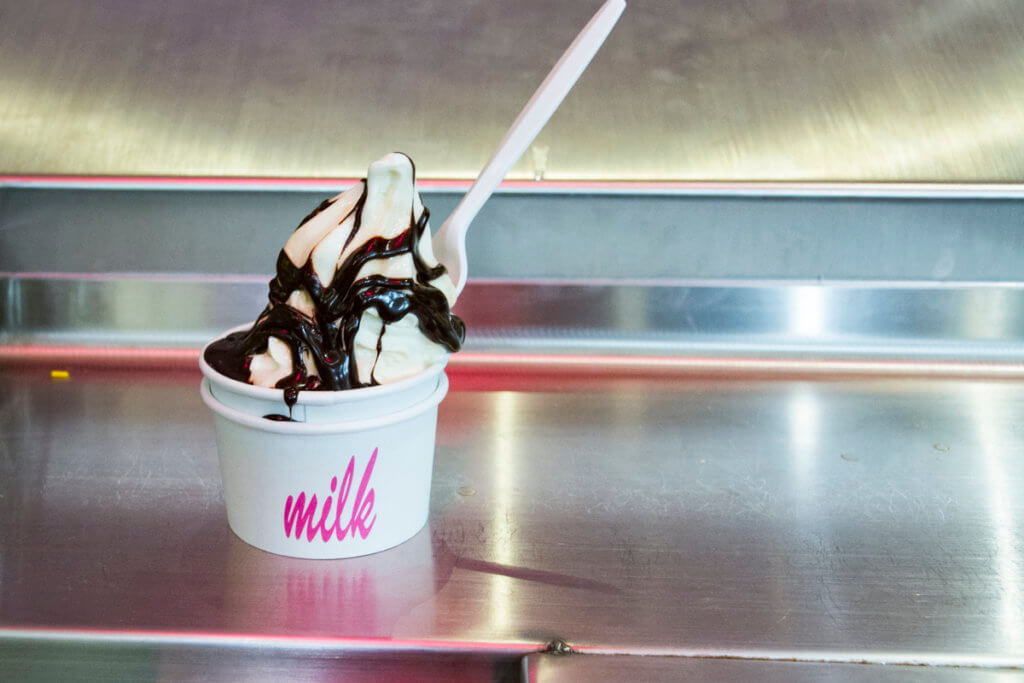 Mrs. Island Miler, on the other hand, made it a point to order the actual Birthday Cake if they had it.  And guess what?  They did!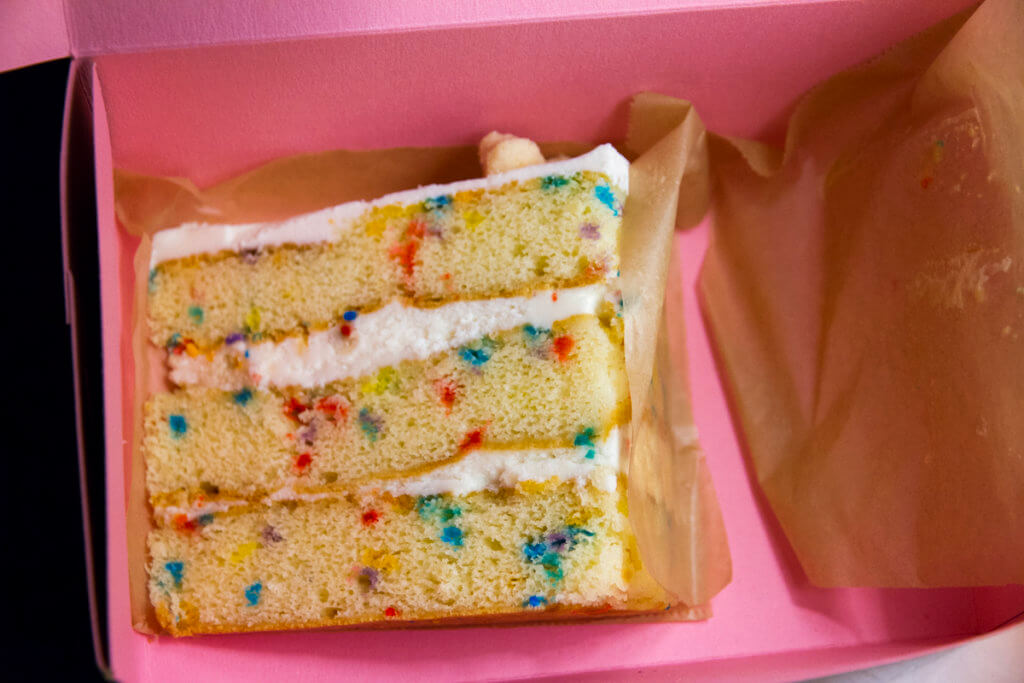 If I remember correctly, it's $12 per slice, but those slices are massive.  And, unsurprisingly, the cake didn't disappoint.  In fact, I think it's Mrs. Island Miler's favorite cake now.  Too bad it cost so much to ship to Hawaii! ?
Milk Bar Las Vegas, Final Thoughts
Whether you're staying at the Cosmopolitan or not, Milk Bar is an easy place to visit.  And if you have a sweet tooth, it's one I highly suggest you make time for.  Yes, some of their stuff can be hit or miss depending on your own personal preferences, but there are things on the menu that Mrs. Island Miler and I both adore.  In fact, if we're anywhere that has a Milk Bar location, it's automatically a must-visit for us.
Las Vegas 2018