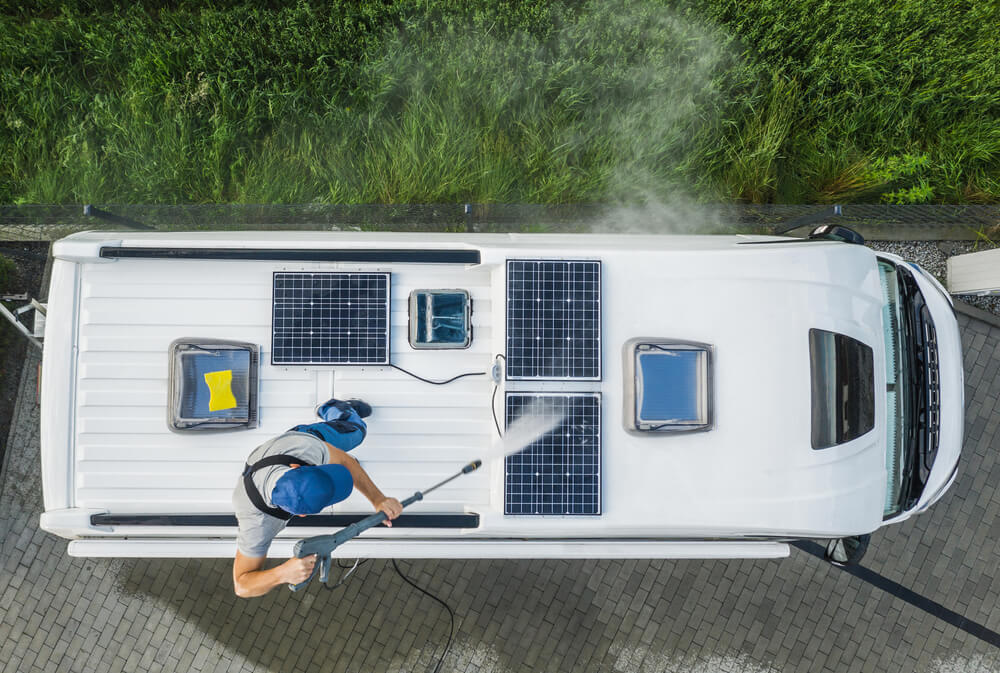 All of our reviews are based on exhaustive research, industry experience and whenever possible, hands-on testing. When you make a purchase using one of our chosen links we'll a small percentage of the proceeds. This supports the site and keeps Jeffsetter running. You can read more here.
One of the most common RV questions is whether or not it's safe to walk on your RV? Or even use your RV roof as additional outdoor space to get a better view. There's a good chance you've seen folks posted up with lounge chairs on top of their roof but is it really safe?
And what exactly is the weight limit for an RV roof? While it will vary greatly between different RVs, to stay safe you should work off the assumption that the upper limits are around 250 lbs. and take precautions from there.
Keep in mind, this is not official advice and we're not responsible for any accidents! There's a lot to consider before you can figure out the real world weight of your rig. The first to consider is whether or not your RV comes equipped with a ladder. If so, there's a good chance that your rig is made to have people on the roof.
But that's just the start of it! You'll need to consider the following:
Manufacturer of your RV
Material of the RV
Where on the roof you're walking or sitting
Age and condition of your rig
What else is on the roof
We'll break down each of these factors so you can get a better idea how much weight your RV can hold. But first, let's talk about why you would need to get on the roof of your RV in the first place.
Why Walk On Your RV Roof At All?
Even if you aren't looking to enjoy a beautiful sunset from your roof you're going to need to get on top of your rig from time to time for basic maintenance. The roof is one of the most overlooked areas of any RV but just like anything else it needs regular cleaning and care.
Most RVs have rubber roofs that need to be cleaned at least twice a year but I do my best to make it part of my quarterly cleaning and maintenance routine. Of course, some of this is going to depend on where you're driving your rig. I know that when we spent a few weeks at a campground in California there didn't seem to be anywhere I could park without getting bunch of sap dripped on my roof!
But you don't have to walk on your roof to do the cleaning, though it can make things easier. So even though cleaning your roof can be done via a ladder set up next to your RV, it isn't practical to carry a 6 foot ladder with you across the country!
Besides cleaning, lounging on an RV roof is one of the most amazing ways to enjoy the view. With many RVs coming in at heights over 12 feet, you can get a unique vantage point to see a sporting event or the great outdoors. One of the things I love about hanging out on an RV roof is that it adds and entirely new outdoor space that ends up making your RV feel a whole lot bigger.
Before you start pulling up the lawn chairs, you need to figure out what your RV's roof can handle in terms of weight.
Does Your Roof Have A Ladder?
If your RV doesn't have a ladder it's likely that the roof wasn't made to be walked on. While there's a good chance that it can still support 250 pounds it's not something I'd want to test and I certainly wouldn't suggest hanging out up there. Instead, you should try to clean using a ladder next to your rig.
Why does a ladder matter? The team at KOA explains "If your RV does not have a ladder on the back to access the roof it is probably not designed to be walked on. In this situation, it may be necessary to use a couple pieces of plywood or particleboard to help distribute your weight. Many RV manufacturers have an option called roof rack and ladder ready. If the RV dealer orders this option the roof is built with a heavier roof decking."
So if walking on your roof is important to you and your family, make sure to talk to your dealership or manufacturer about the roof rack and ladder ready options available to you. You may also want to look for a fiberglass roof which help increase weight capacity.
But sometimes, you still need to walk on the roof. That's why I usually recommend folks pick up a folding ladder so they're ready when the time comes.
Check For Roof Weight Stickers
If your RV has a ladder, it's possible that there will be sticker clarifying the max weight for the roof. Most folks report that the sticker is right on the ladder itself but make sure you look around the entire ladder area to try and track it down.
Why Is it So Hard To Find Information on Roof Weight Capacity?
During my research, one of the first things I found was how hard it was to actually figure out the weight capacity of your RV's roof! It's not commonly found on any of the spec pages or owner manuals. I even called a few manufacturers directly with no luck.
Why is this?
My guess is that it comes down to liability. If your rig wasn't designed to have folks walking on it the last thing any company in their right mind would do is tell you the weight capacity! The other issue is that walking on an RV roof has more risks than just falling through (although that would obviously be bad). There's also concerns about slipping and falling and a long list of other liabilities that most companies would prefer not to talk about.
Just know that you'll need to make your own decisions about your safety when it comes to walking on your roof!
Basic Safety When Walking On Your RV Roof
Even if you're way lighter than your RV roof's expected weight capacity there still things you need to keep in mind.
Don't Forget About the Weight of Tools
If you weight 225 pounds but you're bringing up 50 pounds of cleaning gear then you're possibly pushing the limits! Don't forget to include the weight of your equipment like buckets of water, tools and more. While it might not seem like much, these things can quickly add up.
Avoid Walking Near Vents
Don't walk near vents or anything else that's added to the roof. These areas are always going to be a bit weaker just because of the add-on. Even if you've got a ladder ready rig, you don't want to make it a habit of hanging out near the weaker areas of your roof!
Stay Away From Edges…But Not Too Far
With the average Class A RV has a height of about 13 feet. While that's not exactly the Empire State Building, a fall from that height is going hurt. So it's always best practice to not get too close to the edge.
But on the other side of things, the edge is where the roof is strongest since it's closer to the support from the wall. The middle of your RV's roof can actually be the weakest area since it doesn't have the support of the walls. You'll want to carefully find a good balance between the areas when you're on the roof.
Make Sure Your Roof Isn't Wet, Icy or Slippery
It doesn't matter how much your RV's roof can hold if it's wet because then the real concern is a slip and fall! Not only would falling off the roof be bad, but falling on the roof will really test the weight capacity of your motorhome's roof since the impact will add more total weight.
While this is obviously a concern when cleaning with soapy water, you also need to watch out for the morning mist that can make a roof surprisingly slippery. It's also worth noting that fiberglass roofs tend to be a bit more slippery than rubber.
Crawl, Don't Walk
Okay, you might feel a little silly at first but crawling is a great way to distribute your weight more evenly. So instead of all your weight being centered where your feet are, it's spread out across your hands, knees and feet. Crawling will also greatly decrease your chances of falling which is important. Crawling will also ensure that you move slowly and will help you feel soft spots before you put all your weight on them.
Always Move Forward
Okay, it might seem a little obvious but if you've ever put on an RV cover you've probably been tempted to walk it backwards over the top of your rig. This just isn't safe and risk for tripping on something is too dangerous! For an easy way to get your RV cover on (without walking backwards) check out this video:
Factors Impacting RV Roof Weight Capacity
There are quite a few factors that can impact the overall weight capacity of your roof. Let's break it down starting with the most important.
Material Of Your RV's Roof
The biggest variable for your RV roof's weight capacity is the material that it's made from. There are two main types of material using most modern motorhomes.
The first is rubber roofing which is by far the most common and is usually EPDM or TPO. While these are a little different when it comes to cleaning and maintenance there's not much difference in terms of weight capacity.
The second is fiberglass roofing which is more uncommon. You'll know you have fiberglass roofing if your roof is hard to the touch. These roofs are more sturdy and a lot more likely to be a part of the roof rack and ladder ready upgrade. While it's not always the case, these roofs can usually support more weight than your standard rubber roof. The big downside though is the fiberglass can be very slippery when wet.
Aluminum roofing gets an honorable mention here. It's unlikely that you'll find an aluminum roof in any modern RV. If you've got an RV with an aluminum roof I would avoid walking on it all together. Not only is the weight capacity lower than more modern materials but there's a good chance that the RV itself is pretty old.
Age and Condition of Your RV
It should go without saying that the older your RV the more likely that wear and tear will have degraded the quality of the roof. You also need to consider how frequently the roof has been cleaned and what techniques have been used. For example using petroleum based cleaning products on a rubber roof can damage the roof overtime and eventually degrade the integrity of it.
The other big issue are leaks. Obviously leaks in your RV's roof are a bad thing all around but before they make their way inside your RV that water is causing damage to your roof. That damage can weaken your roof and decrease the amount it can hold. So if you haven't been on your roof in a while make sure you're looking for any signs of wear, tear or damage.
Manufacturer of your RV
There is of course going to be a differences in construction quality and techniques between different manufactures. Make sure you research your individual manufacturer to learn more about how the roof was constructed. While your dealer can probably tell you too, I'd always trust the manufacturer ahead of a sales person.
What Else Is On The Roof
While it might not seem like much weight, after market add-ons to your roof can really add up quickly. That includes things like an AC unit or a satellite dish. So make sure you're considering not only how much these items weigh but also where on your roof they're located.
Closing Thoughts
Whether your camper, RV or fifth wheel has ladder or not there are times when you need to get access to the roof. While roof weight capacities will vary between rigs if you apply some basic common sense and safety precaution you can get on your roof safely. But unless your rig was especially built for rooftop walking, I'd avoid spending too much time up there.
In fact, as I mentioned, I wouldn't walk at all but instead crawl!
Let me know what you think1!