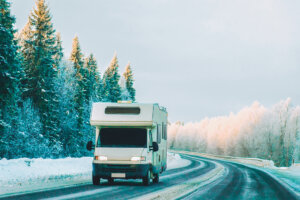 All of our reviews are based on exhaustive research, industry experience and whenever possible, hands-on testing. When you make a purchase using one of our chosen links we'll a small percentage of the proceeds. This supports the site and keeps Jeffsetter running. You can read more here.
When the camping season is over for another year and you're storing your RV for winter in a garage or otherwise, you may wonder if you should leave your RV vents open or closed. This is a valid question, and one many RVers ask, as protecting your rig from the harsh winter climate means more fun and less stress come springtime!
So, is it better to keep RV vents open or closed in winter?
It depends on the winter climate you experience, as leaving vents open can help prevent mold, unless it's humid, which can cause moisture to build up instead. In more typical winter weather, closing the RV vents will prevent rain, snow, and rodents from entering the RV, but the air within the RV may become stagnant.

Not winterizing an RV when it's being stored over winter can lead to many problems such as burst water pipes and mold growth, so it's best to take the precautions necessary to prevent such problems from happening! The debate of vents open or closed in winter has many different sides, but the crux of it comes down to the climate where your rig will be stored.
So, let's take a look at the possible pros and cons of keeping your RV vents open or closed during the colder months!
Should You Keep RV Vents Open Or Closed In Winter?
Knowing how to best protect your rig when sub-zero temperatures hit is vital. This may mean purchasing an RV cover for winter, pumping antifreeze through the plumbing, or blowing compressed air through the lines.
If you live in a location that experiences heavy rain or snowfall during winter, but you're unable to store your rig in a garage, it may be an idea to close the vents. This will stop water from getting in and creating moisture, eventually leaving to mold or mildew growth.
On the other hand, leaving the vents locked open a slight bit will allow fresh outside air to circulate throughout the RV, minimizing condensation inside. This can aid in preventing any stale odors from forming inside the rig, and can also help stop mold from developing too!
This debate is a pretty big one, and I think it's useful to explore all sides so you can best determine what to do with your vents this coming winter season.
Pros And Cons Of Keeping RV Vents Open In Winter
Some RVers may say they always keep their vents open during winter storage and haven't experienced any issues whatsoever. But this may not be the case for every RVer! There are many different types of RVs and varying winter climates all across the country, so leaving the vents open may be the right solution for some, and damaging to others!
Pro: Air Circulation Can Help Prevent Mold
Oh, mold. You are without a doubt a headache in the RV world! When it comes to storing your rig over winter, one of the big concerns you might have is mold and mildew growth. Moisture control is key for preventing mold growth, and this may mean cracking your RV vents open slightly to allow for air circulation, thus minimizing the risk of spores forming.
Reducing condensation in your RV is key to preventing mold and rust from developing, so it's wise to know how to keep moisture at bay as much as possible! It's worth taking a look at the video below for some extra tips:
As the experienced RVer talks about in this video, leaving windows or vents cracked open a little can make a big difference in terms of moisture build-up. Vents with built-in fans can do a great job too at removing warm, moist air from inside and allowing cooler air to enter the RV.
Pro: Hot Air Can Escape
It's no secret, our planet is warming up, and this means winters may not be as cold or harsh as they once were. If the winter sun is beaming down on your rig that's parked on a driveway or at the curbside, you may be surprised how much this can cause your RV to heat up.
Leaving the vents open in winter can allow this hot air to escape so it doesn't build up inside your rig. Cooler air can then enter and balance the overall temperature. This can work especially well if you have more than one vent in your RV, as the air can be circulated well throughout.
Pro: Keeps RV Smelling Fresh
I'm an RVer who likes their rig smelling like a meadow of flowers and cannot stand the musty smell some rigs have; especially older ones! But when our RVs are locked up and stored away over winter, the air inside can begin to smell stale. I find it helpful to give my rig a deep clean before storage, empty out any food, and clean my black and gray tanks to help minimize odors.
Keeping the vents open will allow any aromas to escape, and let the fresh air flood into your RV, helping to keep unpleasant smells at bay. There's nothing like opening up your RV at the start of the new camping season, and it being just as perfect as when you packed it up before winter!
Con: Humidity Can Get Into RV
High levels of humidity can occur if there's lots of water vapor in the air. If it's a humid day and the vents on your RV are left open, the humidity can get into the RV. High levels of humidity make it hard for moisture to evaporate, which means it can get trapped inside an RV.
This moisture can then lend a hand in mold growth and can even cause issues with electrics too if there's enough trapped moisture in the rig. If you live in a humid climate with your RV, it may be helpful to purchase a dehumidifier, which will help take the moisture out of the air. This can create a far more comfortable environment for you whilst you're in your RV, but can also come in handy if you're storing your RV with the vents open in winter.
Con: Easier For Dust, Dirt, And Rodents To Get Inside
I'm an animal lover, and nothing makes me happier than traveling full-time in my camper with my dog! However, I'm not quite as fond of rodents and pests scrambling around my RV! Unfortunately, although leaving vents open during winter results in great airflow and circulation, it also creates easy access for dust, dirt, and rodents to get inside.
To help stop pests from wanting to get into your rig in the first place, make sure your vent has a cover on it, and also remove any food. I like to give my rig a thorough clean and vacuum before storing it for winter, as even food residue and crumbs can be a golden ticket for rodents!
Con: Rain And Snow Can Cause Damage
Winter comes with tough weather conditions, and depending on where you are in the country, your winters might mean endless rain and winds or persistent snowfall. This might not be good news if you're thinking of storing your rig with the vents open. Locking the vents on your rig open for the duration of winter might be okay if there's hardly any rain or snow, but for harsher climates, it could mean a LOT of water entering your rig.
This water may go unnoticed since your rig is in storage and not getting used like usual, and if left, it may fuel mold and mildew growth inside the RV. Although it's possible to get rid of mold in an RV, it can be a nightmare job, especially if it has spread. So, if you're wanting to leave your vents open this winter, it may be an idea to close them down when storms are brewing!
Pros And Cons Of Keeping RV Vents Closed In Winter
So, what about keeping RV vents closed in winter? Well, as I've mentioned previously, there are many pros and cons for open and closed vents during storage, and the final answer will depend on your storage situation and the winter climate you experience.
Pro: Protection From Weather And Pests
I've already talked about how I'd rather not see uninvited furry creatures in my rig, and keeping the vents closed for winter helps minimize the likelihood of this. Keeping doors, windows, and vents closed means it's far harder for rodents to find a way inside. It also makes things a lot more difficult for water too, as rain will simply run off the rig instead of coming straight in from an open vent on the roof.
Pro: Improved Security
As heartbreaking as it is to say, RVs can be the target of thieves and get broken into, and this isn't limited to when you're traveling on the road, as it can happen when you're storing your rig too. Luckily, numerous security measures can be put in place to help deter thieves and keep your RV safe. Closing the vents, along with any doors and windows will help seal your RV so there are no obvious weak points for thieves to target.
This improved security can be a game-changer for opportunists who are searching for vulnerable RVs to break into. I would also recommend removing any valuable items from the rig before your store it for winter, and drawing the curtains or blinds can make a difference too, as all of your belongings and equipment will be hidden out of sight.
Con: Heat And Moisture Can't Escape
Moisture build-up is a common issue in the RV world, and when there's condensation inside an RV, the best thing to do is open up a window, door, or vent, and allow the air to circulate by aiding in evaporation. This can work a treat, but if your rig is completely sealed up and no vents or windows are open, moisture won't be able to evaporate and leave your RV. Moisture can then increase and build up over time and eventually encourage mold to grow.
Con: Humidity May Build Up
Moisture in an RV isn't a wise idea, and as I've already mentioned, mold loves a warm, moist environment and will thrive if left alone! But humidity and moisture build-up in an RV can cause far more issues than simply mold or mildew growth. It can be a disaster if moisture sits in window seals or frames, and even metal areas, and if there's moisture trapped in your rig and the vents are closed, it simply has nowhere to escape.
Water build-up on metal can lead to rust which is bad news for RVs as often there is a lot of metal construction and features. Similarly, moisture and water can cause wood to rot, and since many RVers are converting their own rigs and using materials like wood, this could spell disaster.
Con: Air May Become Stagnant
As I mentioned earlier, I like my camper to smell fresh and vibrant, and part of achieving this is having plenty of airflow through my rig. If all RV doors, windows, and vents are closed in winter, air from the outside won't be able to get in, and so the air within the RV may become stale, stagnant, and generally a bit smelly!
A musty-smelling RV isn't the most welcoming come spring, but if you can't get away with cracking a vent open, be sure to deep clean your rig (and the toilet!) and hopefully, it won't smell bad when the next camping season arrives!
Closing Thoughts
Deciding whether or not to leave your RV vents open or closed in winter is a big one. It all comes down to personal preference, storage situation, and the climate your rig will be kept in. These factors all come into play, so it's worth weighing up the pros and cons of both closed and open vents so you can decide which is the best option to go for this winter season!