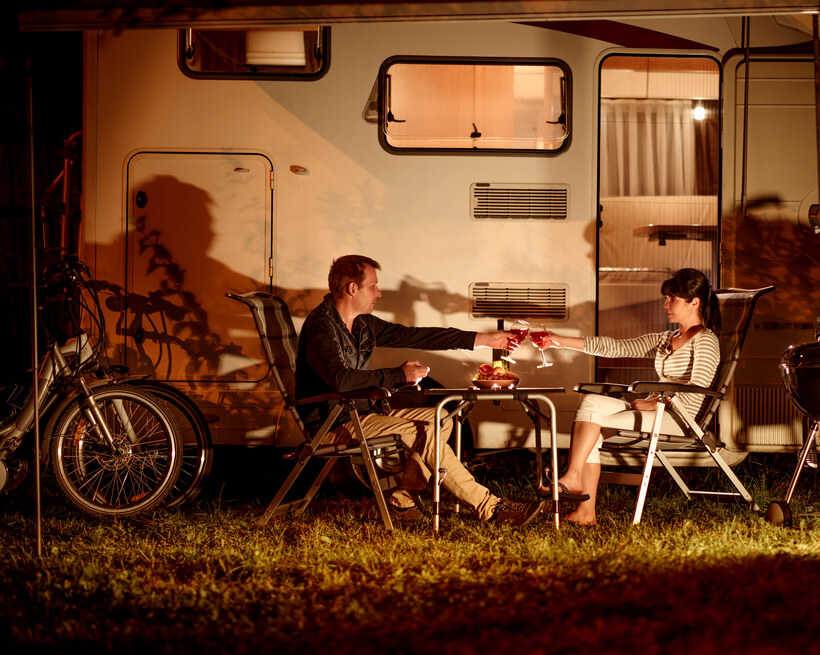 All of our reviews are based on exhaustive research, industry experience, and whenever possible, hands-on testing. When you make a purchase using one of our chosen links we'll a small percentage of the proceeds. This supports the site and keeps Jeffsetter running. You can read more here.
Shopping around for the best travel trailer for you and your partner? Whether you're happily married or just beginning your romantic journey together, finding the perfect travel trailer for your camping trips matters!
Travel trailers are not every family's first choice when going camping. Often, they do not offer their large families very much room. However, if it's just you and your significant other hitting the road, the travel trailers on this list will be your Cinderella slipper!
But what should you be looking for when it comes to a travel trailer for you and your sweetie? Thankfully, I have the experience and know what to look for, since I live full-time in a 19-foot vintage travel trailer with my high school sweetheart and our dog.
Travel trailers are amazing homes on wheels for couples, and going on a journey is what they were made for!
Pros and Cons of Travel Trailers for Couples
So your partner wants the two of you to take a trip together. Sounds great, and like a magical new experience for the both of you to share together! 
You decide camping in an RV will be your best bet to have a safe and fun time, and you've chosen a travel trailer as your style of rig. But what about travel trailers makes them a good choice for couples?
The main perk of travel trailers in my book is their ability to be left at camp. If you're on a journey, seeing new sights, the last thing you want is to travel in an overly large motorhome or camper. The best part of a travel trailer is the ability to leave it behind! Once you unhitch your RV from your vehicle, you're free as a bird!
No matter what specific type of travel trailer you look at, you need to be prepared for one very important detail: your trailer must be towed. This might not be what you are hoping for, but there are a lot of positives to towable travel trailers versus motorhomes. However, driving with a towable rig can be a little difficult, so you may consider this a con.
Another perk of travel trailers is their lightweight design. Motorhomes and coaches guzzle diesel fuel or gasoline, a huge drawback if you are only planning a small budget for your upcoming trip. Some travel trailers are so light that you can tow them with the smallest of cars, which means you won't have to worry about renting or borrowing someone's large truck to tow your new rig!
If you're a fairly new couple or if you know that you both value time and space away from one another, a travel trailer may feel like fairly tight quarters. If you aren't prepared to always be in one another's space, a travel trailer may not be a good fit for you. No matter how long the trip, travel trailers never feel like they have enough space!
However, there's always the great outdoors if you're looking for some time and space to reflect, and the travel trailer will be there when you are feeling relaxed and ready to be cozy with your partner!
Types of Travel Trailers
So you're feeling confident that a travel trailer is the right move for the two of you as a couple. How exciting! However, what type of travel trailer best suits the two of you? 
All travel trailers are towed behind a vehicle using classic ball hitches. But how else do they vary from one another?
Let's take a look!
Classic Travel Trailers
The most classic travel trailer you can get may be the right fit for you. And that's because there are so many different fits! 
A classic travel trailer is towed behind your vehicle using a ball hitch and ranges in length from 10-35 feet. These classic trailers often have four tires total and are the most traditional set up when it comes to the interior (bedroom, bathroom, living area, kitchen). Slideouts are also a popular feature on nearly all newer travel trailers.
Given the range of length, weight, and specifications possible on classic travel trailers, it is recommended that you check out all of the necessary weight requirements before purchasing one. Some trailers require a heavy-duty truck for towing, despite their small size. My vintage rig may only be 19 feet long but given its old metal frame, I need a V8 truck to tow it!
A classic travel trailer may give you both the space you want, but make sure your vehicle can tow it!
Toy Hauler Trailers
Looking for a home on wheels that will also transport all of your other recreational toys? A toy hauler does exactly what it says in the name, and may be a good choice for you and your partner if you have a lot of other fun vehicles!
Toy haulers are towable rigs and some of the largest travel trailers out there. They come with a fold down ramp often at the back end of the trailer, perfect for wheeling out your ATVs, motorcycles, jet skis, and whatever else you can fit back there!
These trailers are designed as half garage, half living space, with various different layouts affecting the style. The sky's the limit in terms of customizing your toy hauler but at the end of the day, you need a vehicle that can tow it!
Toy haulers are often the heaviest of travel trailers, as they are carrying even more vehicles inside of them! These are the peak of recreational vehicles, allowing you the maximum amount of entertainment possible, but just make sure you can handle the weight!
Teardrop Trailers
Now that you've seen the biggest travel trailer options, let's take a look at the smallest: teardrop trailers! These little guys are amazing for those of you hoping to tow with your small car, as most teardrops weigh less than 1,000 pounds to tow! What a great idea, making a camper so little! This also means it will be easy to store at your home. What's the catch?
As I'm sure you might've guessed, these trailers are tiny. So much so that for the most part, teardrop trailers only have enough space for a mattress inside. A kitchen is often built off the back of the trailer, which means your cooking must be done outside. There are never bathrooms, which could be a deal breaker for some of you new campers out there. Still, there are some very small travel trailers that do have bathrooms and I put together a list of my favorite here. The smallest of these is only 14′ so if you want to go small but don't want to skip the bathroom check out that list. 
However, teardrops are amazing little trailers and are so easy to tow! Their kitchens are often high tech and amazing to have while camping, and I can't think of a better trailer to bring along on short road trips or wonderful weather outings. If you're not afraid to snuggle up, a teardrop trailer may be a perfect choice for you and your partner!
Pop-Up Travel Trailers
Unconcerned about the elements and looking for the best of both worlds when it comes to trailer towing? How about a pop-up travel trailer, which brings the best of towing, size, and budget to you?!
Pop-up trailers are inconspicuous at first, residing inside a flat, easily towable frame. When you arrive at camp, the canvas sides can pop up to create your camper, much larger than teardrops and lighter weight than toy haulers or classic travel trailers. It is a perfect combo of RV and tent, and recommended primarily for camping where the weather is nice.
Some pop-ups even have more rigid sides to their tents in order to better your experience if camping in a colder climate. Given the extra interior space, some pop-ups include bathrooms and living spaces, and usually, always have a kitchen. This may make pop-ups a good fit for you and your partner.
How Much Space Do We Need, Anyway?
This may be the trickiest question you and your significant other must answer before purchasing a travel trailer: how much space do the two of us need to comfortably enjoy our time in our new travel trailer? This is a question only the two of you can answer together, but there are some things to consider before making your final decision. 
The most important thing lending to your comfortability in a travel trailer is the layout of the space. The options are endless in terms of layouts in classic travel trailers, but you will find yourself much more limited once you look into the layouts of teadrops or pop-ups. Size matters, and you may find that the best way for your and your partner to be comfortable is to have a bigger rig.
Another thing to consider if you're trying to save space without sacrificing comfort is how long you plan to stay in your trailer. Are you only buying a travel trailer for weekend camping trips? Or are you planning a long cross-country road trip? Or even more insane (like me), are you hoping to live in your travel trailer full-time!? This may affect your ultimate decision on how much space you feel like the two of you need.
One last thing when it comes to space saving is packing less. No matter how long you plan on staying in your travel trailer, the amount of stuff you bring with you affects how much living space you will have. A trailer's layout can even be negatively affected if you bring too much stuff! Keep your packing light, even when you're hoping to stay prepared.
Tips for Happy Habitation in a Travel Trailer
Whether it's a long and planned out road trip or a quick weekend away, there are always stressors involved with towing and living in a travel trailer. Here's some easy and quick tips so that you and your partner can enjoy your time in your new travel trailer!
Make a packing list-

it's so stressful to forget something before going camping, and a travel trailer may have a more involved packing list than you're used to! Take the time to make a packing list together before heading out. But remember, space is limited, so try to pack everything neatly!

Choose to spend time both together and apart-

this has been the most valuable thing I've learned living in a trailer with my partner. When space is limited inside, it's tough to not always feel on top of each other. Take the time to go on a walk on your own, or carve out a portion of the day for doing separate activities if you find the trailer too cramped!

Practice, practice, practice-

driving a travel trailer can be a very stressful situation, let alone backing in and parking the thing! Practice this with your partner before you hit the road. Hand signals are amazing when backing in a trailer, and usually leads to less shouting at one another once you reach camp (take it from my experience)!
The Best Travel Trailers for Couples in 2020
So you're feeling comfortable being in close quarters with your partner and know what the two of you are looking for? Here comes the best part: shopping for your new trailer! If you're not up for renovating a vintage rig (like me and my insane partner), here are some of the best new travel trailers of 2020!
Best Classic Travel Trailer for Couples: Micro Minnie 1708FB by Winnebago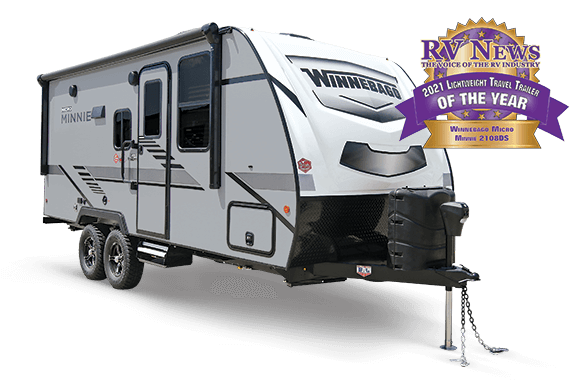 A mainstay and a family name, Winnebago has been regarded as one of the best in the RV business for quite some time. They aren't reinventing the travel trailer wheel, but the Micro Minnie 1708FB is a comfortable classic for you and your partner, all with an affordable price tag!
If the smallest Micro Minnie floor plan isn't what you're looking for, there are ten others to choose from, ranging in size from 19 feet to 25 feet. No matter what, these trailers remain lightweight, easy to tow, and comfortable inside! Winnebago has thought about where to place windows for the best cross breezes, as well as keeping the kitchen and living area open.
If you're hoping to be outside more than in, this little trailer comes standard with patio speakers, a motorized awning, and slick LED lighting at the touch of a button. You will also enjoy endless exterior storage to make packing up a breeze. The Micro Minnie's dry weight is just over 3,000 pounds, making it lightweight but probably still necessary to own a larger towing vehicle.
The price on this trailer can't be beat, and is definitely the most budget-friendly on this list. If you're hoping to start your travel trailer journey with tradition and budget in mind, the Micro Minnie is perfect for you and your significant other!
Best Toy Hauler for Couples: The Quicksilver VRV XTR 614 by Livin' Lite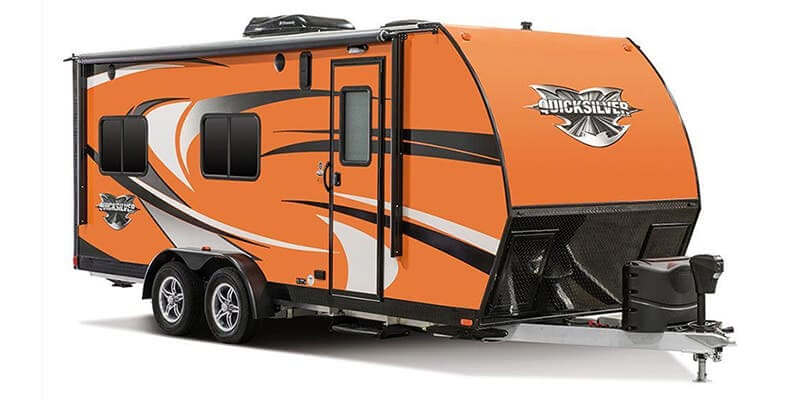 I didn't even know toy haulers could be made so small until I found Livin' Lite's designs. The Quicksilver VRV XTR 614 is an impressive travel trailer, as is the entire Livin' Lite line. They all boast an anti-rust aluminum frame, which means these toy haulers are lightweight and built to last many generations.
The VRV XTR 614 is only 2,300 pounds and can haul two adult ATVs, perfect for the adventurous pair! It may start off a bit spartan in its layout, but Livin' Lite leaves the specifications up to you, with loads of add ons. Some of these include a dry bath, outdoor entertainment, screened in back ramp, and uniquely designed fold up furniture. 
The other great thing about Livin' Lite's customizable design is the ability to have many different sleeping options. Even though it's just you and your partner, you have the option to design your trailer with up to two tip out bunks, leaving you with extra space and extra spots to sleep!
Finding a toy hauler at 15 feet long feels like a one of a kind find, and Livin' Lite is this in a lot of ways. The price tag may be a bit high if you're hoping to customize a lot, but it may be worth it to you two adventurers to find something lightweight and one of a kind!
Best Teardrop Trailer: The Classic Teardrop Trailer by Timberleaf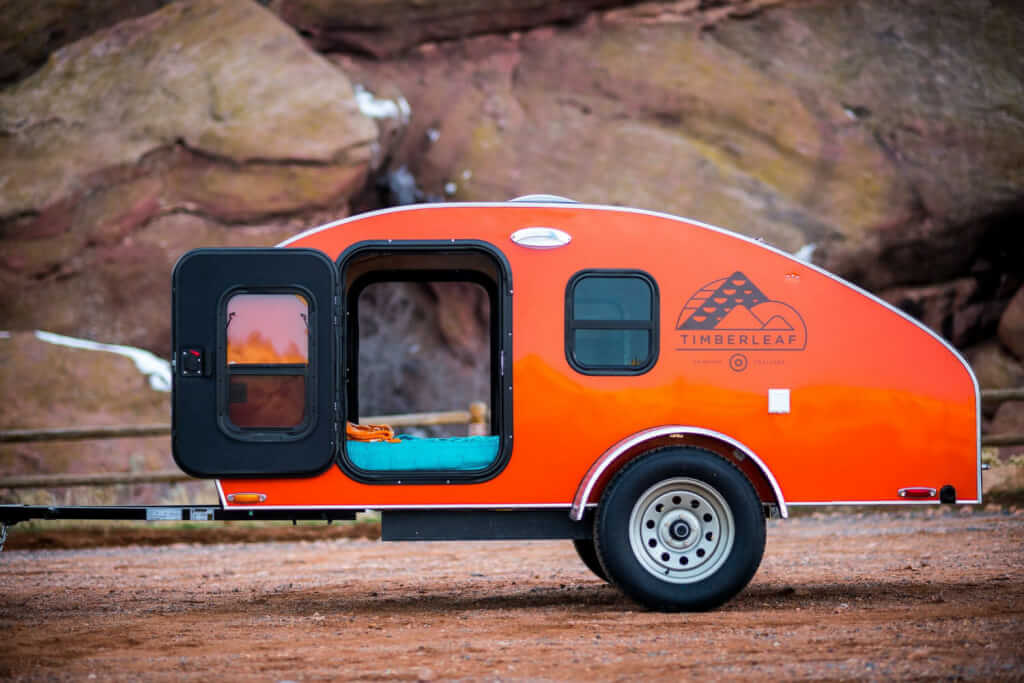 The name itself can't be beat when it comes to teardrop trailers, and Timberleaf knows teardrops like no other. Their Classic model is everything you may be looking for when it comes to a teardrop trailer, with even more customizable options than you thought possible in such a small space!
Coming in at 1,500 pounds dry, this little guy can be towed by most any standard vehicle. The main perk of ordering a Timberleaf trailer is their attention to suspension. The Classic Teardrop can come in 3 different suspensions, varying depending on your expected level of adventure. There's a totally off road option for those of you expecting to be off the beaten path!
There's no bathroom with this teardrop, but there is an amazing kitchen off the back. Fully customizable, the galley is a stunner and you'll sacrifice nothing in terms of comfort (except of course a dishwasher!). The interior itself is clean and fits a queen bed. It includes tons of storage so that you and your partner don't have to worry about bringing too much.
The best part of the Classic Teardrop has got to be its large skylight over the bed. Bringing the outdoors in, this skylight is the biggest offered in the teardrop industry, and I couldn't even imagine how beautiful the night sky looks through it. What better way to feel romantic than that!?
Best Pop-Up Trailer for Couples: The Cricket by Taxa Outdoors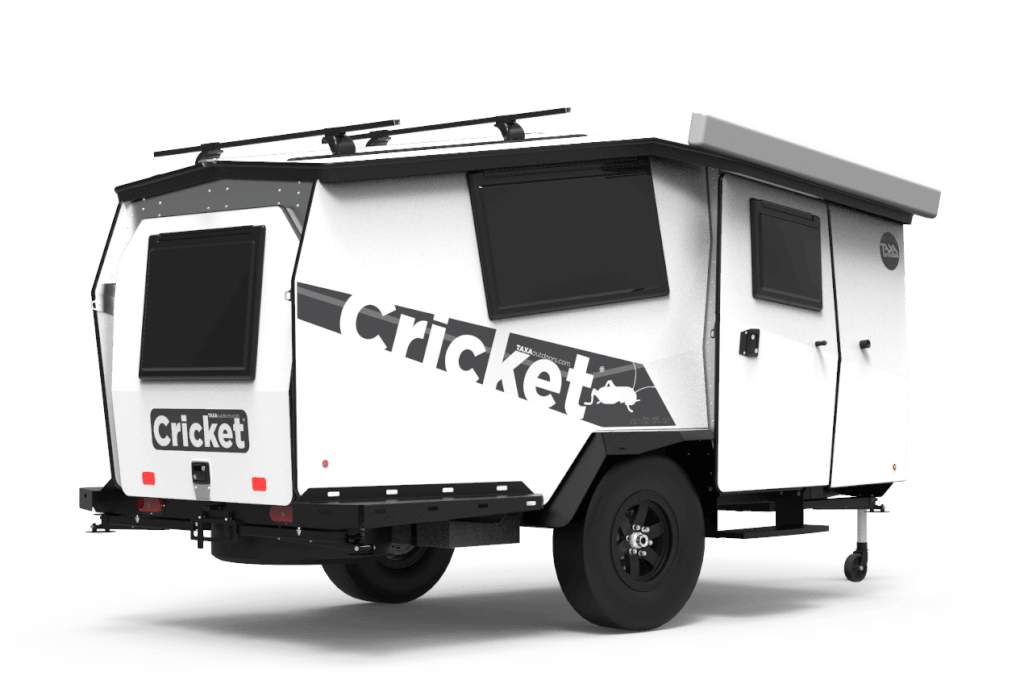 I have to start off by saying that this is not your mother's pop-up trailer. In fact, this little guy is the most unique trailer on this list fulfilling a classic category! The Cricket pop-up travel trailer by Taxa Outdoors is made for adventurers, outdoor enthusiasts, and designers. How can it please all of these types of people? Through one of a kind building and design.
First off, this little guy is tiny: it is only 15 feet long and less than 7 feet across, and weighs 1,700 pounds dry. Can you believe that!? While there are countless non-standard features, the Cricket comes built out with a full bed, kitchen, and loads of storage for such a small space. It also has an included cafe table, standard entry door, and a back hatch that opens, allowing even more of the outside in.
The roof pops up, as is the way of the pop-up travel trailers, allowing you an extra 3 feet of headroom and windows! These little guys can also come with a portable toilet, outdoor shower, and awnings to fully enclose your outdoor needs. There's also additional roof racks for storage, but these do not come standard.
What else can be said about the Cricket, besides its eye-catching good looks? It may be at the higher end of your budget and be a bit too unique for the average camper, but if you and your partner are up for the challenge, this little pop-up might be exactly what you've been searching for!
Best Overall: r-pod RP-180 by Forest River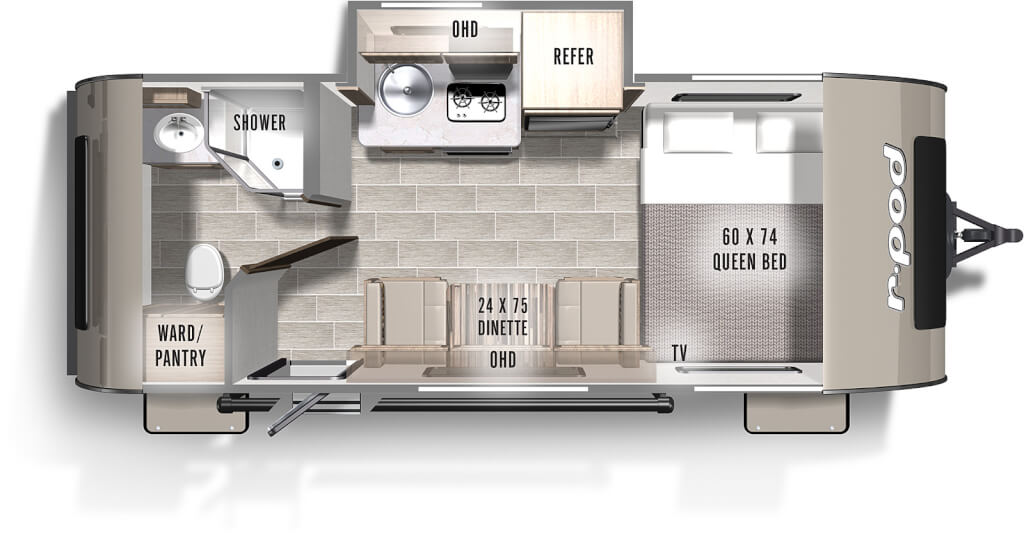 As an Oregon state camp host, I see these little r-pod trailers everywhere. Ranging in size from 17 feet to 20 feet, r-pod trailers are all the rage right now. I can't help but wonder why, and now I know. Forest River has been in the business a long time, and they know what RVers are looking for, especially couples camping!
The r-pod RP-180 is the smallest trailer of this model that still comes with a bathroom. I had no idea how lightweight they could be, coming in at under 3,000 pounds dry! 18 feet shouldn't be too difficult to control on the road, and you're getting every amenity you need for you and your significant other. However, there are around 11 different floor plans to choose from, most all very lightweight and easy to tow.
With a powder-coated steel frame that resists corrosion, this trailer requires little to no maintenance. It can also be designed and ordered with many upgrades such as an entertainment system, solar panels, and even a screened in awning.
With an awning, one easy to operate slide out, and boasting tons of interior and exterior storage, you should feel comfortable camping during that cross country road trip. Even if you're simply camping for the weekend, this r-pod has everything you need to get cozy and enjoy the great outdoors, and all on an affordable luxury budget!
Conclusion
Whether you're a happily married couple or taking your first big trip together, these travel trailers have something for every couple. Just remember to practice towing, know how much you can fit, and bring a nice bottle of wine for after you've finished setting up camp. The two of you can only grow closer with a travel trailer in your life!