Last updated on August 3rd, 2015 at 03:01 pm
This post is part of our series on One Way Neverending – a journey that starts with selling all of our worldly possessions, becoming voluntarily homeless, and traveling the world.  Posts in this series: Couple Pursues Dreams of World Travel, One Simple Realization, Spending a month on Maui, Start a Business See the World, the Money Question, Digital Nomad Travel Gear.
Today I want to talk about booking flights on Hawaiian Airlines. We have never been to Hawaii, which means we have never flown Hawaiian airlines.
While I was acutely aware of the program before booking One Way Neverending, I have become more familiar with the program out of necessity.
During our 37 nights in Hawaii, we will be visiting 3 major islands and 4 airports. We will be spending 7 hours and 49 minutes and 3,036 miles on Hawaiian metal.
All in for two people at 4 flights each, we have spent $117.20 to achieve a retail value of $3,874.00 in flying.
While I don't claim to be an expert in Hawaiian aviation, I would like to share what I learned during this process, in the event that it helps others.
1) Hawaiian Only Charges $5.60 in surcharges on flights to Tahiti (even in Business Class)
The first flight we booked on Hawaiian was from HNL to PPT in business class. This flight only runs once a week, on Saturdays, so business class award availability is unpredictable.
Of course, paying cash was not an option, and we weren't willing to fly Hawaiian in Business Class for nearly $1,600 per person.

But if you book an award ticket? They only charge the $5.60 US departure fee on this international award.

For one way neverending, we have a loose rule that we want to fly in business or first class on all flights over 5 hours. This flight qualified, and we burned 47,500 Hawaiian Airlines Miles each to get this flight.
2) Searching on the Hawaiian website is so easy to toggle between using miles, paying cash and switching dates

I found the Hawaiian website a pure delight to use. No error messages, clear user focused design and easy award search. What more could you ask for?
3) Hawaiian has more destinations than you might think
There is an extensive route network on Hawaiian airlines to the continental United States, Asia and South Pacific destinations.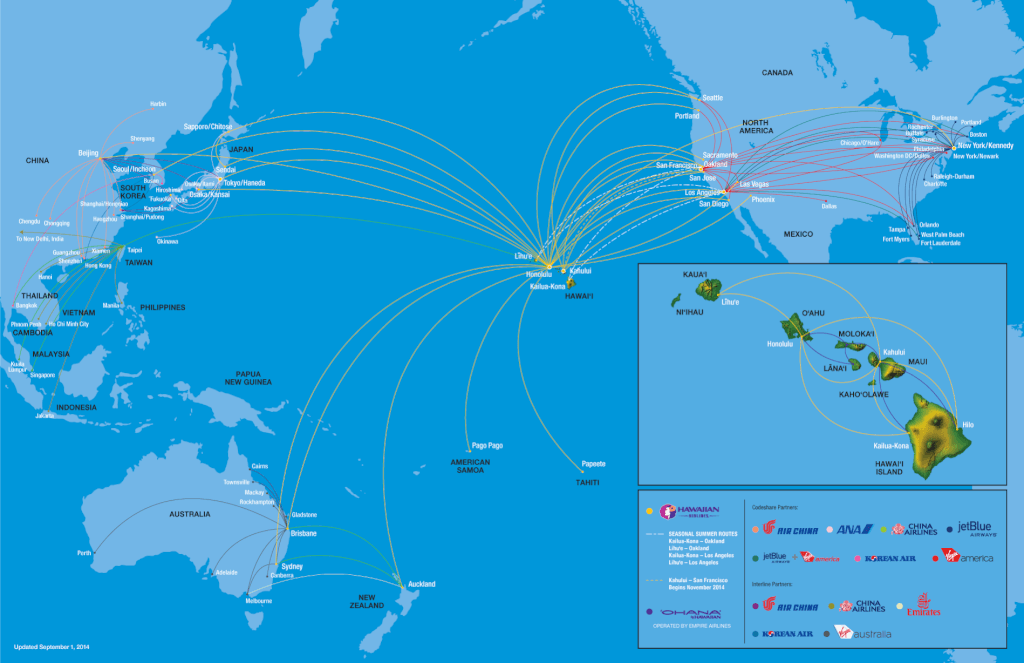 Image found on Hawaiian Airlines website
4) Hawaiian has a new website in beta mode (at the time of this writing)
Nice website, from the looks of it!
5) Hawaiian has both SPG and American Express as transfer partners
I wrote previously about my experience topping off my Hawaiian account using both of these currencies. Having two transfer partners is nice for a few reasons.
First of all, SPG transfers to Hawaiian receive a 25% bonus when transferred in increments of 20,000 points. That means 20,000 SPG points = 25,000 Hawaiian Miles.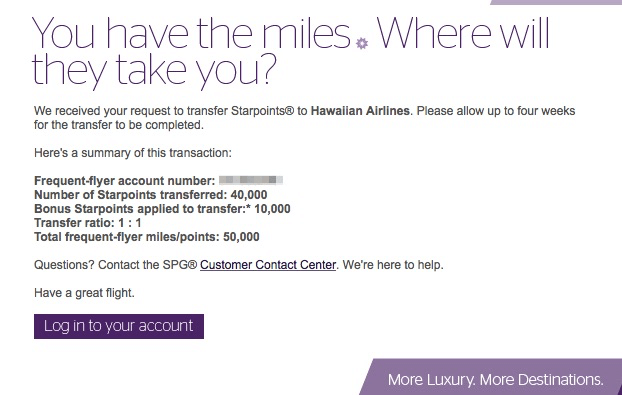 Secondly, our awards did not add up to a perfect multiple of 25,000, and we didn't want to waste our valuable SPG points.
This is where American Express transfers came in handy.
6) Mile Transfers from SPG to Hawaiian take several days
Our transfer of points from SPG took 3 days to complete. During that time, our desired award space in business class to Tahiti got booked! Since that flight only operates on Saturdays, we would have to stay in Hawaii an extra weeks to make this flight work.
Now I know what you are thinking: "How is this a problem? You are spending two more weeks in Paradise!"
And you are absolutely correct. It's not really a problem, but definitely did force us to think creatively about how we could afford to stay 5+ weeks in Hawaii. In the end, we got a discounted monthly rental on an AirBNB, so things worked out just fine.
7) Mile Transfers from American Express Membership Rewards to Hawaiian are Instantaneous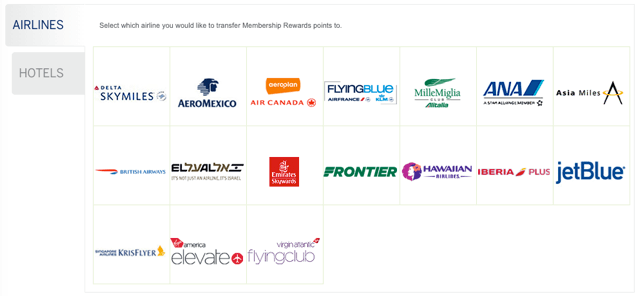 If you have a bountiful amount of Membership Rewards points and want to secure award space right away, this is the way to go.
8) Transfers from Membership Rewards sometimes don't work, and they won't give you a reason unless you call in
Amanda had troubles transferring MR points from her corporate account because of a name match. Of course, the website didn't tell us this. We just didn't receive a transfer for several days. After calling, it was all cleared up.
9) You can find solid redemption values for your points on Hawaiian
Inter-island flights in Hawaii seem to range anywhere from less than $100 to $200+. Coach fares are 7,500 miles. Using miles on a flight of $150 or more is a good value.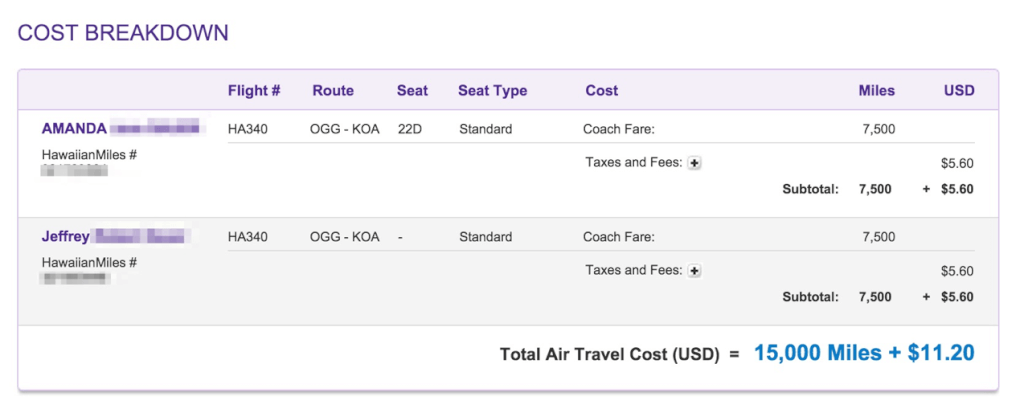 Much better than the paid price.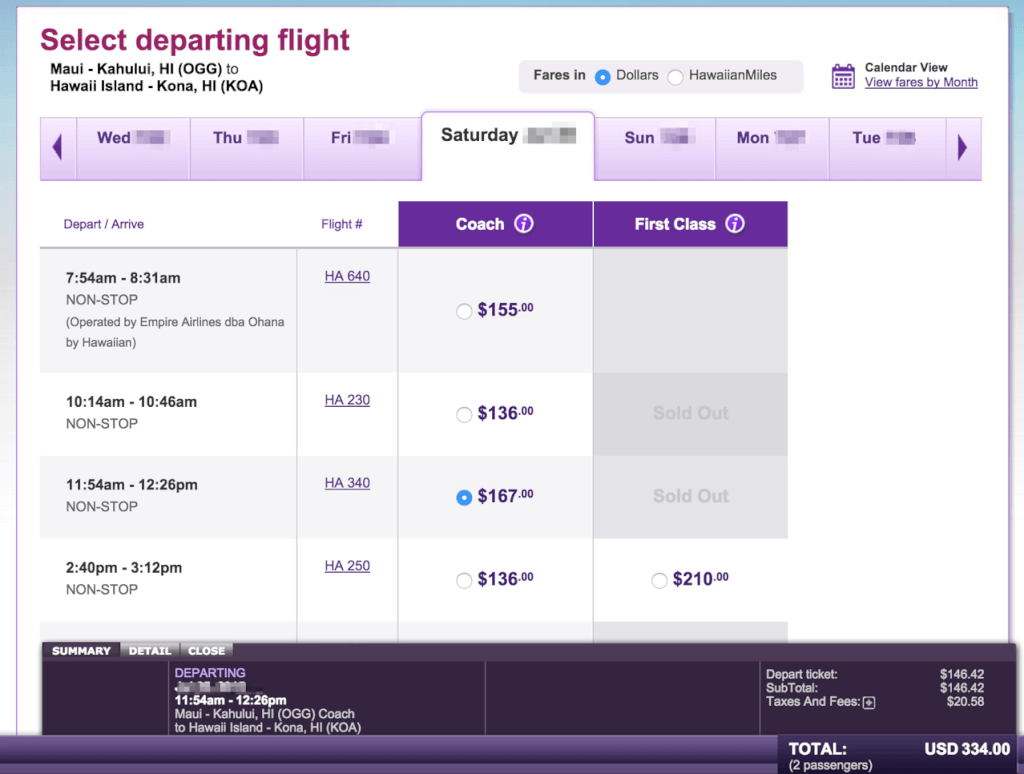 In this case, we saved over $300 by using 15,000 miles transferred via Membership Rewards. These types of redemptions are how we are able to visit so many islands and keep costs down.
10) Inter-island flights can be inexpensive, even without points
It doesn't always make sense to spend points for flights. There are times when it is a better deal to just pay cash. In one case, I paid $78 for a flight, even though we could have spent 7,500 miles + $5.60.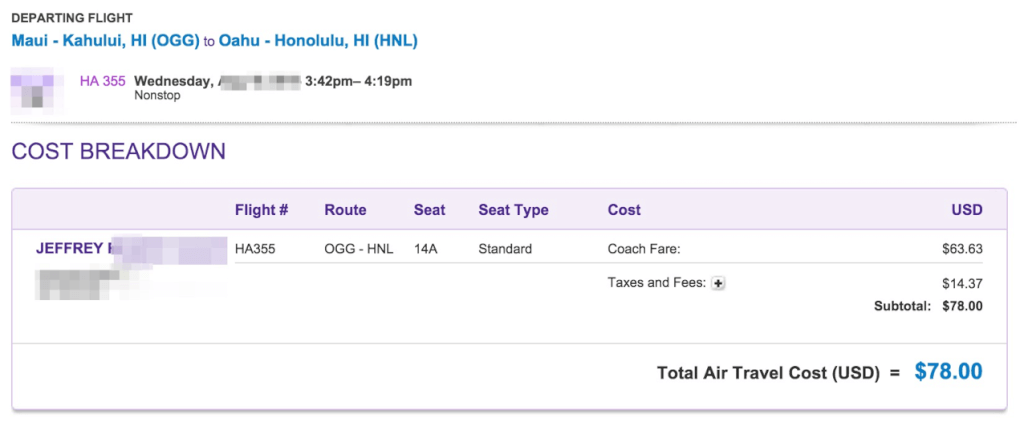 While I would have loved to keep all flights under $100 total, we also want to keep our transferrable points balances high for future travels.
11) You would have to literally be insane to book first class on an inter-island flight using miles
Who in the world would spend 30,000 miles to be in first class on a 32 minute flight? A crazy person, that's who.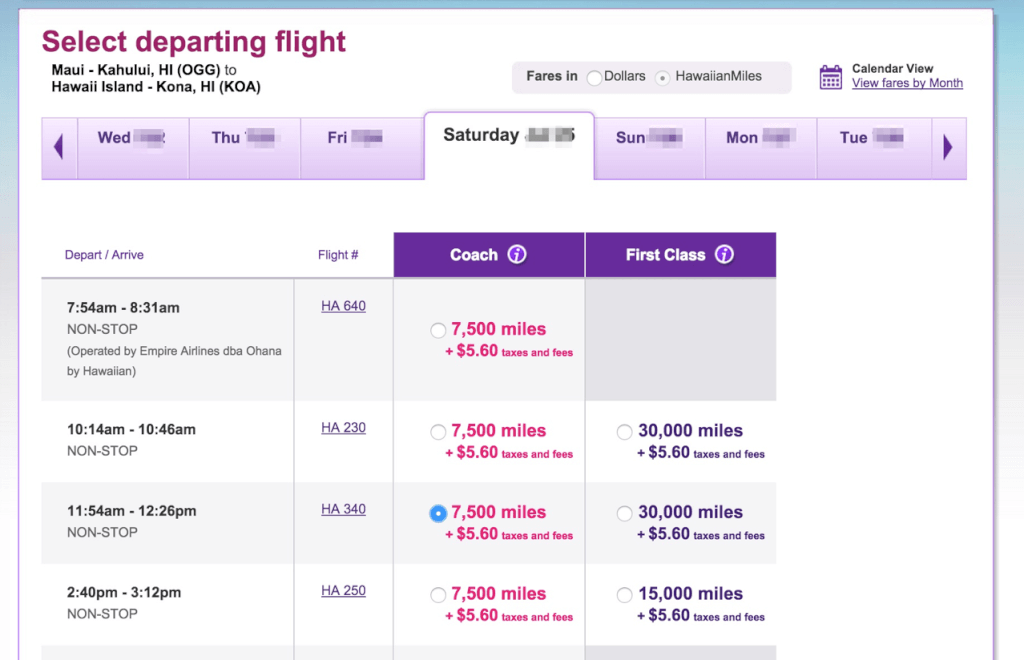 We booked 4 one-way flights to keep on our one-way schtick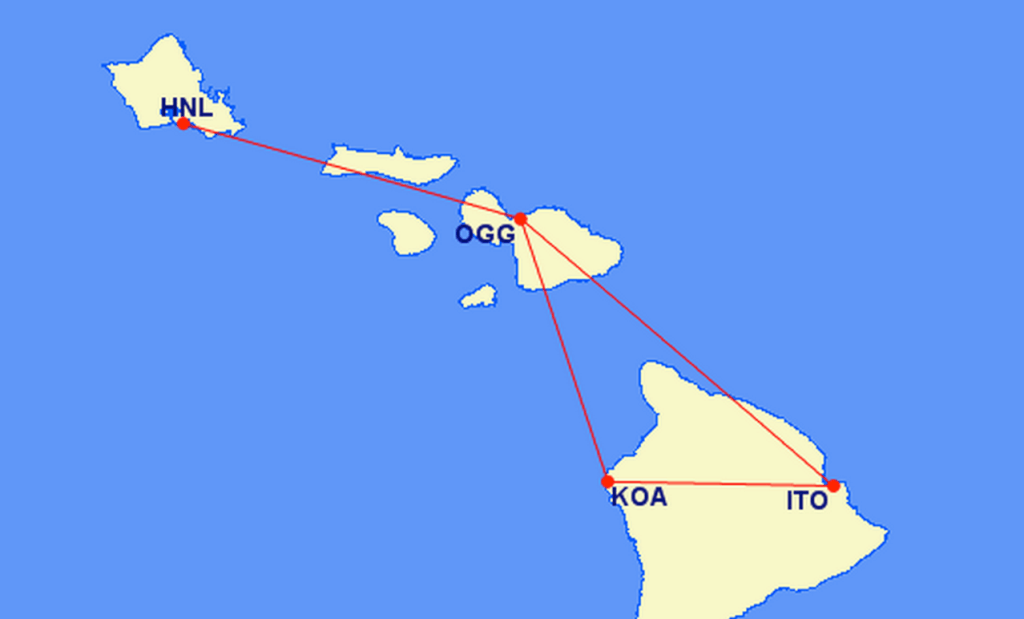 Image created by Great Circle Mapper Copyright © 1996-2015 Karl L. Swartz. All rights reserved.
To visit the big island of Hawaii, we booked two one-way flights out of different airports to/from Maui. I did this for one reason, and one reason only: to keep this trip a neverending series of one-way destinations. I'm a dork.
Will we ever fly Hawaiian again?
It took me 34 years to fly Hawaiian the first time, and now I will be flying 4 times over about 30 days time. Who knows when I will ever fly again.
I can only assume that if we enjoy our time on Hawaii, we might spend another month here in the future. If award prices stay reasonable, and transfer partners stay intact, I could see this becoming an annual tradition.
It's hard to know right now. We need to get through the first experience before we can plan ahead. I'm an over-planner, but even I am just looking forward to living in the moment during our trip.