Last updated on August 8th, 2023 at 06:10 pm
It's no secret that I've been a big fan of Na'au Hilo since its inception. I've been to most of their Oahu pop-ups at PAI Honolulu (also a favorite) but never attended a stand-alone dinner. At least, not until recently.
While the primary goal of our recent trip to the Big Island was to stay at the Hilton Waikoloa Village, another was to dine with Na'au Hilo. While our original plans had us there during one of their Waimea pop-ups, we were forced to shift our dates by two weeks, which meant that was no longer possible. However, as we neared our travel dates, they added a pop-up during our stay, and I jumped on it. The catch? It was happening on the other side of the island from us.
For those unfamiliar with Na'au Hilo, it's a concept from Chef Brian Hirata that seeks to preserve Hawaii's food culture while progressing our local cuisine. They accomplish this by incorporating "coveted, wild, and overlooked ingredients" farmed, foraged, hunted, and fished in Hawaii into preparations using techniques from Hawaii and beyond. I say this every single time I write about them, but it's true – you won't find an experience quite like this ANYWHERE else.
Na'au Hilo Location
Chef Brian Hirata and Gem Nishimura are working on securing a permanent location in Hilo. However, until then, they'll continue to do weekly pop-ups at various locations around the Big Island. This past summer, it was at the Whitehaven Farm in Pepe'ekeo – a small town along the rugged Hamakua Coast. As of this writing, the Na'au Hilo team is popping up at the posh Mauna Kea Beach Hotel in Kamuela. That would've been far more convenient for us, but dinner at Na'au is worth the nearly 3-hour roundtrip drive.
Na'au Hilo Menu
Menus at Na'au Hilo tend to vary quite a bit. While it's possible to get some repeat dishes, the nature of their work often means the menu is constantly changing. Fishing, foraging, and hunting many of your ingredients means your menu is beholden to what's available now. And that's part of what makes dining with Na'au fun and exciting!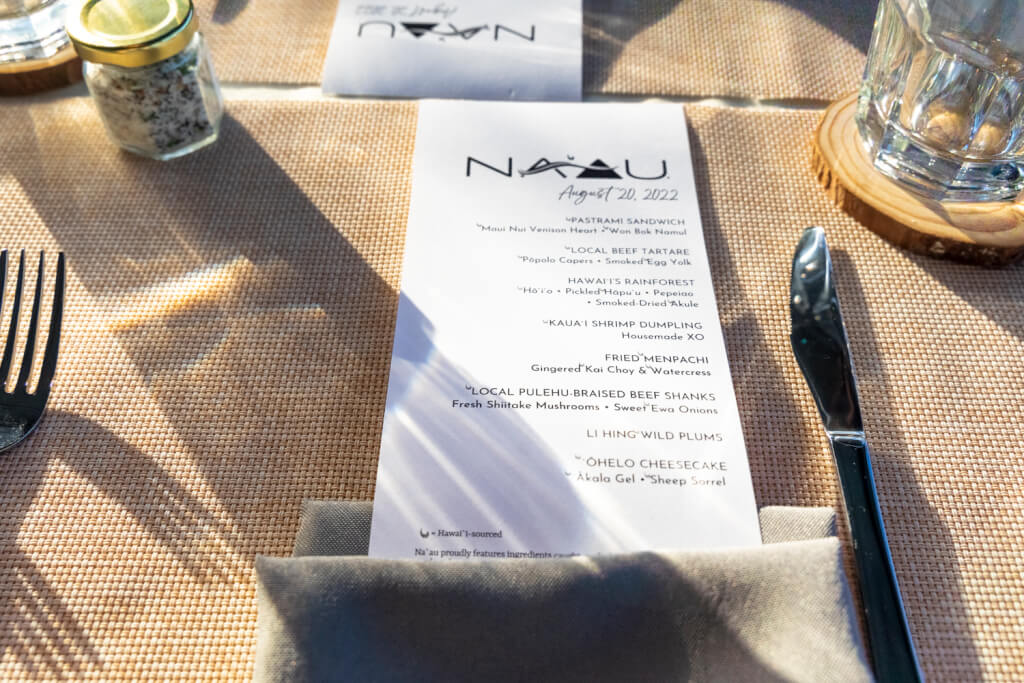 Service & Ambiance
Na'au Hilo is a pop-up, and with that comes several challenges. Despite this, the team can still pull off a perfect dinner with excellent service, impeccable presentation, and exacting execution. My biggest concerns regarding the Whitehaven location – which is outdoors – were the temperature and the presence of mosquitoes. Thankfully, none of these were issues during our dinner. Even though it was late August, our dining experience was relatively cool and entirely bug-free. And, no, while we could hear them, the coqui frogs weren't obtrusive.
Na'au Hilo Dishes
To start our evening, our first bite was a familiar dish – Pastrami Sandwich. This dish seeks to reduce food waste by taking Maui Nui Venison hearts and transforming them into pastrami. The pastrami is then piled onto a crostini with won bok namul and torched with some mozzarella cheese. As was the case last time, this dish had zero ironiness to it. If you didn't tell me this was heart, I never would've known. It's a deeply savory, delicious first bite that really helps to set things up for the rest of the night.
Next up, we were presented with Chef Hirata's interpretation of Beef Tartare. Here, he turns the traditional preparation on its head by incorporating Asian flavors and local ingredients, including capers made from endemic Popolo Berries. The result is a clean, lean, citrusy tartare that almost feels like cubed ahi in the mouth. A mild burn combines well with the richness of the smoked and shaved cured egg yolk, while microgreens further lightens the dish. Bubu arare adds crunch and replaces the traditional toast points/crostini.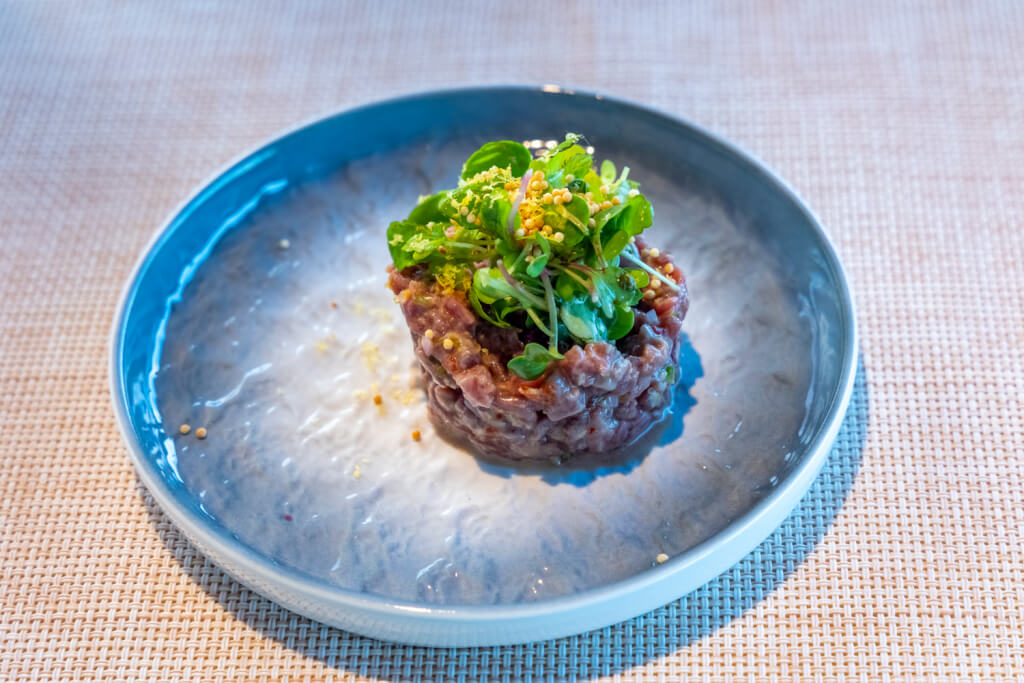 Our third dish of the night is a Na'au classic – Hawaii's Rainforest. This is another repeat for me, but one I'm always happy to get. While I'm usually not a fan of most of the ingredients in this dish, including Ho'i'o (fern), Hapu'u (fern), and Pepeiao (wood ear mushroom), I love this dish. Absolutely none of the ferns in this dish are slimy at all, while the Pepeiao maintains a nice texture without being overly crunchy or hard. Did I mention the Hapu'u is pickled? That acid provides a nice brightness to the dish, while a dusting of smoked Akule adds a wonderful smoky umami to everything.
Dish four wasn't on the menu – Kona Abalone Risotto. While it looks simple, this dish was complex and utterly delicious. Here, Chef Hirata takes hapa rice (rice that hasn't been completely milled from brown to white) and combines it with a dashi he makes from the abalone liver and a lime butter sauce. The results are a deeply flavorful, umami-packed risotto with clean oceanic flavors, balanced richness, and a wonderful nutiness. The abalone on top was another joy, being slightly crisp yet tender and meaty all at once. I don't know how he does it, but Chef Hirata worked magic with this one.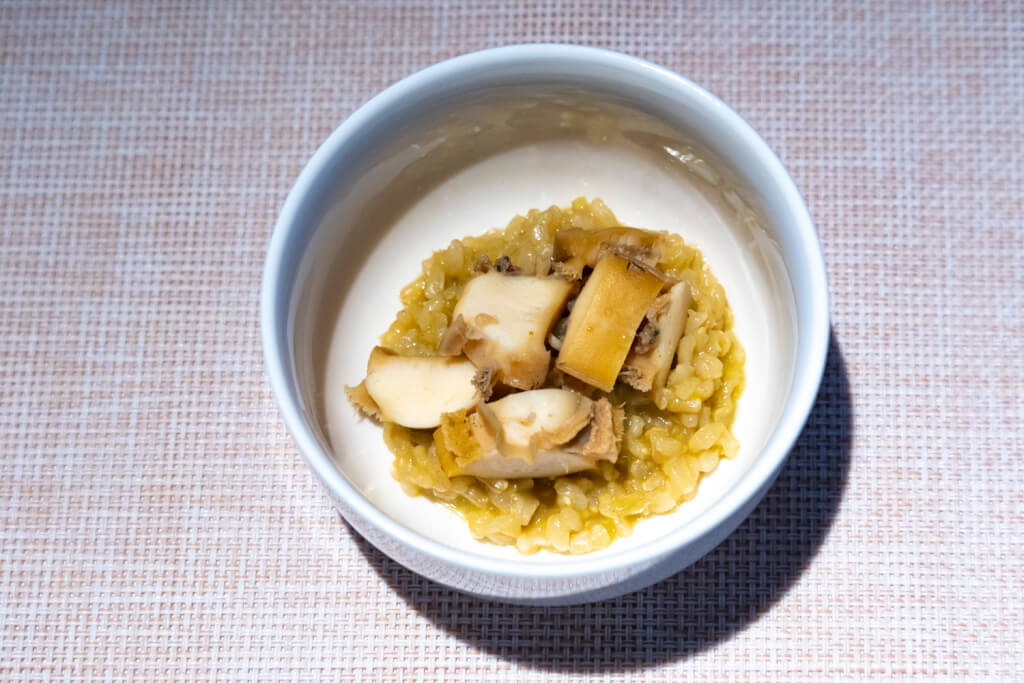 As good as the Abalone Risotto was, the Kauai Shrimp Gyoza was probably my favorite dish of the night. The gyoza itself is just perfect. Crispy on the outside with a tender, juicy interior. However, the sauce it's swimming in is even better. Made with Chef Hirata's own shrimp head XO Sauce and brown butter, this sauce is rich, nutty, and has an intense shrimp flavor to it. It took all of my willpower to not pick up the dish and lick it clean.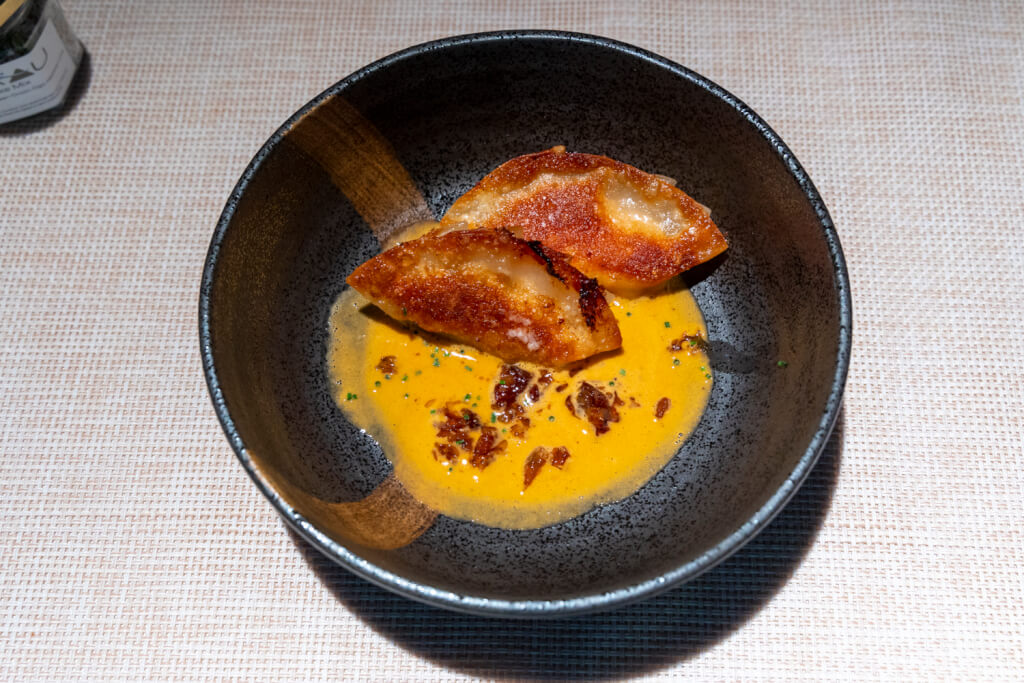 Another off-the-menu special arrived on our table next – Twice-Cooked Tocino Tako. Tocino is a Filipino dish typically made with pork. It's a sweet-savory dish that we enjoyed a while back at MiGrant while Sheldon Simeon was still the chef there. Here, Chef Hirata takes tako (octopus) caught the traditional Hawaiian way out in Kohala, flash fries it Karaage-style, and serves it with a side of tomatoes and onions that you typically see with Lechon Kawali. The tako in the dish is soft, meaty, and crispy all at once, while the tomato mixture provides a striking sweet, tangy, salty contrast. It's another incredibly delicious yet artfully balanced dish that I wish I could've had more of!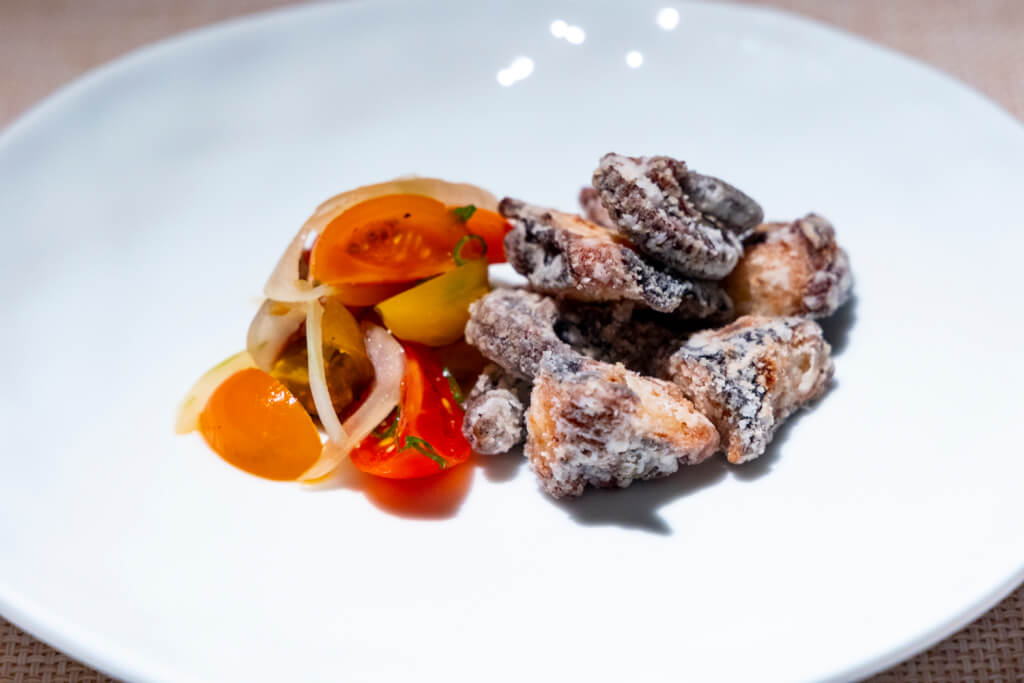 The main fish course of the night is something I've never had before – Menpachi. Also known as u'u in Hawaiian or soldierfish in English, this is a nocturnal shoreline fish that you almost never see in stores or on restaurant menus. Growing up, my grandpa told me that most people make soup with these small fish, so I was surprised to see seared filets here.
Though small, Chef Hirata manages to get the filet's skin nice and crispy while keeping the meat tender and flakey. The flavor is on the mild side, which isn't surprising since it's a white meat fish. However, that Menpachi broth that accompanied it was a flavor bomb! The spicy pak choi accompanying the dish helped to balance everything out.
Our final savory dish of the night was a Local Pulehu Braised-Beef Shank. I gotta say, I'm not typically a fan of braised beef, as it's often quite dry. That wasn't the case here. Sure, it wasn't juicy like a seared steak, but the soft, tender beef didn't suck all the moisture out of your mouth, even without the incredible bone marrow sauce that accompanied it. The shiitake mushrooms cooked in "green butter" further heightened the broasty, deeply umami flavor present throughout the dish.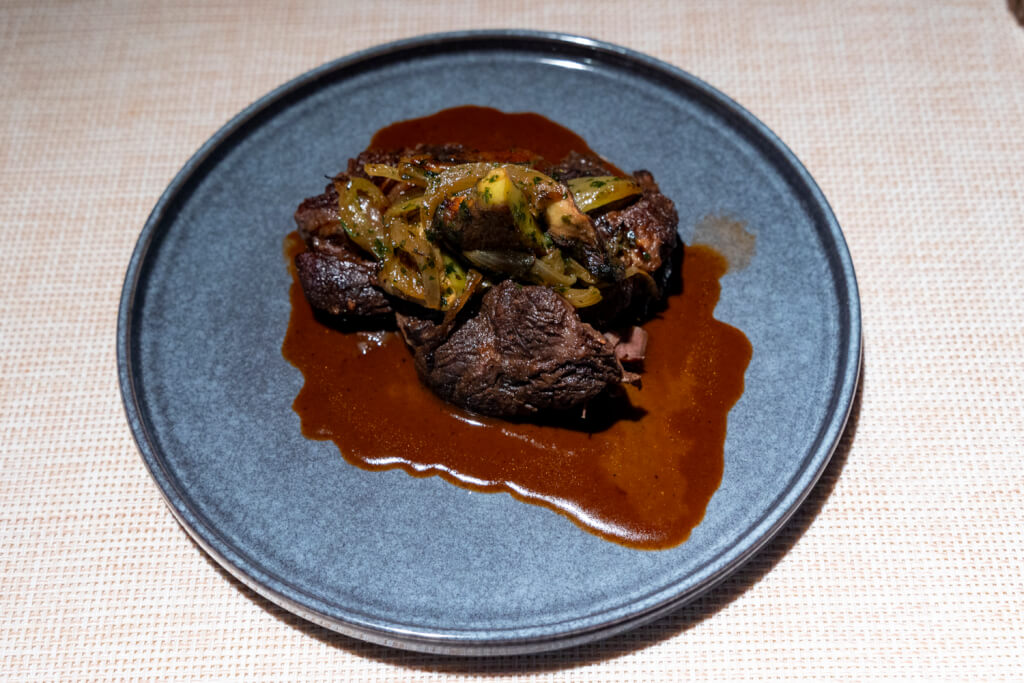 As an intermezzo, Chef Hirata presented Li Hing Wild Plums – kind of his take on umeboshi. Here, however, Chef uses plums he forages himself on the slopes of Mauna Kea. This didn't taste like umeboshi at all, though it had a similar texture. It was more bitter with a restrained pungency and worked wonderfully as a palette cleanser.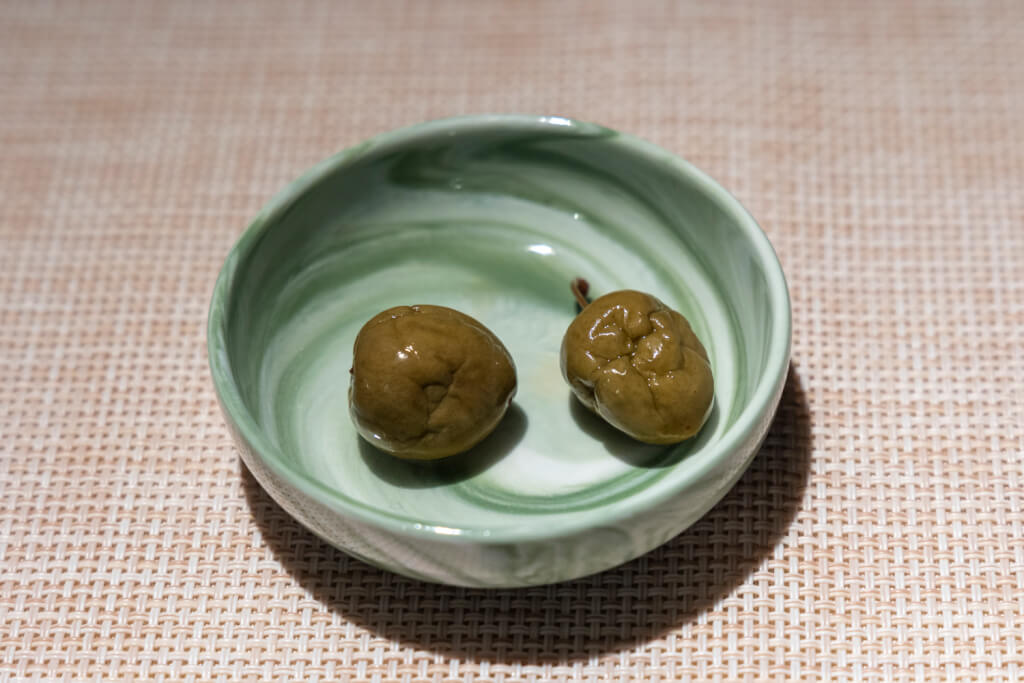 To close out the night, Chef presented us with his signature Ohelo Berry Cheesecake. Unlike the last time, though, this preparation included an Ohelo Berry compote along with Akala (endemic raspberries) gel. While I love Ohelo and think the compote is great, I thought the Akala gel was even better, especially with the rich cheesecake. Hey, Chef Hirata! Wanna make a purely Akala cheesecake next time? 😉
Our true final dish of the night and another surprise was Chef Hirata's Ohelo Berry Cheesecake Ice Cream. The ice cream base itself tastes pretty similar to the cheesecake, which is offset by the slightly tart/bitter Ohelo berries mixed into it. While rich, the ice cream manages to be a bit refreshing as well, which is nice on a warm Hawaiian summer's night.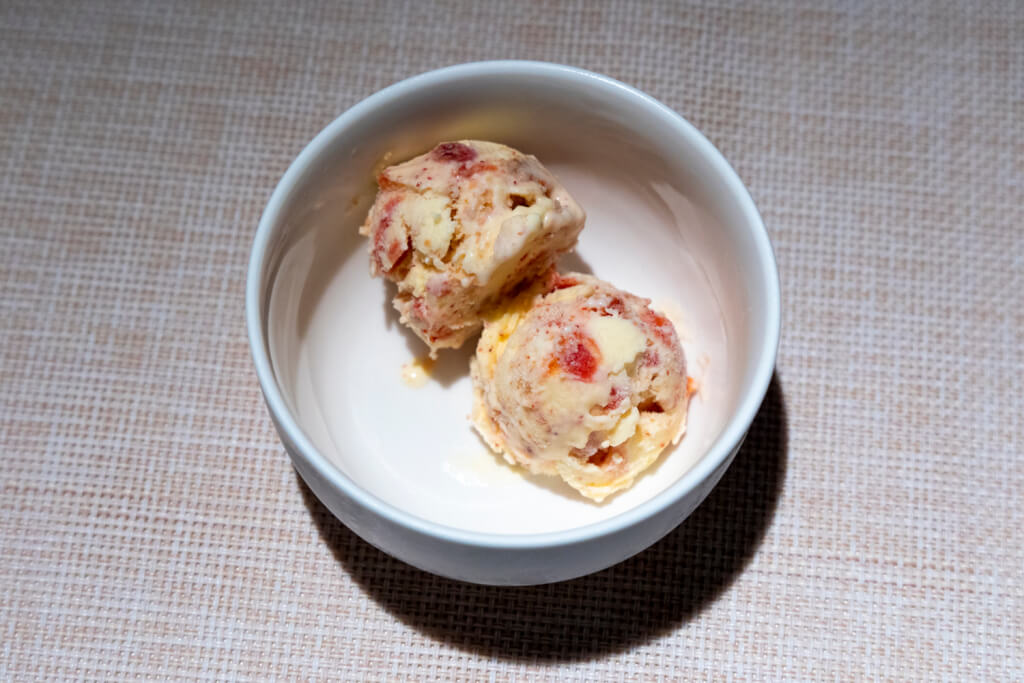 Final Thoughts
A dinner with Na'au Hilo isn't one you'll soon forget. As I've said numerous times before, the vast majority of the dishes you enjoy are ones you won't find on menus anywhere else. That alone would be reason enough to give Na'au Hilo a shot. But Chef Brian Hirata is a highly-skilled chef – something that was further reinforced during our first standalone Na'au Hilo dinner. Not only were his dishes unique and inventive, but they were flawlessly executed. I couldn't have asked for a better dining experience anywhere. Truly.
If you haven't had a chance to experience a Na'au Hilo dinner yet, I encourage you to give them a try. Check out their current availability a their website or their Instagram.
Big Island 2022 Trip Report