Last updated on November 30th, 2021 at 11:46 pm
As a kid, I always looked forward to my grandparents' annual trip to Vegas, as they'd always come back with a box of scrumptious Ethel M truffles. Yet, despite having been to Vegas a handful of times myself now, I've never been to the Ethel M Chocolates Factory until now.
If you've never been to Vegas, you've probably never heard of Ethel M. As far as I know, Ethel M only sells its chocolates in Vegas, California, and via a few retailers in a handful of states, and online. At one point, they even had a store here in Honolulu, though it didn't last all that long. And that's all probably by design. You see, Ethel M describes itself as a small-batch, premium chocolate company crafting chocolates in honor of founder Forrest Mars Sr.s' mother, Ethel Mars. Oh, and, in case you're wondering, yes, Forrest Mars is that Mars – founder of the Mars Corporation. You know, the maker of M&Ms, Twix, MilkyWay, Skittles, Snickers, Dove, Combos, Ben's Original, Seeds of Change, and more. Personally, I loathe most of their candy products. But, to me, anyway, Ethel M is rightfully on a different plane altogether.
Ethel M Chocolates Factory Location
The Ethel M Chocolate Factory & Cactus Garden is out in Henderson, Nevada, placing it a 20- to 30-minute drive from our hotel – the Aria Resort. I know that's quite a ways out for many that visit Vegas, but it ain't that bad. Of course, if you don't want to drive all the way out there, they do have retail shops in Downtown and at the airport. My grandparents always went to the location in the California Hotel.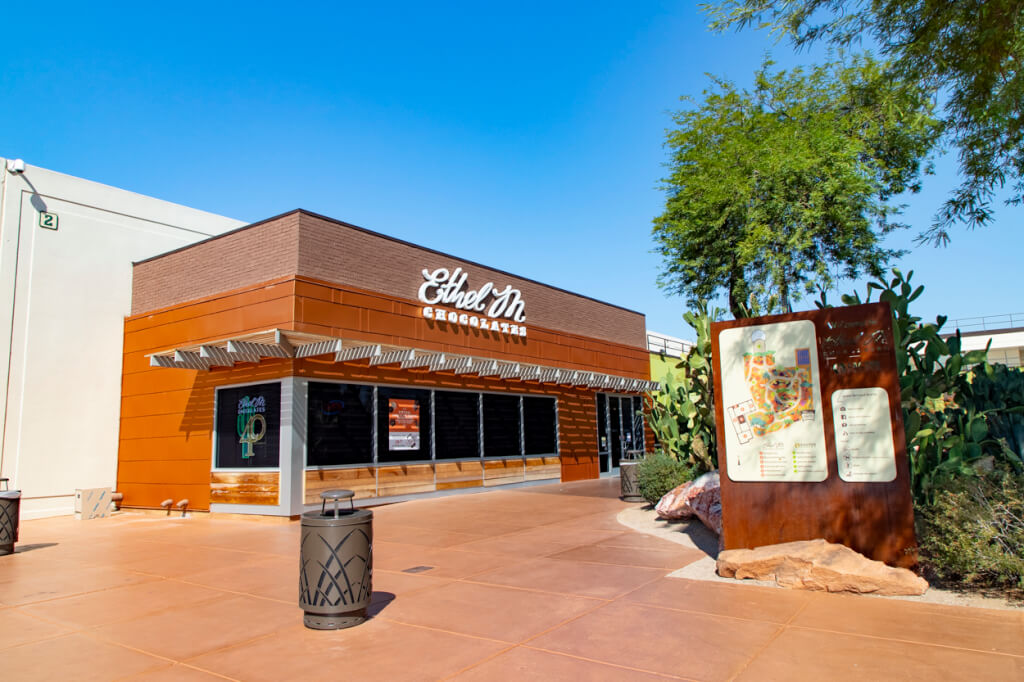 Ethel M Cactus Garden
As much as the Ethel M Chocolates factory is about, well, chocolate, its cactus garden is held in high regard too. Too bad it was BLAZING hot during our visit, so we didn't venture into the garden. The quick peek we did take looked pretty cool, though. Perhaps we'll stop by again in the future when it isn't so hot out.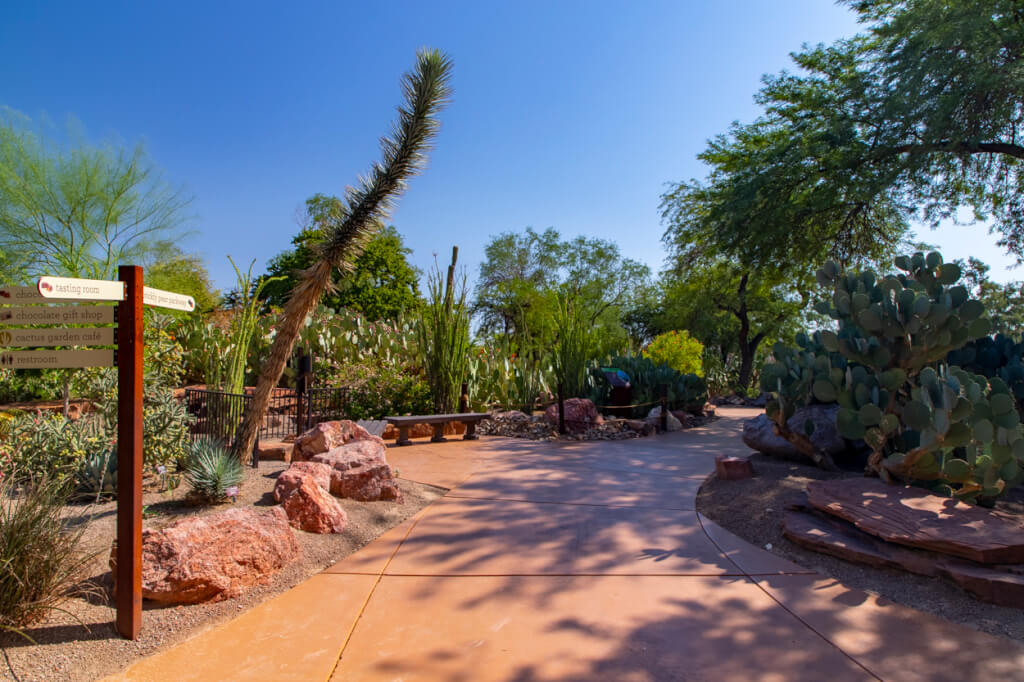 Ethel M Chocolate Factory
Honestly, there isn't a whole lot to see as far as the factory itself goes. There's one elevated walkway that lets you peer into their relatively small production area. You can get through the whole thing in a couple of minutes if you aren't keen on watching the workers work. During our visit, there wasn't much going on, so we breezed through here.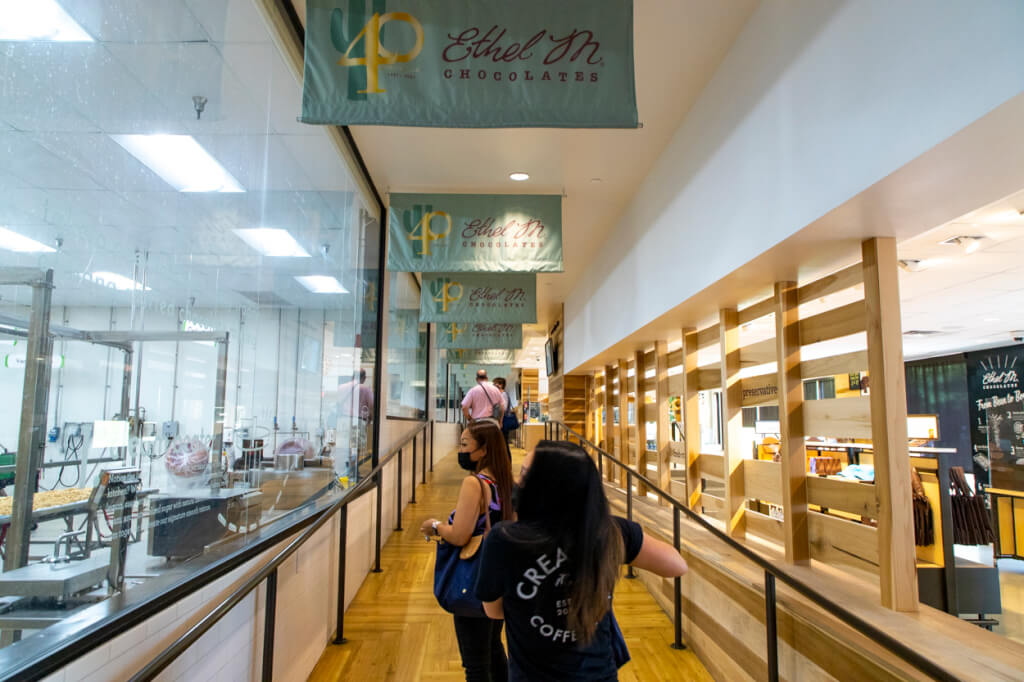 At the end of the factory tour, there's a "chocolate wall" showcasing larger-than-life pieces of the Ethel M Chocolates Classic Collection. It's a great photo op and can get a little busy at times.
Ethel M Flagship Store
The real reason to come here, of course, is the flagship store. You don't actually have to go through the self-guided tour if you don't want to get here, but why not?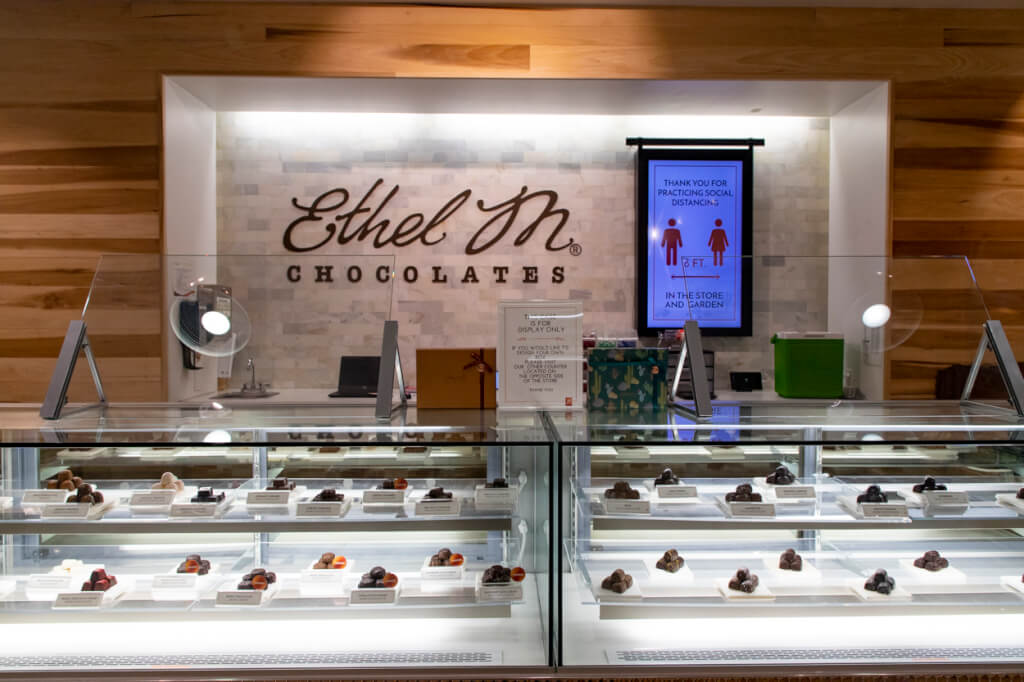 Throughout the store, you'll find shelves of different truffle collections, single-origin chocolate bars, and more. And while that's all fine and well, you can also build your own box at one of the two showcases. Here, you can mix and match from any of Ethel M's collections or just fill up on your favorites. They also have cooler bags with ice packs available for purchase, which came in handy for us given the 100+ degree weather.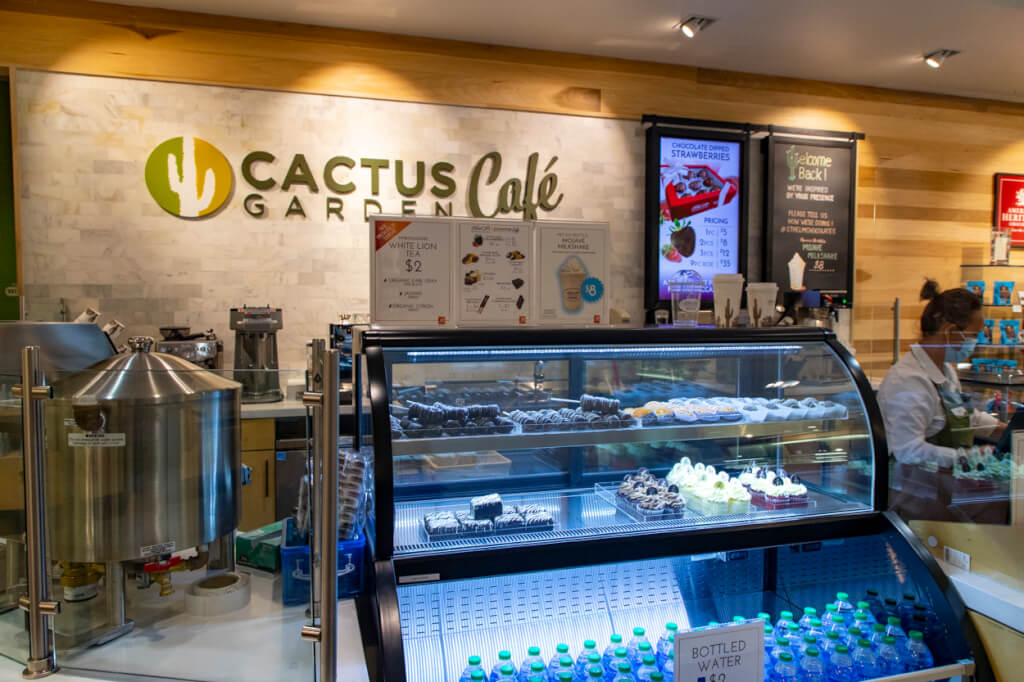 Towards the end of the shop is Ethel M's Cactus Garden Cafe. Here you'll find a small collection of chocolate-dipped fruit, baked goods, and chocolate drinks. I was skeptical about the cafe but ended up buying one of their brownies and thoroughly enjoying it! They're not only quite large but are a good balance of fudgy and cakey with a great chocolate taste. Surprisingly, while a little too sweet for my liking, it wasn't overly so. I'd definitely get this brownie again!
Final Thoughts
I'm glad I finally got out to the Ethel M Chocolates Factory. Honestly, I'm not sure why it took me so long to get here. True, their chocolates are a bit sweet for my taste nowadays, but I still do love their dark chocolate truffle. Plus, I have a newfound love for their brownie too. And, yes, learning during this visit that Ethel M is part of the Mars Corporation and always has been was a bit of a shocker to me. But, strangely, that doesn't detract from their quality either. That's far from what usually happens, as San Francisco-based Scharffen Berger took a huge dive in quality after Hershey's acquired them. So, yeah. If you're a lover of chocolate and find yourself in Vegas, do consider giving the Ethel M Chocolates Factory a visit!
Vegas + Irvine Trip Report