First of all, my South Africa Safari Experience was amazing. Our 3 nights stay at the Vuyani Safari Lodge included 2 daily game drives, for a total of 6 chances to experience the wildlife on the Modilto private game reserve. This post is going to be specifically featuring the sights I saw during my particular safari experience. What would we see? Read on to find out!
Note from Jeffsetter: This post is part of a series of posts about my recent trip to South Africa. Posts include: South Africa Introduction, Westin Cape Town Review, Visiting Robben Island and More Adventures around Cape Town, Vuyani Safari Lodge Reivew, GoPro Flying, Safari Adventures and Hyatt Regency Johannesburg Review.
Today's post is going to feature the sights and observations from my first two game drives through the reserve. These are the photos that came out of my camera, the experiences we had while driving, and my overall thoughts on this particular safari experience. While I initially wanted to write the entire experience in a single post, it ended up taking almost 2,000 words just to describe the first two drives. More drives to come!
I also plan on writing a post about safaris in general for those of you who wanted to know more information outside of my particular drive or are hoping to plan a safari trip in the future.
Safari drive background
All safari drives originated at the Vuyani lodge. The morning drive started at 5:30 each morning, and that meant we had a wake-up call at 5:00 AM each day if we wanted to take the morning safari. The drive terminated at approximately 8:30 AM, with breakfast waiting for us in the lodge upon arrival. We spent 3 hours in the safari vehicle each morning with a brief stop for coffee and biscuits at sunrise.
The afternoon drive started each afternoon at 4:30 PM and also lasted approximately 3 hours. We had one stop at sunset for a sundowner cocktail and light snacks. Upon returning to the lodge, we had dinner ready to be served for all guests.
Our safari was on a private game reserve that was 36,000 acres (which is 56 square miles). On most roads you can go around 15-25 miles per hour, so that means there was a lot of uncovered territory during our safari. It takes approximately 15-30 minutes to get from the Lodge to areas where you start to see significant animal action. That means there is somewhere around 2 hours to see animals each drive.
With that out of the way, here are the animals and other beauty we saw on our drives!
Drive #1: Saturday Afternoon
Our transportation to the Vuyani Lodge had us arriving at 4:25 PM, just in time to make the 4:30 game drive. That means we were thrust right into our South Africa safari experience with little time to think or prepare. All I really had time to do was to make sure the batteries on my camera were charged.
This drive required two safari vehicles because there we too many people to fit in one vehicle. Our vehicle was driven by Mike, who had somewhere around 20 years of experience as a safari guide. The other vehicle was driven by Jesse, who was the younger and more fearless of the drivers. I only mention names because they will factor into our stories at several points in the future.
There was a rumor around the lodge that Cheetahs had been seen earlier in the day, so we were going to try and find them. The safari drivers had not seen Cheetah's in over a week, so they were eager to see them. We started driving toward the river bed where the Cheetah's were seen, with minimal stops before the sun went down.
The first animals we saw were Impalas. Given that this was our first safari drive, I attempted to take some pictures (our first animals!) but our driver told us that we will be seeing plenty of Impalas throughout our drives and that we needed to get moving to see the Cheetah's.
On our way to the Cheetah lair, we came across a Kudu, which reminded me of an Impala with many more years of wisdom. The Kudu managed to stand still for about 3 seconds before running off into the distance. Still managed a decent photo though!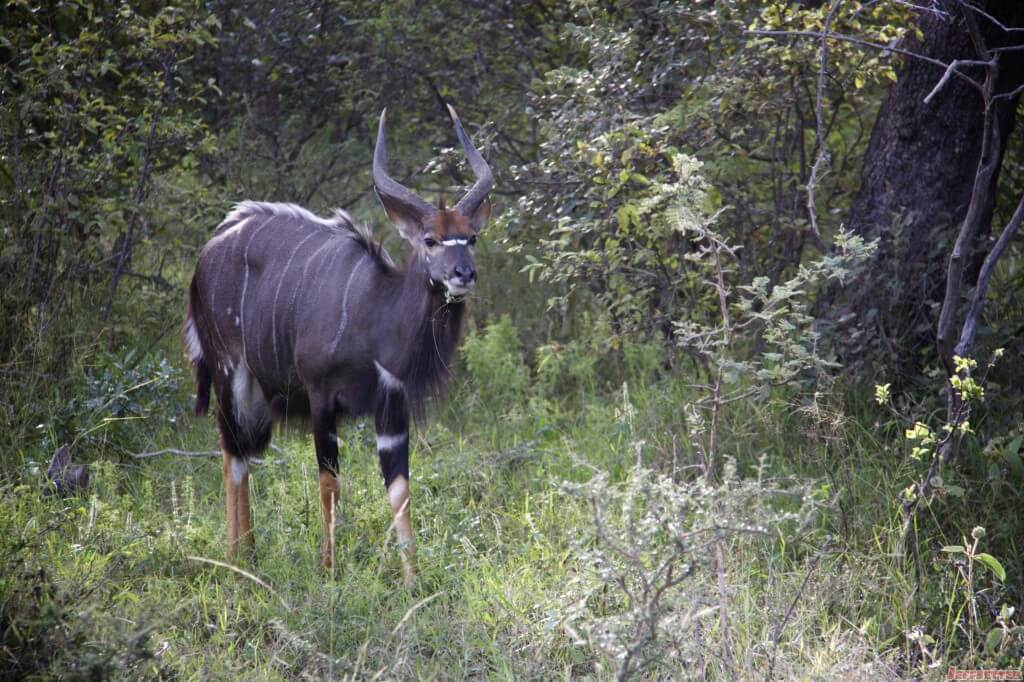 As we crossed the river we saw a Hamerkop, a hammer-headed bird that waited patiently for us to snap a few photos before moving on.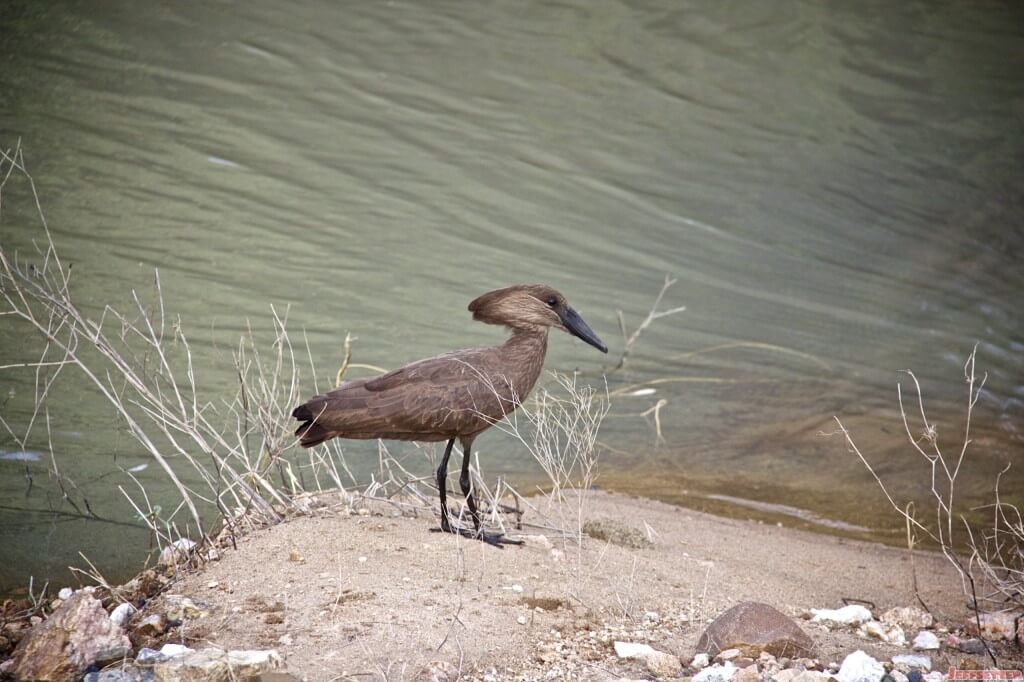 Then we made it to the place we were looking for: the river bed where the Cheetah's were rumored to be hanging out. This is when we got to really test the might of our 4×4 trucks.
Our driver crossed the river successfully, looking for a route that would allow us to get close up photos of the giant cats while also remaining safe. We got stuck a little bit in the loose sand of the river bed, but the 4 wheel drive was able to get us out safely.
The same can't be said for the other car. Jesse took a different route to the Cheetah's that involved more river sand than hard dirt. You'll never guess what happened next. The mighty 4×4 got stuck in the watery quicksand and there was no chance of getting it out!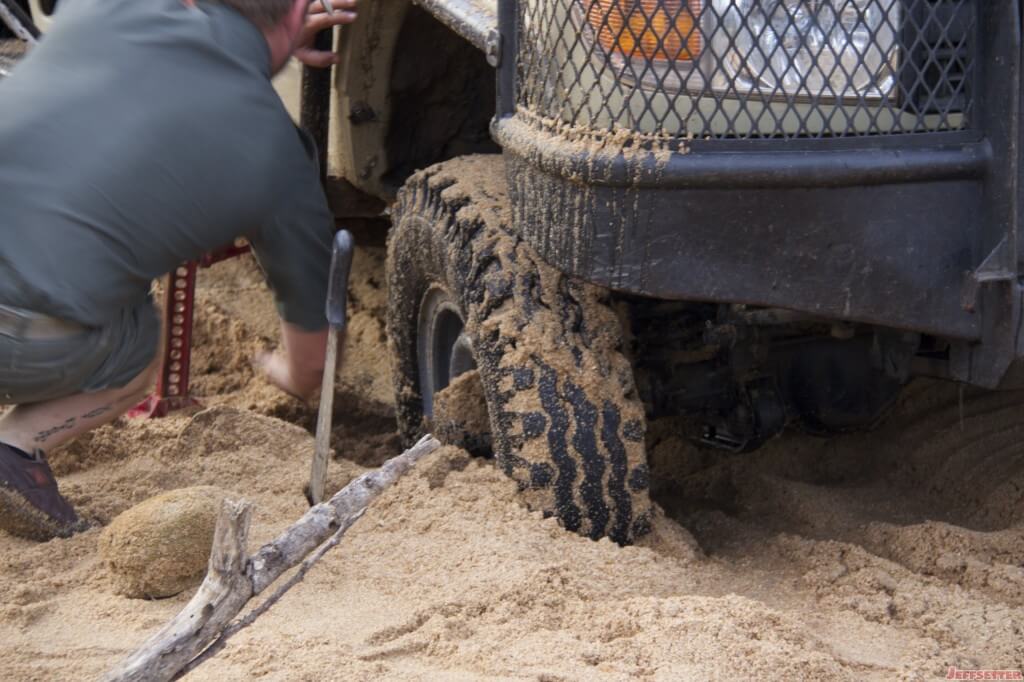 We pushed the car to see if that would help, but it wasn't happening. Not even putting trees underneath for traction, jacking up the tires or anything else would get the car out from the sand.
While some crew members worked on trying to get the vehicle un-stuck, we were allowed to start walking toward the Cheetah's to take photos. We were still pretty far away from the Cheetah's, but I did manage to test out the full zoom capability of my camera and get a semi-decent shot of the Cheetah's lying on a sandy island in the river.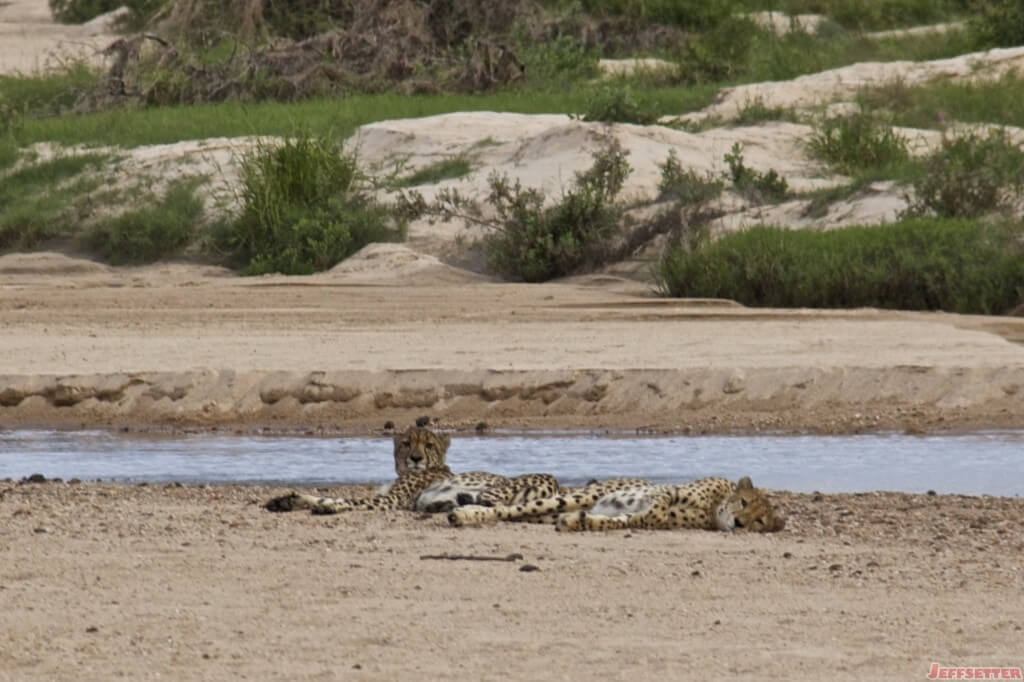 Once we got our Cheetah photos to satisfaction, we tried to dig out the car once again, but it wasn't going to happen on this day. While they called in another vehicle to bring us back to the lodge, we headed up to dry land for our sundowner cocktail and snacks while waiting.
We missed the sunset while trying to dig out the car, but the sky at night was quite beautiful in its own right. The first sundowner was also our opportunity to meet the other people who were staying at the Vuyani lodge. The group was an awesome mix of people from Europe and the USA and we got along well with everyone.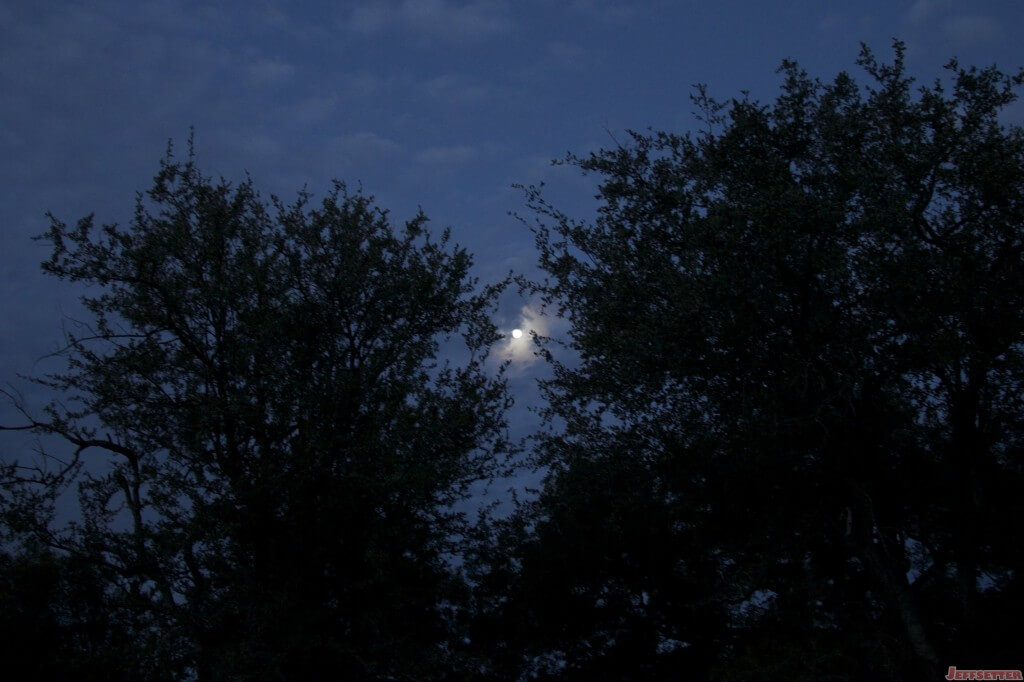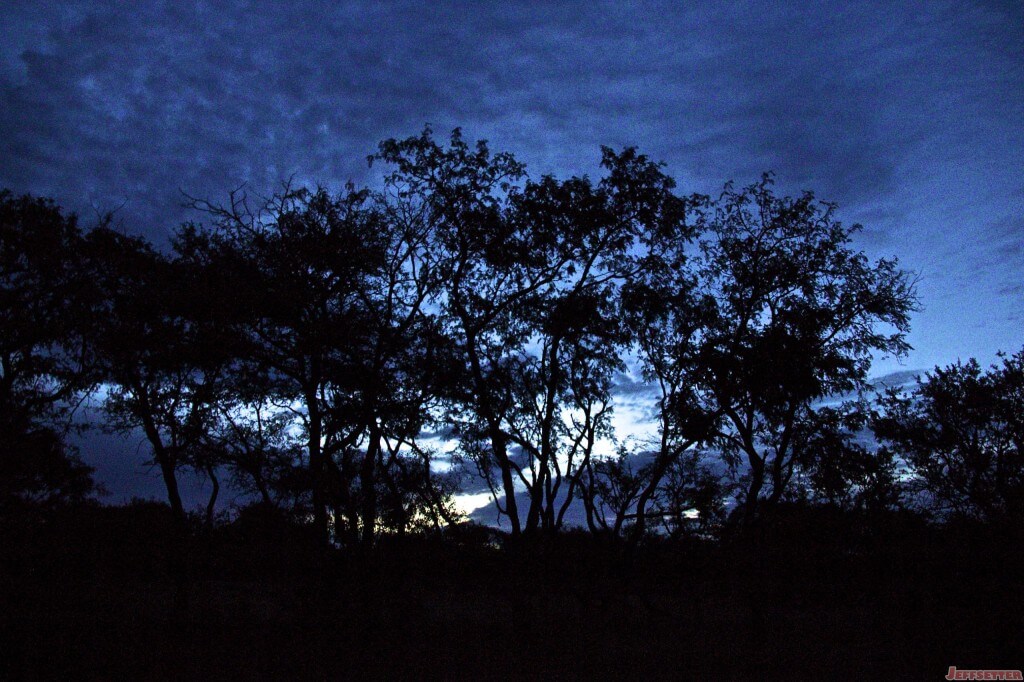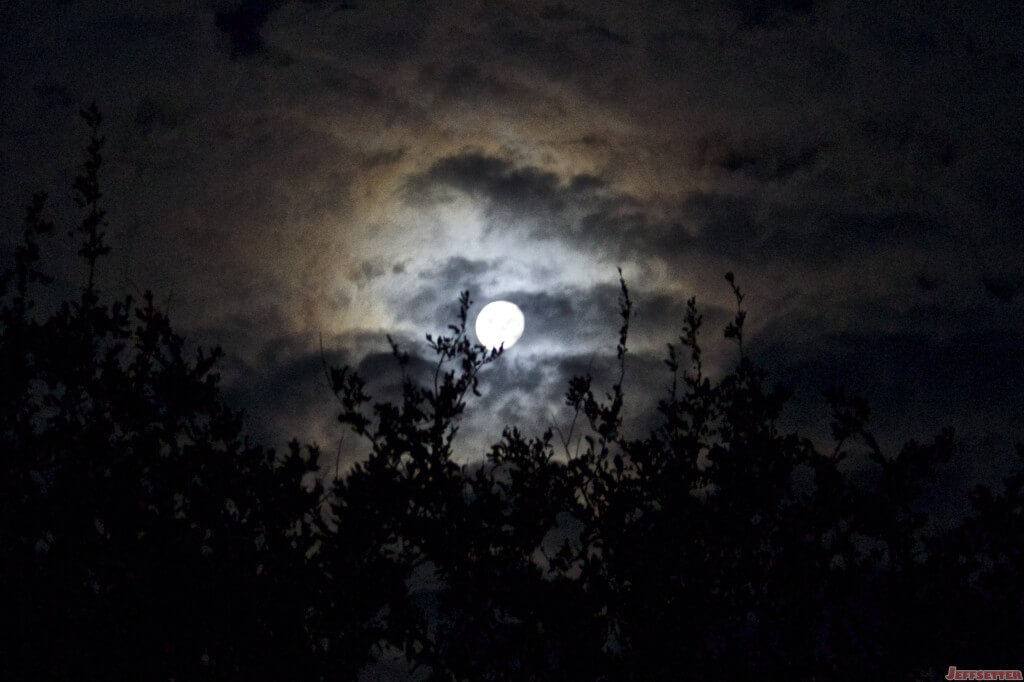 After some night sky photos, we drove back at the lodge with the opportunity to check out our honeymoon suite for the first time. I took a video of the drive home with my GoPro camera mounted to the safari vehicle. This is how it looks to be on a safari at night, with the driver or tracker shining a spotlight looking for animal activity. Forgive the audio quality.
After that we had an awesome dinner before heading to sleep in advance of our early morning wake up call.
Drive #2: Sunday Morning
There are few things to know about our early morning game drives: 1) The Vuyani Lodge's all inclusive nature means that the wine is flowing freely at dinner. 2) Papa Jeffsetter set his alarm for 4:45 AM each morning to get ready for the day, and every time I wake up that early a piece of me dies. 3) You don't want to drink too much coffee to wake up because we were facing a 3 hour game drive with no bathroom.
In addition to those limitations of the morning drive, we found that even the animals think that this is far too early to wake up, so they did not come greet us as we might expect. With that said, we did manage to get some cool photos.
The first thing we saw was a group of Wildebeasts in a clearing, but they were too far away for a decent photo. We noticed that the Wildebeasts had a secret admirer when we saw Jackal stalking the group from afar. Once again I tested the limits on my zoom lens and managed to get a nice Jackal shot in the distance.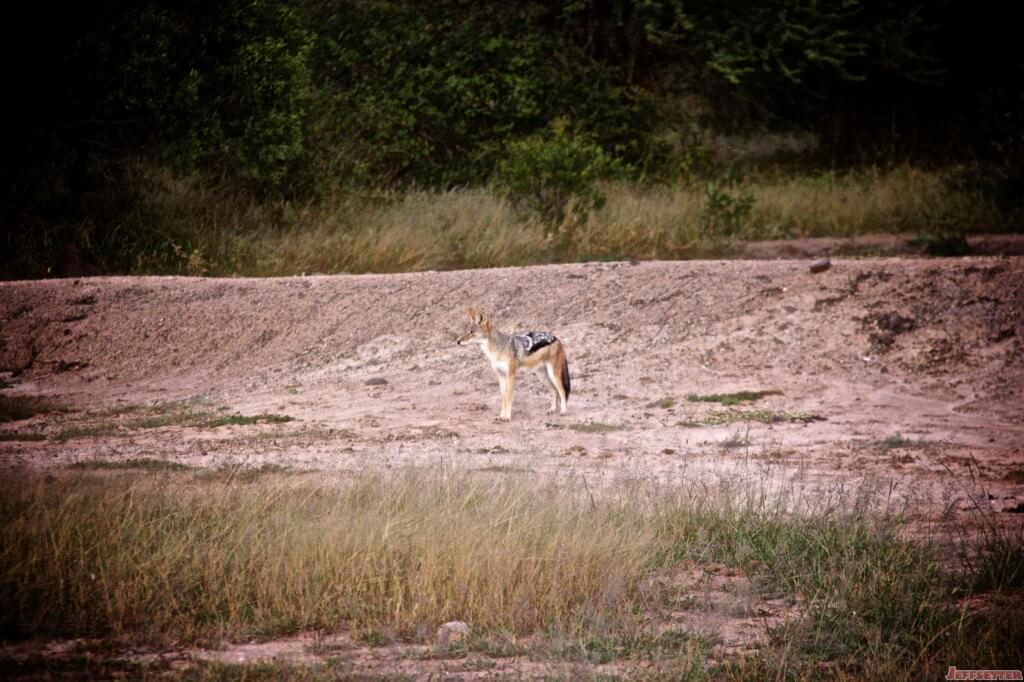 Eventually we moved in close enough to get a few good photos of the Wildebeasts. I found that focusing on a single animal was the best way to go, because a group is prone to sudden movements and I am not very stable with my DSLR.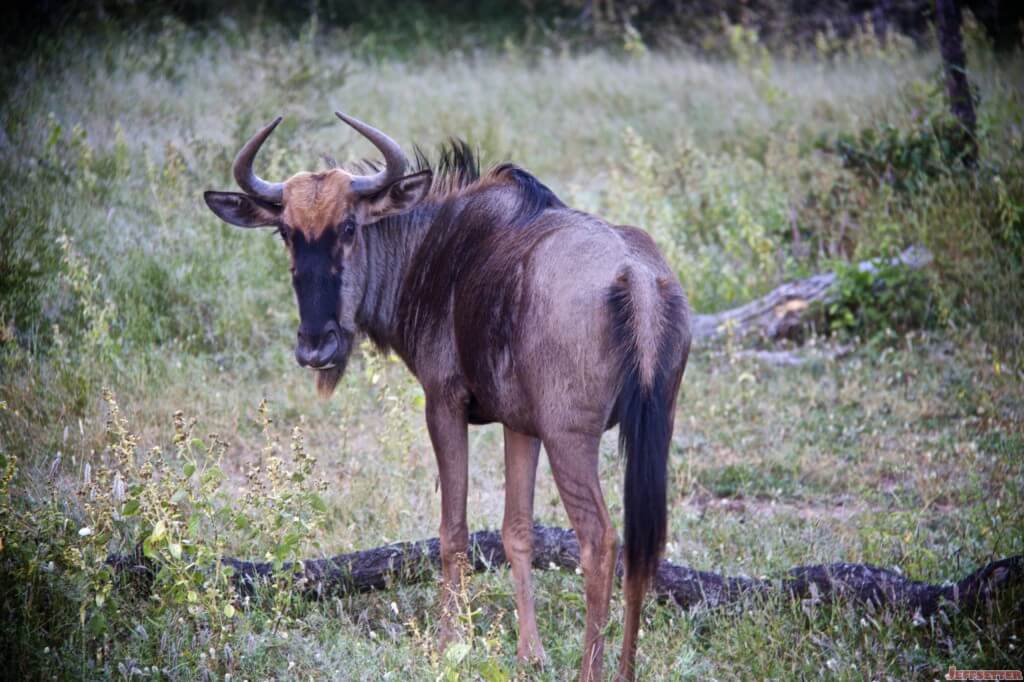 After leaving the clearing we saw a wonderful pile of Rhinoceros dung in the middle of the road. The large pile is the male and the small pile is from a female. Our guide told us that leaving piles of dung in this nature was actually part of their mating ritual.
We also learned from the tracker that this pile was fairly fresh, so we followed the foot prints to see if we could find a Rhino before our morning coffee.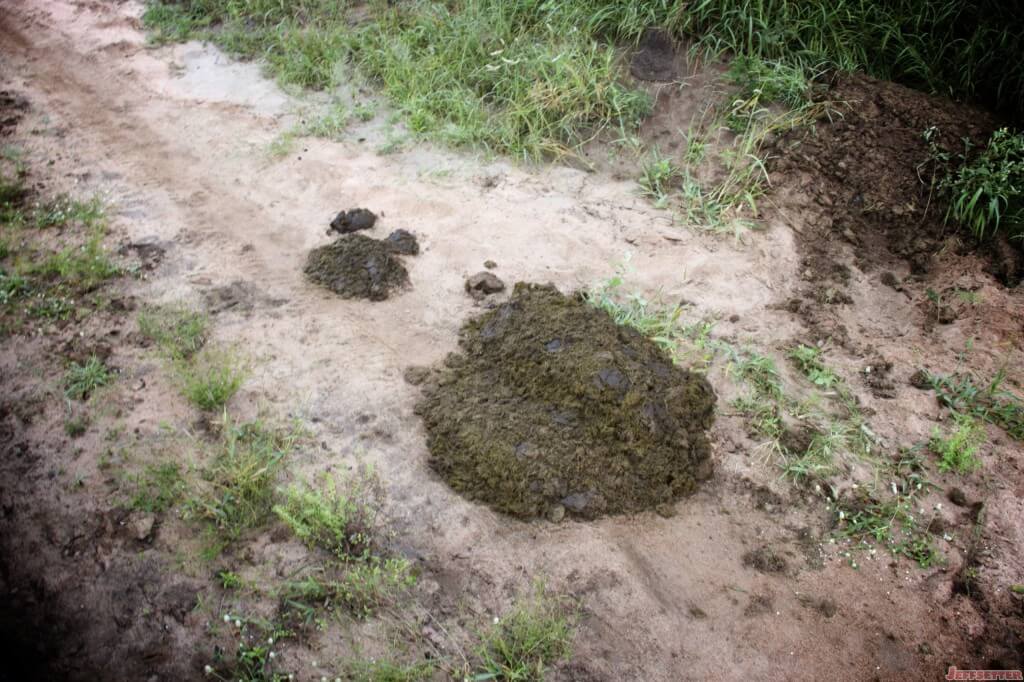 Unfortunately we did not get a chance to see any Rhinos that day, so that was somewhat disappointing.
Well, it was disappointing until we stopped for coffee at a lake with a lovely Hippopotamus family doing their thing!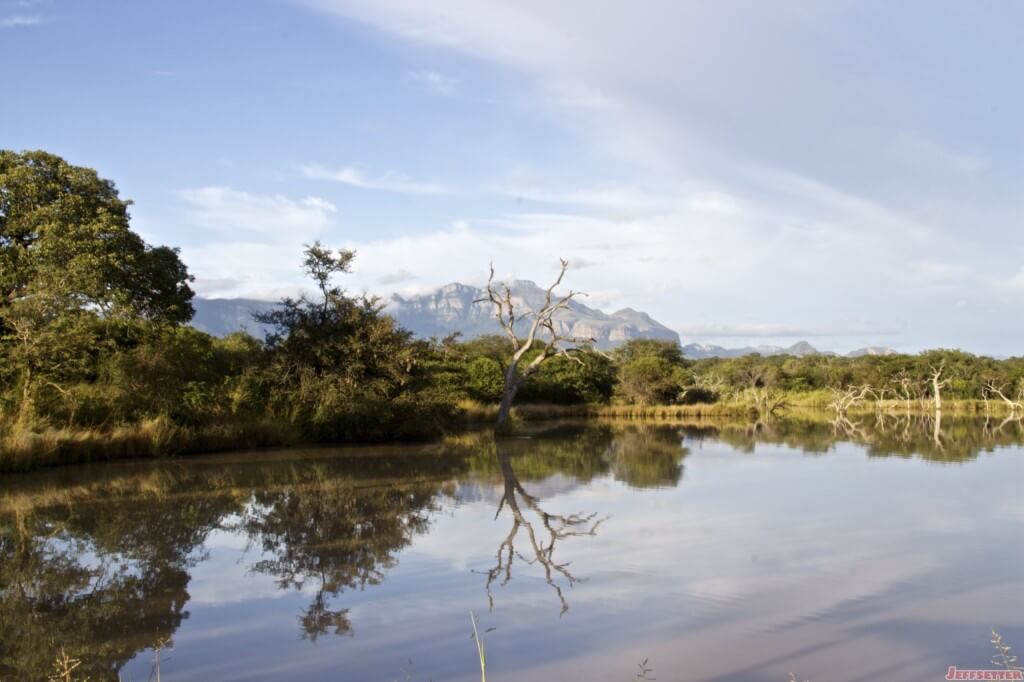 These are some of my favorite photos of the entire trip. There was a calm lake with perfect lighting, two beautiful mountains in the distance, and a family of Hippos living within. This is the reason why I tolerated the early morning wake up calls each morning – for the hope of seeing something so beautiful. These pictures may need to be enlarged to see their true beauty.
While the Hippos started off on the far side of the lake from us, our guide Mike assured us that they would eventually make their way closer to us. While we drank our morning coffee, sure enough we saw the Hippos come by much closer. While they never got out of the water, it still created some nice photo opportunities.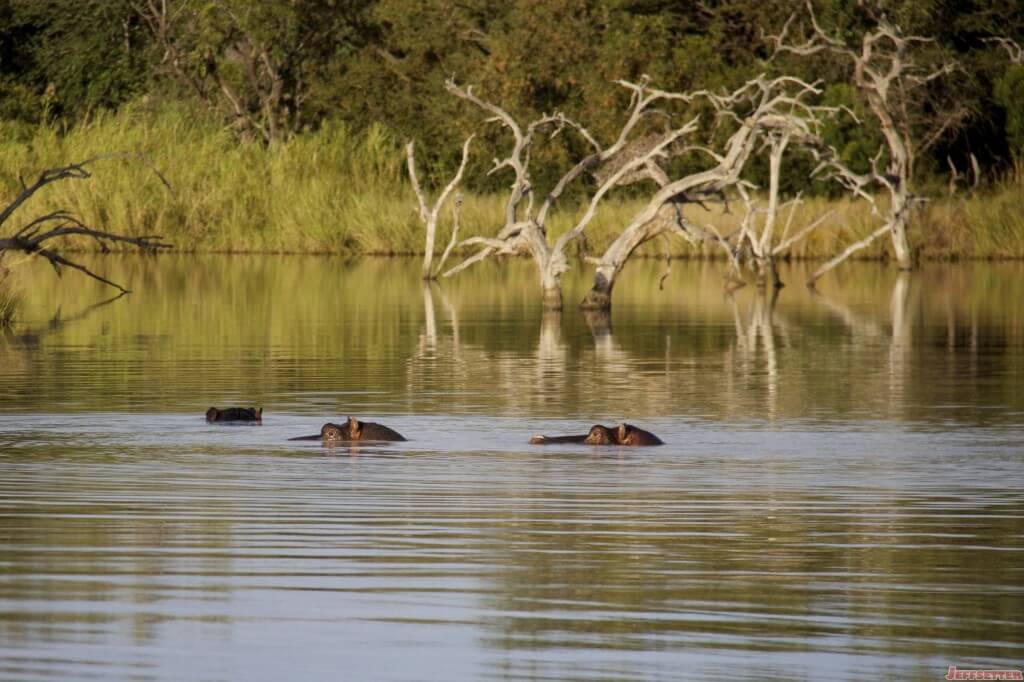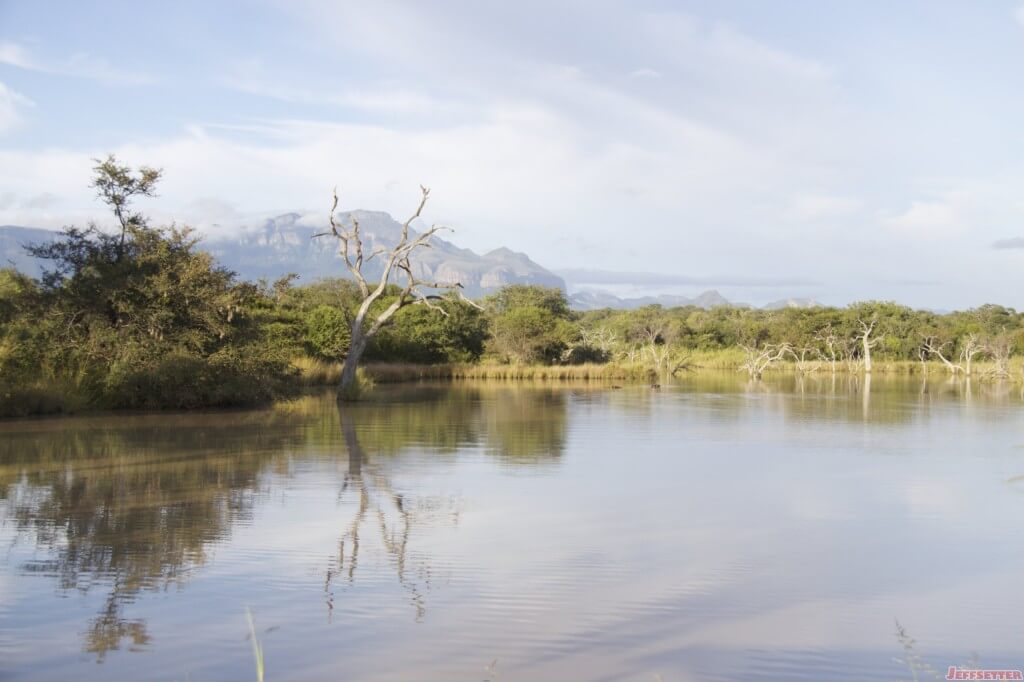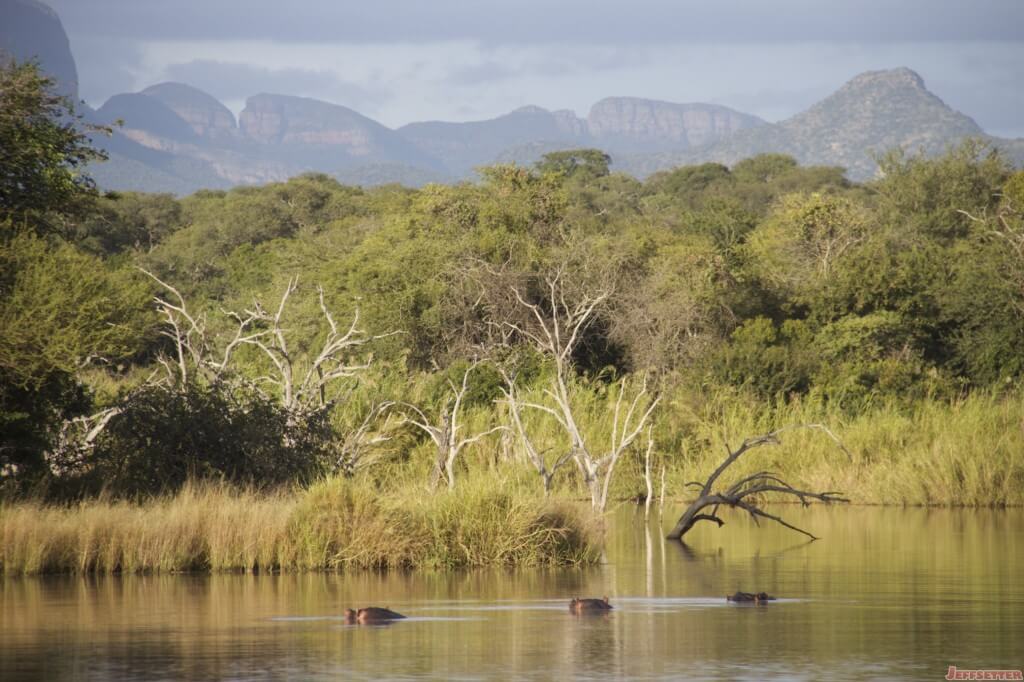 After our coffee/Hippo stop it was time to head back to the Lodge. On the way we saw some rare birds, crossed through a completely flooded road (without getting stuck this time) and even caught a few Warthogs in the distance.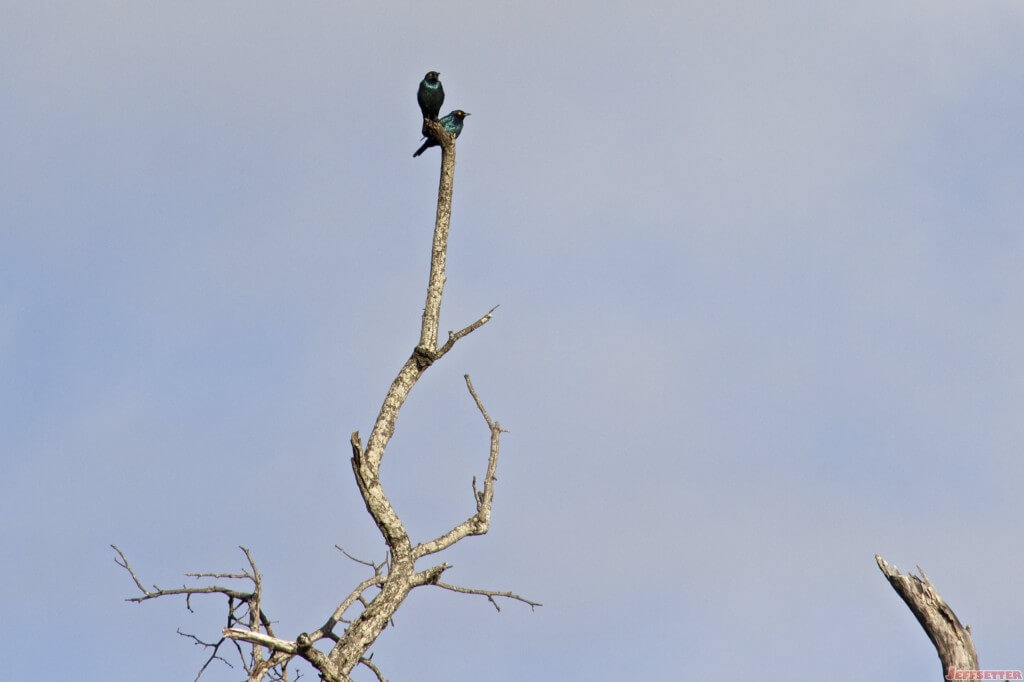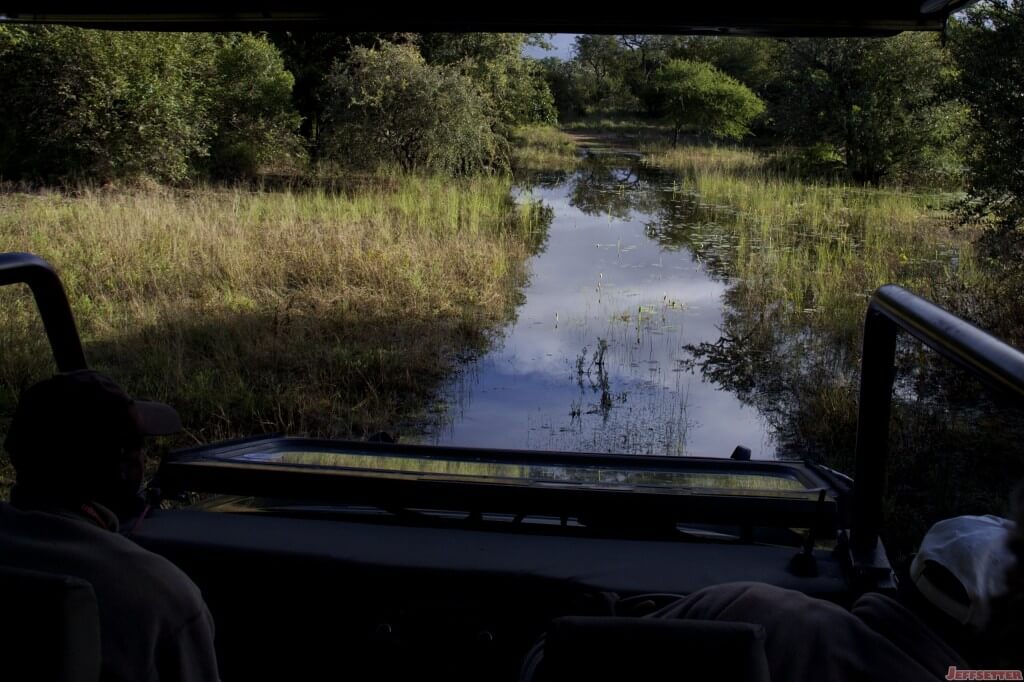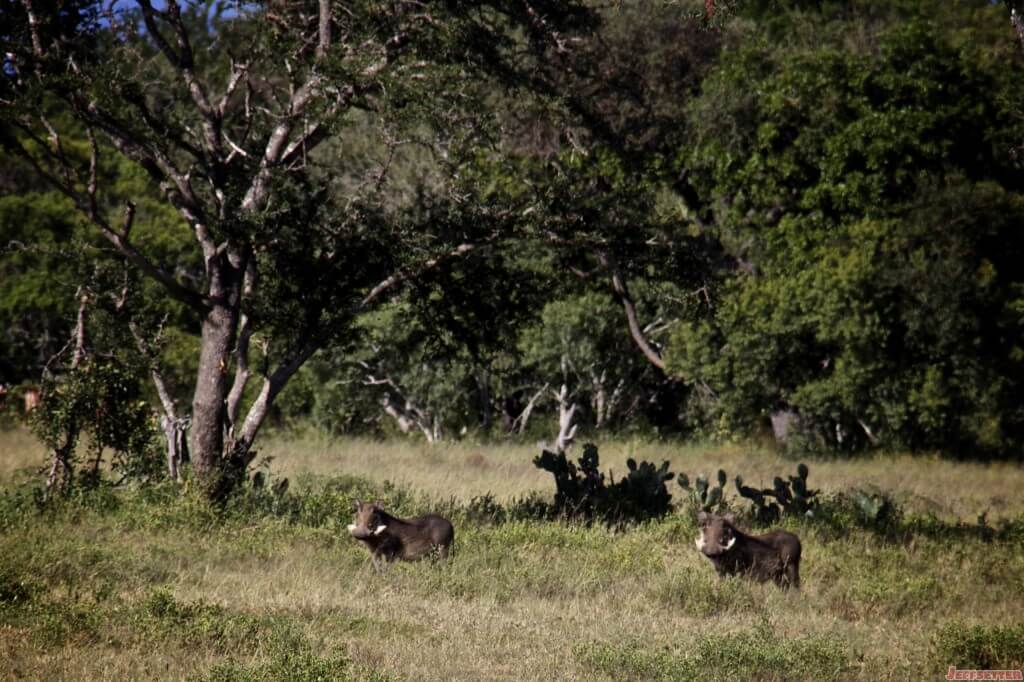 Recapping Drives 1&2
We saw 1 of the big 5 trophy animals of South Africa (The big five = Lions, Elephants, Leopards, Cheetah's and Cape Buffalo), we saw the hippo family (totally unexpected and just plain awesome) and we had a story to tell about our vehicle getting stuck. Not a bad way to start off our safari experience.
More drives tomorrow!